HR and payroll tools are essential for any business, but which is best for your specific needs? Factors to consider when selecting HR and payroll software include feature sets, automation capabilities, reporting capabilities, and cost.
With so many options to consider, deciding on the software that best suits your business's needs can be overwhelming. This article compares Rippling vs. Gusto to help you choose between the two most renowned HR and full-service payroll software solutions.
Rippling and Gusto are among the best options available. Each has its own advantages and disadvantages, offering solutions for businesses of all sizes. Choosing the right PEO for your business depends on your company's specific needs, including the size of your company, industry, number of employees, and budget.
The comparison below highlights Rippling and Gusto's key similarities and differences so you can determine which is right for you. Also, we'll break down the features, pricing, pros, and cons of each option to help you make an informed decision for your company.
Rippling vs. Gusto: Similarities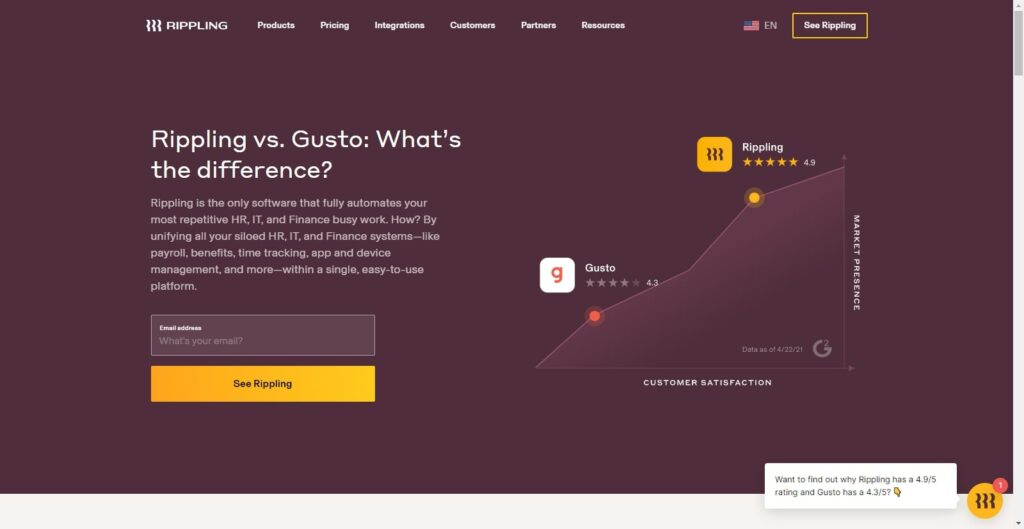 Key similarities between Rippling and Gusto include the following:
Gusto and Rippling are relatively new companies compared to other PEOs, meaning they're mostly designed with easy-to-use user interfaces
Both companies help business owners to manage their payroll, benefits administration, time and attendance, and HR management
Both platforms process payroll fast and allow users to run payroll automatically
You can also run unlimited full-service payroll and file 1099s at no extra cost
Rippling vs. Gusto: Differences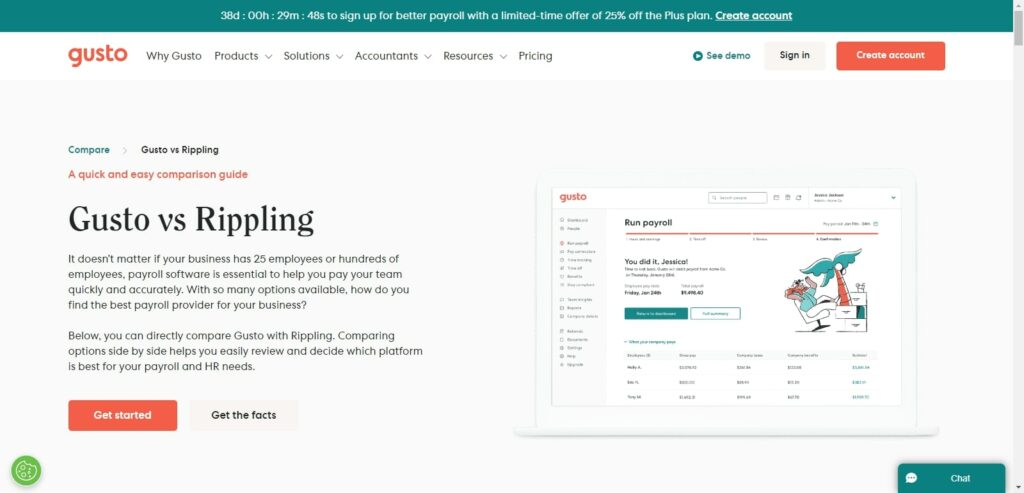 Key differences between Rippling and Gusto include the following:
Gusto offers a straightforward pricing structure for its Simple and Plus pricing tiers. However, while Rippling pricing starts at $8 per user per month, there's no clear pricing structure for the rest of its services
Gusto offers a 30-day free trial, while Rippling does not offer a free trial but has a free demo
Rippling offers a more flexible pricing structure, and customers can choose to purchase every service separately. Gusto's pricing structure is fixed except for people who want the Premium tier.
Gusto offers a streamlined onboarding process with a self-guided video, while Rippling's onboarding process can take up to three weeks.
What is Rippling?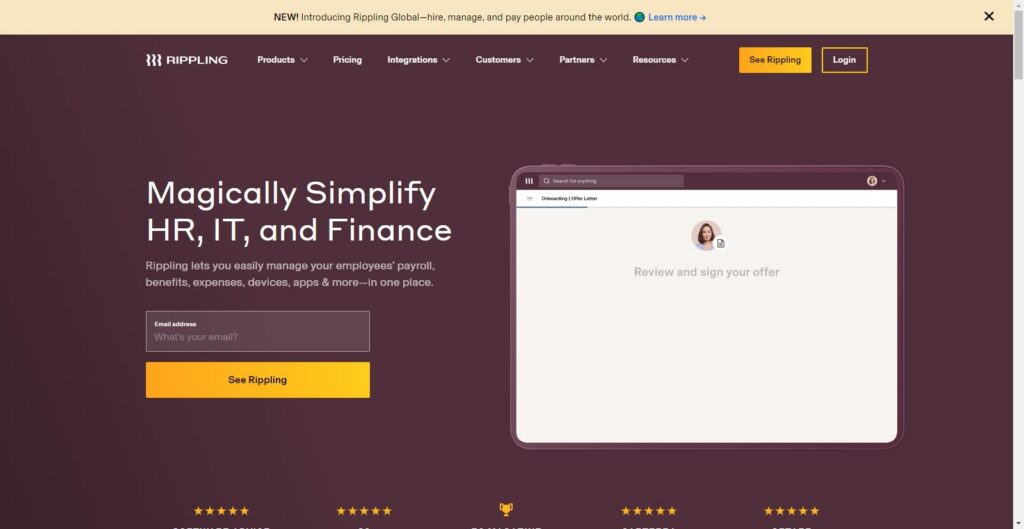 Rippling is an online professional employer organization that offers payroll and Applicant Tracking Systems (ATS) to help businesses manage their employees. It can serve organizations with 2 – 2,000 employees.
The company offers HR solutions such as time tracking, learning management, and benefits management. It also provides IT services such as device management and app integrations.
Rippling started as a payroll management tool and currently provides PEO services. It's a good solution for a business looking for software that combines IT and HR functionalities.
The best thing about Rippling is the support you get from staff during the setup process. An HR expert will assist you in navigating through the setup process so you get the services tailored to your business.
Powerful Automation
Rippling | Workforce Management Platform
Rippling is a comprehensive human resources management software that streamlines HR processes and automates administrative tasks. It offers a range of features including employee onboarding, payroll management, benefits administration, time and attendance tracking, performance management, and compliance management. With Rippling, businesses can easily manage their workforce, track employee data, and ensure compliance with labor laws and regulations. The software is user-friendly and customizable, allowing businesses to tailor it to their specific needs. Overall, Rippling is a powerful tool that simplifies HR management and helps businesses save time and resources.
Pros:
Streamlined HR processes: Rippling offers a comprehensive HR platform that automates many HR processes, including onboarding, payroll, benefits administration, and compliance.

Easy-to-use interface: Rippling has a user-friendly interface that is easy to navigate, even for non-technical users.

Integrated payroll: Rippling includes a payroll module that is fully integrated with other HR functions.

Customizable workflows: Rippling allows HR teams to create custom workflows for different HR processes, such as onboarding or performance management. This can help to ensure that processes are tailored to the specific needs of the organization.

Compliance support: Rippling includes compliance support for a range of HR regulations, including tax and labor laws.

Employee self-service: Rippling includes an employee self-service portal that allows employees to access their HR information, such as pay stubs and benefits information.

Below is a breakdown of the features that Rippling has:
Rippling Key Features
Key Rippling features include:
HR management tools like applicant tracking, attendance tracking, employee onboarding, sick leave tracking, time-off management, recruitment, and employee profiles
Payroll services like compensation management, payroll processing, and reporting and analytics
IT tools include app management, device management, application integrations, unified workflow, and document management
Finance tools like expense management, corporate cards, and bill pay
Who is Rippling for?
Rippling is most suitable for large businesses with many employees. It helps organizations streamline HR services, which further boosts business growth. It combines a company's payroll, benefits, IT, and HR services, making it easy to simplify workflow in a company.
What is Gusto?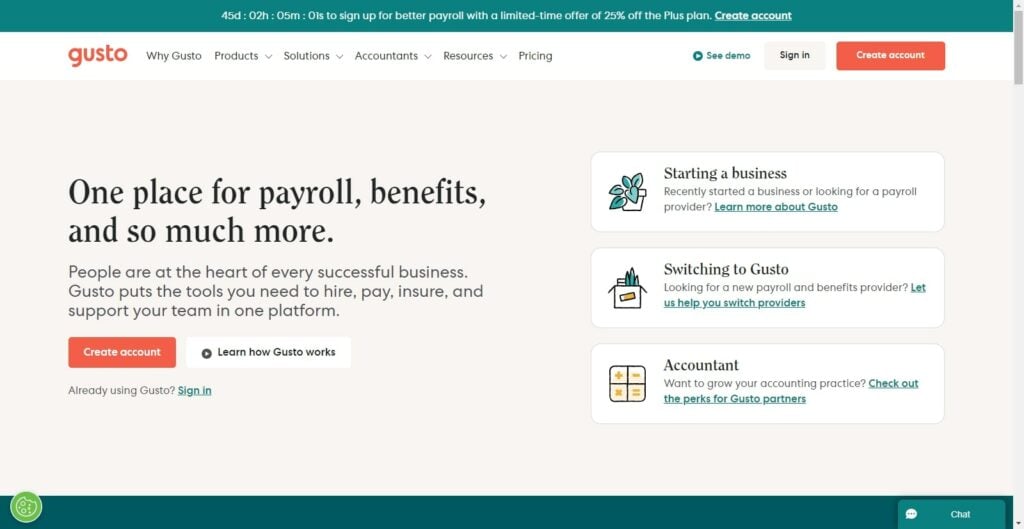 Gusto is a cloud-based full-service payroll and human resources software that serves over 100,000 businesses nationwide. It's a full-service integrated platform that automates and simplifies an organization's HR, benefits, and payroll.
The company also offers support services such as instant feedback and query answering. It helps employers to streamline operations by enhancing staff recruitment and employee management.
Gusto prides itself on its ability to process employee payroll in all 50 states. The tax automation process ensures the company and its employees remain compliant with state and federal laws.
Best HR & Payroll Software
Gusto | All-in-one HR Services
Gusto is one of the best HR & payroll software that simplifies the process of managing and paying employees. With Gusto, businesses can easily manage their payroll, taxes, and benefits in one place. The software automates the calculation of payroll taxes, tracks employee hours, and generates pay stubs. It also offers a range of benefits, including health insurance, retirement plans, and workers' compensation insurance. Gusto is designed to be user-friendly, with a simple interface that makes it easy for businesses to manage their payroll. With Gusto, businesses can save time and reduce the risk of errors, ensuring that their employees are paid accurately and on time.
Pros:
User-friendly interface: Gusto has a simple and intuitive interface that makes it easy for users to navigate and use the software.

Automated payroll processing: Gusto Payroll automates the payroll process, saving time and reducing the risk of errors.

Tax compliance: Gusto ensures that all tax calculations and filings are accurate and compliant with federal, state, and local regulations.

Employee self-service: Gusto allows employees to access their pay stubs, tax forms, and other important information through a self-service portal.

Integration with other software: Gusto Payroll integrates with other software, such as accounting and time-tracking software, to streamline the payroll process.

Affordable pricing: Gusto offers affordable pricing plans that are suitable for small and medium-sized businesses.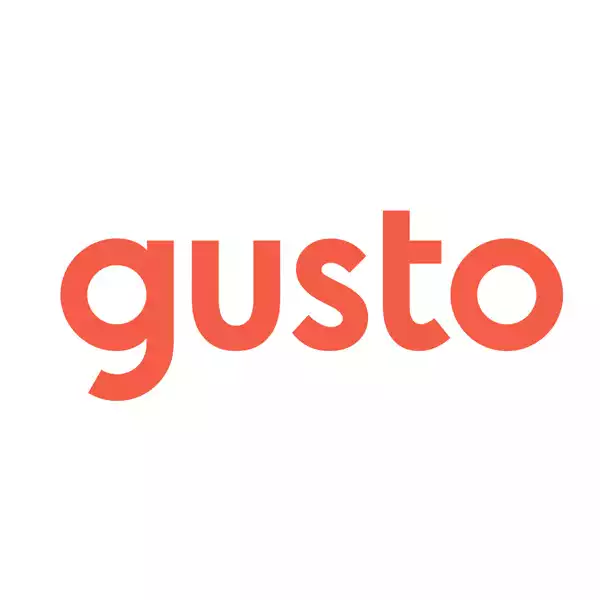 Gusto Key Features
Key features on Gusto include:
Hiring and onboarding tools such as applicant tracking, offer letters, onboarding checklists, software provisions, and integrations
Payroll tools like bonuses, cash tips, commissions, gross pay, reimbursements, overtime, and time off
Compliance features include employee forms, I-9s and W-2s, and e-signatures
Employee benefits like health savings accounts, flexible spending accounts, and commuter benefits
Who is Gusto For?
Gusto is ideal for small businesses that mostly need payroll services. HR managers can use the platform to run payroll, manage payroll taxes, and customize their HR services.
Experienced payroll administrators can use the system to improve business operations. If you're looking for a PEO that can grow with you, Gusto might be the ideal resource.
Gusto vs. Rippling: HR Services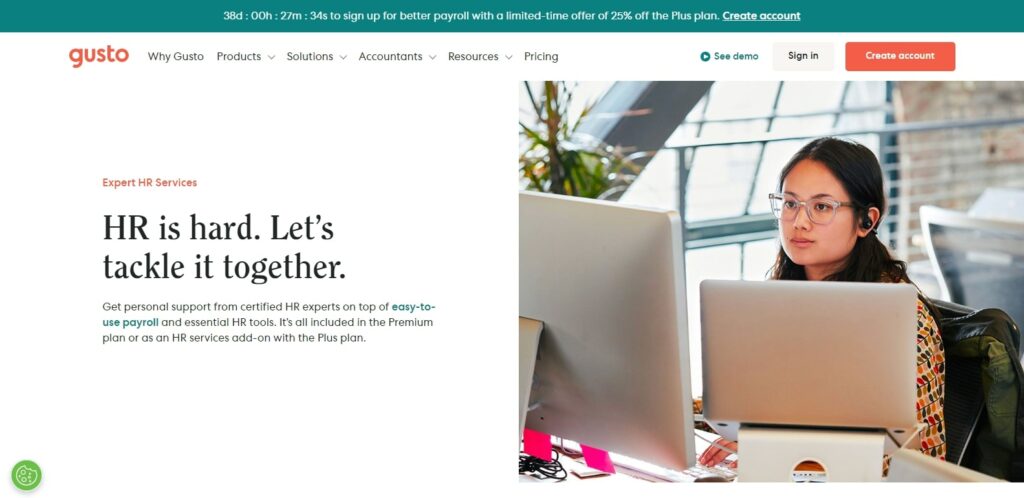 Although Gusto and Rippling mainly focus on payroll and HR management, they differ in several things. Here is a breakdown of the key HR differences between these two software:
Self-Service Portal
Rippling has an access portal that allows employees to view the W-2s and pay stubs online. On the self-service portal, they can remotely request time off on a digital device. The portal will record the time when the HR manager approves the time-off request and integrate it into the next payroll.
Gusto also offers employees access to W-2 forms and pay stubs. The employer must allow employees to dial in before they can fill in their profile details. Unlike Rippling, employees get lifetime access to their accounts when using Gusto.
Ease of Use and Permissions
After onboarding, it's easy to use Rippling. A manager can view each employee's profile and the applications they access. The self-service portal allows employees to view and manage their benefits. They can update the benefits by adding or removing some from their profile.
Gusto is easy to onboard and use. Employees can change their personal information on Gusto without any help. Therefore, the information can be up-to-date with the changes related to the job, place of residence, and employee benefits.
Scalability
Rippling is highly customizable, making it suitable for small businesses to large enterprises. You can set up employee profiles and reporting structures based on your needs. Rippling is also scalable to accommodate growth. You can adjust components to adapt new features as your organization grows.
Gusto comes at a fixed price for its Simple and Plus pricing plans. However, you can also add new features as your business grows. It cuts down your time on HR tasks such as onboarding new employees, managing employee data, and granting time off requests.
HR Management
Gusto's HR platform has most tools you need to manage benefits, insights and reporting, talent management, time and attendance, and other services.
With Gusto, employees can manage their flexible spending accounts, health savings accounts, medical insurance, and 401(k)s, and the system will automatically deduct these payments from the payroll. However, health benefits administration is available in only 39 states.
Rippling helps employees manage their health insurance, 401(k) plans, savings accounts, health insurance, and flexible spending accounts. It's better at offering benefits than Gusto since it further personifies benefits.
Learning management
You can grow and develop your team with learning management, performance evaluation, and career development tools on Gusto. The platform has many apps you can integrate to train your employees and ensure effective employee onboarding.
With Rippling, enrolling employees in new courses is easy after a new hire onboarding. The system uses triggers from the employees' activity to automatically enroll them in new courses. For instance, the system will add workers to a training resource after they sign an offer letter or get promoted.
Employee Benefits Administration
Rippling allows you to streamline benefits administration by unifying commuter benefits, 401(k), and health insurance in one system. The unified system automates HR functions by updating deductions and bringing new employees on board. Employees can manage their benefits, including retirement accounts, paid time off, health insurance, and other benefits.
Gusto employs a modern approach to employee benefits management. A business owner can choose which available plan best suits their employees. It has over 9000 health plans that business owners can choose from. The company has licensed health advisors to help business owners choose the right plan depending on their budget and team size.
Rippling wins in HR services
There are many onboarding tools and health benefits at no extra cost for both platforms. Rippling provides health benefits administration in all 50 states. Therefore, an organization does not have to run the HR services separately for employees in other states. In addition, Rippling combines all HR services in one platform for effective management.
Gusto Payroll vs. Rippling Payroll Services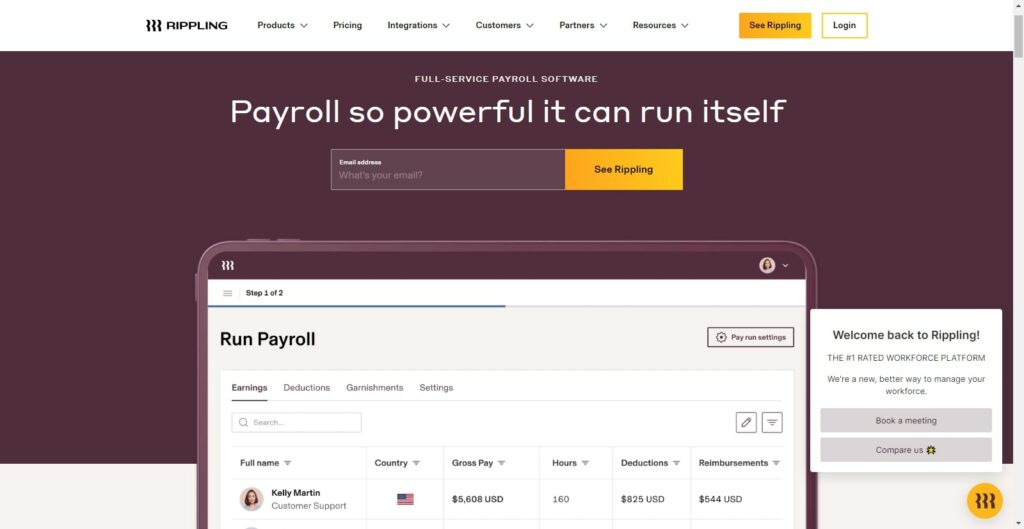 Rippling works well on mobile and PC devices, containing features to create regular reports and issue automatic payrolls. On the other hand, Gusto claims it can complete payroll processing within 11 minutes in a few clicks on any digital device. It features an autopilot option that allows you to process payrolls automatically.
Here is a further breakdown of the differences between Rippling and Gusto's payroll services:
Payroll Processing
Processing payroll with Rippling is simple. The system can serve small, medium, and large companies, allowing global payroll processing and direct deposit at no extra cost.
When processing payroll, rippling calculates taxes and files federal, state, and local payroll taxes to relevant authorities. The software will file taxes even after the employees move to another.
With Gusto, you can set up automatic payroll processing. However, you will have to manually file taxes for the employees in the other states when making the tax deductions during payroll processing.
Although Rippling and Gusto allow tax filing, Gusto's tax filing capabilities are better and more accurate. You can also create custom reports based on anything you want.
Online Payroll Services
Rippling easily syncs HR data with payroll and automates all payroll services. The platform's interface is user-friendly and easy to navigate. It also has a mobile application with the same features as the desktop version.
Gusto offers unlimited payroll services with a simple click. Its payroll processing is accurate regardless of the amount of data in question. Employers can schedule automatic payrolls, so they never miss any payday. You can also run global payroll regardless of where your employee lives.
Gusto Wins in Payroll Services
Gusto wins in payroll services as it offers full-service payroll features. Before processing payroll, the platform will debit the appropriate payroll taxes that apply to your company.
Rippling vs. Gusto: Integrations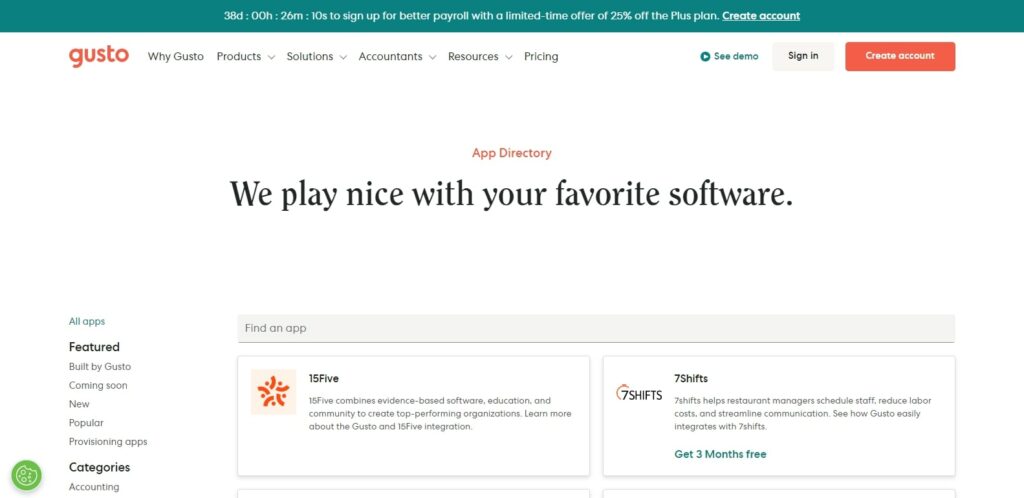 Rippling integrates seamlessly with HR tools that your business needs for smooth operations.
You can set up and manage your employee applications or sync data automatically with accounting and time-tracking tools like Xero and QuickBooks Online. You can add new employees to Slack, create Gmail user accounts, and set expenses.
The support team will guide you through the integration process for Rippling and other applications. If you find a tool that's incompatible with Rippling, the support team will walk you through the integration process.
Gusto also allows the integration of hiring, onboarding, time tracking, and accounting applications. Ten applications that stand out in Gusto's integrations include FreshBooks, QuickBooks Online, TSheets, Expensify, Breezy HR, Clover, Guideline, Zoom, Xero, and Shopify.
Gusto Wins in Integrations
Gusto integrates well with numerous applications making it a better choice. Most services like talent management, time tracking, learning management, and employee training come from external hr tools the company integrates on your platform.
Rippling vs. Gusto: Pricing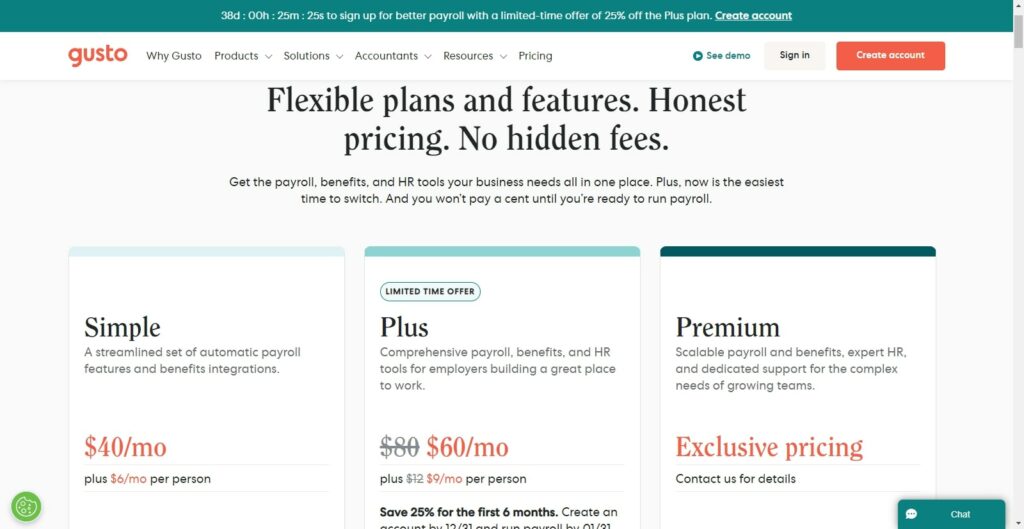 Gusto's pricing is simple and transparent. This software has three pricing plans: simple, plus, and premium. The simple payment plan costs $40 per month plus $6 per person per month. The plus category costs $80 per month plus $12 per person per month. The premium package uses a quote-based pricing model.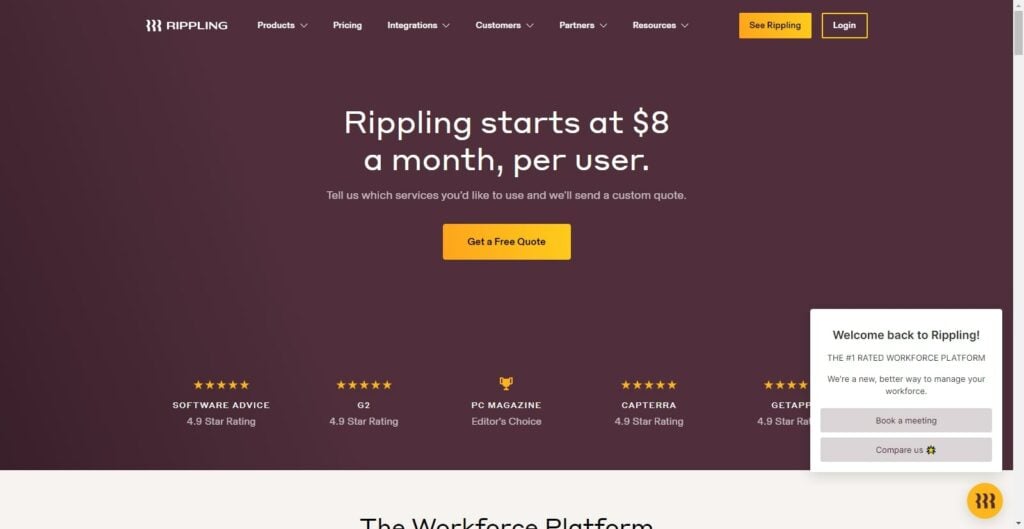 Rippling's pricing is for payroll services. Any other service from the software calls for extra charges. Rippling's pricing starts at $35 per month and an extra $8 per person. Additional services are quote-based.
Rippling Wins in Pricing
Although Gusto may appeal to businesses first due to the low cost, Rippling offers more flexibility and tools at the same rate. Rippling provides full payroll services, has a user-friendly interface, and allows multiple integrations.
Rippling vs. Gusto: Customer Support
When you sign up for Rippling, the company assigns you to an administrator for customer support services. The administrator will assist your organization in familiarizing itself with Rippling and using it to suit your needs. Rippling's support is available by email, live chat, and in-app video call.
Similarly, Gusto offers its clients excellent customer service support. Its phone, chat, and email customer support is available to all users regardless of their pricing tier. Clients can also pay for priority support, where they access customer service support fast and conveniently.
Rippling Wins in Customer Support
Although support on both software is only available on weekdays, Rippling's customer support is better since you can reach them using various channels. The customer support team is always available to help users with any problem.
Gusto vs. Rippling: Pros and Cons
Gusto and Rippling offer HR and payroll solutions to businesses. It is important to compare what they offer so you can make an informed decision.
Here is an overview of the pros and cons of Gusto and Rippling:
Rippling Pros
Robust workflows that automate most processes
Offers global payroll capabilities with unlimited pay run
The platform is user-friendly, with many features
A flexible pricing structure, and you can add features based on business needs
Rippling Cons
The pricing strategy is not transparent
No performance management tools
You need to purchase workforce management before other products
Gusto Pros
Transparent pricing strategy
Employee benefits such as access to Gusto wallet
Offers essential HR tools for hiring employees
Full-service payroll services with pay runs
Gusto Cons
HR solutions are only available for high tiers
Limited integration of third-party software
Global payroll capabilities are limited to specific international contractors
Health insurance coverage is up to 39 states in the United States
Rippling vs. Gusto: Conclusion
If you are looking for IT and HR software, Gusto and Rippling are good solutions, but they serve different types of businesses. Rippling is good for tech-heavy organizations that need help managing the HR, IT, data, and payroll services for their expanding employee database. Businesses looking to control these processes from a single platform will benefit greatly from Rippling.
On the other hand, Gusto is ideal for small businesses looking for affordable full-service payroll tools. Besides providing the tools, Gusto is flexible in its usability. Therefore, you can change the payroll process to suit your current position.
Visit their official websites to see what else they offer and the services you can benefit from them.