It's no secret that payroll and human resources (HR) can be complex. Big and small companies struggle to perform most HR duties while executing core business functions.
Therefore, outsourcing advanced payroll systems becomes the more pertinent and cost-effective solution to ensure that employees get paid.
Business owners work with hr & payroll services providers because these parties allow them to focus on essential business operations instead of worrying about administrative tasks like running a payroll and hiring new employees.
However, with the many options available today, deciding which software is suitable for your business can be tough. Choosing a PEO means understanding exactly what your business needs and whether the company can serve the company's interests.
This article will compare two of the most popular HR and payroll service providers — Rippling and Paychex Flex. We hope to help you decide which is right for your business by comparing these two providers' key similarities and differences.
Let's get started!
Rippling vs. Paychex: Similarities
Here are the key similarities between Rippling and Paychex:
Both companies provide tools to help with compliance, tax, human resources, and payroll
They support all kinds of workers, including full-time, contract, hourly, remote, and foreign
They charge per employee per month but lack a clear pricing structure for most of their services
In both companies, you have to contact support for a free custom quote
Rippling vs. Paychex: Differences
Key differences between Paychex Flex and Rippling include:
Rippling has a wider range of services to match your HR, payroll, and IT needs, while Paychex mostly focuses on payroll and HR solutions
Rippling only offers one customizable plan with pricing based on your needs, while Paychex offers three pricing plans, including Paychex Flex Essentials, Paychex Flex Select, and Paychex Flex Pro
Rippling offers over 500 third-party app integrations, while Paychex Flex only features over 50 apps
Rippling offers more automation tools, such as workforce automation and payroll automation, while Paychex mostly concentrates on payroll
What is Rippling?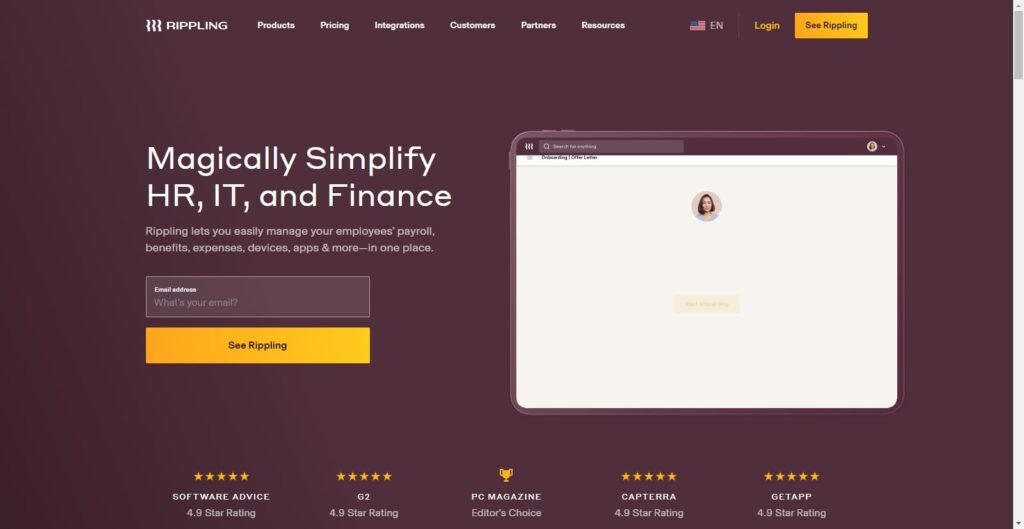 Rippling is a cloud-based HR platform that offers payroll, HR, and IT solutions. It's suitable for businesses with 2 – 2000 employees that need to unify employee data and management tools on one platform.
With Rippling, you can send offer letters, add employees to the payroll, collect new hire paperwork, and run background checks with the click of a button.
The company offers services like time and attendance tracking, learning management, payroll benefits administration, payroll, and PEO services. It provides a combination that makes it suitable for people looking for an all-together package.
Powerful Automation
Rippling | Workforce Management Platform
Rippling is a comprehensive human resources management software that streamlines HR processes and automates administrative tasks. It offers a range of features including employee onboarding, payroll management, benefits administration, time and attendance tracking, performance management, and compliance management. With Rippling, businesses can easily manage their workforce, track employee data, and ensure compliance with labor laws and regulations. The software is user-friendly and customizable, allowing businesses to tailor it to their specific needs. Overall, Rippling is a powerful tool that simplifies HR management and helps businesses save time and resources.
Pros:
Streamlined HR processes: Rippling offers a comprehensive HR platform that automates many HR processes, including onboarding, payroll, benefits administration, and compliance.

Easy-to-use interface: Rippling has a user-friendly interface that is easy to navigate, even for non-technical users.

Integrated payroll: Rippling includes a payroll module that is fully integrated with other HR functions.

Customizable workflows: Rippling allows HR teams to create custom workflows for different HR processes, such as onboarding or performance management. This can help to ensure that processes are tailored to the specific needs of the organization.

Compliance support: Rippling includes compliance support for a range of HR regulations, including tax and labor laws.

Employee self-service: Rippling includes an employee self-service portal that allows employees to access their HR information, such as pay stubs and benefits information.

Rippling Key Features
Key features of Rippling include:
HR features include global workforce management, policy management, access, and approval management, talent and learning management, time and attendance, and payroll benefits administration.
Information Technology features include app provisioning, password management, device security, device onboarding, and password management.
Finance features include expense management, payroll, bill payments, corporate cards, and reporting. You can also use the platform to order and ship equipment to workers abroad.
Who is Rippling for?
Rippling is a great solution for big businesses with more than 1000 employees. It provides a unified solution, helping managers to handle all HR functions in one place. You can automate workflow with remote workers and employees abroad, locking them out of company apps and devices when they decide to quit.
The company aims to speed up most functions that take hours or days to complete. For instance, you can handle employee and contractor onboarding within seconds or pay everyone in their local currency within minutes.
What is Paychex?
Paychex is an American HR, payroll, and benefits provider that started in 1971 and recently ranked position 700 in the Fortune 500 list of largest corporations by revenue. The company has over 100 offices serving at least 670,000 clients in the US and Europe. 
Best for Startups
Paychex: Payroll & HR Solutions
Paychex is a comprehensive payroll and human resource management solution that helps businesses of all sizes streamline their payroll processes and manage their workforce more efficiently. With Paychex, businesses can easily calculate and process employee paychecks, manage employee benefits and taxes, and stay compliant with federal and state regulations. The platform also offers a range of HR tools, including time and attendance tracking, employee onboarding, and performance management. Paychex is designed to be user-friendly and customizable, allowing businesses to tailor the platform to their specific needs and preferences. Overall, Paychex is a powerful tool for startups looking to simplify their payroll and HR processes and improve their overall efficiency.
Pros:
Streamlined payroll processing: Paychex offers a comprehensive suite of payroll services that can help businesses streamline their payroll processing, saving time and reducing errors.

Compliance support: Paychex stays up-to-date with the latest tax laws and regulations, helping businesses stay compliant and avoid costly penalties.

Employee self-service: Paychex offers an employee self-service portal that allows employees to access their pay stubs, W-2s, and other important information online, reducing the administrative burden on HR staff.

Customizable reporting: Paychex offers customizable reporting options, allowing businesses to generate reports that meet their specific needs and requirements.

Affordable pricing: Paychex offers a range of pricing options, making it accessible to businesses of all sizes and budgets.

Integration with other systems: Paychex can integrate with other systems, such as accounting software and time and attendance systems.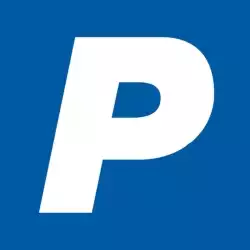 Paychex's solutions are well-rounded, making the company a fitting solution for small and large enterprises. It's a full-service payroll provider offering HR tools, tax preparation, benefits administration, and time attendance features.
It's renowned for helping businesses manage payroll processing and tax obligations. It's a great solution, no matter how many employees you have. The company manages to streamline business operations through one software instead of depending on several programs.
Paychex Key Features
Key features on Paychex include:
Payroll features include multiple payment options, improved payroll accuracy, tax services, payroll on the go, customized earnings, and deductions
Employee benefits include group health insurance, retirement services, benefits administration, flexible spending accounts, and individual health insurance
HR services include HR consulting, talent management, hiring and onboarding, risk management, and HR compliance
Who is Paychex for?
Paychex Flex is suitable for both large and small businesses. Top companies using Paychex include Jones & Bartlett Learning, ABC Financial Services, Allstate Corporation, and others, each with over 2,000 employees.
The company is suitable for companies with 1 – 1000+ employees. It has multiple plans and add-ons as it integrates well with popular HR, time and attendance, and business software apps.
Paychex vs. Rippling: HR Services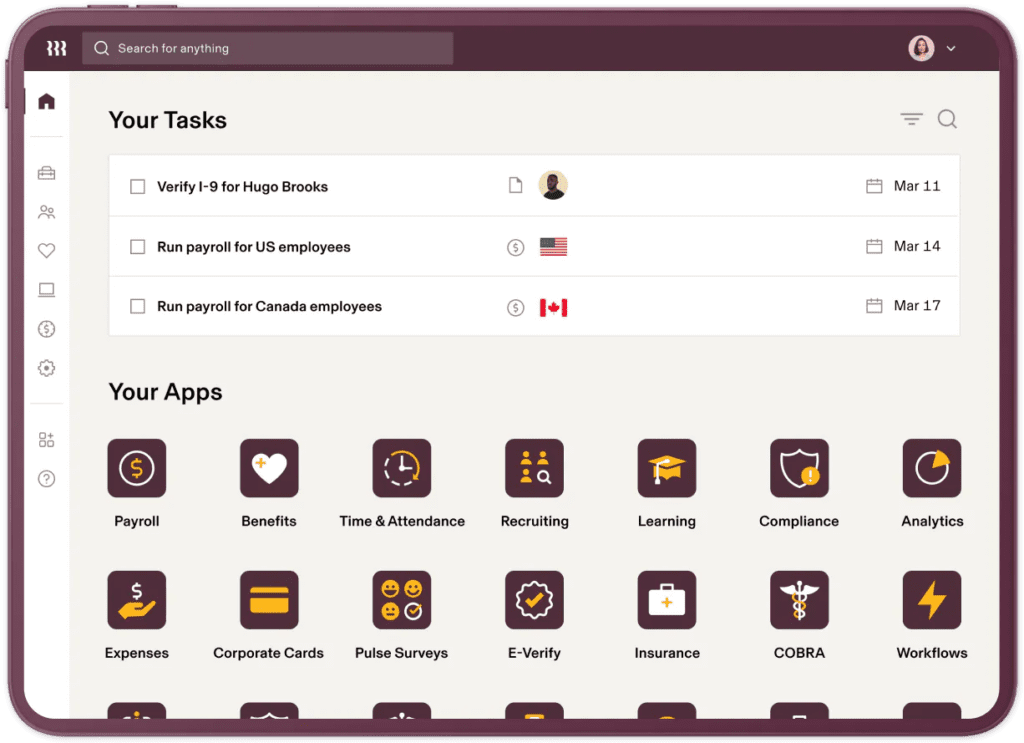 Rippling offers a wider suite of HR solutions, making it easy for businesses to find the HR and IT services they need to run business operations smoothly. On the other hand, Paychex provides an all-in-one HR technology that complements its payroll solutions, making it easier for employees to manage their businesses.
Both companies offer features such as time tracking, paid time off, PTO management, hiring, and learning tools. The difference is in the quality and quality of services offered.
Let's look at key HR tools on Rippling vs. Paychex to find out which is most suitable for you.
Related: TriNet vs. Insperity: PEO Services Comparison 2023
Performance Management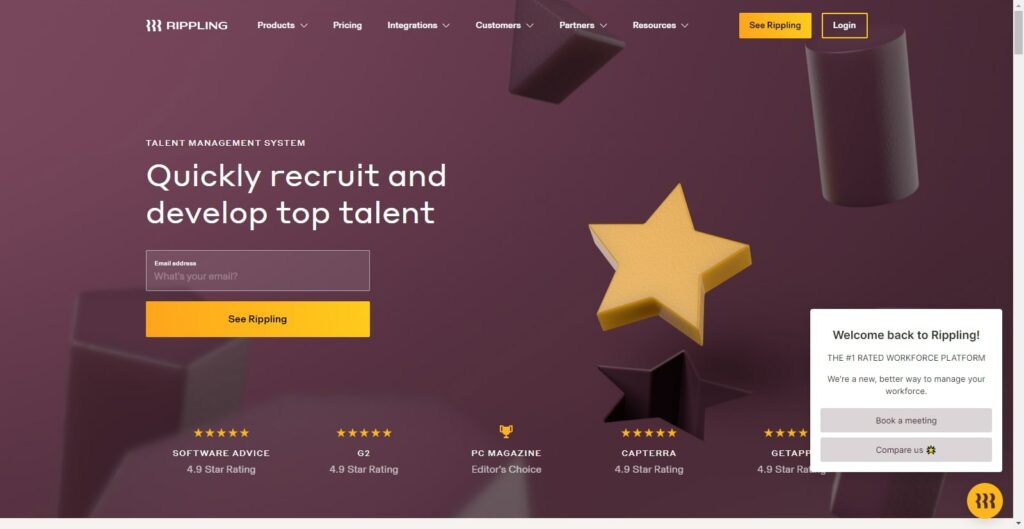 Paychex Flex offers advanced learning and performance management tools like hiring services, time and attendance, PEO, and HR consulting. It stands out for its financial and wellness program, which features advanced financial management tools, educational resources, and short-term loans.
Rippling also features recruiting, learning, and talent engagement tools to help you find the most fitting candidates for your business. You can upload courses to the platform, build enrollment roles, and track employee onboarding. The company has over 1000 pre-built courses, including sexual harassment, cybersecurity, and HIPAA training to help you stay compliant.
Onboarding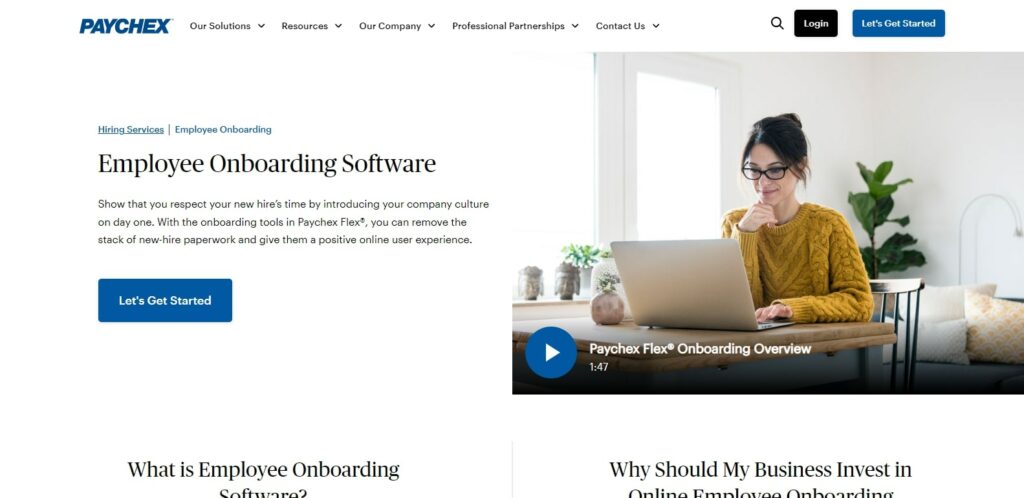 Paychex Flex offers paperless onboarding features like tax withholdings, 1-9, and direct deposit forms. The Paychex Flex Pro plan comes with pre-employment background checks to help you when recruiting new employees. You also get new-hire reporting at no extra cost.
Rippling aims to speed up your onboarding process by offering advanced tools like offer letters, new hire welcome emails, e-signatures, and background checks. The system prides itself on compiling a system that can help you achieve all these tasks within a few minutes or seconds.
Workforce Automation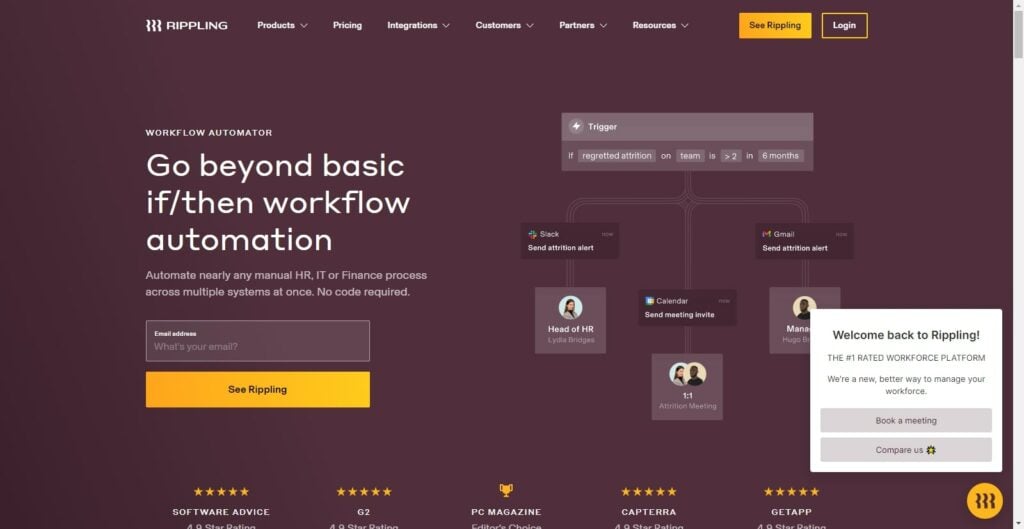 Rippling provides automation features like applicant and document tracking and employee information management. It allows seamless data flow across various HR and payroll tools. You can manage business apps and laptops assigned to employees.
The company does a greater job with automation. You can manage remote workers easier, retrieve company laptops from resigning workers, and lock access to apps and devices for security.
Paychex flex helps with record-keeping, time and attendance, and performance management. It aims to help businesses meet future demands by buying them time and keeping them informed.
You'll find tools to track employee reviews, organize training, and safely store company and employee documents. However, it's not designed to offer advanced workforce automation but to help you tackle common HR problems.
Time and Attendance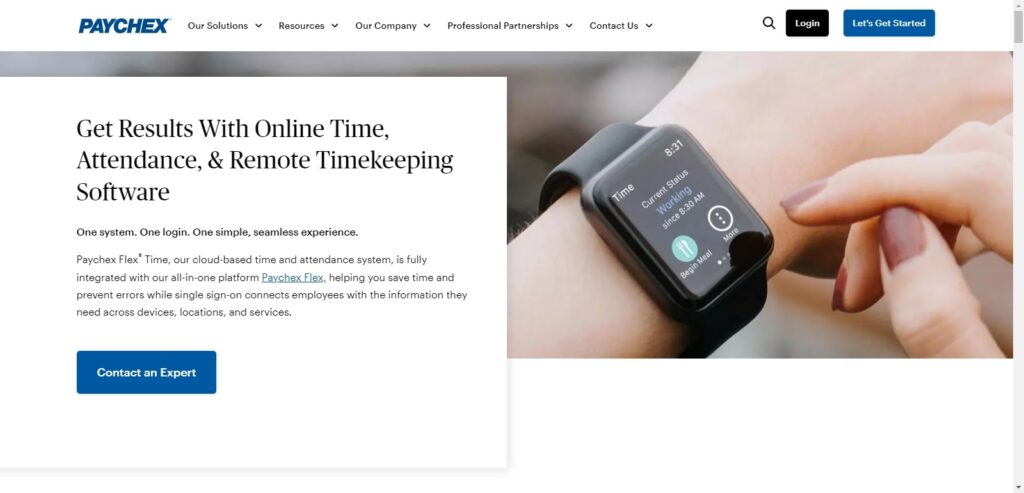 Paychex has Flex Time, a cloud-based time and attendance feature that integrates nicely with its PEO platform. It's designed to help you save time and eliminate errors when calculating payroll.
Since employees can sign in through any device, they can clock in remotely or on-site. They can also view their time cards, time off, and pay adjustments on the apps.
Rippling also offers a time-tracking tool to help you put time and attendance tracking on autopilot. There's no need for manual data entry as the system automatically tracks employee hours from clock-in to payday.
You can also review and approve overtime hours, automate workflows to track time, and request alerts when employees miss deadlines and breaks.
Employee Benefits plans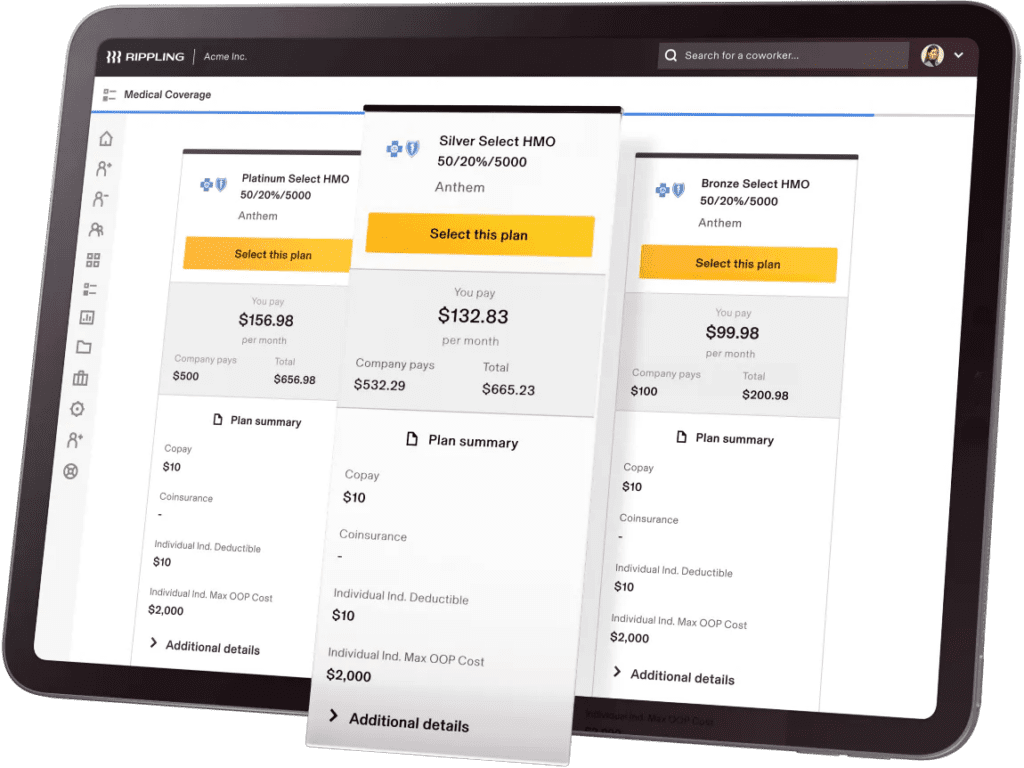 Paychex aims to offer Fortune 500-caliber employee benefits. The company provides attractive and cost-effective benefits like dental, vision, and health insurance, accident coverage, disability, indemnity, critical illness coverage, 401(k), flexible spending accounts, and health savings accounts.
Rippling can help you enroll in over 4000 benefits plans, including medical, dental, and visual insurance, FSA & HSA, 401(k), Affordable Care Act (ACA,) and Consolidated Omnibus Budget Reconciliation Act of 1985 (COBRA). You can choose from Platinum, Silver, and Bronze benefits packages.
Rippling wins in HR Services
Rippling beats Paychex in HR tools as it helps your HR department easily manage recruits, payroll, time and attendance, and compliance. It automates most functions, giving you more capability. The most dominant feature of Rippling is the app and device management tool, which allows you to control all company-issued laptops, apps, and devices from your dashboard.
Rippling Payroll vs. Paychex Payroll Services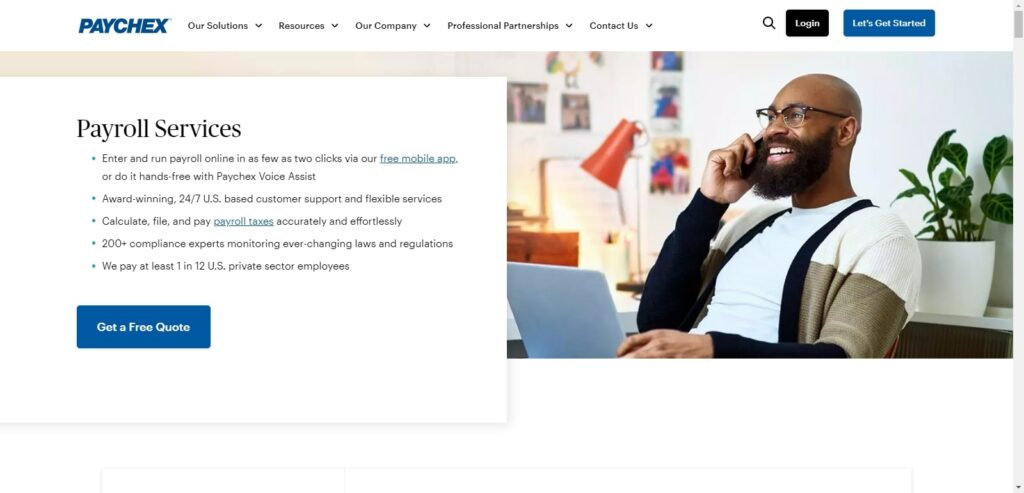 Rippling and Paychex flex provide full-service payroll and handle payments for contractors, salaried employees, and part-time workers. However, they have significant differences that you should consider before making a choice.
Here are the top features to compare:
Payroll Processing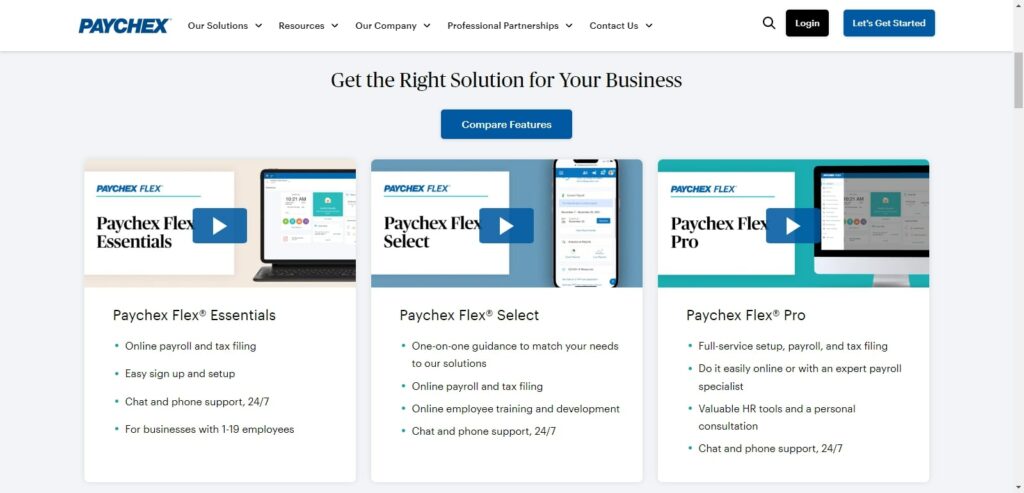 Rippling provides budget-friendly payroll tax administration and doesn't charge extra fees for end-of-the-year reporting. It's a great choice for businesses with global employees. The company offers solid global payroll tools to help you make accurate payments in local currencies.
Paychex is a full-service payroll provider for W-2 employees and 1099 contractors. You can make weekly, biweekly, semimonthly, or monthly payments. The company also helps with payroll compliance regarding local taxes, customized reporting, and shift differentials.
Payment Methods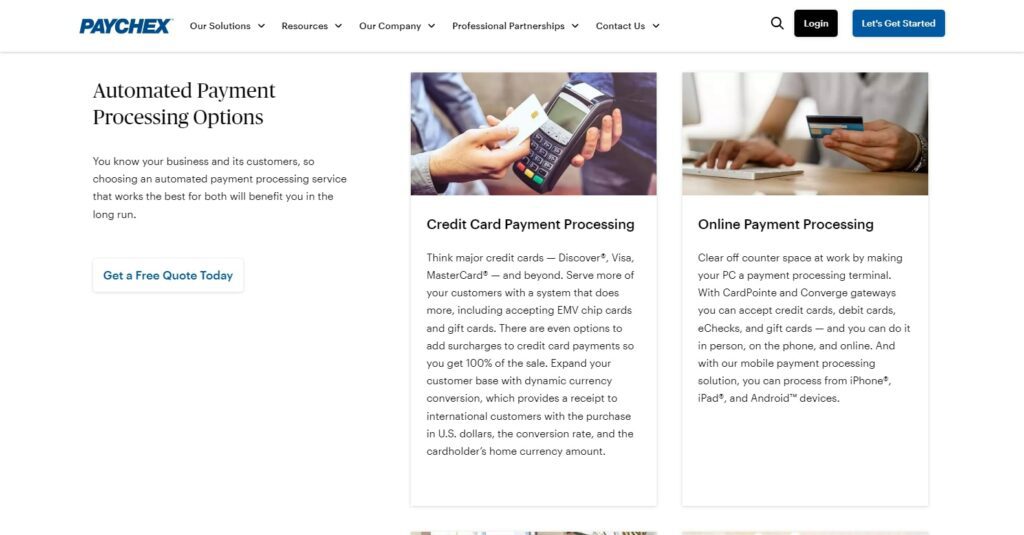 Rippling only supports personal checks from your account and direct deposits. However, you can pay vendors with credit cards, checks, ACH, and direct deposits in their local currencies. The system does not take out taxes for contractors, but it will help you with tax returns for W-2 employees.
Paychex is most suitable for companies that want to offer multiple payment options to employees. Some payment methods you can access via Paychex include same-day ACH, two-day direct deposit, manual checks, and payment cards. You can also process payments in person, on the phone, or online via your iPhone, iPad, or Android.
Payroll Taxes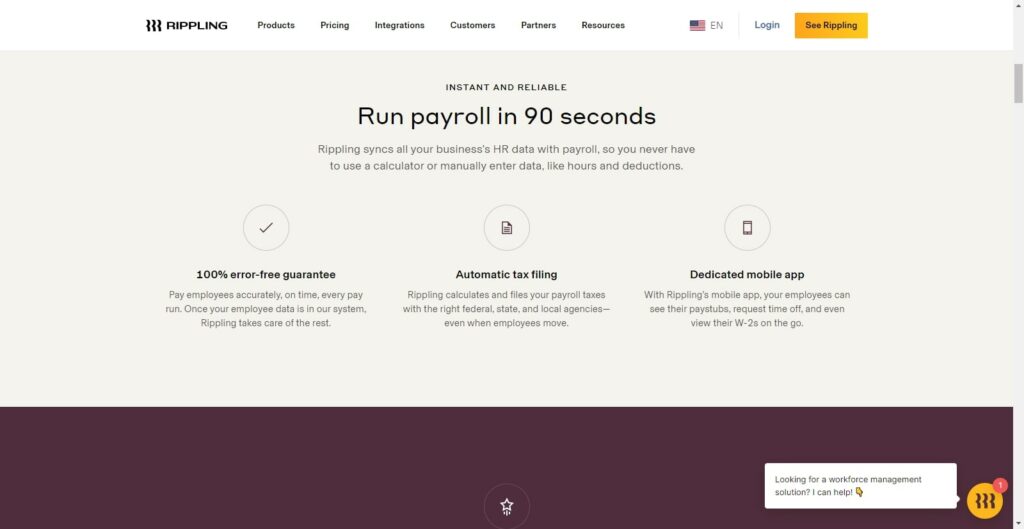 Paychex manages payroll taxes and fills end-year W-2 and 1099 forms. The system accurately calculates, files, and pays state, federal, and local taxes. The company guarantees accuracy and will cover any expenses you incur due to mistakes in your payroll taxes.
Rippling also calculates, files, and pays state, federal, and local taxes, so you never have to calculate or manually enter your tax payments. Employees can also view their pay stubs and W-2s on the go, even when they switch jobs.
Reporting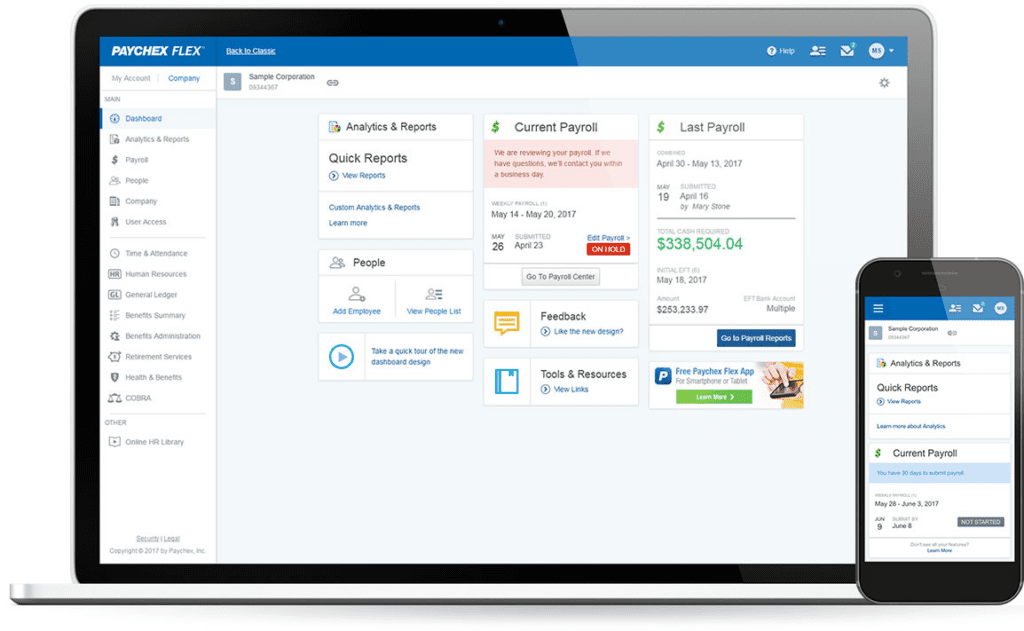 Rippling offers payroll and HR reports and customization options to help you make informed financial decisions. The system filters Excel-like analytics that you can add to reports. Rippling allows you to fetch employee-related data from third-party apps.
Paychex offers advanced analytics and reporting tools for HR, pay, and benefits. It has over 160 standard reports you can customize to receive data exports. Paychex gives you the ability to compare data with industry benchmarks. You can compare data for business cases and get data-driven insights to improve HR functions.
Rippling wins in Payroll Services
Rippling offers payroll and HR reports and customization options to help you make informed financial decisions. The system filters Excel-like analytics that you can add to reports. Rippling allows you to fetch employee-related data from third-party apps.
Regarding other payroll features, Paychex and Rippling are mostly at par, with each offering advanced tools to simplify payroll processing and payments management. However, Paychex has more payment options that Rippling.
Rippling vs. Paychex: Integrations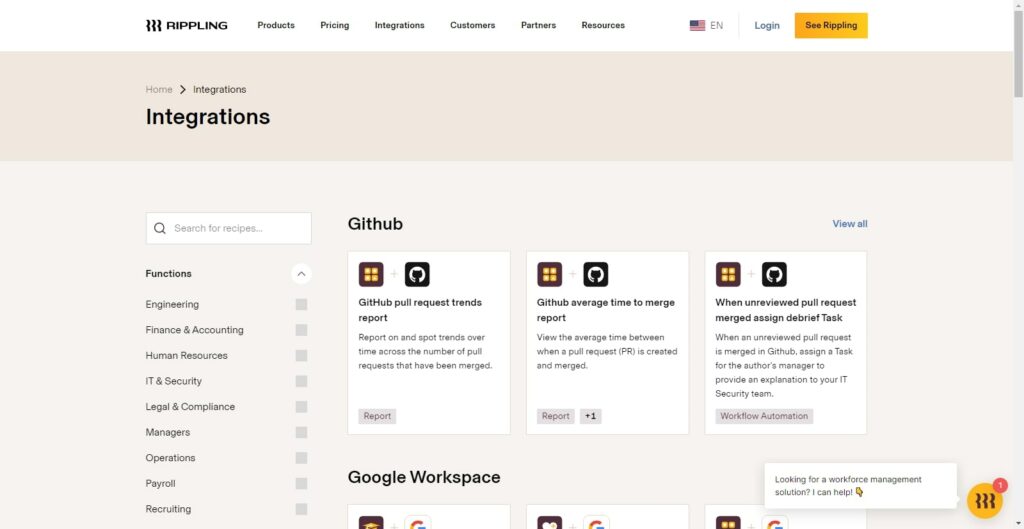 Using Rippling, you can manage the apps your employees access from a single platform. The system features over 500 apps you can integrate on your dashboard to create a unified platform. Popular tools on Rippling include Slack, Google Workspace, Brex, Proxy, and Microsoft 365.
Paychex also features most integration tools you need to automatically and accurately share data on the system. Top tools on the platform include BambooHR, Indeed, Insight360, Microsoft Azure AD, BeeKeeper, and more. The company allows apps to share data between platforms without manual data entry.
Rippling wins in Integrations
Rippling offers the most renowned tools you need in a modern workplace. You can also control which apps your employees have access to, and they can manage their app integrations on one platform.
All the applications are accessible from a single sign-on from one location. It allows you to modify access to software and apps your employees can integrate into their platform.
Rippling vs. Paychex: Customer Support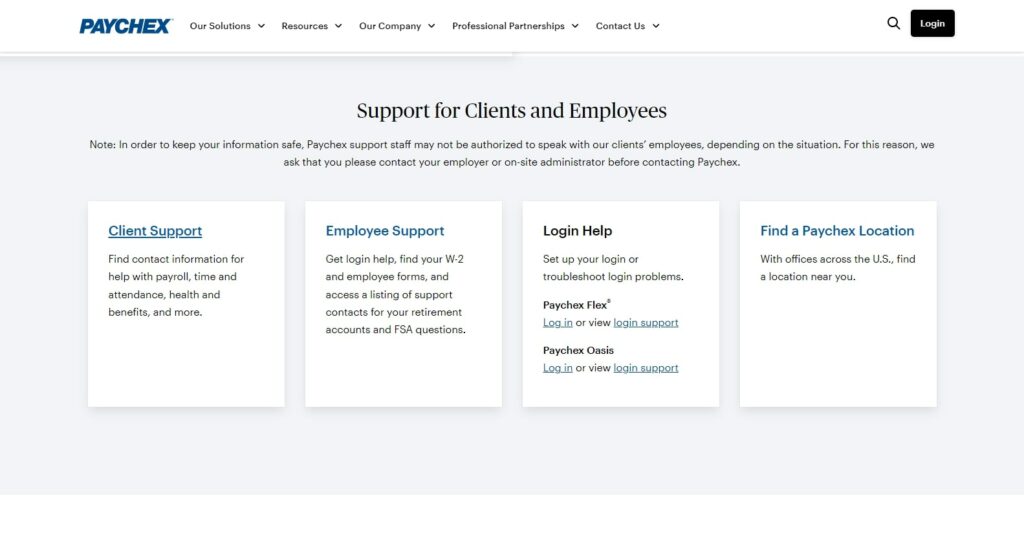 Rippling offers fast email, chat, and phone support, offering all aspects of assistance. You can also get a dedicated specialist to act as a personal support expert regarding payments and taxes. Using their mobile app, both employers and employees can access the system remotely.
Paychex offers phone support with several mobile numbers that you can use to connect with US-Based specialists to help with HR, payroll, and benefits administration needs. They prioritize employers, so employees have to contact employers before going to Paychex assistance directly.
Paychex Wins in Customer Support
Paychex provides 24/7 customer support to all its customers and a dedicated payroll specialist to handle payroll concerns. It also provides multiple mobile numbers that you can easily call for immediate assistance.
Rippling vs. Paychex: Pricing
Rippling only has one pricing plan, which can be customized to meet your needs and budget. Paychex, on the other hand, offers three pricing tiers to suit your needs.
Here are the pricing models for the two platforms
Rippling Pricing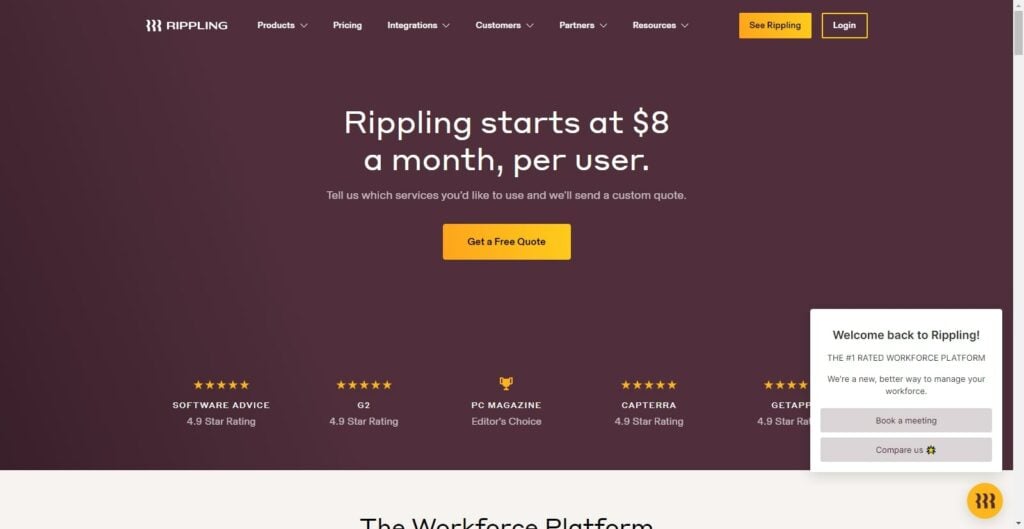 Rippling starts at $8 per user per month. It's unclear how much they charge to access their platform, so you have to contact customer care for a custom quote. The company can be a great option for businesses that need to scale their services as they grow as they offer À la carte services.
Paychex Pricing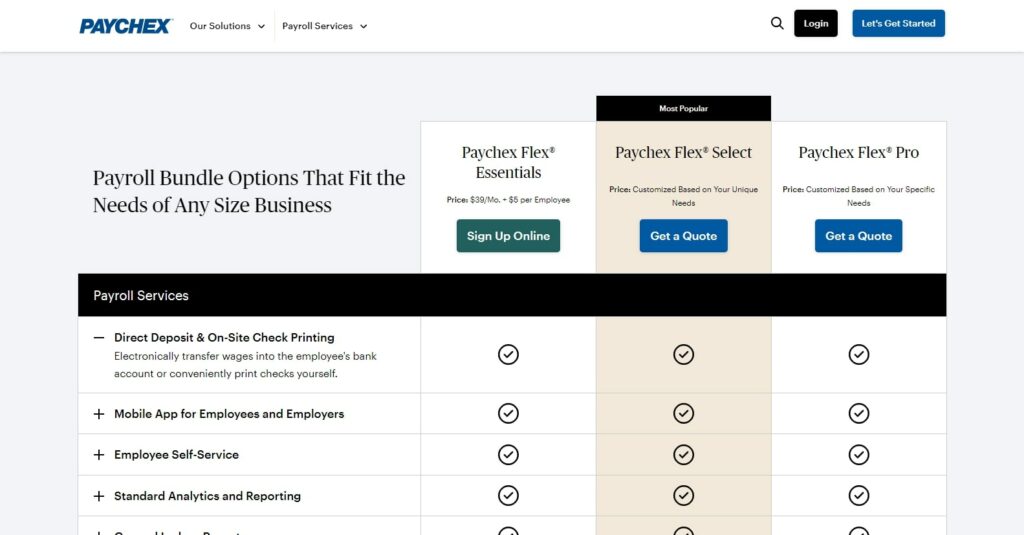 Paychex Flex offers three pricing tiers: Paychex Flex Essentials, Paychex Flex Select, and Paychex Flex Pro. Flex Essentials starts at $39 per month and $5 per employee. Flex Select and Flex Pro can be customized to suit your individual needs.
Paychex flex Essentials offers services like direct deposit, on-site check printing, a mobile app for employees and employers, tax and payroll administration, new hire reporting, and more.
Paychex flex Select offers paper checks, check logos, signings, a learning management system, and more. Paychex flex Pro has additional services like state unemployment insurance, onboarding, screening, a handbook builder, and more.
Paychex wins in Pricing
Although the company does not provide a clear pricing structure for its Flex Select and Flex Pro plans, the platform shares its pricing plan for the Flex Essentials program. It's easy to track what you're getting before you make a decision.
Paychex vs. Rippling: Pros and Cons
Rippling may seem like the undisputed winner between the two PEOs. However, both have some advantages and disadvantages, and it's good to consider the PEOs' pros and cons to see which is most suitable for you.
Here are the Rippling and Paychex pros and cons:
Rippling Pros
The system is designed in a smart, simple, and intuitive way, making it to use
The platform provides advanced automation features for a wide range of HR processes
Supports global payroll and international employee management, allowing you to make payments abroad
Advanced IT tools like an app and device management, which allow you to lock remote users from devices and integration apps
Rippling Cons
Customized pricing only, and you have to contact support for a quote
Does not offer a free trial
Paychex Pros
The platform features three scalable plans for small and growing businesses
It offers 24/7 customer support for all its pricing tiers. You also get dedicated payroll solutions to support to help you with payroll concerns
Excellent tool for small businesses that want a tool to manage hr and payroll benefits
Excellent mobile app for both employers and employees
Paychex Cons
Limited pricing transparency
Limited reporting and analytics
Rippling vs. Paychex: Conclusion
Rippling and Paychex flex PEO services may seem similar, especially if you want a PEO for your small- to medium-sized business. However, when you decide to scale the HR services, you might find that Rippling human resources is the more suitable option.
Rippling offers payroll and HR features to streamline your workflow and help you make informed financial decisions. The system integrates well with third-party apps, and its device management features are unrivaled.
Paychex flex, on the other hand, provides a simple platform that small- to mid-sized businesses can use to manage most of their payroll and HR functions. It integrates nicely with businesses that have fewer employees and mostly want to automate benefits and taxes.
To find out which platform is most suitable for you, visit their official websites to see what else they offer.