Professional Employer Organization (PEO) services are growing rapidly in popularity. Why? They buy small business owners more time to focus on other important functions and help large enterprises stay compliant with all state and federal regulations.
TriNet is one of the leading PEO service providers in the industry. It has an excellent reputation and a long track record of providing effective employee oversight services to businesses across various industries, including healthcare, finance, manufacturing, technology, and more.
However, other companies also serve the same purpose; here are some of the best TriNet competitors to consider when looking for a new PEO solution for your business.
Why TriNet?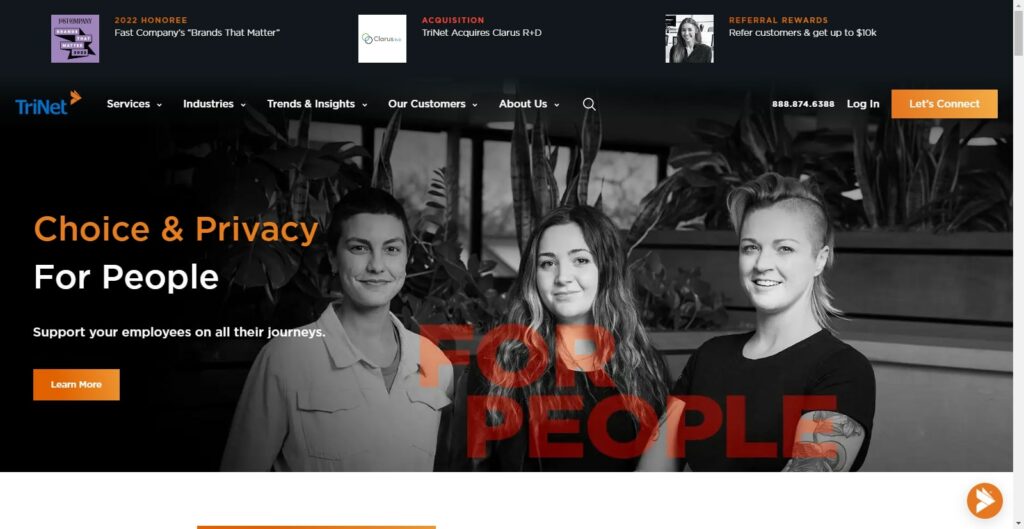 TriNet is among the few leading PEO solutions that provide industry-specific expert human resources support.
When you join them, they assemble a team of HR experts with ample experience in dealing with clients around your industry, size, and location. You get industry-tailored assistance whenever you call, email, or chat with them.
You may prefer TriNet to other PEOs if you have many workers and want to take advantage of all the given features. They have a marketplace where employees can compare benefits and access discounts from top brands on their employee self-service platform.
In addition, it's easy to hire and recruit new workers with TriNet. The system automates most functions, making it easier to onboard new members as it takes less time. 
Trinet | Comprehensive HR Solutions
Trinet is a leading provider of comprehensive HR solutions for small and medium-sized businesses. The company offers a range of services, including payroll processing, benefits administration, compliance management, and employee training and development. Trinet's cloud-based platform allows businesses to manage their HR functions from anywhere, at any time, and its team of experts provides personalized support to help businesses navigate complex HR issues. With over 30 years of experience, Trinet has established itself as a trusted partner for businesses looking to streamline their HR operations and focus on their core business objectives.
Pros:
Comprehensive HR solutions: Trinet offers a wide range of HR solutions, including payroll processing, benefits administration, compliance management, and employee onboarding, which can help businesses streamline their HR processes.

Expertise and experience: Trinet has been in the HR industry for over 30 years and has a team of experienced professionals who can provide expert guidance and support to businesses.

Scalability: Trinet's HR solutions are scalable, which means that they can be customized to meet the needs of businesses of all sizes, from small startups to large enterprises.

Compliance management: Trinet helps businesses stay compliant with federal and state regulations, which can help them avoid costly fines and legal issues.

Employee benefits: Trinet offers a wide range of employee benefits, including health insurance, retirement plans, and wellness programs, which can help businesses attract and retain top talent.

Technology-driven solutions: Trinet uses advanced technology

Other perks you might get from TriNet include:
A comprehensive benefits feature: Employees can compare costs and plans in the marketplace and find delectable discounts from renowned brands
Built-in time and attendance feature: With this feature, you don't have to keep track of your employees' hours and schedules manually
Limited permissions: You can configure user permission settings to allow particular administrators and employees access to pertinent information
Payroll processing software: You can use TriNet to prepare your employees' payroll and W-2 forms and to ensure compliance with state and federal laws
360-degree Feedback: Many employers prefer TriNet because it helps them to instantly provide employees feedback, track applications, and improve employee benefits.
While TriNet is an excellent PEO, it can be expensive for a small business in the beginning phase and provides features the small business barely needs. Unlike some PEOs below, it requires you to have at least five employees.
Therefore, you might consider exploring a TriNet alternative to find a solution that best fits your business. If you're keen on expanding your business, outsourcing HR tasks, and building company culture, it's good to do extensive research to find the most fitting PEO.
Here are the top six:
Top TriNet Competitors
Top TriNet competitors include Insperity, Justworks, ADP TotalSource, Ripping, Paychex, and Infiniti HR. They provide payroll, dental insurance, health insurance, 401(k), HSA/FSA, and commuter benefits and are quite popular.
Here's a brief overview of areas where TriNet competitors win:
These PEO companies are ideal for different kinds of firms. Whether you're looking for an easy-to-use, affordable, or highly-rated PEO, below are the top TriNet competitors to compare.
Insperity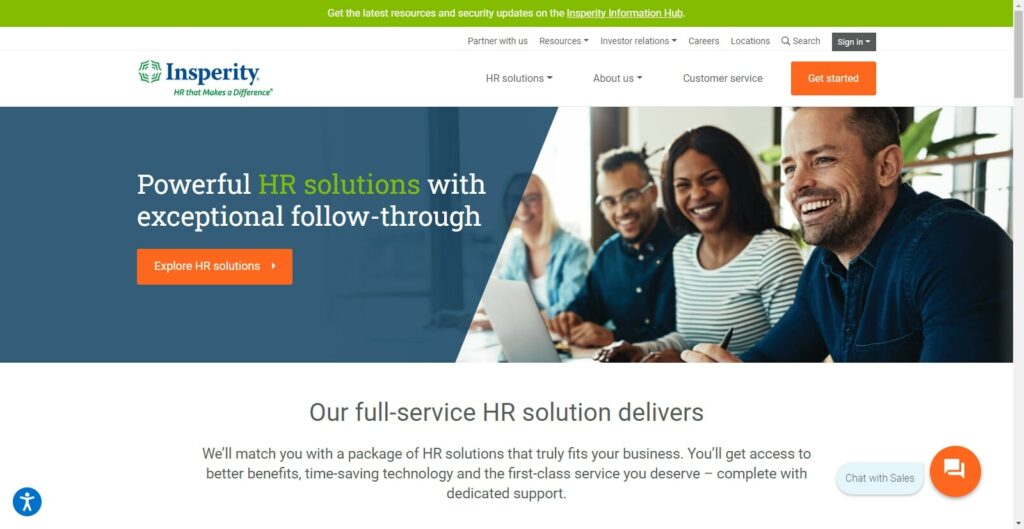 Insperity is a cloud-based PEO that aims to match your business with fitting HR solutions. It has 90+ branches across the US, so you always get local service.
It started in 1986 and now offers some of the most extensive HR outsourcing services tailored for companies with 5 – 1000 employees and beyond.
Insperity's primary services include payroll processing with direct deposit, risk management, benefits administration, HR consulting, and training resources. It offers top features that Small and Midsize Enterprises(SMBs) need and grow to need.  
Insperity | Leading PEO Provider
Insperity is a professional employer organization (PEO) that provides comprehensive human resources and business solutions to small and medium-sized businesses. With over 30 years of experience, Insperity offers a range of services including payroll processing, employee benefits administration, risk management, and compliance support. The company's mission is to help businesses run better, grow faster, and make more money by providing them with the tools and resources they need to succeed. Insperity's team of experts works closely with clients to understand their unique needs and develop customized solutions that meet their specific goals. With a focus on delivering exceptional customer service and innovative solutions, Insperity has become a trusted partner for thousands of businesses across the United States.
Pros:
Leading PEO solutions: Insperity offers a wide range of HR solutions, including payroll processing, benefits administration, employee training, and compliance management.

Expertise and experience: With over 30 years of experience in the industry, Insperity has a team of HR experts who can provide guidance and support to businesses of all sizes.

Customized solutions: Insperity works closely with each client to understand their unique needs and tailor their services accordingly.

Technology-driven solutions: Insperity uses advanced technology to streamline HR processes and improve efficiency.

Cost-effective: By outsourcing HR functions to Insperity, businesses can save money on staffing and administrative costs.

Risk management: Insperity helps businesses stay compliant with federal and state regulations, reducing the risk of legal issues and penalties.

Employee engagement: Insperity offers programs and services to help businesses improve employee engagement and retention.

Insperity Features
Insperity is among a few TriNet competitors that offer a-la-carte HR services. Its Workforce Acceleration Package can be a unique solution for small businesses that need basic HR support without committing to a larger service plan.
For businesses that want to train and develop their employees' skills, Insperity has a wide variety of resources, with thousands of courses and e-books. Businesses can also request onsite tutors for their workers.
Their platform is easy to utilize, allowing administrators, directors, and employees to hire, pay, and view reports through mobile and computer apps.
You can read the article – TriNet Vs Insperity for more details.
Insperity Pricing
Insperity's pricing tiers include:
Full-Service HR For Small Businesses: Complete HR service for businesses with 5 – 149 employees
Full-Service HR For Middle Market: Comprehensive HR solution for businesses with 150 – 5000 employees
HCM and HR Technology Suite: All-inclusive HCM service and tech to streamline your procedures
TriNet vs. Insperity: Why is Insperity better?
While Insperity is more flexible to meet your enterprise needs, TriNet offers its services as a bundle. Every plan includes payroll processing, benefits administration, risk management, and a technology platform.
Insperity's pricing structure is competitive, and its contract structure scales as your business grows. You don't get a pricing quote until expert HR experts assess your company, meaning you only get the services your business needs at a time.
In addition, you can get more employee productivity data and progress by working with Insperity.
Insperity wins in training and resources
Insperity supports employee self-service learning as they work. Hence it's a great alternative. The platform features over 5,000 training courses, 30,000 e-books, podcasts, and webinars, while TriNet has just over 500 training courses.
On Insperity, workers can access instructor-led training and professional advancement courses. You can also request onsite training sessions for your team from an Insperity representative.
Insperity is more flexible for SMBs
TriNet offers bundled services, so you never have to seek additional HR services as your business grows. However, Insperity is flexible, offering PEO services that match your small business.
This makes it ideal for small businesses working on a budget and desiring to scale slowly with time.
Who is Insperity for?
Insperity can be a great alternative if you want a cheaper PEO focused on productivity and efficiency; you want to scale your small business slowly as it grows; you don't want to pay for barely used services.
It can also fit an organization that wants to help workers advance their careers through training resources. Its employee self-service platform allows you to manage most functions automatically.
Justworks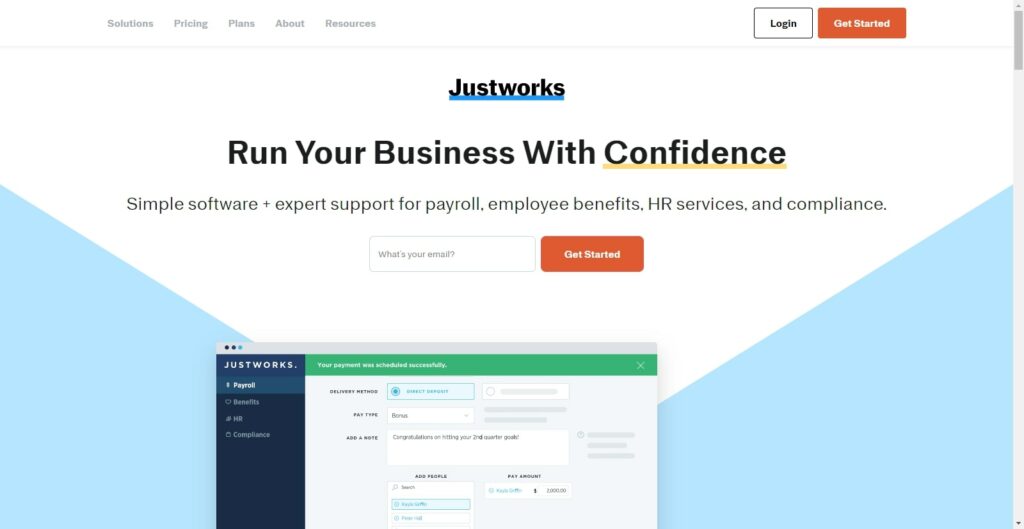 Justworks is an HR Information System (HRIS) and PEO that offers a cloud-based system where you can run the managerial tasks of your business, like benefits administration and payroll services.
Justworks makes it easy to prepare payroll for anyone in your company. It can be a full-time, part-time, salaried, or contract worker or vendor. You'll handle preparing payroll that while Justworks prepares W-2 forms, 1099 workers, and cobra administration for your former employees.
Justworks also provides benefits such as 401k, retirement, and health insurance.
The Justworks platform is intuitive and easy to use. Their technology is user-friendly, simple to navigate, and straightforward for people without technical experience. 
Best for PEO Service
Justworks | Payroll, Benefits, HR Software, and Compliance
Justworks is a cloud-based platform that provides businesses with a comprehensive suite of HR, payroll, benefits, and compliance solutions. It streamlines the administrative tasks associated with managing a workforce, allowing companies to focus on their core business operations. Justworks offers a range of benefits, including health insurance, 401(k) plans, commuter benefits, and more, all of which can be customized to meet the needs of individual employees. The platform also provides access to a network of certified HR professionals who can offer guidance and support on a range of HR-related issues. With Justworks, businesses can simplify their HR and payroll processes, reduce administrative overhead, and ensure compliance with state and federal regulations.
Pros:
Streamlined HR and payroll processes: Justworks offers a comprehensive HR and payroll platform that simplifies the process of managing employee benefits, payroll, and compliance.

Affordable pricing: Justworks offers competitive pricing that is affordable for small and medium-sized businesses.

Comprehensive benefits: Justworks offers a wide range of benefits, including health insurance, 401(k) plans, commuter benefits, and more.

Easy-to-use platform: Justworks' platform is user-friendly and easy to navigate, making it simple for employers and employees to manage their HR and payroll needs.

Compliance support: Justworks provides compliance support to ensure that businesses are following all relevant laws and regulations.

Access to experts: Justworks offers access to HR and compliance experts who can provide guidance and support on a range of issues.

Customizable plans: Justworks offers customizable plans that can be tailored to meet the specific needs of each business.

Justworks Features
The services and features you purchase depend on the Justworks plan you choose. Purchasing Justworks is straightforward since you can gauge its features and services on the main site.
Key services offered by Justworks include benefits administration risk and compliance, payroll services, insurance, and taxes. Although its features are similar to other PEOs, Justworks lacks a tracking feature in the payroll and HR software. However, you can integrate its independent time-tracking app and other apps into your platform.
Justworks Pricing
Justworks has two simple pricing structures: basic and plus. The monthly amount you pay depends on your chosen pricing tier and the number of employees.
Here are their pricing tiers:
Basic: $59 per user per month for payroll, compliance, and strategic HR tools
Plus: $99 per user per month for all features in the basic plan plus medical, dental, and vision cover
TriNet vs. Justworks: Why is Justworks better?
Unlike TriNet, Justworks makes its pricing tiers public so you can budget for PEO services beforehand. This lets you gauge the value of their features and services beforehand.
Justworks is a PEO platform, while TriNet is a team that provides HR services. After registering for an account, you only need to email support, who'll call you to learn more about your business and curate the program to your needs.
You can also read our Trinet vs Justworks comparison for more details.
Justworks beats TriNet in usability
Although TriNet has superior automation offerings, Justworks' usability is beyond it. The PEO software functions smoothly and features upfront pricing, making it easy to budget for and use.
Justworks framework is intuitive and easy to implement. You don't need technical expertise or guidance to use their platform.
Who is Justworks for?
TriNet can only accommodate businesses with more than five employees, and some businesses barely use all resources on the platform. Justworks can accommodate as few as two employees with at least one W-2 compliant.
It means your small business can pay the minimum fee and scale on a need basis. This makes Justworks an excellent alternative for small businesses.
We recommend Justworks to small businesses with fewer than 100 employees and people who're not tech-savvy but still want to automate their operations. Justworks provides great customer support and an intuitive platform.
ADP TotalSource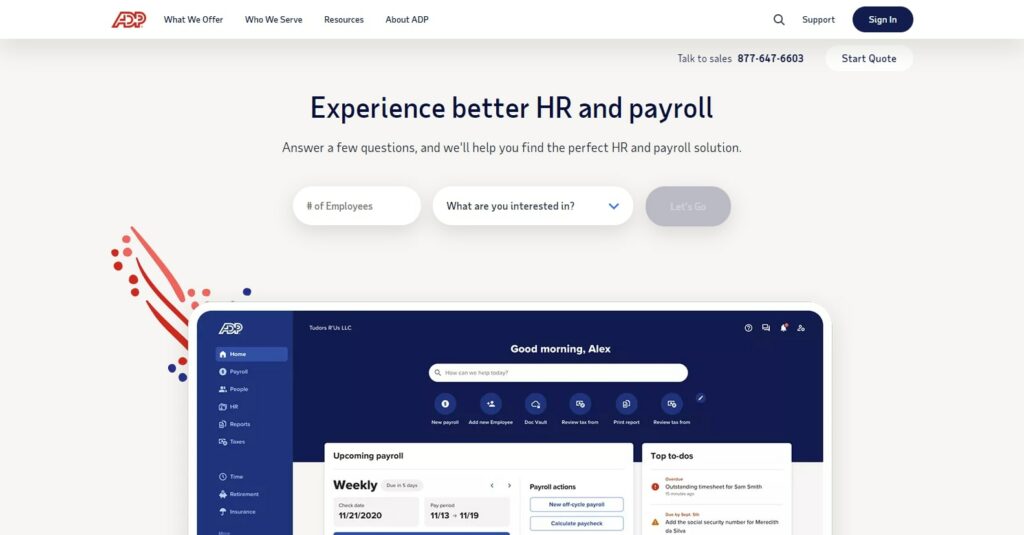 ADP TotalSource is a PEO solution renowned for its fortune-500 caliber benefits and seamless administration. It can serve small, medium, and large enterprises as users can scale features when needed.
It has a user-friendly online portal where you can handle self-servicing tasks such as generating pay statements and reports and managing applicant resumes and interviews.
ADP TotalSource gives workers extra advantages, purchasing power, and access to more comprehensive offerings. Workers can also access all their HR, Payroll services with a click of a button. 
ADP Payroll
ADP Payroll is designed to manage and process payroll for businesses of all sizes. The input for this system includes employee information such as hours worked, salary, and tax information. The system then calculates and processes payroll, generating various outputs such as paychecks, direct deposits, and tax forms. ADP Payroll also provides reporting and analytics tools to help businesses track and analyze payroll data. Overall, ADP Payroll streamlines the payroll process, ensuring accuracy and compliance with regulations.
Pros:
Time-saving: ADP Payroll automates the payroll process, saving time and reducing the risk of errors.

Compliance: ADP Payroll ensures compliance with federal, state, and local payroll regulations, reducing the risk of penalties and fines.

Accuracy: ADP Payroll calculates taxes, deductions, and other payroll-related expenses accurately, reducing the risk of errors and ensuring employees are paid correctly.

Employee self-service: ADP Payroll provides employees with self-service options, allowing them to view their pay stubs, update their personal information, and access other payroll-related information.

Reporting: ADP Payroll provides detailed reports on payroll expenses, taxes, and other payroll-related data, allowing businesses to make informed decisions.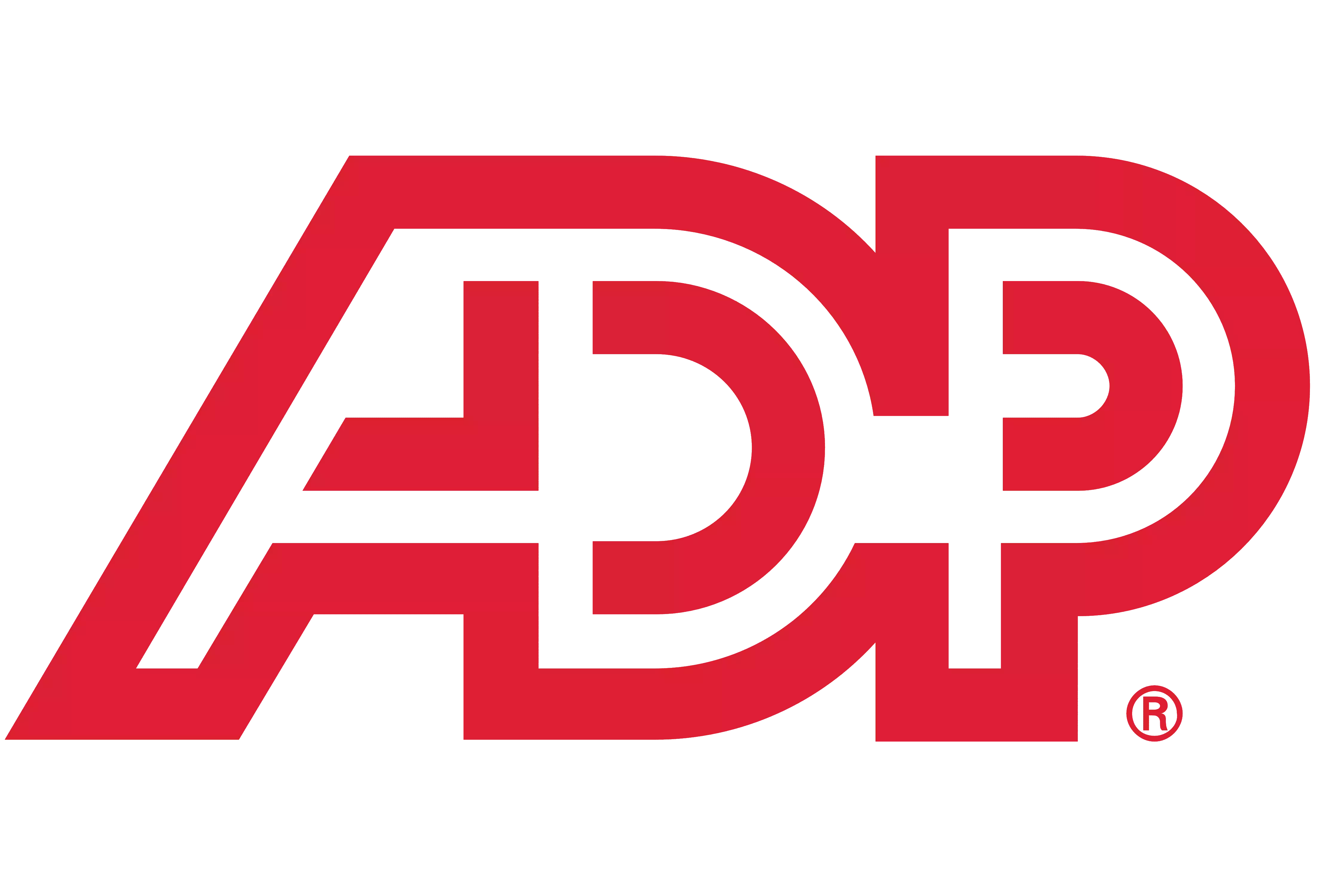 ADP TotalSource Features
ADP TotalSource is among the few PEOs that offer industry-specific HR services. It provides payroll services with direct deposit, tax returns, commuter benefits, insurance, compliance, and time-tracking services.
The platform allows users to integrate third-party software for data insights, benchmarking, compensation management, and employee recruitment.
ADP TotalSource can also help you maintain compliance with COBRA and the Affordable Care Act (ACA) and provide other state and federal law requirements.
ADP TotalSource Pricing
ADP TotalSource offers bundled HR features for each plan and does not make its pricing plans public. Here's how they categorize their services:
Small Business: Offers payroll processing, compliance management, recruiting and hiring, and outsourced HR
Midsize and enterprise business: Offers all features in Small Business resources plus HCM solutions and managing workforce
TriNet vs. ADP TotalSource: Why is TotalSource better?
ADP TotalSource rivals TriNet's employee management and assistant programs by enabling you to secure and manage employee information on the cloud. It also provides assistance programs like counseling and other resources for people dealing with grief, stress, or loss.
ADP TotalSource is also easier to use and integrate into your business than TriNet, which can take some time to integrate.
ADP TotalSource wins in business administration
ADP TotalSource also wins a mark for providing the most comprehensive business administration features. It's great for enterprises that want to attract top talent with competitive benefits.
ADP TotalSource wins in partner integration
ADP is among the few PEOs that support seamless integrations with hundreds of third-party tools from their marketplace. The company has partnered with thoroughly vetted programs to help companies run effectively.
Who is ADP TotalSource for?
ADP TotalSource is most suitable for companies that want high-quality advantages, seamless integration of tools on one platform, and great customer support. It's also ideal for small businesses with less than 1,000 workers that want to grow on a need basis.
Rippling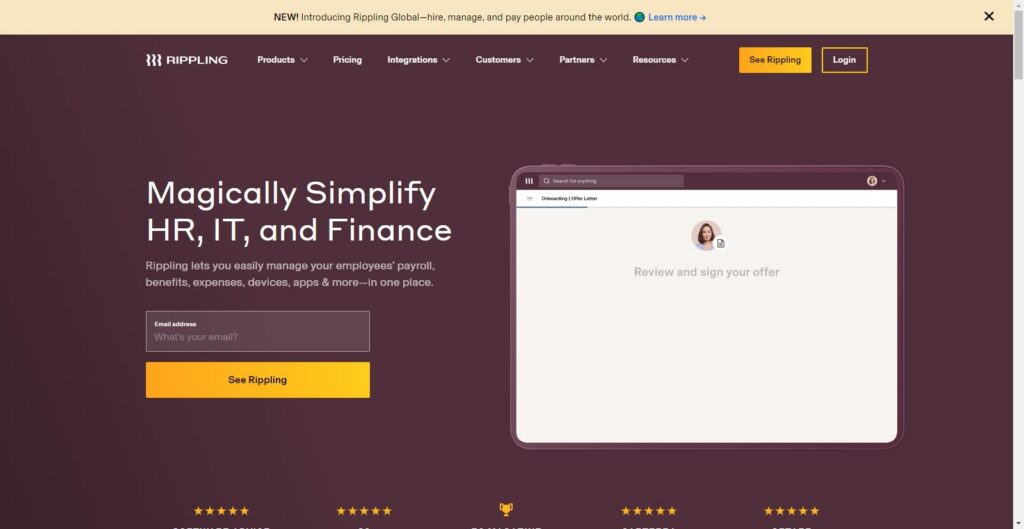 Rippling is a PEO provider that prides itself on having an intuitive cloud-based platform with the fastest responsiveness and exclusive app integration capabilities.
It rivals TriNet in terms of capability and ease of use. It allows you to manage your employee payroll services, advantages, insurance, expenses, and apps in one place.
With an advanced integration system, you can bring all your employee data on one platform and print annual reports, from fields and documents to currencies based on work location.
You can read our detailed Rippling PEO review here.
Powerful Automation
Rippling | Workforce Management Platform
Rippling is a comprehensive human resources management software that streamlines HR processes and automates administrative tasks. It offers a range of features including employee onboarding, payroll management, benefits administration, time and attendance tracking, performance management, and compliance management. With Rippling, businesses can easily manage their workforce, track employee data, and ensure compliance with labor laws and regulations. The software is user-friendly and customizable, allowing businesses to tailor it to their specific needs. Overall, Rippling is a powerful tool that simplifies HR management and helps businesses save time and resources.
Pros:
Streamlined HR processes: Rippling offers a comprehensive HR platform that automates many HR processes, including onboarding, payroll, benefits administration, and compliance.

Easy-to-use interface: Rippling has a user-friendly interface that is easy to navigate, even for non-technical users.

Integrated payroll: Rippling includes a payroll module that is fully integrated with other HR functions.

Customizable workflows: Rippling allows HR teams to create custom workflows for different HR processes, such as onboarding or performance management. This can help to ensure that processes are tailored to the specific needs of the organization.

Compliance support: Rippling includes compliance support for a range of HR regulations, including tax and labor laws.

Employee self-service: Rippling includes an employee self-service portal that allows employees to access their HR information, such as pay stubs and benefits information.

Rippling Features
Rippling starts you off with a base plan, which integrates foundational modules your business may need for onboarding, task management, and offboarding.
You can upgrade your plan to add new features like payroll processing, talent management, benefits administration, insurance, and device management.
Other features they offer include applicant tracking, e-verifications, customizable position management, automatic tax filing, garnishments, reimbursements, and offer letters.
Rippling Pricing
Rippling claims its pricing for service is both small-businesses and large-enterprises friendly. However, you need to pay extra for an extra Workforce Management Platform where you'll use their services, but Rippling doesn't offer prices for that.
Here are its pricing tiers:
Base: Rippling charges $8 per user per month for basic support
Custom Quote: If you need extra support, you can contact them for a custom per-user per-month quote
Rippling vs. TriNet: Why is Rippling better?
With Rippling, you can curate a portfolio that suits your business needs. This is unlike TriNet, which offers its services as a bundle, making it expensive for small businesses. It provides an employee handbook and manages your tax, insurance, payroll, IT, and finance.
Rippling beats TriNet in onboarding
Unlike TriNet, which can take an hour to onboard new employees, Rippling claims you can onboard new hires in less than 6 minutes. It has many tutorials you can use to onboard without additional assistance.
Rippling wins in automation
Rippling wins the mark for automating most functions, making it more convenient. For example, after you onboard a new hire, the cloud-based platform will automatically create a record for them.
It'll include essential details like their roles, personal information, payroll, insurance plans, and integrated applications.
Who is Rippling for?
Rippling can fit your business if you have a small team of 2 in the US or a global team of over 2000. It offers a single platform to manage all HR functions. Top organizations that need an intuitive and easy-to-use platform that enables speedy software implementation can find Rippling quite beneficial.
Paychex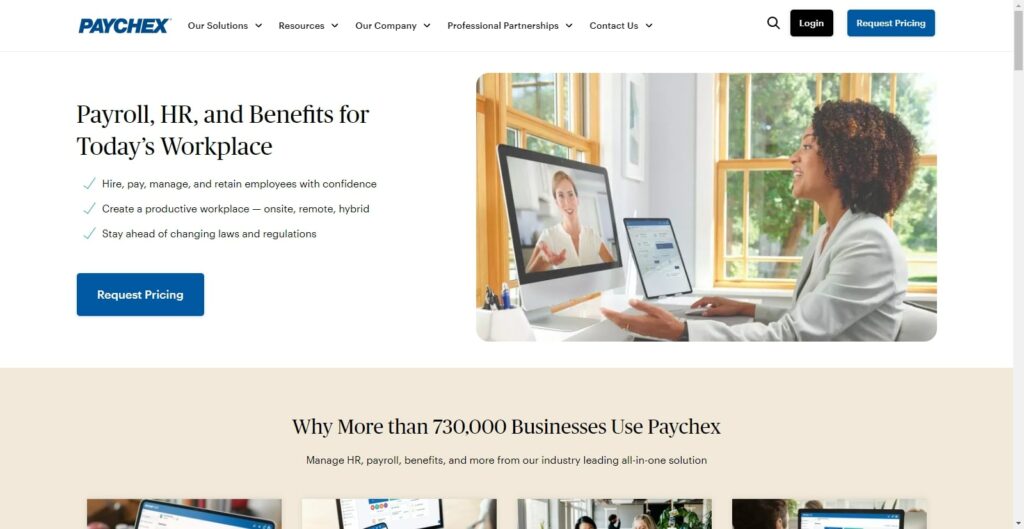 Paychex is an all-in-one cloud-based HR solution designed for businesses that need simplicity and fast integration. It has customizable plans that support various HR and administrative functions in midsize and large enterprises.
The platform offers many productivity-enhancing features that managers and employees can use on their mobile apps and desktop devices.
Paychex can serve up to 1000 employees, making it an ideal tool for large businesses. It can handle payroll and tax, disability insurance, time and attendance management, and recruiting and onboarding.
Paychex Features
Paychex's flexibility and ease of use make it an ideal option for large businesses. It's available in three service plans, and each has unique features curated for different types of businesses.
You can create automated workflows to help you streamline key HR tasks. This makes it ideal for speeding up processes and reducing potential human errors.
For midsize to large enterprises, it's easy to check pre-employment backgrounds, onboard, and perform HR administration tasks using Paychex.
Paychex Pricing
Unlike TriNet, Paychex makes its pricing plans public, so it's easier for you to budget yourself accordingly.
Here are its pricing tiers:
Paychex Flex® Essentials: $35/month and $5 per employee per month for online payroll and 1-9 employees
Paychex Flex® Select: Customized based on needs to offer one-on-one guidance, insurance, payroll, and tax filing
Paychex Flex® Pro: Customized based on needs to offer full-service set-up, insurance, HR tools, online payroll specialists, and personal consultation
Paychex vs. TriNet: Why is Paychex better?
Paychex is a great TriNet alternative for large and midsize companies needing payroll assistance. Large businesses want tailored services with enhanced payroll activities and reduced errors.
Paychex beats TriNet in Team Collaboration
Paychex helps the employee to clock in and out, schedule time off, and share information with others easily. This makes it an ideal tool for collaboration.
Paychex wins in transparency
While TriNet provides prices for some of its features, you must contact them for a full-price quote. Paychex is transparent in terms of payments for the Paychex flex essentials.
Who is Paychex for?
Paychex is most suitable for large enterprises with over 1,000 employees. It's also suitable for businesses that want to view their payroll on the go and perhaps have developers who can design APIs to augment Paychex's API systems.
Infiniti HR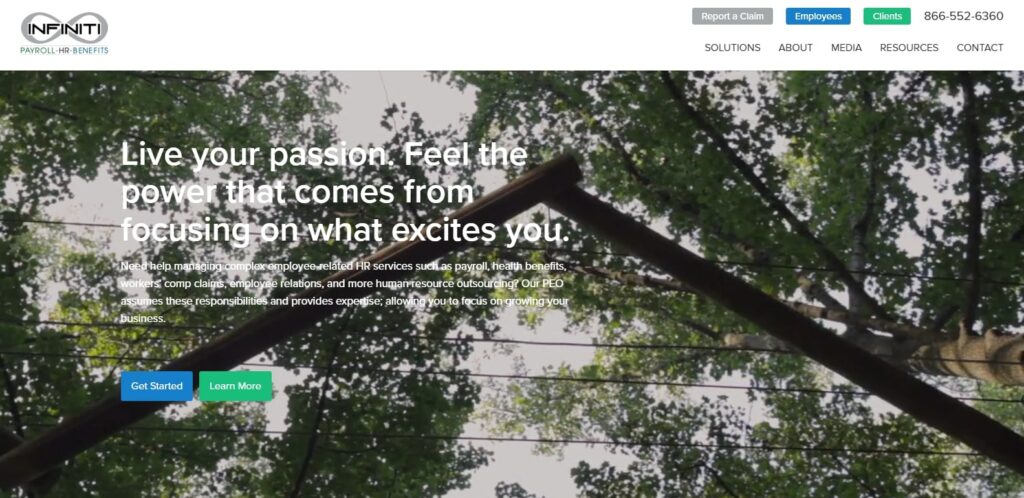 Infiniti HR is a renowned HR solutions provider with over 600 customers across the US. They provide end-to-end payroll services to companies of all sizes.
Like other TriNet competitors on this list, people enjoy working with Infiniti HR for their HR compliance, risk management, payroll, and benefits administration services.
They work in two business models: either through PEO environments or ASO arrangements. Businesses contract Infiniti HR direct to give them HR responsibilities.
Infiniti HR Features
Infiniti HR provides comprehensive strategic HR support, payroll, insurance, risk management, and recruitment. Infiniti Payroll uses a real-time tax calculator to update you with accurate information.
It's curated for business owners looking for myriad services like mitigation of liabilities, reduced labor costs, more personal service and interactions, and increased efficiency.
Some benefits they provide include dental, vision, health, minimum essential health coverage, life insurance, ID theft, critical illness, and hospitality indemnity.
Infiniti HR Pricing
Infiniti does not list its pricing plans for services rendered. You pay according to features. These include:
PEO: It offers payroll and tax filling, state-specific HR management, mandatory employer insurance, and employer voluntary insurance
Payroll: Simplifies accounting processes with Quick Books, Data Pro, and Great Plains
Benefits: It offers group benefits, voluntary benefits, value-added benefits, and miscalenious
Insurance: It assumes some liabilities with employee compensation and unemployment
Risk Management: Infinity deals with employee compensation claims, getting certificates of insurance, and ensuring safety in the workplace
HR Services: It handles employee handbooks, job descriptions, federal and state law posters, and standard employee management forms
Recruitment: Infiniti deals with placing ads on job boards, filtering candidates, and hiring the right talent for the job
Infiniti HR vs. TriNet: Why is Infiniti HR better?
Infinity HR is the first ever created for franchises and hotel management. On top of HR resources, they offer to recruit and hire the right candidate for your organization.
Infiniti HR beats TriNet in personalized services
Although TriNet offers industry-specific HR solutions, Infiniti HR specializes in enterprises with franchises and branches across the country. Businesses can rely on Infiniti HR for support to meet federal and state regulations in different states and operate businesses optimally.
Who is Infiniti HR made for?
Infinity HR was made for midsize to large enterprises with franchises across the country. It handles payroll, tax filing, employee compensation, EPLI, and HR support specific to each state. The system also integrates with your Point of Sale, tracking time and giving tips to improve usage.
Top TriNet Competitors: Conclusion
Although TriNet can be an amazing tool for mid-sized to large enterprises, it can be costly if you don't use all its features.
To stay compliant with state and federal laws and ensure you're on the right budget for your small business, you can consider TriNet competitors to see which meets your needs.
Test the above six TriNet competitors to see what services they offer and if they can be more beneficial to your business.