When it comes to finding the best professional employer organization (PEO) services, there are a few things that you need to take into account. One of the most important factors is the size of your business.
Every business is different, and you will need a solution that is right for you. Some may have a large number of employees, while others may have a small team of employees. You will need to choose a solution that is based on the needs of your business and your employees.
TriNet and Justworks are two of the most well-known providers of PEO services for small businesses. They offer a wide range of services to small and medium-sized businesses in all industries. Both companies offer a wide range of features to help their clients manage their payroll and HR functions.
But which one should you choose? This article will compare TriNet vs. Justworks to help you make a decision. You will find out what each company has to offer as well as what sets them apart from each other. This will give you the information you need to choose the solution that is right for you. Keep reading to learn more.
TriNet vs Justworks: At a Glance
Trinet and Justworks are both PEO service providers that share key features such as intensive data protection, accessibility through mobile apps, a dedicated team of experts, and easy tax filing. However, they differ in terms of their focus, experience, health insurance options, accounting integrations, and pricing transparency.
Here's a summary of the differences between Trinet and Justworks:
| | | |
| --- | --- | --- |
| Feature | Trinet | Justworks |
| Focus | Cloud-based HR company | HR-based PEO platform |
| Experience | Been in the market for around three decades | Relatively new in the market |
| Health insurance options | Access to more health insurance options | Access to extensive health insurance coverage but could be difficult to bargain for some insurance options |
| Accounting integrations | Integrates with Sage Intacct, NetSuite, QuickBooks Online, and Xero | Links to QuickBooks Online, QuickBooks Desktop, and Xero |
| Pricing transparency | Lacks transparency in its pricing models | More affordable and transparent pricing plan |
Trinet vs. Justworks
TriNet vs. Justworks: Similarities
Trinet and Justworks are both incredible PEO service providers that share some key features that make it difficult to choose between them. Some of the key similarities between the two include the following:
Intensive Data Protection – TriNet and Justworks protect and keep your company data confidential thanks to their intensive data protection protocols. Trinet boasts a comprehensive data privacy policy, while Justworks come in with top security features like SSL, TLS, and firewalls.
Accessible Through Mobile Apps – Both Trinet and Justworks are accessible through iOS and Android mobile apps. Through the apps, you can track employee work times, run seamless payroll management, and manage schedules and communication, among other functionalities.
Dedicated Team of Experts – Both platforms offer a dedicated team of experts with the freedom to choose the services you want to outsource.
Easy Tax Filing – These two platforms sufficiently lighten the burden of filing taxes with the help of their detailed tax-related features, like easy administration of employee I-9s and W-4s.
TriNet vs. Justworks: Differences
These two don't come without a fair share of differences. Some of the most notable differences include the following:
Justworks is an HR-based PEO platform, primarily built to reduce the workload on HR officers and managers. TriNet, on the other hand, is a cloud-based HR company, primarily built to help small and medium-sized companies realize their ambitions.
TriNet has been in the market for around three decades now, which puts it in an advantageous position for accessing more health insurance options. While you can equally access extensive health insurance coverage with Justworks, it could be difficult to bargain for some insurance options due to its relative newness in the market.
TriNet boasts more accounting integrations than Justworks. It integrates with Sage Intacct, NetSuite, QuickBooks Online, and Xero while Justworks only links to QuickBooks Online, QuickBooks Desktop, and Xero.
Justworks' pricing plan is more affordable and transparent, whereas TriNet still lacks transparency in its pricing models.
What is TriNet?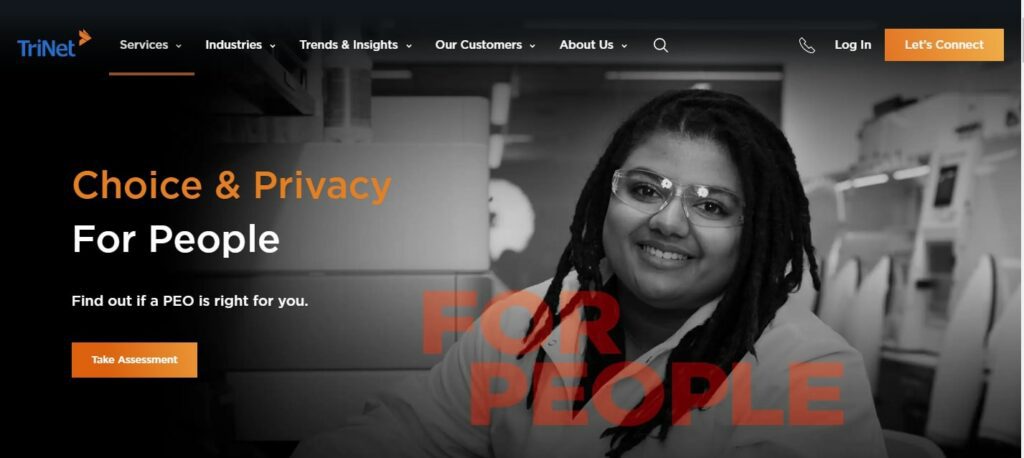 Founded in 1988, TriNet is one of the leading PEO companies that offers access to professional payroll, HR, and compliance-tasks experts. Small and medium-sized businesses can access these services through the company's intuitive platform. Recently, TriNet acquired Zenefits, which has boosted TriNet's HR and payroll management capabilities.
Trinet | Comprehensive HR Solutions
Trinet is a leading provider of comprehensive HR solutions for small and medium-sized businesses. The company offers a range of services, including payroll processing, benefits administration, compliance management, and employee training and development. Trinet's cloud-based platform allows businesses to manage their HR functions from anywhere, at any time, and its team of experts provides personalized support to help businesses navigate complex HR issues. With over 30 years of experience, Trinet has established itself as a trusted partner for businesses looking to streamline their HR operations and focus on their core business objectives.
Pros:
Comprehensive HR solutions: Trinet offers a wide range of HR solutions, including payroll processing, benefits administration, compliance management, and employee onboarding, which can help businesses streamline their HR processes.

Expertise and experience: Trinet has been in the HR industry for over 30 years and has a team of experienced professionals who can provide expert guidance and support to businesses.

Scalability: Trinet's HR solutions are scalable, which means that they can be customized to meet the needs of businesses of all sizes, from small startups to large enterprises.

Compliance management: Trinet helps businesses stay compliant with federal and state regulations, which can help them avoid costly fines and legal issues.

Employee benefits: Trinet offers a wide range of employee benefits, including health insurance, retirement plans, and wellness programs, which can help businesses attract and retain top talent.

Technology-driven solutions: Trinet uses advanced technology

TriNet Key Features
TriNet's key features are:
20 varying customizable and standard payroll reminders
A wide range of insurance options, including disability, medical, vision, dental, and life insurance
Intuitive TriNet mobile app
Paychecks can come in via prepaid Visa debit cards
Allows for the creation of a library of crucial business documents like handbooks and compliance and financial information
Who is TriNet for?
Given that TriNet provides advice on employment law compliance and risk reduction, as well as HR and payroll services, it stands out as a perfect PEO solution for small to mid-sized businesses.
It's a perfect fit for organizations with 3 to 2,000 employees that need effective employee management services but can't do it in-house because of the associated high costs.
What is Justworks?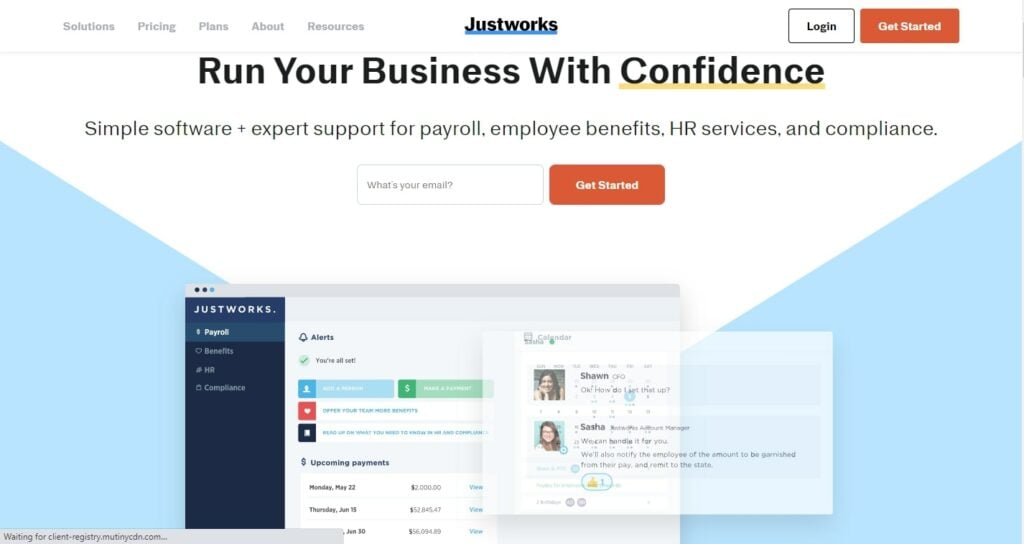 Started in 2012 as a non-profit co-working space, Justworks has grown into a reliable Professional Employer Organization (PEO) platform that handles payroll tax and employee benefits deductions. Businesses can equally access HR management and tax compliance services from the platform.
Best for PEO Service
Justworks | Payroll, Benefits, HR Software, and Compliance
Justworks is a cloud-based platform that provides businesses with a comprehensive suite of HR, payroll, benefits, and compliance solutions. It streamlines the administrative tasks associated with managing a workforce, allowing companies to focus on their core business operations. Justworks offers a range of benefits, including health insurance, 401(k) plans, commuter benefits, and more, all of which can be customized to meet the needs of individual employees. The platform also provides access to a network of certified HR professionals who can offer guidance and support on a range of HR-related issues. With Justworks, businesses can simplify their HR and payroll processes, reduce administrative overhead, and ensure compliance with state and federal regulations.
Pros:
Streamlined HR and payroll processes: Justworks offers a comprehensive HR and payroll platform that simplifies the process of managing employee benefits, payroll, and compliance.

Affordable pricing: Justworks offers competitive pricing that is affordable for small and medium-sized businesses.

Comprehensive benefits: Justworks offers a wide range of benefits, including health insurance, 401(k) plans, commuter benefits, and more.

Easy-to-use platform: Justworks' platform is user-friendly and easy to navigate, making it simple for employers and employees to manage their HR and payroll needs.

Compliance support: Justworks provides compliance support to ensure that businesses are following all relevant laws and regulations.

Access to experts: Justworks offers access to HR and compliance experts who can provide guidance and support on a range of issues.

Customizable plans: Justworks offers customizable plans that can be tailored to meet the specific needs of each business.

Justworks Key Features
The Justworks' key features you should look out for are:
Employee self-service portal that allows for pay stubs viewing, deduction breakdowns, and updates of tax and direct deposit information
Integrates with popular accounting software like Xero and QuickBooks
Intuitive and interactive Justworks mobile app
Access to employment practices liability insurance
A PTO management dashboard
Who is Justworks for?
Just like TriNet, Justworks is an ideal PEO solution for small to mid-sized businesses. However, it's much easier to use and has DIY software, making it easier for small business owners to integrate the functionalities into their HR systems.
It is ideal if you're just starting with your small company but need an established HR and payroll functionality to steer your business to success.
TriNet vs. Justworks: Features
Justworks vs. TriNet compare and contrast in many different ways based on their functionalities and features. For instance, both Justworks and TriNet offer immaculate Hr & payroll services to small businesses that don't have the budget of a fully established in-house HR department.
The two also contrast in many different ways, including pricing and the specific industries they're individually best for. Below are some of their respective key features:
TriNet PEO Key Features
When deciding between Justworks and TriNet PEO, the following TriNet key features should give you a bias towards TriNet.
Seamless Payroll Management
As a complete company with the relevant HR and payroll infrastructure, TriNet's payroll management system is undoubtedly one of the best in the market. Your employees will get paid on time as this payroll management system automates payroll processing for effective payments.
Effective Talent Management
69% of business owners consider cost and user interface as the main factors when choosing a reliable talent management tool for their business. TriNet is one of the most affordable and user-friendly POE platforms offering effective talent management services.
Top-Class HR Management
There's no better way to describe TriNet's capabilities than with its top-class HR management services. Businesses can now consult on effective compensation plans to see employees get attractive but inexpensive compensation for their work.
TriNet's HR experts will also consult with your employees to get a view of their workplace, colleagues, and management so you can identify loopholes and solve them in time.
Justworks PEO Key Features
Just like TriNet PEO, Justworks PEO has some outstanding features you should consider when making the decision of choosing between Justworks vs. TriNet. Here are the key features to consider:
Effective Time Tracking
Effective time tracking is one of the key factors in payroll and invoice management. With Justworks' time tracking feature, you can easily measure your employees' performance and manage their work output. You can use this system to manage hours worked by both your remote teams and contractors.
Seamless Onboarding and Hiring
With the widespread demand for remote labor across the globe, startups are increasingly looking for seamless onboarding and hiring solutions. Justworks' hiring and onboarding feature make it easier for small businesses to build and manage talented teams working remotely.
Employee Benefits Management
Company benefits like health insurance, risk mitigation, and wellness perks are some of the key attractions for employees in any company. Justworks allows you to create the most cost-effective plans for managing benefits for all your employees. You can help them pick the most affordable insurance plans and other perks from the platform for a better, long-lasting working relationship.
Verdict: Justworks Wins in Features
This is a narrow win for Justworks, and I picked it here because of its employee benefits management feature. I find it very fulfilling that employees can access various workplace-related benefits at the convenience of one easy-to-use tool and at an affordable price.
The fact that both business owners and their employees can co-manage this functionality makes it even more feasible and satisfying.
TriNet PEO vs. Justworks PEO: Employee Benefits
Both Justworks and TriNet offer admirable employee benefits, but the differences come in how these benefits are packaged and availed to the end consumer. Here's a breakdown of each of the PEO's employee benefits composition.
TriNet Employee Benefits
TriNet's employee benefits are available in packages that are availed only to big companies, hence locking out startups and mid-level companies. The packages provide the best health coverage for employees, their families, and pets. You can also set up and manage employee retirement plans through the platform.
Justworks Employee Benefits
Justworks' employee benefits are available for companies of all sizes. Whether you're starting up or are already established in business, you can use the platform to curate the most effective plans for your employees.
Besides the health benefits, the platform includes wellness and retirement perks that you can choose for your employees and their kin.
Verdict: Justworks wins in Employee Benefits
Justworks takes the day here based on its employee benefits availability to companies of all sizes and ease of use.
Justworks vs. TriNet: Pricing
The pricing structures for these two PEO service providers differ in many aspects depending on your company size and demands. Here are the differences in pricing structures between the two:
TriNet PEO Services Pricing
TriNet pricing details are available on demand. This is because the platform's services are designed for small and medium-sized businesses, and because each business design varies, the platform offers customized pricing structures.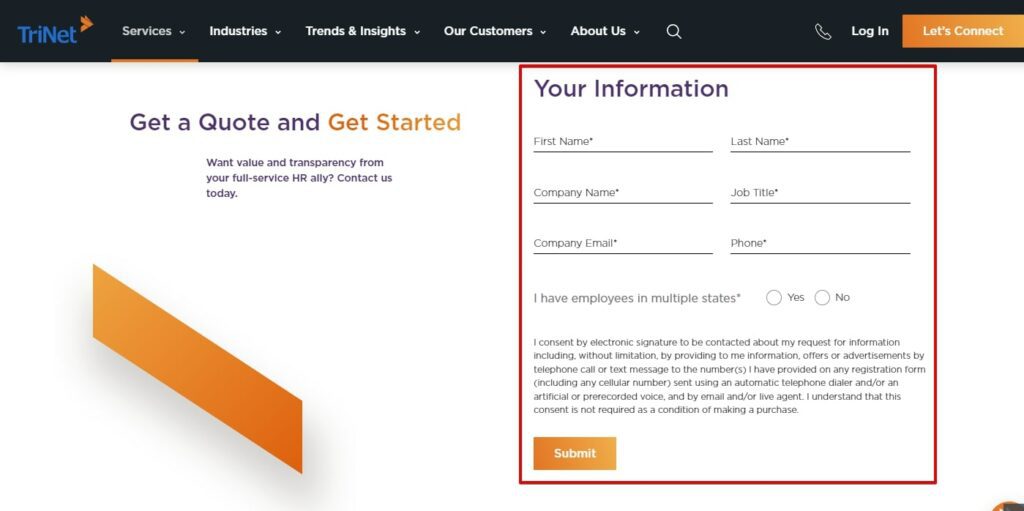 However, based on customer reviews, the average cost ranges from $80 to $600 per employee per month.
Justworks PEO Services Pricing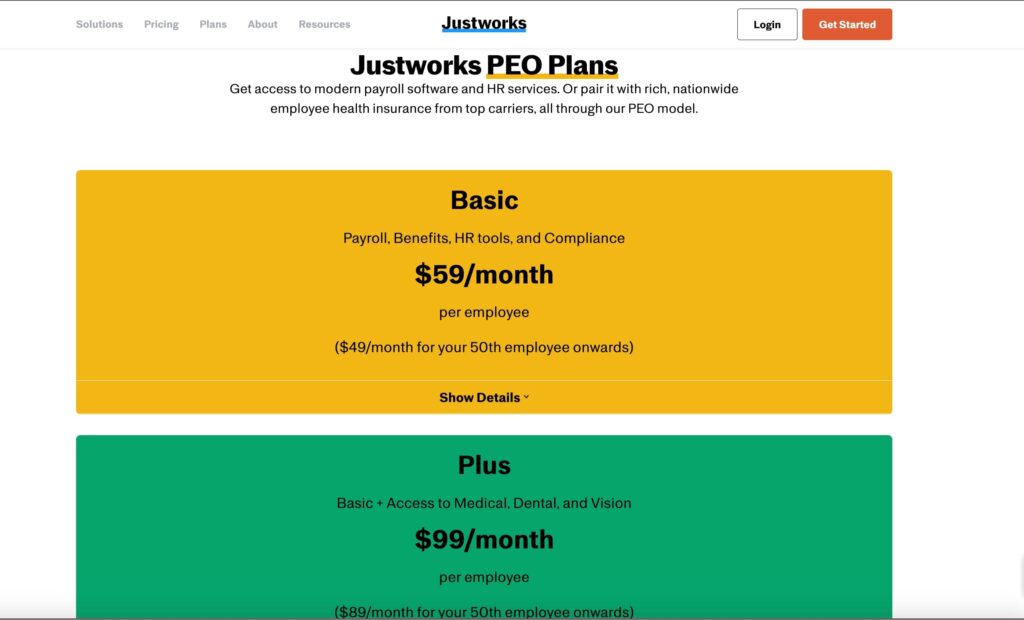 Justworks' two pricing plans are structured around the number of employees in a company. Each plan has a basic cost per employee in your organization. The plans are divided as follows:
The Basic Plan
| No. of Employees | 25 or less | 100 or less  | 174 or less | More than 175 |
| --- | --- | --- | --- | --- |
| Cost per Employee | $49/month | $44/month | $39/month | Contact customer service |
With the basic pricing, you can enjoy several useful features like e-signing, reporting, effective customer support, inclusion training, and HR consulting.
The Plus Plan (Table)
| No. of Employees | 25 or less | 100 or less  | 174 or less | More than 175 |
| --- | --- | --- | --- | --- |
| Cost per Employee | $99/month | $89/month | $79/month | Contact customer service |
The plus plan unlocks various features, including health advocacy, HSA/FSA accounts, dental insurance, medical cover, and all the features on the Basic plan.
Justworks Wins in Pricing
Again, Justworks wins here for the obvious reason of having its pricing structures availed before inquiry. While TriNet might be cheaper for some businesses than others based on size and demands, I still feel Justworks did an excellent job laying out its pricing plans, and its pricing tires are even more affordable.
TriNet vs. Justworks: Customer Support
Both PEO platforms have invested in their customer support systems, but one has outdone the other. Here's how they compare.
TriNet Customer Support
The most common and immediate response path for TriNet is via the chat option, but you can still access help via its other multiple customer support options, including phone calls and live chat options. The support team is available on calls every Monday through Friday from 6 am to midnight ET.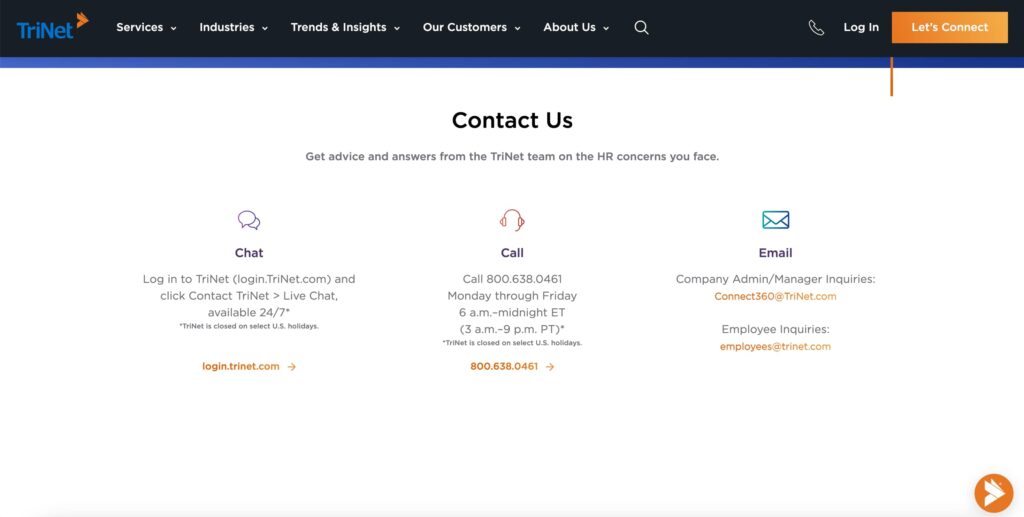 Justworks Customer Support
Justworks avails full-time customer care by SMS, chat, email, phone call, and Slack. The team behind the customer support desk is always available to answer your queries anytime between the scheduled customer service time. You can reach the customer support team via call anytime between 8 am and 5 pm PT, Monday through Friday.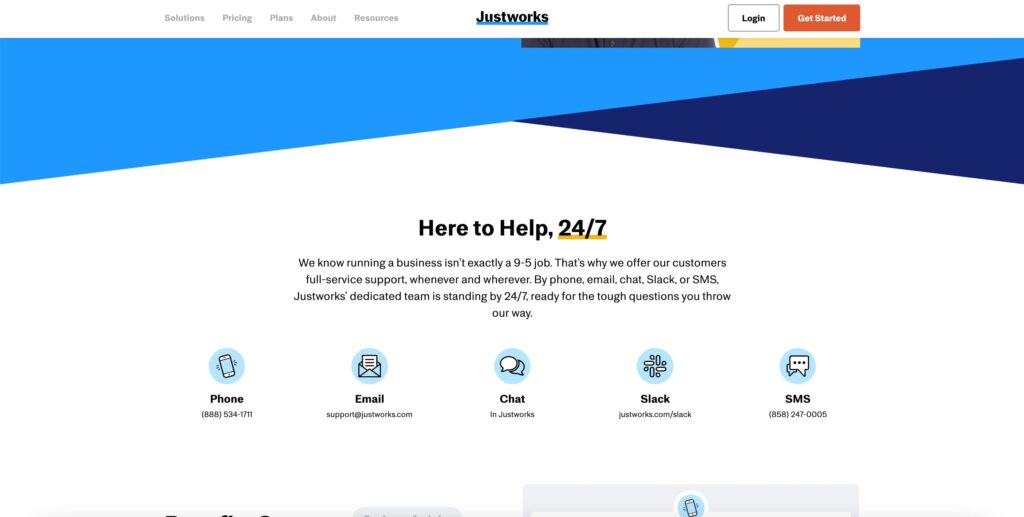 TriNet Wins in Customer Support
TriNet takes the lead here thanks to its extended calling period that runs from 6 am to midnight compared to that of Justworks, which only runs up to 5 pm between Monday and Friday. I also like the fact that TriNet's chat system is its leading response path, as chats offer a more convenient communication option for many customers.
TriNet vs. Justworks PEO Services: Pros & Cons
Here are the key pros and cons of each PEO service.
TriNet Pros
Minimizes employee-related risks
Aligns employer-employee relations
Eases the HR administrative burden
Reduces employee management costs
TriNet Cons
It's challenging to locate payroll reports
Doesn't offer a free trial
Justworks Pros
Easy and prompt payroll
It's easy to set employee policies
Swift employee interaction
Accurate reporting
Easier to set employee policies and company rules
Justworks Cons
No free trial
Poor time-off calculations
TriNet vs. Justworks: Conclusion
TriNet and Justworks are perfect for startups and growing businesses needing PEO platforms with easy-to-use interfaces. TriNet is ideal for on-the-go employee management thanks to its intuitive mobile app.
I can conclude that Justworks is the better option of the two because of its top-class HR and payroll management features and its swift customer support system.