In today's economy, it's more important than ever for businesses to have a good system in place to handle human resources and payroll. This is especially true for businesses looking to attract and retain top talent.
Employees want to work for a company that cares for their well-being and offers them a good work-life balance. It's crucial for business owners to have modern systems that offer these benefits.
However, finding the right company to handle your human resources and payroll can be difficult. Several options are available, and each business will have different needs regarding these services. Therefore, you should take the time necessary to find a fitting solution for your business.
The two most popular options for businesses are Gusto and Paychex. Here is a quick overview of these two so you can make a more informed decision about which company to hire for your human resources and payroll needs.
In this overview, you will learn the similarities and differences between these two services and the benefits each offers to businesses.
Paychex vs. Gusto: Similarities
Gusto and Paychex offer standard payroll services such as tax calculation, filing, and direct deposit.
Both service providers integrate nicely with third-party tools, which you use for analytics, employee management, and performance management.
Both companies have a self-service platform where employers can view employee hours, and employees can manage their pay stubs, W-2s, and hours worked.
Gusto vs. Paychex: Differences
Although Paychex's Essentials plan costs less per employee per month, it's surpassed by Gusto's Basic plan, which has significantly more features.
Gusto's Basic plan has full-service, single-state payroll with unlimited payroll processing, tax filings, and direct deposit, while Paychex's Essentials plan features limited payroll processing features.
Although Paychex's user interface is functional, it has lower standards than Gusto, which features a well-designed and easy-to-use interface.
Paychex only offers the pricing for its Essentials pricing plans, while Gusto is transparent about all its pricing tiers.
What is Gusto?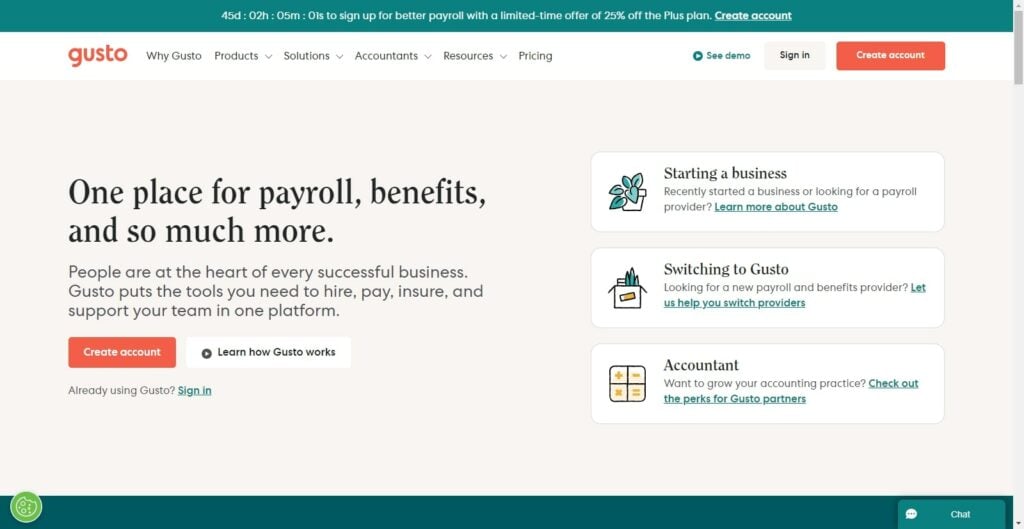 Gusto is a payroll software system that allows employers to add new hires, calculate state, federal, and local payroll taxes, and process payroll for employees and contractors. It's a great choice if you're looking for a cheap solution. 
After onboarding a new worker, the system makes it easy to collect all the information you need from them to run payroll and stay compliant. You can send offer letters, and Gusto will automatically file a new hire report with the Internal Revenue Service (IRS).
The system automatically calculates and syncs employee hours, PTO, and holidays with payroll making it convenient for you to process payroll faster. It also collects employee feedback and provides compensation tools, allowing you to make more factual decisions.
Learning how to use Gusto is quick and easy. The system does a great job of guiding you through previously complicated and tedious tasks of managing payroll. In addition, everything is organized well to make it easy to find features.
Gusto Key Features
Gusto's key features include the following:
Automated payroll taxes and filings: This feature includes automated federal, state, and local payroll taxes, W-2s and 1099s, child-support garnishments, and pay autopilot
Forms filing: These include W-2s, 940, 1099, 941, and 8974 forms
Flexible payroll features: These include a Gusto debit card, unlimited bonus and off-cycle payrolls, hourly and salaried employees, flexible payment schedules, reimbursements, and deductions
Advanced payroll features: These include payroll reports, integrated pre-tax benefits, expense integration, federal R&D tax credit, time-tracking integrations, and account integrations
Employee management: These features include direct deposit, lifetime accounts, paperless employee onboarding, teams, charitable donations, and vacation and sick policies
Who is Gusto For?
Gusto has everything you need to run payroll, including direct deposits, payroll reports, and federal and state taxes. The platform is most suitable for small businesses that primarily want to manage payroll processing and administering benefits. 
What is Paychex?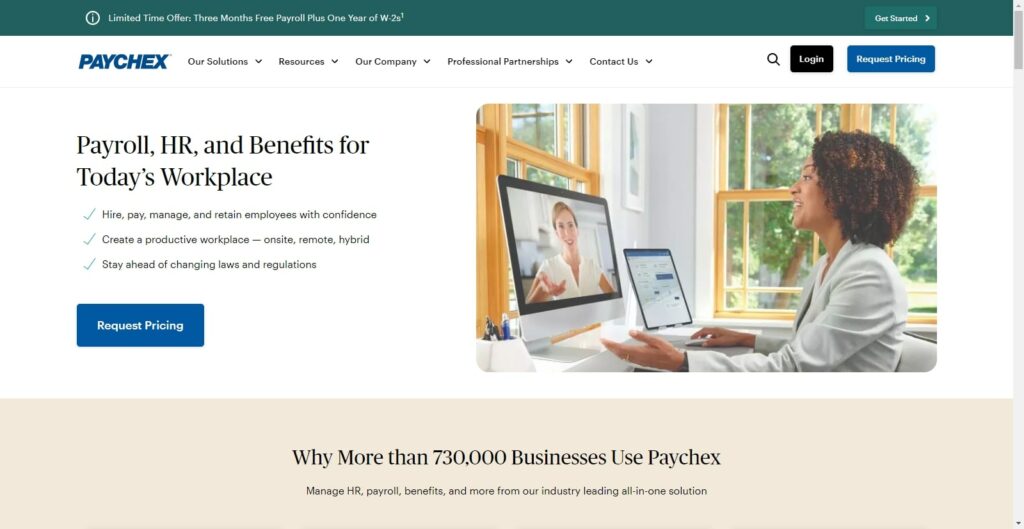 Paychex is a cloud-based professional employer organization with integrated services that helps you manage payroll, reporting, and employee data. Its software is designed to run your business faster, smarter, and more efficiently. Business owners use Paychex to save time and stay more connected with employees. 
Key features on the system include time and attendance, payroll, custom reports, HR consulting, and employee benefits. It also has tools to help employees to manage their health benefits, 401(k)s, pay stubs, and W-2s at any time.
The company provides HR and payroll services through a single point of contact, a dedicated service team, or an expert HR support team available 24/7. The system integrates well with small businesses with less than five employees and those who want to scale their HR solutions as their business grows.
Paychex Key Features
Paychex's key features include the following:
Paychex Essentials: The base plan comes with online payroll service, payroll tax administration, new hire reporting, and general ledger
Paychex Select: The second pricing plan has integration with third-party tools, mobile functionality, dedicated payroll specialists, and employee financial wellness tools
Paychex flex: The third pricing plan has workers' compensation reports, payment services, state unemployment insurance services, and onboarding essentials
Who is Paychex for?
Paychex serves big corporations and financial organizations that have many employees. It's still suitable for small businesses and startups looking to scale their businesses and services.
Paychex Flex is an excellent solution if you're looking for a professional employer organization you can integrate with your payroll workflow.
Gusto vs. Paychex: HR Services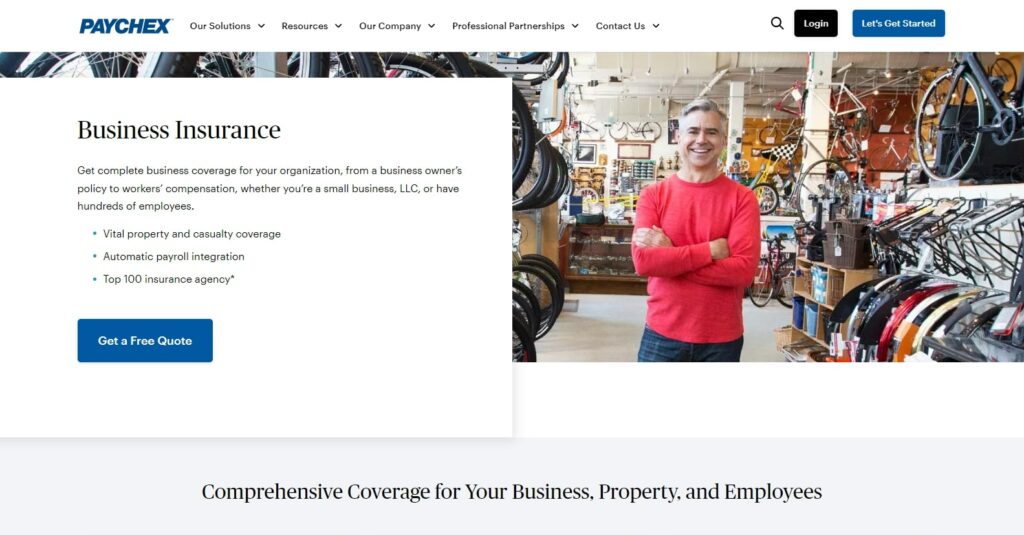 Gusto and Paychex offer HR support to customers, helping them address key issues when making HR decisions. However, they have key differences to consider. 
Gusto is a younger company that started in 2011 after the internet boomed. It provides a contact person for certain services only. Paychex is an old company that started in 1971, so it's more established in HR service providing.
Gusto's main product is its cloud-based platform that handles the heavy lifting in payroll processing. However, Paychex offers a combination of both automation and human resource support.
Let's discuss other HR solutions to see their main similarities and differences.
Expert HR Assistance
Gusto focuses on providing a solution you can use to automate your workflow, including generating and issuing offer letters to recruits, offering benefits like health insurance, and keeping information secure.
Gusto offers personalized HR support on-demand for an extra fee, which can be costly for some businesses.
Paychex, on the other hand, provides personalized assistance to help you address key HR concerns. The company offers an HR expert team that'll inquire about your business and deliver personalized HR advice based on your business objectives.
Paychex's other HR benefits include outsourcing, consulting, and hiring services.
Employee Self-Service
Gusto was primarily designed to help you save time and eliminate human errors, giving employees power over their information and business owners more access to tools to help them process payroll faster.
On Gusto, employees have access to a self-service employee portal to set up their profiles, manage their benefits, and edit their W-2s. The system also allows you to track employee hours on the platform, ensure compliance, and integrate all essential applications.
Paychex also provides a self-service portal. Employees and administrators can access online pay slips, view federal and state withholding forms, view and update bank account information, adjust benefits administration, and access career advancement information.
Time Management
Gusto has automated time and attendance tools to help you manage your team's hours, time-offs, holiday, and workforce costs. Employees can clock in and out remotely, and the system will provide you with geolocation information about where they are and sync the information with payroll.
The system also integrates with tools like Homebase, TSheets, and other tools you can use to enhance time-tracking and add employee hours.
Paychex offers a time and attendance feature for an extra fee through their Paychex Flex Select program. The tool collects clock-in time through various methods, including web punch, mobile app, Kiosk App with facial verification, biometric iris and finger scan time clocks, and interactive voice response systems. It also integrates with tools like Dolce Software and OnShift.
Verdict: Paychex wins in HR Services
Since Gusto is a recently developed software, it primarily focuses on providing you with AI tools to automate most functions. However, regarding HR support, Paychex provides more comprehensive, personalized HR support to help you handle complex tax, compliance, and HR concerns.
Gusto can be fitting for your company if you need a platform you can use without needing assistance to handle most functions.
Gusto Payroll vs. Paychex Payroll Services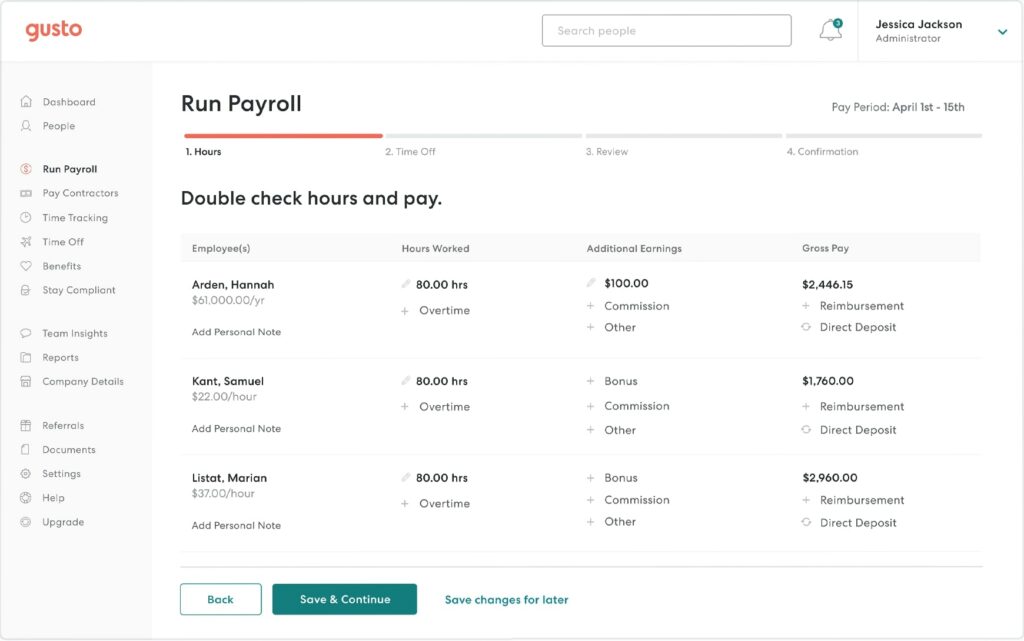 Gusto and Paychex offer standard payroll features like tax calculations, direct deposit, and filing. The payroll solutions you get will depend on your business requirements and pricing plans.
Here is an in-depth comparison between the two:
Running Payroll
On Paychex, you can manage payroll processing using your phone, computer, or fax. The company charges per pay period that you run payroll. So, to save money, you have to reduce the number of times you run payroll. You can also submit payroll to a specialist who'll handle it.
Gusto also offers phone and desktop payroll software. The company claims to take less than 15 minutes to process full-service payroll. You can also set up autopilot to run automatically on particular days.
Processing Payroll
If you prefer to run payroll weekly, Paychex will charge you an extra fee to do that. For one-time payments, they have a limit, and your fees may increase as your company hires more employees. The company supports pay cards, paper checks, online tip sharing, and on-demand access to wages.
Using Gusto to run full-service payroll is much easier. The system syncs your employee hours automatically, saving you more time while processing your payroll. It provides unlimited monthly payroll times, so you can pay your employees and contractors whenever you decide.
Tax Filings
Gusto makes it easy to calculate taxes accurately. When you onboard new employees or contractors, they'll fill out W-2s and 1099s, which the system automatically uses to file your tax credit services. The company also calculates, files, and pays annual federal and state taxes without an extra fee.
Paychex also files your federal and state taxes automatically. The Taxpay® automatic tax administration tool will calculate, pay, and file your taxes with the appropriate agencies. The system also offers additional tools to help you save on taxes. These include employee retention tax, work opportunity tax, location-based, and research and development tax credits.
Business Insurance
Paychex connects you with A+ agencies that provide comprehensive insurance to cover your organization from liabilities. Some services they provide include business owner's policies, commercial auto insurance, cyber liability insurance, employer practices liability insurance, errors and omissions, general liability insurance, and workers' compensation insurance.
Gusto aims to protect you from workers' compensation if an injury or illness happens. This covers medical expenses and wage replacements if the workers are hurt. The system also provides you with insurance experts to help you stay updated with the local, state, and federal laws and regulations.
Verdict: Gusto wins in Payroll Services
Although Paychex provides more comprehensive insurance packages, Gusto is the most convenient tool to run payroll. It's easy to use and automates most functions, saving you the time it takes to calculate the time worked, taxes, and other dependencies.
See also: Read Gusto and Justworks Services Comparison Here.
Gusto vs. Paychex: Benefits
Paychex offers cost-effective, comprehensive employee benefits, giving you a competitive edge against fortune-500 level companies. You can access group health insurance for your family and employees.
Other benefits you have include employee benefits administration, retirement services, health benefits, flexible spending accounts, dental and vision coverage, and ancillary benefits.
Gusto also provides comprehensive benefits to help secure your employees' future. You build the right benefits package for your team on the Gusto Wallet App.
Your team can manage their paycheck and access emergency cash on the app. If your benefits broker is not on Gusto, you can add them using the broker integration tool.
Other benefits packages that Gusto provides include 401(k), health benefits administration, workers' compensation, health savings accounts, flexible spending accounts, cash accounts, commuter benefits, dental and vision coverage, and budgeting and insights.
Gusto Wins in Employee Benefits
Paychex offers top-quality health benefits administration, but Gusto provides essential benefits you need to attract top talent.
Using Gusto's advanced broker integration tool, you can add all benefits service providers to attract more employees to work with you.
Gusto vs. Paychex: Integrations
Gusto comes with an app directory where you can find and integrate all apps you need to streamline your workflow. The system has many accounting, applicant tracking, performance management, time tracking, and business operations software. You can integrate all tools on your dashboard and securely login with one password. 
You need Paychex Flex to integrate tools on your dashboard. The ever-advancing platform contains tools you need to share data automatically and accurately as your company grows. Leading software solutions you can integrate on Paychex Flex include HR, hiring, accounting, performance management, and file management tools. 
Gusto Wins in Integrations
Gusto's integration tool is more user-friendly and contains apps you need in a modern workspace. It has many tools, allowing you to automate your workflow. So it's easier to integrate the tools on the platform and log in with one secure password.
Gusto vs. Paychex: Pricing
Pricing is a deciding factor when considering the right HR service provider for your business. Gusto's and Paychex's pricing structures are almost similar, but the features in the plans make the most difference.
Here's an overview of Gusto and Paychex pricing tiers: 
Gusto Pricing
Gusto has three pricing plans: Simple, Plus, and Premium. You can choose any plan you want, depending on your business needs. Gusto Simple costs $40 plus $6 per month per person. Gusto Plus costs a monthly base of $80 per month, plus $12 per month per user. To get the Gusto Premium pricing plan, you have to contact support.
Gusto Simple provides basic services such as full-service payroll, employee benefits, and team management tools. Gusto Plus has tools for time tracking, PTO management, hiring and onboarding, and team management. Gusto Premium offers unlimited access to certified HR experts, phone support, and a resource center.
Paychex Pricing
Paychex has four pricing tiers: Flex essentials, Flex Select, Flex Pro, and Flex Enterprise. The company does not provide the prices of plans above flex essentials, which costs $39 plus $5 per month per person. Flex Essentials includes payroll services, tax services, new hire reporting, and an HR library.
Flex Select offers a dedicated payroll specialist and additional payment options like paper checks and e-learning courses. Flex Pro has features like state unemployment insurance, wage garnishment, and employee screening and onboarding. Paychex Flex
Enterprise features onboarding essentials like handbooks, employee training, custom analytics, and workers' compensation and state unemployment insurance assistance.
Gusto wins in pricing
Although Paychex's Essentials pricing tier costs less than Gusto's Simple plan. Gusto provides more features that you need as a small business owner. Paychex's pricing model is most suitable for companies that need personalized HR support. That comes in the Essentials plan
Gusto vs. Paychex: Customer Support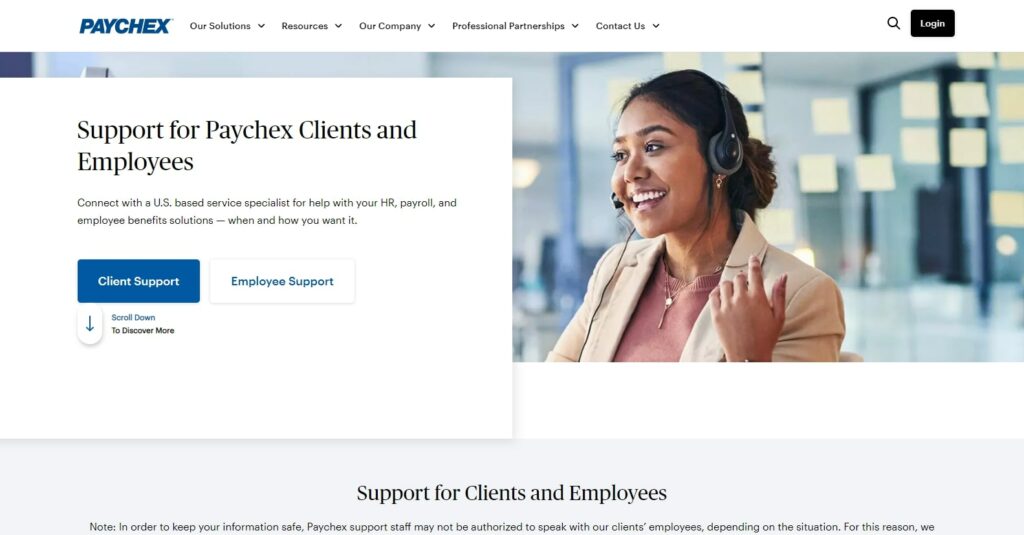 Gusto offers mobile, phone, and chat support, and its support team is available from 7 a.m. to 6 p.m. on Mondays to Fridays. You can also request personalized support from HR experts regarding payroll, your business, or compliance. However, this is an add-on feature that you pay extra for. 
Paychex users can contact customer support via mobile phone or email 24/7 throughout the year. If you want a pricing quote or product demo, support will ask you a few questions regarding your business before proceeding. On Paychex, you don't need to pay extra for HR support services.  
Paychex Wins in Customer Support
Gusto is most suitable for companies that barely contact HR support for assistance. However, if you require HR support 24/7, Paychex might be the most suitable option for you.
Paychex vs. Gusto: Pros and Cons
Overall, both PEO service providers have several advantages over the other. Before buying, it's good to consider the benefits each platform can bring to your business.
Here are the top pros and cons of each platform.
Gusto Pros
Automatic payroll tax administration and payroll services
It has comprehensive benefits like health insurance
Third-party tool integrations to manage all tools with one secure login
An easy-to-use platform with most features that small businesses need
Gusto Cons
Doesn't run payroll outside the US
Lack of accounting and billing features
Paychex Pros
Comprehensive HR support and business insurance services
It provides employee screening and background checks and compiles employee data into one location
Enhances onboarding processes and connects you with trained professionals
Provides payroll and tax filing solutions
Paychex Cons
Poor user experience on their interface
It can be expensive for companies with smaller teams
Gusto vs. Paychex: Conclusion
Gusto and Paychex offer unique advantages to startups and large enterprises. Paychex started earlier than Gusto, so it's more experienced in providing employee benefits, consultation services, and business insurance.
However, Gusto, having started in the internet era, it's more suitable for startups and businesses that work with contractors and millennials. It accommodates most modern tools and makes it easy to onboard new hires.
To find out which PEO service provider is most suitable for your business, check Gusto's and Paychex's official websites for more information.