If you're like most business owners, you constantly shift your focus between running your company and taking care of compliance tasks.
This can be a burden, especially since compliance costs continue to increase. A Professional Employer Organization (PEO) can help you easily handle these responsibilities.
This article will compare two leading PEO service providers: TriNet vs. Insperity, and discuss why each company might be a good fit for your business.
What are PEO Services?
A Professional Employer Organization (PEO) is a company that handles another company's employer responsibilities, such as payroll, benefits administration, HR, and taxes.
Professional employer organizations provide these services to several clients simultaneously, so you don't need to hire a separate team to handle the tasks.
A PEO does not replace an HR manager. By outsourcing core HR functions to a company like TriNet or Insperity, you can free up more time to focus on what matters most: growing your business.
Besides Insperity, there are other Trinet alternatives, like Justworks, ADP TotalSource, Rippling, and Paychex.
Although TriNet and Insperity offer similar PEO services, they have key differences that can influence your choice of the right PEO partner for your company.  
TriNet vs Insperity: At a Glance
Trinet and Inseprity are two leading companies that provide HR solutions, including payroll processing, benefits administration, and compliance management. Both companies have been in the industry for several years and have a good reputation.
| | | |
| --- | --- | --- |
| Feature | Trinet | Insperity |
| HR Solutions Offered | HR administration, payroll, benefits, risk management, compliance | HR administration, payroll, benefits, risk management |
| Mobile App Available | Yes | Yes |
| Pricing | Based on # of employees and services required | Based on # of employees and services required |
| Focus | Mid-size and large companies | Small and medium-sized businesses |
| Customer Support | Excellent customer service, includes dedicated account manager | Good customer support, not as personalized as Trinet's |
| Comprehensive HR Solutions | Yes | Tailored for businesses with fewer employees |
TriNet vs Insperity
As you can see, both Trinet and Insperity offer a range of HR solutions, including HR administration, payroll, benefits, and risk management. Both companies also offer a mobile app for employees to access their pay stubs and benefits information. However, there are some differences between the two companies that may make one more suitable for your business than the other.
Trinet's HR solutions are more comprehensive and are designed for mid-size and large companies. They offer risk management and compliance services, which may be important for businesses in regulated industries. Additionally, Trinet is known for its excellent customer service, which includes a dedicated account manager.
In contrast, Insperity's HR solutions are tailored for businesses with fewer employees, and they offer good customer support, although not as personalized as Trinet's. Insperity may be a better choice for small and medium-sized businesses that don't require as many HR services as larger companies.
TriNet vs. Insperity: Similarities
Some similarities between the two include the following:
TriNet and Insperity are both Internal Revenue Service (IRS)-certified and accredited by the Employer Services Assurance Corporation (ESAC)
They provide core PEO functions like HR services, risk management, payroll services, and benefits
They charge per employee instead of per payroll percentage, and their HR solutions are tailored to businesses with a minimum of five employees
Their costs only go up if you increase employees, and each customer gets custom pricing for the co-employment model
They have many training resources, although Insperity has over 5,000 self-guided courses, while TriNet has just over 500 courses
TriNet vs. Insperity: Differences
Key differences you ought to take note of include the following:
Trinet creates custom pricing and contracts based on your industry, location, and size, while Insperity PEO services are personalized based on your business
Insperity does not offer a free trial, while TriNet's payroll services, TriNet Expense, has a 30-day free trial to test certain features, and TriNet Hire has a 14-day free trial
TriNet makes its pricing model public, but Insperity does not quote prices until its HR specialists evaluate your business
TriNet PEO Services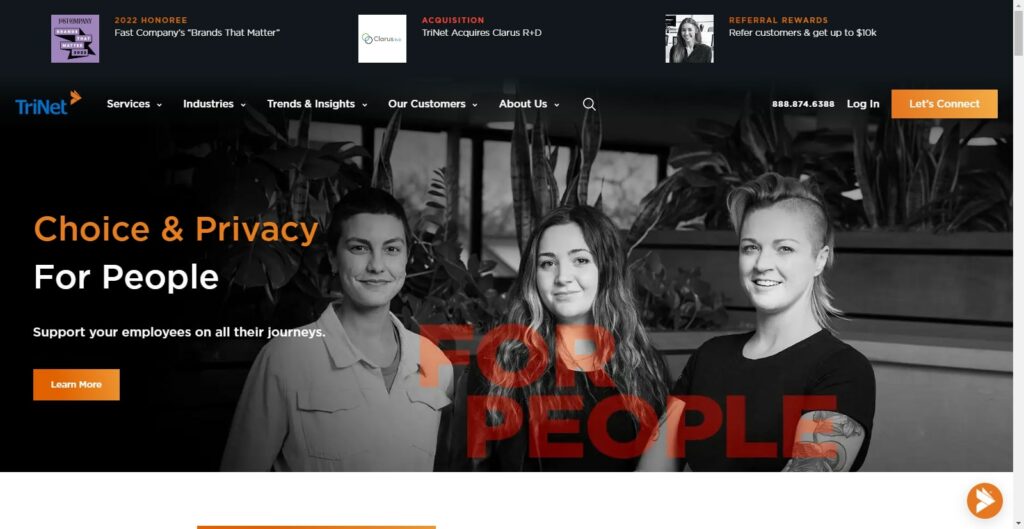 TriNet is a cloud-based PEO service that provides industry-tailored HR solutions to small and medium-sized businesses.
Their features include:
Performance management
Document management
Risk management
Benefits administration
Payroll processing and more
The main focus of TriNet is leadership training, compensation guidance, improving employee relations, providing support on HR issues, and talent management.
The platform has a built-in learning management system with over 500 training courses.
Insperity PEO Services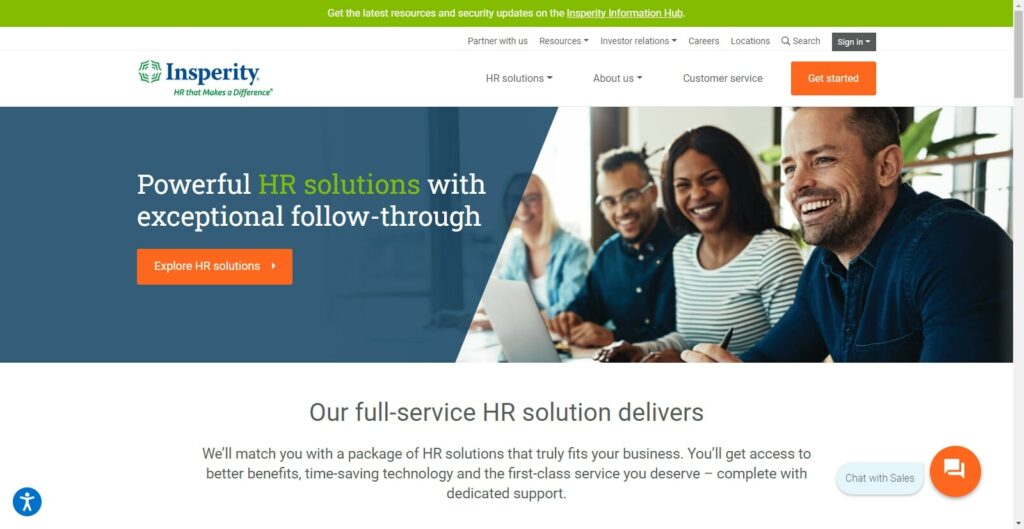 Insperity is a cloud-based employer services assurance corporation providing HR functions and administrative services to small and medium-sized businesses.
These services include:
HR consulting
Business administration
Payroll processing
Employee recruitment
Risk management
Insperity's two pricing models cater to small business owners with fewer employees and those with over 150 employees.
Their Training and Development Insperity program has over 5,000 self-paced training courses and 30,000 online books, and you can request onsite training sessions for your team.
You can also look at our more detailed Insperity PEO Services Review here.
TriNet vs. Insperity: Features
Although TriNet and Insperity offer nearly comparable services, each has impressive features you should consider before making a choice.
For example, while TriNet features custom dashboards with Key Performance Indicators (KPIs) and visualizations that matter to your industry, Insperity is popular for its wide assortment of training resources for small businesses.
TriNet PEO Key Features
TriNet aims to provide a portal where employees can access their HR concerns and personal data.
Let's examine the key features they provide:
HR Services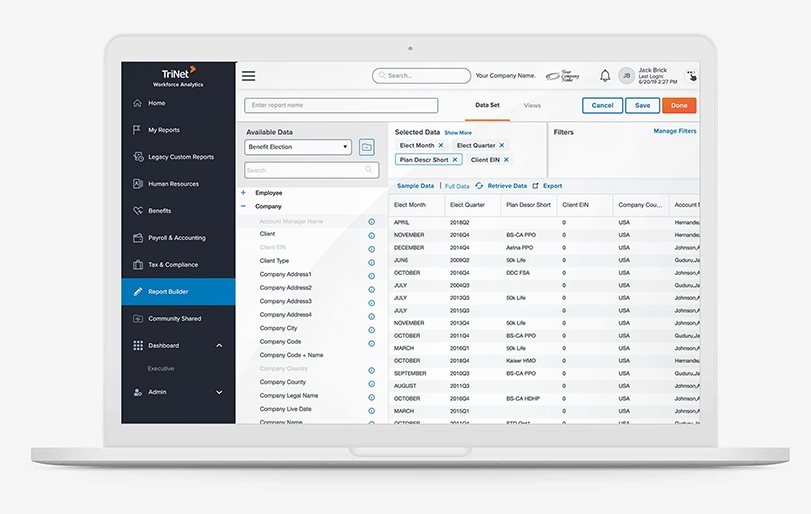 Once you register for Trinet, the PEO will set up an expert HR support team centered around your business industry, size, and location.
This team will provide you with HR services like HR administration, recruiting, onboarding, HR reporting and analytics, performance management, termination, and dispute management.
TriNet also has a report builder that you can use to create custom reports for free and download them as PDfs, CSVs, or Excel documents.
Payroll and Taxes
TriNet's payroll processing software supports online processing, PTO tracking, expense management, and direct deposit.
The system can also prepare employees' W-2 forms and ensure your company complies with state and federal tax laws. You can also track employee attendance and schedules using the platform.
Risk and Compliance management
TriNet has a claims management team that assists employees with compensation and safety-related claims. To them, risk management entails payroll compliance, benefits compliance, ACA legal compliance, and employment practices risk management.
The Risk Mitigation feature incorporates safety training, claims coverage, liability insurance, and claims prevention. It also records performance-related issues, preventing lawsuits from terminated employees.
Insperity PEO Key Features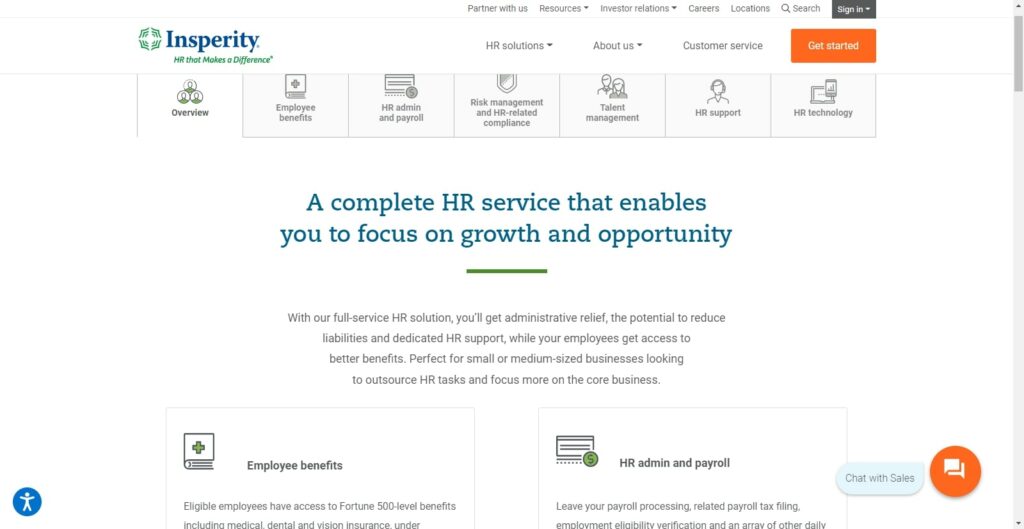 Insperity takes a comprehensive approach to everything, offering tools to help you manage HR functions efficiently.
Their key features include payroll functions and taxes risk compliance, HR administration, and training and development.
Let's examine them keenly.
Payroll Taxes
Insperity has a standard payroll processing feature incorporating federal, state, and local tax administration. It also assists in tax-form preparation, wage garnishment, deductions administration, and built-in payroll management.
Insperity's time-tracking software features attendance and accruals that allow you to track employees' spending, plan shifts, and view schedules in real time.
Risk and Compliance guidelines
Insperity aims to protect your business through workers' compensation and unemployment claims resolution, fair credit reporting, employment practices liability insurance, hazard and safety training, and improving employee relations.
They also conduct drug testing, ensure workers' compensation, promote workplace equality, respond to unemployment claims, or perform employee screening.
Training and Development
Besides the 5,000 self-guided training courses and 30,000 online books on Insperity, users can access instructor-led virtual training and continuing education units for given courses.
You can also request designated HR experts to work with your employees to provide training on other topics.
Verdict: TriNet wins in Features
Overall, TriNet provides more comprehensive features than Insperity. It reduces HR costs and eases the administrative burden of HR teams. Companies can leverage top-tier products and high-touch customer support.
Insperity isn't lagging, either. If you want self-guided training resources and a training team, we recommend Insperity. However, TriNet is easier to use and has more comprehensive features than Insperity.
TriNet vs. Insperity PEO: Employee Benefits
TriNet and Insperity have comprehensive benefits and user interfaces that allow employees to customize benefits to their needs.
Let's examine each PEO to see which company wins.
TriNet Employee Benefits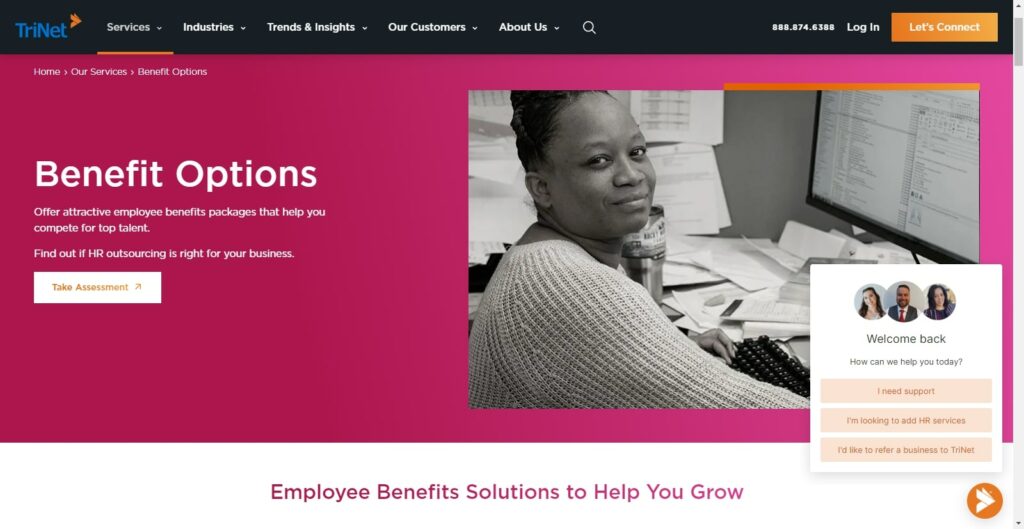 TriNet offers extensive benefits like health, visual, and dental insurance and 13 other unique benefits. They also partner with a wide assortment of small businesses, giving you access to quality healthcare plans at a reduced rate.
It has 401(k) retirement plans, commuter benefits, wellness programs, and auto and home policies. TriNet can also help you manage your Affordable Care Act and COBRA compliance.
Insperity Employee Benefits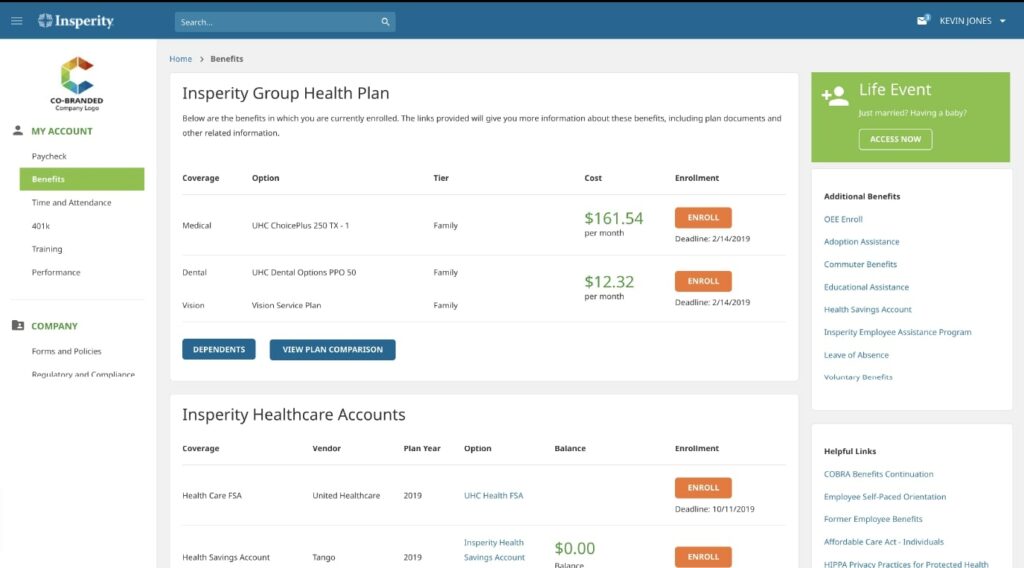 Insperity only provides standard benefits packages like short-term and long-term liability, a comprehensive 401(k) retirement plan, life insurance, and medical, visual, and health plans.
It also offers a health savings account, a flexible spending account, and an employee assistance program.
However, employees can use their self-service portal or Insperity mobile app to change their benefits ad hoc. Their healthcare services are also cheaper and of high quality.
TriNet wins in Employee Benefits
Trinet wins again when it comes to employee benefits. You can expect a better range of benefit options than Insperity.
They have more comprehensive programs, a HealthAdvocate support team, and a marketplace where employees can access discounts on popular brands.
Employees can see comparisons of benefit plans and costs, making it easy for them to make informed decisions.
Insperity vs. TriNet: Pricing
Insperity and TriNet charge per employee, and you can cancel your contract anytime with a 30-day written notice. Each requires your company to have a minimum of five employees.
Here's a breakdown of their pricing models:
TriNet PEO Services Pricing
Depending on your plan, TriNet charges a flat fee per employee, allowing you to budget for HR accordingly.
TriNet HR services are tailored according to the business size and industry. You may get a different quote for businesses with the following:
5 – 19 employees
20 – 99 employees
100 – 499 employees
500 – 1000+ employees
You don't require a long-term contract; the system will create a contract based on your needs. You pay for tools on an ongoing basis.
You can pay per month or year; no set-up fees or additional hardware or software are required.
It's also possible to get a customized budget to match your vertical. Every plan has access to payroll, risk mitigation, HR management, benefits, and a self-serviced technology platform.
Insperity PEO Services Pricing
Insperity charges per employee, but it doesn't offer price quotes until a full HR team assesses your business. You must contact customer care directly to discuss the services you need and get pricing information.
It offers two pricing tiers:
Full-Service HR for Small Business: For organizations with 5 – 149 employees
Full-Service HR for Middle Market: For organizations with 150 – 5000 employees
The company features a Workforce Acceleration program for small businesses that need HR services without the co-employment model.
Here you only need to enroll in Insperity's payroll service, and they'll offer other services a la carte.
Insperity wins in Pricing
Since TriNet provides industry-specific services, it best suits companies in highly regulated fields. The businesses should have enough employees to utilize the PEO solutions fully.
TriNet is also more expensive and less flexible. You are more likely to get more productivity data working with Insperity. It's the ideal option for small and midsize businesses.
However, since Insperity provides custom quotes for everybody, your first step to finding out if the company fits your budget is to call them. It can take time for the proceeding to complete from initial contact to implementation, so you need patience.
TriNet vs. Insperity: Customer Support
TriNet and Insperity have a dedicated support team to respond to your queries. Insperity phone support for current customers operates between 7:00 a.m. to 6:00 p.m. CT, Monday through Friday, while TriNet's phone support runs between 6 a.m and 12 a.m from Mondays to Fridays.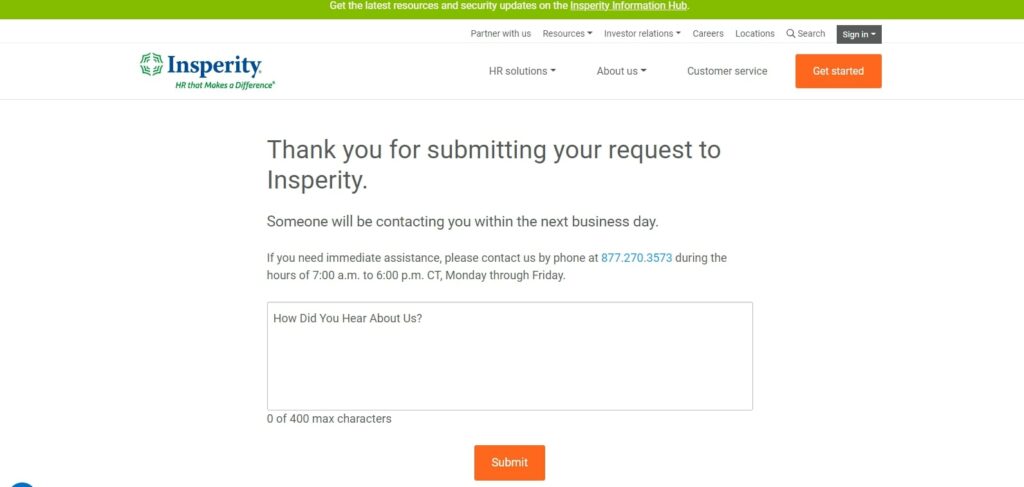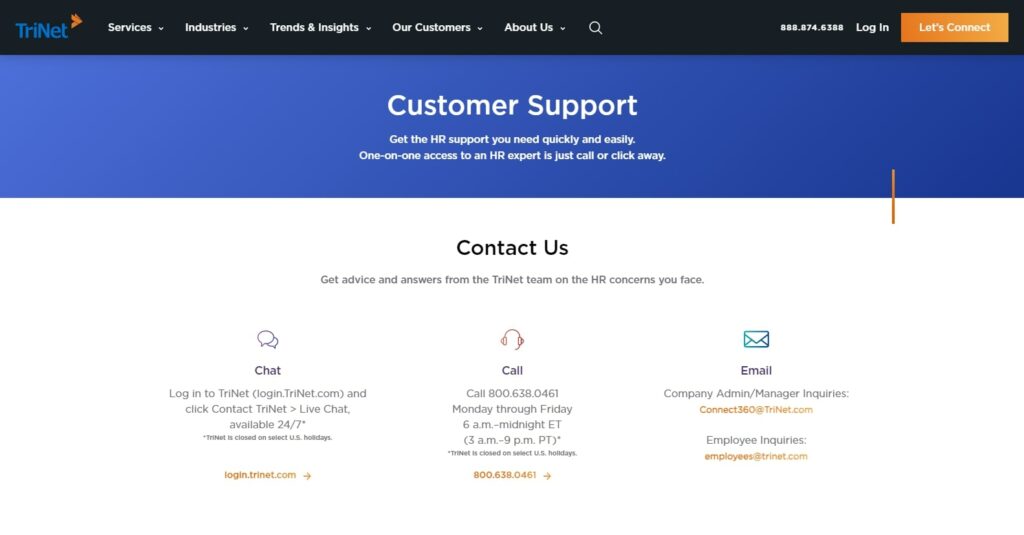 Here are other key features of Insperity and TriNet customer support.
TriNet Customer Support
TriNet is renowned for its industry-specific customer support teams. You gain access to dedicated experts with experience in your industry's latest HR trends and regulations.
TriNet also features Connect 360, a helpful resource businesses use to ask TriNet technical HR support professionals questions about their businesses. Their platform also offers 24/7 chat support.
Insperity Customer Support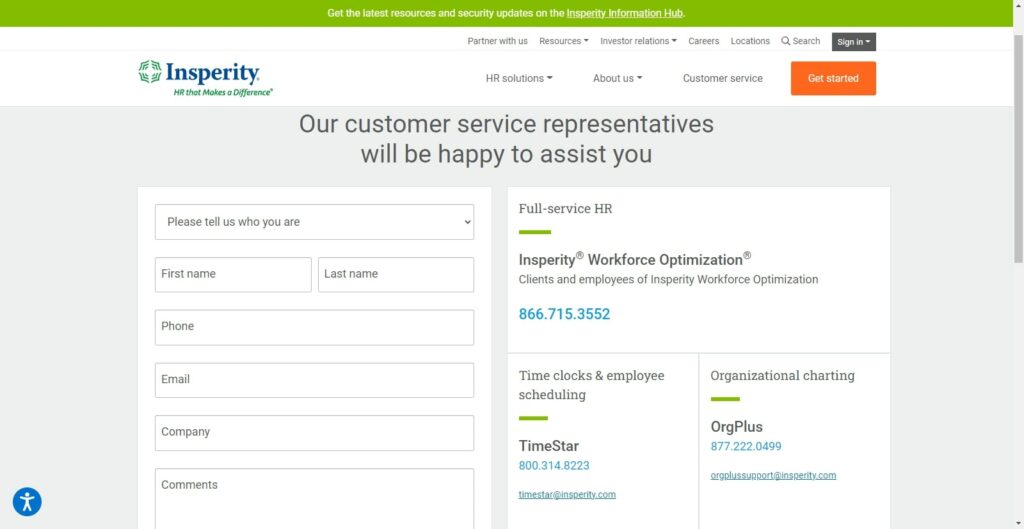 Insperity has a high level of customer support, providing businesses with a dedicated support team, including experts in each service area.
For example, you can contact HR management, payroll, performance, recruitment, or benefits team. You also get the point person to connect you with various experts depending on your needs.
TriNet wins in Customer Support
TriNet has a more robust support team specialized in your industry, so you always get an expert answer.
They have one-on-one support for policy and HR pitch points. Employees can use their mobile app on iOS and Android to check paycheck summaries, W-2 forms, benefits packages, and contact information.
TriNet vs. Insperity PEO Services: Pros & Cons
Depending on your business type and needs, each PEO has valuable features to consider. For companies looking for industry-specific HR support, TriNet is the best option, as it features a myriad of features to take advantage of.
Here are the pros and cons of each
TriNet Pros
Has an online self-service portal and mobile app that's rich in information and easy for employees to use
It's easy to hire and recruit new employees as the system automates most processes for you
Employees can access marketplace benefits discounts on several renowned brands
Built-in time and attendance feature, so you don't have to keep track of employees' hours and schedules
TriNet Cons
Every plan includes bundled services you might not need at the beginning phase of your business
You must have at least five employees
Insperity Pros
Cheaper and high-quality benefits; the more employees you have, the better your rates
Employees can use Insperity's self-service online portal and Insperity mobile app to modify benefits as needed
Time and attendance tracking and paid time off accruals
Handles most of the employee recruitment, screening, and insurance programs
A wide assortment of training materials and onsite training sessions
Insperity Cons
No pricing quote until Insperity evaluates your business
A minimum of five employees
TriNet vs. Insperity: Conclusion
TriNet and Insperity have comprehensive features that best fit different companies.
TriNet's amazing pricing model becomes more enticing as you increase employees. Insperity's pricing model is cheaper and best-suitable for small businesses and midsize companies.
If you don't need all features and benefits that large companies require, we highly recommend Insperity, as it'll save you money and provide the adequate resources you need.
TriNet gives you access to all core features in every plan, while Insperity creates personalized plans based on your company requirements.
Therefore, evaluating each PEOs features and benefits vs. Pricing is good for finding the most suitable choice for your company.
Insperity vs. TriNet FAQs
Is TriNet a PEO?
Yes. TriNet is a full-service provider of employee benefits solutions that helps businesses manage and optimize their total rewards offering.
Is Insperity a PEO?
Yes. Insperity is a professional services firm specializing in human resources, benefits, and talent management.
Which is better, TriNet or Insperity platform?
There's no clear-cut favorite PEO. Factors like your industry, size, and location determine your company choice.

Insperity and TriNet have significant benefits you should consider before choosing the best PEO for your company. For instance, Insperity focuses on productivity, efficiency, better tracking and management, and flexibility. 

Trinet is a great option if your company is looking for industry-specific support, advanced features, and employee benefits.

You want to utilize the full features that the platform provides, and you'd like a clearer pricing and communication structure.