There are many different options available regarding customer management software, and which is the best for your business depends on various factors. For example, some businesses are more geared towards sales than customer service, so it is important to evaluate the needs of your business to determine which option is right for you.
Zendesk and HubSpot are both well-known providers of customer management software. However, they do not offer the same services, so businesses need to understand exactly what each offers. This article will discuss some key differences between these two providers and help you determine which is right.
Zendesk vs HubSpot: Similarities
Zendesk vs HubSpot: Differences
HubSpot is better suited for managing multiple business processes, while Zendesk is suitable for handling sales and customer service.
HubSpot offers various free tools, including a CRM system, unlike Zendesk.
Zendesk offers slightly more in-depth phone calling functionalities.
Zendesk is significantly more affordable across all pricing plans.
What is Zendesk?

Zendesk Sell, Zendesk's dedicated CRM software solution, is a straightforward platform that helps sales teams improve customer relationships through its broad set of communication and automation features and its in-depth reports/analytics.
Zendesk also includes a help desk solution which you can then link with the CRM platform. The customer service software is available in the Zendesk Suite and Basic plans.
Zendesk Key Features
Task automation, sales triggers, and automated email sequences
Built-in phone system with call tracking/recording
Customizable sales pipelines and reports
Automated lead distribution
Lead/deal scoring
Who Is Zendesk For?
Overall, Zendesk is an excellent option for small and midsized businesses seeking a CRM software to improve customer interactions, relationships, and lead generation/management activities.
The platform offers various communication tools and a database of over 44 million businesses. Sales teams can use this database to identify new prospects and learn more about existing ones.
What is HubSpot?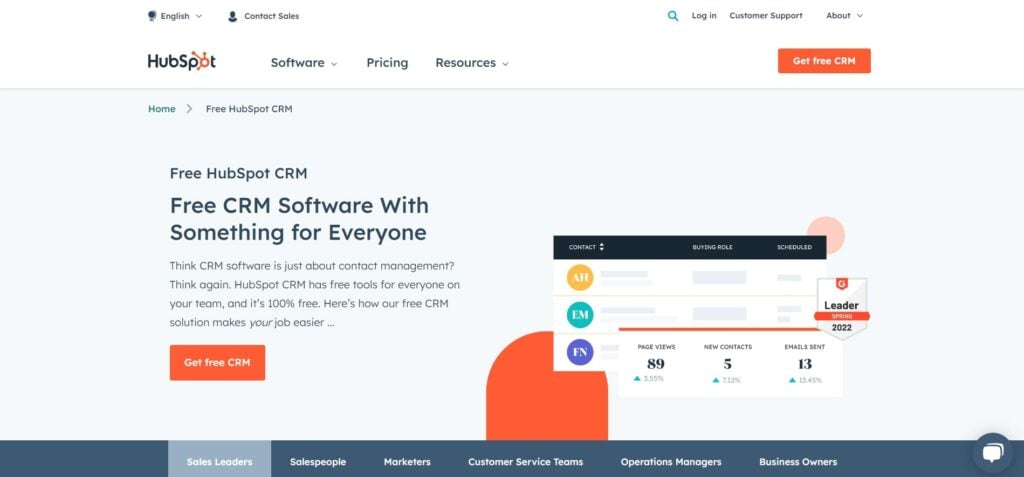 HubSpot's CRM is found under the Sales Hub. The platform includes a comprehensive CRM solution and a broad set of advanced features designed to improve sales engagement, manage quotes/invoices, enhance customer communication, and more.
Most notably, you can get HubSpot CRM completely for free! There are also other many other tools found in HubSpot's dedicated marketing, customer service, CMS, and operations platforms. For instance, you can use the CRM along with a free landing page builder, or ticketing system.
HubSpot Key Features
Customizable dashboards, reports, and pipelines
Conversation routing and analytics
Email tracking/notifications
Meeting/email scheduling
Lead rotation and scoring
Who Is HubSpot For?
HubSpot is a platform for those seeking a highly scalable tool. Businesses can get started with the free plan and gradually upgrade to paid packages to access more advanced functionalities.
The Sales Hub's pricing packages are designed to accommodate businesses of all sizes. Additionally, businesses can seamlessly link the CRM tool with HubSpot's other products, like HubSpot Service Hub and Marketing Hub, allowing users to unify all their business processes.
HubSpot vs Zendesk: Features
Lead Management and Generation
Zendesk Sell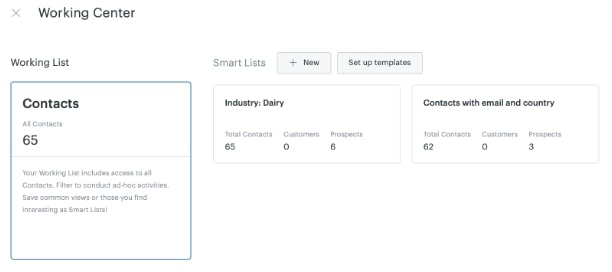 Aside from the platform's database, Zendesk Sell offers many other functionalities to improve lead management and generation efforts.
For one, there's the Smart Lists functionality. In short, this feature allows you to create and save list view templates. You can easily save search filters to quickly identify specific leads without repeatedly reapplying your search criteria.
There's also the Reach feature, which enriches lead records automatically with third-party data from various sources. Other notable features include automatic lead/contact distribution, lead scoring, and more.
HubSpot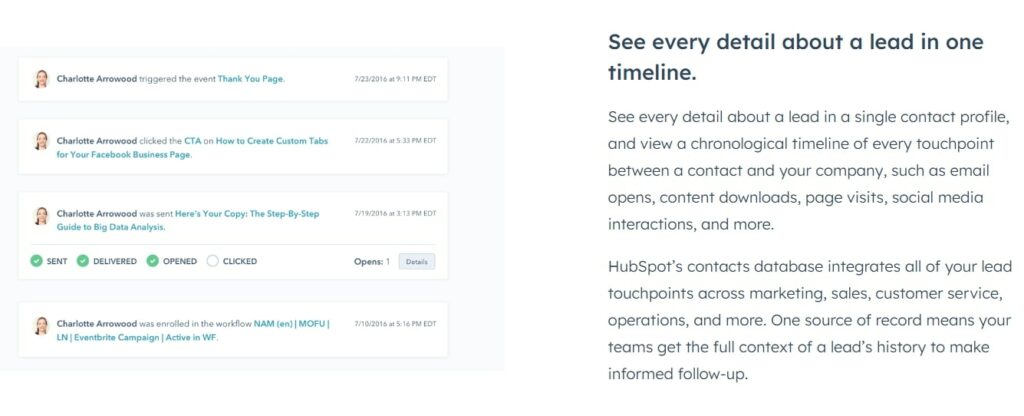 Although HubSpot Sales Hub lacks Zendesk's database and list templates, it still includes some handy features. The platform can handle automatic lead rotation through custom rules, predictive lead scoring, etc.
Additionally, HubSpot offers website activity tracking, allowing you to monitor what your leads are doing on your website easily. You can track form submissions, page views, and more. HubSpot also allows you to segment lists automatically so you can easily deploy targeted email marketing campaigns to attract and close more deals.
Moreover, you can build landing pages via the Marketing Hub for free. This lets you easily capture leads and automatically update contact details in your CRM.
Communication Tools
Zendesk Sell

Zendesk Sell allows you to stay in touch with prospects via email, phone, and text messages. In terms of email marketing, the platform covers numerous templates, email tracking, and the ability to send emails in bulk.
The phone system handles call scripts, tracking, and recording. It also includes an automated power dialer in high-tier pricing plans. You can also send and receive text messages directly within the platform.
Moreover, Zendesk also includes team collaboration tools. You can update your sales team by leaving comments and mentions and assigning collaborators. The platform also offers a team document repository to share and organize crucial documents easily.
HubSpot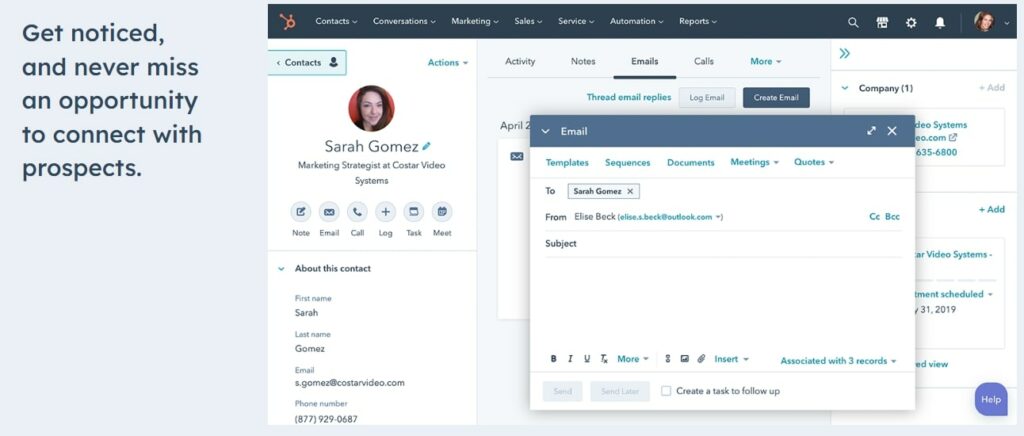 HubSpot Sales Hub goes a little more in-depth here. Aside from the communication features Zendesk offers, HubSpot also includes live chat and chatbots. The chatbots can automatically schedule meetings, qualify leads, and store lead data within the CRM system.
Meanwhile, you can easily integrate live chat into your websites and landing pages. Moreover, HubSpot also integrates natively with Facebook Messenger. As such, you can communicate with your customers through Messenger directly within your CRM.
HubSpot's email marketing features facilitate email automation, tracking and notifications, scheduling, and templates. Up-tier pricing plans will offer suggestions regarding the best email send times.
You can monitor spam, unsubscribe, bounce, open, and click-through rates via the platform's email health reporting. There's also the ability to automatically assign incoming chats and emails to the appropriate sales agents.
As for the phone system, the platform handles call coaching and transcription. HubSpot's top-tier pricing plan handles conversation intelligence. In short, this functionality leverages Artificial Intelligence to monitor your phone calls, deliver reports, or identify terms of interest.
Reports and Analytics
Zendesk Sell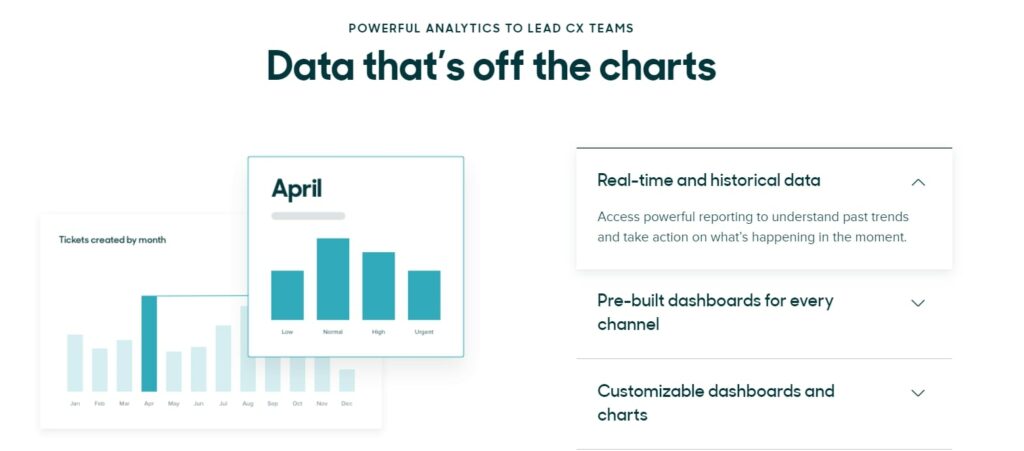 Zendesk Sell allows for custom reports and dashboards in all pricing packages, except the starter one. You can easily add custom metrics and filters and create customized sharable dashboards via a point-and-click interface.
The platform also covers sales forecasting, activity reports, and sequence reporting. You can also set and track team goals and schedule reports at your desired intervals. Other than that, Zendesk can track email opens and click-through rates.
HubSpot

Again, HubSpot goes more in-depth. Outside of sales forecasting and analytics, the platform can also deliver employee productivity and email health reports, call analytics, handle revenue tracking, track email reply rates, and more.
However, one of the platform's biggest drawbacks is that custom reports are only unlocked from the Professional plan and up, which costs $450/month for five users (annually). The same goes for sales forecasting, employee productivity reports, and other functionalities.
As such, HubSpot's reporting capabilities are rather limited in lower-tier pricing plans.
Verdict: HubSpot wins in Features
Overall, HubSpot is a little more versatile in terms of its features. As seen above, HubSpot includes more reporting and communication tools than Zendesk. You also get access to many extra free functionalities through HubSpot's other products.
However, Zendesk is still a highly capable platform. It covers excellent lead generation and management features, while it's significantly less expensive than its counterpart. Not to mention that HubSpot reserves some essential CRM features for its high-tier pricing plans.
Zendesk vs HubSpot: Ease of Use
Zendesk Sell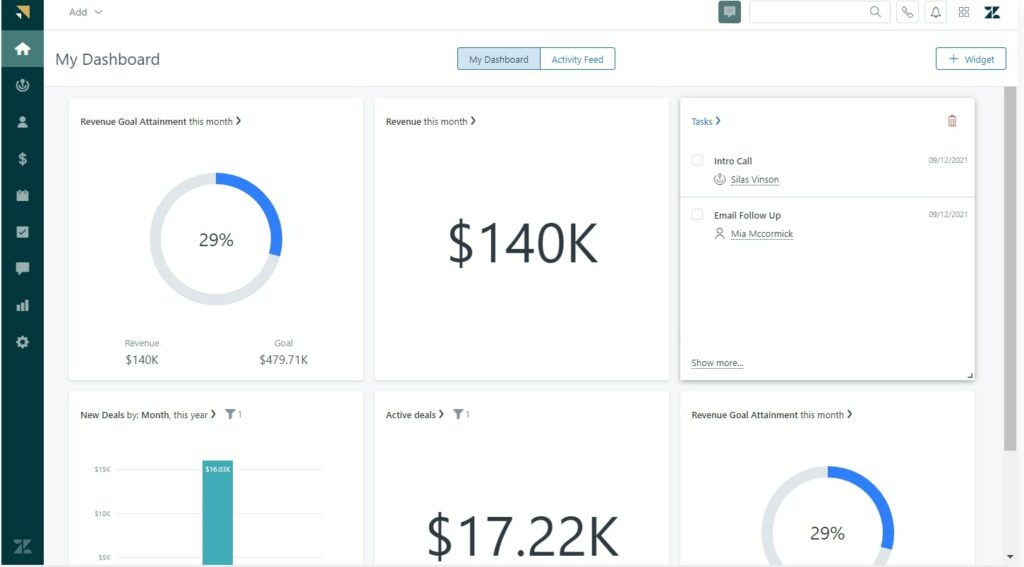 Zendesk prioritizes simplicity, making the platform highly easy to use. The user interface is straightforward, and all essential features are visible immediately – no hidden menu or tricky navigation.
Moreover, Zendesk's customization is done through a drag-and-drop interface. You also get access to the Zendesk Marketplace, where you can browse through a large selection of pre-built themes and customize them to your liking.
The setup process is also quick, with all pricing plans giving access to an onboarding program. With the prompt setup and the platform's user-friendly interface, your sales team can get started and familiarize themselves with Zendesk in no time.
HubSpot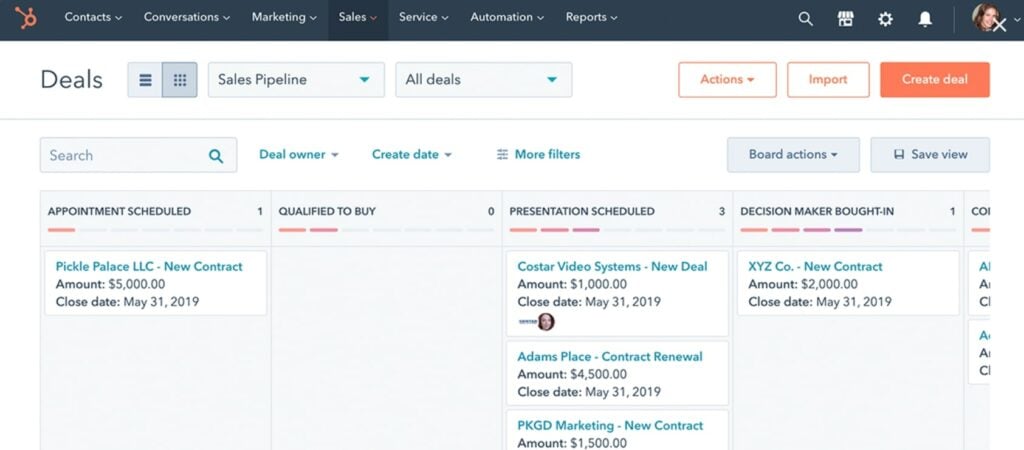 HubSpot CRM is also surprisingly easy to use despite its complexity. Since the platform is designed to accommodate businesses of all sizes, HubSpot adopts a visual approach, making it easy to navigate. Like Zendesk, all crucial features are placed within a click's reach.
As for customization, most of it can be done via a drag-and-drop interface. You can easily build custom reports, email templates, etc. The setup process is also prompt.
However, keep in mind that HubSpot is still a pretty complex platform. As such, you may find some features hidden behind menus, while some advanced functionalities will require a little know-how to use effectively.
Zendesk is Easier to Use
This is a close one but Zendesk takes the cake here. The platform is simpler across the board, making it an excellent option for businesses without experience in CRM software solutions.
Still, HubSpot is not that intimidating. With a little documentation, you'll use the platform to its full capacity in no time.
Zendesk vs HubSpot: Integrations
Zendesk Sell

Besides themes, the Zendesk Marketplace offers a vast integration library of 1300+ apps. These apps range from customer service solutions to team collaboration, marketing automation, quoting/billing, and more.
You can also integrate the platform with Zapier to access even more applications.
Additionally, you can use the CRM platform and Zendesk's dedicated help desk software – which is ideal for bringing sales and customer service teams under one roof.
This allows you to set up a customer portal, support tickets, benefit from various customer service automation tools, and access various other features designed to improve customer experience and exceed customer expectations.
HubSpot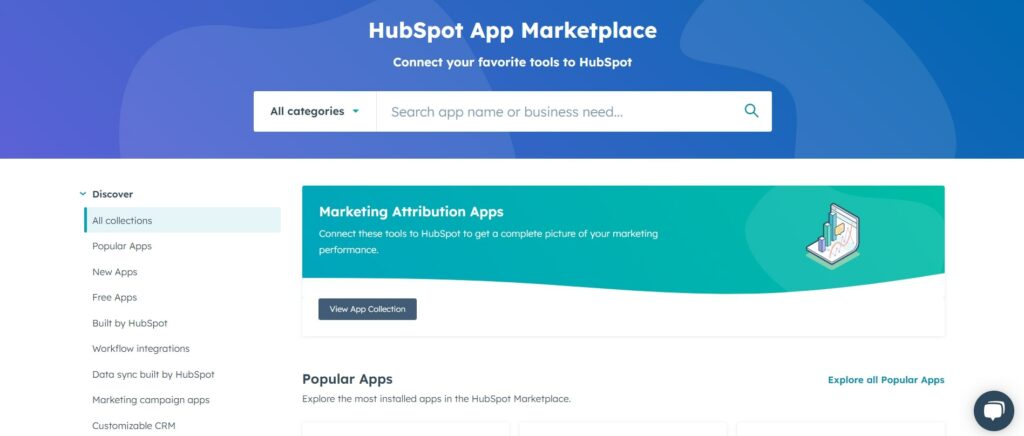 HubSpot also includes an app marketplace with over 1000 available applications, including Zapier. These apps are available across all of HubSpot's products, with the option to select between various use cases, like customer relationship management, marketing, finance, productivity, and much more.
Moreover, the CRM integrates seamlessly with HubSpot's other products, like the Service Hub, Marketing Hub, CMS Hub, and Operations Hub. That said, HubSpot is ideal for unifying your company activities once your business requirements expand.
As for customer service tools, HubSpot Service Hub offers a customer portal builder, help desk automation tools, a ticketing system, and much more.
HubSpot wins in Integrations
Again, this is a close one, but HubSpot's ability to use the platform and its many other products offers much more room for scalability.
Zendesk vs HubSpot: Pricing
Zendesk Sell Pricing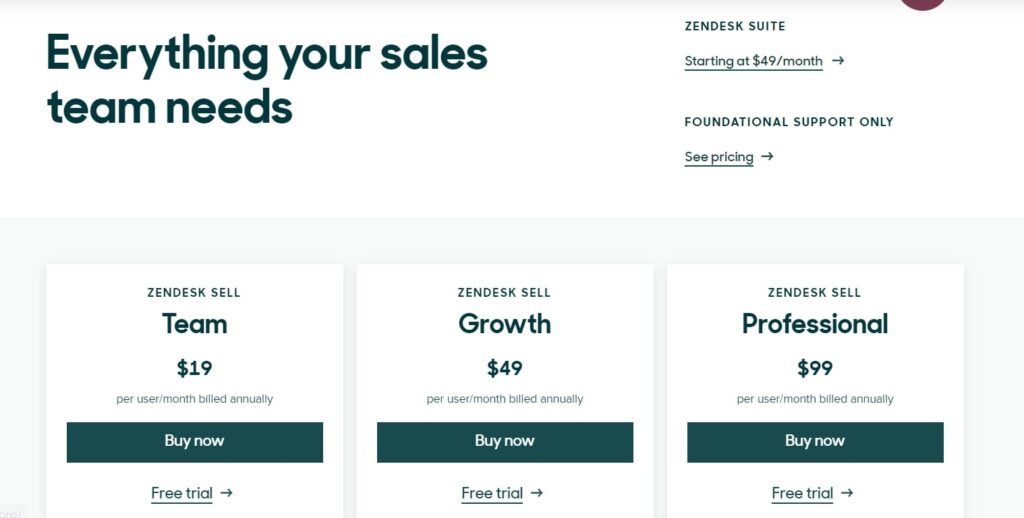 Team: $19 per user per month (annually) – Access basic phone calling functionalities, text messaging, email tracking, and create up to two sales pipelines.
Growth: $49 per user per month (annually) – Unlock bulk emailing, unlimited templates, customizable reports/dashboards, automated lead distribution, create up to ten sales pipelines, etc.
Professional: $99 per user per month (annually) -Automate tasks, access the automated power dialer, call scripts, lead scoring, create up to twenty sales pipelines, and more.
Enterprise: $150 per user per month (annually) – Get access to a direct dial phone number, company tech stack, create unlimited sales pipelines, etc.
There's also a free trial available for all pricing plans.
HubSpot Pricing

Free: Access basic CRM and marketing features, 5 email templates, reply tracking, list segmentation, etc.
Starter (two users): $45 per month (annually) – Unlock more advanced sales features, like phone calling functionalities, goal tracking, 5000 email templates, automated sales processes, and more.
Professional (five users): $450 per month (annually) – Create custom reports/dashboards, lead rotation, sales analytics, track employee productivity, unlock deal/company/contact scoring, and more.
Enterprise (ten users): $1200 per month (annually) – Unlock predictive lead scoring, conversation intelligence, custom objects, etc.
The free plan is available to unlimited users. However, note that each extra user will come at an additional cost for the paid packages. Depending on your chosen plan, you'll be charged $23, $90, and $120 per user per month.
Zendesk wins in Pricing
Overall, Zendesk Sell is the more affordable option across the board.
However, HubSpot still offers good value for money, considering what it offers. For instance, the Enterprise plan comes down to $120 per user per month for ten users, which is significantly cheaper than some of HubSpot's rivals, like Salesforce.
Zendesk vs HubSpot: Customer Support
Zendesk Sell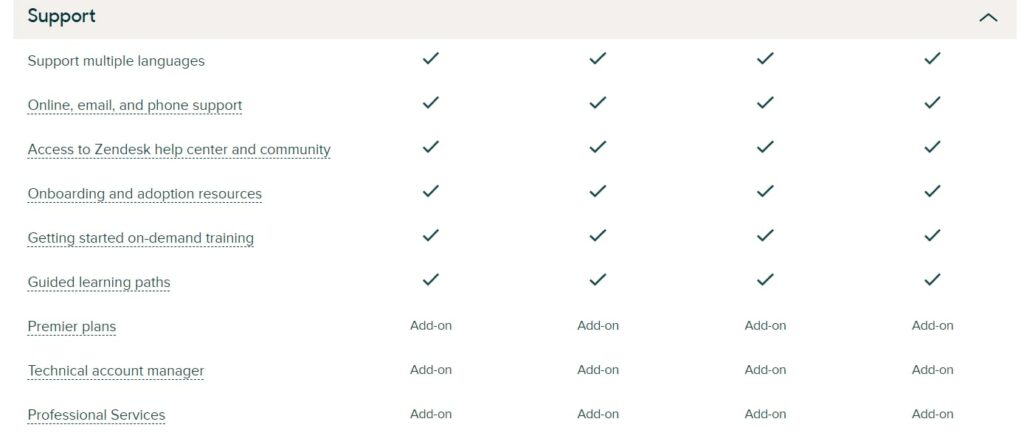 Zendesk covers email, phone, and live chat support, as well as access to a self-serve knowledge base and guided learning paths across all of its pricing plans.
However, 24/7 customer support, 1-hour long response times, technical account managers, and professional configuration/consultation services come at an extra charge.
In terms of user reviews, the feelings are quite mixed. Some customers report that Zendesk's service is slow and unhelpful, while others say the exact opposite.
HubSpot

HubSpot offers access to a self-serve knowledge base, the HubSpot Community, and live chat support, across all plans, including the free package. Additionally, paid users to benefit from 24/7 email and in-app support.
According to reviews, users are generally happy with HubSpot's customer service. Most customer reports that HubSpot's support teams are prompt and genuinely helpful.
HubSpot wins in Customer Support
Unlike Zendesk, HubSpot covers 24/7 customer support. Moreover, HubSpot users are generally happier with the platform's customer service.
HubSpot vs Zendesk: Pros and Cons
Now that we've covered the details, let's quickly summarize with a list of each platform's advantages and disadvantages.
HubSpot Pros
Extensive set of advanced functionalities
Vast integration library available
Highly scalable and versatile
Free version included
HubSpot Cons
Entry-level plans are rather limited
Can get expensive quickly
Zendesk Pros
Excellent sales lead generation/management tools
Solid phone system included
Excellent value for money
Highly easy to use
Zendesk Cons
Hit-or-miss customer support
Not as in-depth as HubSpot
Zendesk vs HubSpot: Conclusion
Overall, both Zendesk and HubSpot are excellent CRM solutions. However, they are built for different purposes.
Specifically, Zendesk Sell is designed with simplicity, making it a suitable option for midsized businesses on a budget, or small companies with no prior experience in CRM software. Additionally, you can seamlessly link the CRM with Zendesk's customer service software – ideal for those seeking to bring sales and service teams under the same roof.
In contrast, since HubSpot is more expensive and advanced, it's a solid option for enterprise businesses. You can also use CRM and other HubSpot products to unify your business processes.
Although HubSpot also offers pricing packages for small and midsize businesses, they are limited compared to HubSpot. That said, thoroughly evaluate your business needs before making a decision.