Are you looking for the best SEO reporting tools?
With businesses and agencies adopting SEO tools to compete for higher ranking, SEO reporting becomes indispensable for reviewing your SEO efforts and results.
Whether you're working on an in-house SEO campaign or co-working with your clients, an SEO report helps you keep track of all metrics for key performance.
Also, it gives you an analytical glimpse of your implementation progress of different SEO strategies and how you should tweak them accordingly.
Not only do SEO reporting tools power your digital marketing strategies based on analytics, but they also optimize content for SEO purposes and help you outsmart your counterparts.
Honestly, most SEO tools include reporting features. But some of the tools that have the best SEO reporting software are Semrush, Serpstat, and Mangools.
This article will delve into the top 8 SEO reporting tools to rank your sites higher. Of course, they might be the SEO tools you're already using – so we can help you explore their reporting features!
Semrush: Best SEO Reporting Tool For Digital Marketing Insights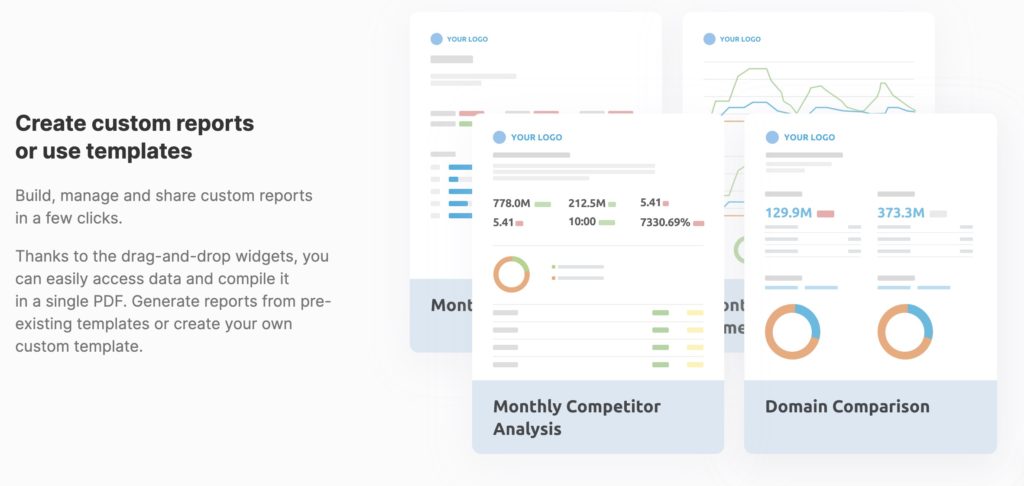 Do you know that large enterprises such as Lush and Carrefour rock generate a heap of revenue by using Semrush?
Semrush is an integrated SEO tool that comes with a suite of functionalities including, but not limited to — keyword research, backlink analysis, position tracking, competitor analysis, traffic overview.
It has a comprehensive reporting toolkit for SEO, search, social media management, content marketing, and advertising. You can quickly generate SEO reports to get an overview of keywords, backlinks, traffic, and ranking.
This reporting software conducts competitive research into your crucial performance and gives you robust data to keep an eye on your competitors. Backed by an extensive database, Semrush obtains insightful measurements of over 50 marketing metrics.
Speaking of keywords alone, Semrush already exceeds 20 billion keywords — it has the largest keyword database in the digital world!
There's no reason why you shouldn't take advantage of its great database to get a wealth of data about domains.
For any digital marketing specialist, Semrush can be an excellent pick for your website!
If you're interested to learn more about what Semrush can do, here's our detailed Semrush review.
Most Comprehensive SEO Software
Semrush - Online Marketing Can Be Easy
Semrush is a powerful digital marketing tool that provides insights and analytics on website traffic, keyword rankings, backlinks, and more. It helps businesses optimize their online presence and improve their search engine rankings.
Pros:
Comprehensive keyword research

Competitive analysis:

Site audit and optimization:

Backlink analysis

Content marketing insights

PPC advertising insights

Social media management

User-friendly interface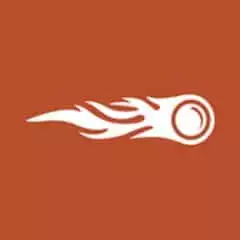 Top SEO reporting features of Semrush
Robust keyword research, including search volume, keyword difficulty, CPC, and SERP features for boosting organic traffic.
On-page SEO checker
Daily position tracking
Backlink analytics
Competitor SEO analysis
Pricing of Semrush
Semrush offers three plans:
Pro plan — $119.95;
Guru plan — $229.95;
Business plan — $440.95.
You can use Semrush for free with an exclusive 14-day trial.
Mangools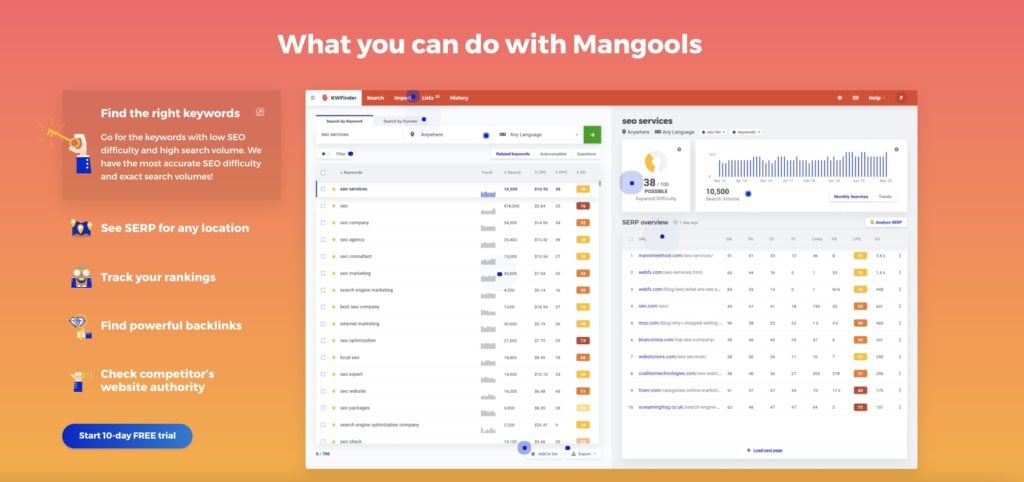 Are you looking for a juicy SEO reporting tool for your website?
Mangools is an all-in-one SEO reporting software great for bloggers, marketers, SEO companies, and SMEs.
Think about the marketing content you create. Who doesn't want it to get a top ranking after investing much time on it? Yet, in truth, your efforts may end up in vain if you fail to master the rules of how search engines operate.
Mangools will never keep you in the dark.
You'll get accurate SEO reports on keyword lookups, search volume, and competitor keywords from keyword search to competitor analysis. It tracks keywords daily and collects a wealth of data from search engines.
Next time when producing a blog post, you can refer to the keyword analysis to gain strategic insights into various metrics and how they boost online visibility.
In addition, Mangools is one of the technical SEO reporting tools for tracking rankings, backlinks and conducting SERP analysis. It has a seamless interface that checks your competitor's website domain authority.
Supported by SEO experts, Mangools is an excellent place to start for any content marketers like you!
Top SEO reporting features of Mangools
Intuitive and user-friendly UI
Accurate keyword research
Robust backlink analysis and rank tracking
SERP analysis
Competitor analysis
Pricing of Mangools
Mangools provides monthly and annual plans — Basic plan $29.9/ month, Premium plan $39.9/ month, and Agency plan $79.9/ month.
You can enjoy a 40% discount by subscribing to the annual plan.
Start a 10-day trial for free!
Seobility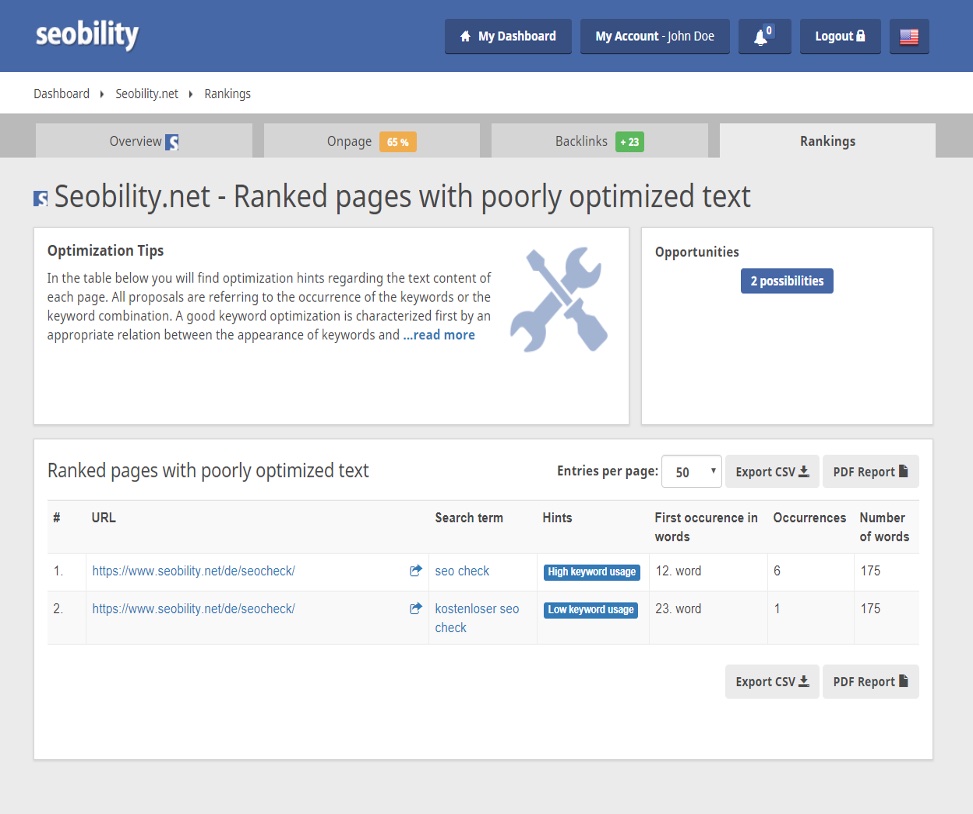 Seobility is an SEO reporting software that improves website optimization and Google rankings.
It offers various SEO tools: SEO checker, keyword checker, ranking checker, backlink checker, SERP Snippet Generator, and more. All of which provide robust features.
The toolkit presents data on a dashboard that allows easy navigation and interpretation. For instance, the ranking dashboard shows relevant rankings and the visibility value to reflect your website's ranking concerning specific search items.
Apart from content, backlinks are influential in building organic search. The Seobility backlink dashboard reveals link source, link target, and link type and evaluates massive data according to a rating algorithm.
Seobility also generates detailed SEO reports on your competitors and gives you insights into their content and link-building strategies.
If you're a local enterprise, you can obtain local search data from Seobility too.
Are you looking for a budget-friendly SEO tool with powerful features? Then, get started with Seobility's basic plan for free!
Top SEO reporting features of Seobility
Automated updates of desktop and mobile Google rankings
Weekly review of backlink profile
Continuous tracking and white label reporting
Accurate keyword research
Competitor analysis (up to 20 competitors)

Pricing of Seobility
Seobility provides three plans: a free Basic plan, a Premium plan costing $50/ month, and an Agency plan that costs $200/ month.
You may choose a plan according to your business scale and needs.
Serpstat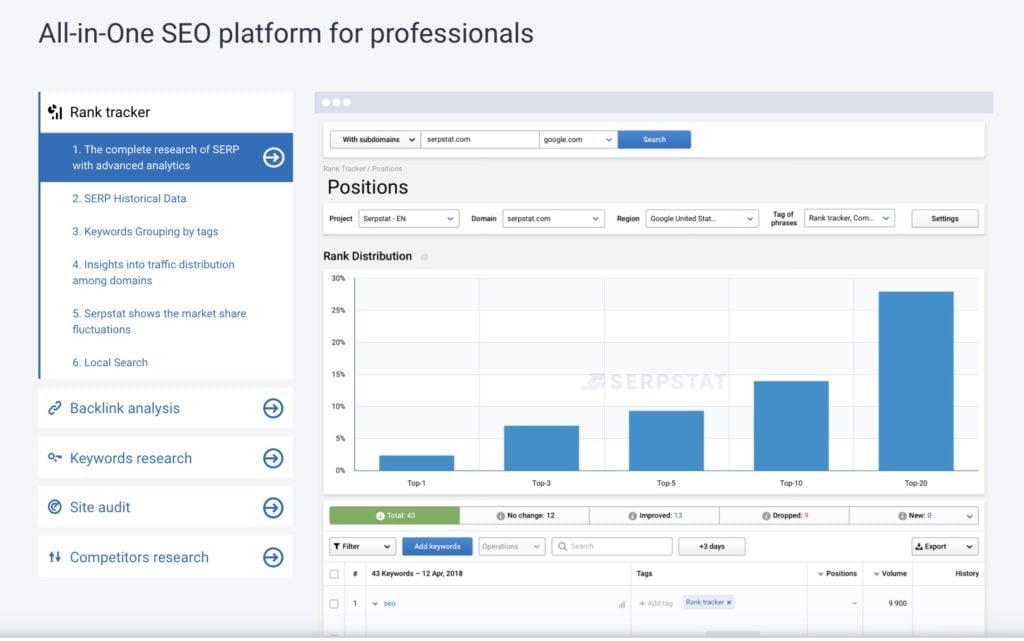 For digital marketers, in-house SEO teams, and enterprises of all scales, Serpstat can be a great starter.
It's a powerful SEO tool with five built-in modules: keyword search, backlink analysis, rank tracking, competitor research, and site audit. Such excellent features help monitor your projects and analyze the user history.
Do you want to get a clear picture of your search engine competitiveness?
Using the Google SERP tracker and keyword tool, you can track the website traffic and understand the most profitable SEO keywords and topic trends.
Utilizing these data and analytics strategically can push your website to higher search engine results!
In addition, Serpstat produces unique, white-label SEO reports that include up-to-date rankings, desktop and mobile searches, and other relevant data. So you can go through the insightful data with your clients or your team!
Last but not least, Serspstat examines your competitors' websites in SEO PPC to produce strategic insights and build your competitive edge at ease.
Top SEO reporting features of Serpstat
Keyword research
Competitor analysis in organic and paid search
SERP crawling service
API and integration
Pricing of Serpstat
Serpstat offers various plans: Lite plan — $55/ month, Standard plan — $119/ month, Advanced plan — $239/ month, and Enterprise plan — $399/ month.
Ahrefs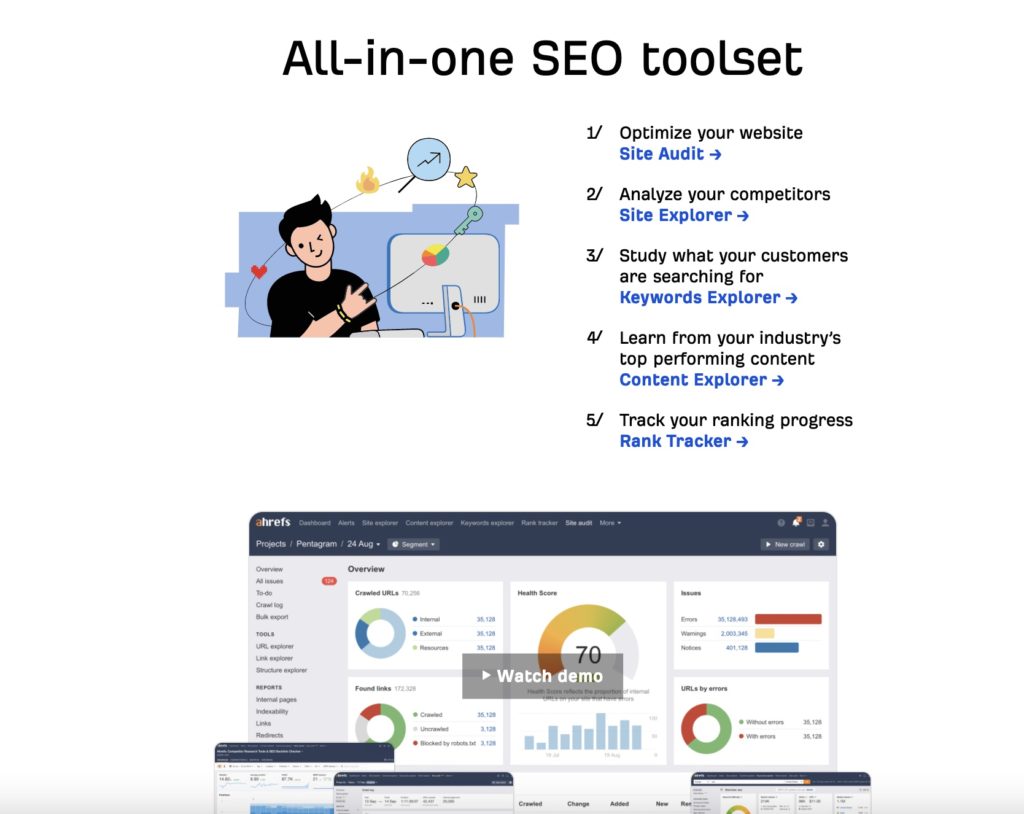 Even if you're a junior marketer, you must've heard of Ahrefs — a holistic SEO software.
Ahrefs has an integrated toolset for analyzing your website's backlink profile, keyword rankings, and SEO health.
If you want to boost your backlinks, you should use its site explorer tool to analyze your website's backlinks as well as that of your competitors.
Suppose you want to learn about the top-performing content that constitutes the most significant traffic on Google or other social media. In that case, you can try Ahrefs' content explorer and keyword explorer. They'll give you a complete picture of what the customers are interested in.
If you want to track your ranking, use the rank tracker, which offers you both desktop and mobile rank analysis at any geographic location. Go for local searches if you need any for your business.
You can export all of these analytics and results to CSV or PDF for reporting.
Whether you are an in-house marketer, affiliate marketer, or SEO agency working with a couple of clients, Ahrefs is a powerful yet ease-of-use platform.
Top SEO reporting features of Ahrefs
Keyword research for ten search engines such as Google and Youtube
Total search traffic estimations for the top 10 ranking websites
Detailed backlink analysis
SERP history analysis
Rank tracking
Identify content gaps among competitors
Pricing of Ahrefs
Seobility provides four comprehensive plans: Lite plan — $99/ month, Standard plan — $179/ month, Advanced plan — $399/ month, and Agency plan — $999/ month.
You can start a trial plan for only $7!
Google Data Studio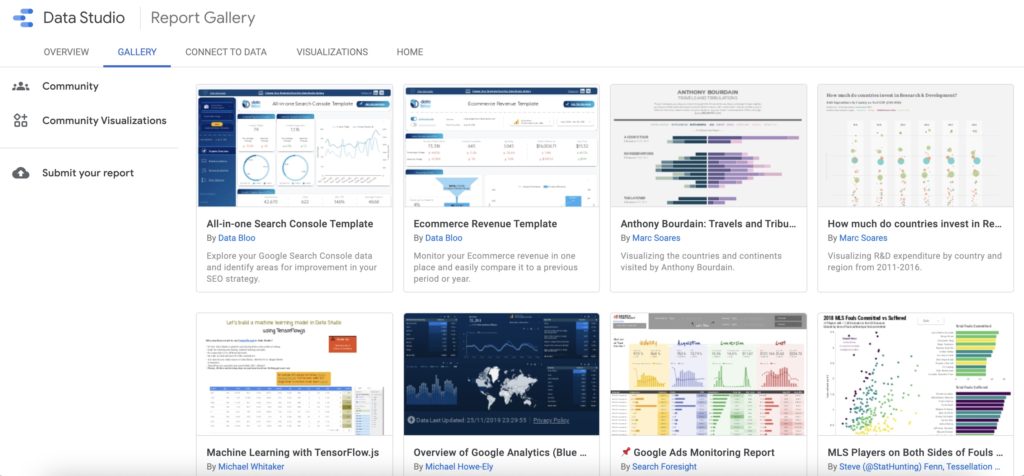 Being part of the Google Marketing Platform, Google Data Studio is a free SEO reporting platform equipped with advanced features.
Once you start using it, you'll fall in love with its interactive UI.
Simply drag and drop the report editor to display real-time data in configurable graphics or SEO report dashboards. These reports and dashboards reflect your campaign performance concerning traffic, bounce rate, page duration, and more.
To share insights with your clients, you can connect the data to various tools such as — Google Ads, Youtube, Facebook, and Twitter.
To adopt a feature-rich SEO software free of cost, Google Data Studio is a perfect starter for small to medium-sized corporations.
Top SEO reporting features of Google Data Studio
Automated, customizable SEO report dashboards
Compelling data visualizations
Data connection to a variety of Google products
Shareable dashboards for collaboration
Google Analytics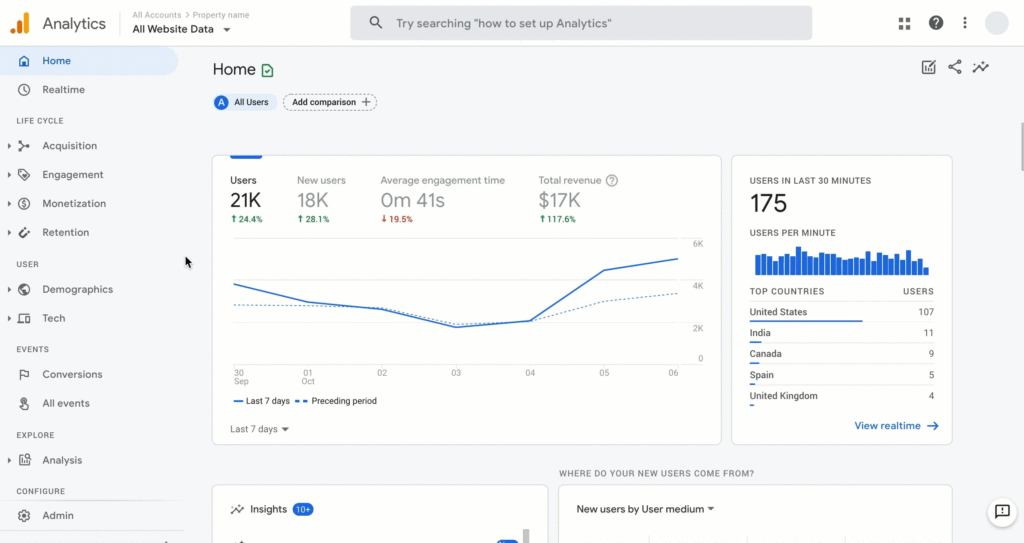 Do you need an SEO report to justify the site performance to your clients or your boss? Here's your pick!
Google Analytics is another free online analytics service that tracks website performance from your SEO campaigns and looks into the users' interaction with your website.
To get started with the reporting software, simply put the tag on your website with Google Tag Manager.
Then, Google analytics will collect data and present it in an interactive SEO report consisting of metrics and dimensions. Those metrics include average session duration, traffic sources, bounce rate, number of users, Google Ads, etc.
It's capable of conducting real-time activity monitoring, audience, and traffic reporting too. These automated reports provide you and your clients with insightful figures regarding SEO campaigns and marketing progress.
Are you worried that the software operation is way too complicated? We can reassure you that Google Analytics is suitable for everyone from the basic to the advanced level.
Top SEO reporting features of Google Analytics
Campaign and traffic tracker
Customer behavior analytics
Keyword referrals
Audience reports
Pricing of Google Analytics
As long as you have a Google account, most Google Analytics functionalities are available for free.
Google Search Console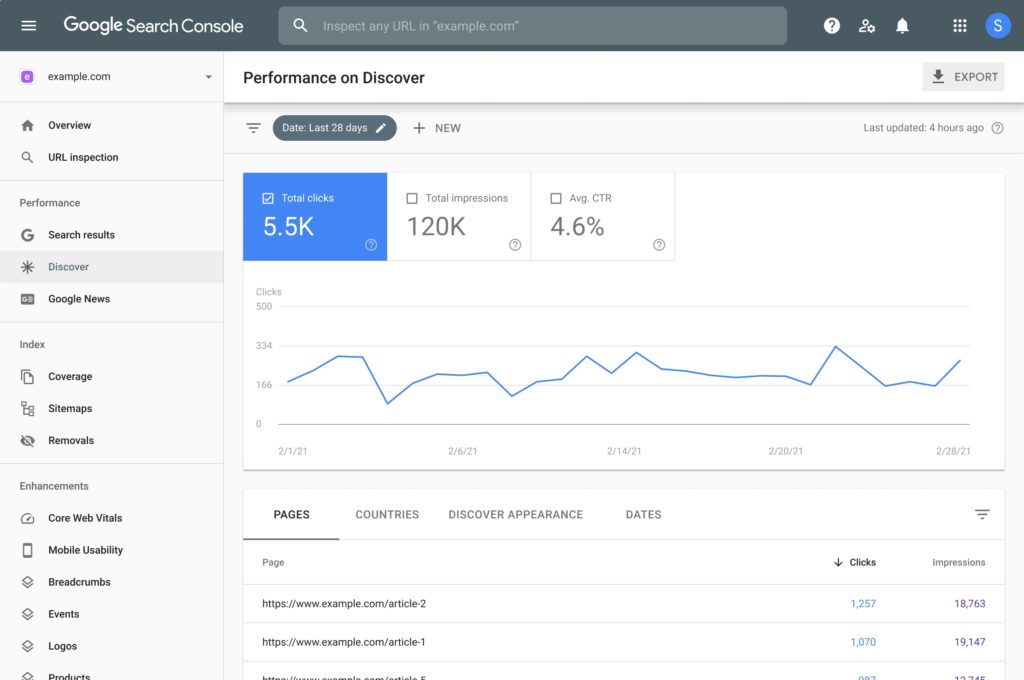 Do you want your website to shine in search engine results?
Google Search Console is a free SEO reporting software that measures site performance and traffic to help you understand how your website is performing on Google.
You obtain critical metrics based on its search performance reports — namely impressions, clicks, average click-through rate, and average position.
Also, this reporting tool reveals search queries that contribute traffic to your site. In this way, you can optimize SEO content concerning search analytics.
Whether you are a webmaster, SEO professional, or freelancer, you can use Google Search Console for free.
Top SEO reporting features of Google Search Console
Keyword research via search queries
Position tracking in search results
User interaction assessment
Sitemap submission
Top SEO Reporting Tools: Conclusion
The right SEO reporting tool gives you insights to power up marketing strategies and harnesses the ultimate power of SEO to grow your business.
After all, there is no one-size-fits-all toolkit. When picking the best reporting software, you can consider:
the primary reporting features
accuracy and demographics of data
third-party tool integrations
ability to customize reports
user interface
As long as it caters to your needs, your business will thrive and become increasingly visible online!
In a nutshell, here are some of our top recommendations:
Which one of these is your favorite SEO reporting tool? Did we miss anything? Comment to let us know!
Further read:
10 Best SEO Tools To Improve Search Engine Ranking
Best SEO Audit Tools For Website Optimization
8 Best SEO Automation Tools to Boost Efficiency
Spyfu vs Semrush: Which is a better SEO tool?
Serpstat Vs Semrush: Which Is A Better SEO Tool? Review And Comparison
Semrush Alternative: 12 Best Semrush Competitors Tools