To find a better tool to help you improve your SEO results, we will compare Serpstat vs Semrush. They are two of the most valuable tools when it comes to optimising your website.
In this article, we'll review and compare their main differences, pricing, features, pros, and cons, and find out which is a better SEO tool.
Before we dive in, it is highly recommended that you sign up for a free trial at Semrush and Serpstat so you can get a first-hand taste of both software.
You might also be interested in our comprehensive Semrush review.
Without further ado, let's get to know more about Serpstat vs Semrush.
Most Comprehensive SEO Software
Semrush - Online Marketing Can Be Easy
Semrush is a powerful digital marketing tool that provides insights and analytics on website traffic, keyword rankings, backlinks, and more. It helps businesses optimize their online presence and improve their search engine rankings.
Pros:
Comprehensive keyword research

Competitive analysis:

Site audit and optimization:

Backlink analysis

Content marketing insights

PPC advertising insights

Social media management

User-friendly interface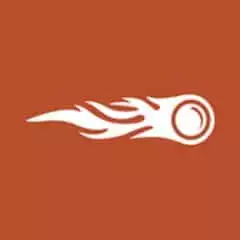 Serpstat vs Semrush: Differences
Coming down to the difference between these two SEO tools, here are some of the most prominent ones.
SEO Writing Assistant
Semrush comes with an SEO writing assistant, and it helps in optimizing your content. The SEO writing assistant comes with a Google Docs add-on and WordPress plugin, and provides a comprehensive analysis of how your content compared to the top 10 ranking pages of your keyword in a given location.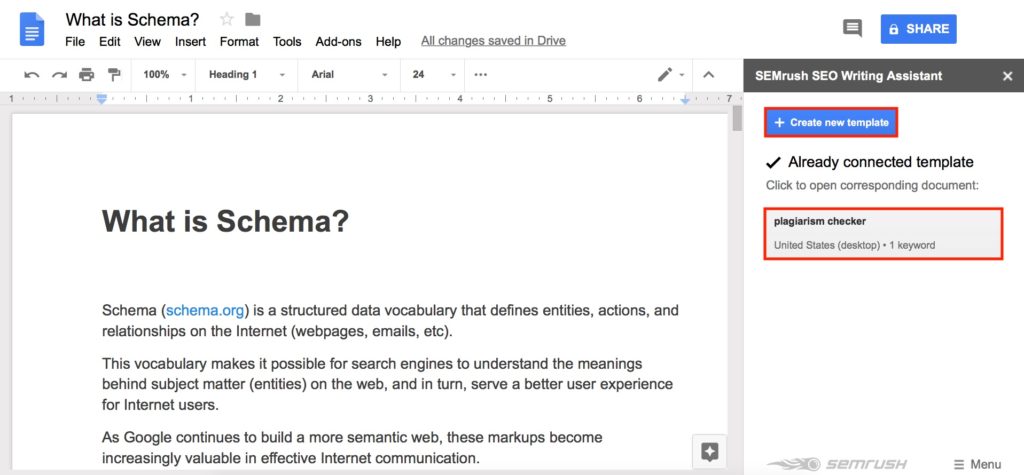 Serpstat, on the other hand, does not have this SEO feature.
Registration and Usability
Serpstat allows you to use all essential features for free but within certain limits and conditions.
When you use Semrush, you will be given access to all the features for a trial period of seven days. And with our link here, you can have access to the Pro free trial for 14 days!
After your free trial, you can choose to downgrade to Semrush's free subscription. You don't need to pay anything, and you still get access to almost all tools and toolkits, more than those in Serpstat free plan.
Social Media
Semrush comes with an array of social media features to help you improve your content over time.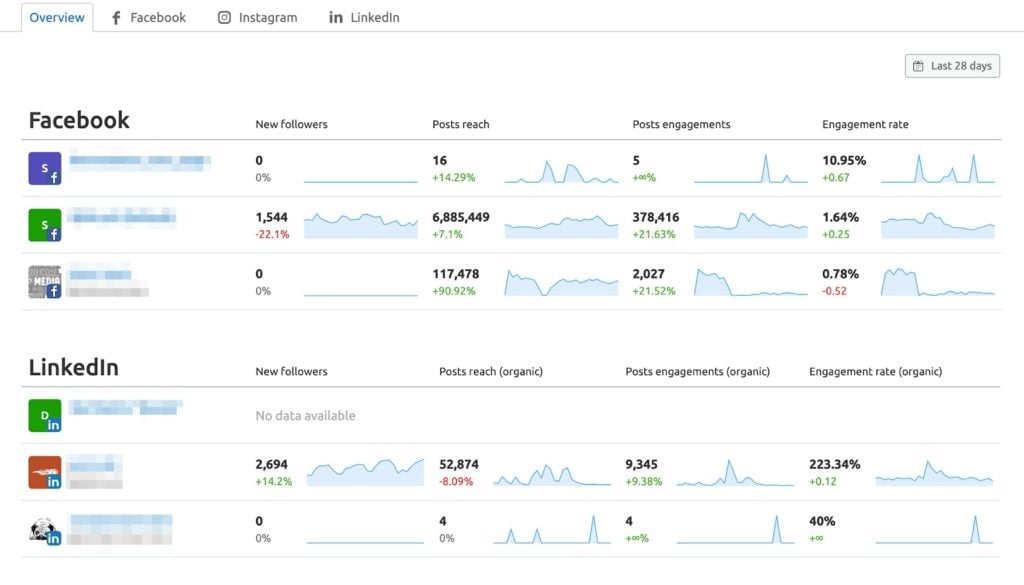 Serpstat lacks such social media tools.
Although these are some of the main differences when comparing Serpstat vs Semrush, they are both excellent tool kits for SEO. They both have a lot of features that can help you improve your content by tracking and analyzing. In addition, it can help you tailor your content to your audience's needs, which will help you improve your reach.
As we already know, Google has more than 3.5 billion searches, and it uses complex algorithms to show people what they want. Thus, driving organic search results is essential compared to the paid results.
This is among the main reasons why investing in SEO tools can help you build your brand by driving organic traffic.
We've compared the features, pricing, and several other factors to understand which tool is better for whom. So let's dive right into it.
Serpstat vs Semrush: Pricing Comparison
Here are the pricing options you may want to consider before jumping to any conclusion.
Serpstat Pricing
Serpstat provides four pricing options:
Lite – $69 per month
Standard – $149 per month
Advanced – $299 per month
Enterprise – $499 per month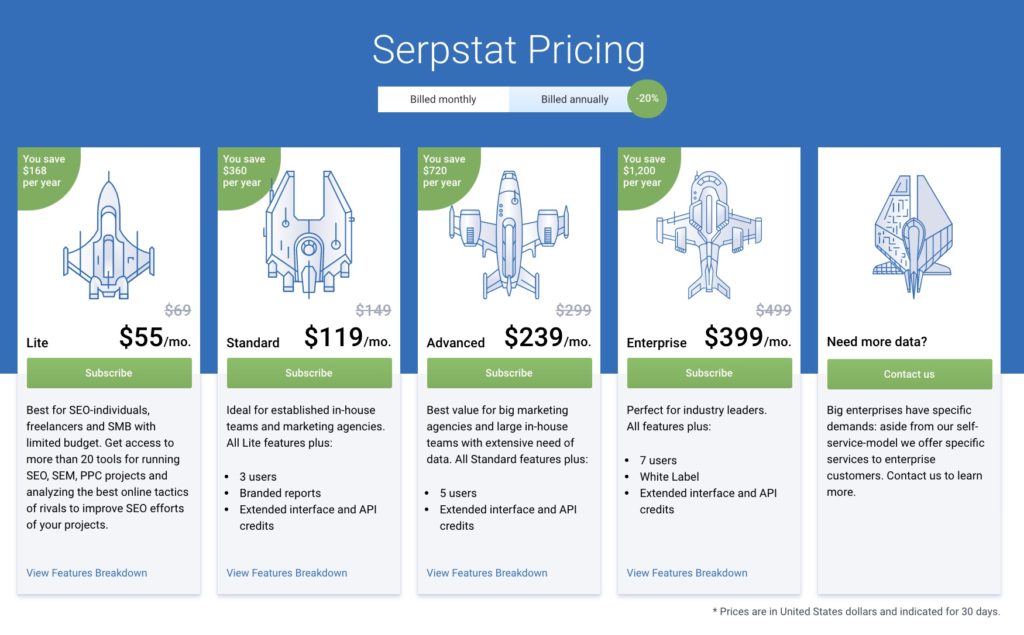 The Lite plan comes with 500,000 export rows monthly, 4,000 queries every day, and much more. Of course, you can use every primary SEO feature, but this plan is not the best option for a business.
The Standard plan offers 5,000 queries and 30,000 results per report daily. Although it costs a little more, it has the option of branded reports. Moreover, you can add up to three members of your team to your account.
The Advanced plan offers 150,000 tracked keywords and 8,000 queries every day. In this plan, you can add up to five team members. Moreover, for any plan subsequently, it has the advantage of customer support (via phone).
The Enterprise plan is the most expensive of all. However, it comes with every feature, and the threshold for every factor is pushed to the maximum limit. Here, you can add up to seven team members.
Although these are the paid plans, you can use Serpstat for free by signing in with your Google account. But, you utilize only its basic features within certain limits.
Semrush Pricing
Unlike Serpstat, Semrush has three pricing options. These are based on the different needs of businesses. But the best part about Semrush is that every plan has all the features; the only difference is the limit of use.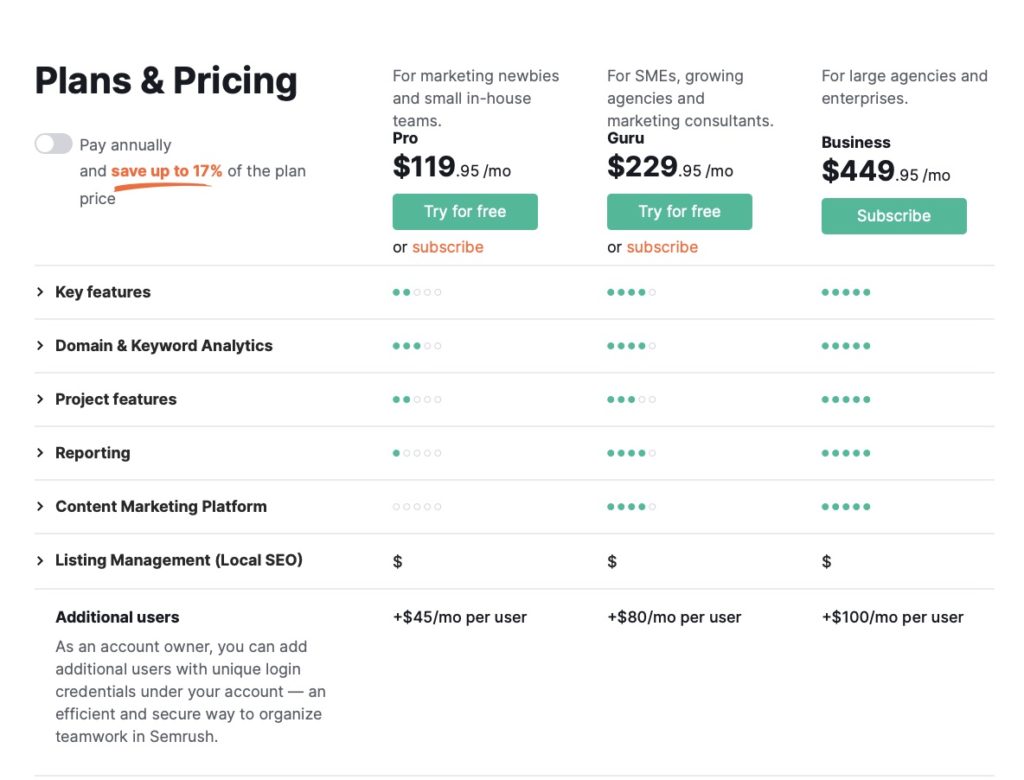 Semrush offers both a monthly plan and a yearly plan. When you opt for the monthly plan, you have to pay the entire price. On the other hand, if you choose the yearly plan, you'll end up saving a total of 17%.
Here are the pricing options when paid annually:
Pro – $99.95 per month
Guru – $191.62 per month
Business – $374.95 per month
The Pro plan is most likely to be taken by small businesses and freelancers. It gives you up to 10,000 results per report alongside 3,000 reports. Moreover, you can update up to 250 metrics per month. However, white and branded label reports aren't available in this plan.
The Guru plan lets you track 1,500 keywords every month while generating 5,000 reports per day plus 30,000 results for every report. You also have the option of monitoring 30 social profiles. Although branded reports aren't a part of this plan, white-label reports are.
The Business plan is best suited for large businesses. It lets you work on 40 projects and enables you to track 5,000 keywords. You can also crawl 1,000,000 web pages every month. Moreover, it provides you the option to monitor 300 social profiles and post for 50 of them. Branded reports aren't a part of this deal like the Guru plan, but white label reports are.
Lastly, the first two plans (Pro and Guru) offer a free trial for seven days.
We have an exclusive partnership with Semrush that allows you to try them for free for 14 days!
Serpstat vs Semrush: Features Comparison
Serpstat Features
Serpstat can be used by just about anyone. However, it's not for professionals only. Even though the features that accompany Serpstat are highly advanced, anyone can make use of it.
Here are some of the features that accompany Serpstat:
You get access to keyword research tools
Search and advertising analytics
Rank Tracker
Market Intelligence
Infographics
Reports
API
White Label Report
Backlink Analysis
You'll be able to conduct competitor research and analysis.
Semrush Features
In simple terms, Semrush is anyone's go-to solution for improving SEO. It is also among the most popular choices. Some of the most prominent players in the business, like eBay, Quora, and many more, use Semrush.
Semrush also gives the option to analyze your competitors' marketing strategy while helping you improve your own.
Market explorer
Tools for Organic Research
Tools for Display advertising
Tools for Advertising Research
Tools for Keyword research
Backlink analysis and research tool
Tools for traffic analysis
Product listing ads
On-Site audits
SEO Writing assistant
Tools for Project tracking
Brand monitoring
Social Media Tracker/poster
On-page SEO checker
Now, let's delve deeper into some of the most used features of Serpstat vs Semrush.
Serpstat vs Semrush: Keyword Research
Serpstat offers its users a tool to help them find the best-ranking keywords. It evaluates the worth of the keywords based on their search volume, CCP (cost per click), and several other factors. It also lets you make use of longer keywords to help you enhance your SEO.
When it comes to Semrush, it has multiple tools to help you with keyword research. It will show you the best keywords and summarize the keyword stats and search volume. It also helps you find more keywords for your niche, which helps increase your audience base.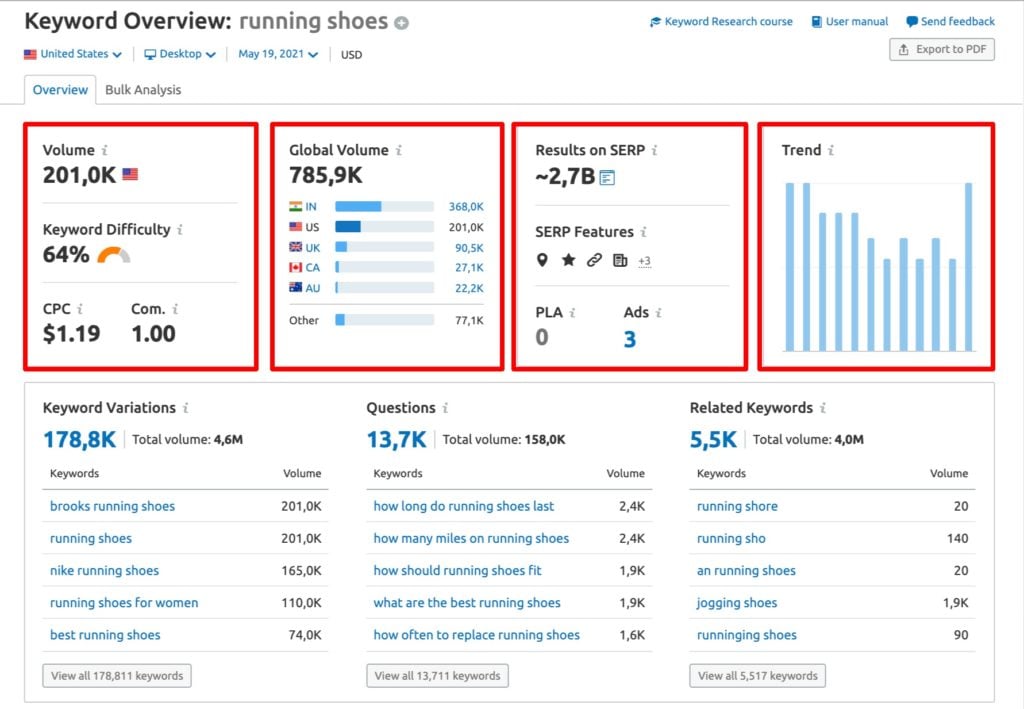 When comparing Serpstat vs Semrush keyword database, Semrush has the biggest keyword database on the market with 20B keywords. The Serpstat database is much smaller.
Serpstat vs Semrush: Rank Tracking
Serpstat provides you with Rank Tracking tools to help you track and monitor the keywords' performance, giving you an idea of your web page ranking. With this tool, you have the option of tracking several keywords a day.
Semrush offers a much more powerful position tracking tool. It is because they:
Provide daily data updates for all users by default.
Have unique reports in comparison to Serpstat, such as cannibalization report and tags report which allows you to compare the rankings for different categories of keywords.
In addition, Semrush has a unique Share of voice metrics, which is the percent of overall estimated traffic from these keywords that are going to your site.
Besides all the features mentioned above, Semrush also has data visualization, a snippet report, and many more.
Serpstat vs Semrush: Backlink Analysis and Research
With Serpstat, you have the option of analyzing your backlinks as well as your competitors'. In addition, it gives you a comprehensive report attached with other domains and anchors.
Semrush allows you to do the same thing but in a better fashion. This is attributed to the fact that it has a much more extensive backlink database and can also identify other backlinks.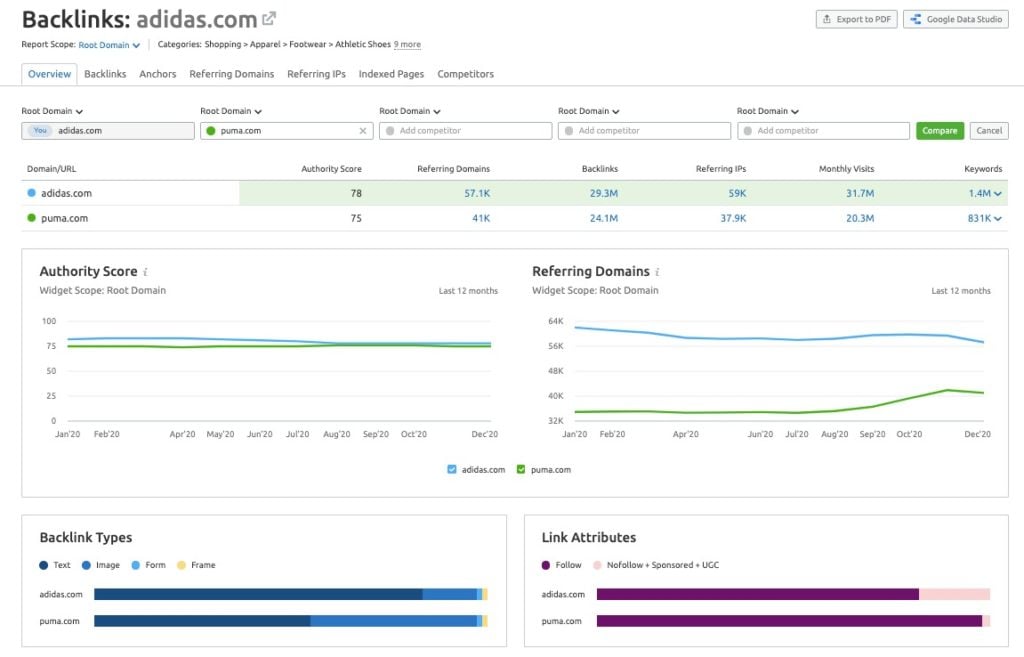 In fact, studies have shown that Semrush has the biggest and fastest backlink database in the market. Here are the studies for your reference:
In addition, Semrush provides a unique workflow for penalty preventing and recovery, including Backlink Audit based on 50+ toxic markers that Serpstat doesn't provide at all.
Finally, the Semrush Link Building Tool suggests backlinks on users' demand and includes outreach functionalities.
So, in general, Semrush is a much more versatile tool.
Serpstat vs Semrush: Competitor Research and Analysis
The competitor and research analysis tool in Serpstat helps you find out who your competitors are. Moreover, it will help you understand their marketing strategies. Both competitor keyword and backlink analysis enable you to determine how your competitors function and let you perform better.
When it comes to Semrush, it offers you all of the above features in a much more refined manner. This is because of Semrush's complex filtering options and backlink gap tool.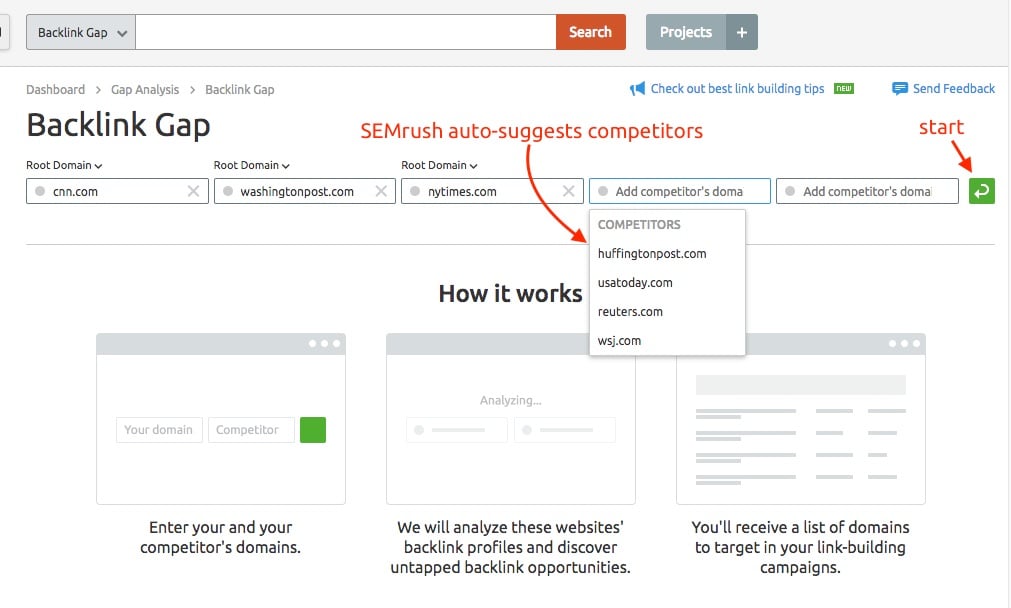 Serpstat vs Semrush: On-Page Audit
Serpstat allows you to conduct an on-page audit to help you see how your website is performing. It also checks if your page is SEO-friendly. With such inputs from the tool, you can fix the problem area in your website.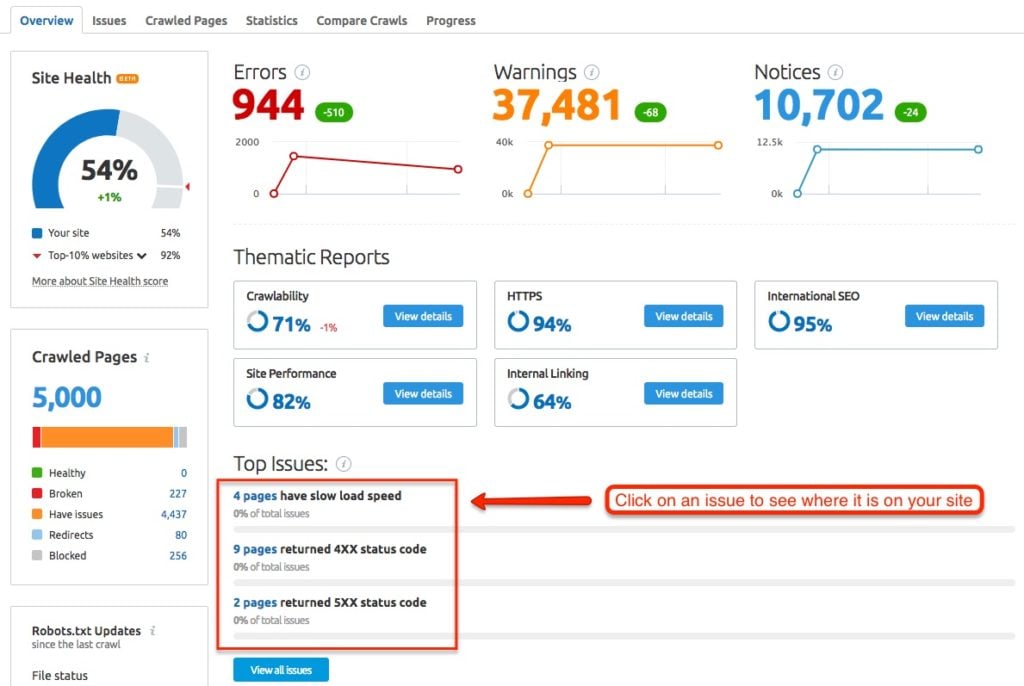 Semrush's on-page audit tool does all of the above and prioritizes which problem needs to be fixed first and demands more attention. Their Site Audit is much stronger, and have more in comparison to Serpstat reports, such as:
Core Web Vitals
Structured data reports
Amazing reporting functionalities
GDS connector for Site Audit data, HTTPS, report, and others
Serpstat vs Semrush: Which One To Choose?
Even though both the tools come with pretty much the same set of features, Semrush is the better option to choose as it offers a much wider array of tools. But if you only want a tool to track keywords, then Serpstat may suit you better due to their price-per-word payment option.
Serpstat vs Semrush: Pros and Cons
Pros of Serpstat
It comes with an easy-to-navigate interface.
It is affordable.
All reports are presented visually.
It can create white-label reports.
The free plan also comes with great features.
Cons of Serpstat
It produces inaccurate reports at times.
The customer service is average.
You can create white-label reports only with the Enterprise plan.
Pros of Semrush
Better keywords: huge keyword databases, relevant, complete, with the best volumes.
More accurate position tracking
Better workflow for tech SEO and, since it is more versatile and has unique reports
The best backlinks database in terms of data quality and quantity and also in terms of the workflow (Backlink Audit and Link Building tool)
Powerful content marketing platform, including SEO Writing Assistant, SEO Content Template, Content Audit, Post Tracking, and so on
Best PDF Reports without the need to add information from different resources; already assembled and customizable.
Cons of Semrush
It is slightly costly in comparison to Serpstat (it is worth every buck!)
The user interface can be confusing at times.
You need time to understand how to use Semrush effectively. This is because it has several advanced features that can be confusing to understand at first.
Serpstat vs Semrush: Conclusion
When you look at the features offered by both Serpstat and Semsrush, it is pretty clear that the latter has a few more features to offer. From writing assistant to backlink analysis, it has everything to help you rank better in SEO search results.
If you only want to track keywords, then Serpstat is an excellent option. But if you want more in terms of SEO optimization, then Semrush is your answer.