In this Surfer SEO review, we will look at the software's key features, what makes it different, how much it costs, and its benefits. I will also give you my thoughts on whether it's worth purchasing or not.
In the world of SEO, there are a million and one ways to rank higher in search engines. So when a newer method comes along, it's always worth taking a closer look.
Surfer SEO promises to help you rank higher in Google and other search engines. Is it all it's cracked up to be? Keep reading to find out!
What is Surfer SEO?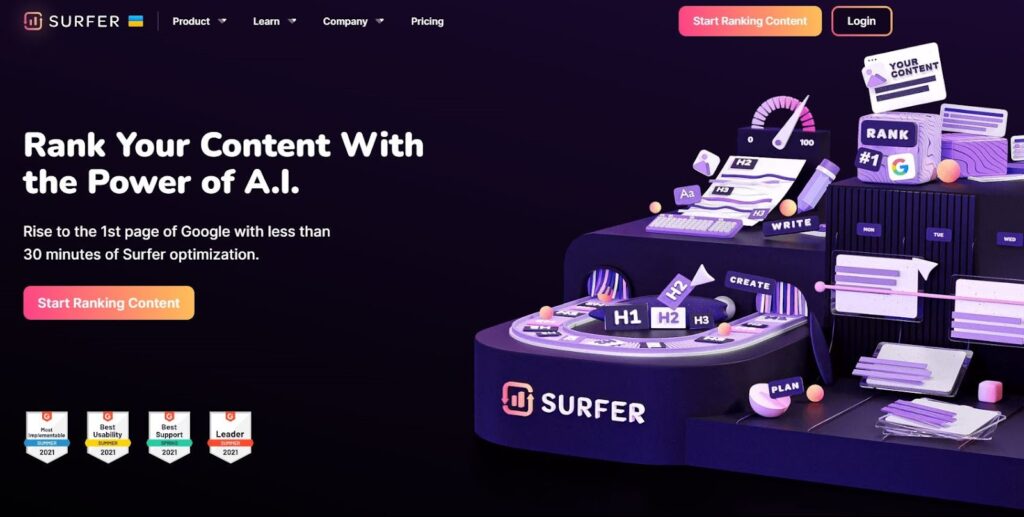 Surfer SEO is a tool that helps online businesses improve their search engine optimization (SEO). The software analyzes a website's content and provides recommendations on how to improve it. This can include things like adding keywords, improving the site's structure, and making sure the content is relevant to the target audience.
The goal of Surfer SEO is to help rank higher in search engine results pages (SERPs), which can lead to more traffic and more customers. The software is designed for businesses of all sizes, from small businesses to large enterprises.
Whether you're just getting started with SEO or you're an experienced marketer, Surfer SEO promises to help you get better results.
Learn more about Surfer SEO here.
Surfer SEO Review: Key Features
Surfer SEO has the following key features:
Content editor
Audit
Content planner
SERP analyzer
Keyword research
Let's look at each one in more detail.
Content Editor

The content editor is where you create and optimize your web content. You could say it's the heart of Surfer SEO.
To use the content editor, you simply have to:
Start by adding at least one keyword
Choose the area you want to rank for
Crawler type between desktop or mobile.
Once you open the Content Editor you created, the interface will look like this: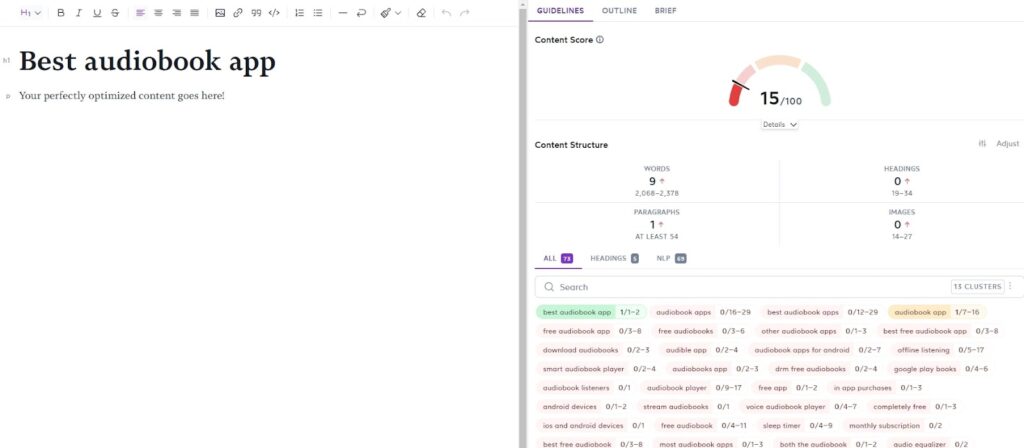 The idea of the Content Editor is to match your content to the top-ranking pages for your chosen keyword. It will count the words, headings, paragraphs, and images of the competing URLs, and the closer your content matches with them, the higher the content score will be.
The content editor will also suggest specific keywords and related terms you can use to improve your content. Of course, you can manually choose the competing URLs you think you should match, and you can include or exclude keywords from the list if needed.
If you download the Surfer Chrome extension, you can use the content editor in Google Docs.
Audit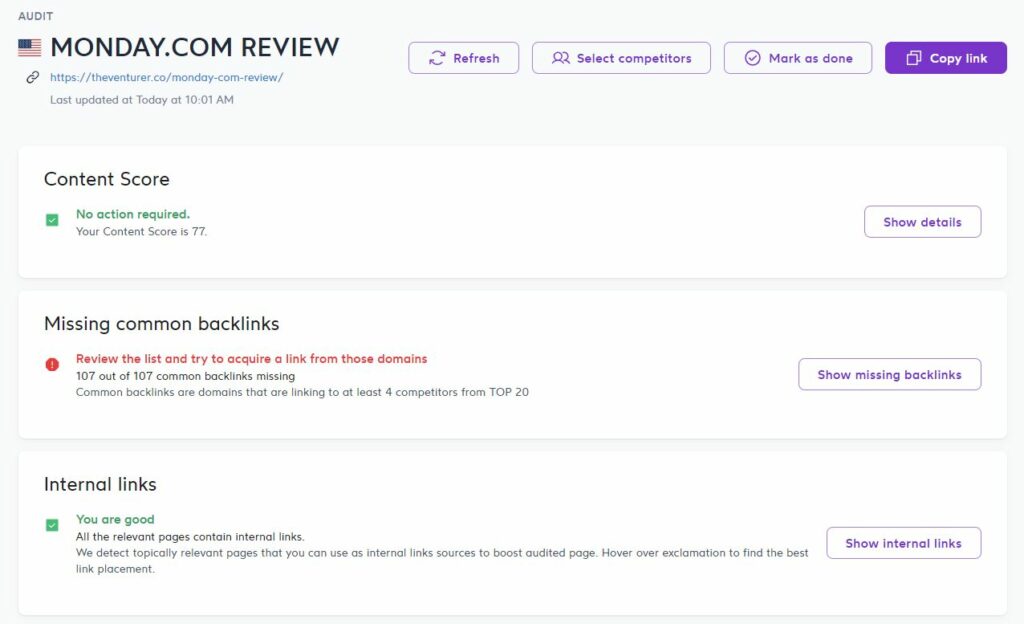 The Audit tool will give you suggestions on how to improve your website's on-page SEO. 
It will analyze your given URL's:
Content score
Backlinks
Internal links
Keywords
Word count
Exact keywords
Partial keywords
Page structure
Titles and meta descriptions
Speed and load time
Content Planner

The Content Planner is a content strategy tool. It allows you to find topics and keyword groups you can write about.
The best way to use the content planner is to use a broad keyword. Then, the software will give you related keywords and keyword groups you can target.
For example, if I enter the keyword "running shoes," I get the following results: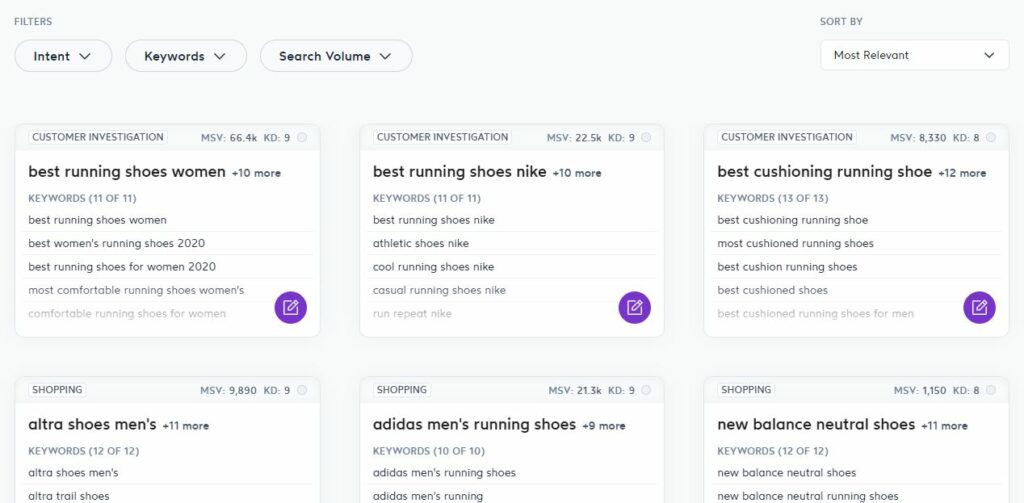 As you can see, there are a lot of different keyword groups and topics I could write about. I could write about women's running shores, Nike running shoes, cushioning running shoes and much more.
The Content Planner is a great way to come up with ideas for blog posts, articles, or even product pages.
SERP Analyzer

The SERP Analyzer will help you fine-tune your content to perfection. It allows you to see the top-ranking pages for a given keyword and will tell how your content stacks up against the competition.
To use the SERP Analyzer, you can simply enter a keyword and choose the country you want to target. Then, the software will show you the top-ranking pages, as well as some other information about each URL.

You have a chart view that shows the averages, or you can view it for individual pages.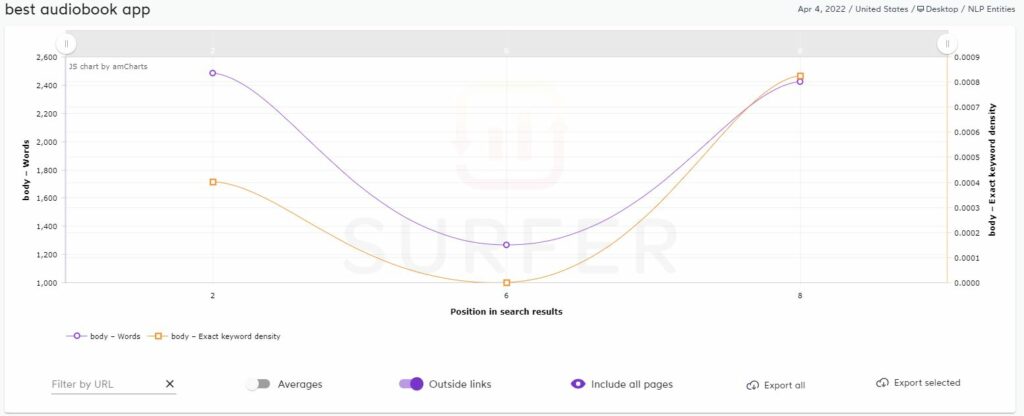 You can select one or more metrics from the menu.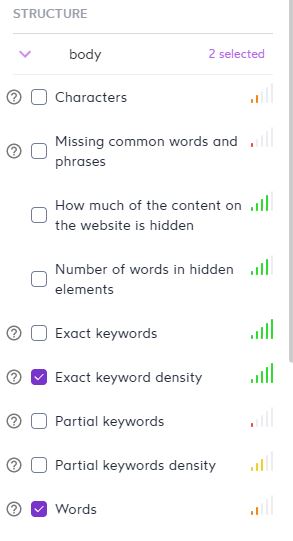 For example, you can discover the optimal keyword density and word count for the top-ranking pages.
Keyword Research

The Keyword Research tool will help you find the best keywords to target. It allows you to enter a seed keyword and then find related keywords and questions.
The Keyword Research tool is great for coming up with new keyword or topic ideas. You can also get ideas for product page keywords and uncover the most asked questions about your topic.
Surfer SEO Review: The Benefits of Using Surfer SEO
Surfer SEO is a relatively new tool that is quickly gaining popularity among webmasters and SEO professionals.
Unlike traditional SEO tools that focus on keyword research and link building, Surfer SEO provides users with detailed insights into their website's organic search traffic.
By analyzing the search engine results page (SERP), Surfer SEO can identify which factors are influencing a website's ranking. This information can then be used to optimize your website for better performance.
In addition to its ability to improve a website's ranking, Surfer SEO also offers users the ability to monitor their website's progress and track their competitors. As a result, Surfer SEO gives you a complete picture of your website's SEO health.
Finally, Surfer SEO's features are easy to use and understand. Even if you're new to SEO, you'll be able to get the most out of this tool.
Surfer SEO Pricing
Surfer SEO offers the following monthly pricing plans: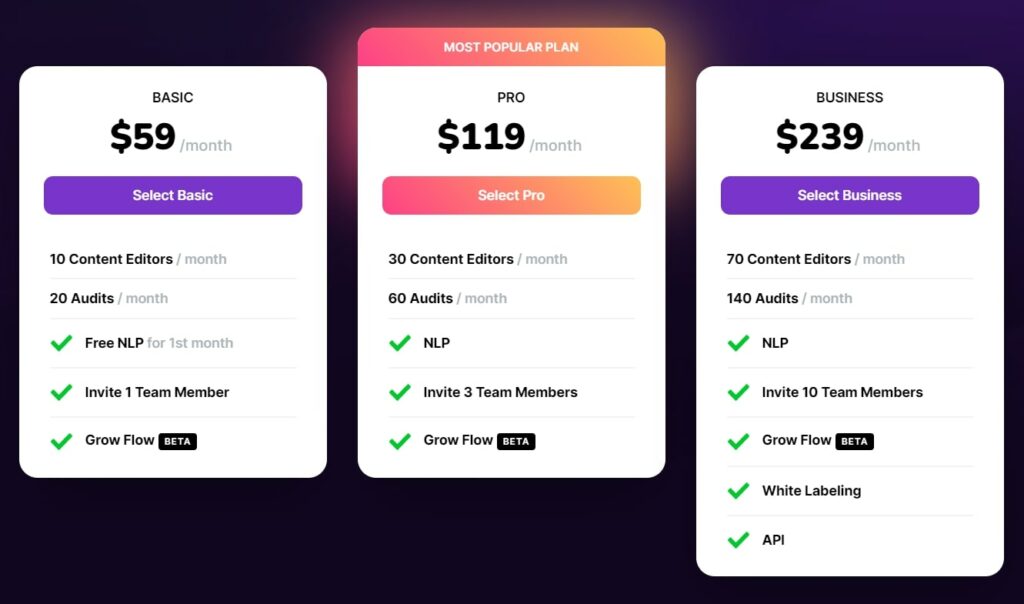 Each pricing plan includes unlimited uses of the SERP Analyzer and Content Planner.
The Grow Flow (BETA) feature will give you content ideas, personalized insights, and tasks, that will help you manage your website's SEO.
NLP means Natural Language Processing, which is a technology that allows Surfer SEO to understand human language better and make more accurate suggestions.
All the pricing plans come with a 30-day money-back guarantee.
Is Surfer SEO Worth it?
Surfer SEO is a tool that claims to make the process of optimizing your website for Google searches easier. But is it worth the investment?
To answer that question, it's helpful to understand a little about how SEO works. Google uses algorithms to determine which websites should show up in search results for certain keywords.
The algorithms take into account things like the relevance of the website content to the keywords, the number of other websites linking to the site, and the overall quality of the site.
So, if you want your website to show up near the top of the search results for a particular keyword, you need to make sure your site is relevant and of high quality.
And that's where Surfer SEO comes in. This tool provides users with detailed insights into their website's organic search traffic.
Surfer SEO is an incredibly powerful tool that can help you boost your website's traffic and visibility in SERPs.
While there is a bit of a learning curve involved in using the software, once you get the hang of it, it's quite simple to use. And the results you can achieve with Surfer SEO are definitely worth the effort.
If you're serious about improving your website's SEO, then Surfer SEO is a tool you need in your arsenal.
Learn more about Surfer SEO here.
Surfer SEO Review: FAQ
Is Surfer SEO any good?
Yes, Surfer SEO is a good tool for improving your website's ranking in SERPs. It offers users detailed insights into their website's content and its competitors, and provides easy-to-use features for optimizing your site.
What is NLP?
NLP is short for Natural Language Processing. It's a technology that allows Surfer SEO to understand human language better and make more accurate suggestions.
What is a good score on Surfer SEO?
There is no definitive answer to this question, but a content score of 66 or higher is considered good, and the indicator will turn green.
What are Surfer SEO's competitors?
Some of Surfer SEO's competitors include Topic, Clearscope, and Marketmuse.
Conclusion
If you're looking for a tool that can help you with optimized and SEO-friendly content, Surfer SEO is worth checking out. Not only will it give you plenty of ideas, but it will also make sure your website is relevant and high quality.
The Content Editor makes it easy to create and edit content, and the SERP Analyzer is a great way to keep track of your progress. Overall, Surfer SEO is an excellent tool for anyone serious about improving their website's ranking. On top of that, the pricing plans are quite reasonable.
So if you want to take your content marketing to the next level, be sure to check out Surfer SEO!
Learn more about Surfer SEO here.
Further Read:
10 Best SEO Tools To Improve Search Engine Ranking
Semrush Review: Is It The Best SEO Tool? An Honest Review
Best SEO Audit Tools For Website Optimization
8 Best SEO Automation Tools to Boost Efficiency
Spyfu vs Semrush: Which is a better SEO tool?
Top 8 SEO Reporting Tools in 2022
Serpstat Vs Semrush: Which Is A Better SEO Tool? Review And Comparison
Semrush Alternative: 12 Best Semrush Competitors Tools
9 YouTube SEO Tools To Get More Views And Subscribers
SE Ranking Review: An All-In-One SEO Tool
Author Bio
Oscar Rodriguez is a passionate blogger, investor and software enthusiast. He currently lives in Tampere, Finland and writes about building your online influence and business in his personal blog.