Online visibility is crucial for any business, especially in the current climate. As a result, companies rush to create websites and promote them to rank in the TOP-10 of Google SERPs in their niches.
To avoid making countless mistakes before they find the right formula, every business, SEO specialist, etc. needs a tool to monitor website visibility in search engines, analyze the website's health, detect broken links and other issues, conduct keyword, and competitor research, identify and control backlinks, and more.
Using several instruments at once may be confusing, not to mention the Internet speed and PC power it takes to have all those tools working at once.
With users in mind, SE Ranking has created tools to resolve the dilemma and offer solutions for the most common problems small businesses and large corporations encounter in terms of SEO and online marketing.
And we're here to review SE Ranking in detail to see if it's really an all-in-one SEO tool.
SE Ranking Overview
Created to help with website optimization and online marketing tasks, SE Ranking SEO software makes it easier to develop ideas on how to improve online visibility and provides reports on your website's performance, backlinks, and technical health.
Here is a full list of tools available:
Keyword rank tracker
Keyword research
Keyword grouper
Backlink checker
Backlink monitor
Competitor research
Website audit
On-page SEO checker
Index status checker
Page changes monitor
Report builder
Lead generator
Marketing plan
Social media management
You will find a more detailed description of the tools below.
Who Can Use SE Ranking Tools?
SE Ranking tools are suitable for most businesses, including:
Entrepreneurs
SMBs (Small and Midsize businesses – under 100 and 100-999 employees accordingly)
Agencies
Enterprises
Every group will find valuable instruments for their business and clients' growth. Over 25,000 businesses have chosen SE Ranking to achieve their analysis and SEO goals. If you're looking to expand the company, you can scale up the toolset. According to reviews on G2, entrepreneurs and SEO specialists find the solutions cost-effective and appreciate their data-informed design.
The Range of SE Ranking Tools: A Detailed Review
We've already mentioned that the toolset by this company is quite impressive.
In this section, we'll provide an overview of all the tools SE Ranking offers, including:
Rank tracker
Keyword research and grouping tools
Backlink analysis
Competitor research
Website analysis
Tools for agencies like Lead Generator
Rankings
Keyword Rank Tracker
This tool can track keyword ranking according to location, device, and language. The search engines available are Google, Yahoo!, Yandex, and Bing. You can even track keywords on YouTube!

In addition, you can:
Monitor Google Ads, Maps, and SERP features
Find out the dynamics of KW ranking over time
Get more keyword data like Competition, Search Volume, Suggested Bid, Dynamics
Connect GSC and GA to have all the needed data in one place
Analyze the positions and dynamics of the top 200 in the rankings and compare your website to your competitors'
Add up to 20 competitors to the list and get deep reports on each of the rankings of their pages in comparison to yours
Moreover, if you need shared access to the analysis and research results, you can share them with your teammates, managers, and clients via a guest link.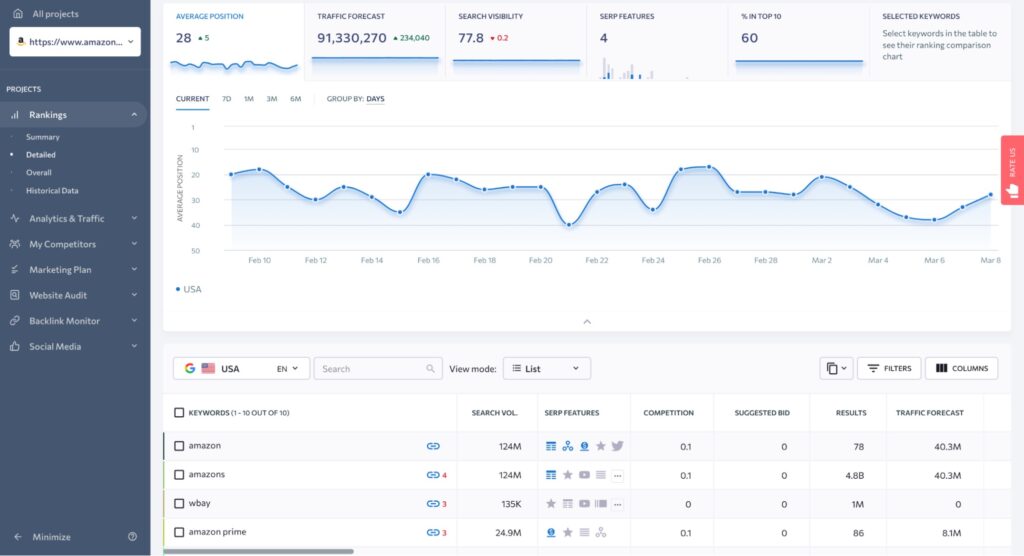 Keywords
Keyword Research
Using this tool, you can analyze the given keyword and get more options for expanding semantics. The functions available include:
Analysis of the keyword by Search Volume, Difficulty Score, CPC, Paid Competition
Build a keyword list for a new project from scratch or adjust and scale up an existing project
Perform bulk keyword analysis
Check top organic results for the analyzed keyword
Preview ads for the analyzed query, sorting the results by month
Find ideas for the perfect keywords by search volume or difficulty
Research keyword competitors both in organic and paid search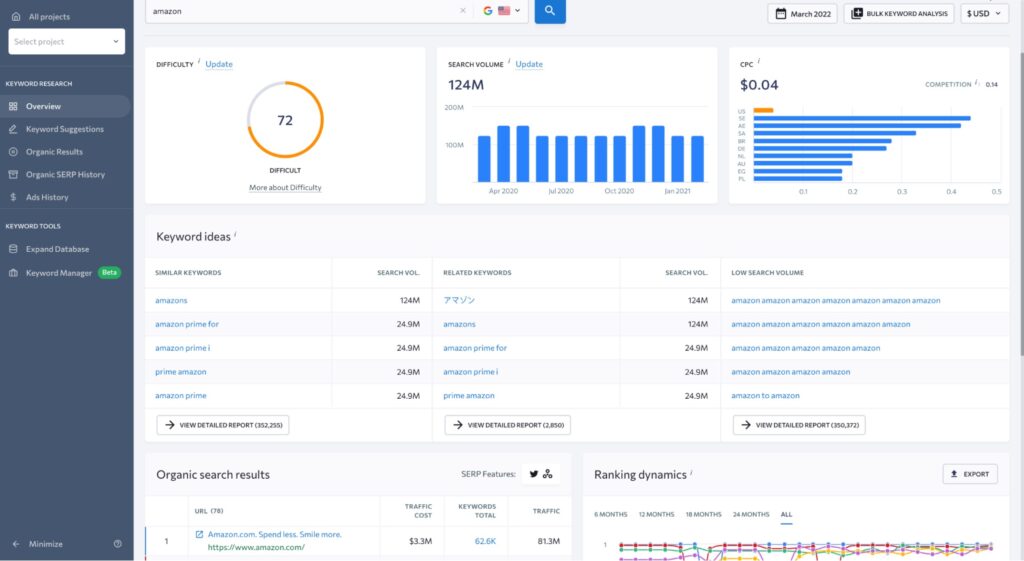 Keyword Grouper
Keyword grouping will help you organize the list of keywords after the research. The functionality of this SE Ranking tool includes:
Automatic grouping of KWs based on the TOP-10 search results in your targeted area and criteria you set. The tool takes into account the search engine, location, and language.
Multiple grouping accuracy options (1 to 9) and methods (soft or hard)
All in all, the tool has the ability to segment keywords by location, language, and regional differences and build a whole architecture for the SEO of your website.
Backlinks
Backlink research is vital for improving the online visibility of your website. SE Ranking has the following solutions for you:
Backlink Checker
Backlink checker allows you to see the link profile of your competitors, research your links and move them to the Backlink Monitor for constant tracking. Additionally, there are the following functions:
List of all referring domains and backlinks from them
Dynamics check for new and lost links, as well as referred domains
Analysis and reporting of the locations of the links according to the referring IPs and subnets
Anchor text distribution analysis across inbound links and referring domains
Analysis and reporting of the pages that are linked to the most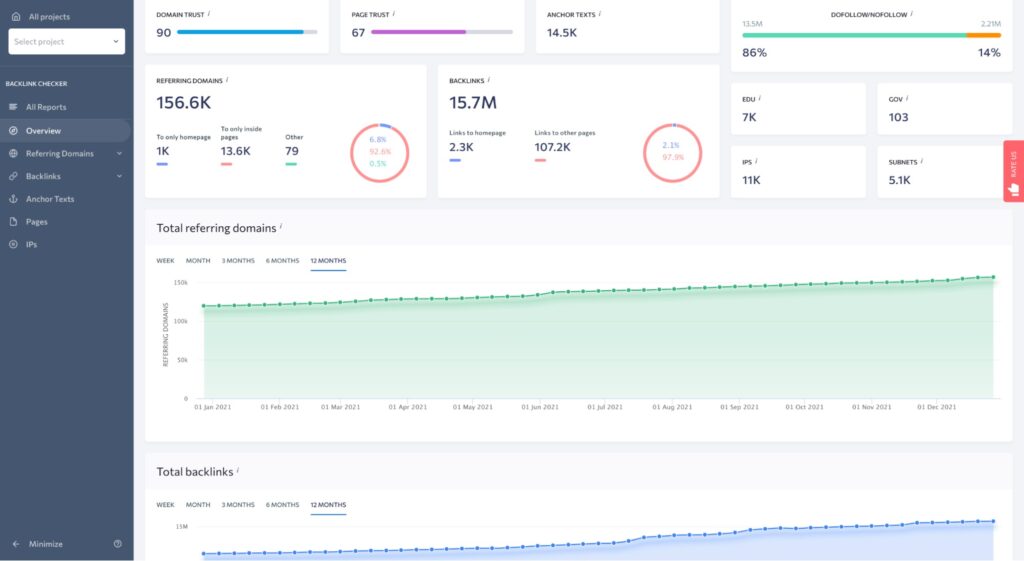 Backlink Monitor
This tool will help you monitor backlinks, showing the results in easy-to-understand graphs. You'll be able to estimate:
How many backlinks were acquired and lost in the last 3, 6, and 12 months and their growth dynamics
The total number of links
Which links are live and which have been removed
Links indexing status, status codes along with other information
Group the links by folders and add details like manager or price
You can also use this tool to analyze the profile by anchor texts, referring domains, and linked pages. See the number of unique IPs and subnets for backlink profile quality analysis and the list of the mentions you disavowed.
Other great features include import from GSC and backlink grouping.
Competitor Research
You can use SE Ranking for your competitor's research needs. With this tool, you can:
Analyze organic and paid traffic separately
See the dynamics of website traffic coming organically and from paid campaigns
See the pages and subdomains that bring competitors' websites the most traffic
Analyze the keywords competitors rank for
Find your organic and paid competitors
See and analyze the overlaps you and your competitors have in terms of keywords
Analyze the Google Ads marketing campaigns that bring the most revenue, as well as ad history by month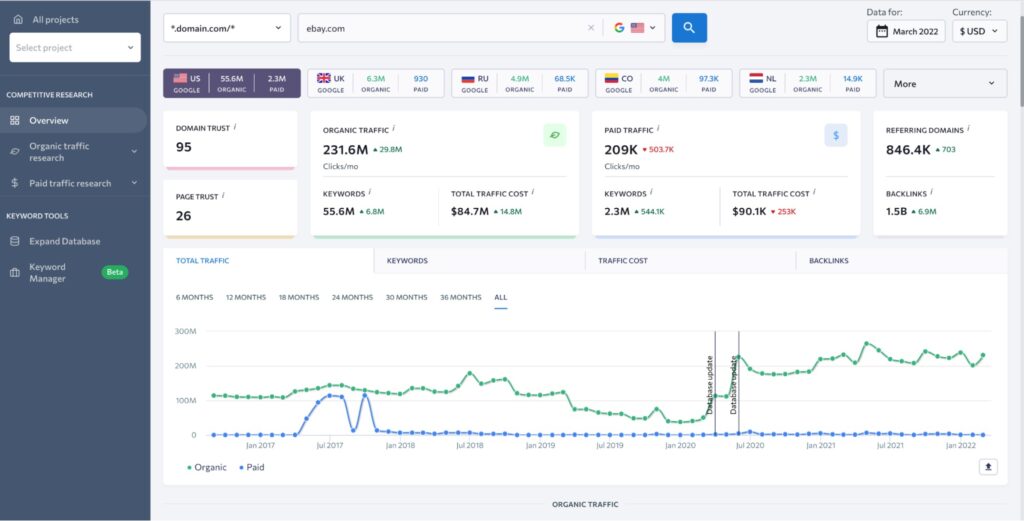 Competitor research is crucial if you want to become the leader of your niche. SE Ranking offers essential insights into your rivals' strategies, keywords, backlinks, etc.
Website Analysis
The company also offers solutions for website analysis, including:
Website Audit
Use the SE Ranking website audit tool to check the overall health of your site and get a complete list of pages and information about them. Here are the functions the solution offers: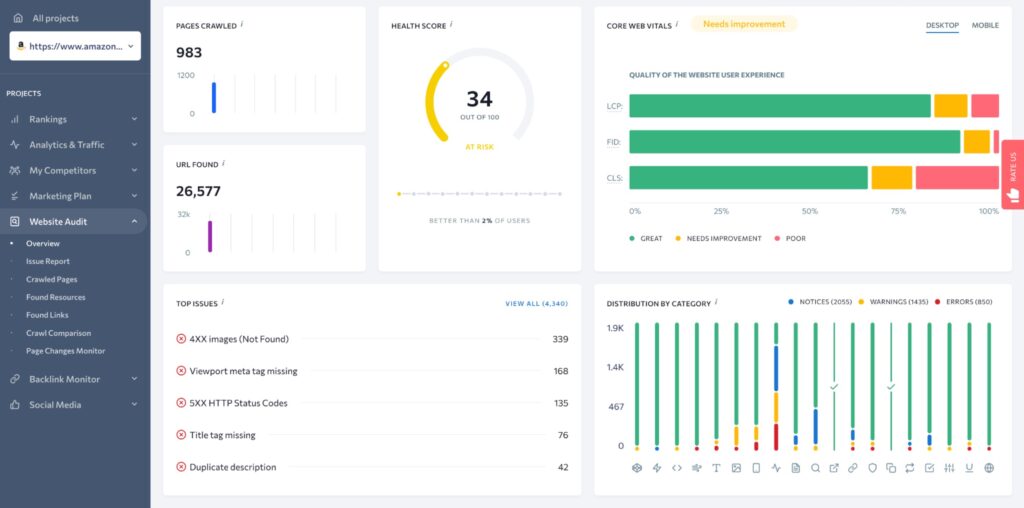 Analysis of any website, including your competitors and clients
Analysis of technical SEO to see if any issues are preventing the website from ranking higher
Domain metrics check
Technical parameters check, including security, HTTP status codes, redirects, page load time.
All pages indexation status check
Website breakdown, including meta tags, links, and other info for each page
Resources check, including images, JavaScript, and CSS
Internal and external links check
Comparison of two audits to check the progress
Page Changes Monitor helps you see any changes to a page, including its title and description, keywords, H1-H2, internal and external links, content, Robots.txt, HTTP code, alternate URLs, index status, and crawl.
Get a list of technical SEO issues for any website and learn how to fix them with the SE Ranking website audit tool.
On-page SEO Checker
The on-page SEO checker shows how well the page is optimized for a particular keyword. In addition, it checks your main organic competitors and analyzes your on-page optimization compared to them. Its functions include: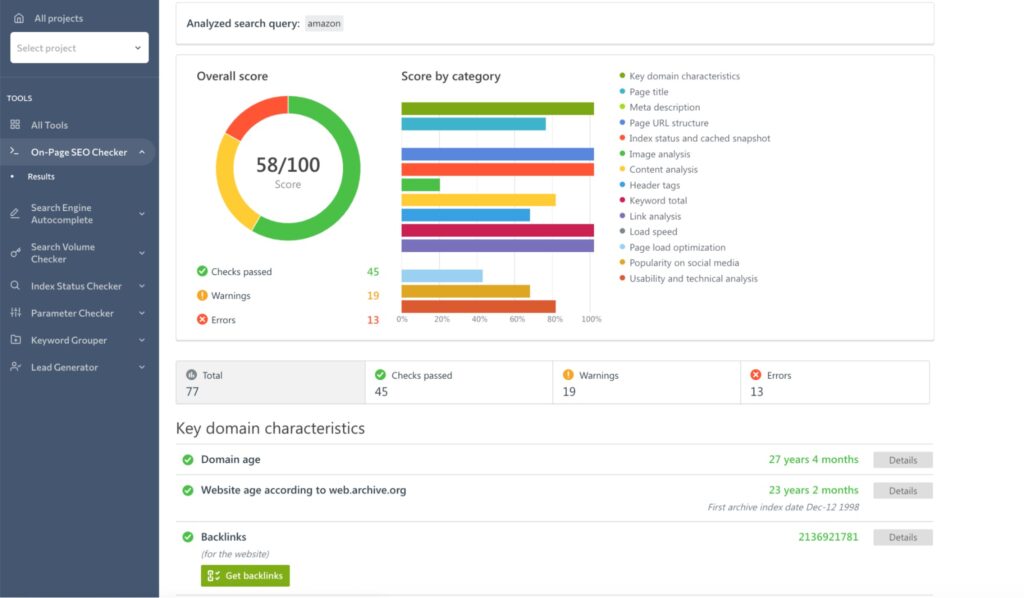 Detailed reporting on page performance with the following metrics: domain parameters, meta description, page title, URL structure, index status, loading speed, core web vitals, and usability.
Internal/external link analysis
Image optimization analysis
Competitive comparisons of keywords, content, and on-page metrics
SEO tasks for every page based on the analysis results
Tools for Agencies by SE Ranking
Agencies can benefit greatly by using the aforementioned tools by SE Ranking. But there's more:
White Label
This tool allows you to customize SE Ranking to your agency's needs. You can connect your domain to the service, customize the interface to your requirements, remove footer links, get Live Help and Feedback widgets, create a customized login page, set reporting from your email, and use your SMTP server if necessary.
Report Builder
Build professional customized reports with all the needed SEO data and present the results of your analysis in an easy-to-understand way, concisely and transparently. You can create reports of your website or send clients' reports to them in PDF, XLS, or HTML formats.
Lead Generator
You can install the SE Ranking lead generator widget on your website to attract more customers. Once someone fills out the form, they get a detailed on-page optimization report. At the same time, you receive the lead's contact information and their audit data, so you're all set up to reach them to convert into a customer.

SE Ranking Pricing and Plans Review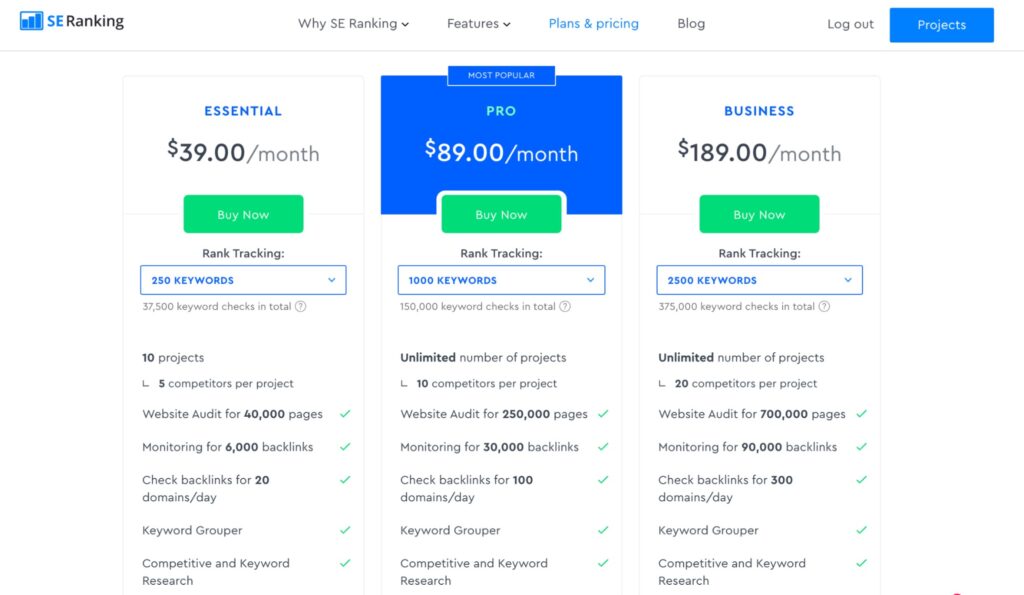 As to the pricing plans, there are three:
Essential – from $39/month
You can manage 10 projects and have 5 competitors per project. You can analyze backlinks for 20 domains a day and use the keyword grouper.
You also have 100 reports a day with 1,000 results per report and an on-page audit for 150 pages.
A marketing plan, flexible SEO reporting, and Social Media Analytics and Management are also available, but historical data, organic SERP history, and white label and API aren't. Nevertheless, this is a great basic plan for small businesses or people who want to try the service for the first time.
Pro – from $89/month
This is the most frequent customer choice. The capacities are larger, including up to 5 user seats, 1,000 or 1,750 keywords for rank tracking, and an unlimited number of projects with 10 competitors per project.
You also have access to the keyword grouper, competitive keyword research, historical data, and organic SERP history, which are all included in the Pro plan instead of the Essential one.
Business – from 189/month
This is the most professional plan which encompasses the maximum capabilities of SE Ranking. You can choose from 2,500-20,000 keywords for rank tracking and an unlimited number of projects with 20 competitors for each one.
You can compile 10,000 reports a day with 100,000 results per report.
Users have access to the API of the platform, which makes it easier to work with third-party integrations. Essential and Pro plans don't have such a feature. The Business plan also offers up to 30 user seats and a keyword database expansion of 200,000 keywords. In addition, you can use all the tools, including white label, marketing plan, flexible SEO reporting, and social media analytics and management.
In addition to that, there are variable limits of:
available keyword checks
pages for Website Audit
backlinks to monitor
number of domains per day to check backlinks
Based on the number of keywords and check frequency you select (daily, every 3 days, or weekly), checking every 3 days or weekly saves you 20% or 40% accordingly, compared to the daily check option.
There are 1, 3, 6, 9, and 12-month subscriptions. The 3-month plan offers a 10% discount, the 6-month – 10%, the 9-month – 15%, and the annual plan shaves off 20%.
SE Ranking offers free migration from plan to plan.
On the website, every plan is explained in detail, and you can always contact the support team to find out more or request a customized plan for your needs.
Pros of SE Ranking
SE Ranking has multiple advantages, including:
All-in-one software with comprehensive SEO data in one place for effective monitoring and strategy building
Accurate keyword tracking in almost any location (you can track your website in a chosen country and even city)
Customized SEO reports that can be downloaded, sent, or scheduled
Historical data on keyword rankings for a deeper analysis and more detailed reporting
Tracking more than 30 SERP features that are available in different modules (Rank Tracker, Competitor Research)
Unique reports like visibility rating where you can find your competitors based on your semantic core
Cons of SE Ranking
For some beginners, the amount of information the tools provide is overwhelming and may create the impression that it will be difficult to interpret. We recommend requesting a demo beforehand for better navigation in the platform and getting the most out of your subscription.
The loading time may be longer when you load a large amount of data
If you have many projects that all need keyword research, the limit of keywords in the plans may be too low
The plans before Business don't give you access to the API of the platform, which may make it difficult because you can't perform third-party integrations
SE Ranking Review: Conclusion
SE Ranking has developed a toolset that can cover your needs for optimizing and improving your online visibility. You can research and analyze keywords, get ideas, look into competitors' strategies, control the quality of backlinks, build reports, etc. The only cons seem to be a large amount of information, no API access unless you have the highest plan, and the wait time if you have enormous data lists.
Nevertheless, the pros strongly outweigh the cons. The bottom line? SE Ranking is a great option for whatever marketing needs you may have.
Further read:
10 Best SEO Tools To Improve Search Engine Ranking
Semrush Review: Is It The Best SEO Tool? An Honest Review
Best SEO Audit Tools For Website Optimization
8 Best SEO Automation Tools to Boost Efficiency
Spyfu vs Semrush: Which is a better SEO tool?
Top 8 SEO Reporting Tools in 2022
Serpstat Vs Semrush: Which Is A Better SEO Tool? Review And Comparison
Semrush Alternative: 12 Best Semrush Competitors Tools