If you're looking for a Semrush alternative, you've come to the right place. There are many SEO tools on the market, but Semrush has dominated a large percentage of the industry. Marketers widely use their SEO software all over the world, and for a good reason. They have excellent features that help boost your website's visibility in search engine results pages (SERPs).
Here's a quick overview of Semrush, just in case.
However, Semrush isn't your only option when it comes to finding a reputable provider. Below we've compiled 12 alternatives to Semrush that you should consider trying out!
| Semrush Alternatives | Starting Price | Free Plan | Free Trial |
| --- | --- | --- | --- |
| Linkminer | $29.9 | No | 10 Days |
| SEObility | $50 | YES | 30 Days |
| Serpstat | $55 | YES | No |
| SurferSEO | $29 | Yes | No |
| Ahrefs | $99 | No | No |
| Moz Pro | $99 | YES | 30 Days |
| GrowthBar | $29 | No | 5 Days |
| Advanced Web Ranking | $49 | No | 30 Days |
| SpyFu | $39 | No | No |
| Majestic | $49.99 | No | No |
| MonitorBacklinks | $25 | No | 30 Days |
| Google Keyword Planner | $0 | YES | FREE |
LinkMiner
LinkMiner is one of the most user-friendly tools for SEO and backlink analysis. It's part of Mangools SEO tools suite. LinkMiner's features are intuitive, helpful in identifying your competitors' links, include various calculations to find profitable links among choices.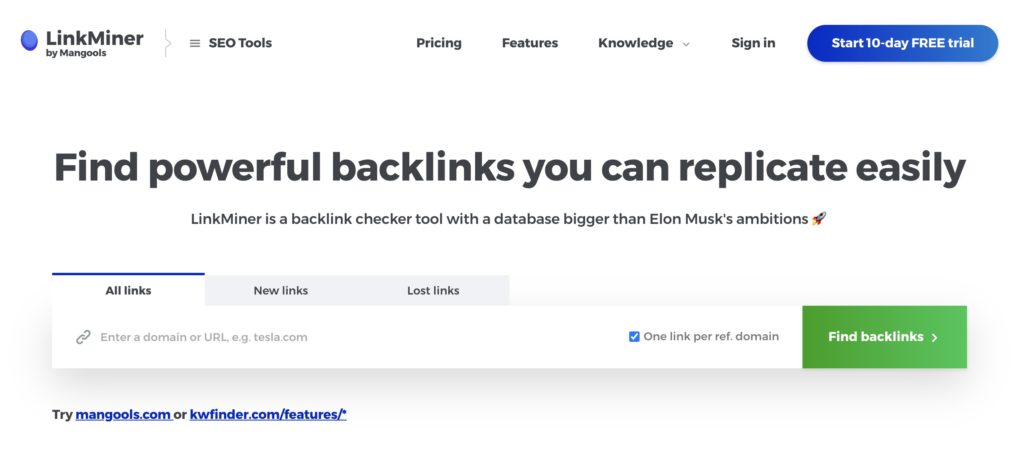 LinkMiner sets itself apart from other SEO tools with its robust backlink analysis and URL management capabilities. One of its best competitive features is its ability to analyze the profitability and quality of your backlinks. In addition, it offers efficient URL management – you can save your URLs and then organize the opportunities to build them into categories with LinkMiner's easy-to-use interface, which will help you get more traffic than ever before!
In addition, LinkMiner has an attractive pricing plan that is perfect for both bloggers and businesses. If you are looking for a professional tool at the right price point, try LinkMiner. You can enjoy a 10-day free trial. No credit card required. Its plan starts at $29.9 per month.
Free Semrush alternative: SEObility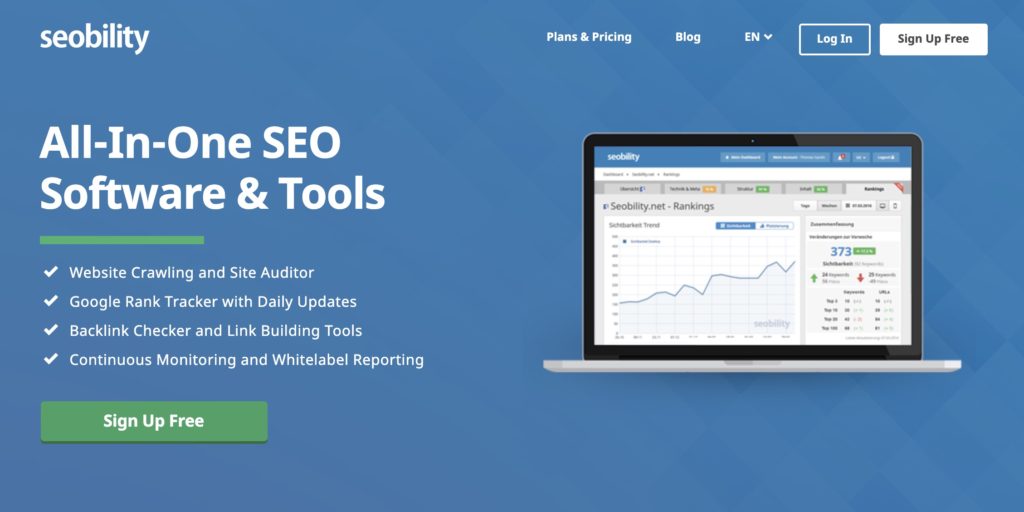 SEObility is an all-in-one SEO software for website optimization. It includes:
Website audit tool to check your website health and follow all internal and external links
Rank tracker that tracks daily keyword rankings across search engines, countries, and cities
Backlink checker to monitor backlinks of both your website and competitors' sites
Its basic plan is completely free to join, including one domain, 1000 crawled pages, 100 external links checking, ten keywords, and three competitors monitoring. You can sign up for free here.
SEObility Premium plan starts at $50/ month, and you can enjoy a 30-day free trial before paying. This plan gives you more quota for projects, crawled pages, external links check, etc.
An All-in-One Semrush Alternative: Serpstat
Serpstat is a comprehensive SEO platform that includes rank tracking, backlink analysis, keywords research, site audit, and competitor research. It's an industry-leading SEO tool trusted by companies like Loreal, Uber, Shopify, and more.
Its extensive use cases cover SEO, PPC, content marketing, and marketing. It's a very close Semrush alternative at a lower price. A free plan is available.
You can get started for free with its free plan. Its paying plans start at $55 per month.
Best for Content Optimization: Surfer
Surfer is an SEO tool that focuses more on optimizing content. You can use it to craft your content marketing strategy – which includes generating guidelines and keyword insights for an article.
Its content planner smartly prepares a content plan for your website to build your domain's topical authority, which can help your content rank higher. After inputting a broad keyword, business category, and blog category, the Surfer algorithm will run an analysis and gives you guidelines for your content cluster.
In addition, Surfer's content editor analyzes top-performing pages on the search result and provides recommendations on word count, keyword to use, and the number of times a keyword to use.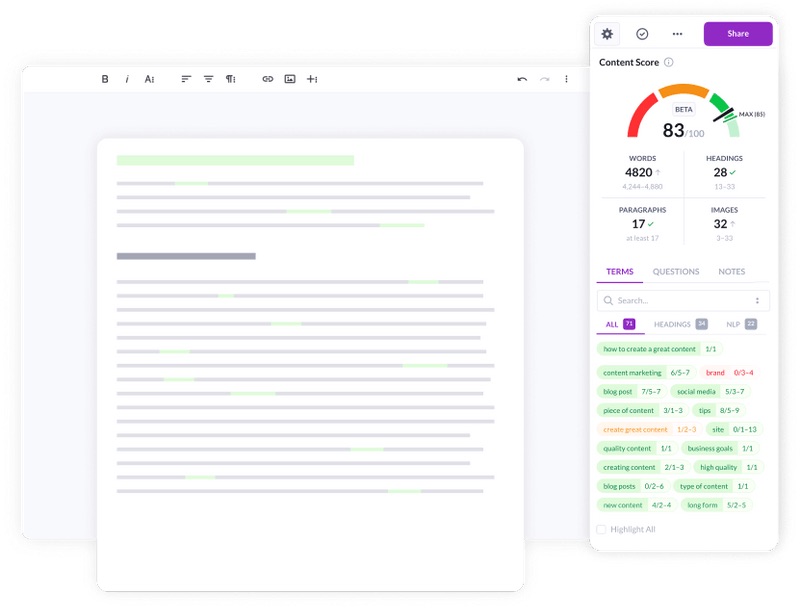 Lastly, its SEO audit provides insights for content gap and structural defects, generating a list of actionable items for you to optimize your content.
Surfer's hobby plan starts at $29 per month. All plans come with a 7-day money-back guarantee.
Another All-in-One Semrush Alternative: Ahrefs
Ahrefs is an all-inclusive SEO suite that professionals can use to take their site and ranking game up a notch. From keyword research, competitor analysis, link building to site audit – it got everything you need!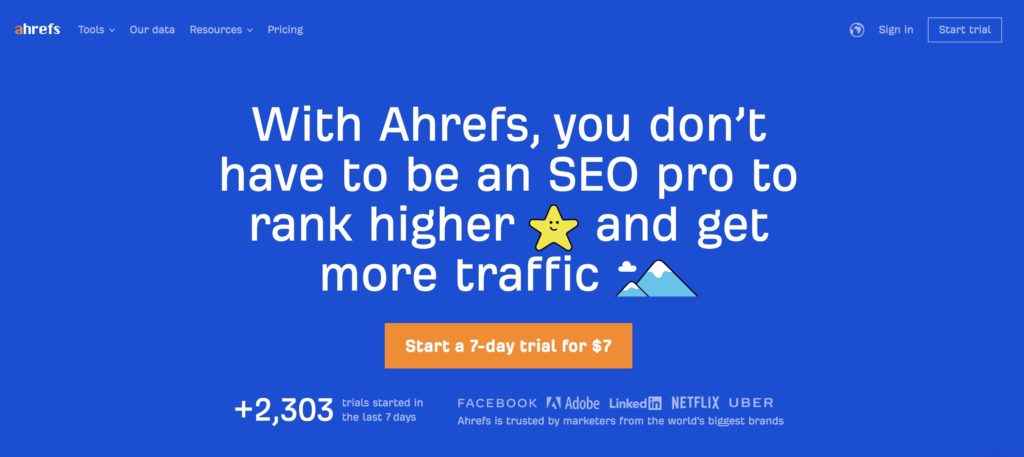 Ahrefs' clear dashboard provides essential information about your website at a glance. When you input the URL, Ahrefs' report shows:
Rank
Backlinks (the number of other websites that link to yours)
Referring Domains (websites linking back and acting as "referrers")
Organic Keywords
Traffic Value
Still, Ahrefs' Lite plan is cheaper than Semrush's Pro plan, making it a good alternative.
Price: $7 for a 7-day free trial; plans start at $99 per month.
Moz Pro
Moz Pro is another close competitor to Semrush. It offers all-inclusive SEO software to help you rank higher. Its solutions include:
Keyword research tool
Rank tracker
Site crawler
On-page optimization tool
Link researcher
Custom reports
These tools allow you to identify keyword opportunities, monitor backlinks, identify on-page SEO issues, and more to run a holistic SEO strategy.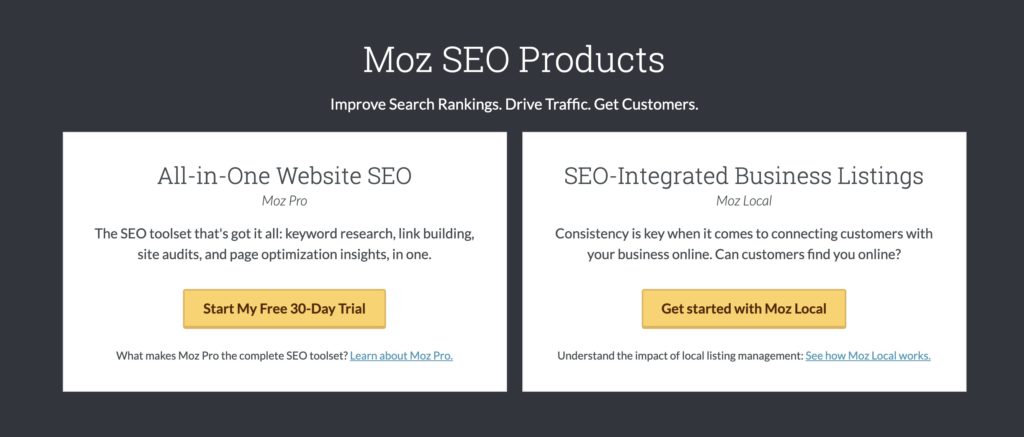 Its plans start at $99 per month, and its most popular plan, the Medium plan, costs $179 per month.
GrowthBar
GrowthBar, as the name suggested, is an SEO tool for growth. It helps you analyze billions of keywords, backlinks and generate content outlines to create content that ranks.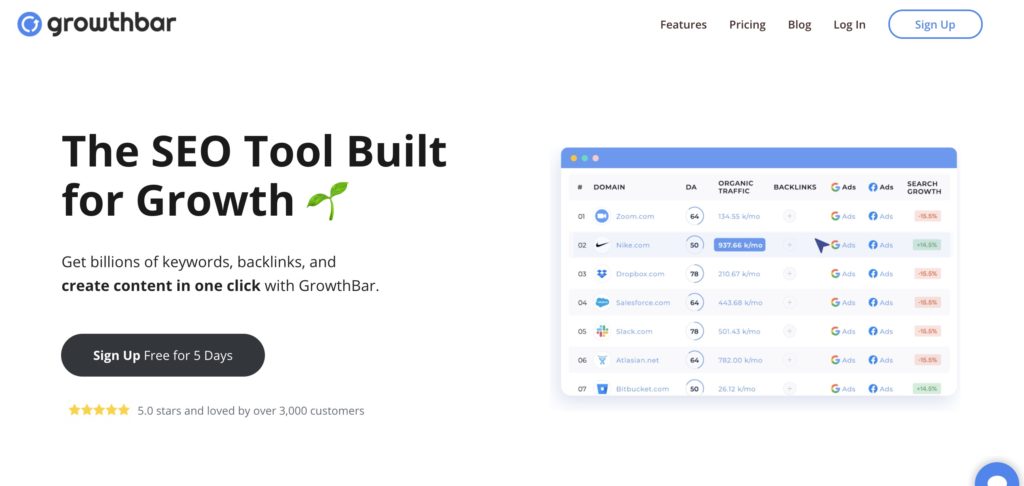 Its keyword research tool provides keyword suggestions, keyword difficulty scores, and relevant long-tail keywords.
GrowthBar's plan starts at $29 per month.
Advanced Web Ranking
Advanced Web Ranking primarily provides rank tracking services. It allows you to gather new ranking data across devices, search engines, and languages in an hour. It is popular among agencies as it also offers white-label reports that include a fully customizable layout, report editor, and integration with other reporting tools.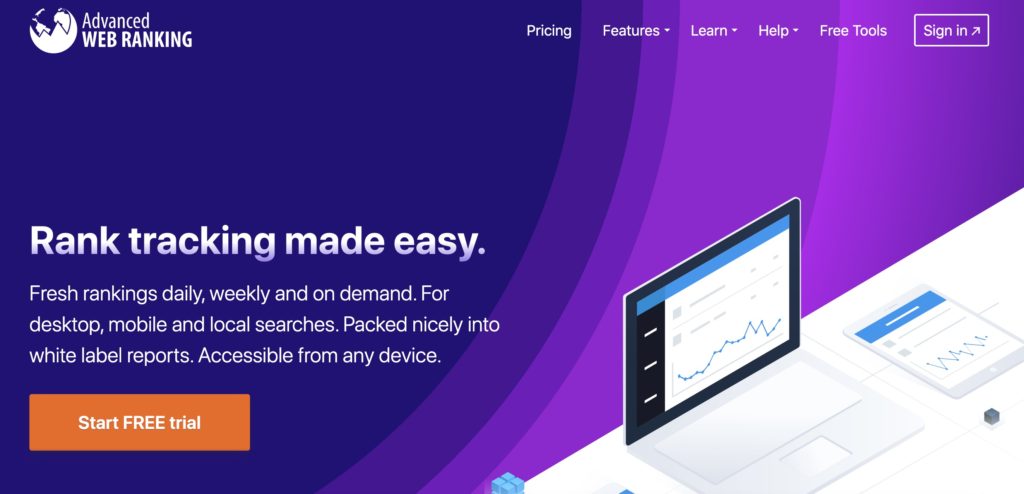 Its starter plan costs $49 per month. All plans come will a free 30-day trial, and no credit card required.
SpyFu
SpyFu is a top competitor research tool for SEO. You can search for any domain to check its PPC, paid ads, organic rank, and ad variation for the last 15 years.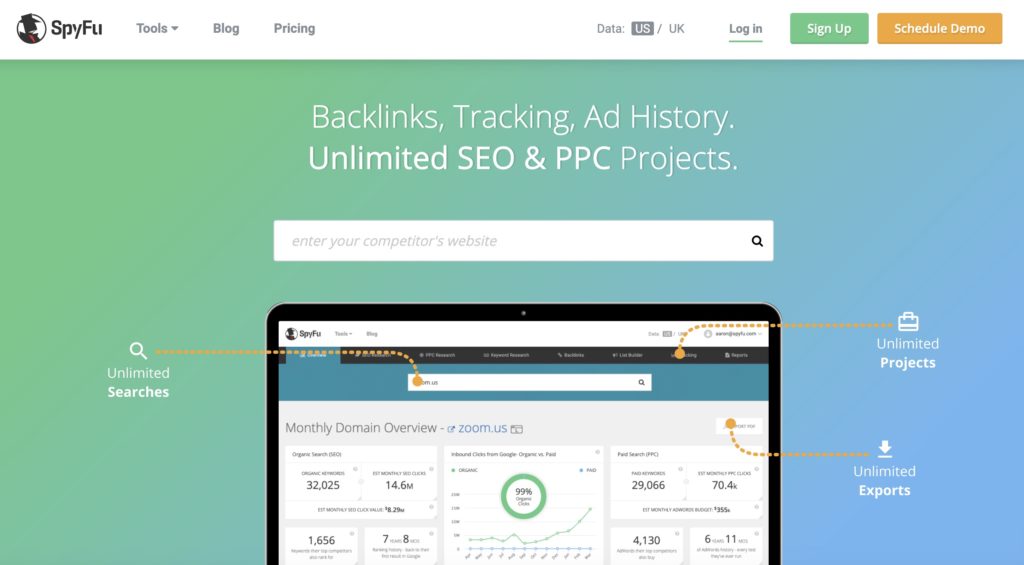 Compared with Semrush, SpyFu offers more competitor keyword data at a lower cost. Its plan starts at $39 per month, including unlimited keywords per export, unlimited historical data, and 5000 tracked keywords.
You can see how they compare in the below image.
Semrush vs SpyFu: How does Semrush compare with SpyFu?
SpyFu is a leading competitor research tool. With that being said, SpyFu offers more competitor keyword data at lower costs than Semrush.
However, Semrush offers a more holistic SEO solution. Besides competitor research, Semrush provides 40+ tools to help you with keyword research, site audit, link building, content marketing, and search engine result management.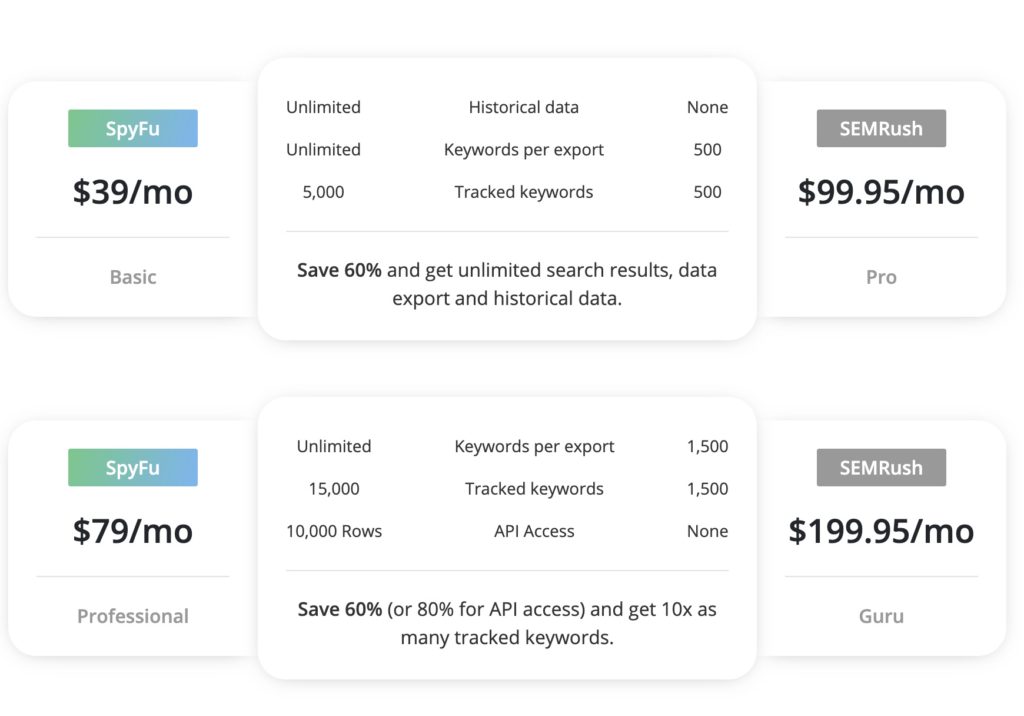 Majestic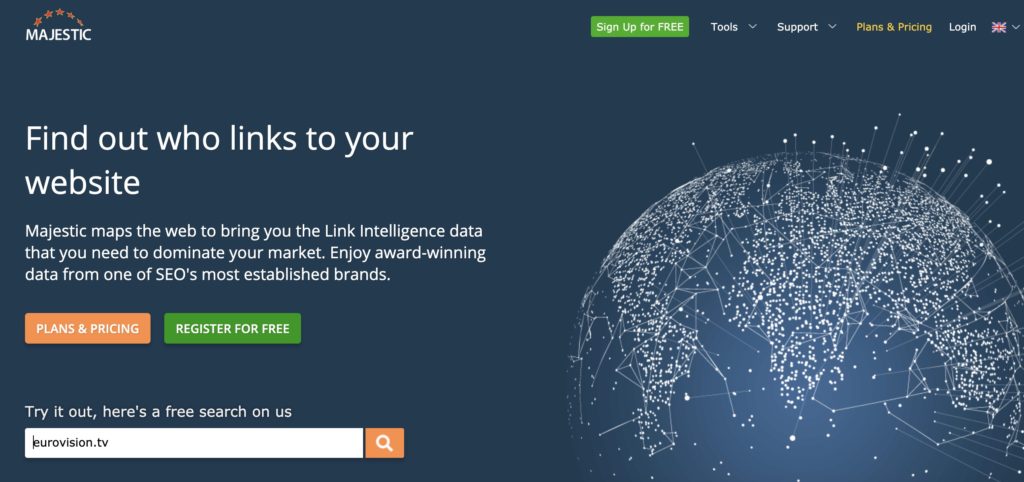 Majestic is an SEO tool that focuses on link discovery. It provides the below data in link investigation:
Trust flow: quality of links that point to a website or an URL
Citation flow: quantity of links
Visibility flow: helps you discover desirable editorial-style links on any high trust flow pages
Topical trust flow
Flow metrics scores
Its plan starts at $49.99 per month and offers a 7-day money-back guarantee.
Monitor Backlinks
Monitor Backlinks, as the name suggests, it's a monitoring tool for backlinks and keywords. It helps you to build backlinks, monitor what links to your brands and websites, and recover lost links. You can also disavow wrong links and manage all your link data with them.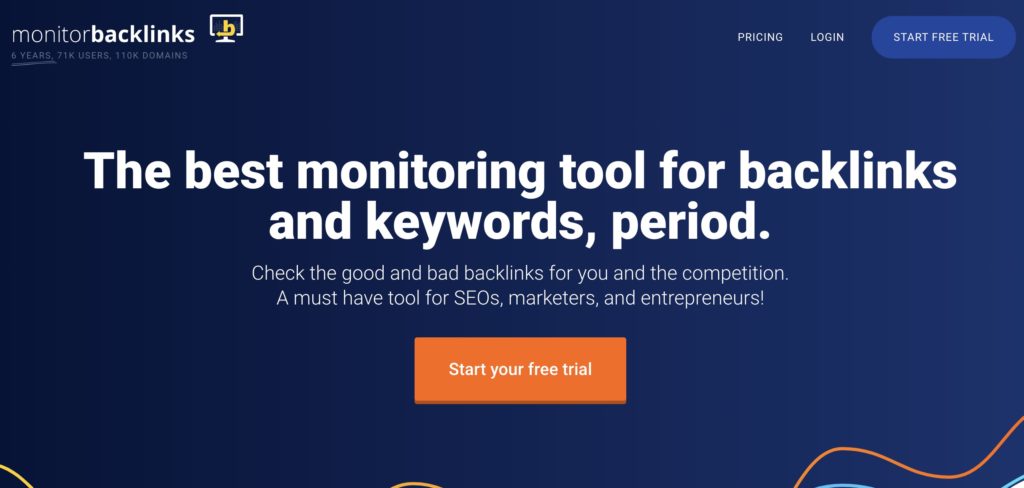 Besides, its keywords tool helps you track keyword ranking and investigate competitors' keywords.
You can start a 30-day free trial. Its pricing depends on how many domains you manage. It starts with $25 per month, including one monitored domain, two competitor domains, 2500 links, 50 keywords, and 2000 daily rows.
Free Semrush Alternative: Google Keyword Planner
Google keyword planner is a free Semrush alternative. It's simple to use and comes with your Google Ads account.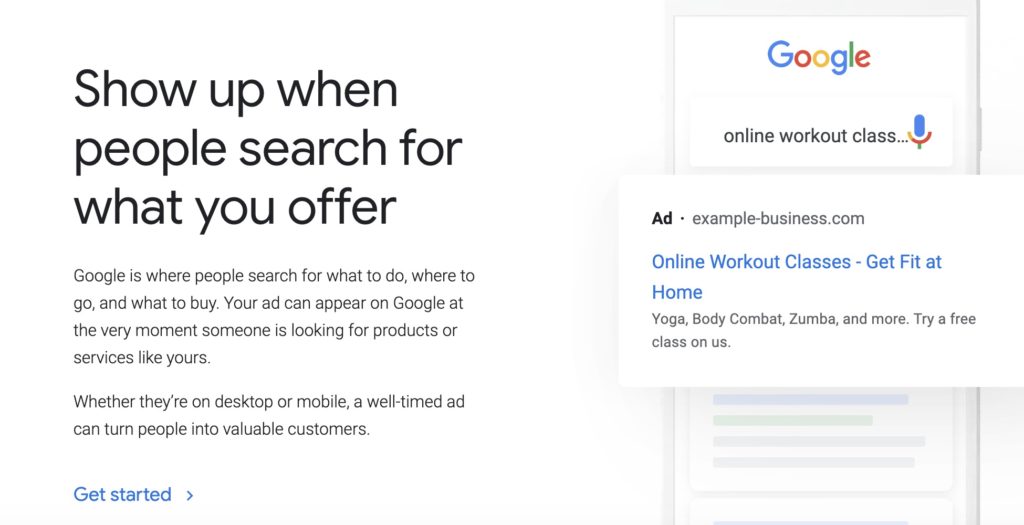 Though, this tool is not as robust as Semrush. You can only use it to get an approximate range of keyword volume rather than the exact values. But it's still a great tool to find keywords by domain, products, and services.
FAQs
What is Semrush?
Semrush is a leading SEO software that includes 40+ tools and reports to help you with SEO, content marketing, market research, advertising, social media management, and search engine result management. 

It provides a holistic digital marketing solution – from keyword research, on-page SEO, competitor analysis, content marketing, local SEO, rank tracking to link building. You can use many more tools to optimize your website, rank high, and obtain a high ROI in your digital marketing campaigns. 
What is Semrush pricing?
Semrush offers three plans, namely Pro ($119.95 per month), Guru ($229.95 per month), and Business ($449.95 per month).

You can get a free 14-day trial of the Pro account with our exclusive partner link here. After the free trial, you can downgrade the account to a Free Semrush subscription which offers a limited set of tools. So there's no harm in signing up for a free trial! 
What is the best Semrush alternative?
There isn't a "best" Semrush alternative – it depends on your needs. Here are some of the best alternatives: Ahrefs, SEObility, Serpstat, Surfer, Linkminer, Moz, and SpyFu.
What are some Semrush competitors? 
There are lots of other competitors besides the above. Some of them are: Majestic, Monitor Backlinks, GrowthBar, Advanced Web Ranking.
Conclusion
SEO tools are an essential part of any webmaster's toolbox. With so many options to choose from, it can be hard to know which ones will work best for your needs and budget.
Whether you're just starting out or looking for a better alternative to Semrush – the list of competitors in this article should be enough to get you started on your search for a Semrush alternative. We hope that our list has provided some insight into what makes each competitor special and how they can help when it comes time to optimize your website or marketing campaign.
Further read:
10 Best SEO Tools To Improve Search Engine Ranking
Best SEO Audit Tools For Website Optimization
8 Best SEO Automation Tools to Boost Efficiency
Spyfu vs Semrush: Which is a better SEO tool?
Top 8 SEO Reporting Tools in 2022
Serpstat Vs Semrush: Which Is A Better SEO Tool? Review And Comparison