SEO automation tools have become an integral part of many businesses (like us), so much so that we'll lapse into frustration if they disappear.
Search engine optimization (SEO) is never a piece of cake. Instead, it requires dedication to SEO tasks like site monitoring, rank tracking, backlink analysis, and competitor monitoring before witnessing organic traffic growth.
The relentless execution of these manual SEO tasks is the meat and potatoes of search engine optimization and yet takes sheer amounts of time.
Wait — why crank these SEO tasks out when there's a wide range of intelligent SEO automation tools out there?
While it's impossible to automate the entire SEO process, you can automate some of the complicated SEO tasks to save you time and channel your efforts into launching an effective SEO campaign.
Before we dive into the best SEO automation tools, let's first look at SEO automation and the SEO workflow you can automate.
What is SEO Automation?
SEO automation is conducting repetitive SEO tasks using SEO software or tools in place of labor.
Employing automation software programs guarantees a high degree of accuracy and insightful analysis by pulling a pool of SEO data from your website.
Not only is such precision unable to be achieved by humans, but the amounts of time and effort taken also exceed our affordable capabilities. So are you willing to invest most of your working hours in SEO analysis — which, after all, is ever-changing and doesn't promise a leap in search results?
Given cost-effectiveness is a core principle of any business, these automation tools simplify monotonous tasks and expedite SEO analysis. In addition, they effortlessly synthesize a handful of data to streamline your digital marketing strategies. For example, when you're using Google ads, you should consider things like the Google display ads sizes, proper meta descriptions, etc, which will make your ads work.
Thanks to automated SEO tools, you can get rid of labor-intensive tasks and spare the time for growing other areas of your e-commerce business. These SEO automation tools are popular for good reason as they improve your working efficiency at ease.
Wouldn't it be nice to add a few of the automated SEO tools to your list?
The SEO Workflow You Can Automate
Starting an SEO workflow from scratch strikes many as a headache, doesn't it?
Right, you've got to set up tonnes of tasks like site monitoring, rank tracking, competitor monitoring, keyword search, backlink monitoring, and many more.
Yet, these tasks are no longer daunting when you deploy the right SEO software. Instead, your workflows achieve greater efficiency and feed into search volume and search results.
Here are the typical SEO workflows for automation:
Site Audit
One critical workflow of SEO that you can automate is site audit.
When you conduct an SEO campaign, it's necessary to keep track of its page SEO performance against several metrics — unless you want your efforts to be in vain.
The automated SEO tools crawl your page systemically to collect data analyzing page performance, page load speed, website uptime, and technical errors.
These SEO automation tools provide practical recommendations on fixing the issues to make your web pages shine on search engines.
The automation of site audit helps you keep an eye on your SEO efforts and progress of improvements and your site's weaknesses.
Most importantly, the automation enables alert notifications. So you'll get notified when your website underperforms. Then, you can tweak your strategies in time to avoid costly failures.
Keyword Rank Tracking
Search engine optimization propels your ranking based on target keywords, and one of the vital elements is keyword rank tracking.
SEO automation tools take all the intractable hassles away by researching keywords that your website and your competitors rank for, as well as the popular keywords that users input for a particular search query.
Automating keyword ranking monitors your SE ranking continuously following the most important keywords.
The automation software provides insights into improving rank in SERPs for target keywords, crucial to increasing organic traffic and driving your business profits.
Backlink Profiles
Never should backlinks be overlooked because quality backlinks boost your website's authority and eventually SE ranking.
Yet, regularly checking backlinks is downright time-consuming, mainly when your website consists of an intricate network of inbound and outbound links.
This is when you should automate backlink profile analysis to speed up site crawling and scan for broken links or irrelevant backlinks that need elimination.
You can build authoritative backlinks to increase the website's trust and rankings and provide a better user experience regarding the backlinking factors in the automated page analysis.
Competing Domain Monitoring
An all-inclusive SEO analysis shouldn't exclude your competitors' data, which offers valuable insights into tweaking your SEO strategies to outrank the others.
For instance, Semrush automates competing domain monitoring to help you keep track of URLs that your rivals are linked to but not your site, as well as target keywords that they rank for.
With the essential data in hand, you can estimate their standing in the market, use their weak points in your favor and devise powerful SEO tactics to stay ahead of them.
Automating competing domain monitoring saves you time from snooping on a swarm of competitors.
Content Optimization
Content optimization is the crux of search engine optimization. So whatever task you do, you aim to tweak your content to look engaging to readers and the search engines, and eventually, your website gets to stay at a top ranking in the search results.
In addition, to maintain your top ranking on search engine results pages, ensure you always post unique content. A free plagiarism checker will allow you to find the traces of plagiarism and remove them from your content before getting it live.
As you've already known, brainstorming content requires much planning and research ahead of time. Yet, automating these work tasks streamlines the planning process and increases efficiency in devising compelling content ideas based on SEO data and analysis.
Also, automating content optimization gives you practical recommendations on optimizing your web content, landing pages, and blog posts to get a top ranking. Ultimately, it improves your digital marketing efforts.
Best SEO Automation Tools
Now that you're aware of the importance of automating the SEO workflow. Let's look into a list of top SEO automation tools which you should keep in your arsenal.
Semrush: Best SEO Automation Tool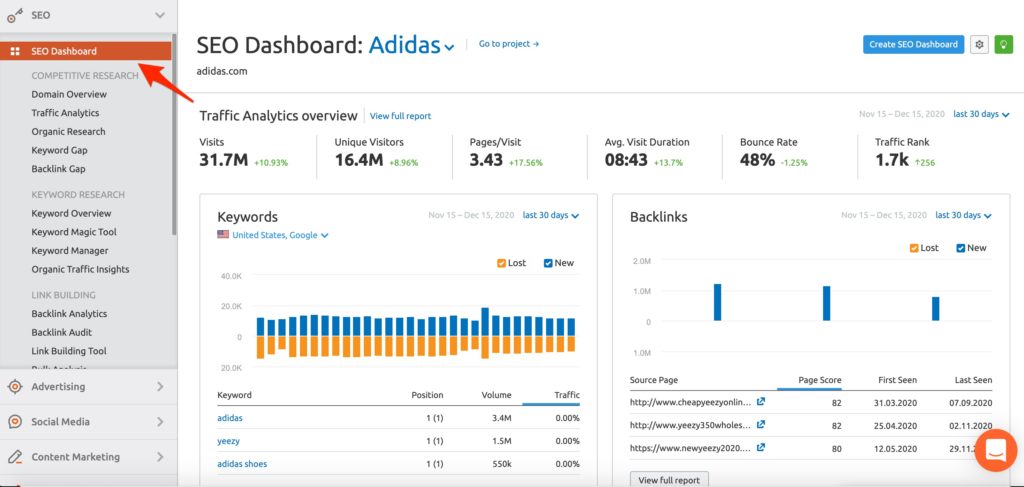 The first on our list is Semrush — a freemium SEO automation tool that enables you to automate multiple workflows of your SEO campaign.
Semrush keeps a strong eye on keyword rankings and your site's overall ranking. It automates keyword research and generates constant updates to optimize your web content.
Also, it expedites the detection of 130+ technical errors to keep your website in good shape.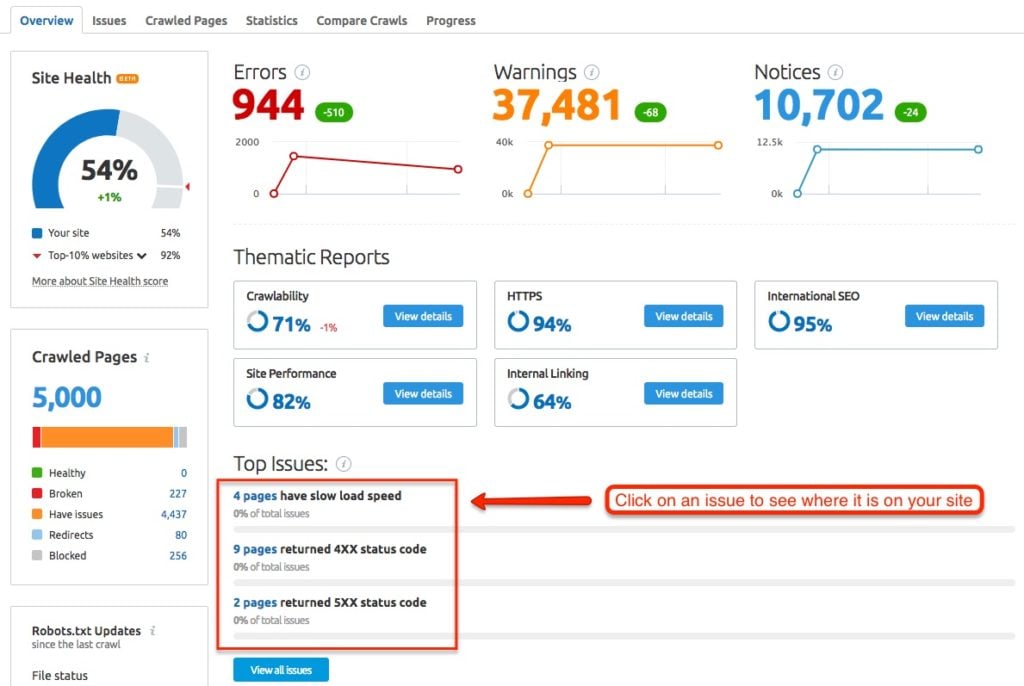 In addition, the brand monitoring tool checks broken links and brand mentions to discover new opportunities for link building.
Top Automation Features of Semrush
Automate position tracking and keyword rankings
Analyze backlinks and brand mentions to build up domain authority
Automatic synthesis of traffic graphs indicating the performance of organic and paid traffic
Visualize analytics report on SEO dashboard
Automatic updates of data in new SEO reports
Sign up for a 14-day free trial or a free plan to try automating SEO tasks with Semrush!
Further read:
Semrush Review: Is It The Best SEO Tool? An Honest Review
Surfer SEO: Best SEO Software For Content Optimization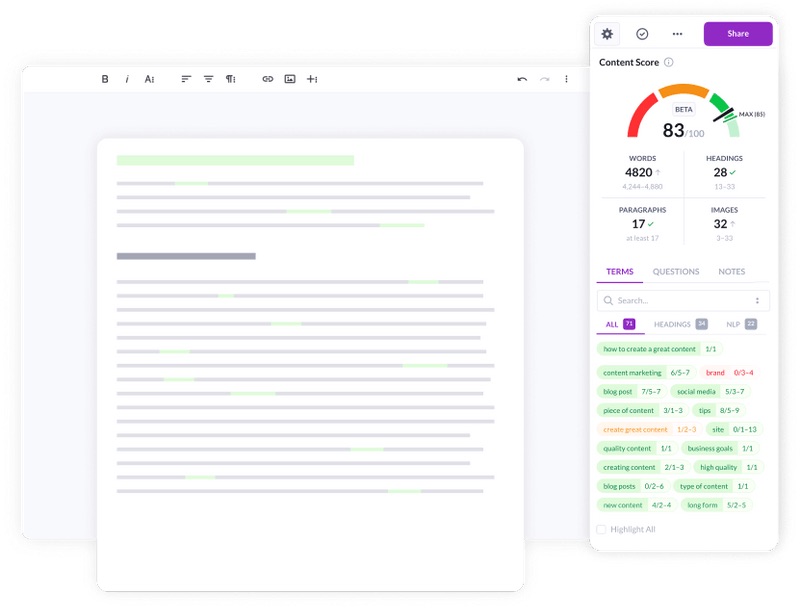 Surfer SEO is another powerful SEO automation tool that streamlines your content creation in the snap of a finger.
All you need to do is input a seed keyword. Then, you'll collect loads of content ideas, coupled with data on each intent and a bunch of keywords grouped according to categories. Then, you can plan your blog post schedules for the upcoming months at ease.
Along with the efficient content strategy, the tool synthesizes suggested word count, a list of keywords that your main competitors rank for, and writing guidelines regarding top-performing pages.
Automating content optimization improves your content quality and rankings in search results.
Top Automation Features of Surfer SEO
Automate content planning according to a domain, niche, and audience
Automatic synthesis of keywords, word count, article structure based on top-ranking websites on Google Search
Discover content gaps and opportunities to maximize content optimization
You can take your content to the next level by joining the basic plan ($49/month) of Surfer SEO. Try Surfer SEO here!
Further read:
Surfer SEO Review: Achieve Top Search Engine Rankings
Mangools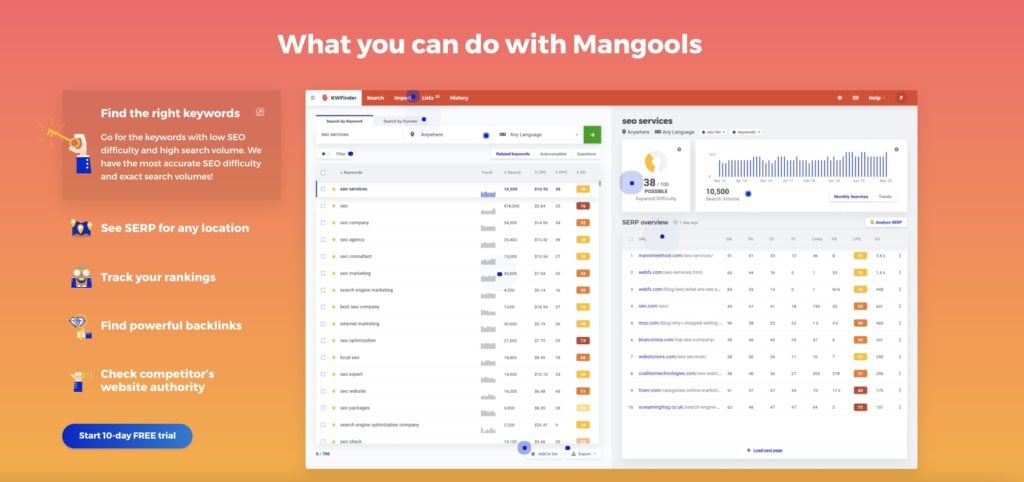 Mangools is an all-in-one marketing automation tool loved by bloggers, SEO agencies, SMEs, and digital marketers.
Ensure your SEO efforts pay off by automating multiple aspects of your workflow on Mangools, including keyword research, rank tracking, backlink checks, and competing domain monitoring.
Top Automation Features of Mangools
Accurate keyword research based on keyword difficulty and search volume
Automate workflow to track every day rankings in one click
Collect search results, SERP data, CTRs, and 45 more SEO metrics
Analyze SEO data from over 52k worldwide locations
Easy to use and seamless user interface
Enjoy a free trial for ten days on Mangools!
Serpstat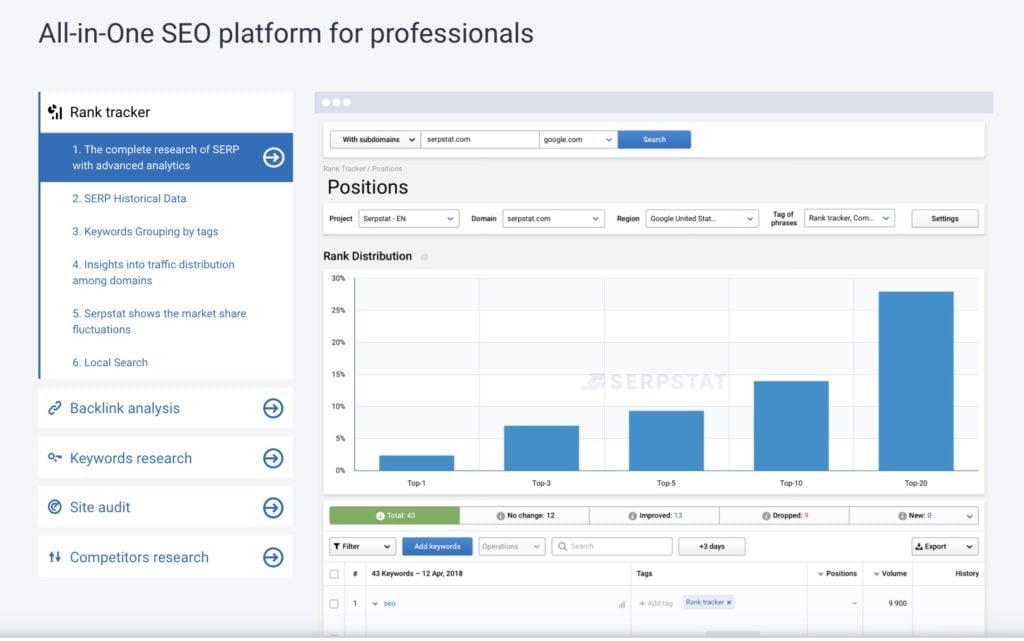 Serpstat is another excellent SEO automation tool for digital marketing professionals.
You can be reassured to entrust workflow automation to Serpstat, which specializes in tracking keyword rankings and website ranking, monitoring your backlink profile, and competitors.
Its powerful automation features allow you to strategically utilize a handful of data and analytics to take search engines by storm!
Top Automation Features of Serpstat
One-click automatic analysis on technical SEO errors
Analysis of keywords, backlinks, and domains
Competitor analysis in organic and paid search
Constant updates in SE ranking, desktop and mobile searches
Summarize page performance in white-label SEO reports
Serpstat offers various plans: Lite plan — $55/ month, Standard plan — $119/ month, Advanced plan — $239/ month, and Enterprise plan — $399/ month.
Further read:
Serpstat Vs Semrush: Which Is A Better SEO Tool? Review And Comparison
Searchmetrics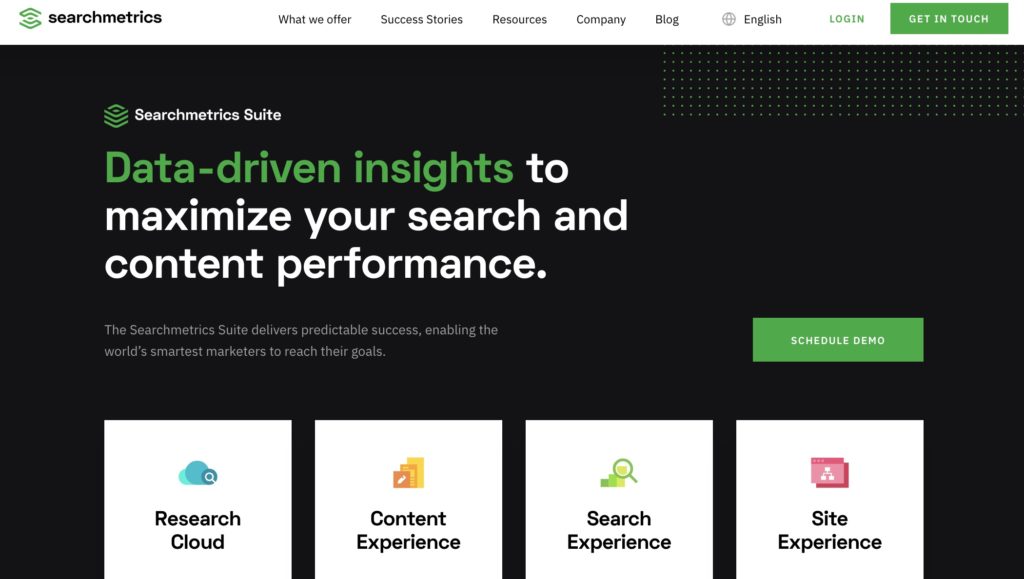 If you're browsing tools for marketing automation, Searchmetrics is a great pick.
Unlock its research cloud feature to understand keyword rankings, upcoming trends, and your rivals' SEO practices. You can devise SEO strategies to outrank your main competitors easily.
Furthermore, Searchmetrics offers a suite of SERP features that leverage keyword research and competitive performance to help you accomplish content marketing goals.
Top Automation Features of Searchmetrics
Synthesize insightful data on ranking performance, organic traffic, backlinks, and top content in real-time
Get a search landscape with local, regional, and global competitive marketing data.
Identify top content
Conduct competitor monitoring
Identify SEO strategy gaps and opportunities for accelerated growth
Visualize preliminary and recent market changes
Starting at $69 per month, Searchmetrics is a well-built tool for marketers. Try Searchmetrics here!
Screaming Frog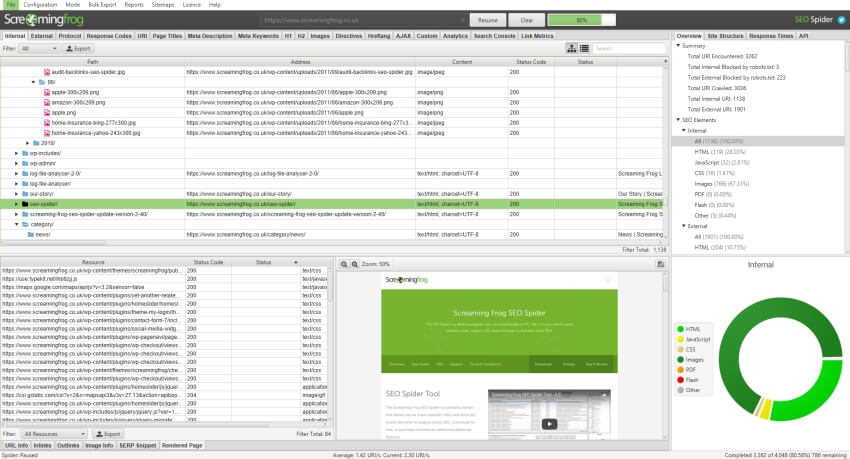 Screaming Frog is an installable SEO automation software.
It's renowned for the SEO spider — an incredible crawling tool that scans through 500 URLs for meta descriptions, meta tags, broken links, redirects, HTML tags, and many more.
You can schedule regular crawls to automate SEO analysis and export an immense amount of data to Google Sheets.
Top Automation Features of Screaming Frog
Schedule regular crawls on your site to automate SEO audits
Conduct constant backlink monitoring to identify broken links, technical SEO weaknesses redirects as well as link building opportunities
Collect data from page titles, meta descriptions, and duplicate content
Export SEO reports to spreadsheets automatically
You can download the free version to crawl 500 pages free of cost!
Ahrefs: Best Tool For Analyzing Backlink Profiles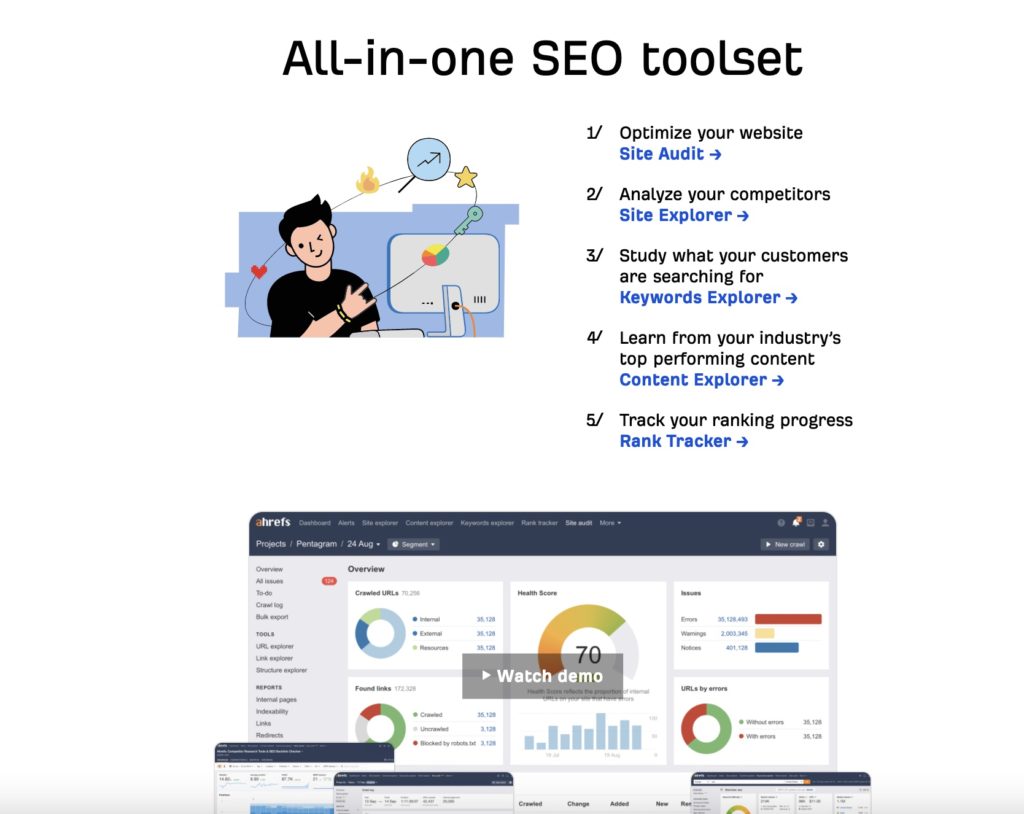 Ahrefs needs no introduction in the marketing field. It's an integrated SEO automation tool.
Its site explorer feature allows you to automate SEO audits to monitor backlinks of your website and your competitors, and therefore capitalize on new opportunities to earn backlinks.
Ahrefs content explorer does a great job identifying target keywords and top-performing content on Google to boost your site's rankings.
Top Automation Features of Ahrefs
Comprehensive backlink analysis of your website and your competitors
Conduct keyword research across ten search engines
Analyze SERP history
Set up alerting notifications on new backlinks, new keyword rankings, and brand mentions of your site
You can start a trial plan for only $7!
Google Search Console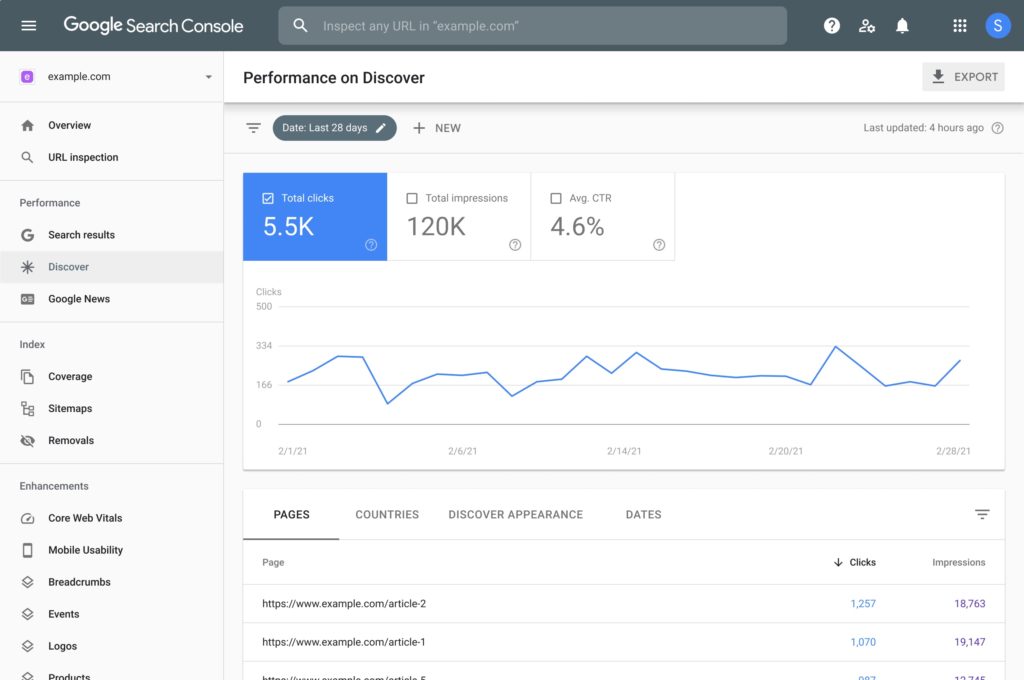 Any Google webmaster tools should be no stranger to you. Google Search Console is no exception.
It's a free SEO automation tool that helps you understand your site's performance against key metrics.
Google Search Console never disappoints you — it runs SEO audits to obtain essential data, including Google search results, impressions, total clicks, backlinks, title tags, and average position.
Top Automation Features of Google Search Console
Analyze SEO performance based on critical metrics
Conduct keyword research, position tracking, and backlink analysis
Alert users of technical issues and offer actionable insights
Sitemap submission
Whoever owns a Google account can leverage better SEO practices by using Google Search Console for free.
SEO Automation Tools: Conclusion
SEO may confront marketers with challenges that require them to digest mountains of data and test out various solutions to adapt to the ever-changing markets.
Think about how intractable it is to keep track of countless metrics associated with your page performance at every second.
No doubt, SEO automation tools make our life easier by taking all these hassles away and help you stay on top of the game at ease.
To conclude, these are some of our favorite recommendations:
Further read:
10 Best SEO Tools To Improve Search Engine Ranking
Best SEO Audit Tools For Website Optimization
Spyfu vs Semrush: Which is a better SEO tool?
Top 8 SEO Reporting Tools in 2022
Serpstat Vs Semrush: Which Is A Better SEO Tool? Review And Comparison
Semrush Alternative: 12 Best Semrush Competitors Tools