You've probably heard of Wix for setting up an online business or are searching for a reliable website builder. While Wix's SEO restrictions often draw criticism, it doesn't imply you can't significantly improve your site's SEO by following a few best practices.
In this article, we will discuss some best Wix SEO practices that can help your website rank at the top in a google search.
Importance of Wix SEO
A good website is the building block of the company. When your content is the first to pop on a Google search, it'll generate more traffic.
More traffic = more customers = more visibility for the company
Search Engine Optimization (SEO) gets companies to appear on the top when a user searches for relevant products or services on search engines, such as google, bing, or yahoo. Wix SEO does the same thing for you. Moreover, it gives you the freedom of creating a personalized website where you can choose from 800+ styles!
Wondering what SEO tools could help you? Read about the 8 best SEO automation tools to boost efficiency. Also, there is also Wix SEO Learning Hub, for your assistance.
Wix provides skilled assistance and extensive resources at the SEO hub.
The Reputation of Wix SEO
Wix is well-known for being user-friendly, suitable for novices, and receiving positive feedback for its adaptability, professional-looking templates, and service. Wix, however, often falls in the standings when it comes to SEO.
It's common for people to say, "don't use Wix, their SEO doesn't work well." However, with many updates, they've finally managed to climb the ladder. Thanks to those updates, it is easier to set up a proper SEO plan when you create a Wix website.
Let's examine the several factors that earlier made Wix competing on Google and other search engines challenging:
A poor URL design. Odd characters would be added to the URL (For example, mywebsite.com/_#hello/cis8).
It wasn't possible to add alternative text for photos.
Because Wix relied on Flash technologies, SEO suffered.
The blog was unable to optimize your articles' title tags, URLs, or meta descriptions.
Wix's reputation suffered as a result of all these SEO problems. However, with all the hard work, in 2016 they managed to catch up to the top SEO-friendly site builder choices.
As a result of the addition of sophisticated SEO features like Canonical URLs and Rich Results in 2019, Wix became a market leader in website builder SEO.
SEO Tips for Wix Website
Now that you know the potential of Wix SEO capabilities, here are five tips to begin with:
1. Try Wix SEO Wiz
The Wix SEO Wiz, a.k.a, the Holy Grail for startups, is a step-by-step checklist personalized to your site to improve the content to get you a top ranking. Here's how the Wix SEO Wiz works.
The SEO Wiz advises you with guidelines to easily connect and get verified from Google
After this first step, it also suggests methods for optimization (SEO) to rank your site higher in search results
By responding to only three questions, you can use SEO Wiz to generate your own personalized checklist:
Add three keywords that best characterize your company and the products or services you provide
The name of your company
Whether you serve consumers online or from a physical location.
After Wix SEO Wiz provides a checklist, you need to complete each task one by one, such as incorporating keywords in website content, connecting your social media, or adding alt text to the attached images.
If you're a perfectionist aiming for excellence, hire a Wix SEO Partner and get expert advice from SEO professionals.
2. Choose the right domain
We generally confuse 'URL' with 'Domain'. Well, here's an easy understanding of the same. https://www.wix.com is a URL that contains the domain name wix.com. Picking the correct domain is crucial. It might surprise you to know that your domain is the first element search engines will look at while discovering your website!
Wix helps you by giving several tips and pointers for choosing the right domain. If you're starting from scratch, Wix offers a selection of five branding styles and domains for you to consider:
Personal Branding – Including personal elements such as names creates a sense of Trust, authority, and credibility. For Example: AmandaBrooks.com
Generic/Descriptive Branding is great for instant understanding of company purpose. For Example: Artistry.com
Suggestive Branding often relates to the purpose of the company in a more abstract way. For example: Pampers.com
Arbitrary/Fanciful Branding is a name having no direct tie to the company's purpose. For example: Nottinghill.com
Hybrid Branding, as the word suggests, includes the company name and purpose. For example: AmandaArt.com
Secondly, it's wise to include a keyword in your domain name. If you are an artist named Amanda Brooks, go for AmandaBrooksArt.com rather than plain AmandaBrooks.com
Additionally, make sure to choose the correct extension. The extension is the ".com' ".org" part of the URL. We all know '.com' is the most famous among the lot, but it's time to expand your horizons! You could use .me for your resume and .photography for your love for the camera!
The domain extension you choose for your website is crucial because it may affect how well it performs in search engine results.
A recent Moz study reveals that domain extension has a small, but notable effect on your results. Domain-level keywords and domain extensions, for example, have a weak relationship with search ranks, but they continue to outperform social measures like Twitter's "retweet."
If you are merely expanding your firm inside your country, choosing a country extension may be a wise move as it may benefit your SEO campaign.
3. Write unique titles & descriptions
Whatever flashes catches your eye! Isn't that right?
Wix analyzes your site's content and helps create unique and relevant titles and descriptions. In the search engine, the page information is composed of two parts: The title tag and the Meta description.
The title tag refers to the title. The title tag determines if the user will click and visit the site or not
The Meta description is a snippet of the text describing the page's content in the search engine about the article. Wix analyzes your content and suggests optimized titles featuring the keywords to maintain maximum traffic

While the meta description has an indirect effect on SEO, the title tag has a direct effect.
In addition to other SEO techniques, the keywords and longtail phrases used in your title tags can assist Google to decide to rank you higher when users search for such terms.
The goal of the meta description, on the other hand, is to persuade readers to visit your website, which may have an impact on the page's ranking even if it doesn't directly affect ranking via the usage of keywords.
While earlier, Wix did not allow title tag and meta-description optimization, Wix fixed the issue in 2016. Updating the title tag and meta description can be done whenever editing a page with the SEO basics tab.
4. Optimize for Mobile
It's the ease of use, Wix creates a mobile-friendly version of your site with the same content for extensive reach.
It creates an optimized layout for small screens to give the users a smooth browsing experience. You can access Wix and your profile easily on your cell phone. Check out the mobile-optimized version of your site by switching to Wix Mobile Editor.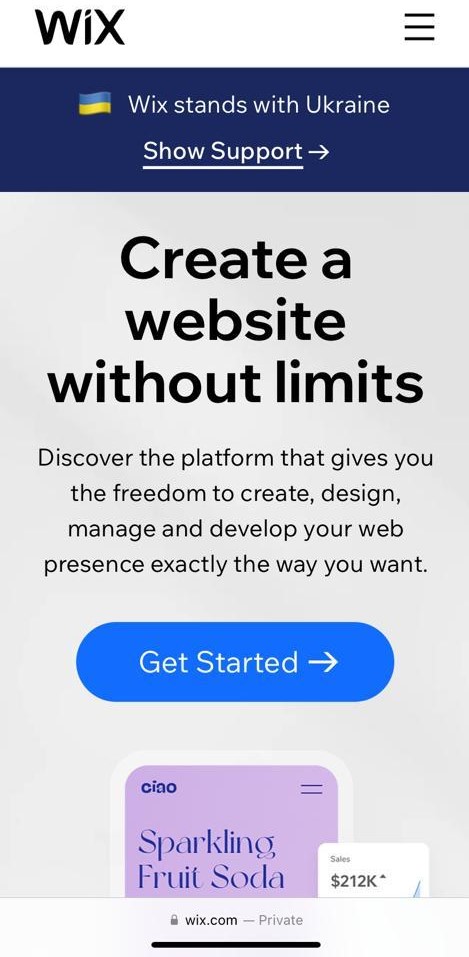 For SEO, mobile friendliness is essential. In reality, the detection that a user is searching on a mobile device is a ranking indicator in both Google and Bing's algorithms.
In general, mobile search results favor websites optimized for mobile devices over those that are not.
5. Structure the Website Well
A proper site structure is crucial for your SEO, despite the fact that this may appear like a step that is sometimes missed. Here's how:
It's crucial for customers to be able to freely browse across your site
It is simpler for search engine bots to crawl and grasp the hierarchy
Can significantly boost the number of pages and time spent on your website by prospective clients
More than 25% of SEO experts agree that structured data is an emerging SEO element and 36.6% think that Google's Core Web Vitals upgrade would eventually rank among the most crucial elements of an SEO strategy.
The best structure for your website is automatically provided by Wix website templates. All layouts have an intuitive menu that makes navigating your website easy and clear.
Additionally, header tags are all expertly constructed in a manner to offer hierarchy to your website so that it seems and feels structured.
Conclusion
Overall, Wix is a secure, creative, and easy-to-use platform accessible to all as it's free! If still in doubt, the best way to be sure is to give it a try. If you need help with setting up Wix, you can check Venturer's Step-By-Step Guide: How To Use Wix To Create A Website.
Are you interested in knowing the differences between Wix and Weebly? Check out our Wix Vs Weebly article to know more!
About the author
Filip Nikoloski is a Partnership Specialist at Printify. Printify is a transparent print-on-demand and dropshipping platform designed to help online merchants make more money in a simple and easy way.