Nowadays, there are many website builders available on the market. Large and small enterprises can find the perfect website-building platform to create their online presence.
However, choosing between them can be quite difficult. In this article, we will compare two of the biggest players on the market — Webflow and Wix.
We will consider important features such as design options, features, pricing, usability, support, and more. We hope this article will help you make an informed decision when choosing a platform for your needs.
Before we start comparing these two platforms, let's take a look at what they are and what they have to offer.
Webflow vs Wix: At a Glance
| Features | Webflow | Wix |
| --- | --- | --- |
| Customization Options | Yes | Yes |
| Drag-and-Drop Interface | Yes | Yes |
| No Code Website Builder | Yes | Yes |
| Free Plan | Yes | Yes |
| HTML CSS Editor | Yes | No |
| Extensive Knowledge Base | Yes | No |
| Complete Customization | Yes | No |
| Wix Store | No | Yes |
| Landing Page Builder | Yes | Yes |
| Number of Templates | 500+ | 800+ |
| App Integrations | 250+ | 250+ |
| Mobile App | No | Yes |
| E-commerce Features | Limited | Extensive |
| Pricing | Starts at $12/mo | Starts at $14/mo |
Webflow vs Wix
Webflow and Wix are both no-code website builders that come with easy-to-use templates and free plans.
Both platforms offer drag-and-drop interfaces and do not require prior programming knowledge. Webflow offers an HTML CSS editor that Wix lacks.
However, Wix has a more extensive collection of templates and eCommerce features, including a Wix store feature, which is absent in Webflow. Wix also has a mobile app, while Webflow does not.
Webflow offers more customization options than Wix, and it has a more extensive knowledge base than Wix through its Webflow University. Webflow offers complete customization options, while Wix heavily relies on templates.
In terms of pricing, Webflow starts at $12/mo, while Wix starts at $14/mo. Overall, Wix is better suited for beginners and small businesses, while Webflow is ideal for experienced web developers.
Our Pick
Webflow: Create a custom website | No-code website builder
Webflow is a website design and development platform that allows users to create responsive and dynamic websites without coding. It offers a range of tools and features, including a drag-and-drop editor, customizable templates, and hosting services.
Pros:
User-friendly interface and powerful design capabilities

No coding required

Customizable templates

Hosting services included

Extensive documentation and community support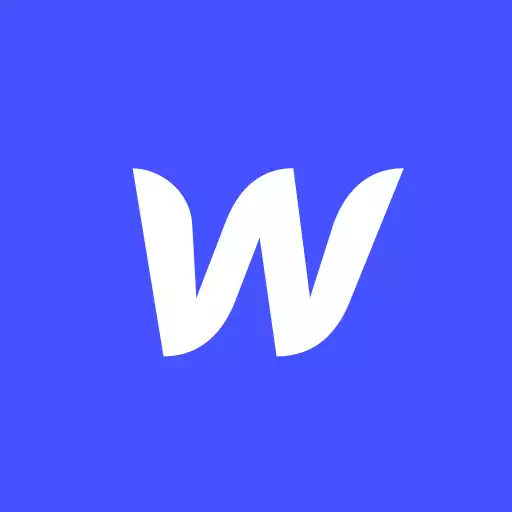 Webflow vs. Wix: Similarities
Besides being two of the most popular website builders available today, Webflow and Wix are similar. These include:
Easy-to-use templates: Both website builders come with guidelines to support novice users to design websites easily, even without coding knowledge. They offer a wide variety of templates that act as the foundation of your pages. You can use them as they are or customize them to suit your preferences.
No code website builders: You don't have to have prior programming knowledge to use these apps. This makes it easy to create a website and helps you save money as you don't have to hire a developer to do this. Users can use Webflow or Wix to develop full-featured websites, web apps, or mobile apps.
Free plans: While Webflow and Wix have different plans and prices, they offer free plans to allow users to test and assess the suitability of these apps before committing. This also allows you to familiarize yourself with the platforms and web design process.
Webflow vs. Wix: Differences
Despite the similarities, Webflow and Wix are different in various aspects. The following are some of the key differences between the two website builders.
Unlike Webflow, which offers an HTML CSS editor that allows you to use coding to design a website, you don't need any code to create a website with a Wix account.
Webflow has a more extensive knowledge base than Wix through its Webflow University, which offers a lot of tutorials.
Webflow offers a complete customization option that allows you to customize your website to suit your needs, unlike Wix, which relies heavily on templates to help you design your website.
Wix comes with a Wix store, a feature that allows you to sell your products on your site. This feature is absent in Webflow.
What is Webflow?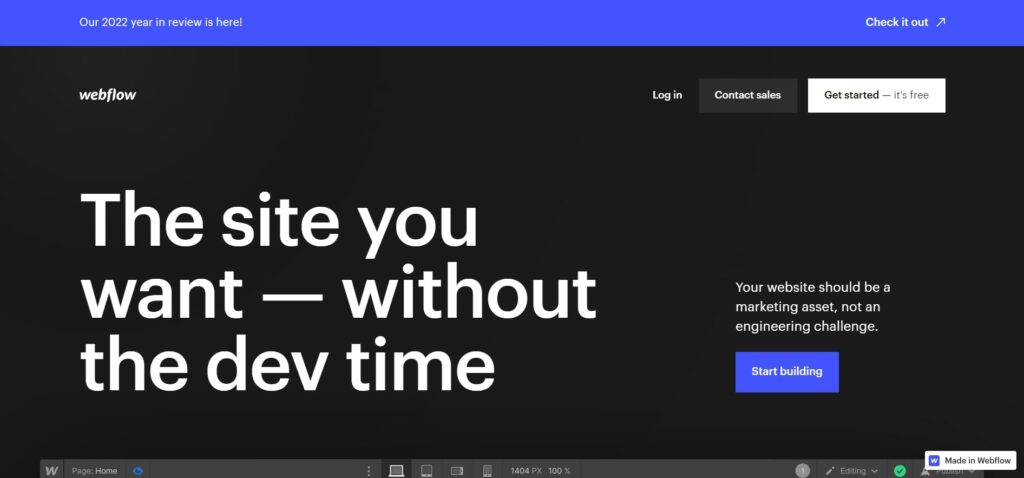 Webflow is a no-code visual web builder that allows you to create fascinating and responsive websites even without much programming skills.
This feature-laden platform comes complete with many templates, plugins, and frameworks, making it an excellent choice if you want to create a website for your small business, blog, or portfolio. Webflow has many advanced features that web designers can utilize to build professional websites. It offers powerful customization options to help you create a fully customizable website from scratch.
While novice users without coding experience can use Webflow, the platform is ideal for experienced developers who can utilize its HTML/CSS capabilities and other advanced features to build custom-designed websites from scratch.
Webflow Key Features
Webflow has a rich set of features to help users create appealing websites. These are some of its key features:
Customization features: Webflow comes with rich customization options which allow you to design your website from scratch and customize it to your tastes.
Hosting plans: This allows you to host your website on the platform you built it on for convenience.
Advanced design: Webflow offers advanced design features like parallax scrolling, animations, and micro-interactions.
The front end and code are not separate to enable everything you design on the editor to be automatically coded in HTML, Javascript, or CSS.
What is Wix?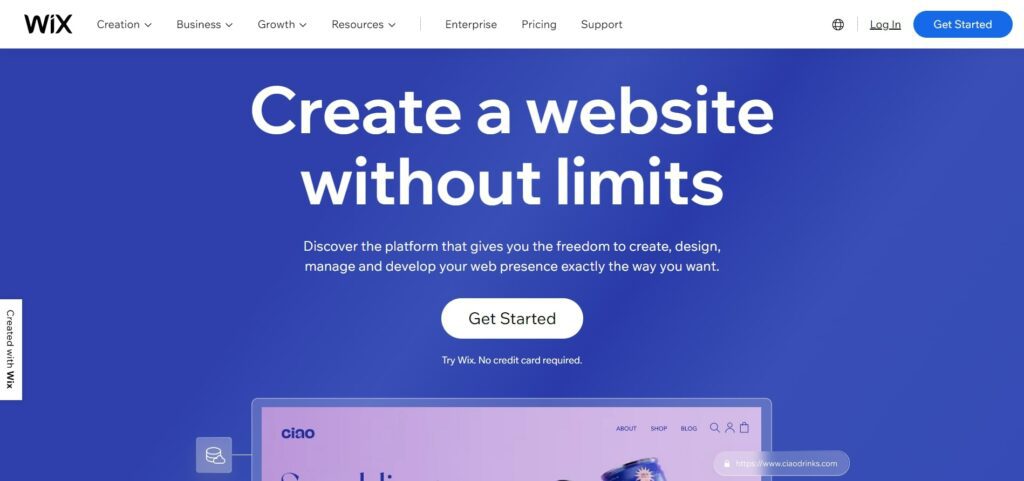 Wix is a popular web creation platform that was established in 2006. The platform comes with over 800 designer-made templates and drag-and-drop features, making it easy for you to create websites without coding skills or hiring a developer.
Wix has existed longer than Webflow, giving it a huge user base of over 300 million users in more than 190 countries. Wix is also among the pioneer hybrid website builders that let you design your website or allow its artificial intelligence feature; Wix ADI ( Artificial Design Intelligence) creates a personalized site for you.
Besides an easy-to-use interface, Wix comes with numerous customizable designs, a custom domain, a versatile pricing policy, advanced functionality, and many design customization tools, making it stand out from other website builders.
Wix Key Features
The following are some of the top features of Wix:
Wix Artificial Design Intelligence: To create your website, Wix ADI asks basic questions about your business and then uses a drag-and-drop interface to lay out your pages automatically.
Wix stores: This feature allows you to sell your products and get secure online payments.
Ascend by Wix: This email marketing and customer management tool helps you capture leads, nurture customers, and boost traffic and sales. It allows you to automate your processes and engage with your customers
Seo Wiz: This feature makes your website visible by making it discoverable on search engines.
Webflow vs. Wix: Features
Webflow and Wix have numerous features to help you create a great website. While Wix has a longer list of easy-to-use features, Webflow, on the other hand, offers an extensive range of more advanced features as it was built with the needs of experienced web developers in mind.
The following are the most notable differences in the features of the two platforms.
Landing Page Builder
Wix has an easy drag-and-drop interface and numerous templates to help you create your landing pages easily. The platform has an intuitive website editor, which makes it easy for you to create a professional-looking website quickly.
With over 800 pre-designed templates that are easily customizable, you can add text and images, change your page layout, and much more with just a few clicks. With the drag-and-drop nature of Wix, it's easy to create websites fast and alter the structure of your site by rearranging components and adding new pages.
Besides the drag-and-drop builder, Wix also offers Wix ADI, which helps novice users without coding skills easily create great websites. It also has Velo Editor by Wix, allowing professional website developers to build high-performance websites.
Webflow also has pre-designed templates that you can utilize to create your landing pages. It also gives you the option to build your website from scratch.
Design and customization
Webflow and Wix come with several predesigned templates that you may utilize to create various websites.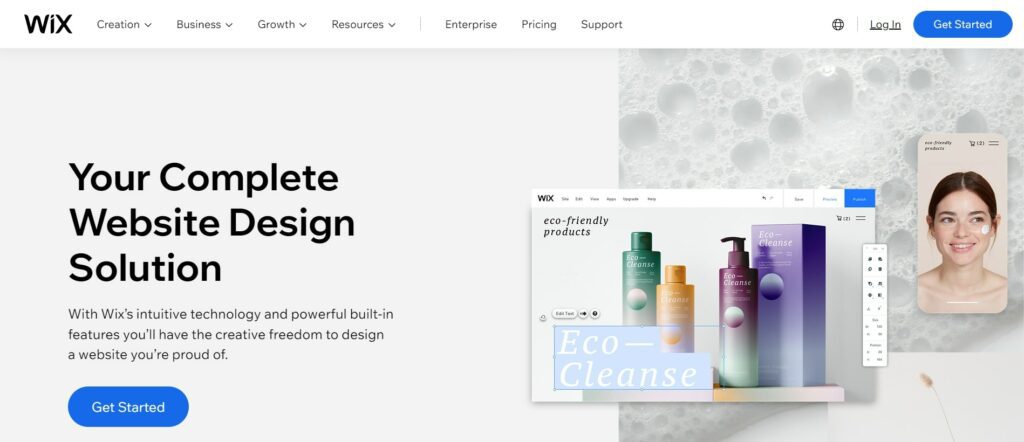 With Wix, you get over 800 fully customizable and easy-to-use templates that you can use on your online store. The platform allows you to use its drag-and-drop Wix editor to make changes to your web pages and add elements such as images, grids, sections, videos, forms, and buttons.
You can change the background of these elements, including the font size, color, and alignment, or add links. However, Wix doesn't allow you to switch templates without starting again from scratch.
Webflow editor, on the other hand, offers over 500 fully customizable templates. You can copy your website's HTML and CSS code and share it with anyone. Better still, Webflow gives you complete control over your website.
You have complete layout flexibility with Webflow and can thus position elements wherever you want on your website. It also enables you to make reusable symbols out of components like sign-up forums, footers, and navigation forms.
Generally, Wix shines in terms of the number of templates, with over 800 templates compared to Webflow's 500+ templates. However, while both platforms allow you to customize the templates to create a distinctive web design, Webflow takes the win as it offers more customization options compared to Wix.
Verdict: Wix wins in Features
Both platforms come with a vast array of features that you may want to create a great website. However, Wix takes the lead, boasting a long list of features than Webflow. On the other hand, Webflow offers more advanced features than Wix.
Wix vs. Webflow: Ease of Use
Wix was designed with inexperienced users in mind. As such, it comes with a simple and intuitive drag-and-drop user interface. It doesn't matter whether you have any coding or IT skills; you'll still be able to use Wix even if you are completely green.
In addition to the hassle-free sign-up process, which takes only a few minutes, Wix has an incredibly simple and logically-organized control panel. This platform's control panel consists of only 2 sections; the dashboard and the website editor. The dashboard provides various tools and customization options and remains straightforward.
Wix boasts a drag-and-drop editor, making building a website a breeze even for novice users. This allows you to drag any element and drop it wherever you want on your page.
You can insert, delete, and use multiple elements, widgets, and plugins with simple clicks. Wix has a clean and minimalist interface that only displays your needs.
Additionally, Wix has a WYSIWYG (What You See is What You Get) editor that lets you view how your website will eventually look while creating it. Better still, the developers of Wix are continually committed to simplifying the user interface and adding new features.
Webflow, on the other hand, was designed with the needs of proficient and experienced web developers. It thus comes with a more complex web design approach.
The platform has many customization options on its interface, which can overwhelm first-time users. While the sign-up process is pretty easy and quick, you'll need some time to get used to this service's control panel and get a grip on all the tools, categories, elements, and sections it features. Here is our Wix tutorial step-by-step guide
Webflow provides many complex toolbars, HTML/CSS website editor, and advanced design customization tools that require a thorough understanding and some web design skills. While Webflow's user interface is logically structured, it's still confusing and has a steeper learning curve than Wix.
Verdict: Wix wins in Easier to Use
Wix is easier to use than Webflow, making it the best option for beginners. It offers an intuitive and user-friendly interface that is easy to master, even without coding skills.
Wix is renowned for its straightforward, correctly-structured interface, which is easy to navigate. The platform is most suitable for new users in terms of website building and looking for simple custom websites.
Webflow vs. Wix: SEO
Building a great website is useless if no one can find it. That's why optimizing your site ranks on Google and other search engines are important. Both Wix and Webflow offer incredible search engine optimization features that help your site to rank on search engines.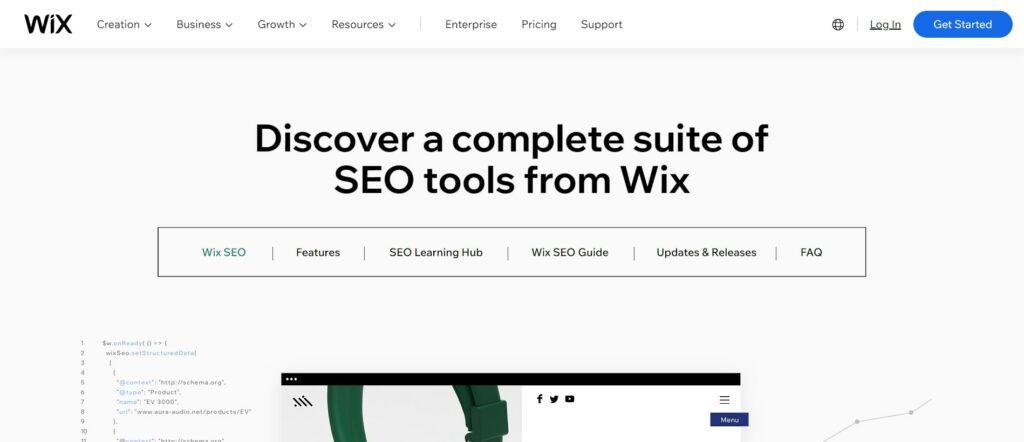 Wix has a robust suite of built-in SEO capabilities that are aimed at helping you optimize your site for search engines and boost your organic traffic.
It allows you to edit meta titles and descriptions, change web page URLs, simplify the web page social preview process, and specify focus keywords.
In addition, you can customize meta tags and structured data markup across several pages of the same nature concurrently. Better still, Wix offers SEO Wiz, a feature that offers a step-by-step plan that's designed to help your site rank better on search engines. This suggests strengthening your online presence by highlighting areas where your website could be improved.
The platform also offers additional features and add-ons, such as Wix's site booster tool, which helps you optimize your site for search engines.
It advises strengthening your online presence by highlighting areas where your website could improve.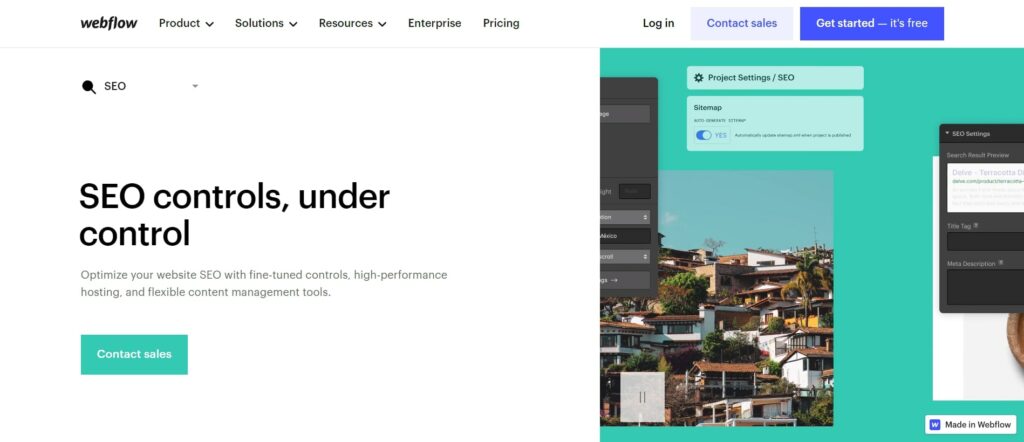 Webflow also has a collection of tools that help enhance your site's visibility on search engines. You can set up descriptions, meta tags, titles, keywords, and other parameters.
To help you make the most of your design, content, and traffic, Webflow has several built-in SEO tools, including dynamic meta tags for each page or blog post and site-wide metadata.
Moreover, with its roots in HTML and CSS, Webflow SEO focuses on clear semantic codes that are simple for search engine crawlers to index and comprehend.
Who is better at SEO? It's a draw
Both Wix and Webflow offer comprehensive SEO features. However, while Webflow has a more in-depth SEO setup with more advanced features ideal for pro website builders, Wix is more intuitive, making the entire optimization process simpler for a beginner.
Webflow vs. Wix: Templates
Templates come in handy in helping you build a website quickly. Webflow and Wix feature a rich collection of templates to help you get started quickly.
They also allow customization of the templates enabling you to come up with unique designs that suit your needs.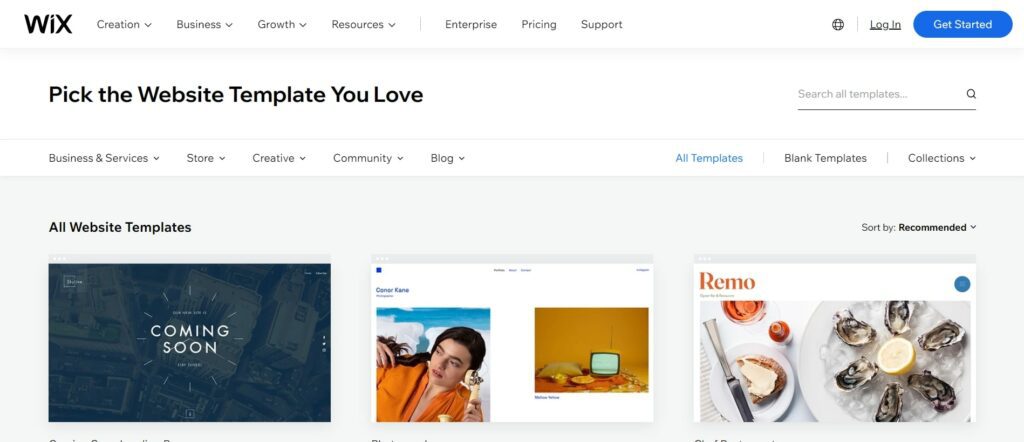 Wix offers over 800 fully customizable templates to choose from. These templates are divided into different categories based on the niches or the internet site types they are intended for, which makes finding the perfect website template for your site much easier.
Professional web designers regularly update Wix's template collection with stunning themes. Better still, these templates are responsive by default and adapt perfectly to any screen size, type, or resolution.
You can modify Wix templates through the WYSIWYG editor and integrations with over 250 web apps. The only downside with Wix templates is that you can't switch templates without starting each time afresh.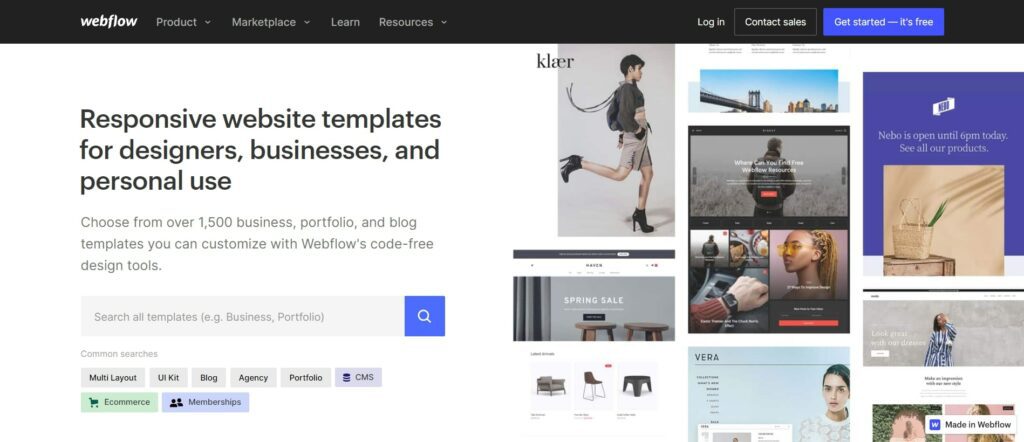 Webflow also has an impressive range of templates, though not as many as Wix offers. The platform offers over 200 fully customizable, free, and paid templates.
Webflow allows you to choose from several template versions for every web page. You can also pick a blank canvas and customize it from scratch. Webflow templates can be filtered by feature, category, style, business, and type, making it easy to find the right template that matches your needs.
All the templates are responsive and come with a short explanation of the type of site they are best suited for. Like with Wix, you can also pick a blank canvas and customize your web page.
Verdict: Wix performs better in templates
In terms of the number and quality of templates, Wix wins over Webflow. It has over 800 templates to choose from compared to Webflow's 500+ templates.
Wix also offers an integrated mobile editor that allows users to modify the mobile version of their website from anywhere and at any time.
Webflow vs. Wix: Integrations
Wix supports a wide range of integrations and platforms. These are available on Wix's extensive app market, the Wix App Market, which has over 250 apps.
The apps are categorized into marketing, selling online, services and events, media and content, design elements, and communication.
Wix apps can be added directly to a site in one click, including social media plug-ins, contact forms, Google Analytics, and online booking tools. Each category has dozens of widgets and add-ons to meet user needs, making choosing the right app from the library much easier. In addition to the third-party apps, Wix has its own apps like Wix Bookings, Wix Music, and Wix Members Area.
Webflow's integration capabilities are also worth noting. The platform integrates over 250 apps categorized into different groups, including analytics, e-commerce, memberships, and email marketing.
You'll need to embed their code on your website to use these apps. Webflow integrates with e-commerce platforms such as Shopify and BigCommerce and social media platforms such as Facebook and Twitter.
Verdict: Wix wins in Integrations
Wix wins over Webflow in terms of integration as it boasts numerous App Market widgets plus business tools that can help you improve your performance.
However, Webflow offers more robust integrations and allows more customization than Wix integrations.
Wix vs. Webflow: Mobile Apps
Time is of the essence when it comes to business. As such, you should be able to access your website on any device, at any time, and from anywhere. Having a mobile app is important as it saves you time and makes your website accessible at any time.
Wix has a complete mobile app for Android and iOS users. Similar to the web builder, the mobile app requires no code. You only need to design the front end of your app and leave the rest to Wix.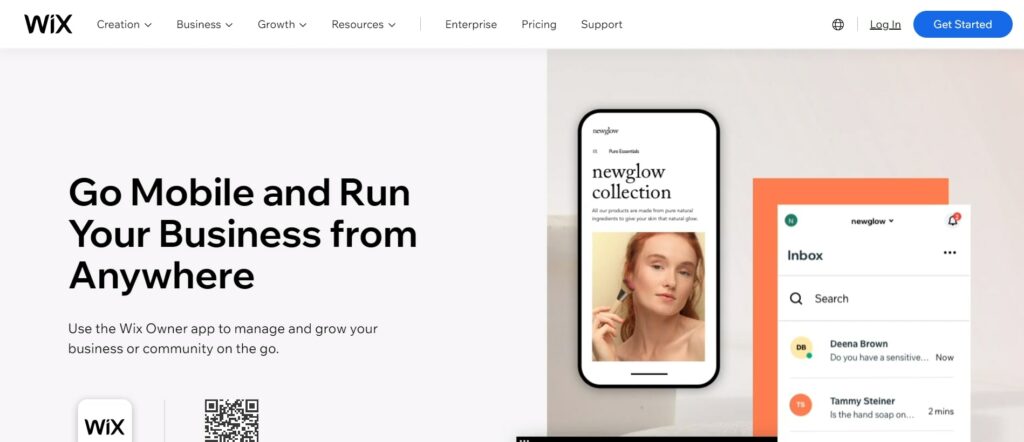 Webflow, on the contrary, does not offer a mobile app builder. You must utilize third-party apps to convert your Webflow site into a mobile app.
Verdict: Wix wins in Mobile Apps
Wix is the obvious winner in terms of mobile apps, as it supports a mobile app for both Android and iOS devices. Webflow does not support mobile apps.
Webflow vs. Wix: eCommerce Features
Both platforms have excellent eCommerce features. To create an eCommerce site on Wix, you'll need to get an eCommerce plan. Wix comes with a high-end Stores widget that requires integration to enable the development and management of small and medium-sized eCommerce websites.
Wix allows you to integrate and customize your shopping cart, create and manage product galleries and customer orders, adjust secure online payments/shipping details, track web store statistics, create discount and loyalty programs, and set up window display options.
You can sell unlimited physical and digital products with Wix eCommerce stores. What's more, you can choose from the over 100 store templates to help you design your store.
Additionally, you can process and track all your products, integrate dropshipping services, and handle shipping and online payments with Wix. Webflow also has powerful eCommerce features, though not as many as in Wix. The platform has a default high-end eCommerce engine that lets you build and customize a professional online store.
Unlike Wix, Webflow places a limit on the number of products, both physical and digital, that you can sell on your eCommerce site. You may also need to integrate into some third-party apps to access features available on default in Wix. However, Webflow offers better customization options like building custom landing pages, creating custom product fields, and much more.
Wix wins in eCommerce features
Wix takes the lead in terms of the number of features. It offers a lot more eCommerce features than Webflow. It has features such as customer account features, abandoned cart recovery, and multi-currency pricing, which Webflow lacks. Additionally, it has no limitation on the number of products one can sell on e-commerce sites.
Wix vs. Webflow: Pricing
Webflow and Wix both have a free plan and various premium plans. Let's have a more detailed look at the pricing plans for the two platforms.
Wix Pricing
Wix's free plan allows you to test the platform's functionality and explore its basic features before committing. Additionally, Wix has 2 paid plans; Website plans and business and e-commerce.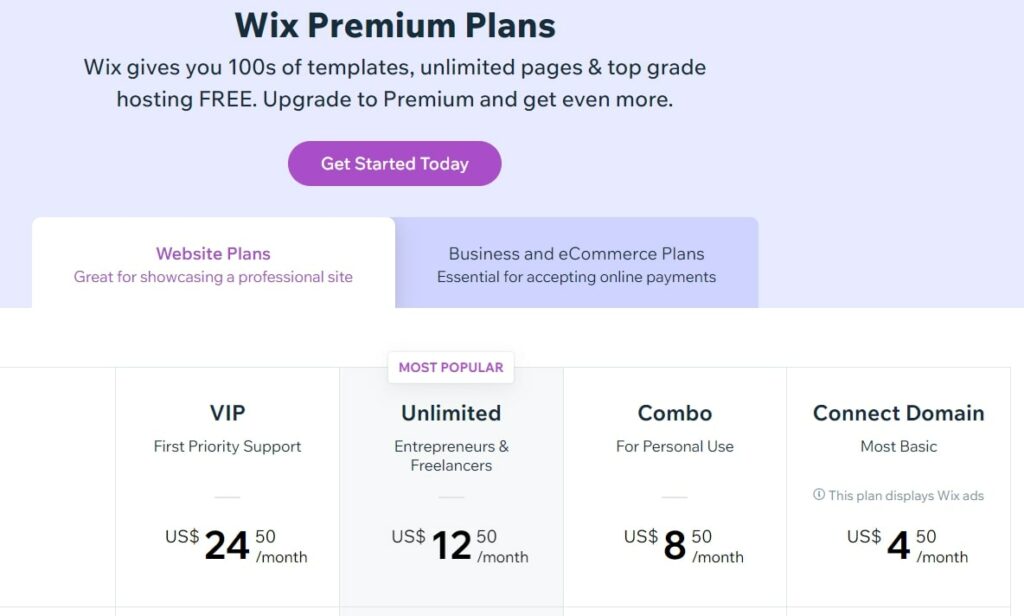 The following are the plans available under the Wix website plans:
Connect domain plan: This is Wix's basic plan which comes at $ 4.50 per month. The plan offers a custom domain, 1GB of bandwidth, and 500MB of storage space.
Combo plan: This costs $13 per month and offers 2GB bandwidth and 10GB storage space
Unlimited plan: It's the most popular plan for Wix costing $17 per month. It offers unlimited bandwidth and 10GB of storage.
Pro Plan: Costing $22 per month, this plan is suitable for complete online Wix branding and offers integrated Google Analytics and statistics plus other advanced features.
VIP Plan: It costs $39 per month and offers first-priority support and a professional logo
These are Wix's Business/Ecommerce plans:
Business Basic: It costs $23 per month and offers 20GB of storage
Business unlimited: This offers business development tools, special apps for entrepreneurs, and integrated e-commerce platforms at $ 27 per month.
Business VIP: The plan costs $49 per month with unlimited bandwidth and video storage space.
Enterprise plan: This costs $500 per month and provides an end-to-end business solution with the highest number of tools and functionality.
Webflow Pricing
Webflow also offers a free plan that's available for life. While this allows you to explore the platform's features and familiarize yourself with its functionalities for as long as you wish, it also has some limitations.
It also has paid plans divided into two categories: Site plans and Workspaces. While the Site plans are per site, Workspaces allow a specific number of unhosted sites.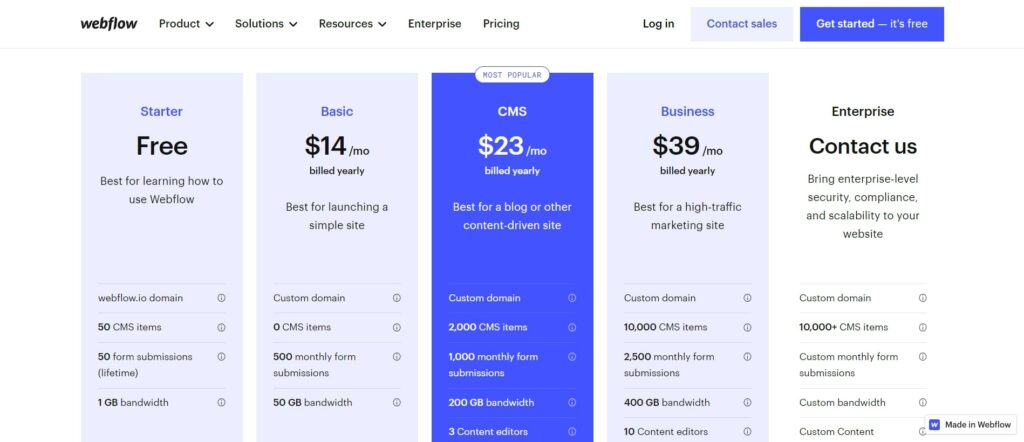 Site Plans – General
Basic plan: At $14 per month, this plan is ideal for basic websites that don't need a CMS.
CMS: This is a great choice for blogs and other content-driven websites. The plan costs $23 per month.
Business plan: It costs $39 per month and is best suited for high-traffic marketing websites or full-featured blogs.
Site Plans – Ecommerce
Standard plan: Suited for new businesses just starting, this plan costs $29 per month.
Plus plan: This is best for higher volume businesses looking for more features. It costs $74 per month.
Advanced: The plan comes at the cost of $212 per month.
Workspaces – For Freelancers & Agencies
Lite plan: This comes at the cost of $16 per month
Pro plan: which costs $35 per month
Workspaces – For In-House Teams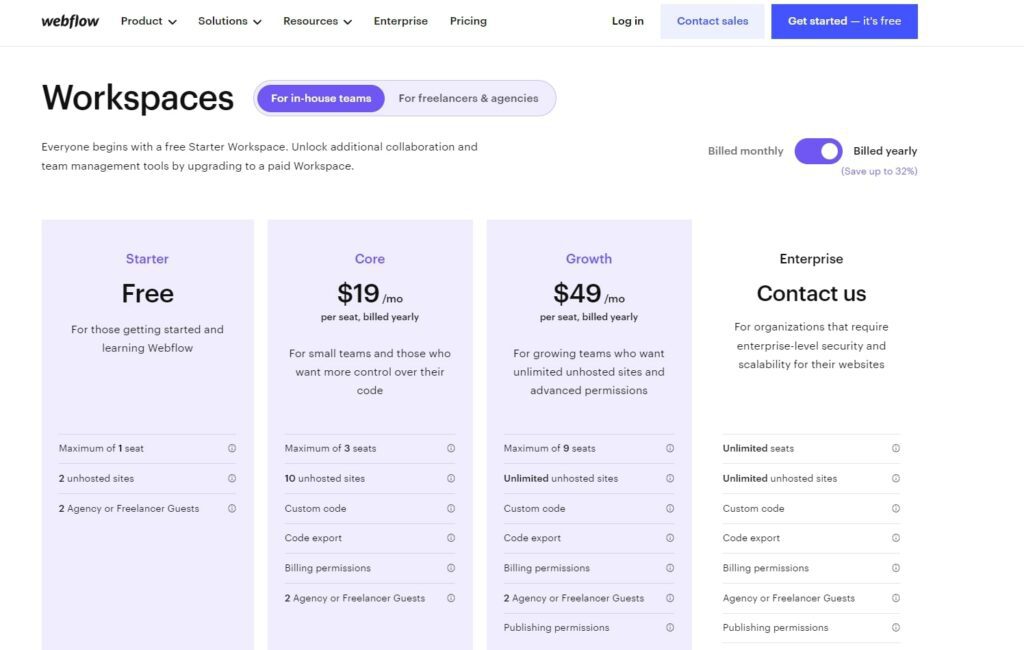 Core plan costs $19 for up to 3 seats.
Growth plan: $49 for up to 9 seats.
Enterprise plan, which calls for custom pricing from the company
For more, see Webflow pricing explained
Verdict: Wix wins in Pricing
While both platforms offer versatile pricing plans, Wix is more value for money, with rates starting at $4.50. It offers quality services at lower prices compared to Webflow. However, Webflow offers more features in most plans than Wix free plan.
Wix vs. Webflow: Customer Support
Customer support is an important consideration when choosing a web builder. A good support system will come in handy if you encounter difficulties setting up or using a platform. Both Wix and Webflow offer various channels for support.
The Wix customer service team is available around-the-clock. You can reach out to Wix support staff via email, phone, online chat, or using the ticketing system.
To report an issue, all you need to do is fill out Wix's contact page, and they will reply to your ticket as soon as possible. Wix also has a multilingual callback service. You can also go through Wix tools, pages, and dashboards and benefit from various tips, prompts, and directions.
More still, Wix offers a knowledge base, forum, and support center to give you all the help you may need. The knowledge base provides several step-by-step online tutorials, guidelines, and how-to videos.
These come in handy if you prefer to sort out issues by yourself rather than waiting for an email response.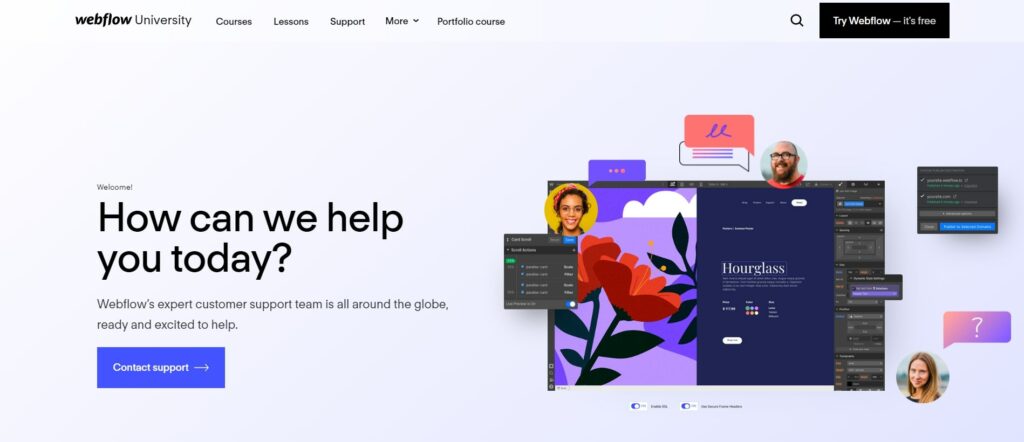 Webflow offers support mainly through its Webflow University. This offers extensive resources and plenty of content to guide you through. It includes comprehensive guides, lessons, courses, and videos on various topics covering the basics of the platform and specific design-related questions.
While Webflow lacks support channels such as phone calls and live chats, it utilizes forums, blogs, FAQs, and emails to offer support. With Webflow, you also get various social networks that you can join. You can converse with other users and developers and ask questions.
To contact the support team, you'll need to send an email on your issue. You can also buy Webflow's Flow Ninja themes if you need extra support.
Verdict: Wix wins in Customer Support
Wix takes the win in customer support as it offers one-on-one customer service. The platform offers better support, including live chats and phone support, which are available 24/7. Webflow does not offer phone or online chat support.
Webflow vs. Wix: Pros and Cons
Webflow and Wix are the top web design platforms available today. However, no single platform is 100% perfect, as each has its own share of advantages and disadvantages. Check out some of the pros and cons of the two platforms
Webflow Pros
It offers advanced web design customization options allowing you to create highly customized websites without knowing the codes.
It has advanced features that experienced users can use to build professional-looking websites
Webflow offers advanced SEO tools that enable you to optimize your website for better ranking on search engines and improve your site's visibility
It comes with a free plan that gives you enough time to test all the features and familiarize yourself with the platform's functionalities before committing
Webflow Cons
It has a steep learning curve, and it may take some time for you to get fully acquainted with its operations.
It does not offer one-on-one customer support as it lacks phone and online support.
It does not offer a money-back guarantee.
It's expensive, with prices ranging from $12-$212 per month
Wix Pros
It's easy to use with an intuitive drag-and-drop interface
Comes with numerous pre-designed, fully customizable templates that allow quick setup
Offers excellent customer service with 24/7 phone and chat support
Has versatile and affordable pricing plans
It has a dedicated mobile app builder
Has advanced e-commerce features
Wix Cons
It does not allow you to change themes after choosing one
Offers limited design customization options
No optional code editor
Webflow vs. Wix: Conclusion
Webflow and Wix are excellent in the website-building industry they offer everything you need to create a great website. Both platforms offer extensive features necessary for building a fully-featured professional website.
Your choice between the two platforms will depend on your priorities and needs. Wix is best if you are a novice user looking for an easy-to-use web builder packed with features.
With its friendly interface and numerous templates, Wix will help you create a beautiful site with minimal effort.
However, Webflow is more suitable if you are an experienced web designer and want complete control over your site's look and feel. The platform has advanced customization features that allow you to build a professional website from scratch.
Wix vs. Webflow: FAQs
What is the difference between Wix and Webflow? 

Wix is a web builder that relies heavily on pre-designed templates to create a website. At the same time, Webflow offers extensive customization options that give you complete control over the design of your site. 
Is Webflow good for small businesses? 

Yes, Webflow is good for small businesses. However, given its advanced features, this web builder is more suitable for large enterprises that need a more complex and rich-featured website. Wix is a better fit for small businesses that want to set up a great site quickly.
Should I switch from Wix to Webflow? 

This depends on your needs and priorities. Wix is easier to use if you are a novice user and want to build a basic website. Webflow, on the other hand, is ideal if you have some coding skills and seeking full control over your site's design
Does Shopify have good SEO? 

Yes, Shopify has all the basic SEO features. It has various built-in features and apps that help get your shop indexed and ranked in search engines.
Is Webflow better than Wix? 

No, both platforms are excellent website builders with unique advantages to their users. Wix is best for ease of use, while Webflow offers advanced functionalities. Choose what best suits your needs.