Do you want to start a blog but aren't sure which platform to use? With many blogging platforms, it might be difficult for you to find the right one.
With this post's list of the best blogging platforms for beginners, we've made it simple to choose what works best for you.
All the best blogging platforms reviewed and compared below allow you to create a website without knowing how to code. In addition, they are SEO-friendly, some have a lot of customization choices, and are flexible enough to allow for future expansion.
Now, let's dive in!
Best Blogging Platform: WordPress
WordPress is the best blogging platform that allows anyone to start a blog and make money blogging. It's flexible, highly customizable, and gives you complete control of your site.
It is one of the most popular content management systems globally, powering nearly half (43%) of the websites on the Internet, and for a good reason.
WordPress.org is free and open-source software. It means that anyone can have access to their source code – facilitating developers to build plugins that extend the functionality of your site. As a result, over 59,500 free plugins were developed for WordPress, making it the most powerful platform to create a website or a blog.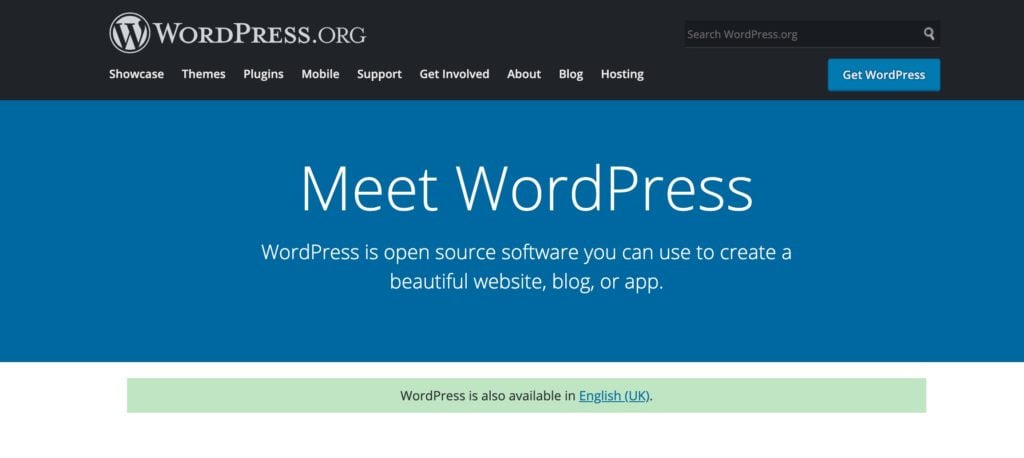 If you want complete control over the development of your blog and practically endless customization choices, this is the best option. WordPress.org is a self-hosted solution, which means you'll need to choose a WordPress hosting company.
The best WordPress hosting service for getting started with WordPress.org is HostGator.
Best Affordable Web Hosting
Hostgator | Affordable Web Hosting
HostGator provides services such as website hosting, domain registration, and website building tools. They offer a variety of hosting plans to suit different needs and budgets, and their customer support team is available 24/7 to assist with any issues or questions. HostGator is a popular choice for individuals and businesses looking to establish an online presence.
Pros:
Affordable hosting plans for individuals and businesses of all sizes.

Customer support team is available 24/7 to assist with any technical issues or questions.

User-friendly control panel for easy website management.

45-day money-back guarantee for new customers.

Strong reputation for reliable uptime and fast website loading speeds.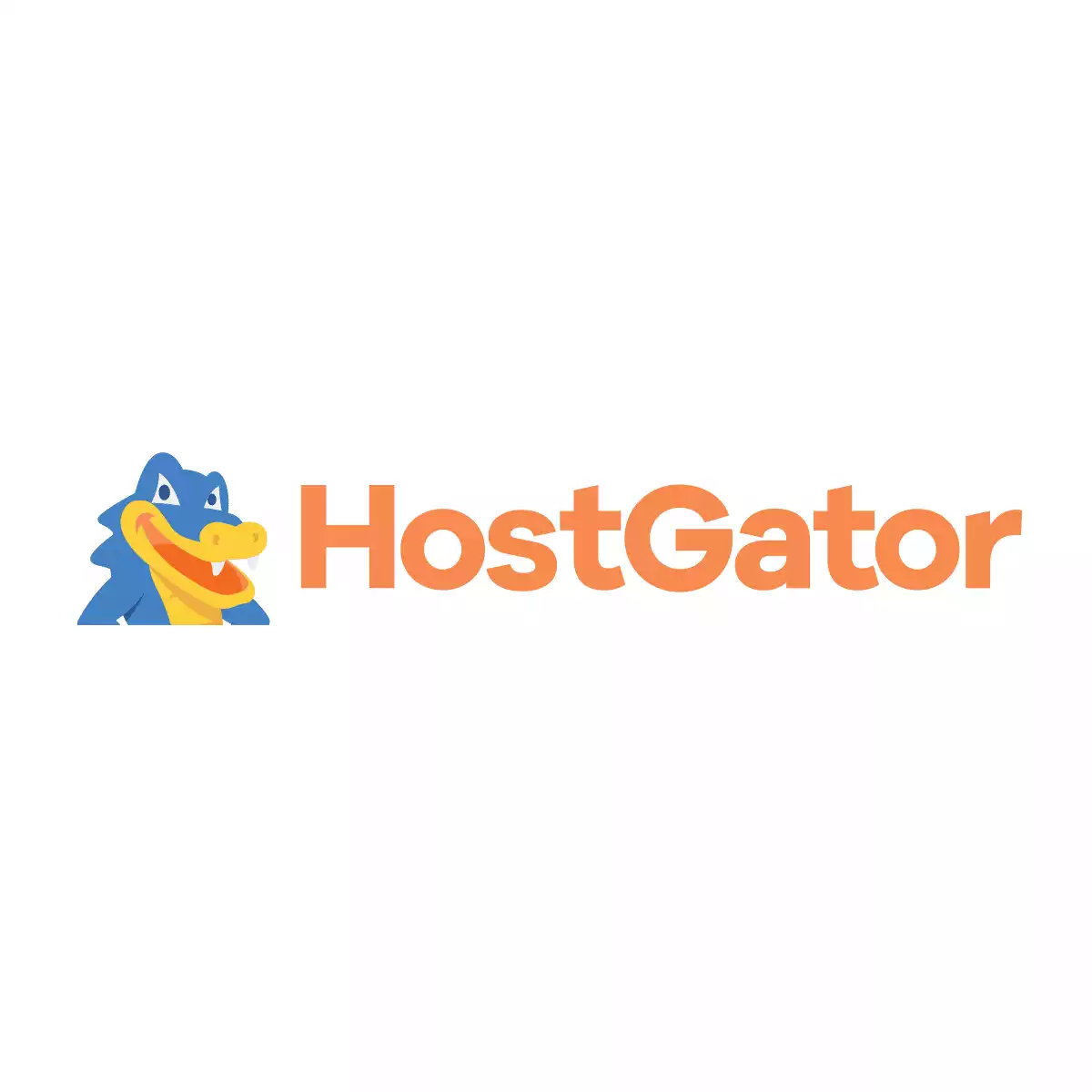 Further read:
What Is WordPress? A Beginners' Guide To Start Using WordPress
The 8 Best WordPress Hosting Companies Of 2022 (Compared And Reviewed)
Wix Blog
Wix is a popular website-building tool for beginners looking for all of their hosting and blogging needs in one place, with a focus on speed and design above functionality.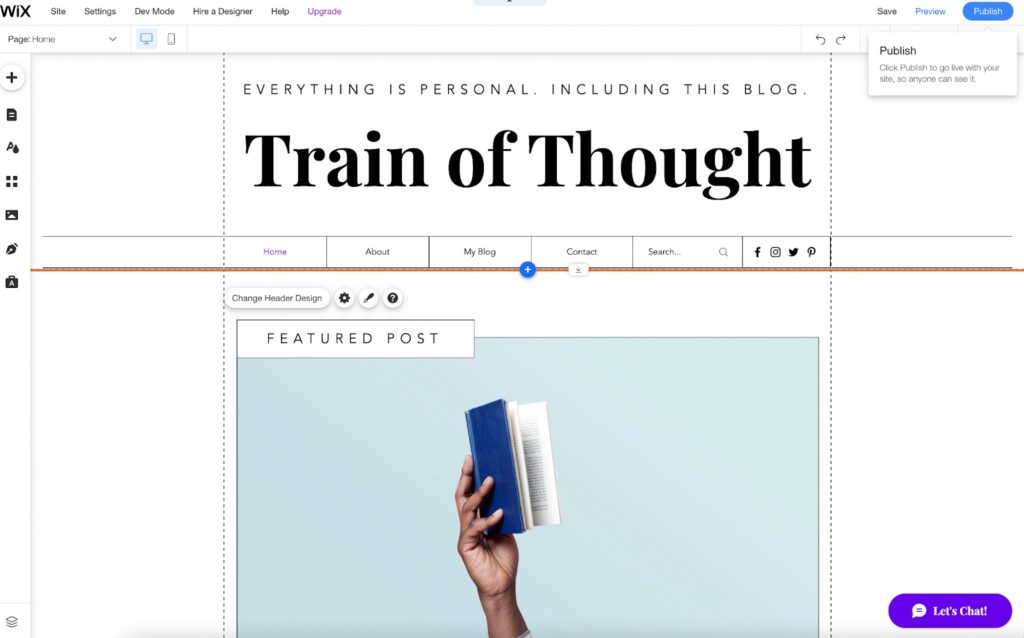 You have two options for creating a blog with Wix. You can start by choosing from over 800 ready-made templates in the Wix Editor or use Wix ADI (Artificial Design Intelligence) to fill out a short questionnaire and have a blog developed for you.
They have hundreds of templates available for a variety of website types. For example, they include templates for travel blogs, personal blogs, and fashion blogs. We like how you can drag content around and design the blog you want without coding skills.
You can start writing posts on desktop or mobile, add Wix's stock photographs and videos or your multimedia, and organize them into categories after you've chosen or developed your template or had one selected for you using Wix ADI.
Once you've finished writing, you can tweak your SEO settings to increase organic traffic, send your material to your subscribers via Wix's email service, and share it on social media.
Start using Wix here for free!
Further read:
Wix Tutorial: How To Use Wix To Create A Website (Step-By-Step Guide)
Weebly Blog
Another popular blogging platform is Weebly, which offers everything a blogger needs to start a blog on one site, including website designing tools, templates, and hosting. You can write and publish articles using the blog feature, and you can use their selection of free blog themes to do the blog design.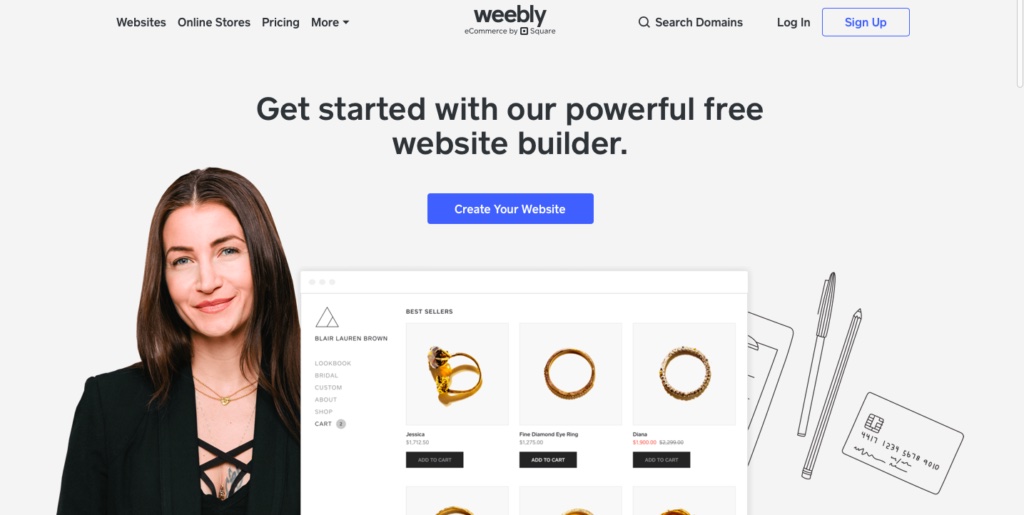 Weebly, like Wix, is inexpensive and easy to use, but it stands out in several ways.
For example, the website editor enables drag-and-drop capabilities for articles and pages. All of the Weebly themes are also mobile-friendly.
In addition, you can add features such as forms and photo galleries to make more complicated layouts. You can also expand your navigation menus to include more sub-levels, allowing you to arrange more significant amounts of content.
Weebly includes marketing tools to help you promote your blog. For example, you can create a newsletter, promote your postings on social media, and SEO-optimize your website.
Further read:
Weebly Tutorials: How To Use Weebly (Step-By-Step Guide)
Medium Blog
Medium is a hybrid of a blogging platform and a social networking site. It gives bloggers and journalists an easy way to publish their content on a platform with a wide readership without creating their website.
Because you'll be blogging on an existing website, you won't have to create a website from the ground up, making it a straightforward option. Medium also has a sizeable established readership, which means your content will be more visible right away.
Of course, you won't have complete ownership or monetize your audience as effectively as you would if you blog on your site.
That isn't to imply you won't be able to earn money. On the contrary, the Medium Partner Program allows bloggers to get compensated for the amount of engagement their posts generate. There's no reason you can't make a nice living from a post with many viral potentials.
Blogger.com
Blogger.com is one of the most well-known blogging platforms, and it only requires a Google account to start using. In addition, it's a free platform for new bloggers.
The most appealing feature of Blogger.com is how simple it is to set up and configure a basic blog. To get started, sign up for a Google account, choose a template, and start publishing. You can buy a custom domain, tweak your SEO settings, integrate your blog to Google Analytics, use Adsense to monetize your posts, and even alter your site's HTML and CSS. However, you won't be able to do much else.
Blogger.com is more feature-rich than most free blogging platforms but lacks numerous content management functions. As a result, Blogger.com is ideal for anyone who wants to start a lifestyle blog.
Tumblr Blog
Tumblr is a microblogging site with social networking capabilities built-in. It's absolutely free, and it's ideal for hobby blogging. It is another option that straddles the line between a blogging platform and a social networking site.
Tumblr was among the most popular social media networks at its peak. It was the place you go to express yourself and interact with others, and it has now powered over 529 million blogs.
It may not be as popular as it used to be, but it still boasts a large user base of around 470 million registered accounts. Anyone may sign up for a free account on the publishing platform and make unique multimedia blog material to reach this large community of prospective readers.
You can use the platform's social networking capabilities, such as social sharing and reposting tools, to engage with your audience in addition to generating content.
Ghost Blog
Ghost is a brand-new blogging platform that launched in 2013. It is intended primarily for bloggers and journalists and takes a fundamental approach to content management.
Consider Ghost to be a more youthful and exciting version of WordPress. The founders aimed to improve professional publishing by creating a superb open-source platform specifically for that purpose.
The difference between WordPress and Ghost is that WordPress aims to be all things to all people, whereas Ghost focuses on providing the most satisfactory publishing experience possible. For example, Ghost has incorporated a powerful editor with customizable post formatting.
Ghost also includes a set of features to assist writers in building relationships with their readers, such as email forms, membership tools, subscription support, SEO capabilities, and more.
LinkedIn Blog
LinkedIn is a professional social networking platform with a built-in blog feature.It has a built-in audience of business professionals from nearly all fields, such as digital marketing, technology, and finance.
Many of them are very active on LinkedIn, regularly sharing thoughts and stories with others through their LinkedIn feed.
So, if you want to establish yourself as a thought leader or influencer in your industry as a business blogger, try blogging on LinkedIn.
Pixpa
Pixpa is an all-in-one, DIY website builder to help you build a full-featured, professional website complete with blogging tools, e-commerce and more, effortlessly without touching a single line of code.
The platform offers an extensive range of professional, mobile-optimized, responsive templates that are perfect for blog websites. All Pixpa templates are fully-customizable and come with comprehensive template guides to help users work with them. Pixpa allows you to fully personalize and modify all the visual elements of your blog including layouts, color schemes, fonts and more.
Pixpa's blogging platform uses a WYSIWYG editor that lets you create, edit, publish and schedule blog posts– all from one single platform. You can also add multiple authors, add a customizable sidebar, use RSS feeds, enable and moderate comments and more.
Pixpa is the perfect blogging platform for you if you want to create a blog website that you have complete creative control over.
Best Blogging Platform: FAQs
Blogging Income: How much money can you make from blogging?
The amount of money you may make from blogging is determined by website traffic. It's not unrealistic to earn an extra US$200–$2,500 per month in your first year of blogging. After that, you can considerably grow your monthly blog revenue in years 2, 3, 4, and 5.
For example, we're now making about US$10k a month after starting this blog for a year. 
How to start a blog for free?
Several free blogging platforms let you start a blog for free, for example, Medium, Blogger.com, and Tumblr.
However, we highly recommend starting a blog with WordPress.org using HostGator as the web hosting service. It's very affordable, as the web hosting plan only starts at $2.75 a month. The key here is that you have more potential to make more money from your blog with WordPress than with the free blogging platforms. We wouldn't be able to make over US$10k a month if we used a free blogging platform instead. 
Sign up with Hostgator here with our discount code "VENTURER" to enjoy 65% OFF!
Best Blogging Platforms: Conclusion
Choosing the right blogging platform is critical because it may make or break your blog's success.
Our top choice remains WordPress. It has everything you need to get started blogging and provides you the flexibility to make money from your blog in the future.
Sign up with Hostgator here with our discount code "VENTURER" to enjoy 65% OFF!