WordPress is one of the most popular website-building platforms because it does not require substantial technical knowledge. Even so, if you want to create a WordPress website for your business or start a blog with WordPress, you should carefully decide which WordPress hosting service is best for you.
The best WordPress hosting services should provide features like fast website speed, free SSL certificates, one-click WordPress installation, uptime reliability, and security. Selecting the right WordPress hosting service for your needs can help you enhance your SEO and boost your sales. However, with many WordPress hosting available, the options might be bewildering.
We researched the most prevalent WordPress hosting services to help you identify the right WordPress hosting provider. Then, we reviewed each company based on several criteria, including features, pricing, website speed, ease of use, and security.
This guide will introduce and recommend the best WordPress hosting for different needs. For example, if you want the best value web hosting option, we recommend HostGator.
Sign up with Hostgator here with our discount code "VENTURER" to enjoy 65% OFF!
If you want the best website performance to scale your SEO and grow website traffic, we'd recommend Kinsta. We also use Kinsta to host this website.
Start your WordPress site with Kinsta here!
There are more WordPress hosting providers. Here's a comprehensive, in-depth review of the top 8 WordPress hosting services.
Hostgator: Best Value WordPress Hosting Provider
HostGator is one of the most popular WordPress hosting providers in the market, hosting over 10 million domains.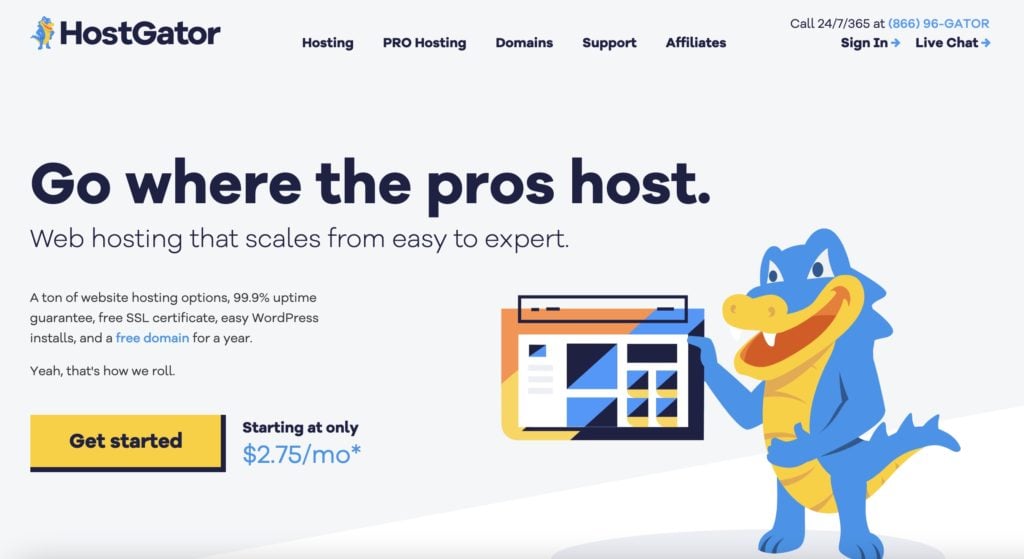 It's a wise choice for every website owner, with free SSL certificates, one-click WordPress installation, a 99.9% uptime guarantee, and 24/7 support. In our opinion, they are the best web hosting for WordPress blogs and business websites.
Hostgator WordPress Installation
Hostgator provides one-click WordPress installation in your dashboard. Anyone can do it quickly.
Hostgator Customer Support
HostGator is known for its excellent customer service. A team of web hosting experts is available by phone and live chat 24 hours a day, seven days a week. Even though connecting with a live support team member may take several minutes, the team does a superb job pointing users to problem-solving resources.
Hostgator Pricing
Hostgator shared hosting starts at US$2.75 a month. Managed WordPress hosting starts at US$5.95 a month for up to 100k visits and 1GB backups.
Sign up with Hostgator here with our discount code "VENTURER" to enjoy 65% OFF!
Further read:
How To Start A WordPress Blog On Hostgator (Step-By-Step Tutorial)
Bluehost: Best WordPress Hosting Service for Beginners
Bluehost is a fantastic choice for anyone seeking a low-cost web hosting provider with a simple user interface.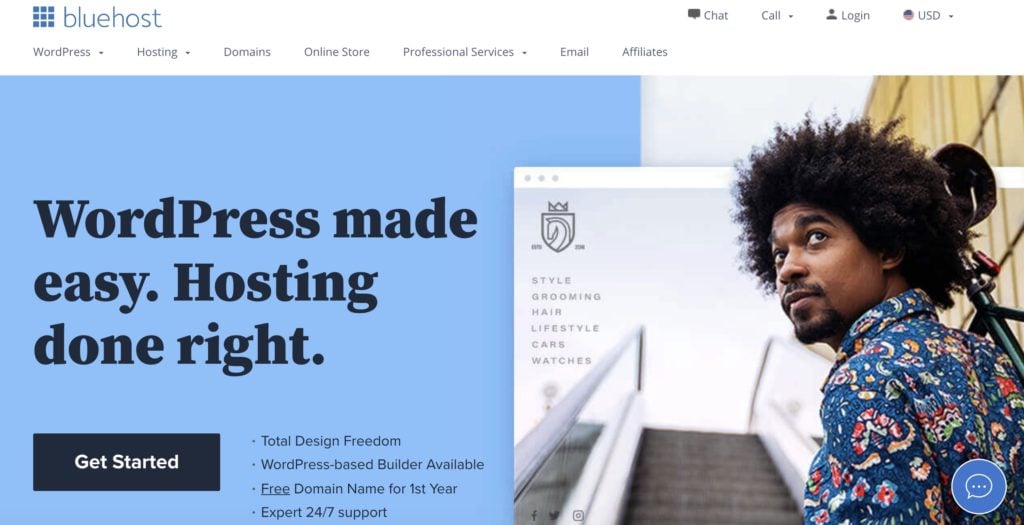 Everything you'll need to get your WordPress website up and running is included with Bluehost, such as:
Free domain for the first year
24/7 customer support
Website design template
Website builder
Analytics tools
What we like about Bluehost the most is its ease of use. BlueHost will walk you through the complete setup procedure. You'll be able to install WordPress right away after signing up. Within 15 minutes, you'll have a basic WordPress website up and running.
Bluehost WordPress Installation
Like Hostgator, Bluehost provides one-click WordPress installation during the setup process and in the dashboard. It's straightforward to do.
Bluehost Customer Support
While we doubt you'll ever need to speak with a customer service agent, we can assure you that if you do, you'll be in good hands. If you have any problems (e.g., cyberattacks, website crashes), Bluehost's award-winning customer service team is ready to assist you 24/7.
Bluehost Pricing
Bluehost shared hosting starts at US$2.95 a month. Managed WordPress hosting plans start at US$9.95 for up to 50k visitors a month.
Start your WordPress website with Bluehost here for as low as US$2.95 a month!
Further read:
Bluehost review
Kinsta: Best WordPress Hosting Company for Better Website Performance
Kinsta is a WordPress hosting service specializing in optimized managed hosting by harnessing the power of the Google Cloud Platform. They take Google's infrastructure and improve its accessibility and usability. Instead of using the standard cPanel UI, Kinsta provides users with a unique panel that focuses on what's vital while masking everything else.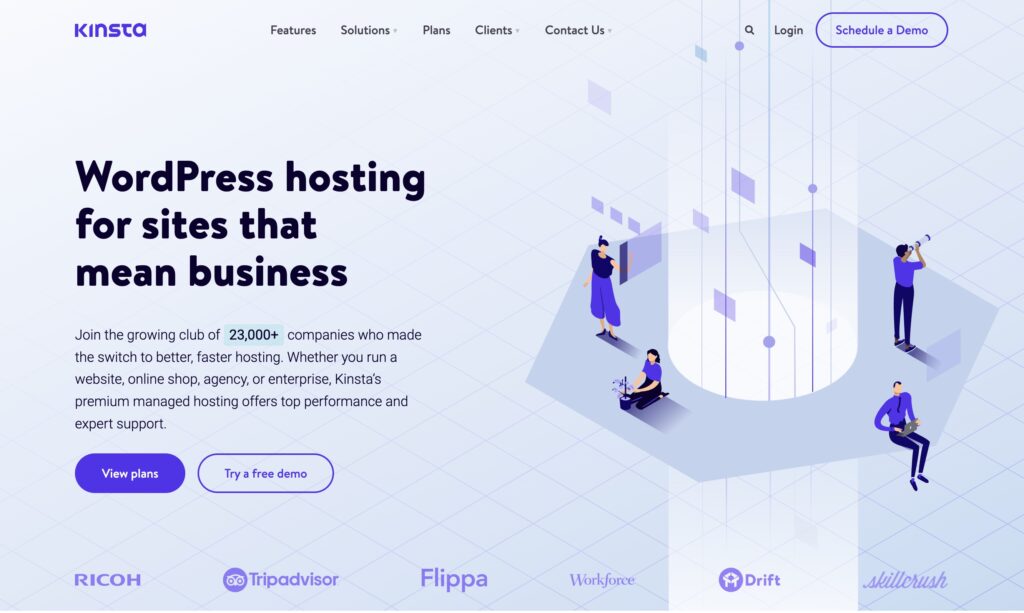 This hosting provider is "managed," which means that Kinsta is in charge of all server management tasks.
In addition, Kinsta's servers automatically allocate more CPU and RAM to your site in the event of an unexpected surge in traffic. This is ideal for websites with irregular traffic increases, such as when an article goes viral or when a product is released.
As a result, you won't have to worry about your site slowing down or collapsing if you get many visitors. Kinsta, on the other hand, takes care of everything for you. This can be beneficial for websites with inconsistencies in their website traffic performance (e.g., viral articles and videos, big product launches).
They also have a lot of pricing options for scalability. They have ten options to choose from and a customized enterprise solution.
Kinsta WordPress Installation
While you're setting up your Kinsta account, you can tell them to install WordPress for you.
Kinsta Customer Support
Kinsta provides live chat and ticket assistance 24 hours a day, 7 days a week. The agents are WordPress experts who can assist you with any issues you may be having.
Kinsta Pricing
Kinsta managed WordPress hosting pricing starts at US$30 per month for up to 25,000 visits for one site. It's more expensive than Bluehost and Hostgator. However, we still choose Kinsta for our site because it delivers exceptional website performance that helps enhance our SEO and boost our website traffic. Therefore, we think the money is worth it.
In addition, Kinsta offers exceptionally flexible pricing. As mentioned, Kinsta automatically allocates more CPU and RAM to your site in an unexpected surge in traffic – at an affordable cost. For example, it only costs US$1 per 1k visits overage, US$2 per GB for disk space overage, and US$0.1 per GB CDN overage. Therefore, it might not be necessary to upgrade to a higher-tiered plan, and you'll only need to pay for the resources you need.
Start your WordPress site with Kinsta here!
WP Engine: Best for Hosting Mulitple WordPress Websites
WP Engine is a well-known managed WordPress hosting provider. It isn't a cheap service, but you get quality performance, support, and a slew of developer-friendly features for your money.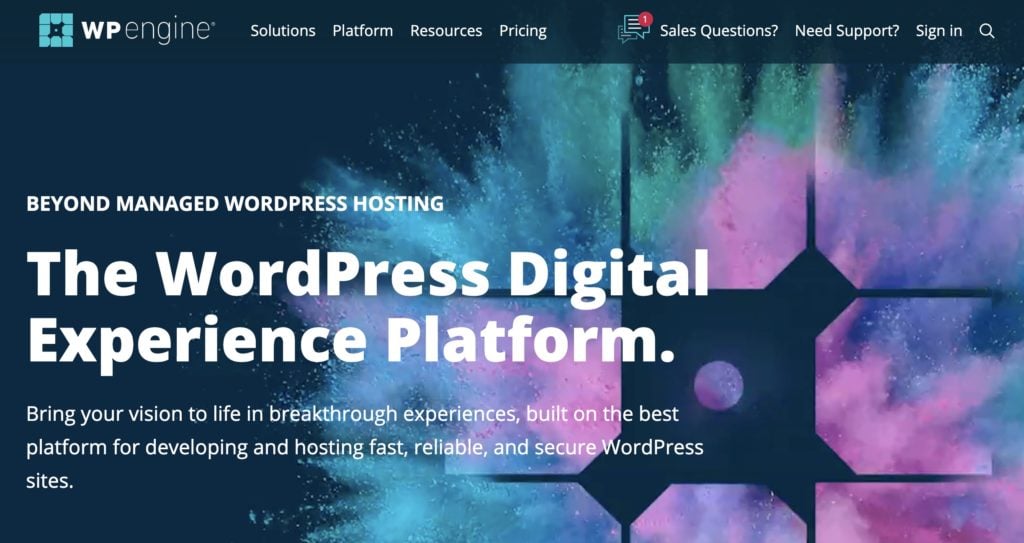 It comes with several features geared for WordPress users and developers, such as staging and production environments, in-house caching solutions, SSH access, and more.
WPEngine offers WordPress hosting through Google Cloud and Amazon Web Services. This ensures the best levels of availability, performance, scalability, and security for your WordPress website.
However, we won't recommend beginners for using WP Engine. It's more expensive than the rest of the web hosting providers on the list, and it's only best for professionals who want to host multiple WordPress websites with high traffic volume.
WP Engine WordPress Installation
WP Engine's entire sign-up process is quite simple, and you won't have to worry about installing WordPress because the WP Engine staff will do it for you during your sign-up.
After completing the sign-up process, you will receive an email including all of your new site's login credentials and critical information.
WP Engine Customer Support
WP Engine offers excellent support via helpdesk and online chat. If you're on a higher subscription plan, you'll have access to phone support too.
WP Engine Pricing
WP Engine's managed WordPress hosting starts at US$25 for up to 25k visits for one site a month. Although the starting plan's price is lower than Kinsta's, the second plan (Growth plan) of WP Engine already costs US$95 a month – which is a considerable jump in price. However, the Growth plan includes 10 sites and 100k visits a month. Therefore, it's ideal for those who want to host multiple websites with high traffic.
Start WordPress hosting with WP Engine here!
Hostinger: Best for Cheap WordPress Hosting
Hostinger is a famous and rapidly expanding hosting company. Unlimited bandwidth, free email, domain and SSL, and a 30-day money-back guarantee are just a few of Hostinger's many fantastic features.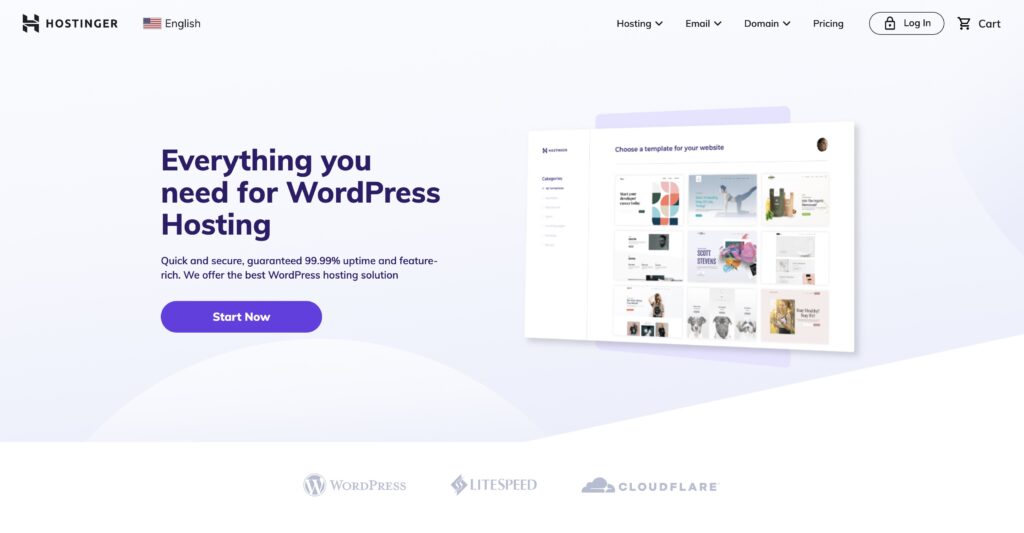 You can also take advantage of Hostinger's WordPress-specific features. For example, a guided install with a site-building wizard makes things go faster.
You won't have to conduct much maintenance on your own after WordPress is up and running. The majority of changes, such as core and plugin upgrades, are managed by Hostinger and occur automatically. In addition, Hostinger employs LiteSpeed Cache and has it pre-configured to ensure that your site loads quickly.
Hostinger Customer Service
Hostinger offers 24/7 live chat support.
Hostinger Pricing
Hostinger is the cheapest WordPress hosting provider we can find on the market. Its starter plan starts at only US$1.99, which includes one website for up to 10k visitors a month, an SSL certificate, and one email address.
Start WordPress hosting with Hostinger for US$1.99 here!
NameCheap: Best for Low-Cost Web Hosting
Namecheap is primarily known for its domain registration and providing low-cost web hosting.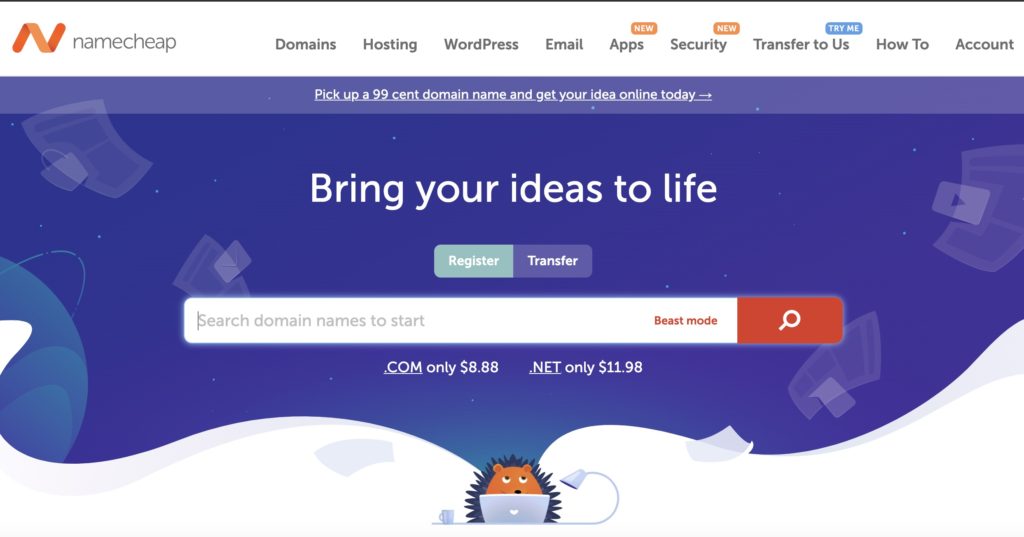 Because Namecheap believes that everyone should have an online presence, they offer affordable access to everything you need to run a website, such as SSL certificates, comprehensive web hosting packages, privacy protection services, and more.
NameCheap offers managed WordPress hosting under the brand EasyWP. It provides practically everything you'll need to create and run a WordPress website.
NameCheap WordPress Installation
When you create your EasyWP account, Namecheap installs WordPress on your site right away.
NameCheap Customer Service
Namecheap has a fantastic resource called the Knowledge base, where you should go if you're having issues that you believe are common and have been experienced by others in your situation.
However, things may get a little tricky if you can't locate what you're looking for in the Knowledge base.
Namecheap provides web chats that are quick to reply at first, but assistance fades as questions pile up.
You can also submit a ticket if you have any queries or issues, but you won't get a speedy response. Also, there is no phone assistance at Namecheap.
NameCheap Pricing
NameCheap's lowest level of plan starts at US$1.88 a month only, and you get a lot. You can host up to 3 websites, 20 GB SSD, a free domain name, and free CDN. In addition, all plans come with unmetered bandwidth, free website builder, domain name and privacy protection, a 30-day money-back guarantee, and more.
NameCheap managed WordPress hosting (EasyWP) plans start at US$17.44 a month, which includes 10GB SSD storage, one WordPress website for up to 50k visitors a month, 99.9% uptime, SFTP and database access, easy backups and restores, and more.
Start WordPress hosting with Namecheap here!
Further read:
Cloudways: Best WordPress Hosting Service for Flexibility
Cloudways uses robust servers to provide web hosting that is economical, powerful, and simple to set up. However, it does not include domain registration or email.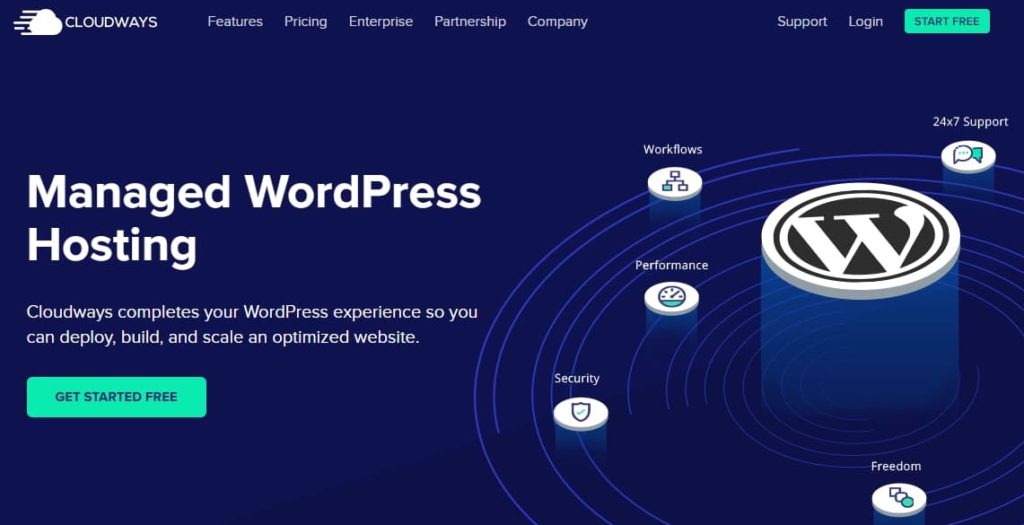 Unlike other web hosting services above, Cloudways allows you to choose from five platforms, including Amazon Web Services, Google Cloud Platform, Digital Ocean, Linode, Stackpath, and Vultr. You can also choose from several server locations across the globe.
In addition, it offers budget-friendly pay-as-you-go plans. You can even join up for a free trial without having to swipe your credit card.
Cloudways is clearly designed for the more tech-savvy user. It's for companies aware of their traffic patterns, the level of performance they require, and the locations where they distribute content.
Cloudways web hosting performance is fantastic, making it ideal for businesses that need to auto-scale due to seasonal traffic spikes, such as online retailers.
The pay-as-you-go structure of their plans can also be advantageous for individuals who don't want to commit to a year-long subscription with some of the more well-known providers, such as Amazon Web Services or Google Cloud, or who anticipate traffic spikes.
Cloudways WordPress Installation
Installing WordPress on Cloudways is more complicated than the other WordPress hosting providers. Although it's not as intuitive as "one-click WordPress Install," it's still easy with a multi-step configuration in your Cloudways dashboard.
Cloudways Customer Support
Cloudways provide customer support through live chat and email 24/7.
Cloudways Pricing
Cloudways' pricing is one of its strong points, as it is less expensive than its competitors. The cost of starting with Cloudways is US$10 per month. Cloudways' costs are determined by the resources you require. The company offers a variety of plans to accommodate all types of websites, from a small WordPress blog to a large app, which is one of the numerous reasons for its stellar reputation.
Cloudways has five different cloud server providers from which to choose:
Digital Ocean: starts from US$10 a month
Linode: starts from US$12 a month
Vultr: starts from US$13 a month
Google Cloud: starts from US$33.18 a month
AWS: starts from US$36.51 a month
Further read:
Cloudways Review: Is It The Best Managed Cloud Hosting?
Domain.com
Domain.com is a well-known "one-stop-shop" that offers all you need to design and launch a WordPress website. Domain names, web hosting, website builders, security tools, and WordPress-specific services are all included.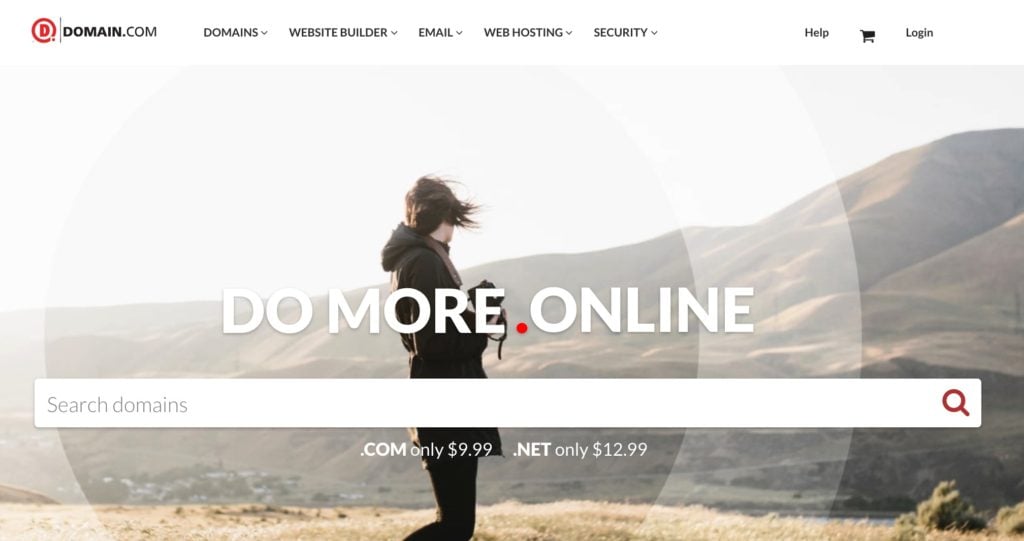 It seems to be no different than other WordPress hosting services at first glance. It covers most of what small and medium-sized businesses would require when constructing a website, with shared hosting, WordPress hosting, and Website Builder options to select from.
Domain.com WordPress Installation
Domain.com offers a one-click installation of WordPress.
Domain.com Customer Support
Domain.com's support is outstanding because of its comprehensive, well-organized, and helpful knowledge base, which includes step-by-step tutorials, WordPress tutorial videos, and educational articles.
Domain.com also provides one-on-one support over the phone and via live chat.
Domain.com Pricing
Domain.com plans start at US$3.75 a month, which includes one website, unlimited storage, scalable bandwidth, a free SSL certificate, and a free domain for the first year.
Best WordPress Hosting: Conclusion
If you want to start a WordPress website, you should choose a WordPress hosting service that fits your needs.
Here's a recap of the best WordPress hosting services:
Further read:
Best Website Builder For Small Business
Webflow Vs WordPress: Which Is A Better Website Builder?
Webflow Review: How To Use Webflow To Build Your Website With Ease?
WordPress Tutorial: Building Websites With WordPress In 10 Minutes