Thinking about the best web host for your site? Bluehost may be your answer.
Not only does Bluehost provide a reputable web hosting service, but it's also a top pick for WordPress users. Its top features lie in its hosting infrastructure, domain registration, 24/7 customer support, integrations with free software like WordPress, and many more professional services.
You can get started with Bluehost here for $2.95 a month only!
Whoever uses Bluehost will find it user-friendly. It caters to beginners, professional WordPress users, and even large e-commerce website builders. So you can build and expand your website without breaking a sweat.
What key metrics should you consider when choosing the best web hosting service?
First, you should look into the speed and performance. For example, what is your website loading time with Bluehost? How would your site perform under heavy traffic?
Second, you should look into its reliability as to whether the website can run with minimal downtime.
Third, the availability of wide-ranging features is essential to advanced web hosting services.
Last but not least, we'll also review its customer support and pricing.
In this article, we'll review from head to toe to compare and review various Bluehost hosting plans for you.
Without further ado, let's see if Bluehost is the right choice for you!
Bluehost: a Quick Overview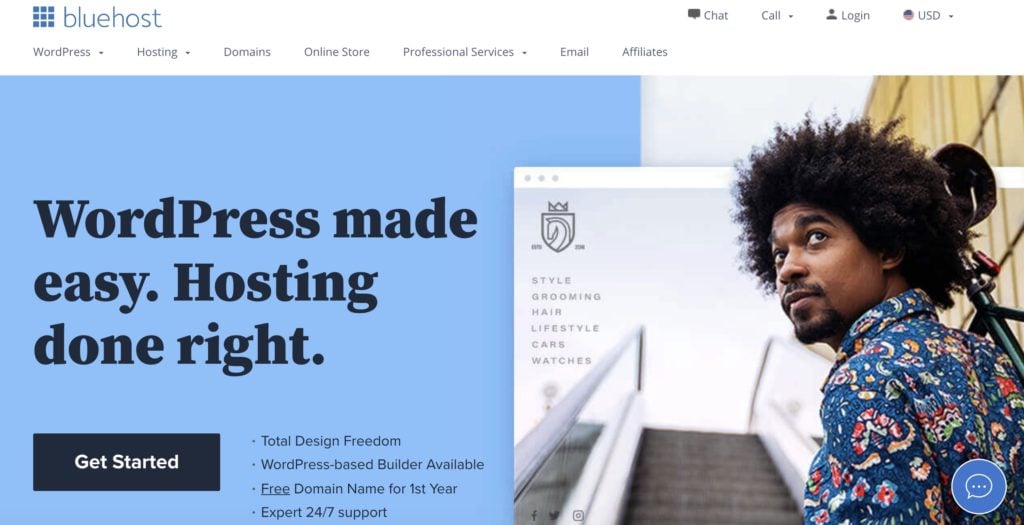 Founded by Matt Heaton and Danny Ashworth in 2003, Bluehost has grown into one of the largest web hosting providers worldwide. It's very established and has been on the list of WordPress Web Hosting recommendations since 2006.
With over 2 million websites from all parts of the world, Bluehost is undoubtedly a popular pick for website builders and e-commerce companies. 
Apart from providing professional web hosting services, Bluehost has full integration and many advanced functionalities for WordPress users. In addition, it offers robust security, customization, and instant customer support. What's more, it's straightforward to use.
Pros and Cons of Bluehost
No web hosting services are impeccable. They each have different features which cater to different needs and website goals.
It's essential to understand the strengths and weaknesses of any web hosting provider like Bluehost.
Here's a quick breakdown of its pros and cons:
Pros of Bluehost
Free domain: upon signing up, you receive a free domain name throughout the first year
Free CDN and SSL: you get a free SSL certificate and Cloudflare CDN to prevent malware and enhance security
Ease of use: quick onboarding for new users, intuitive interface which you can customize according to your website goals and site tagline, automatic installation of WordPress
Reliability: Bluehost powers numerous websites with low downtime
Excellent security: all hosting plans come with resource protection and promising security measures; You can unlock more efficient security features (CodeGuard Backup Basic) for $2.99/ month
Pricing: Bluehost hosting plans are generally affordable, especially for those companies who just started out
30-day money-back guarantee: you can get a full refund on your hosting service if you cancel the plan within 30 days
24/7 customer support: you can receive helpful customer support via email or phone, which takes you less than 5 minutes of waiting once you get connected to Bluehost's live chat support; you can also seek advice from the knowledgeable forum, FAQs, videos, and in-depth blog posts on its website
Cons of Bluehost
Higher price for domain renewal: Bluehost domain renewal costs a little more than your signup price. But it isn't a big problem since the renewal price is still quite affordable.
Upselling add-ons: you may experience an upselling process during sign-up, but you can uncheck all the add-ons you don't need within a few minutes.
You can get started with Bluehost here for $2.95 a month only!
Bluehost Hosting Plans and Features
Bluehost offers a broad spectrum of hosting plans for beginners and medium to large businesses at an affordable starting price.
If you're building your first website ever, we recommend starting with the Bluehost Shared Hosting Plan. It's affordable and easy to get started!
Here's a detailed overview of Bluehost hosting plans:
Shared Hosting
Shared Hosting provides the easiest and the most economical way to kick-start a website. It's called "shared hosting" because you will be sharing server resources with other websites.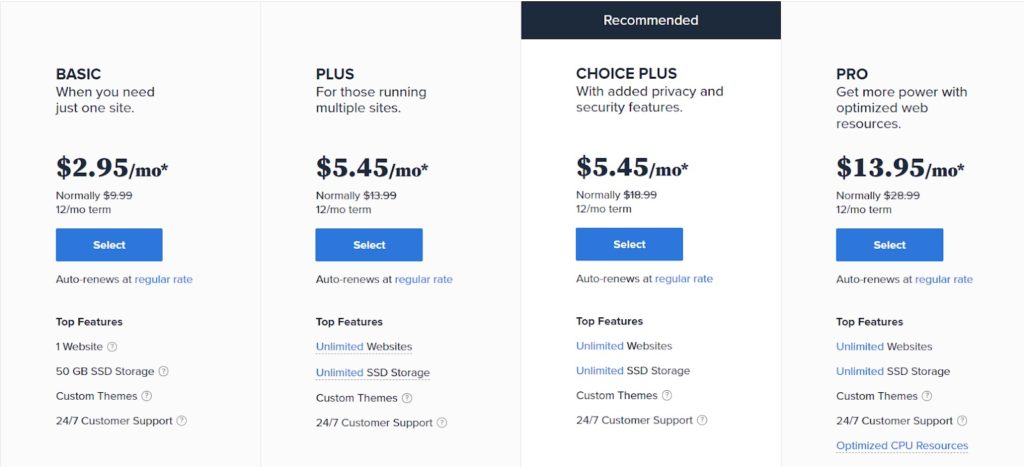 Shared hosting offers four paid plans:
Basic: $2.95/month on a 12-month term; $4.95/month on a 36-month term
Plus: $5.45/month on a 12-month term; $7.45/month on a 36-month term
Choice Plus: $5.45/month on a 12-month term; $7.45/month on a 36-month term
Pro: $13.95/month on a 12-month term; $18.95/month on a 36-month term
All the above plans include a one-year free domain, free CDN and SSL certificate, customizable themes, and around-the-clock customer support.
On top of that, Plus, Choice, and Pro plans include unlimited websites and SSD storage and provide free Office 365 for 30 days.
Sign up for Bluehost Shared Hosting here!
Online Store Plan
As its name suggests, this hosting plan is suitable for e-commerce stores.
The good thing is that this plan is packed with WooCommerce — a viral e-commerce plugin for WordPress.
You can unlock all the essential features and start your e-commerce store with WordPress without breaking a sweat by joining Online Store Plan.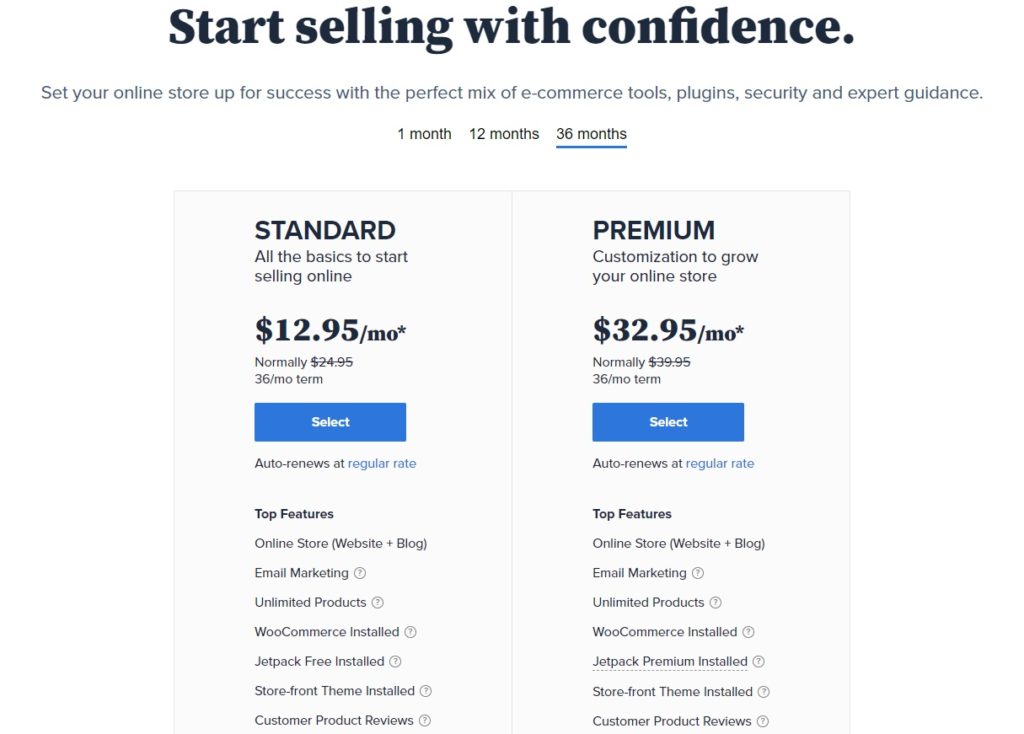 There're 2 pricing choices for 1-month, 12-month and 36-month terms:
Standard: $29.95/month on a 1-month term ; $15.95/month on a 12-month term; $12.95/month on a 36-month term
Premium: $24.95/month on a 1-month term ; $24.95/month on a 12-month term; $32.95/month on a 36-month term
If you want to start an online store, sign up for Bluehost Online Store Plan here!
Cloud Hosting
Being an upgrade of the Shared Hosting Plan, Cloud Hosting manages several cloud servers. It allows your WordPress website to automatically switch to another server if there's a hardware glitch or heavy traffic.
There're 3 pricing options:
Starter: $10.99/month on a 12-month term ; $10.49/month on a 24-month term; $9.99/month on a 36-month term
Performance: $15.99/month on a 12-month term ; $14.99/month on a 24-month term; $13.99/month on a 36-month term
Business Pro: $29.99/month on a 12-month term ; $27.99/month on a 24-month term; $25.99/month on a 36-month term
Managed WordPress Hosting
The Managed WordPress Hosting plan is specially designed for WordPress sites.
Managed WordPress Hosting protects your website from common threats and offers top features, including security, speed, scalability, and support for all professional WordPress sites.
All of its pricing plans include over 200 global edge servers, built-in high availability, free SSL, staging environment, and so on.
There're three pricing plans for Bluehost Managed WordPress Hosting:
Build: starts at $9.95 per month, best for up to 50k monthly visitors
Grow: starts at $14.95 per month, best for up to 150k monthly visitors
Scale: starts at $27.95 per month, best for up to 500k monthly visitors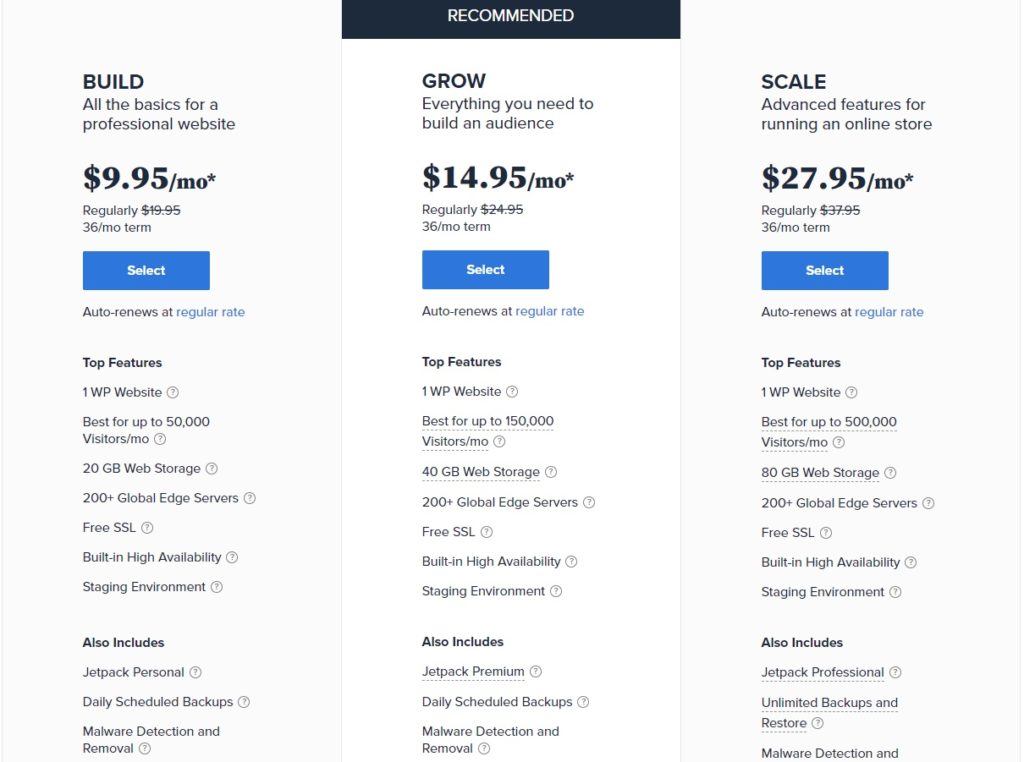 Start with Bluehost Managed WordPress Hosting here for high-performance WordPress site!
Dedicated Server Hosting
It's an excellent package for large-scale enterprises looking for more extensive storage, power, and control.
Dedicated Server Hosting promises stable website performance and complete privacy and control.
There are three pricing options in Bluehost dedicated server hosting:
Standard: starts at $79.99 per month
enhanced: starts at $99.99 per month for more storage and power
premium: starts at $119.99 per month for the highest of high-performance sites.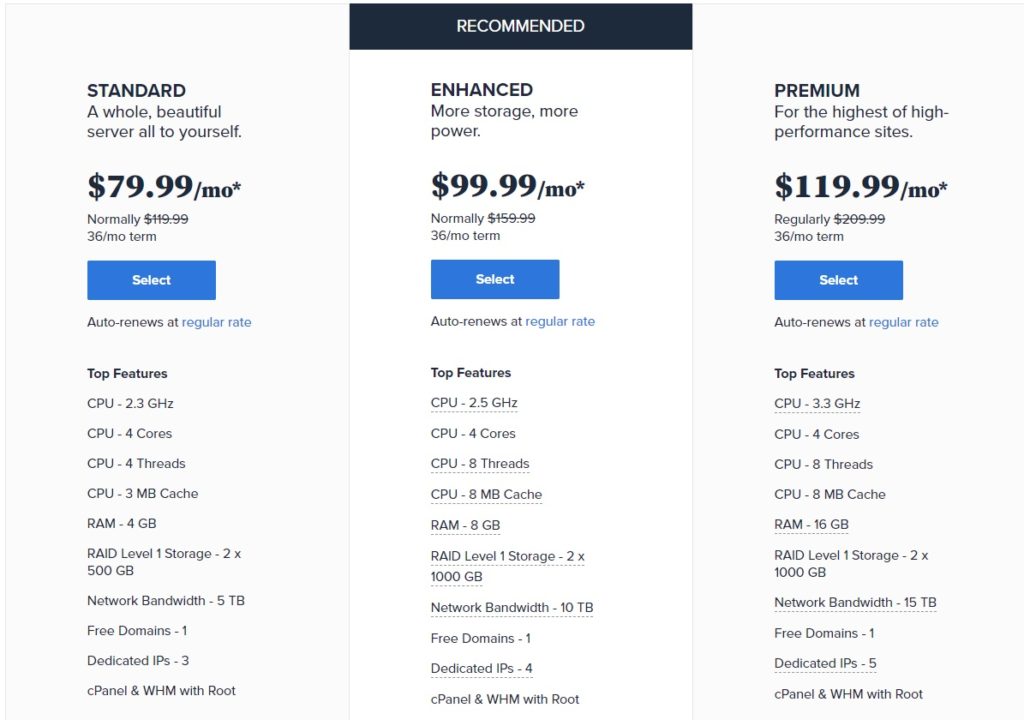 It doesn't matter if you later find out the plan is unsuitable after making a purchase. Bluehost guarantees a 30-day full refund!
Get started with Bluehost risk-free here!
How to create a WordPress site with Bluehost (Step-by-Step Tutorial)
Step 1: Select a Bluehost Hosting Plan
Now, you should be familiar with a variety of Bluehost hosting plans. To launch your site, navigate to Bluehost WordPress to choose the plan that's the best fit for you.
You can always refer to the previous section introducing different plans and pricing to decide what works best for you.
If the purchased plan isn't what you're looking for, you can cancel it anytime, as Bluehost has a 30-day money-back guarantee.
Start with Bluehost here for as low as $2.95 per month! We recommend Shared Hosting Plan if you just start on your website.
Step 2: Enter a domain name
After choosing a hosting plan, you need a domain name. It's your website's address and is essential for others to reach your site on the web.
If you already own a domain, you can enter its existing name. If you don't, you can enter your desired domain name and pick your domain name extension such as .com, .org, .edu.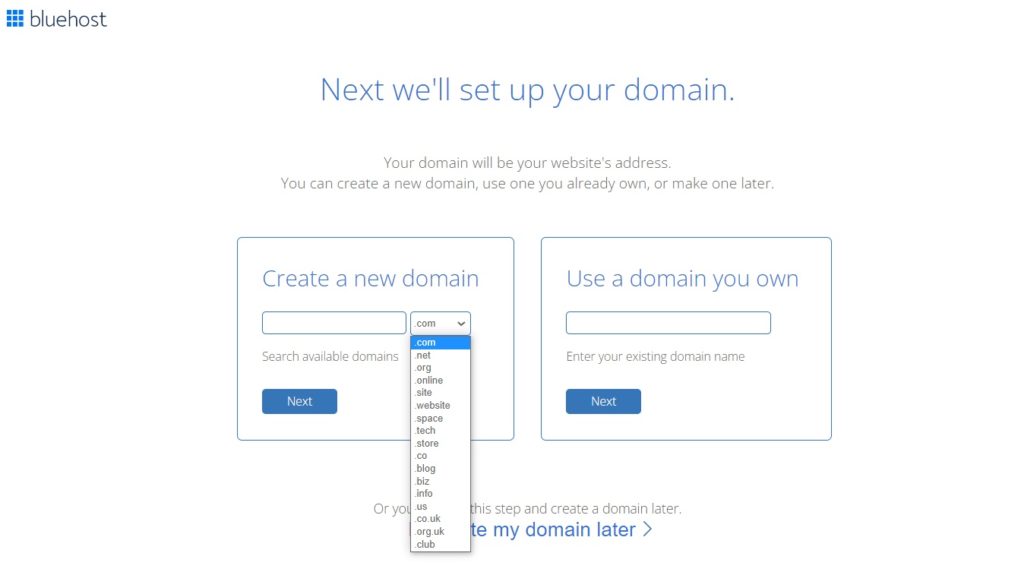 You can check domain name availability here below!
Step 3: Set up your hosting account
Next, enter your account information to launch your WordPress website with Bluehost.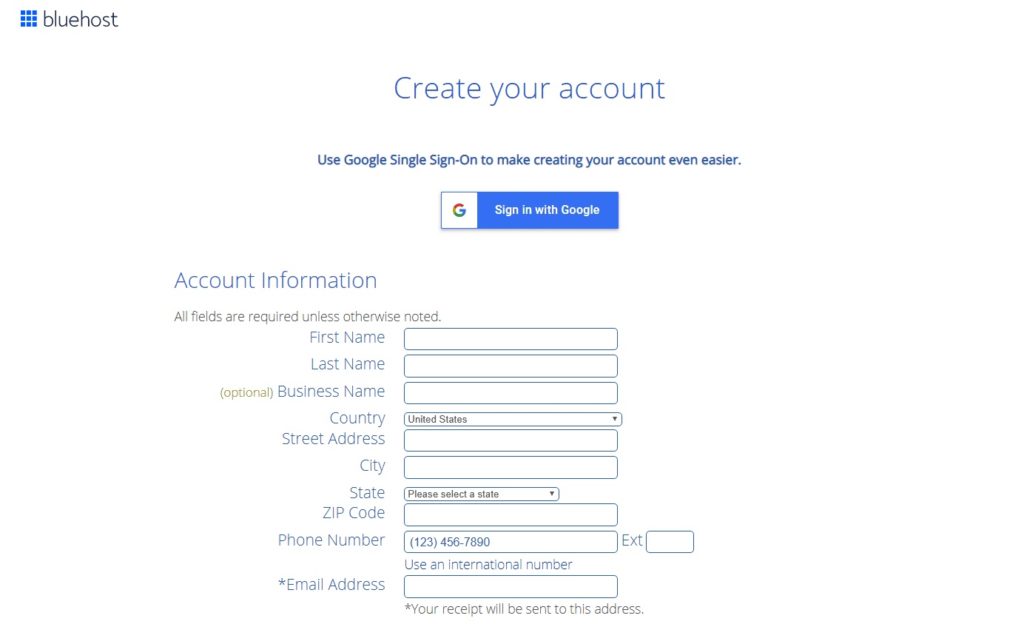 By now, you should be aware of the pre-ticked add-ons. Remember to uncheck them if you don't need these features. You can always add them at a later stage.
Step 4: Log in to install WordPress
Up till now, you should be able to log in to Bluehost. Then you can install WordPress with one click!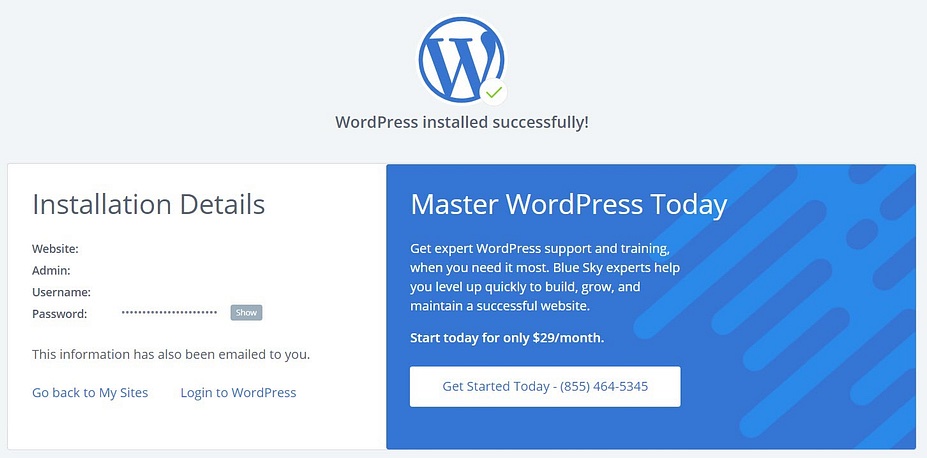 Then, navigate to the "Control Panel" on your left and select "my sites." Next, log in to your WordPress account to launch your website with Bluehost.
Step 5: Familiarize yourself with the dashboard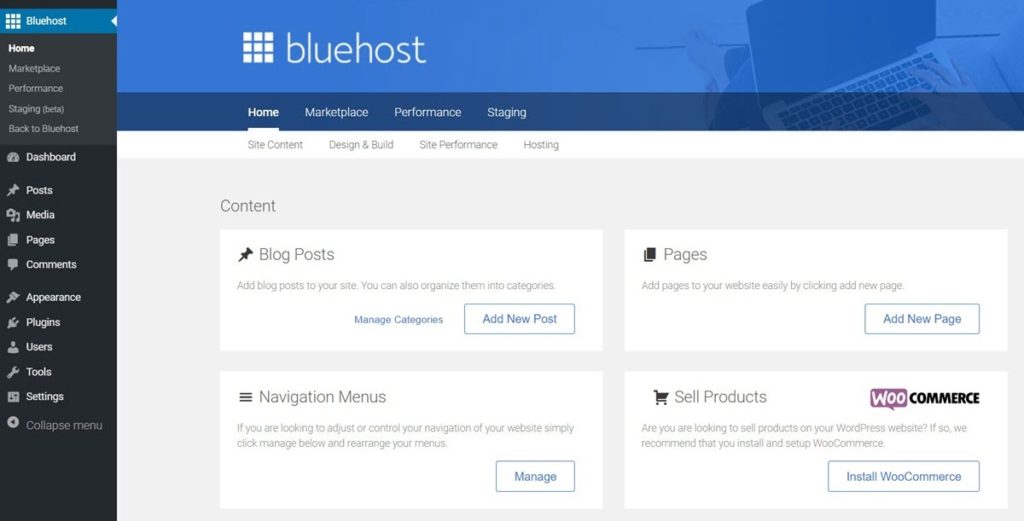 WordPress dashboard is a control panel to manage all your website content. There are many valuable features that you can take some time to explore!
In addition, you can find Bluehost on the left of your WordPress dashboard. It'll guide you through the initial stages of website building and assist in running your WordPress website.
In the Bluehost dashboard, you can:
Create new posts and pages
Start an e-commerce store with WooCommerce
Control the menus
Test your website in the staging environment
Step 6: Customize your WordPress themes and pages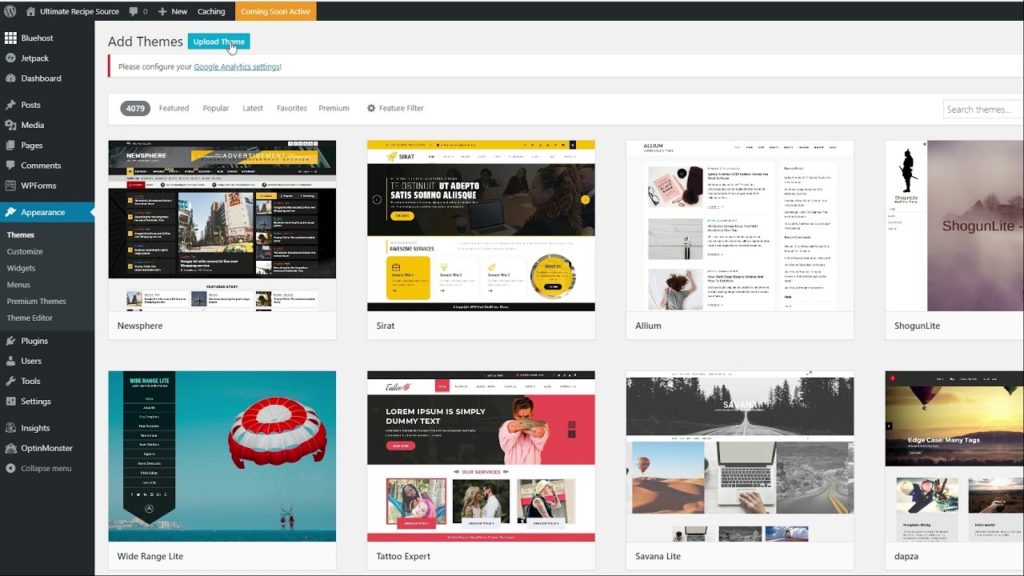 Last but not least, it's time to customize your WordPress website by selecting a theme that matches your font styles, color choices, and your business branding!
Click into and explore each option in the navigation bar on your left. Only when you get to know the features well can you build an impeccable site.
If you navigate to the Bluehost Menu, you'll find Marketplace, where you can access premium WordPress themes.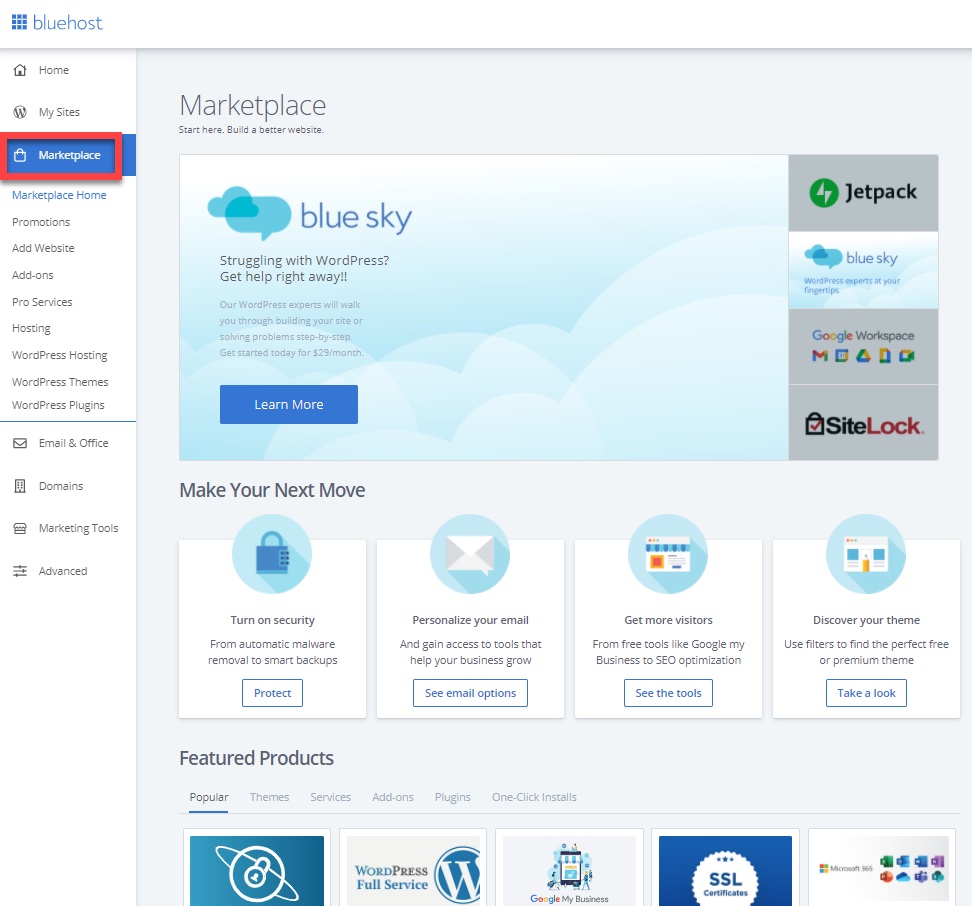 If you use Elementor, the best WordPress drag-and-drop visual editor, we recommend using the Hello Elementor theme.
You can use Elementor for free here!
Final Step: Launch your Site!
When you finish designing and customizing your WordPress site, simply click "Publish" to launch your site!
And don't worry, you can always edit your site after publishing.
Bluehost Review: Conclusion
That's about it. We've introduced you to the popular web hosting provider — Bluehost and walked you through its essential features and various hosting plans. You should gain a basic understanding of how to start a WordPress site with Bluehost.
In a nutshell, Bluehost has extensive product offerings and multi-tiered pricing options that cater to different website goals and needs. In addition, all plans come with 24/7 customer support from its knowledgeable support team.
If you haven't yet signed up for Bluehost, get started right here! It offers affordable starter plans and a 30-day money-back guarantee.
If you're unsure where to start, you can join its Shared Hosting Plan, which is the easiest and cheapest way to start a website.
Explore Bluehost and let the fun of building a website begins!
Further read:
The 8 Best WordPress Hosting Companies Of 2022 (Compared And Reviewed)