Are you looking for the perfect web hosting or WordPress hosting provider to help your business succeed? It's a tough decision, and there are so many options out there. But if you're stuck between Bluehost vs Dreamhost, then this is the blog post for you.
We'll be taking an in-depth look at both of these top hosting providers, comparing performance metrics like uptime and customer support as well as features such as pricing plans.
By the end of this article, we'll have all the information necessary to make an informed choice about which service will best meet your needs – it's time to get started with our Bluehost vs Dreamhost comparison.
Bluehost Compared to Dreamhost: Overview
Bluehost and DreamHost are two of the most popular web hosting providers on the market. Both offer reliable, affordable services that make it easy to get your website up and running quickly. But which one is right for you? Let's take a look at how Bluehost and DreamHost compare in terms of pricing, features, customer support, and more.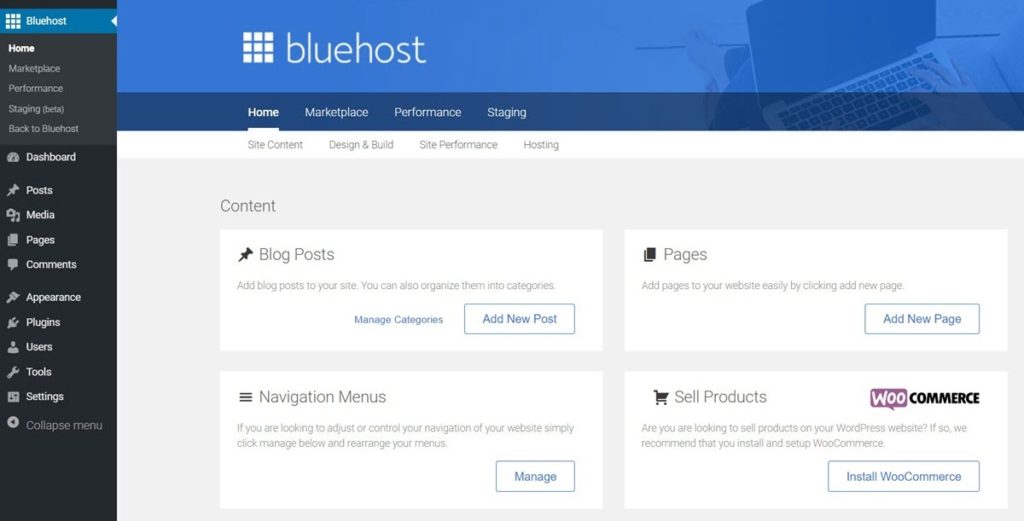 Pricing
Bluehost shared hosting plans starting at $2.95 per month, while DreamHost has plans starting similarly at $2.95 per month for shared hosting. If you're looking to save money over time, Bluehost also offers discounts if you pay upfront for three years instead of paying monthly or annually.
Features
Both hosts offer unlimited storage space as well as free domain registration with certain plans (DreamHost only offers this with their annual plan). However, when it comes to extras like email accounts or SSL certificates (for secure websites), Bluehost has better offerings than DreamHost does in some cases – although both companies provide these features with their higher-tier packages.
Customer Support
When it comes to customer service quality, both companies scored above average in our tests – but we found that Bluehost had slightly faster response times than DreamHost did overall. Plus, they have reps available 24/7 who can help answer any questions you may have about setting up your website or using their services effectively.
Uptime
Uptime is an important factor when choosing a web host because it affects how often your site will be accessible online; if there's too much downtime, then visitors won't be able to access your site as often as they should be able to do so.
We tested both hosts over 30 days and found that DreamHost had industry-leading uptime compared to other shared hosts, including Bluehost – meaning fewer outages and more consistent performance from start to finish.
Overall Verdict
Both web hosting providers offer reliable services at competitive prices – but depending on what type of user you are (monthly vs yearly) or what kind of extra features you need (email accounts etc.), one might suit your needs better than the other does.
The major difference is that: Bluehost is a cheaper option, but Dreamhost supports better site performance.
Bluehost Overview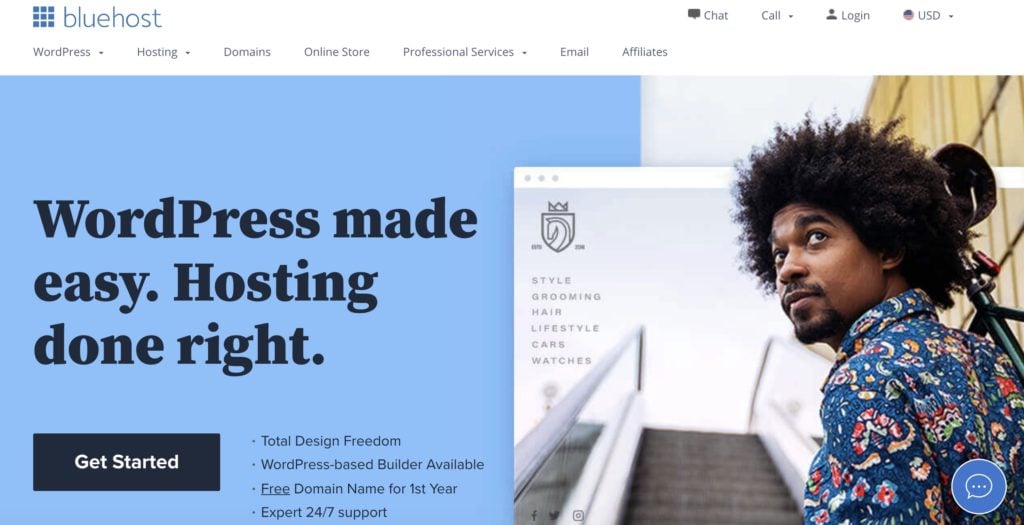 Bluehost is a web hosting provider that offers shared, VPS, dedicated, and WordPress hosting services. It is one of the most popular hosting providers in the world, with over 2 million customers.
Features of Bluehost
Bluehost provides a wide range of features to its customers, including unlimited storage space, unmetered bandwidth, email accounts, free domain name registration for 1 year, SSL certificates, one-click install WordPress, and more.
It also offers online store hosting, for example Woocommerce hosting.
Additionally, it offers an easy-to-use control panel with various tools such as website builders and site analytics.
Pricing of Bluehost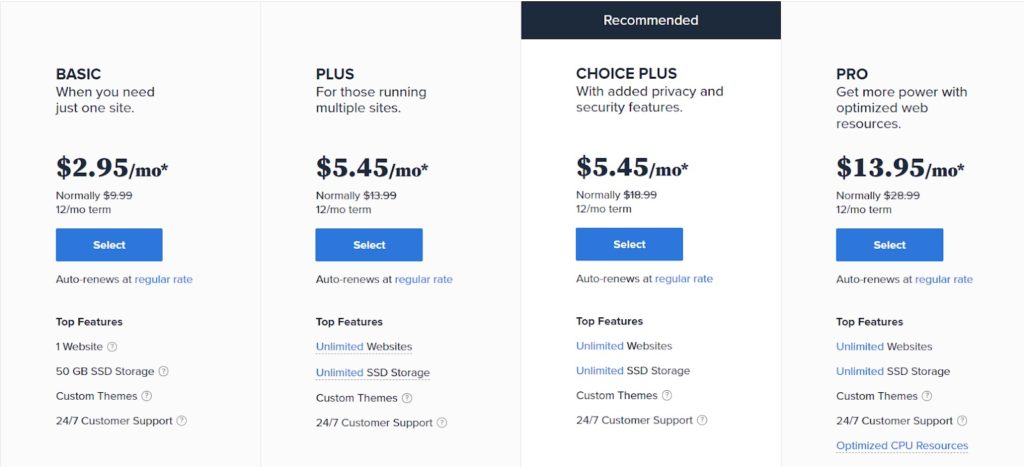 Bluehost's pricing plans are very competitive compared to other web hosts in the market. Its basic shared hosting plan starts at $2.95 per month, while its Pro shared hosting plan costs $13.95 per month, which includes additional features such as automated backups and domain privacy service.
Its VPS (Virtual Private Server) hosting plan starts at $19.99 per month to $59.99 per month, with differences in CPU cores, SSD Storage, RAM, and Bandwidth, etc.
Its dedicated hosting plans start at $99.99 per month to $139.99 per month, with differences in CPU clock speed, cores, threads, cache, RAM, storage, and more.
Pros and Cons of Bluehost
One of the biggest advantages of using Bluehost is its reliable uptime guarantee which ensures your website will be up 99% of the time, or you get money back on your subscription fee for that period if not met by them.
On the downside, some users have reported slow loading times due to overcrowded servers during peak hours.
Bluehost is an affordable and reliable web hosting provider with a wide range of features. Now let's take a look at Dreamhost to compare their features, pricing, pros and cons.
Dreamhost Overview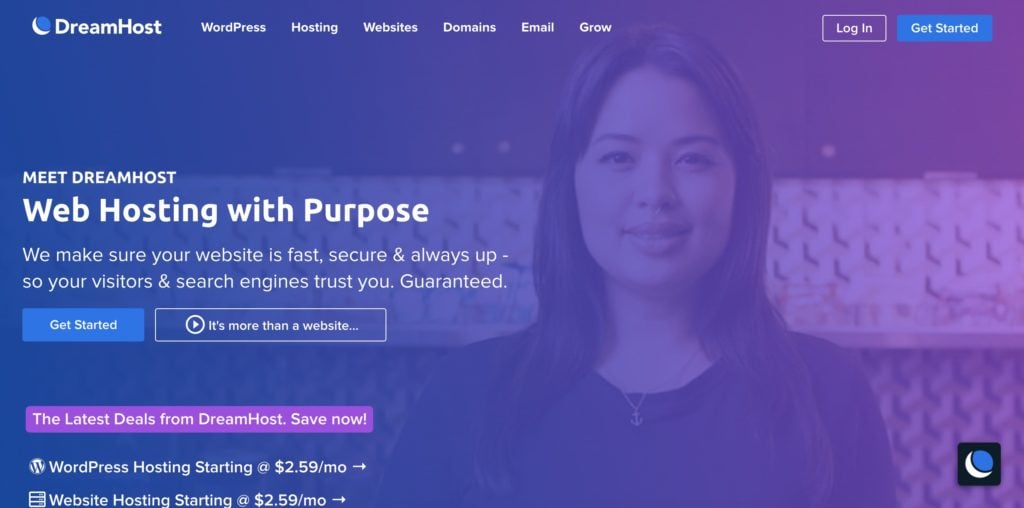 Dreamhost is a web hosting provider that offers shared, VPS, dedicated, and WordPress hosting services. It has been in business since 1997 and is one of the most popular web hosts around.
Dreamhost's features include unlimited storage space, unmetered bandwidth, free SSL certificate, email accounts, domains, MySQL databases, and more.
It also provides customers with 24/7 customer support via email or live chat as well as an uptime guarantee of 100%.
In terms of security measures, Dreamhost uses SSL encryption to protect data transfers and offers DDoS protection for its servers.
Features of Dreamhost
Dreamhost offers a wide range of features to help businesses create their online presence quickly and easily. These include:
unlimited storage space for website files such as images and videos
unmetered bandwidth so visitors can access your website without any issues
free domain registration
up to 50 MySQL databases
cPanel control panel for easy management of your website
24/7 customer support
100% uptime guarantee
daily backups stored offsite on Amazon S3 servers for added security
SSL encryption to protect data transfers between users' browsers and the server they are connecting to, and
DDoS protection against malicious attacks on its servers.
Pricing of Dreamhost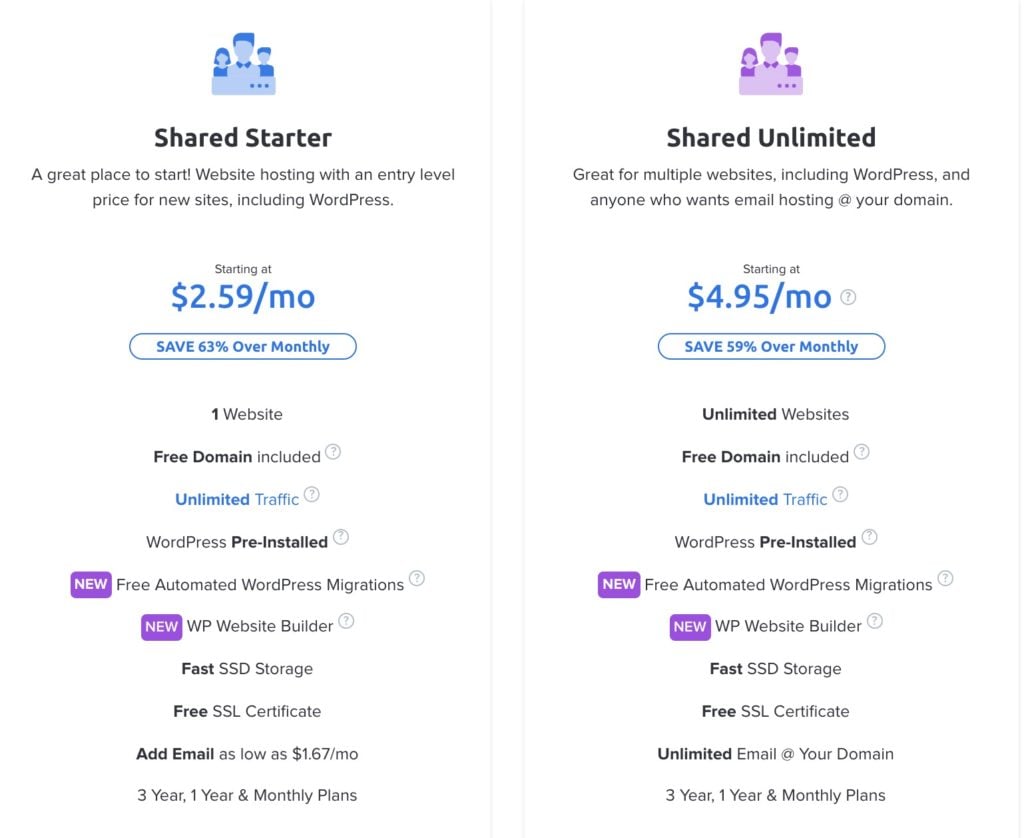 Dreamhost offers several different plans depending on the type of hosting you need (shared vs WordPress vs dedicated).
For Dreamhost shared hosting plans, the starter plan and unlimited plan (for unlimited websites) start at $2.95 per month; while the DreamPress plan (WordPress hosting) starts at $16.95 per month, which includes additional features such as 1-click staging, WP website builder, free automated WordPress migrations, SSL certificate pre-installed, etc.
For those who need more power than what a shared plan can offer, there are also VPS hosting plans starting from $13.75 per month up to dedicated server plans starting from $149 per month .
Pros and Cons of Dreamhost
One major advantage that comes with using DreamHost is its reliable performance – it boasts an impressive 100% uptime guarantee which means your website will be available almost all the time.
Additionally, it provides great customer service with knowledgeable staff ready to answer any questions you may have about setting up or managing your site.
On top of this, its pricing options make it affordable even if you don't have much money to invest in web hosting services right away.
However, some people might find that certain features like email forwarding aren't included in their package unless they upgrade their account which could add extra costs over time.
Dreamhost is an excellent hosting provider with a wide range of features and competitive pricing.
Now, let's take a look at how it compares to Bluehost in terms of uptime & reliability, security & support, and ease of use & user interface.
Bluehost vs Dreamhost: In-depth Comparison
Now, let's dive deeper to take a look at how they compare in terms of uptime & reliability; security & support; ease of use & user interface; and speed test results.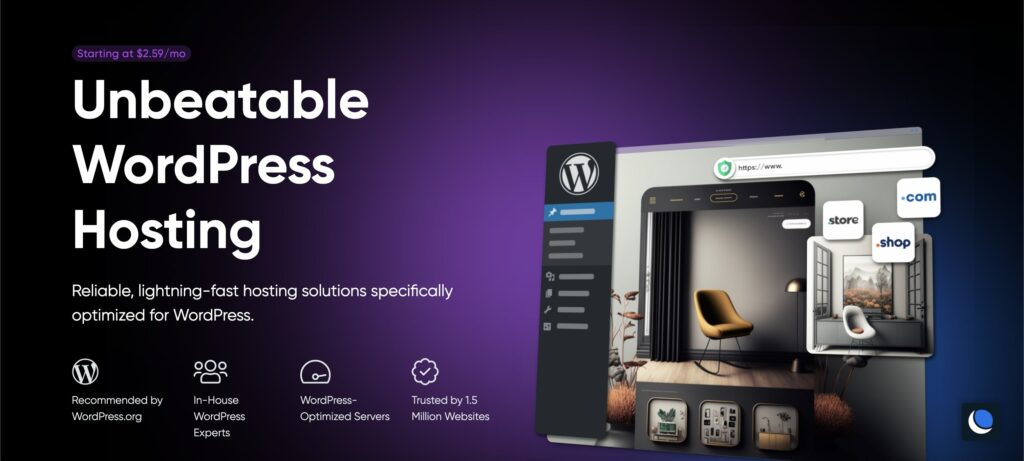 Uptime & Reliability: Is there an Uptime Guarantee?
When it comes to running a business, reliability is key. You need to be sure that your website or online store is up and running when customers come looking for you. That's why many web hosting companies offer an uptime guarantee—a promise that they will keep your site available at least 99% of the time.
Bluehost offers a 99.9% uptime guarantee with no penalties if you choose to cancel your account due to their failure to meet this commitment. They also provide refunds for any unused portion of your plan should you decide to cancel at any time without penalty.
DreamHost takes things one step further by offering a 100% uptime guarantee, along with credits for each hour (or part thereof) that your site is down, up to 10% of the total hosting fee paid in the month where downtime occurred.
However, these credits are only applicable if DreamHost has caused the issue and not user-error on behalf of the customer, so be careful what changes you make. Downtime commences once support has been contacted about the problem, too – so don't delay in getting help if needed.
In conclusion, both Bluehost and DreamHost offer reliable services with solid uptime guarantees – but do read through all terms and conditions before signing up, as there may be certain exclusions or limitations depending on which provider you choose.
Security & Support: Protecting Your Site Against Hacking
When it comes to protecting your website from hacking and downtime, you want to make sure that the hosting provider you choose has the best security measures in place. Here's a look at some of the top security features offered by Bluehost and Dreamhost.
Bluehost offers SiteLock Security which runs daily malware and virus scans. They also provide a lot of other security services for your protection, such as uninterrupted power supply, dual quad processors for peak performance, diesel backup generators, and 24/7 network monitoring.
Dreamhost is partnered with StopTheHacker to provide ultimate security features, including daily virus and malware scans.
Their data centers are monitored 24/7 via CCTV cameras with technicians on-site around the clock. All entrances are securely locked so intruders can't get in and cause damage.
Dreamhost also has an uninterrupted power supply, high-tech cooling systems to stop servers from overheating, plus multiple redundancies to keep uptime as high as possible.
Backups are done at the company's discretion. Hence, it's important that you do your backups for full security, too – most companies store backups for a maximum of 30 days but refuse responsibility if they fail or get lost due to any reason whatsoever.
Ease of Use & User Interface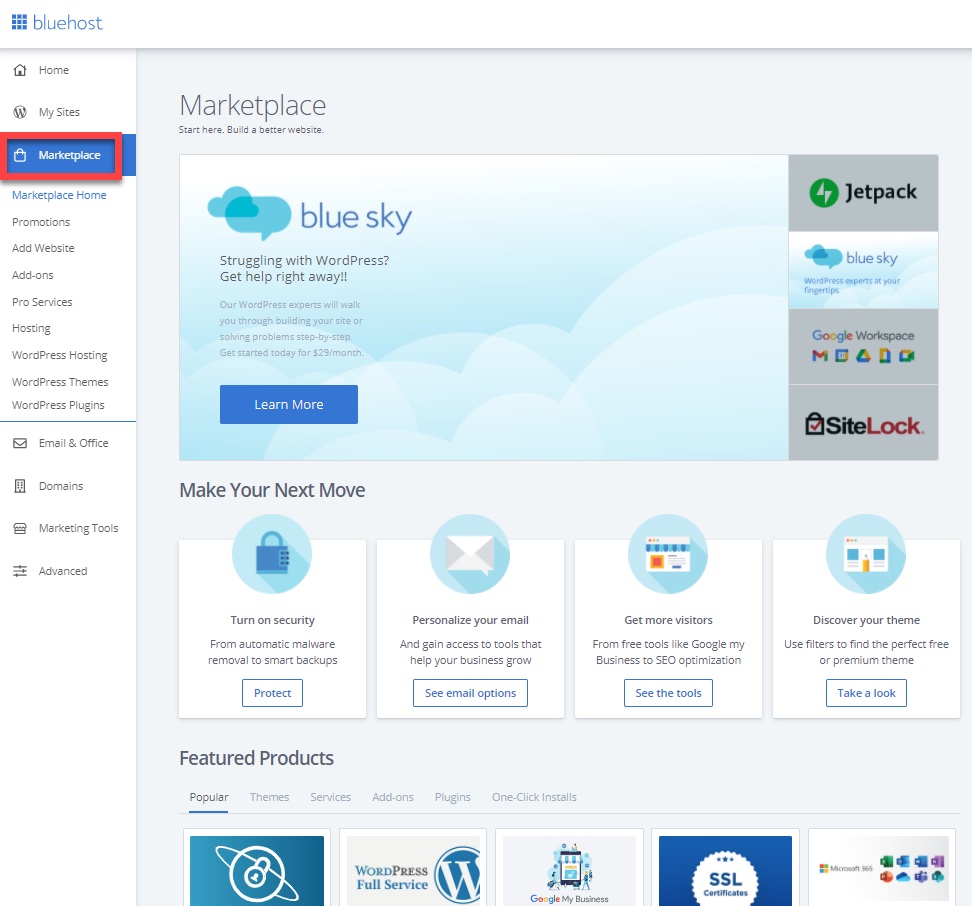 When it comes to ease of use and user interface design, Bluehost and DreamHost are fairly evenly matched. With intuitive drag-and-drop tools available for creating websites quickly without needing any coding knowledge, plus easy setup wizards for configuring email accounts or installing applications like WordPress, makes getting started with either company simple even for beginners.
Both providers also offer helpful comparison charts that make it easy to compare plans and choose the right one for your needs.
Additionally, both companies offer free domain name registration when signing up for certain packages making it easier than ever before to get online fast.
Bluehost offers a modified cPanel interface which may take some getting used to if you're already familiar with regular cPanel. However, they also have an easy-to-use MOJO Marketplace one-click installer that makes installing nearly 100 apps simple and straightforward.
DreamHost has its own custom designed cPanel, which is not as user friendly as other third party interfaces like Plesk or cPanel but still provides similar features.
They also have their own one-click installer section, although there aren't as many options available compared to Bluehost's MOJO Marketplace.
Finding certain information on DreamHost can be a bit more challenging than on Bluehost though, without resorting to Google or reading through wikis.
Overall, both website hosting providers provide great features when it comes to ease of use, so choosing between them really depends on what specific features you need most from your provider, such as free CDN, backups, website migration cost, and money back guarantee length, among others.
However, to determine which web hosting service is better suited for your needs, it's important to compare their performance as well.
Bluehost and Dreamhost Speed Test Results
Speed is essential when it comes to keeping visitors engaged on your website, so it's important that whichever provider you choose can deliver fast loading times consistently across all pages on your site. Luckily both providers do just that.
According to our tests conducted using Pingdom Tools, we found that Bluehost had average page load times ranging between 1 second (for smaller sites) up to 4 seconds (for larger sites), while DreamHost had slightly faster page loads averaging around 0 seconds (for smaller sites) up 3 seconds (for larger sites).
Overall, both offer reliable hosting services with great speeds and uptime. However, depending on your needs, one may be more suitable than the other.
Let's take a look at which hosting provider is right for you in the next section.
Which Hosting Provider is Right for You?
When it comes to choosing the right hosting provider for your website or application, there are a few things you should consider. Budget is often the first factor that needs to be taken into account. Bluehost and Dreamhost both offer competitive pricing plans that can fit any budget, so make sure to compare their prices before making a decision.
The next thing you should look at is features. Both offer plenty of features, such as unlimited storage space, domain registration, SSL certificates, and more.
However, they also have some differences in terms of what they offer – for example, Bluehost offers an easy-to-use drag-and-drop website builder while Dreamhost does not. So if you need certain features for your website or application, make sure to check which one has them before deciding on a host.
Security is another important factor when choosing between these two hosts – after all, no one wants their data compromised. Fortunately, both providers use top security measures such as encryption technology and regular backups to keep your information safe from hackers and other malicious actors online.
In addition to this basic level of protection, Bluehost also offers additional security options like SiteLock malware scanning, which can help further protect against viruses and other threats.
Finally, customer support should be considered when selecting between these two hosting providers – after all technical issues will inevitably arise at some point during your time with either service. Both companies provide 24/7 live chat support as well as email ticketing systems. Still, it's worth noting that Bluehost also provides phone support while DreamHost does not – something which could prove invaluable depending on the nature of the issue you're having.
In conclusion, when it comes to picking between BlueHost and DreamHost, there are several factors that must be taken into consideration, including budget constraints, feature requirements, security protocols, and customer service availability, among others. Therefore, take some time researching each option carefully before making a final decision about which host is best suited for your individual needs.
It's important to consider your needs and preferences when deciding which hosting provider is right for you. Now let's explore additional resources that can help you get the most out of their services.
Additional Resources for Bluehost and Dreamhost Users
They both offer reliable services with great customer support, but they also have a wealth of resources available to help users get the most out of their chosen provider.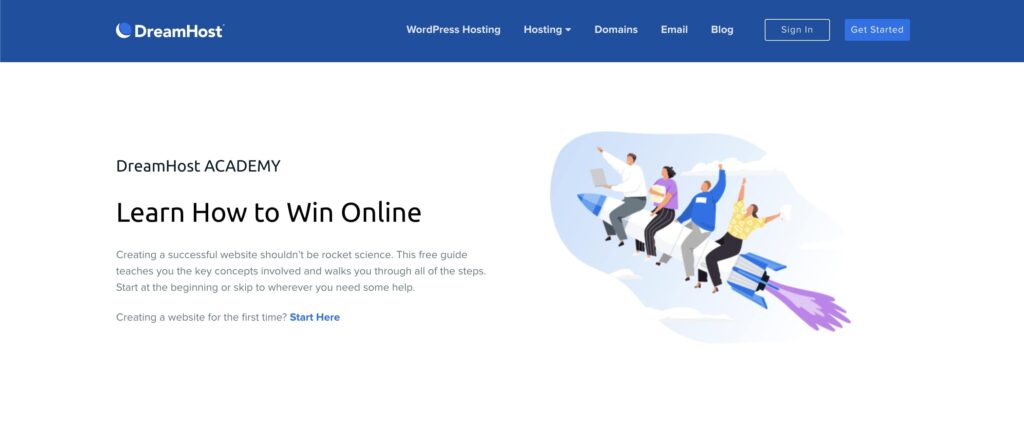 Tutorials & Guides
Both Bluehost and Dreamhost provide extensive tutorials and guides that can help users learn how to use their services more effectively. Bluehost's tutorials cover topics such as setting up WordPress, creating email accounts, managing domains, and much more. Similarly, Dreamhost offers detailed guides for getting started with web hosting as well as comprehensive documentation for advanced users.
Support Forums & Knowledge Bases
In addition to tutorials and guides, both companies offer support forums where customers can ask questions or search for answers from other experienced users. Bluehost's forum is an active community full of helpful members who are willing to answer any questions you may have about using their service. Likewise, Dreamhost has a knowledge base full of useful articles written by experts in the field that can be used to troubleshoot common issues or find solutions quickly.
Video Tutorials & Webinars
For those who prefer visual learning materials over text-based ones, both Bluehost and Dreamhost offer video tutorials that walk through various aspects of using their services step-by-step. Additionally, they often host webinars where experts discuss specific topics related to web hosting in detail so viewers can gain valuable insights into best practices or tips on how to optimize performance on their websites.
Live Chat & Support
Both offer a variety of resources for their users, from tutorials to customer support. Now let's take a look at the overall comparison between these two hosting services.
Summary of Bluehost vs Dreamhost
Both offer reliable services, competitive pricing, and a range of features to suit different types of websites. Bluehost offers more storage space than Dreamhost, but Dreamhost has better uptime reliability. Bluehost is easier to use for beginners, while Dreamhost provides more advanced options for experienced users.
When it comes to performance, both providers have excellent speed and load time results, with no major differences between them. Security-wise, both provide good protection against malicious attacks with SSL certificates included in their plans at no extra cost.
In terms of customer support, both companies offer 24/7 live chat as well as customer support which is great for quick resolution of any issues that may arise during setup or usage.
Additionally, they also provide extensive knowledge bases filled with helpful tutorials and guides on how to get started quickly and easily manage your website or blog without any technical expertise required.
Overall when choosing between these two hosting providers, you should consider your needs carefully before deciding as each provider offers something unique that can benefit certain types of websites differently depending on their requirements such as storage space or ease-of-use, etc.
For example, if you're looking for an easy way to get started, then Bluehost would be the best choice. In contrast, DreamHost might be a better option if you need more advanced features due to its wide range of customization options available through cPanel control panel access.
Bluehost vs Dreamhost: FAQs
Is Bluehost better than DreamHost?
It depends on what you're looking for. Dreamhost offers more features and a better uptime guarantee than Bluehost, but Bluehost is cheaper and has better customer support. Ultimately, it comes down to the specific needs of your business; if you need extra features or reliability, then Dreamhost may be the right choice for you. However, if cost is a major factor in your decision-making process, then Bluehost could be the better option.
What is the difference between Bluehost and DreamHost?
Bluehost and DreamHost are both web hosting companies that offer a variety of services, such as shared hosting, VPS hosting, dedicated servers, cloud hosting and more. Bluehost is owned by Endurance International Group (EIG), while DreamHost is independently owned.
When it comes to features, DreamHost offers more options than Bluehost. 
Additionally, Bluehost has an easy-to-use control panel with one-click installation for popular applications like WordPress, whereas DreamHost requires manual setup for most applications.
In terms of pricing, Bluehost tends to be slightly cheaper than DreamHost, but this varies depending on the type of service you need. In general though, if you're looking for affordability, then Bluehost might be your best option, whereas if you want more features, then consider going with DreamHost instead.
Who is better than Bluehost?
There are many web hosting providers that offer better services than Bluehost. Kinsta, HostGator, DreamHost, and SiteGround are all popular alternatives that provide reliable performance with more features at a lower cost. Additionally, they offer 24/7 customer support and have higher uptime guarantees than Bluehost. For businesses looking for the best value in web hosting, these three companies are great options to consider.
Is DreamHost good for hosting?
Yes, DreamHost is a good option for hosting. It offers reliable performance and excellent customer service. Its shared hosting plans are affordable and offer unlimited storage space, making it an ideal choice for small businesses and startups. Additionally, its managed WordPress hosting plans provide users with powerful features like automatic updates, daily backups, and malware scanning to ensure the security of their websites. Finally, DreamHost also provides 24/7 support via live chat and email so you can get help when you need it most.
Conclusion
In conclusion, when it comes to choosing the right hosting solution for your business, Bluehost and Dreamhost are both excellent options. Both offer reliable performance and a wide range of features that can help you optimize productivity and efficiency. However, depending on your specific needs, one may be better suited than the other. We hope this comparison of Bluehost vs Dreamhost has been helpful in making an informed decision about which hosting service is best for you.
Are you struggling to decide between Bluehost, Dreamhost, and other web hosting services for your business's needs? Our website provides a comprehensive comparison of the best web hosting services, as well as tutorials on how to optimize their usage. Check out more of our guides and get started with the right hosting solution today!