Are you looking for a guide to building websites with WordPress?
This tutorial walks you through how to create a website with WordPress step-by-step. It's easy to follow and beginner-friendly. By the end of this article, you'll have a WordPress site up and running!
Before we begin, let's have a quick overview of WordPress.
What is WordPress?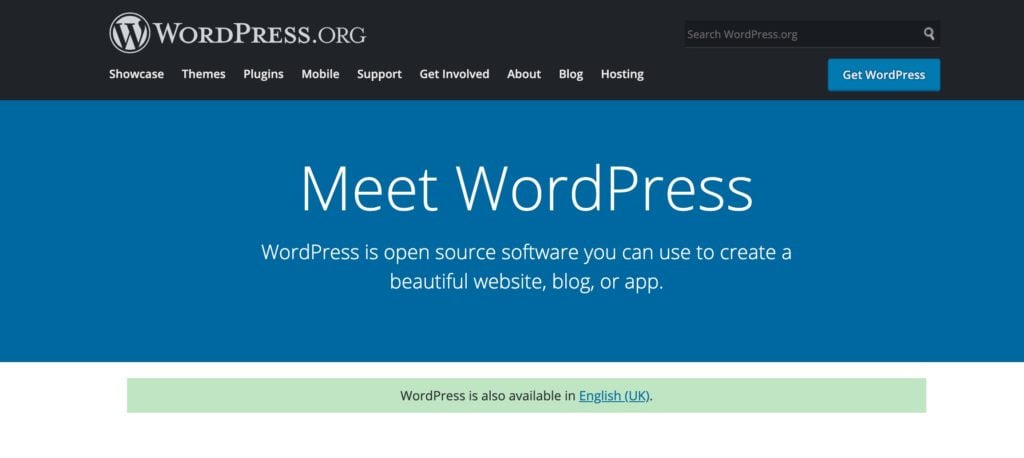 Essentially, WordPress is the easiest and most popular way to build your website or blog. WordPress works with more than 42% of all websites on the Internet. So yes, more than one in four websites you visit is likely powered by WordPress.
For example, Venturer, the website you're looking at now, is built with WordPress.
On a slightly more technical level, WordPress is an open-source content management system (CMS) that anyone can use or modify WordPress software for free. A content management system is a tool that allows you to manage web content without needing any programming knowledge.
The bottom line is that WordPress makes building a website accessible to everyone, including non-developers.
Further read:
What Is WordPress? A Beginners' Guide To Start Using WordPress
However, some might confuse WordPress.org with WordPress.com. Here're their differences.
WordPress.org vs. WordPress.com
WordPress.com and WordPress.org are two completely different platforms. Unfortunately, this is something that many new WordPress users fail to spot at first and can create confusion when choosing the platform that best suits your business needs.
So, what's the difference between WordPress.org and WordPress.com? Simply put, WordPress.com is a service that allows you to create a website using WordPress software, while WordPress.org is the software itself that allows you to create and maintain a website by yourself.
WordPress.com
WordPress.com is a managed hosting platform owned by a company called Automattic. It offers both free and paid plans. In addition, it is specially configured for the open-source CMS, WordPress.
Here're some limitations about WordPress.com you should know about.
You are not allowed to sell ads on your website, limiting your ability to monetize your website. However, if you have a high-traffic website, you can apply for the WordAds advertising program, splitting the revenue with them.
They run ads on all of the free plan websites. Your users see these ads, and you don't make any money from them. If you don't want your users to see these ads, you can upgrade to a paid WordPress.com plan.
For free plans, you cannot upload plugins nor custom themes.
WordPress.com doesn't offer any eCommerce features or built-in payment gateways unless you switch to the eCommerce plan.
WordPress.org
WordPress.org, also known as "the real WordPress," is the popular website creation platform you've heard all the good things about. It's open-source CMS software and 100% free to use by anyone. All you need is a domain name and web hosting. For this reason, it is also known as self-hosted WordPress.
With WordPress.org, you don't have the limitations that come with WordPress.com. You can run ads on your website, upload plugins, custom themes, and add eCommerce features to your sites.
In addition, there are many other benefits to using WordPress.org. For example, you own your website and all of its data. You can customize the design any way you want and connect with powerful tools like Google Analytics to gather insights about your site.
WordPress.org vs. WordPress.com: Which one should you use?
The answer is quite obvious – we recommend the self-hosted WordPress.org for most businesses and bloggers who want to make money from your site or require flexibility and scalability.
So, how do you build a website with WordPress.org?
How to Build a WordPress Website
Here you can follow our step-by-step tutorial to build a website with WordPress!
Step 1: Choose a domain name and web hosting
To start a self-hosted WordPress website, you need a domain name and web hosting.
A domain name is the address of your website on the Internet, e.g., google.com, theventurer.co, etc.
With web hosting, your website files are stored on the Internet, so people can visit your website by entering your domain name.
We used Bluehost when we first started Venturer. It's an excellent web hosting option for beginners, which starts at US$2.95 per month.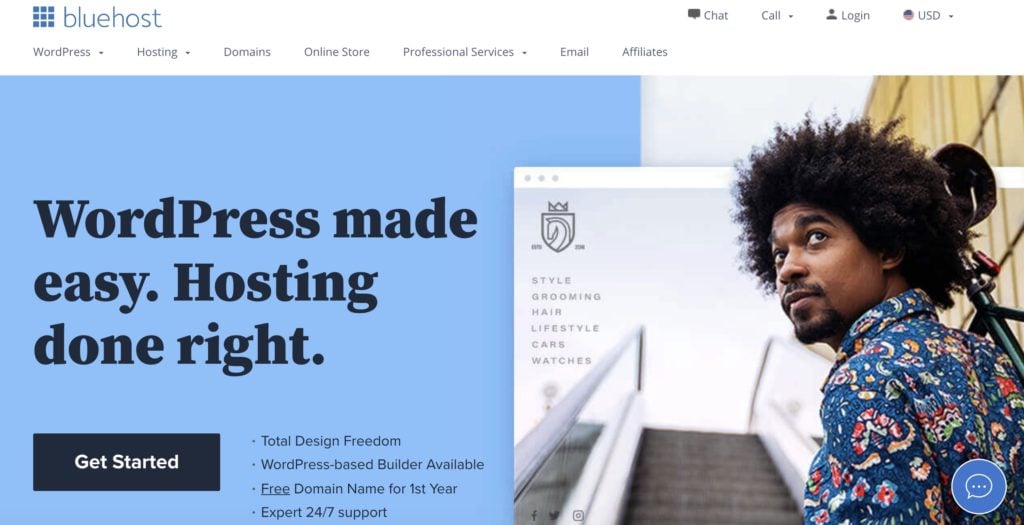 Start with Bluehost for as low as US$2.95 per month here.
Alternatively, you can use HostGator as your WordPress host if you want an even cheaper plan. They have plenty of web hosting options with affordable prices, which start at US$2.08 per month only.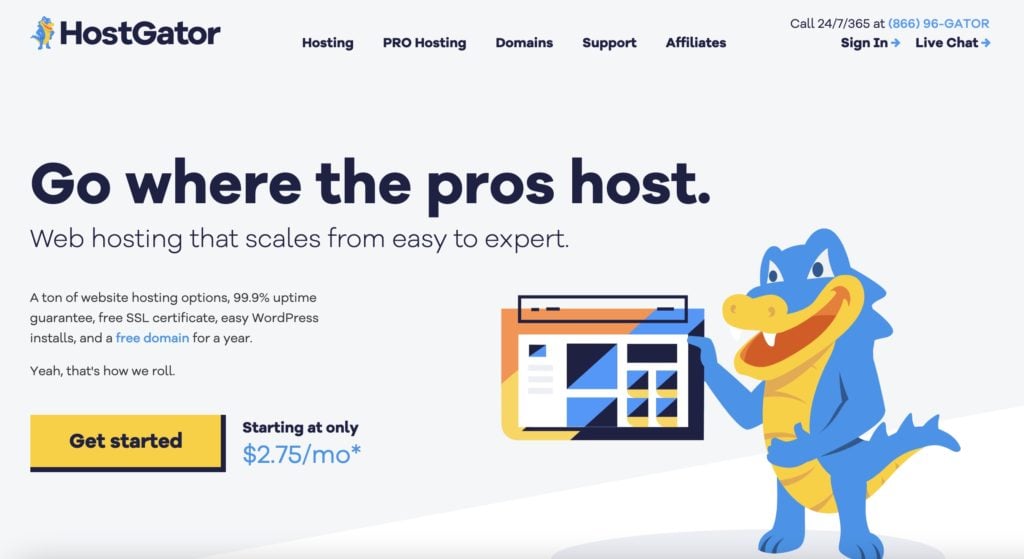 The good news is you can get the best deal with our promo code "VENTURER" with Hostgator. All you need to do is to enter the coupon code at checkout.
Get 65% OFF Hostgator using discount code "VENTURER" here!
You can follow our detailed guide on how to start a WordPress blog on Hostgator.
Further read:
The 8 Best WordPress Hosting Companies of 2022 (Compared and Reviewed)
Step 2: Install WordPress
After activating your web hosting plan with HostGator or Bluehost, you will see the "One-click WordPress Install" option on the web host panel. Simply click it, and you can install WordPress to create your website!
Then, after installation, you will receive an email with a link to the WordPress dashboard. The WordPress login details will be provided in the email as well.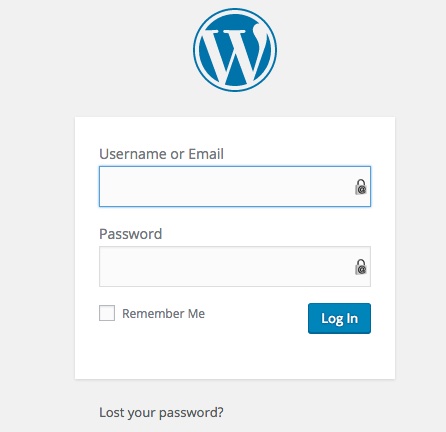 After logging in, you can start designing and building your WordPress site!
Step 3: Choose Your Website Theme
Now, you can start designing your website with a WordPress theme. 
A WordPress theme is a tool for changing the layout and design of your website. Themes customize the look and feel of your website, including layout, typography, color, and other design elements.
The first time you create a WordPress site, a default theme is installed. After that, you can change the theme in WordPress to fit your needs. Choosing a suitable theme can make your website more attractive and user-friendly.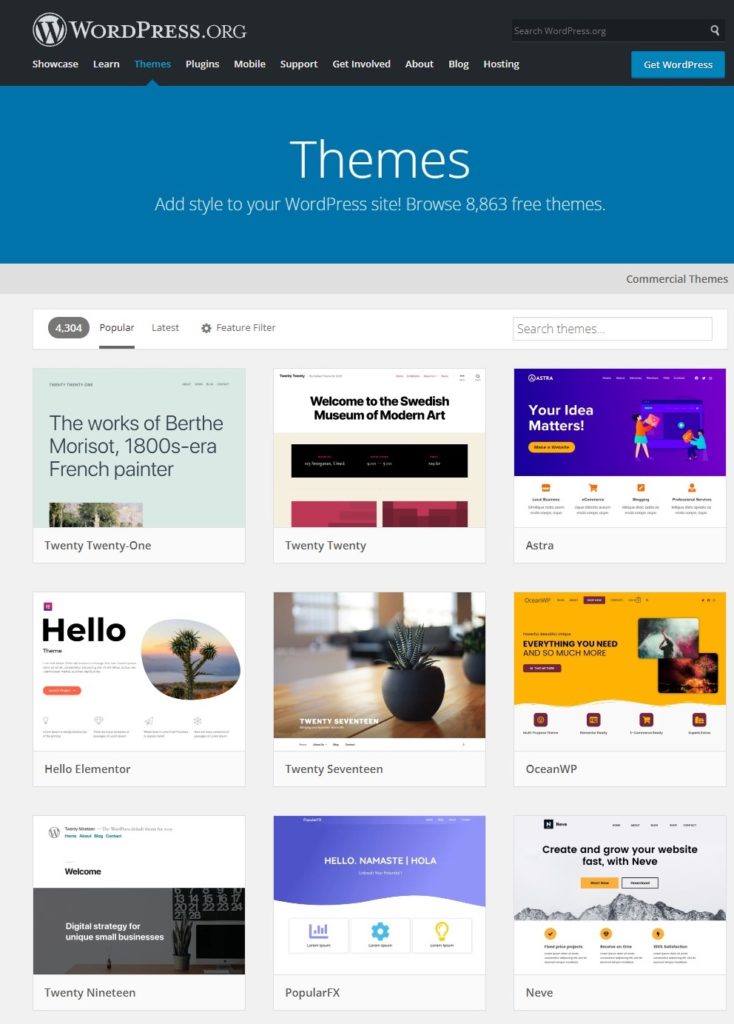 We highly recommend using the "Hello Elementor" theme if you use Elementor.
Elementor is a drag-and-drop website builder for WordPress. This plugin helps you create stunning pages with a visual editor. It's designed for anyone to build dynamic websites quickly.
Venturer, the website you're looking at, is built with Elementor.
You can get started with Elementor for free here!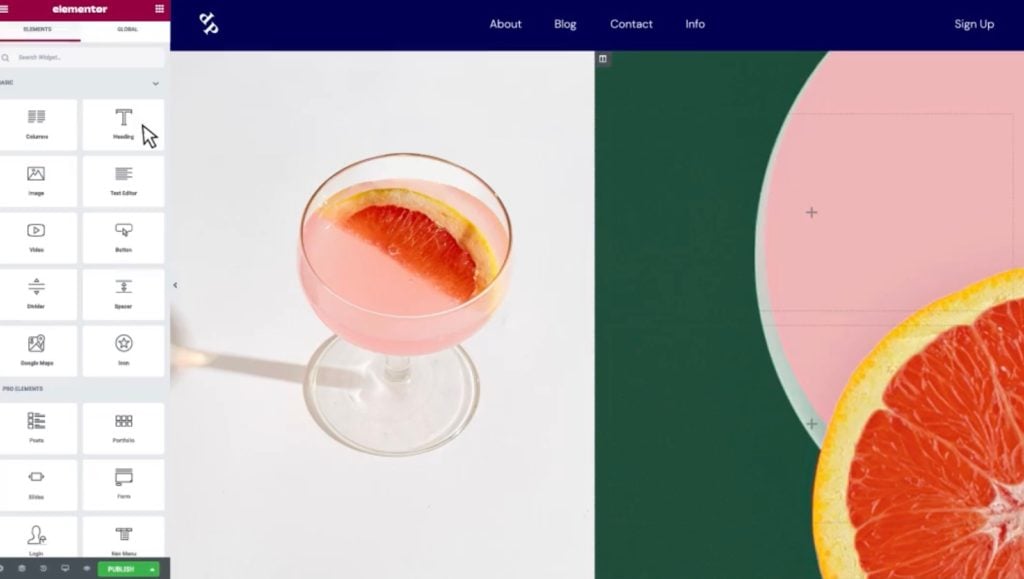 This WordPress plugin is an all-in-one solution: it allows you to control every part of your website design on a single platform. You can customize your website to match your brand with brand color, multiple fonts, images, and many more.
Elementor is an effective tool for building anything from a website to landing pages. You can design sales pages, custom forms, pricing tables, and even pop-ups. In addition, its user-friendly interface makes it a practical and easy-to-use tool for non-coders.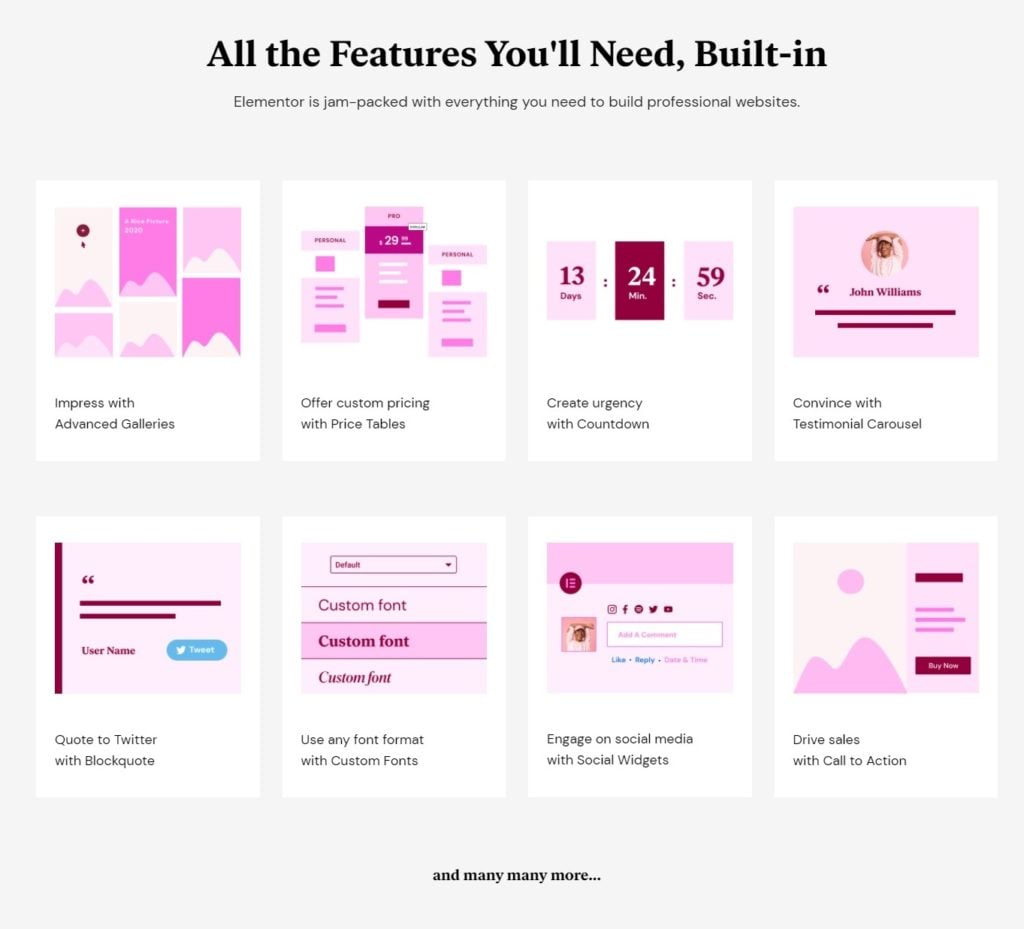 Another fantastic thing about Elementor is that it offers a free forever plan! The free plan lets you use the drag-and-drop live editor to build responsive websites with 40+ basic widgets and 30+ templates.
You can upgrade to Elementor Pro to enjoy more advanced features. There are four paid plans in Elementor Pro. They all give you access to 90+ Basic and Pro Widgets, 300+ Basic and Pro Templates, and 60+ Pro Website Kits. The main difference between the four paid plans is the number of sites you can build.
Essential: it costs only US$49 per year for one Pro website.
Expert: US$199 per year for 25 Pro websites.
Studio: US$499 per year for 100 Pro websites.
Agency: US$999 per year for 1000 Pro websites.
Venturer is built with the Elementor Pro Essential plan. It's incredibly affordable, and the benefits and convenience it offers are well worth the cost.
Get started with Elementor here for Free! If you want to explore the Pro features, you can get started with the Essential plan. All paid plans come with a 30-day money-back guarantee.
Further read:
Elementor Review: Is It The Best WordPress Page Builder?
Step 4: Customise Your WordPress Website
Before we dive in and start making changes to your WordPress website, it helps to understand the options, as they suit different situations.
You can install plugins to add functionality to your site. For example, for the eCommerce feature, you might install Woocommerce.
If you've signed up for Elementor, you'll need to install the Elementor plugin to use its features to customize the design of your site.
If you want to edit the code of your theme, create a child theme. But I would not recommend any non-coders to try to edit the code yourself. You can do most customization with Elementor.
For basic customization like creating a menu, you can do it from the "Appearance" tab under Dashboard.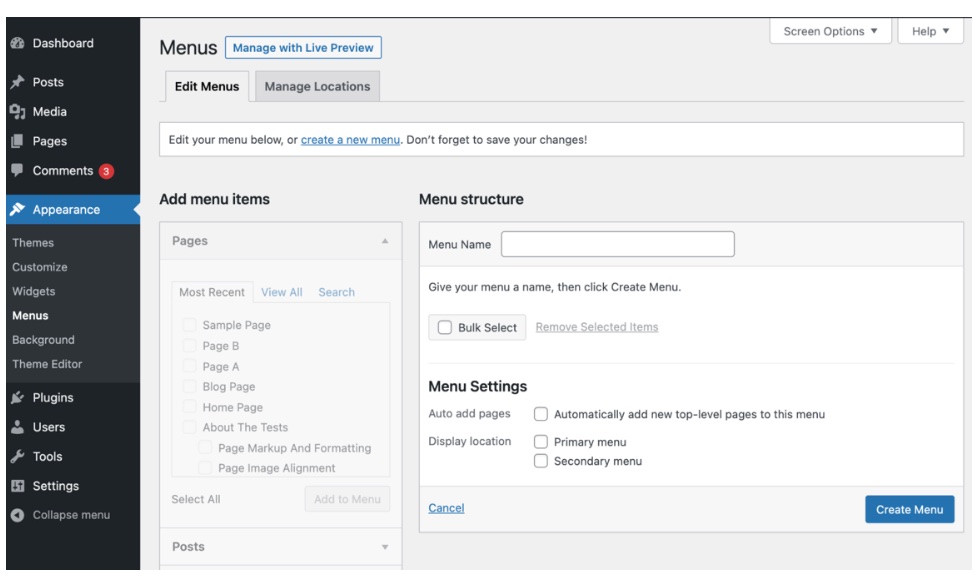 You can add, delete, rearrange and configure menu items there.
Overall, we highly recommend using Elementor to customize the design of your WordPress website. Its theme builder allows you to customize your website theme. For non-designers, you can efficiently utilize its designer-made page templates to create and design website pages like a pro!
Get started with Elementor here for Free! To get the most from Elementor, get started with the Essential plan. All paid plans come with a 30-day money-back guarantee.
Step 5: Add Posts and Pages to WordPress Website
One of the WordPress features that most website owners use is blog posts. Posts are an essential feature of WordPress and arose from WordPress started as a blogging platform.
And because of that, the default option is to display blog posts on your homepage. If you're running a blog or a content site, this will make posts easily accessible to your readers.
It's straightforward and intuitive to add a post. On the left of your WordPress dashboard, go to "Posts" > "Add New."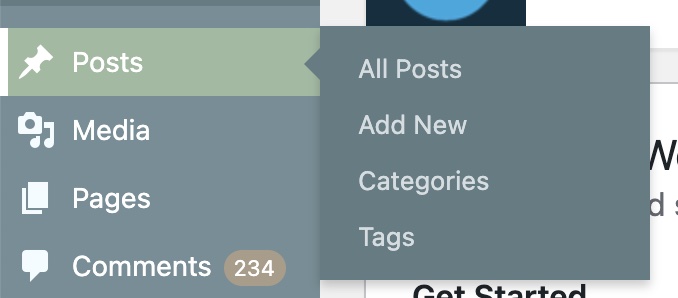 To add a page, go to "Pages" > "Add New."
If you've installed Elementor, you'll see the option "Edit with Elementor" on the top of your new page.

Click it then you'll be able to use Elementor's visual editor to drag and drop elements to build your page!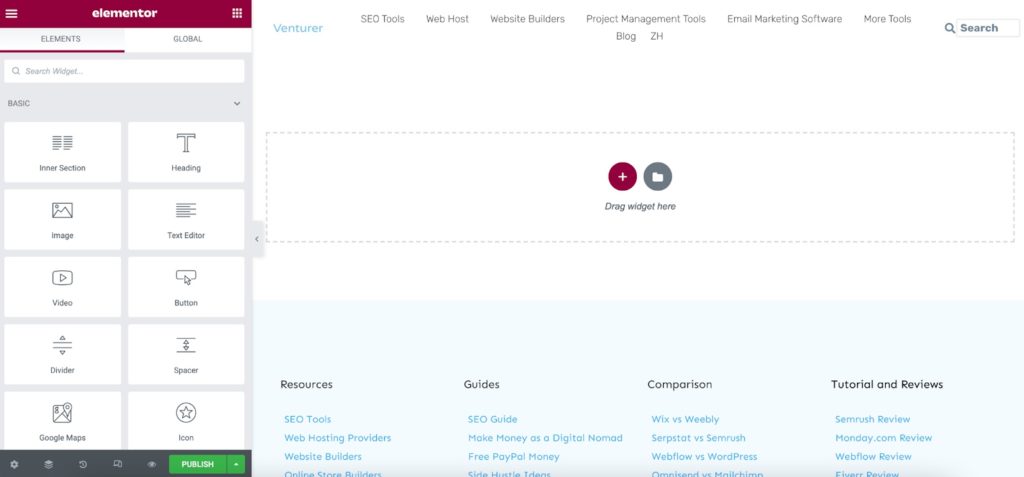 Step 6: Install WordPress Plugins
WordPress plugins are like apps for your WordPress websites. They add new features to your site like an online store, contact form, membership registration, etc. There are over 55,000 free and paid plugins for WordPress.
The easiest way to install a WordPress plugin is to do the plugin search in your WordPress dashboard.
Go to "Plugins" > "Add New."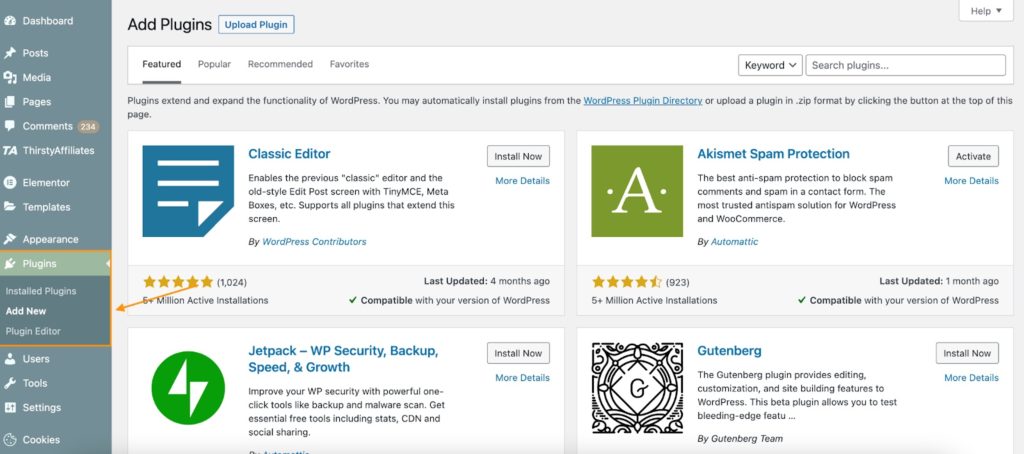 Then, you can access the WordPress plugin directory. Finally, you can search the plugin by entering the plugin name or the functionality you are looking for.
Here're some plugins we recommend:
Step 7: Optimize Your Website for SEO
You want your website to receive traffic. Learning how to optimize your website for SEO is crucial for your site's success.
You can grow your site's organic traffic and get more monetization opportunities if you have good SEO.
But, wait, what is SEO?
SEO stands for "search engine optimization." It is the process of increasing your website traffic through search engine results. It's about making your website discoverable by your target audience.
Here's our beginner's guide to SEO.
Ultimately, you'll need to use SEO tools like Semrush to research keywords, run technical SEO audits, do competitor analysis, etc., to boost your site's keyword ranking and attract organic traffic.
Venturer put the entire focus on SEO to drive traffic – that's why 93%+ of our traffic comes from organic search. Good SEO has helped us generate thousands of revenue (in USD) per month!
You can use Semrush for free here to explore the world of SEO!
Building Websites with WordPress: Conclusion
So far, we've covered how to connect a domain and web hosting to your WordPress site, customize your website design, install plugins, add posts and pages, and optimize your website for SEO.
If you've just read it through and haven't taken any action, start now with Hostgator. You can use our code "VENTURER" to get 65% off web hosting here!
And don't forget to connect Elementor to your WordPress site.
You can use Elementor for free here!
Further read:
8 Best Blogging Platforms To Make Money (Compared And Reviewed)
What Is WordPress? A Beginners' Guide To Start Using WordPress
Best Website Builder For Small Business
Weebly Tutorials: How To Use Weebly (Step-By-Step Guide)
Wix Vs Weebly: Which Is A Better Website Builder?
Webflow Pricing: Prices And Plans Explained (2022)