If you're using WordPress, you've probably heard of Elementor as a page builder plugin. This Elementor review will share everything we know about this website builder's features, pricing, pros and cons.
Elementor is one of the most powerful WordPress plugins available. It offers many free templates and widgets and provides a user-friendly interface to make it easy to use even for beginners.
Bottom line up front: we use Elementor Pro to build this website. It's an excellent drag-and-drop website builder plugin for WordPress that anyone can use even without coding knowledge.
You can use Elementor for free here!
If you haven't signed up, we highly recommend you sign up for the free version to try it yourself. It's absolutely free to use, and the free version already provides many powerful features.
Keep reading to learn more about Elementor!
What is Elementor?
Elementor is a drag-and-drop WordPress page builder. This plugin allows you to create stunning pages using a visual editor. It's made to help you quickly create dynamic websites.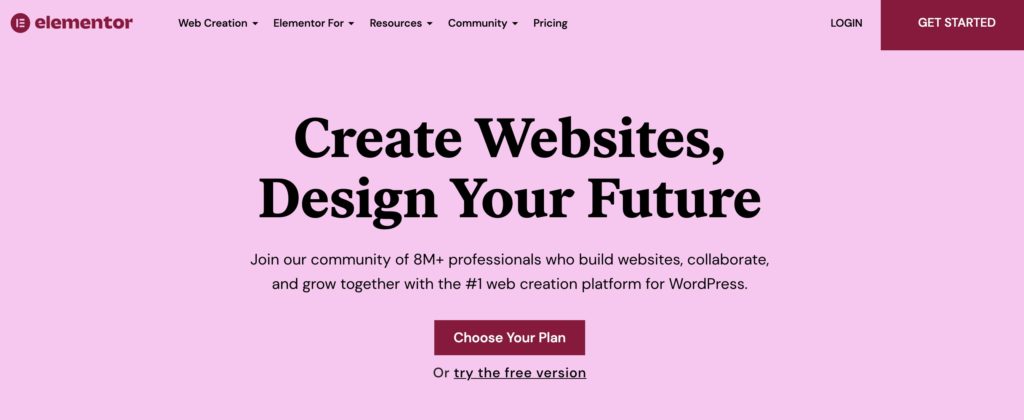 It's an all-in-one solution that allows you to manage your website's design elements from a single plugin. It allows you to add sophisticated design and layout features to your content without knowing how to code. As a result, you can tailor your website design to meet your brand.
In addition, you can now design your whole WordPress theme without knowing any code using the new Elementor Pro version.
Elementor Features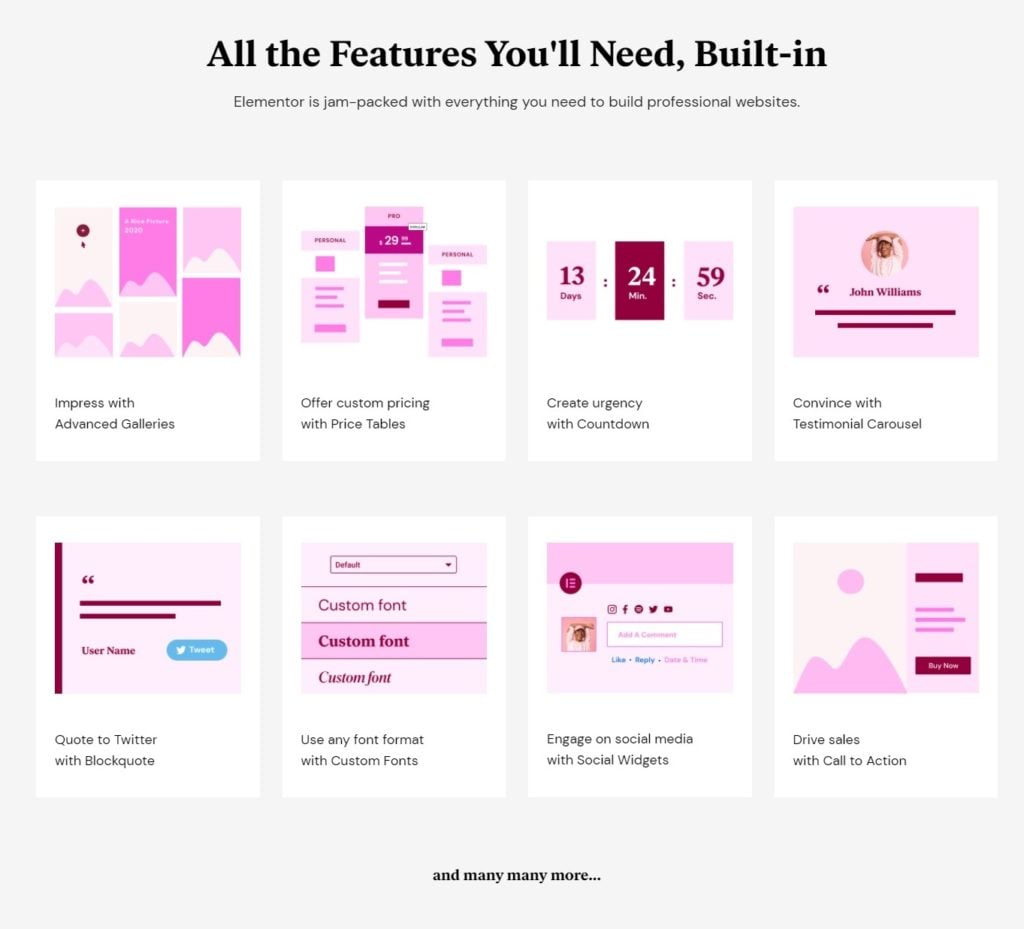 Drag and drop live editor to design your desktop, tablet, and mobile pages.
50+ widgets to add elements to your pages such as buttons, photos, maps, social media icons, headings, and so on.
30 Designer-made templates and 5 website kits to jumpstart the website creation.
There are over 100 block templates for quickly creating website sections, such as FAQs, features, testimonials, pricing, and "meet the team."
Global fonts and colors make it simple to maintain a consistent site design and make adjustments rapidly across the board.
Elementor Pricing
Elementor is free.
You can use Elementor for free here!
Elementor Pro Pricing
Elementor Pro plugin is the paid version that costs US$49 per year. It includes tons of fantastic features like:
Advanced drag and drop editor: this gives you a lot more freedom and control over the appearance of your page.
Theme Builder: using the same drag-and-drop interface, you can completely alter your site's headers, footers, posts and pages, archives, and more.
50+ Pro widgets.
300+ Designer-made templates: while the free version comes with 30+ basic templates, the Pro plugins adds over 300 more professionally designed templates.
60+ website kits: Elementor Pro includes over 60 website kits in addition to the 5 basic ones provided in the free versions.
Popup Builder: create and show versatile popups on your website.
Form Builder: create eye-catching custom forms for your site, and Elementor will save all collected data.
Global widgets allow you to reuse the same widget across several pages and change it from one location.
eCommerce builder: includes everything from product breadcrumbs, product meta, upsells, checkout, cart, to product rating, and more.
Elementor Pro allows you to simply add custom CSS and motion effects directly from the Elementor interface.
Premium Support is available 24 hours a day, 7 days a week through the account dashboard.
In addition, Elementor now offers the Elementor Cloud Website solution, which takes care of everything from hosting to WordPress installation for you alongside all the Elementor Pro features. Furthermore, it costs only US$99 a year, with a 30-day money-back guarantee.
You can use Elementor for free here!
Elementor Pros
It's completely free to use.
The drag-and-drop editing provides real-time previews.
It includes a wide range of features, and it's extremely easy to add them to your website.
It enables you to create custom page layouts and designs that aren't available in your current theme and requires no HTML, CSS, or PHP knowledge.
Built-in responsive design allows you to customize your desktop, tablet, and smartphone views independently.
All alignments, margins, and padding values have pervasive options. You have complete control over everything.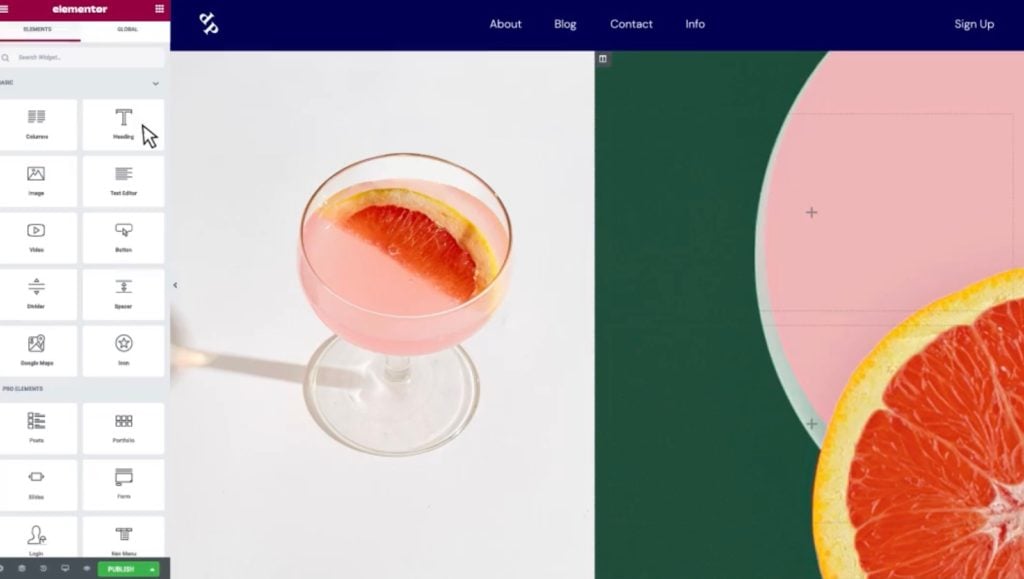 You can use Elementor for free here!
Elementor Cons
It's not always easy to add custom styling to links. You might be forced to use Elementor's default typeface and color options, which may not be ideal.
It's often difficult to pinpoint the specific margin value causing the misalignment on the page.
There is no white label option, which mainly affects developers.
You won't get any customer support using the free version.
Elementor FAQs
Is Elementor a good website builder?
Yes, and it's easy to see why Elementor is a good website builder. Elementor is a valuable tool for anyone to make professional websites, thanks to its handy front-end page builder, live editor, and a wide variety of pre-designed themes.
Is Elementor good for beginners?
Yes, Elementor is beginner-friendly since its drag-and-drop live editor makes it easy for anyone to edit and design their website without any coding knowledge. In addition, the vast library of templates and website kits make it easy for beginners to start their website even without design skills.
Is Elementor difficult to use?
No, Elementor is very easy to use as the drag-and-drop editor is very intuitive. Anyone can start using Elementor in a few minutes.
Why is Elementor so slow?
Your Elementor site can be slowed down by using too many bloated plugins, extra modules, cheap shared hosting, and not optimizing fonts, graphics, and third-party scripts.
We used to experience the problem of a slow site. We thought it was Elementor causing it, but in fact, it's the shared hosting we used that cannot handle our growing visitor base. We then switched to Kinsta, and problem solved! 
Can I use Elementor without WordPress?
Unfortunately, no. Elementor is a WordPress plugin that helps you design your website. Think WordPress as the backbone, and Elementor helps you with the visual appearance. Therefore, you will need WordPress for Elementor to work.
Elementor Review: Conclusion
To sum up this Elementor review, if you're looking for a great free drag-and-drop page builder plugin for WordPress, Elementor is the way to go. This is the plugin for you if you want complete control over the appearance of your WordPress site without having to dig into the code. Even if you have the technical skills to code everything yourself, Elementor makes site building intuitive and straightforward.
Although Elementor's free plan allows you to do a lot already, we recommend upgrading to the pro plan. We personally use the pro plan because the opportunity to develop your own theme and the global widgets feature make the subscription cost of US$49 per year worthwhile.
You can use Elementor for free here!
Further read:
WordPress Tutorial: Building Websites With WordPress In 10 Minutes
What Is WordPress? A Beginners' Guide To Start Using WordPress
Best Website Builder For Small Business
Weebly Tutorials: How To Use Weebly (Step-By-Step Guide)
Wix Vs Weebly: Which Is A Better Website Builder?
Webflow Pricing: Prices And Plans Explained (2022)
The 7 Best Website Builders Of 2022
8 Best Blogging Platforms To Make Money (Compared And Reviewed)