Wix vs Weebly … which is the best website builder?
Wix and Weebly are excellent website builders for establishing your online presence. This article will provide a comprehensive comparison of their web design flexibility, integrations, marketing and eCommerce tools, site administration, customer support, and pricing. 
By the end of this article, you should be able to decide whether Wix or Weebly best suits your needs!
Now, let's see how the two website builders compare. 
Wix vs Weebly: Which is the best website builder?
Founded in 2006, Wix has accumulated 180 million users in 190 countries until today. The website builder is renowned for providing specialized features like a drag-and-drop builder to help anyone build a professional website without coding skills!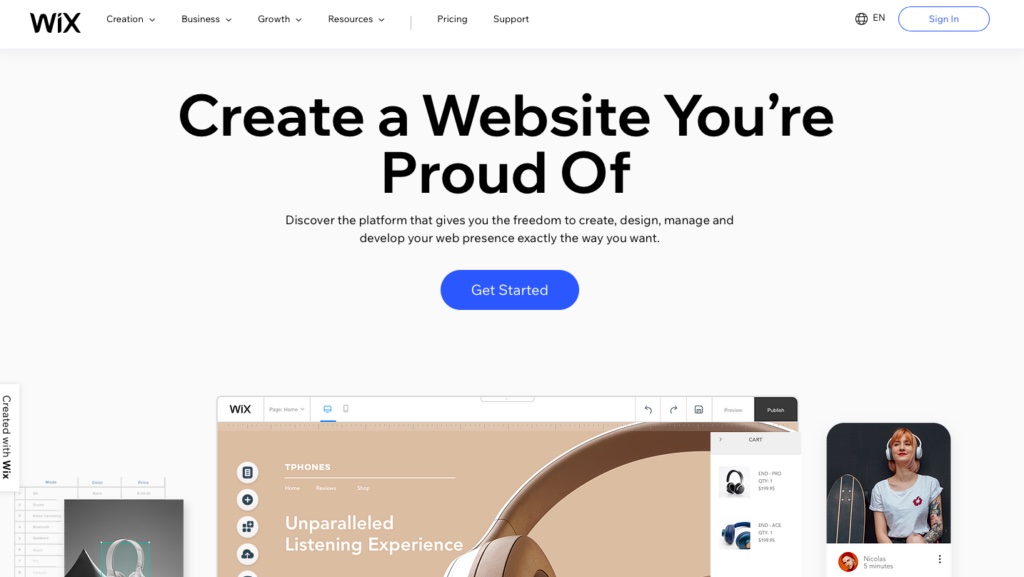 Established in 2007, Weebly now supports millions of businesses and more than 50 million sites globally.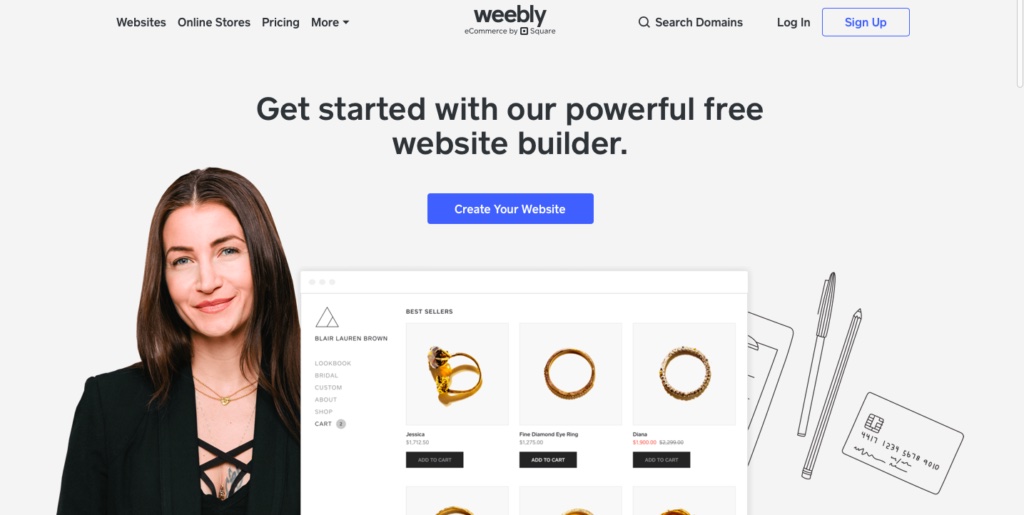 Both website builders offer powerful tools to build a professional, mobile-optimized site with robust marketing and analytics tools for business growth.
Wix is a top choice for many scalable small businesses as it provides advanced features like marketing tools and a vast Wix app market for expansion.
Like Wix, Weebly provides comprehensive and straightforward features in the website builder and a Weebly app center for small businesses to kickstart their entrepreneurial journey by expanding their website capability.
Now, let's look at their website design flexibility and begin with their most notable feature – the drag and drop editor.
Design and Flexibility
Wix vs Weebly: Drag and Drop Website Editor
Both are intuitive drag-and-drop website builders.
Comparatively speaking, Wix provides greater design flexibility with much visual content and graphic design to add to your sites.
With Wix, you can enjoy excellent design flexibility by resizing, recoloring, rotating, and aligning every element.
In addition, there are visual libraries that contain ample customizable visual content! So whether you're building an online store, a portfolio site, a blog, or an online scheduling website, there is something for everyone. You name it!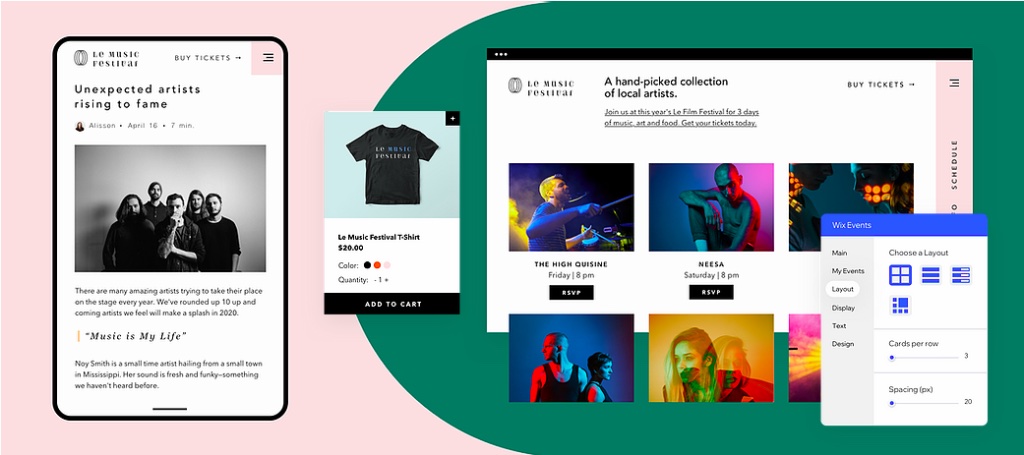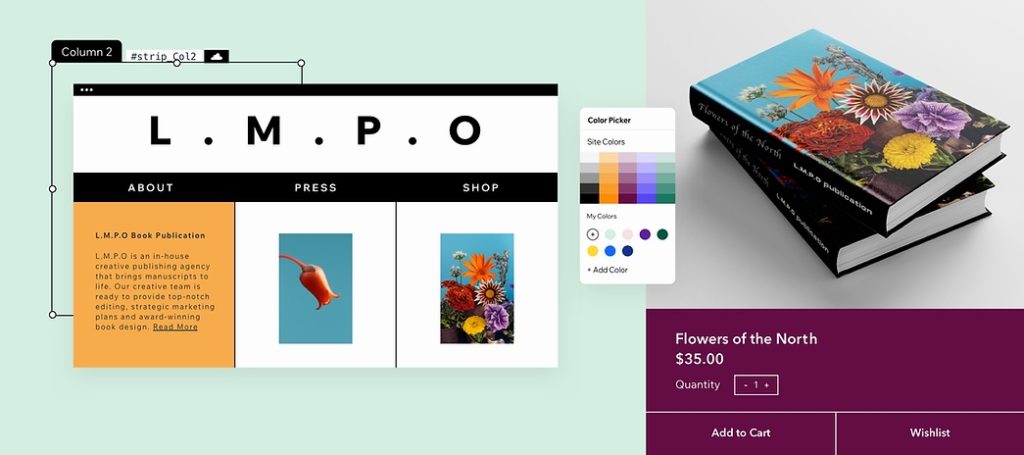 Weebly also supports various content elements, including text, photos, maps, and videos.
There are also some unique design features for this website builder. For instance, you can add video, full-width-image, and color backgrounds to impress your site visitors. In addition, custom headers allow you to begin specific pages with slideshows and other dynamic elements.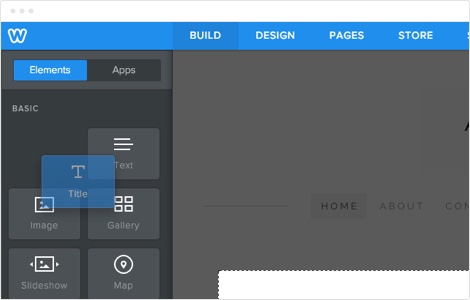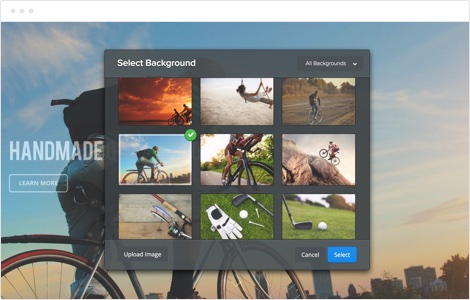 In terms of the drag and drop editor, Wix is the clear winner. It provides greater flexibility and more visual elements for you to build your website.
Wix vs Weebly: Website Themes
Both website builders offer you a wide range of great site templates, but Wix's number of templates is ten times that of Weebly!
With Wix, You can choose from more than 500 designer-made templates. They are neatly categorized. For example, choose Store > Fashion and Clothing templates if you're building an online boutique.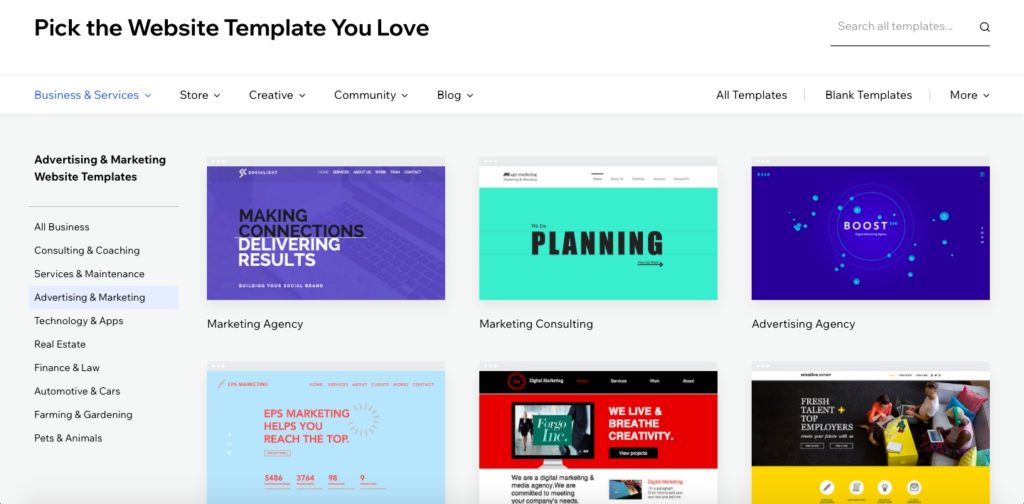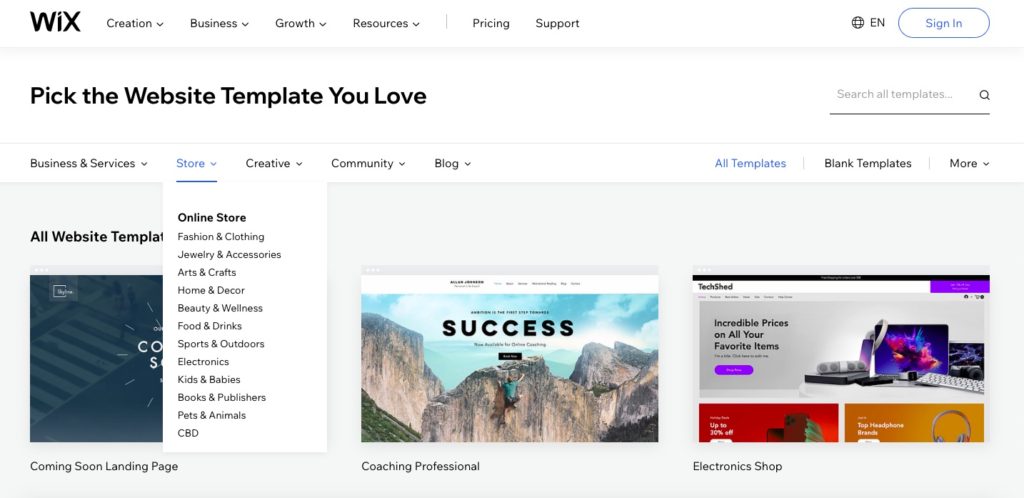 With Weebly, you can enjoy over 65 professional templates and themes based on your website type, such as an online store, business, portfolio, etc.
Apart from a wide selection of themes, such as ultra-modern minimalist, bold, and classic, you'll also have control over the layout. For example, you may change the font, header, color, and other elements effortlessly.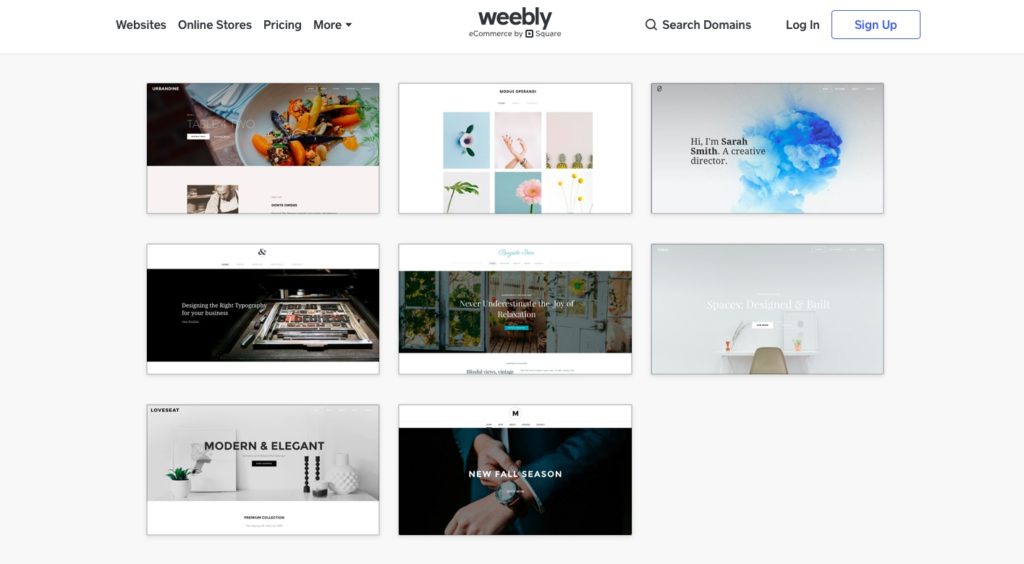 For website themes, Wix wins again. It offers a much more comprehensive range of selections.
Wix vs Weebly: Adding Codes On the Website
Both website builders allow you to add codes to the websites.
Velo by Wix is a full-stack development platform that allows you to build a professional web app quickly. You can use the drag and drop editor to create your UI, then add custom functionality using JavaScript and Velo APIs in the built-in IDE.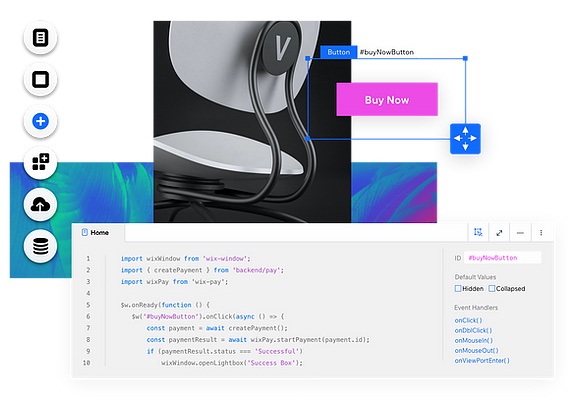 Similarly, Weebly's code editor provides customization options. For example, you can edit the themes' HTML and CSS and embed code elements in a particular content area.
Winner: Wix. Velo is much more powerful than Weebly's code editor.
Wix vs Weebly: Mobile Responsiveness
Both of them offer mobile-responsive site designs.
With Wix, you can choose whether to enable your site's mobile-friendly view to resize the fonts and images automatically. You can also add mobile-responsive elements like a quick action bar or a back-to-top button for easier navigation!
All themes on Weebly are responsive on mobile devices. Want to have a quick preview on your devices? Use Weebly's apps for Android and iOS devices to create your mobile website!
It's a tie. Both website builders offer a mobile responsive site builder.
Wix vs Weebly: Additional Features
Wix provides Artificial Design Intelligence (ADI) for better and easier site design, while Weebly offers content integration flexibility.
You may not have imagined designing a website with AI. With ADI, you can build a fantastic website by importing your social media information.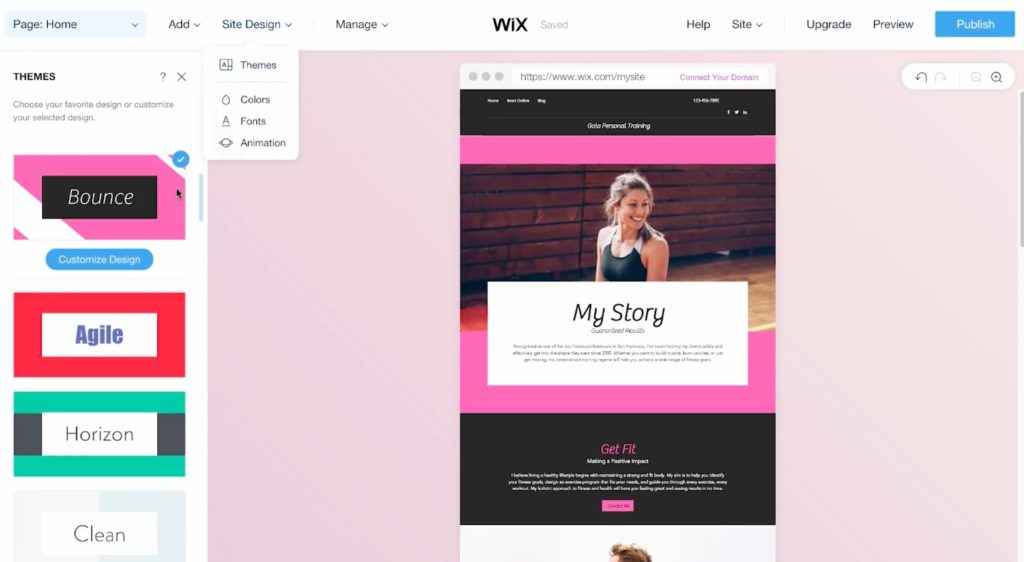 Weebly provides flexibility in integrating website content and eCommerce. For instance, you can sell products within blog posts.
Marketing
Whether you're running an online store or a blog, it's important to have built-in marketing tools to promote your website. Now, let's dive deep into Weebly's and Wix's marketing tools for email marketing, SEO, and data analytics.
Wix vs Weebly: Email Marketing
Both website builders provide intuitive drag-and-drop email editors.
Wix's is slightly ahead with templates and themes for you to choose from. You can start from scratch or design with templates, then edit fonts, colors, backgrounds, and videos to create mobile-optimized emails.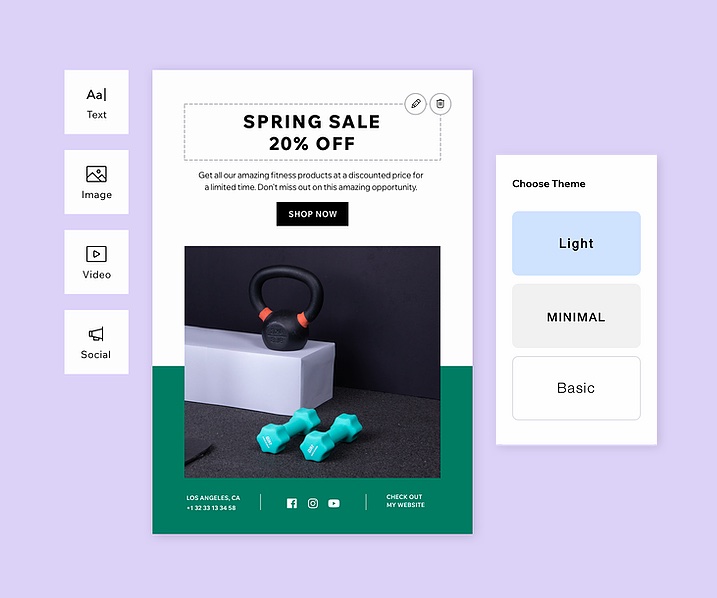 You can utilize Weebly Promote to customize emails. You'll need to drag and drop elements like titles, images, and maps to create mobile-responsive emails for announcements and promotions.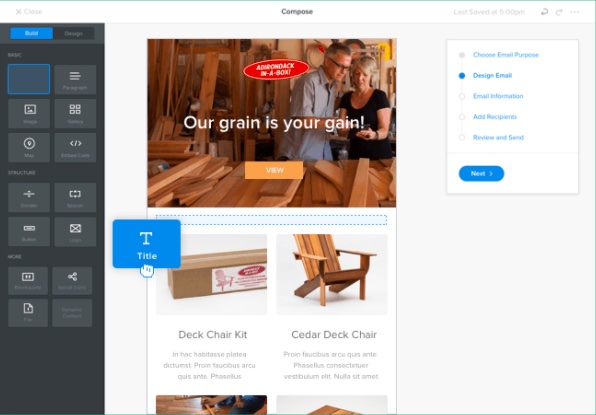 Wix vs Weebly: SEO
Although SEO features in Weebly are sufficient, Wix provides more robust SEO tools.
Wix SEO Wiz is the built-in SEO tool that secures your website with SSL Certificate and protects any sensitive data. In addition, it generates a sitemap automatically to keep all website information updated for search engine indexing.
Furthermore, you may use canonical URLs to avoid duplicate content affecting search results.
Finally, it allows you to customize SEO-friendly tags and URLs for better search engine optimization.
Here are some beginner steps to build a Wix website optimized for search engines. If you're interested to learn more about SEO, check out our guide to the best SEO tools.
When building your Wix website, you might be prompt to answer a few questions about your website and business location. Make sure you answer them accurately.
Then, input keywords of your website. For keyword research, we highly recommend you trying out Semrush.
Follow some SEO best practices.
Index your website by submitting your sitemap to the Google search console.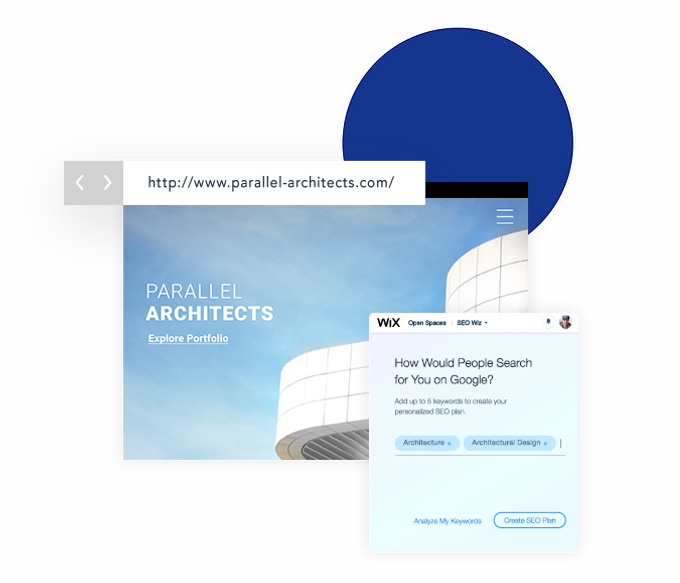 Similarly, Weebly provides SEO tools that include a sitemap for search engines to crawl your Weebly website intelligently. SEO-friendly HTML formatting, meta descriptions, responsive web design, and more features are also available.
Winner: Wix, as it provides more comprehensive SEO tools for search engine optimization. But Weebly also provides a comprehensive guide to SEO.
Wix vs Weebly: Analysis and Report
Weebly's website statistics is neck and neck with Wix's analytics. It tracks several kinds of metrics about sales, traffic, visitors. They are also good at analyzing email marketing campaigns. However, Weebly does slightly better in gathering your website performance in one dashboard.
With Wix, you can obtain various reports:
Sales report: Track the revenues and sales from your online store.
Traffic report: Analyze traffic based on time, device, locations, and landing pages.
Behavior report: Understand how your website visitors interact with your site
People report Understand your website visitors, contacts, members, and clients.
Marketing analysis is indispensable for your marketing campaigns. Wix's advanced data analytics can track how successful your email campaigns are in real-time. Together with A/B testings, you'll also know the better content for your email marketing campaigns.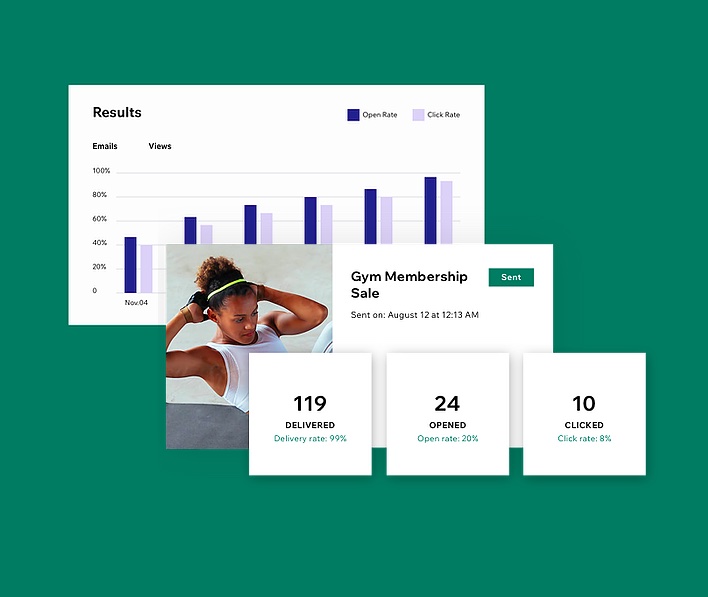 Weebly allows you to view your site performance at a glance from the dashboard. For instance, you can track the number of visitors, pages they visited, what keywords they searched to land your website and other real-time figures.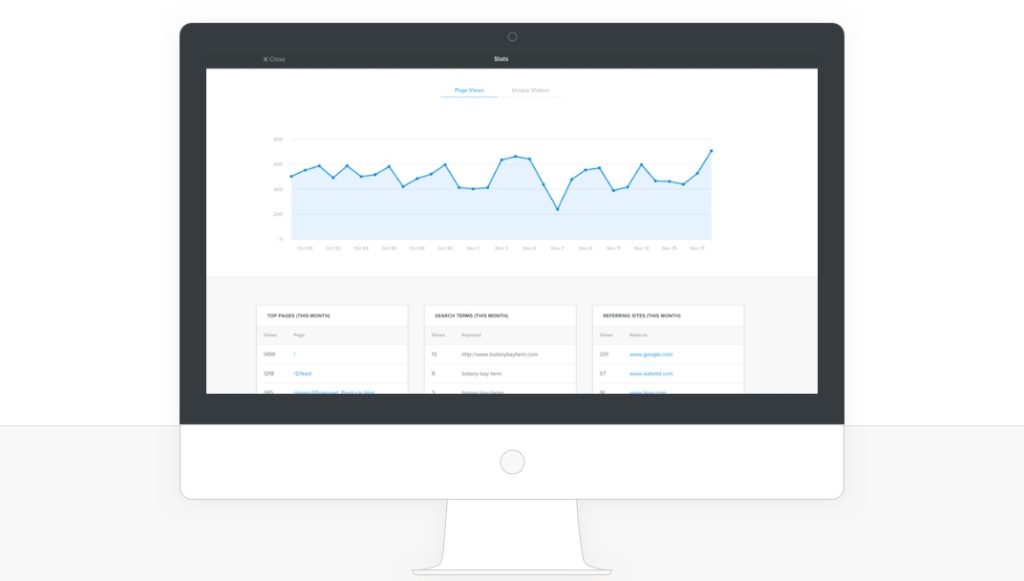 As previously suggested, Weebly Promote is an excellent tool for email marketing campaigns. You can obtain eCommerce analytics to track the following data:
New contacts
Total contact
Unsubscribes
Emails sent
Unique visits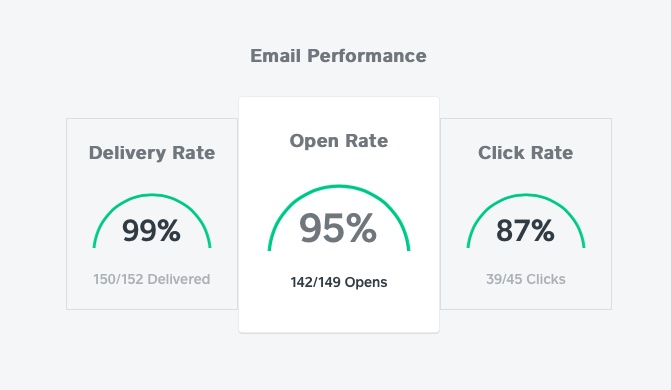 Weebly is the winner for analytics and reports as it offers an intuitive dashboard for your to understand your website statistics in one glance.
E-Commerce
Wix vs Weebly: Business Brand Building
Wix offers excellent tools for building your online store and website, while Weebly enables you to import existing store content from other platforms.
With Wix, you can get started with free tools like the Wix Logo Maker and Business Name Generator. These are essentials for establishing an online store and building your business brand.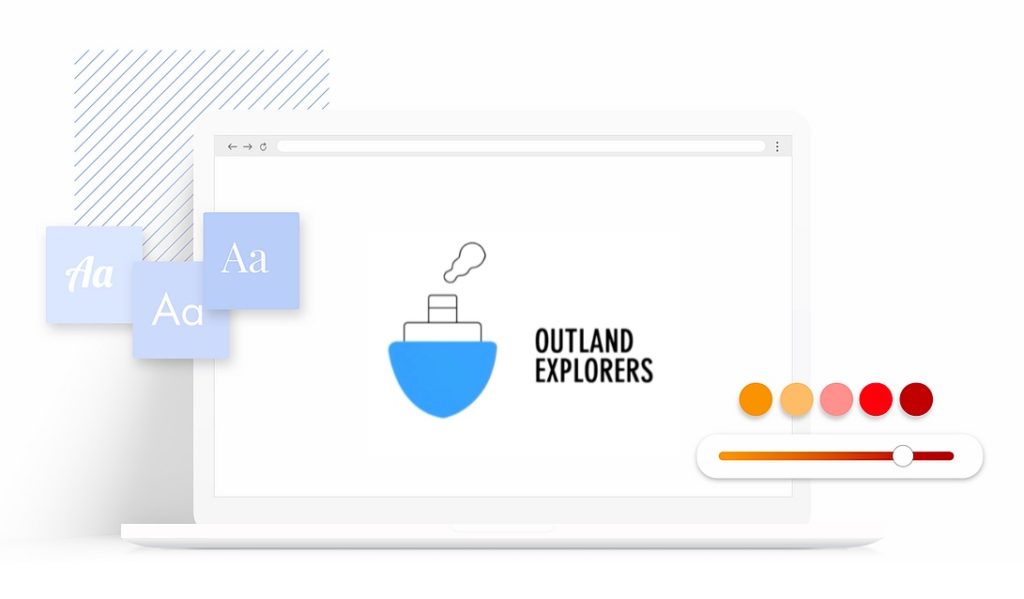 Weebly provides a logo maker app that costs $39.95 and with a two-star rating. However, it doesn't provide a business name generator like Wix.
So, the winner is Wix, as it provides more powerful free tools for business brand building.
Wix vs Weebly: Online Store Import
Wix supports product import with CSV files. You can download a Wix sample file and follow the instructions to move from another eCommerce platform to Wix. In addition, you can connect your Etsy shop or Shopify shop with your Wix website in minutes with native integrations.
Related article: Best things to sell on Etsy to make money
Similarly, you can import your store content and product listings from platforms like Esty and Shopify to your Weebly website. Then, tryFurthermore, with or you can upload a CSV file into the eCommerce website builder.
Overall, it's a tie as both website builders support convenient online store imports.
Wix vs Weebly: Business Management
Wix and Weebly work similarly in business management. You can manage your store with mobile apps 24/7 and monitor operations.
With Wix, you can streamline your business management from tracking orders, payments, shipping, adding new products, and checking sales analysis from one dashboard.
To track inventory, you can trace the number of products available in real-time or trace separately based on each product option, such as color or size.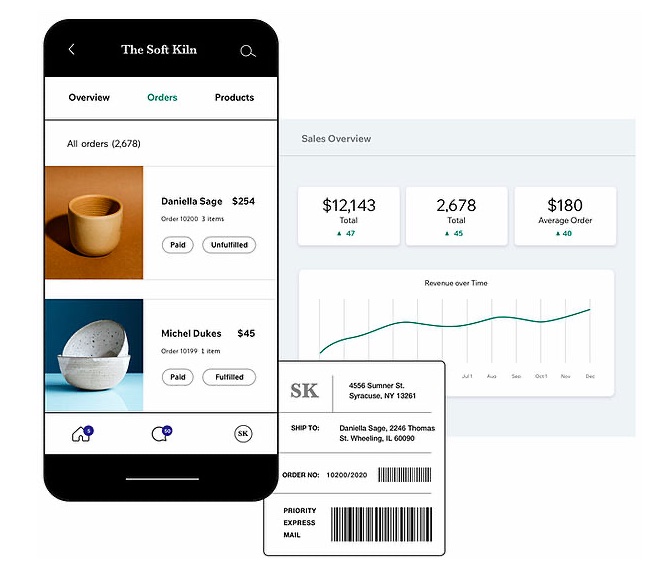 Likewise, you can process and manage orders the same way in Weebly. It includes order confirmation emails, shipment tracking notifications, refunds, returns, and real-time reporting for orders and sales. There is also an option to provide personalized service and respond to customers' inquiries.
In addition, you can track your inventory and display the stock left to create a sense of urgency which encourages faster purchase!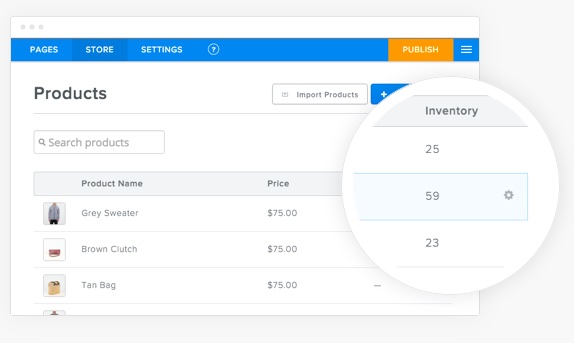 It's a tie. Both website builders provide similar business management features.
Wix vs Weebly: Product Display and Varieties
Product display is more flexible in Weebly. But Wix provides more product varieties for your store, including product subscriptions and dropshipping products.
You can customize the Wix product gallery by adjusting the layout, image ratio, and style.
How about selling subscriptions to earn recurring revenue? Think about selling curated boxes! Some popular items for subscriptions are recurring products for replenishment, such as skincare products, meal kits, and cleaning supplies.
Ever thought of starting an online store but hate managing inventory and shipping? Then, try dropshipping by integrating the website builder with the best dropshipping suppliers like Spocket.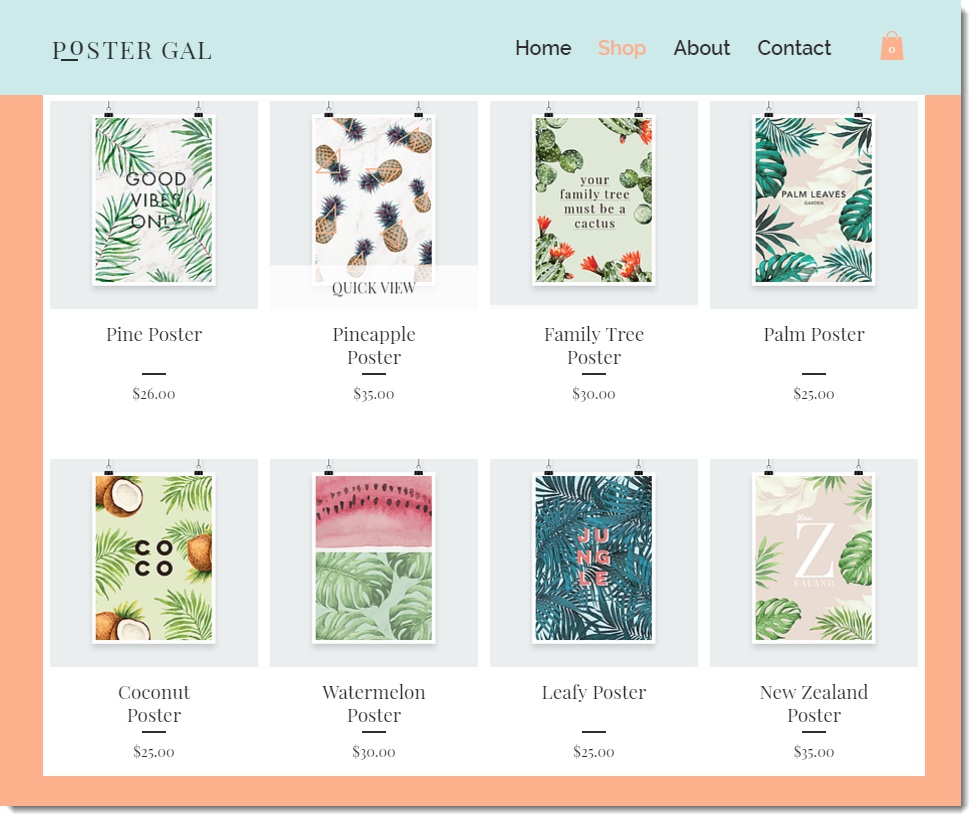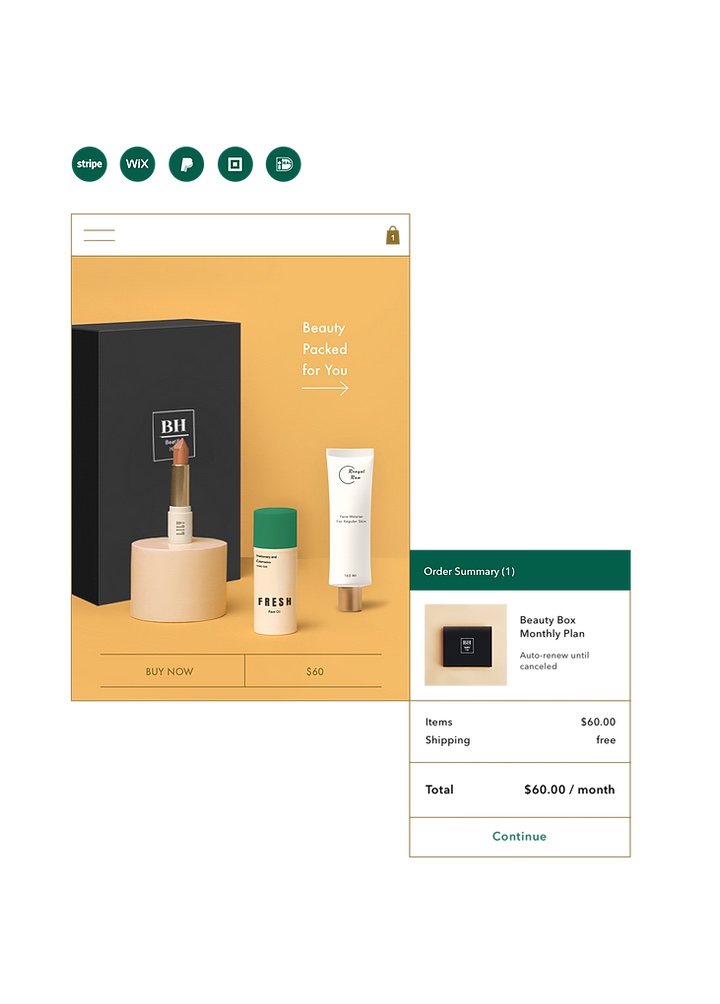 You can showcase featured products with photo displays, slideshows, and videos on Weebly. Furthermore, visitors can effortlessly search for their desired products with several filters like price, color, and size. Besides, you can make products stand out with badges!
In addition, you can sell digital and downloadable products. Upon purchase, the system sends customers a secured one-time-use link via email to download the items.
Unfortunately, built-in product subscriptions aren't available in online stores.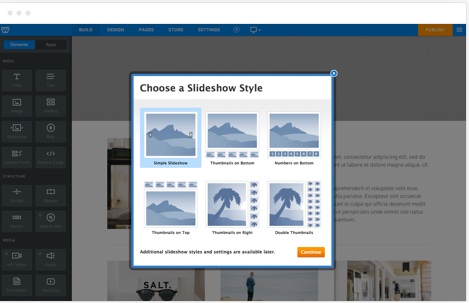 It's a tie. Both Wix and Weebly offer similar product displays and various options.
Wix vs Weebly: Shipping and Payment
Both website builders work similarly in payment and the customization of shipping rules.
They allow you to integrate with secure payment gateways like PayPal, Stripe, and Square. In addition, Wix provides alternatives like Wix Payments and offline payment options like cash and wire transfer.
In addition, you can automate your taxes for each sale on a Wix website.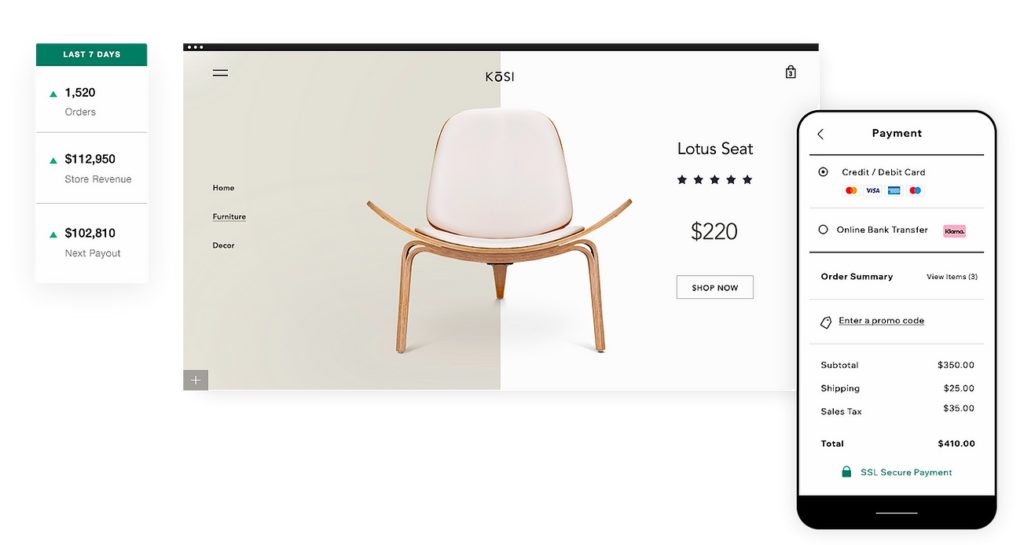 Weebly's shipping tool makes both domestic and international product delivery easy. There are multiple settings for shipping on this website builder:
Free shipping on select orders.
Get real-time shipping rates based on price, weight, geographic locations.
Choose carriers.
Choose delivery speed.
However, there are no offline or native payment gateways.
Overall, it's a tie. Wix offers more payment gateways, while Weebly offers real-time shipping rates.
Wix vs Weebly: Promotion
Both website builders allow you to provide coupons for customers. For example, on Wix, you can offer five types of coupons for your customers. Likewise, you can create custom coupons on the Weebly website.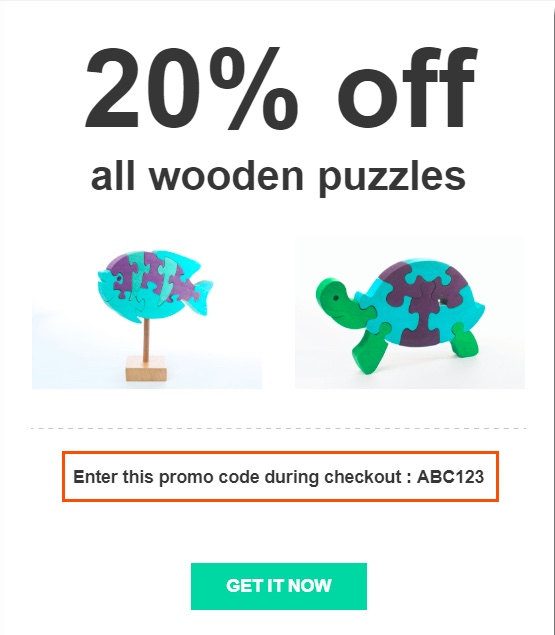 In addition, native digital gift cards are available on the Weebly website. But you'll need third-party integrations for gift cards on Wix.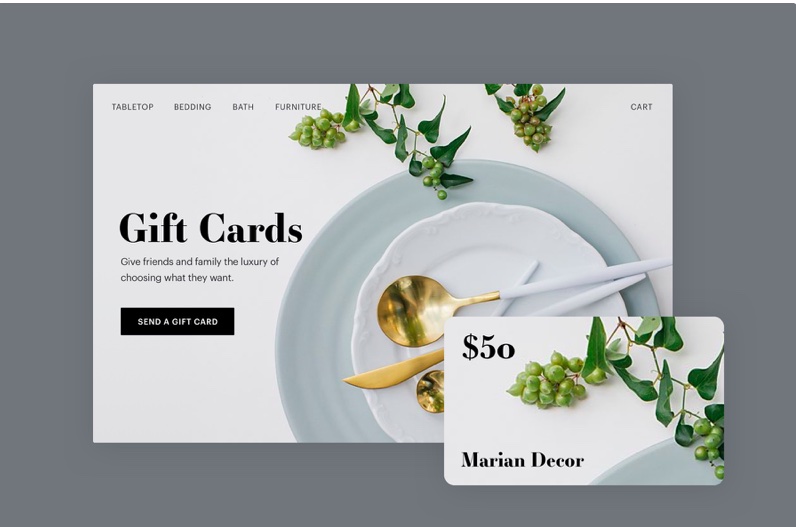 Integrations
Wix app market provides more than 260 tools for marketing, selling online, web design elements, communication, and more. In addition, they smartly recommend the best integration tools for you.
Weebly provides an App Center where you can find more than 350 tools developed by third parties and Weebly. The tools will help you with boosting site traffic, spiking sales, and getting social.
Weebly wins as it provides more integration choices!
Wix vs Weebly: Marketing
You can enjoy more than 50 marketing tools through integration on both Wix and Weebly. In addition, both website builders allow you to integrate with Visitor Analysis for advanced visitor statistics, analytics, and feedback.
However, solely analyzing your site visitors isn't enough.
Email marketing is a massive part of any successful website. And both website builders can integrate with your favorite email marketing tools!
Furthermore, you can integrate your Wix website with Smart Pop-ups and Forms to build widgets and capture leads by increasing visitors' engagement.
Similarly, you can integrate your Weebly website with Promote Forms to add lead capture forms.

If you want to get your website found on a search engine, you'll need search engine optimization (SEO). Many SEO tools, like Semrush, can help you with that.
RabbitSEO is an SEO tool available on both website builders' app markets to help your website attain higher ranks on search engines by identifying the right keywords and improving landing pages.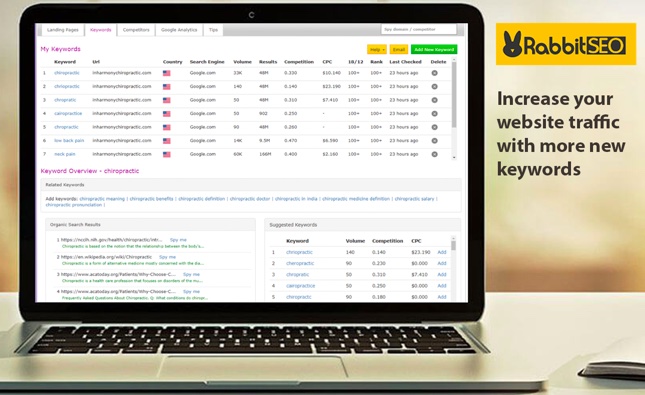 Wix vs Weebly: eCommerce
Both Wix and Weebly offer more than 50 selling tools for integration.
You may want to start a dropshipping business. Wix integrates with Modalyst, a dropshipping automation platform that helps you find dropship products and automate the store operation by integrating with AliExpress.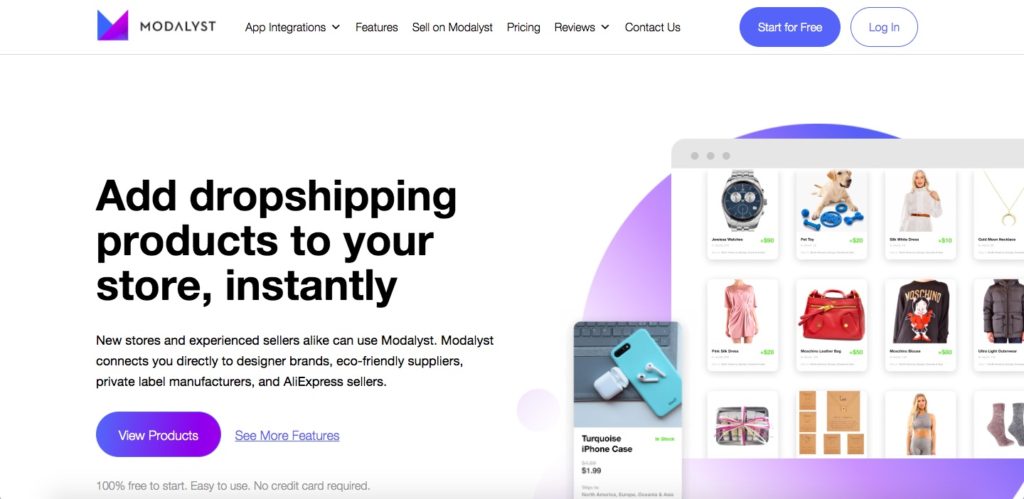 Weebly integrates with Checkout Boost, a tool for generating new traffic by social media. You can also add a countdown timer to create a sense of urgency to increase conversion!
Wix vs Weebly: Form and Live Chat
Forms and polls are effective ways to communicate with your website visitors. Fortunately, both website builders enable you to do so with third-party integrations.
You can integrate Wix websites with Form Builder and Payments. The tool allows you to design different kinds of custom forms.

With Weebly, you can integrate with Forms to make custom, secure, and elegant forms and surveys without coding skills. In addition, every time you receive a new form response, you'll get automatic email notifications.
The next step for effective interaction with website visitors is live chat communication. Tidio, a live chat app that combines live chat, messenger, and email, is available on Wix and Weebly.

Wix vs Weebly: Additional Features
You may want additional features to expand the capability of your website. Here are a wide variety of solutions in the app market.
For example, if you're building a website for your physical store, you may use Map & Store Locator on the Wix app market to show your visitor the closest store, event, and product locations.
With Weebly, you can edit your website with image feeds by integrating Social Media Stream, a widget for displaying your social media posts. Color Block is another helpful tool to highlight content by placing a solid color block behind the title, text, image, and more components.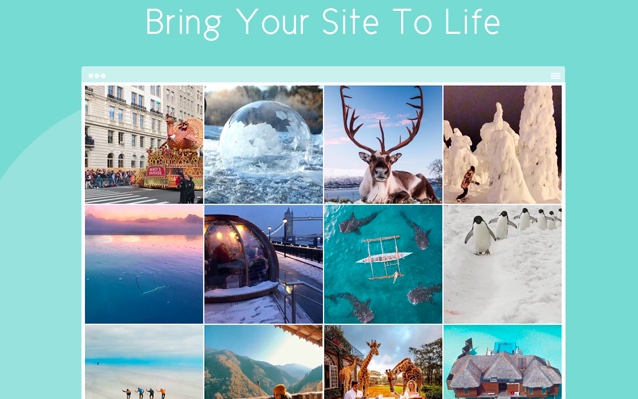 Wix vs Weebly: ECommerce Analysis
Both website builders provide comprehensive eCommerce analysis.
Wix provides personalized suggestions to boost your traffic, while Weebly provides abandon cart emails to help you drive more sales.
With Wix, you can view revenue by time, product, geography, and source. You can also get insights into your customer base. Overall, the analytics provides you with insights and personalized suggestions to boost traffic.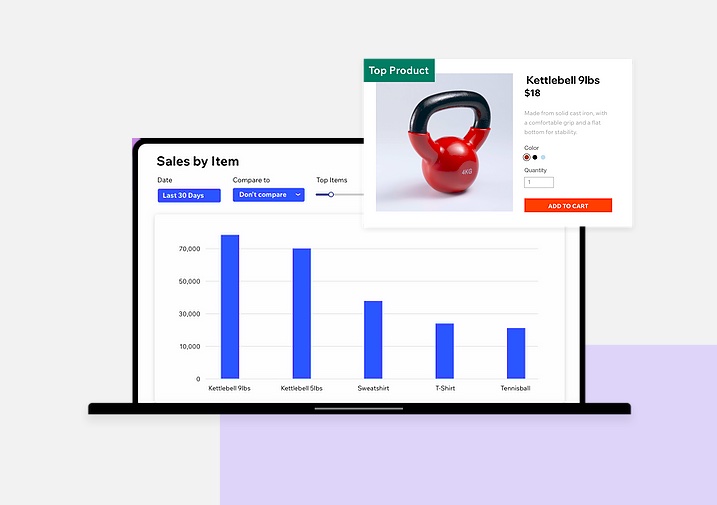 Weebly tracks the real-time metrics that are valuable to your business: store performance, email engagement, referral traffic, and so on. Apart from these, you'll see sales data that describes your top products:
Views of the ordering page
Percentage of actual purchase over page views
Products with the most orders and generating the most revenue
Do sales numbers keep being stagnant? Then, encourage purchasing by sending abandoned shopping carts to customers.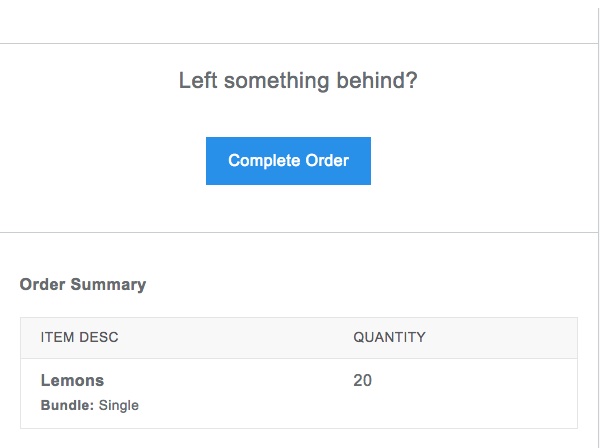 Site administration
Wix vs Weebly: Roles and permission
Wix provides more time, roles, and permission types than a Weebly website, making it more flexible to manage your website.
Wix provides ten roles for site management:
Site owner: Manages all website settings.
Admin: Same as a site owner, except that an admin doesn't have permission to delete the website.
Domain Manager: Manages the website domain.
Blog Writer: Writes content for the website and blog.
Website Manager: Edits the website and all the dashboard information.
Store Manager: Manages everything in the store.
Marketing Manager: Manages marketing activities.
Website Designer: Design the website without access to business information.
Booking Staff Member: Manages website bookings and communicates with clients.
Billing Manager: Manages financial activities.
You'll need Weebly Cloud to add and assign team members to roles:
Admin: Full access.
Contributor: Full or limited access to the website, usually for employees.
Technical member: Access to customer information and website functionality.
Support member: Some access to customer information and full access to website functionality.
Editor: Website editing and able to view customers' information.
Finance member: Have access to billing only.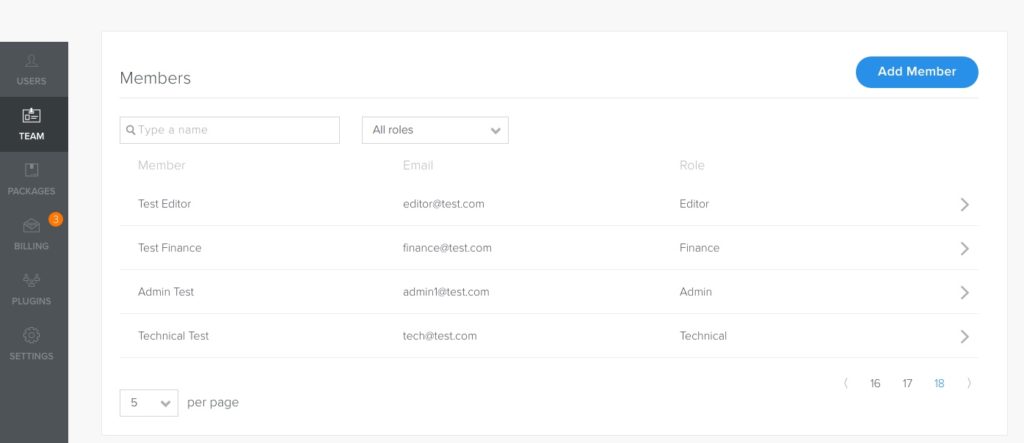 Wix vs Weebly: Custom domain
Both website builders allow you to connect to domains of your choice. Wix offers a one-year free domain for an annual paid plan, while Weebly enables you to transfer an existing one to the new website.
You can register for a private domain on Wix, so your personal information is secured without third-party spam, and it increases your site's discoverability through search engines. In addition, you can get a one-year free domain voucher from purchasing the annual Premium Plan!
On the Weebly website, you can choose to either buy a domain or transfer an existing domain. Domain transfer is straightforward.
Customer Support
Wix vs Weebly: Support Channels
Both website builders provide practical help centers. For international users, the live customer support in Wix is available in nine languages, while non-US citizens can seek help on the Weebly website through email support.
You may log in to your Wix account and contact customer care by submitting a ticket or requesting a callback. The callback service is available in nine languages, with English and Spanish being ready 24/7.
If you need help urgently, categorize your issue so Wix will direct you to a specialized Customer Care Expert.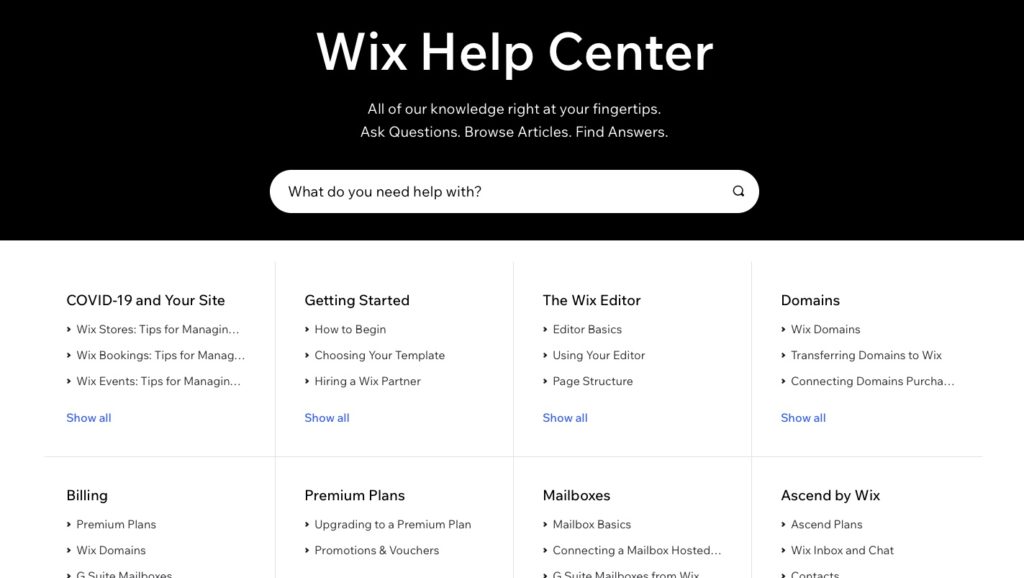 Weebly's customer support is also all-around. If you're living outside the US, you may ask for help through email support. The customer support team stand by from 6 am to 6 pm Pacific Time on weekdays and 8 am to 5 pm on weekends. In addition, you can receive real-time customer support by phone and webchat from Weebly if you live in the US!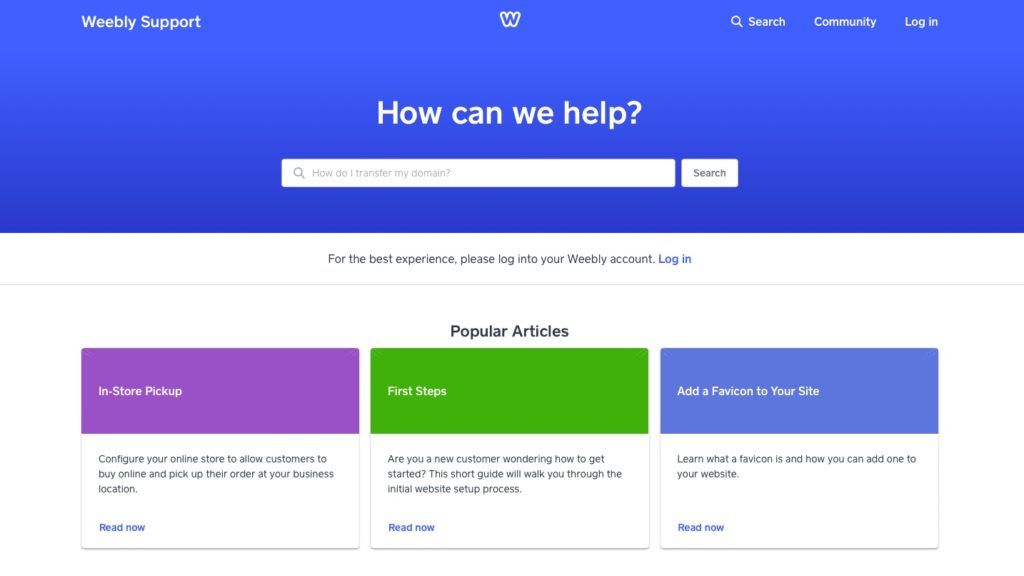 Wix vs Weebly: Training Support
Both website builders offer a forum for users to discuss the issues they encounter. For Wix, there's a school for users to attend online courses, and you can hire a Wix Partner to get assistance. For Weebly, you'll receive first-time store setup help.
Join Wix eCommerce School to receive step-by-step guidance! Attend a series of free online courses to receive best practices and insider tips, or watch live and past webinars to learn strategies for setting up your store.
In addition, you may hire a Wix Partner for web design, marketing, online store building, website building, and more.
Need help from follow Wix users? Then, connect with them through Wix Forum Community! From there, you can get the latest feature update, share insights on website building, and ask questions in the community.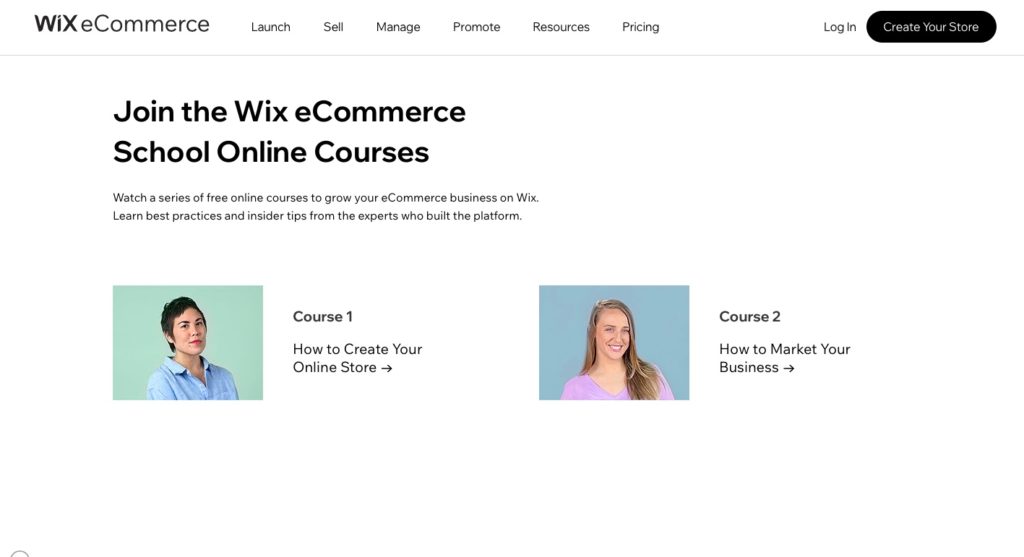 Weebly provides a community for user discussion. You can search for topics like website building help, connecting a domain name, etc.
In addition, Weebly offers assistance for first-time store setup. If you're building an online store or using a website builder for the first time, Weebly will provide free live training sessions to walk you through everything.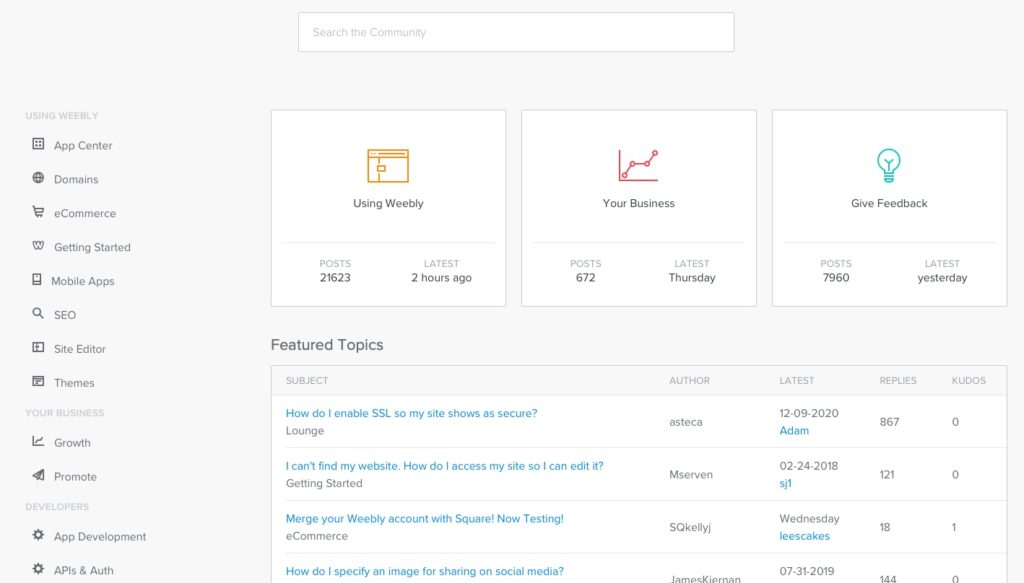 Pricing
Wix's plans offer more ample resources and functions than Weebly's plans from the same tier. However, Weebly provides a free website plan, and some paid plans are available for building both websites and eCommerce stores. So you don't have to purchase different plans separately.
Wix vs Weebly: Website plans
Free Plan
Wix: Free forever but comes with ads.
Weebly: Enjoy basic features for SSL security, domain with Weebly website branding, and some marketing tools. You may seek help through the community forum, chat, or email support.
Connect Plan
Wix Connect Domain Plan ($4.5/month): Enjoy 1GB bandwidth, 24/7 customer care, and connecting to a domain. However, there are Wix ads display on the site.
Weebly Connect Plan ($5/month): Everything from the free plan plus SSL security, 500MB storage, and custom domain.
Personal Plan
Wix Combo Plan ($8.5/month): It's a plan for personal use. You'll have more bandwidth, storage space, and 30-minute video streaming on the site. Additionally, you can remove Wix ads and enjoy a free domain for one year.
Professional Plan
Unlimited Plan in Wix is mainly for entrepreneurs and freelancers, while Pro Plan in Weebly is for groups and organizations. However, both plans are similar in terms of features. For example, you'll enjoy the removal of the website builder's ads and advanced site statistics.
Wix Unlimited Plan ($12.5/month): It's the most popular and with more advanced features. You'll enjoy unlimited bandwidth with more storage space and video streaming. Additionally, Wix offers you a one-year free site booster app and visitor analytics app for better marketing.
Weebly Pro Plan ($12/month): It offers site search and phone support apart from features from the Connect plan.
VIP Plan
Wix VIP Plan ($24.5/month) offers 35GB storage space and five-hour video streaming for your site. Moreover, you can have 40+ logos of different sizes for your social media channels. Most importantly, you'll receive priority customer care.
Weebly Business Plan ($25/month): It provides pop-up notifications for users on top of the Pro Plan features.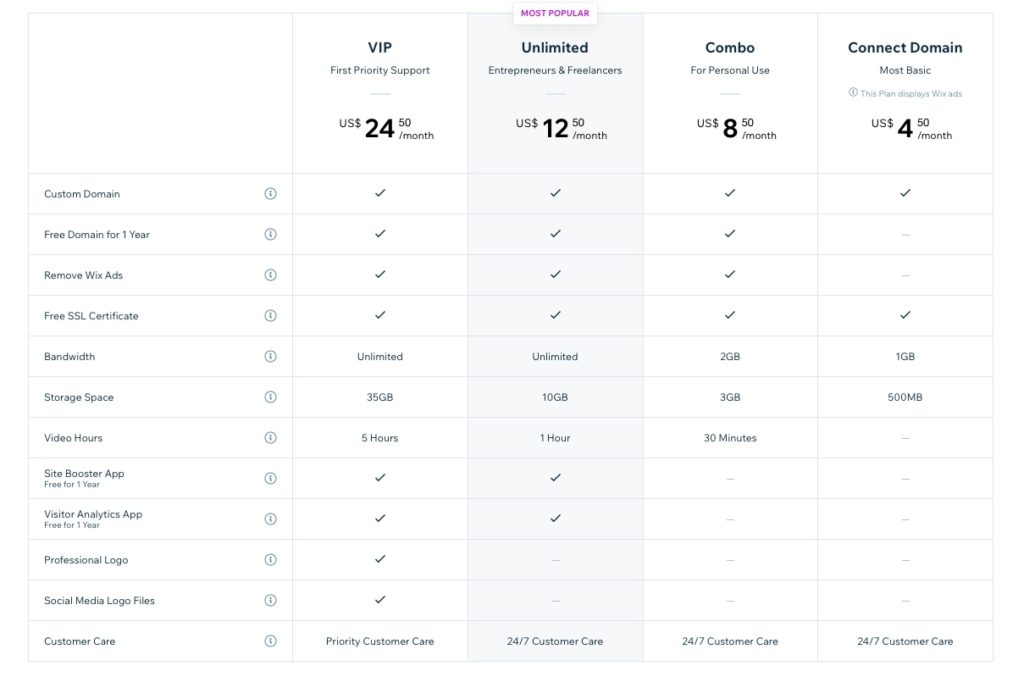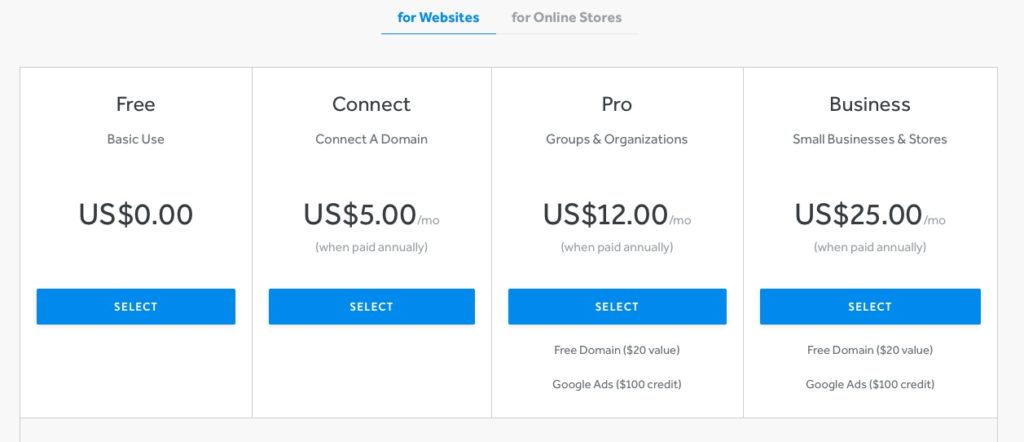 Wix vs Weebly: Business and eCommerce plans
Weebly's Pro Plan and Business Plan include eCommerce features, providing more flexibility to extend your Weebly website capability.
Basic eCommerce Plan
Wix Business Basic Plan ($17/month): It offers essential features, such as a custom and one-year free domain, removal of Wix ads, unlimited bandwidth, 20GB storage space, and five-hour video streaming.
For eCommerce features, it includes:
Secure online payments
Recurring payments
Customer accounts
Abandoned cart recovery
Selling on social channels
Weebly Pro Plan ($12/month): Weebly also offers basic eCommerce features like shopping cart, Square payments, and third-party providers payments.
Business Plan
Both plans offer product reviews and an automatic tax calculator.
With Wix, you can have up to 1000 product reviews and 100 transactions/month for the tax calculator.
Wix Business Unlimited Plan ($25/month): You can enjoy 35GB storage and ten-hour video streaming. Moreover, you can have the following advanced eCommerce features:
Subscriptions
Multiple currencies
Selling on Marketplaces
Dropshipping by Modalyst for up to 250 products
Weebly Business Plan ($25/month): It is similar to Wix's Business Unlimited Plan, with multiple useful features for online stores:
Item badges and options
Inventory management
Shipping calculator
Coupon codes and gift cards
Business VIP Plan
Wix Business VIP Plan ($35/month): 50GB storage, unlimited video hours, priority customer care, and customized reports.
In addition, you can have unlimited dropshipping products, automatic tax calculations for up to 500 transactions, and host up to 3,000 product reviews.
What's new is the loyalty program by Smile.io to reward returning customers and build brand loyalty.
Weebly's Business Plus Plan ($38/month): You can boost sales by sending abandoned cart emails and offer real-time shipping to your customers.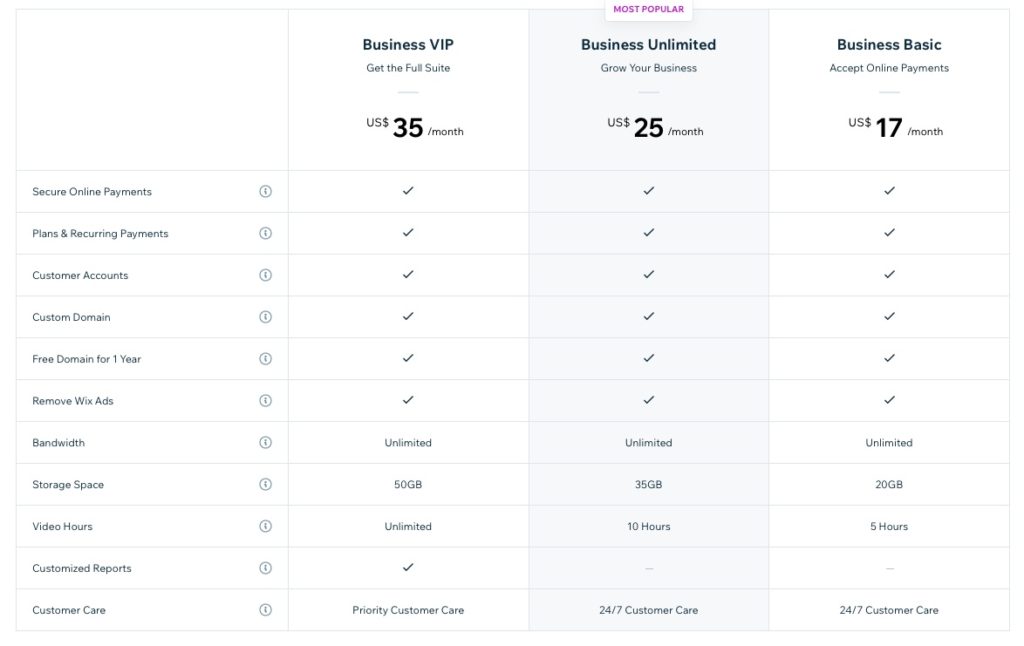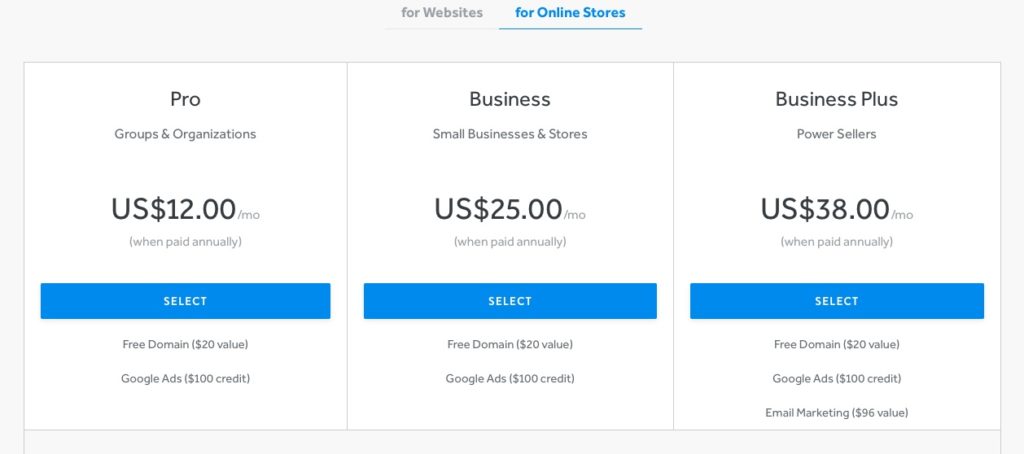 Wix vs Weebly: Which is the best website builder?
So, should you use Wix or Weebly?
Both website builders offer similar yet valuable features for website building. In addition, integrations and analytics tools in both Wix and Weebly are comparable.
Yet, Wix provides more advanced features such as ADI, dropshipping, and subscription products. These highlights make Wix a better website builder for larger businesses ambitious to expand their eCommerce business.
On the other hand, Weebly provides basic but comprehensive features. As a result, small businesses may start with the free plan and scale their business step by step.
You can get started with both Wix and Weebly for free to get a first-hand experience of their offerings!
Further read:
Wix Tutorial: How to Use Wix to Create a Website (Step-by-Step Guide)
What Is WordPress? A Beginners' Guide To Start Using WordPress
8 Best Blogging Platforms To Make Money (Compared And Reviewed)
The 7 Best Website Builders Of 2022
How To Build A Website In 5 Easy Steps (A Beginner's Guide)