Searching for the best graphic design software is not as easy as it sounds. After all, no solution will cover everyone's needs perfectly. For instance, beginners may look for something that allows them to perform basic edits and doesn't have a deep learning curve.
On the other hand, experienced designers need to have thorough editing options. So simple graphic design software wouldn't work for them. Still, you'll need to consider user-friendliness regardless if you're an amateur or professional. A clunky platform will waste your time and ultimately hinder productivity.
Moreover, if you work with a team or keep in close touch with your clients, picking a graphic design platform with cloud capabilities is a godsend. That's because it allows for effortless collaboration and quick sharing of files.
Lastly, there's the budget. You'll need to find the software that brings the best bang for your buck.
There's a lot to keep an eye out for. That said, let's take a look at some of the best design platforms available right now.
Figma: Best Free Design Tool for Prototyping and Collaboration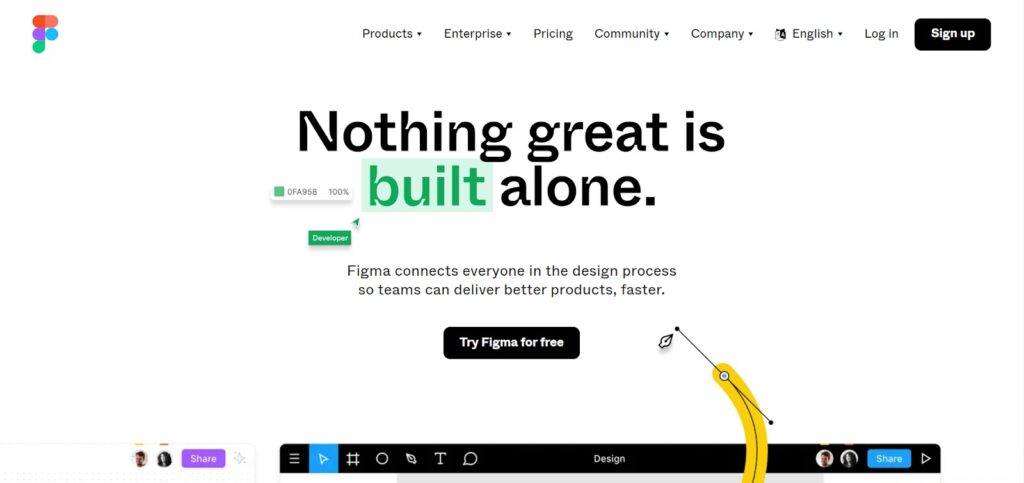 Figma is a web-based vector design and prototyping tool. One of its main strengths is collaboration functionalities. Think of Figma as the Google Docs of designers, as it lets you design, prototype, share files, and collect feedback in the same place. Also, Figma allows multiple team members to work on the same design file simultaneously.
Features
Real-time collaboration
Extensive plugin support
Live share
Version control
Developer handoff
Figma's liveshare feature allows you to quickly monitor your teammates' screens by simply clicking on their avatar. Moreover, version control enables you easily see your design's history and go back and forth between versions to track the progress or revert changes if needed.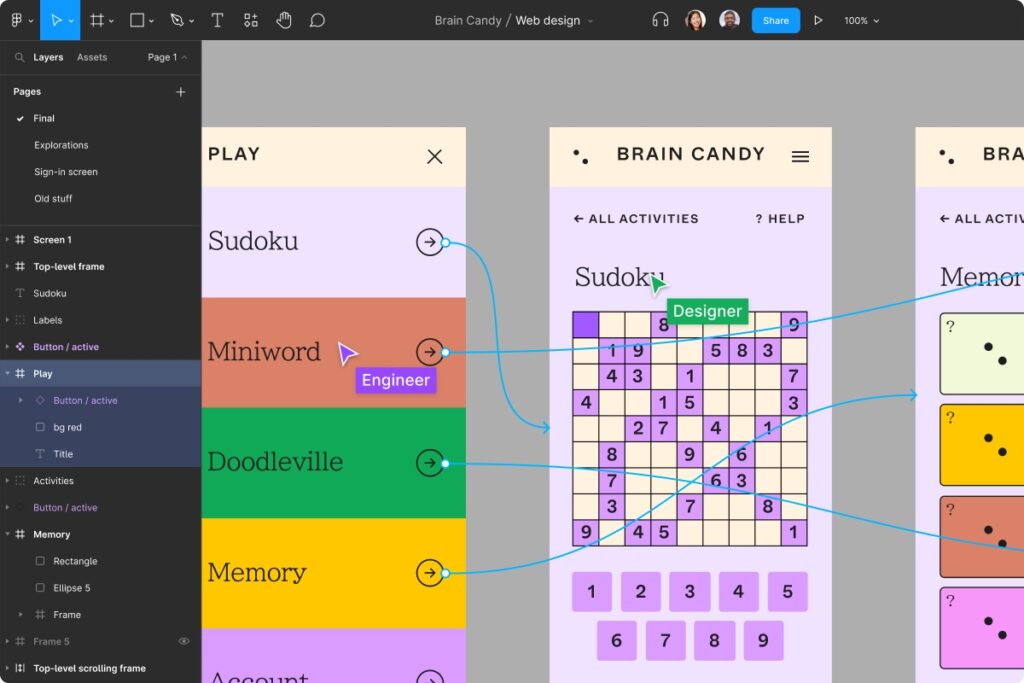 Lastly, developer handoff helps you maintain close communication with the dev team by allowing them to download images or icons and get dimensions and styles by sharing the project URL.
Pros
Intuitive UI
Strong community behind it
Extensive integration capabilities
Aside from its collaboration tools, Figma offers some solid UI/UX features that allow you to add micro-animations, create prototypes seamlessly, and more. Another strong suit is its community. With Figma, people can download files, custom-built templates, icons, and illustrations from other fellow designers and use them in their projects.
You can also extend this platform's collaboration capabilities by integrating it with other apps, like Slack, GitLab, Avocode, etc.
Pricing
Figma offers four pricing plans:
Free
Figma Professional – $15/editor/month
Figma Organization (annual only) – $45/editor/month
Figma Enterprise (annual only) – $75/editor/month
If you opt for Figma Professional's yearly subscription, you'll get a 20% discount.
Learn more about Figma Professional Plan here.
Canva: Best Graphic Design Platform for Beginners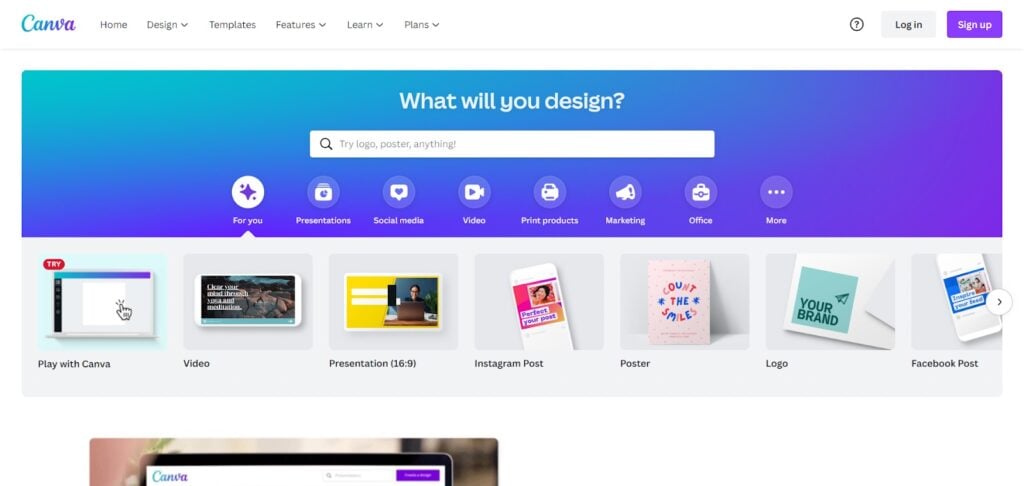 Canva is the perfect option for beginners. Its photo editing capabilities allow you to easily eliminate any distortions, add various effects, or apply filters for your website or social media posts. You can also mix fonts, add sound effects, tweak colors, etc.
All of this is done through its drag-and-drop editor. That said, this platform is easy to get into and allows you to perform basic edits in no time.
Features
Stock library
Customizable templates
Social media integration
Collaboration tools
Animations
Canva gives you access to various stock videos, images, audio effects, and graphics that you could use in your website or social media posts. It also provides thousands of free customizable templates to help you get started with editing right away.
You can also integrate Canva with social media platforms, including Facebook, Instagram, Pinterest, and Twitter. You can easily create and schedule social media posts directly within the platform.
Lastly, Canva includes collaboration tools that help you easily share files and edit designs concurrently.
Pros
Easy to use
Includes mobile app
Affordable
Canva doesn't have much of a learning curve. The interface is designed for ease of use, while its drag-and-drop editor lets you create and edit designs quickly and effortlessly.
This platform is available for desktop, Android, and iOS devices, meaning that you can easily edit while you're also on the go.
And the cherry on top, Canva, won't leave a hole in your wallet. It offers a free version covering all the necessary features, including access to thousands of free templates and stock media assets, collaboration tools, etc.
Pricing
Canva covers three pricing plans:
Free
Pro – $12.99/month for up to five people
Enterprise – $30.00/user/month
Note that pricing varies depending on the size of your team. There's also a 30-day free trial available for the Pro plan.
Further read:
How To Use Canva? Canva Tutorial For Beginners To Graphic Design Online
Bonus edit: Another option for beginners is to use Envato which offers tons of awesome templates for all purposes, like presentation templates.
Adobe Creative Cloud Express (Formerly Adobe Spark): Best Graphic Design Software for Amateurs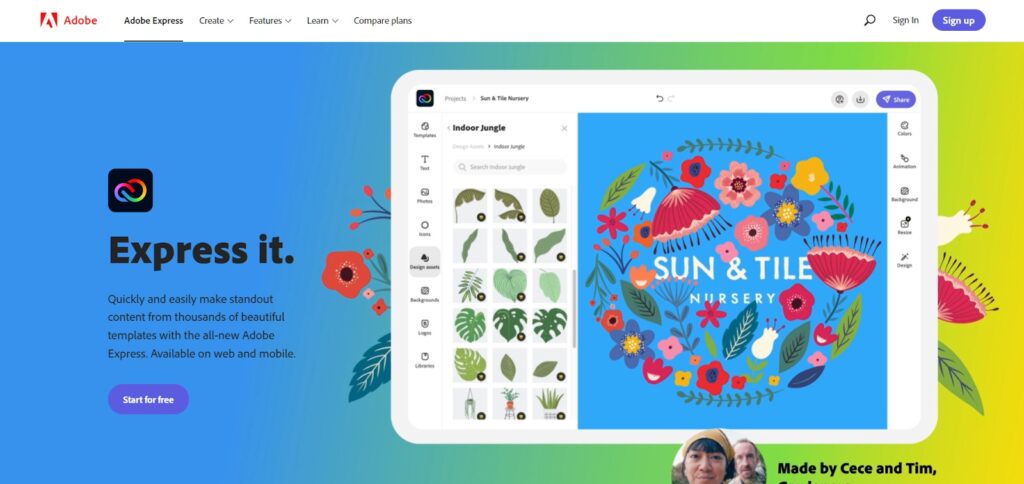 Adobe Creative Cloud Express is one of Canva's main competitors. Both design platforms prioritize user-friendliness and are easy to get into. However, Adobe might be a better option for amateurs who nailed down the basics in graphic design and are looking to step up a notch.
That's because Adobe CCE provides more advanced features than Canva, especially in the photo and video editing department.
Learn more about Adobe Express here.
Features
Video stories
Social media graphics creator
Animation effects
Stock library
AI capabilities
Adobe's video editor allows you to mix and match multiple images, fonts, and clips and add animations from its stock library to help you create more engaging videos. You can also add special effects for a more cinematic experience.
Another key feature is its AI capabilities, as it uses Adobe Sensei—Adobe's staple AI technology. Consequently, you can remove any unwanted objects from the background with a single click, while the AI will automatically fill in the gap to make the image look natural.
Pros
Easy to use
Various customizable templates
Solid video and photo editing tools
Regarding ease of use, Adobe CCE and Canva are pretty similar. They both have user-friendly interfaces and use a drag-and-drop editor. Furthermore, Adobe also gives you access to thousands of customizable templates and royalty-free media assets.
However, Adobe takes the cake here in terms of video and photo editing tools. Its features are more powerful, and its AI allows users to enhance photos with minimal effort.
Pricing
Adobe CCE covers two pricing plans:
Free
Premium – $9.99/month
There's also a 30-day free trial available. In terms of the free plan, Canva covers slightly more features. However, Adobe's paid plan offers better value for money, suitable for passionate designers who want to step up their game.
Learn more about Adobe Express here.
Adobe Photoshop: Best Graphic Design Software for Image Editing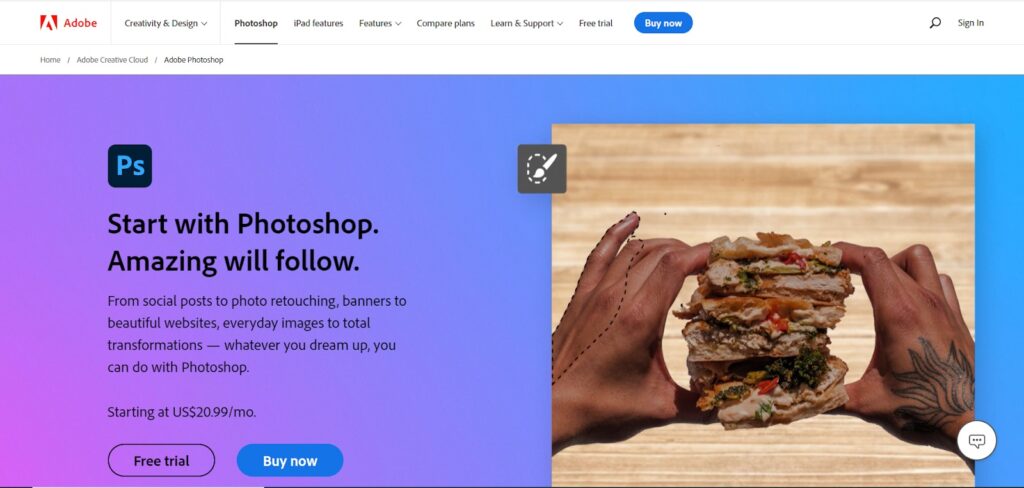 Adobe Photoshop has been the name of the game for decades. Due to its versatility, it has become a popular choice for professional photographers, 3D designers, and graphic designers alike.
Its vast selection of features unlocks endless possibilities for designers: from image retouching to complete overhauls, 3D modeling, or UX design.
Learn more about Adobe Photoshop here.
Features
Content-Aware Fill
Neural Filters
Sky Replacement
Collaboration tools
3D modeling capabilities
Photoshop takes AI and machine learning to the next level. Neural Filters allow you to make non-destructive edits by automatically generating new pixels in your images. The Content-Aware fill allows for easy object removals in the background, like Adobe CCE.
Neural Filters come in handy when colorizing black-and-white photos, smoothing skin, transferring styles, etc.
Moreover, Photoshop allows multiple people to work on the same file. You can invite someone to your file, and any changes made will be updated in real-time. This works much like Google Docs, for instance.
Pros
Powerful AI tools
Vast selection of features
Plenty of documentation online
Photoshop's AI tools eliminate monotonous tasks, helping you save time and improve productivity. Meanwhile, its vast selection of features makes Photoshop an excellent option for projects that require more than photo editing work.
Also, due to its popularity, there are plenty of how-to guides and forums on the internet that will help you resolve any potential issues.
Pricing
Photoshop covers the following pricing plans:
Monthly plan – $31.49/month
Annual plan – $20.99/month
Annual plan (prepaid) – $239.88/year
Learn more about Adobe Photoshop here.
Adobe InDesign: Best Graphic Design Software for Publications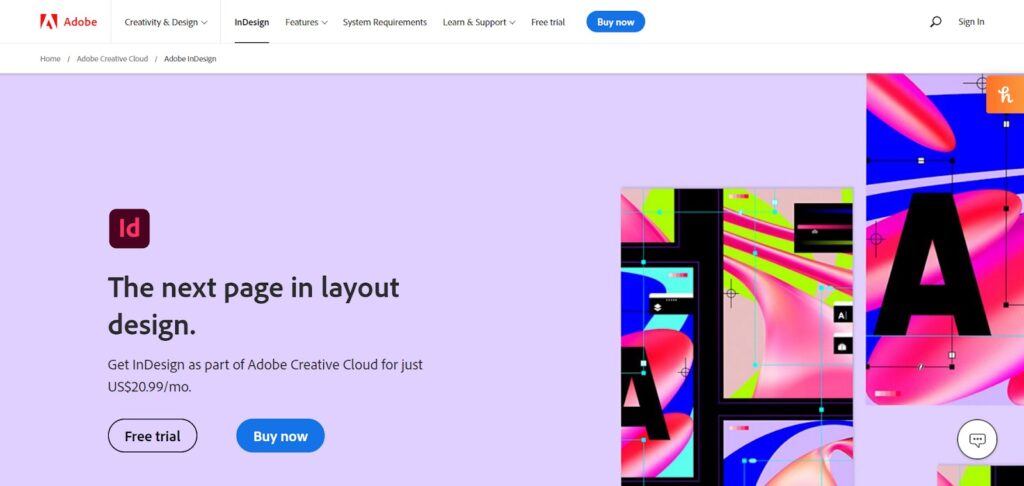 Adobe InDesign is made with online publications in mind. This platform helps you design brochures, magazines, info sheets, posters, and even e-books. Moreover, unlike other Adobe products, like Photoshop, InDesign doesn't have as much of a learning curve, meaning that newcomers won't have a hard time getting used to the platform.
Learn more about Adobe InDesign here.
Features
Sensei AI technology
Collaboration tools
Stock library
Online publishing
Adobe Fonts
In terms of collaboration tools, Adobe's InCopy feature allows you to work with your team by sharing content and leaving feedback.
Moreover, InDesign shares Adobe's powerful AI capabilities to help you save time and be more productive.
Another stand-out feature is its online publishing tool. It allows you to publish content on the web directly within the platform and track analytics like the number of views, total reading time, average reading time, and what types of devices readers use to view your content.
Pros
Shallow learning curve
HTML support
Ideal for image-heavy presentations
Adobe InDesign supports HTML exporting so web developers can easily share and export HTML code when implementing the website's layout design. Furthermore, this platform is more user-friendly than Photoshop.
When coupled with its advanced AI, Adobe InDesign will help you get the work done quickly without giving you too many headaches. Although this doesn't mean InDesign is perfect for beginners, this platform should be the go-to choice for online publishers.
Pricing
You can get Adobe InDesign as a standalone app for $20.99/month. You can also have full access to Creative Cloud's applications for $54.99/month. There's a 7-day free trial as well.
Learn more about Adobe InDesign here.
Adobe Illustrator: Best Graphic Design Software for Illustrators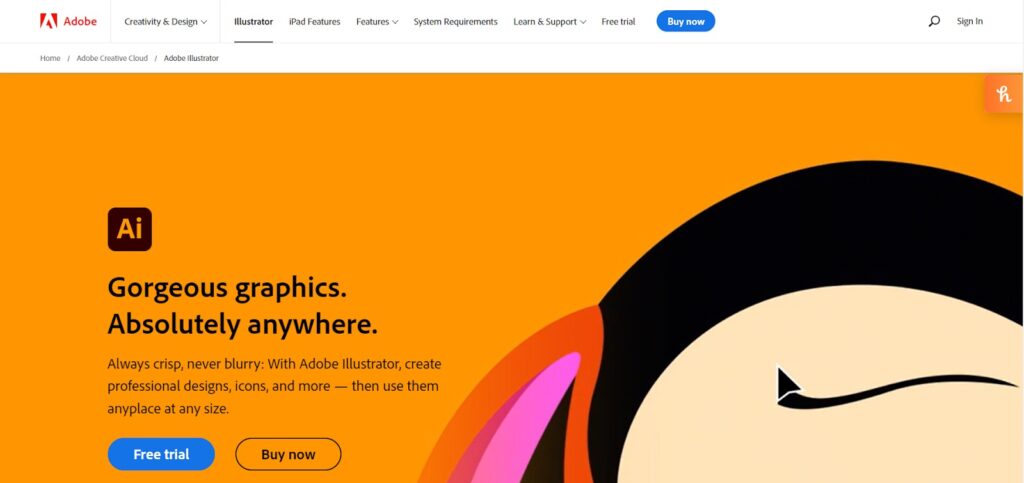 Think of Adobe Illustrator as the vector alternative to Photoshop. Both platforms share similar functionalities, but given that Illustrator uses vectors rather than pixels, this graphic design platform is better suited for designers who mainly deal with typography, page layouts, artwork, logos, infographics, etc.
That's because vector images are more versatile than raster images. Vector images are based on mathematical equations. That said, the same image can scale up to any size without compromising on quality.
Learn more about Adobe Illustrator here.
Features
Variable Data
Freehand drawing
Learn Panel
Auto font activation
Customizable templates
Variable data is a time-saver, as this feature allows you to automatically create multiple variants of the same artwork by merging an Illustrator document with a data source file. Consequently, with the press of a button, you'll make hundreds of template variations for different projects, from web banners to printable posters and more.
Also, Illustrator's Learn Panel gives you access to hundreds of step-by-step tutorials and inspirational content directly within the application.
Pros
Highly versatile
Excellent customer support
Time-saving features
Aside from having access to a wide variety of resources to learn how the make the most out of the platform or fix any issues, Adobe Illustrator is also praised for its customer support team. Users report that their problems were solved quickly, while the support agents were experienced and provided helpful information.
Moreover, the platform's AI and automation capabilities eliminate most monotonous manual tasks. For instance, you can export vector graphics in multiple file formats simultaneously.
Pricing
Like Adobe InDesign, you could subscribe to Adobe Illustrator's standalone app for $20.99/month or get access to all Creative Cloud applications for $54.99/month.
There's also a 7-day free trial available.
Learn more about Adobe Illustrator here.
Lunacy: Best Graphic Design Software for Productivity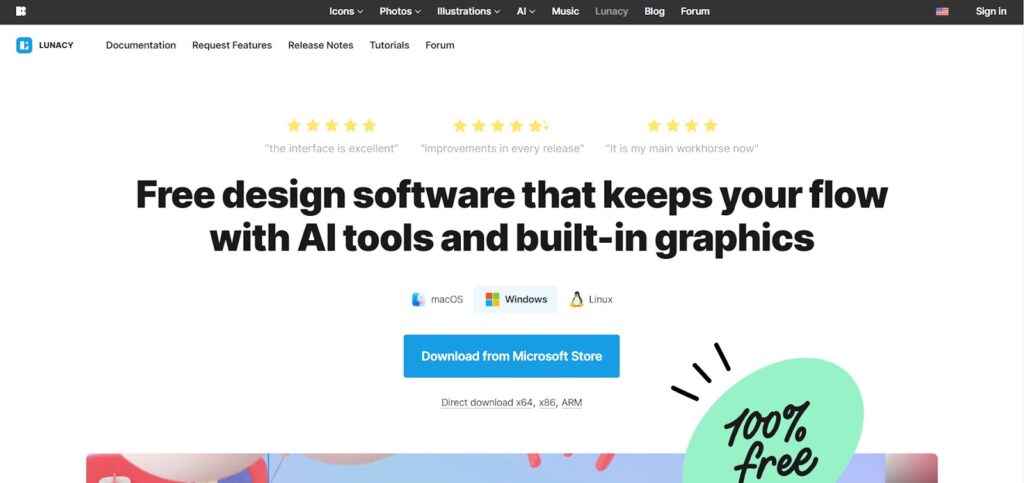 Lunacy is a free vector editor for UI/UX and web design. The user interface is sleek and easy to navigate, and you can find a plethora of photos, illustrations, or icons within the app. What makes it stand out is that it puts speeding up the designer's workflow at the top of the list.
It also offers plenty of AI time-saving features that you would otherwise find in paid graphic design programs, such as background removal. In other words, Lunacy does away with having you waste time on googling for graphics or using multiple platforms to help you focus on what matters—designing.
Features
Background removal
AI-generated photos
Smart upscaler
Sketch files and plugins support
Code preview
Lunacy's background removal eliminates the grunt work of manually taking background elements out of the pictures and hands over the job to its AI instead. All that's left for you is to press a button, and you're done!
Moreover, its smart upscaler allows you to automatically upscale an image up to eight times without compromising on quality.
Another stand-out point is that Lunacy allows you to preview and copy SVG, CSS, and XAML code for all elements within a document, making it a handy feature for web designers.
Pros
Access to an ample mix of in-app graphics
Seamless UI
Easy on computer resources
Lunacy gives you access to various free and paid photos, illustrations, icons, and even music. Coupled with its user-friendly interface and powerful AI functionalities, this platform will save you considerable time.
Moreover, this platform allows you to read, edit, and save Sketch files from a PC, making it easy to collaborate with Mac users on your team.
Lastly, Lunacy has low system requirements, making it a suitable option for people who want to get started with graphic design.
Price
Lunacy is free, but there are also paid plans that will give you premium access to its media assets. The pricing is as follows:
Icons – $13/month
Photos – $13/month
Illustrations – $13/month
Music – $13/month
Icons + Illustrations – $13/month
Full set – $29/month
You can get a discount of up to 74% if you pay annually.
Sketch: Best Graphic Design Software for UI/UX Design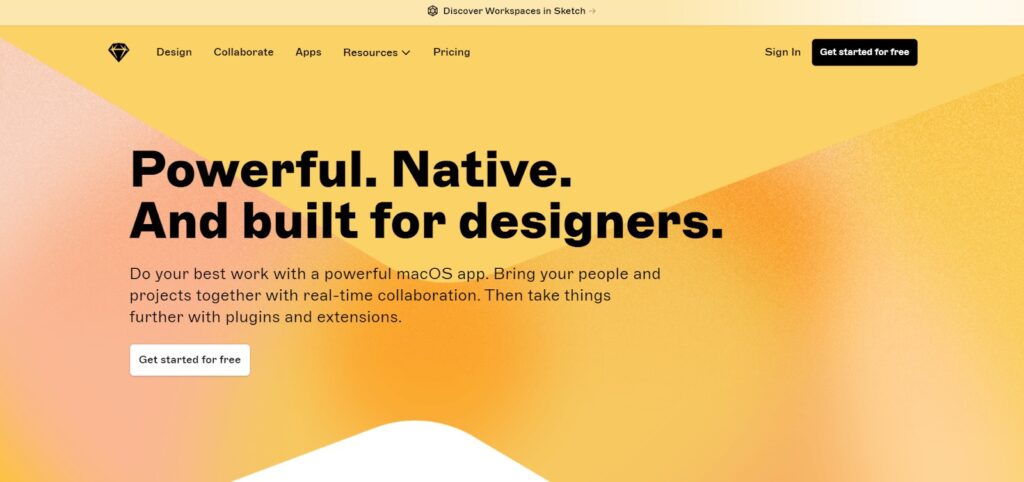 Sketch is a vector design platform you can use for various purposes. However, its main strength lies in its UI/UX design capabilities. This platform offers all the features needed for UI/UX design, and you can find plenty of resources and templates to help you get started with building mockups.
Note that this platform is native to macOS.
Features
Collaboration tools
Mirroring
Symbols and styles
Multiple artboards
Layout grids
Sketch makes collaboration easy by allowing you to invite anyone to your projects to test, edit, and inspect layout prototypes in real-time. In terms of UI/UX design, it allows you to mirror layouts so you can visualize how your prototypes would look on mobile devices.
Moreover, artboards streamline the process of designing mockups for different screen sizes. That's because they allow you to view and work on multiple versions of your UI on the same screen, rather than needing to open separate files.
Pros
Easy to use
Extensive plugin library
Autosaving
Sketch's plugin library is one of the platform's main selling points. Its plugin ecosystem is almost endless, as new extensions are constantly added. Consequently, you can customize Sketch to fit your needs.
Sketch's user interface is minimal and intuitive, making the platform very beginner-friendly. You can also find plenty of documentation on their website whenever you encounter any issues.
Pricing
Sketch covers two pricing plans:
Individual – $9/editor/month or $99/editor/year
Business – upon request
Note that the Business plan requires a minimum of 25 editors, and it's only available with yearly billing. There's also a 30-day free trial available for the Individual plan.
Vectr: Best Free Graphic Design Software for Vector Editing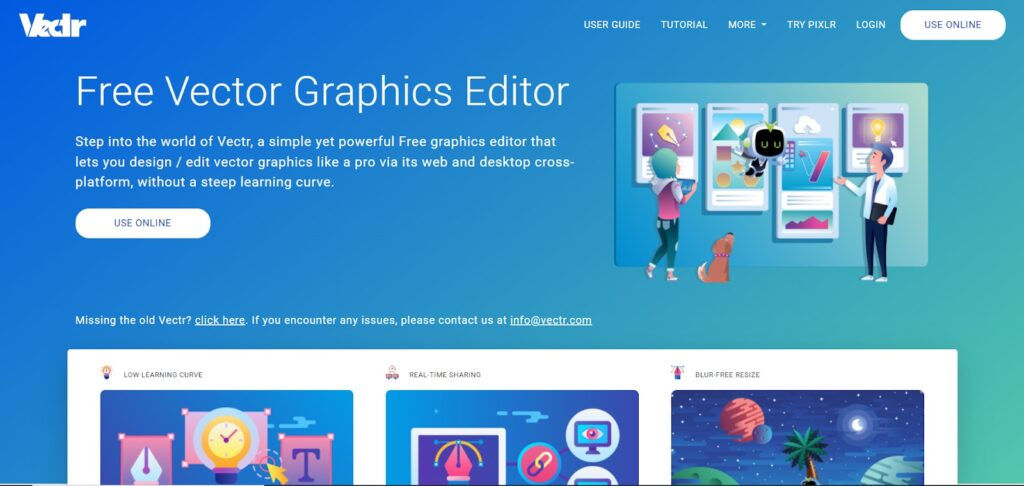 If you're on a budget and looking for a solid and easy-to-use vector design platform, Vectr has your back. This straightforward solution lets you design web pages, edit photos, or create artwork at no cost.
Vector is perfect for beginners as it provides a simple, easy-to-navigate interface and a handful of guides and tutorials that will help you get started in vector editing.
Features
Scalable vectors
Web-based editing
Real-time collaboration
Auto-sync
Knowledge center
You can edit with Vectr directly within the browser, so there's no need to deal with the hassle of installing and configuring the platform. However, if you choose to download the software, it's available for most operating systems.
A key feature is that any changes you've made will automatically sync across all platforms. Another stand-out is its collaboration capabilities. Being a web-based platform, you can easily invite team members to work on your designs and share files in real-time.
Pros
Beginner-friendly
Access to various guides and tutorials
Solid collaboration capabilities
All in all, Vectr is an excellent option for those looking to get their feet wet in vector design. It's a simple, no-nonsense solution that teaches you how to get started and covers all the features your need.
It also offers AI-powered features to save you some time, while its real-time file sharing and built-in chatbox should make collaborating with your team a breeze.
Pricing
Vectr comes free of charge.
Corel Draw: Best Graphic Design Software for Professionals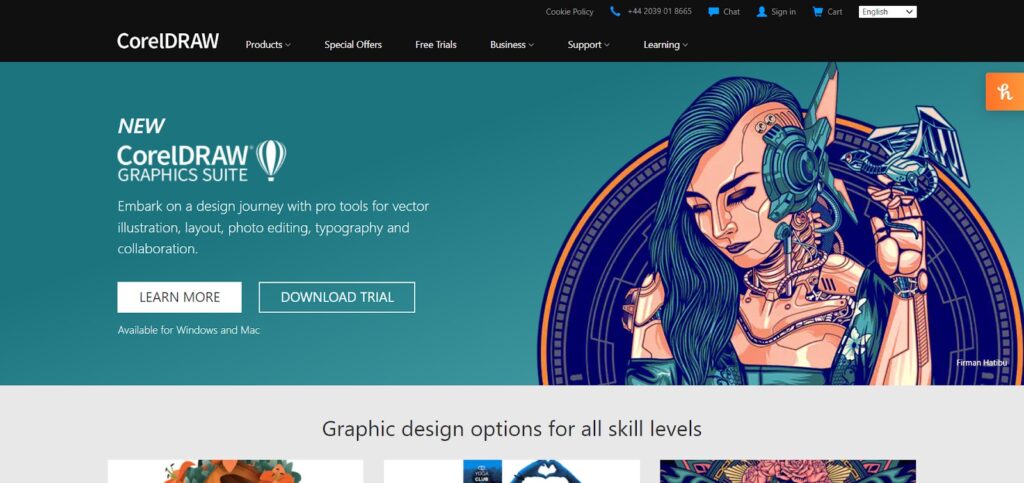 Corel Draw is one of Adobe Illustrator's main competitors. This graphic design platform caters to professionals, and it covers all the advanced features for photo editing, vector illustration, logo and page layout design, and more.
Although both platforms offer similar features, Corel Draw might bring better value for money, as you've got the option to purchase a lifetime license, unlike Adobe Illustrator.
Features
Customizable user interface
Vector illustration
Bitmap to vector tracing
Live Sketch
Collaboration
You can customize Corel Draw's user interface to your liking, allowing you to optimize your workflow and have your most needed features at hand. Moreover, its Live Sketch tool will enable you to turn your freehand sketches into editable vector images instantly.
This feature also uses AI to learn your sketching technique to adjust curves based on your drawing style, eliminating the need to rely on pen and paper.
In terms of collaboration, Corel Draw allows you to leave comments and annotations and share files directly within the platform.
Pros
Extensive customization options
Powerful features
Strong community
Corel Draw provides a community forum where you can get in touch with other designers, exchange ideas, and find help if you encounter any issues.
All in all, Corel Draw is ideal for professionals, as it offers a comprehensive set of advanced features. Meanwhile, the customizable UI helps you cut through the clutter and create an interface optimized for your workflow.
Pricing
Corel Draw comes in three editions:
Graphics Suite (annual subsciption) – $30.75
Graphics Suite (lifetime license) – $779
Standard 2021 (lifetime license) – $355
Essentials 2021 (lifetime license) – $130
Inkscape: Best Graphic Design Software for Scalable Vector Graphics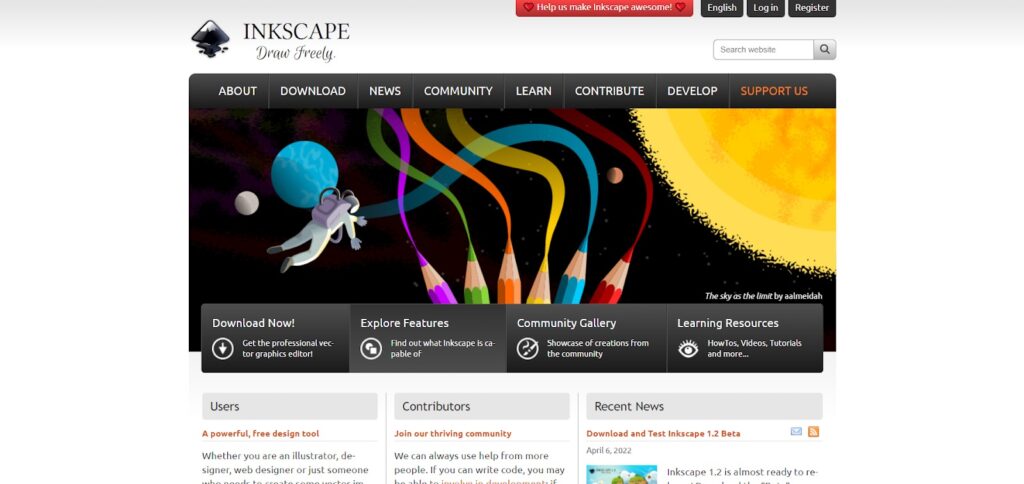 Inkscape is a free, open-source editing software that serves plenty of uses for what it is. However, this platform may be ideal for logo and banner designers.
That's because Inkscape uses the Scalable Vector Graphics (SVG) format. Consequently, you'll be able to scale an image to any size without sacrificing the original quality.
Features
Anti-aliased display
Node editing and movement
Object creation and manipulation
SVG file generation and support
Plugin support
Besides SVG files, Inkscape is also compliant with other formats, like PNG, DXF, PDF, etc.
Overall, Inkscape is a capable platform that provides everything you need, including embedded bitmaps, freehand sketching options, a gradient editor, layers, object grouping, etc.
Given that its source code is accessible to the public, you can extend the platform's functionality even further. Inkscape's community regularly updates the list of plugins.
Pros
Excellent customization
Cross-platform support
An extensive list of advanced features
As Inskape is an open-source platform, the customization options are endless. If you know a thing or two about development, you could tweak the source code and customize the platform as you see fit.
Another advantage is Inkscape offers a large set of advanced features for a free software solution. Although it may be tricky to get used to, you can find plenty of tutorials and user guides on their website.
Pricing
Inkscape is free of charge. This platform is a good option for beginners looking to step up their game and create high-quality graphics and professionals searching for a companion solution for other platforms, like Adobe Illustrator.
Affinity Designer: Best Graphic Design Software for Lifetime Licenses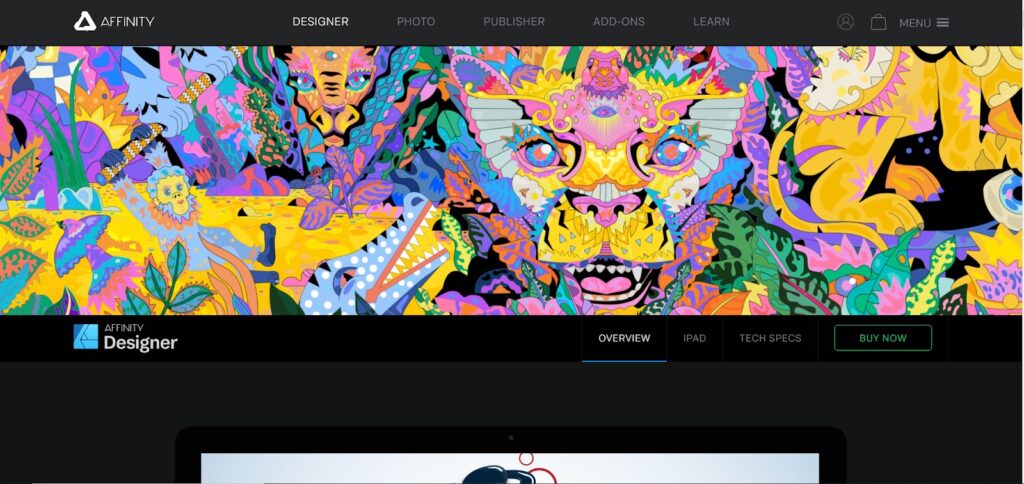 If you're itching for Adobe Illustrator, but its pricing may keep you from making a final decision, Affinity Designer might be another great alternative.
It offers similar features at a fair price, and unlike Corel Drawing, Affinity Designer has a single pricing plan.
Features
Dual environment
Grid systems
Snapping
Real-time adjustments
Affinity Designer's dual environment will come in handy for designers who work with both raster and vector images. It allows you to switch between pixel and vector workspaces with the press of a button.
Moreover, this platform offers plenty of features to help you optimize your workflow, like giving you the option to customize keyboard shortcuts, create custom workspaces for different tasks, and more.
It also shows your editing history and lets you backtrack up to 8000 steps.
Pros
Excellent performance
User-friendly UI
Affordable
Affinity Designer is well-known for providing snappy performance and being less resource-intensive than other graphic design software solutions of its caliber.
Its UI is also more intuitive than Adobe Illustrator. Although it's still no walk in the park for newcomers, the interface is more straightforward, so you'll likely have an easier time navigating Affinity Designer.
Lastly, this platform offers superb value for money, making it a splendid option for professionals and amateurs looking to sharpen their skills.
Pricing
You can purchase a lifetime license for Windows or Mac at $54.99. There's also an iPad version at $21.99.
GIMP: Best Open Source Graphic Design Software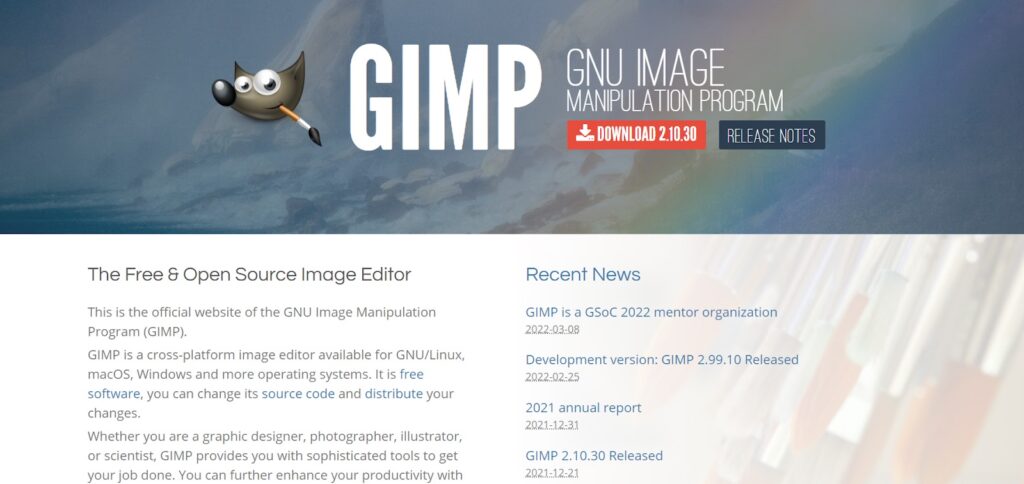 GIMP has been around for decades, and it's still considered one of the best free alternatives to Photoshop you can find. It offers plenty of advanced features akin to the godfather of photo editing software, and you can also use it to create artwork from the ground up.
Features
Photo retouching
Photo enhancements
Customizable UI
Advanced image manipulation
Animation
In short, GIMP provides most features you would expect to find in a full-blown photo editing software. With it, you can perform layer editing, eliminate distortions caused by vignetting, smooth out any imperfections, and more.
Also, its modulized interface allows you to arrange and switch between modules to find the configuration that works best for you.
Lastly, GIMP is backed by a very active community, constantly updating the platform with new features and debugging the software.
Pros
Extensive customization
Plenty of tutorials available
Easy on resources
Being open-source, you can fiddle with the code and customize the platform in any way you like.
Although GIMP has a pretty steep learning curve, there are plenty of tutorials on its website that will teach you the ropes of the platform. The tutorials cover everything from performing basic and advanced editing to creating animations and even programming.
Not to mention that GIMP's community always adds more tutorials over time, so you're bound to find something new.
Pricing
GIMP is free to use. Considering all of its features and the involved community behind it, this is a must-have solution for novice and advanced graphic designers alike.
Gravit Designer: Best Graphic Design Software for Vector Design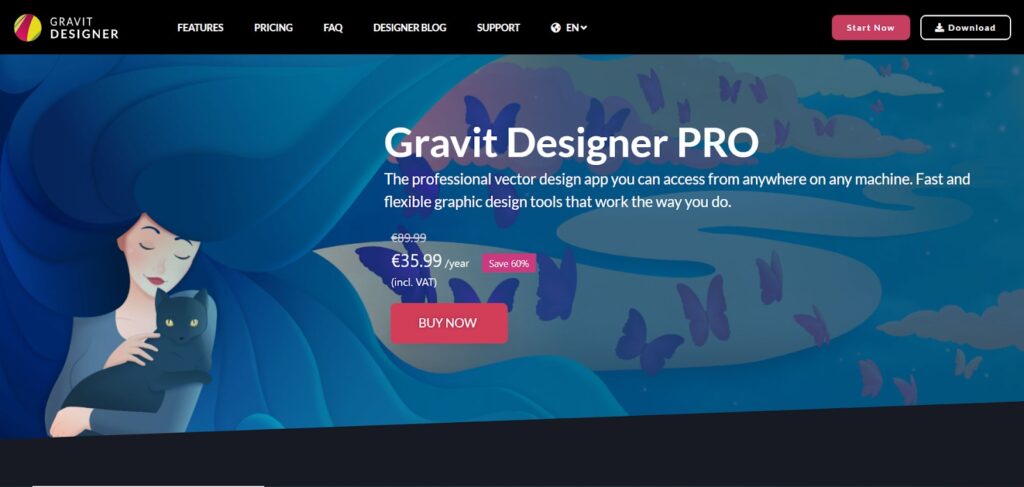 Gravit Designer is an HTML-based vector design software, meaning that it's compatible with platforms like Windows, iOS, macOS, Android, Linux, and ChromeOS. You can also use their application without an internet connection.
Due to its plethora of available features, Gravit Designer is an excellent option for professionals looking for a capable vector design platform.
Features
Touch support
Cloud integration
Bezigon tool
Unlimited effects per layer
SVG editing
Gravit Designer's paid version is compatible with touchscreen devices and offers mobile devices a complete set of features. Coupled with its compatibility with most operating systems, the ability to work offline, and cloud integration, Gravitas is one of the best designing platforms in terms of mobility.
It also provides advanced vector path manipulation features, like the Bezigon tool, which allows you to draw perfect curves. Other handy features include a pen tool, advanced border controls, non-destructive object styling, etc.
Pros
Great compatibility
Customization options
Easy to use
Gravit Designer's interface is perfect for beginners, while its feature set is excellent for professionals. The UI is easy to navigate and clutter-free. There are also plenty of guides you can find to learn how to make the most out of the platform.
This platform is a suitable option for graphic designers of all levels. Gravit includes a dark theme and is available in 14 languages in terms of customization options.
Pricing
Gravit Designer covers two plans:
Free
Gravit Designer PRO – $89.99/year
At the time of writing, there's a 60% discount on Gravit Designer PRO. Note that the free version does not include version history, touchscreen support, and the ability to work offline.
Autodesk Sketchbook: Best Graphic Design Software for Drawing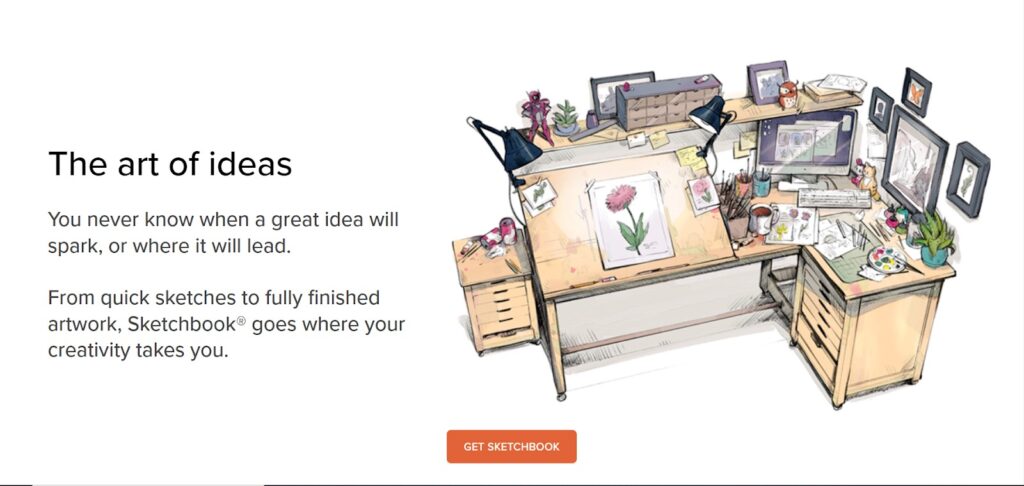 Autodesk Sketchbook is a simple design app dedicated to sketching, drawing, and painting. You can use this app to create anything from quick doodles to fully-fledged artwork at any given place, during any given time. This platform is available for iOS, Android, Windows, and macOS.
The free version will is available for mobiles, whereas the paid version is for desktops.
Features
Dynamic symmetry
Various brush types
Precision tools
Color fill tools
Layers
Sketchbook comes with radial, horizontal, and vertical tools, which mirror pen strokes for easier and faster drawing. Moreover, the app offers a wide variety of customizable brush types, including markers, paint, airbrusher, etc.
In terms of precision tools, you can find regular and curved rulers or French curve and ellipse tools. Also, its Predictive Stroke feature helps smooth out the lines when users are drawing without a pen.
Pros
Available for desktop and mobiles
Easy to use
Responsive
This platform is simple and has an intuitive interface. Consequently, there's next to no learning curve, and newcomers will get used to it immediately. Given that Sketchbook is available on Android, iOS, Windows, and macOS, this platform is perfect for drawing whenever you get a surge of creativity.
Lastly, Sketchbook is very responsive to a drawing pen, as it can also react to tilt and pressure.
Pricing
Sketchbook covers two pricing models:
Sketchbook (for Android and iOS) – Free
Sketchbook Pro (for Windows and Mac) – $19.99
Best Graphic Design Software: FAQs
Which software is best for graphic design for beginners?
Canva is the best graphic design platform for beginners, as it's designed with ease of use in mind. The intuitive interface and its drag and drop editor and wide selection of customizable templates make creating and editing software a walk in the park.
And the cherry on top of the cake: It's very affordable. You can use Canva for free, while its paid plans won't leave a hole in your wallet.
Which free app is best for graphic design?
GIMP. Given that the platform's been around since 1998 and is still going strong, GIMP comes out on top in free graphic design software.
It provides advanced features that you would otherwise find in paid software, and you can use it to perform basic and complex photo editing and create artwork from scratch.
Moreover, it's open-source, so the customization and functionality options are endless.
Lastly, it has a robust community that continuously adds new features, fixes bugs, etc.
What software do graphic designers use?
Adobe's suite of products is most popular amongst graphic designers.
Photoshop, Illustrator, and InDesign provide all the necessary features for professionals to perform various graphic design tasks, from photo editing to designing brochures and full-blown artwork. On the other hand, Adobe Creative Cloud Express is an excellent option for amateurs looking to hone their skills.
Also, Adobe Sensei's AI capabilities eliminate most monotonous tasks and allow designers to create top-notch designs quickly.
Best Graphic Design Software: Conclusion
At the end of the day, what makes a graphic design the best is your choice, as it depends on your skill set and what you aim to achieve.
Generally speaking, Canva is an excellent option for beginners. It's easy to use, and you'll get accustomed to it quickly. Also, its social media integration capabilities make it great for creating and posting graphics on social platforms.
On the other side of the spectrum, Adobe's products are suitable for advanced and professional designers. Each one is made to fit specific graphic design needs, while their robust set of features allows you to create top-of-the-line designs. Furthermore, their state-of-the-art AI technology will save you time and spare you plenty of headaches.
Let's do a quick recap:
Further read:
10 Best Streaming Software For Twitch And YouTube
8 Best Photo Editing Software In 2022
8 Best Blogging Platforms To Make Money (Compared And Reviewed)