As live streams generally experience an emotional engagement rate of up to 8% higher than on-demand videos, it's safe to say that live streaming is great for engaging with your fans and monetizing your content. To make that happen, you'll have to pick the best live streaming software. 
Streaming software helps improve the video quality, track analytics, and ultimately make your streams appear more professional. For instance, you could use streaming software to link multiple cameras and switch between them, add graphics on the go, or bind numerous audio sources for a more pleasant viewing experience.
But with so many options available, picking the right software might seem daunting, and you're bound to stumble upon some bad apples. That said, you've got to come up with a checklist.
More specifically, you'll need to look out for the right features. Some must-have features include live chat, multiview, social media integration, real-time analytics, and a preview editor.
These functionalities will generally help you improve the viewing experience, host and promote your streams across multiple platforms, and give you the feedback you need to improve the streaming quality.
You'll also need to consider ease of use and tech support. During live streaming, every second counts, so it's crucial to fix any issues as fast as possible. That said, 24/7 tech support is preferable.
Lastly, there's the price. If you're starting out, there's no reason to blow the budget on top-notch streaming software with all the bells and whistles. Otherwise, it may take a long time until you recover your investment.
In other words, there are plenty of things you'll need to take into account. To prevent you from spending countless hours scouring the internet, we've compiled a list that covers some of the best live streaming software you can find right now. 
Let's take a look!
Restream: Best Streaming Software Overall For Twitch and YouTube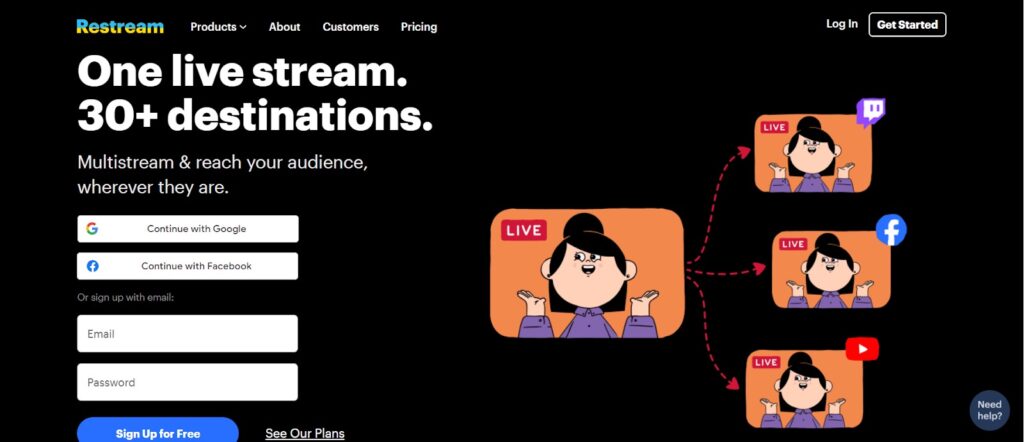 You can't go wrong with Restream. This beginner-friendly platform offers all of the necessary features you need to ensure smooth broadcasts across 30 different channels, including Youtube, Twitch, and Facebook. 
Moreover, you can stream across these channels concurrently. This platform is compatible with Windows, Linux, macOS, and even gaming consoles.  
Learn more about Restream here.
Features
Channel toggling
Built-in chat
Analytics
Restream Events
Chat censorship
The stand-out feature of Restream is its channel toggling, which allows you to edit your channels without needing to restart your encoder. For instance, you could add Youtube to your multi-stream dashboard, and the broadcast will go live on the platform right away.
Another handy feature is Restream Events. This enables you to schedule and notify your audience of upcoming streams on platforms like Youtube, Facebook, and LinkedIn Live. In other words, Restream Events makes it easier for you to promote forthcoming broadcasts and build hype amongst your audience.
Pros
Integration capabilities
Solid data from analytics
Customization options
Restream integrates with most streaming platforms, making it possible to be on-air virtually anywhere on the internet. To add even more functionality, you can also integrate it with other popular broadcasting software, like OBS Studio or XSplit.
In terms of analytics, Restream lets you track data like peak times and gives you an insight into what platforms most of your audience comes from. It also pulls information from your chat to identify the levels of engagement and understand your audience's sentiment.
Pricing
Restream covers six pricing plans:
Basic – free
Standard – $19/month
Professional – $49/month
Premium (for companies) – $99/month
Business (for companies) – $299/month
Enterprise – upon request
There's also a 20% discount if you opt for one of their annual plans. 
Learn more about Restream here.
Onestream: Best Streaming Software for Individual Streamers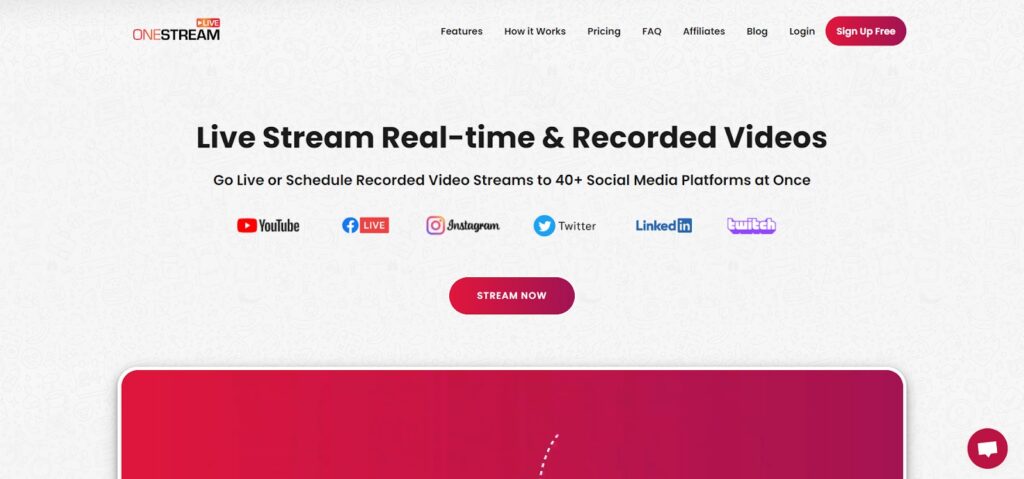 Although Onestream and Restream are pretty similar, the former may be better suited for a one-man-army broadcaster. Onestream is slightly more affordable, and users generally regard it as a more user-friendly alternative to Restream.
On the other hand, Restream's Premium $99/month pricing plan allows for up to ten team members per account, whereas Onestream's most expensive plan only allows for four members at $89/month.  
Learn more about Onestream here. 
Features
Playlist streaming
Cloud storage integration
Embed player
Unified chat
Multiple upload options
Onestream's unified chat allows you to monitor and respond to comments from multiple platforms within a single dashboard, sparing you a few headaches.
Another time-saver is playlist streaming, as it enables you to schedule and queue pre-recorded videos to go live on social media platforms up to 60 days in advance.
Lastly, the embed player lets you reach wider audiences by embedding your stream on your website or other platforms.
Pros
Add captions to pre-recorder videos
Supports over 40 social networks
Excellent customer support
Another advantage Onestream has over Restream is that it supports more social networks. There's also a referral program that will give you a 55% commission for each follower you manage to bring to the platform.
Moreover, users praise this broadcasting software's customer support. They report having quick response times from the support team and providing genuinely helpful information for fixing the customers' issues.
Pricing
Onestream has four pricing plans available: 
Free
Basic – $10/month
Standard – $39/month
Professional – $89/month
Like Restream, if you chose one of their yearly plans, you'd benefit from a 20% discount. 
Learn more about Onestream here.
Wirecast: Best Streaming Software for Professionals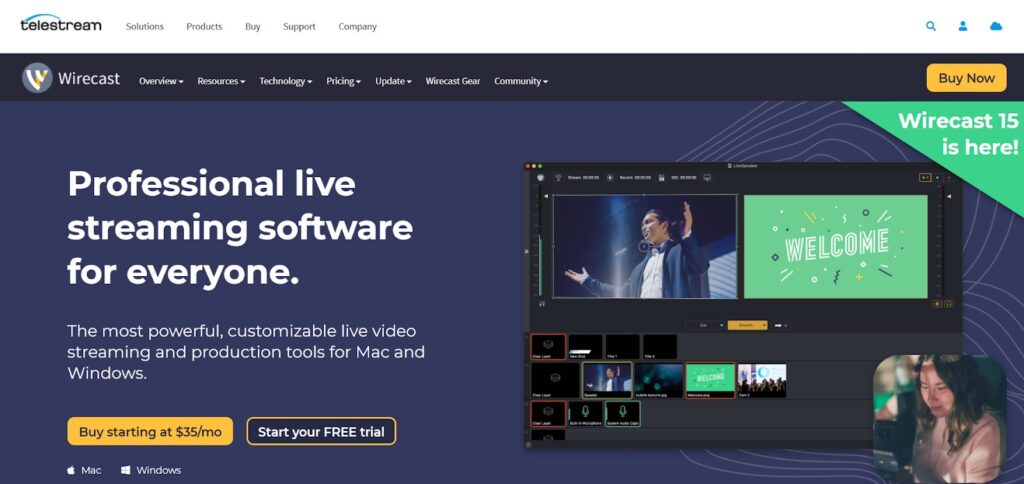 If you're a streamer with an established following and looking to step up your game, Wirecast might be a great option. This all-in-one platform promises to deliver TV-like production quality through its advanced features, a wide variety of customization options, and free access to over 500,000 media assets. 
Moreover, Wirecast is designed for multiple types of live streams, covering live sports, social events, news broadcasts, seminars, and more.
Features
Stock media library
Social media integrations
Professional audio
Multiviewer
ISO recording
One of Wirecast's main features is its top-notch audio, as it allows you to add various sound effects and provides an audio mixer that will help you achieve the perfect sound in your broadcast. Moreover, the platform supports CoreAudio, ASIO, and WASAPI-compatible devices.
Wirecast also gives you access to its stock media library, where you can find videos, backgrounds, music, and more for your broadcasts.
Pros
Easy to use
Powerful customization options
Suitable for any type of live streaming
Although Wirecast caters to professionals, this platform is significantly more straightforward than other similar products, like OBS Studio. Wirecast has an intuitive user interface and provides plenty of tutorials and how-to guides to teach you how to make the most out of the platform.
Moreover, Wirecast offers plenty of customization options to personalize your stream, like adding transitions, overlays, graphics, audio tweaking, etc.
Pricing
Wirecast offers five pricing plans: 
Wirecast Studio (Lifetime License) – $599
Wirecast Pro (Lifetime Licencse) – $799
Wirecast Pro (Monthly Subscription) – $49/month
Wirecast Pro (Yearly Subscription) – $420/year
Wirecast Pro (Yearly Subscription) – $39/month
vMix: Best Streaming Software for Video Production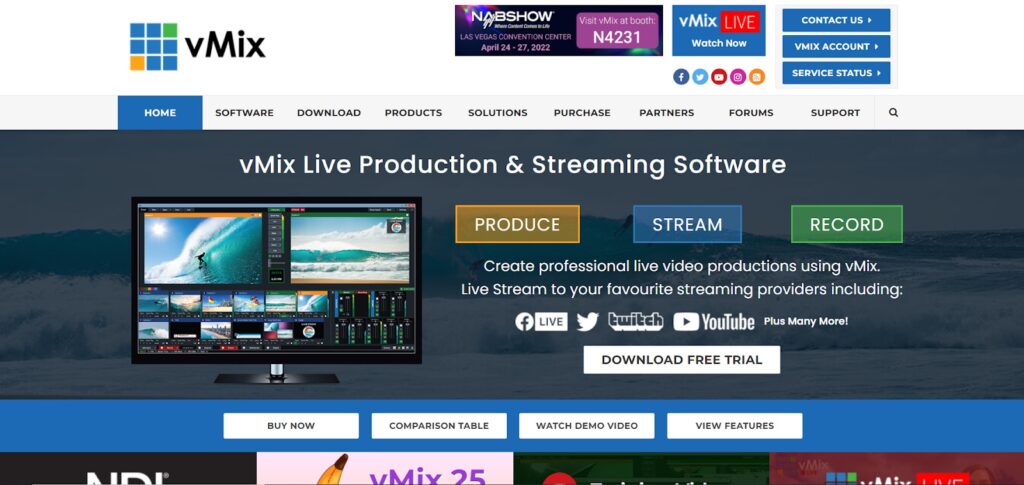 At its core, vMix is a video mixing and switching software, meaning that you can mix audio, switch inputs, record outputs, and more. But, vMix also offers solid features specifically dedicated to live streaming, like live chat, the ability to stream on multiple platforms simultaneously, etc. 
That said, vMix might be a good option for broadcasters looking to bump up their live streaming quality.
Features
Live chat
Replay
vMix social
Live video filters
Live video effects
vMix comes with a powerful replay feature that lets you show instant replays in full slow-motion for up to four camera inputs. This can add a little extra oomph to your videos and make them more engaging.
Moreover, this platform offers plenty of customization options to personalize your stream. You can add and adjust plenty of filters and effects, like black and white filters, color correction, crossfade, 3D zoom, stinger transition, etc.
Pros
Pricing plans for any budget
An extensive list of features
Excellent technical support
vMix offers a knowledge base where you can find documentation on nearly any issue you might encounter. It also provides a wide selection of guides that will get you through the ins and outs of the platform and teach you how to use it effectively.
Lastly, vMix pricing plans cover every budget, making it a suitable option for small and large streamers and companies alike.
Pricing
vMix covers five pricing plans: 
Basic HD (Lifetime License) – $60
HD (Lifetime License) – $350
4k (Lifetime License) – $700
Pro (Lifetime License) – $1200
Max (Monthly Subscription – $50/month
There's also a 60-day free trial available.
OBS Studio: Best Free Streaming Software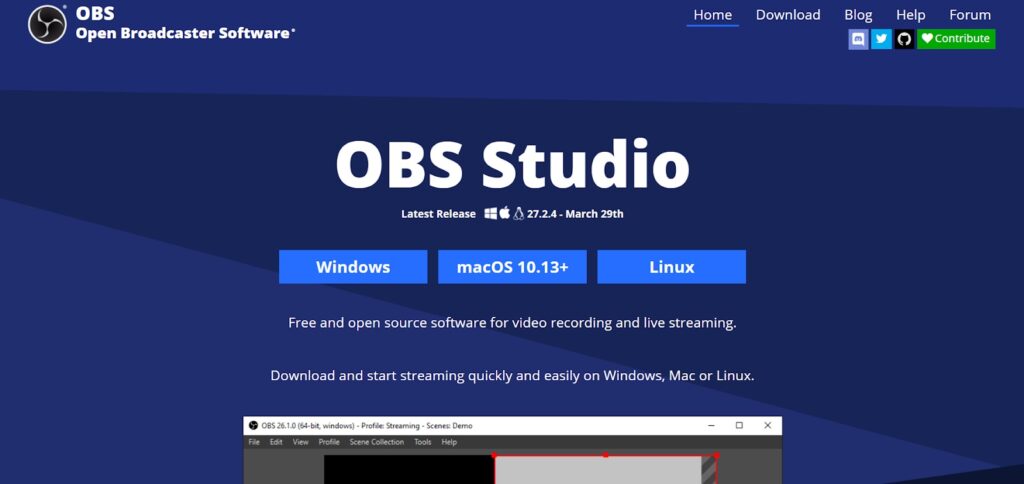 OBS Studio is a free, open-source streaming software, meaning that its source code is publicly available for anyone who wishes to tweak it. Consequently, OBS Studio is constantly updated, while its contributors assure that the software is bug-free and highly secure. 
Although this software is free, it offers plenty of advanced features, including an audio mixer and various personalization options.
Features
Modular UI
Studio Mode
Hotkeys
Video recording and broadcasting
Multiview
With OBS Studio, customization is the name of the game, as its modular "Dock" UI allows you to adjust your layout in any way you wish. Moreover, you have the freedom to set hotkeys for nearly all types of actions, from starting/stopping the live stream to switching between scenes, muting audio inputs, and more.
Also, its Multiview feature allows you to keep an eye on up to eight scenes simultaneously and easily transition to them.
Pros
Highly customizable
Extensive integration capabilities
Knowledge center
Given that OBS Studio is open-source, staying up-to-date with the latest changes can be tricky. However, this platform has a blog, forum, and help center that will get you briefed in no time. There are also plenty of guides where you could find fixes to any issues and articles showing you how to get started with the platform.
OBS Studio supports Twitch, Youtube Live, Facebook Live, Hitbox, etc.
Pricing
You can download OBS Studio for free. This platform is available for Windows, macOS, and Ubuntu operating systems. 
Dacast: Best Streaming Software for Monetization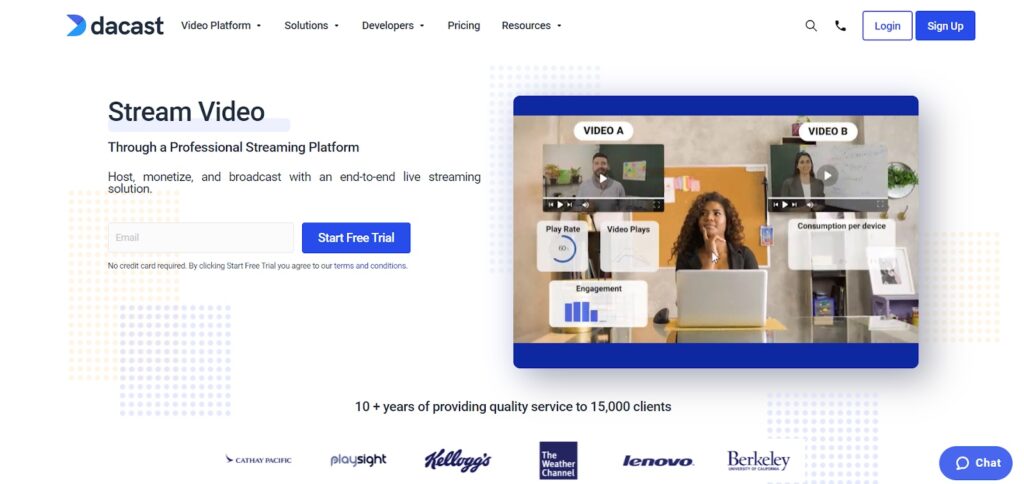 Dacast is a video streaming and monetization platform. In other words, besides helping you to broadcast your videos, Dacast also provides all the necessary features to help you get paid. 
More specifically, Dacast allows you to create a paywall, choose a monetization model, set up ads and calls-to-action to your videos, and so on.
Features
HTML5 video player
Multiple monetization methods
Embed videos to your website
Video hosting and live streaming
Content management system
Dacast provides you with three ways to monetize your videos: Subscription, Pay-Per-View, and Ad-insertion. You can pick the monetization option that works the best for you and your audience.
Dacast's HTML video player allows you to broadcast your videos and live streams from any device, including your smartphone. Lastly, its CMS enables you to easily store, monetize, and analyze your videos directly within the platform.
Pros
In-detail analytics
24/7 customer support
Custom branding
In terms of analytics, Dacast gives you all the necessary information for assessing the performance of your streams and identifying where there is room for improvement. More specifically, you can track revenue within a specific timeframe, monitor plays, and impressions by time, location, device, etc.
This platform also offers 24/7 customer support in all of its pricing plans. There's also a blog and a knowledge base available.
Pricing
There are four pricing plans:
Starter – $39/month
Event – $63/month
Scale – $188/month
Custom – upon request
Note that each pricing plan, except Scale, is billed annually. If you'd want to pay monthly for the Scale plan, the price is $250/month. There's also a 14-day free trial available.
XSplit Broadcaster: Best Streaming Software for Gaming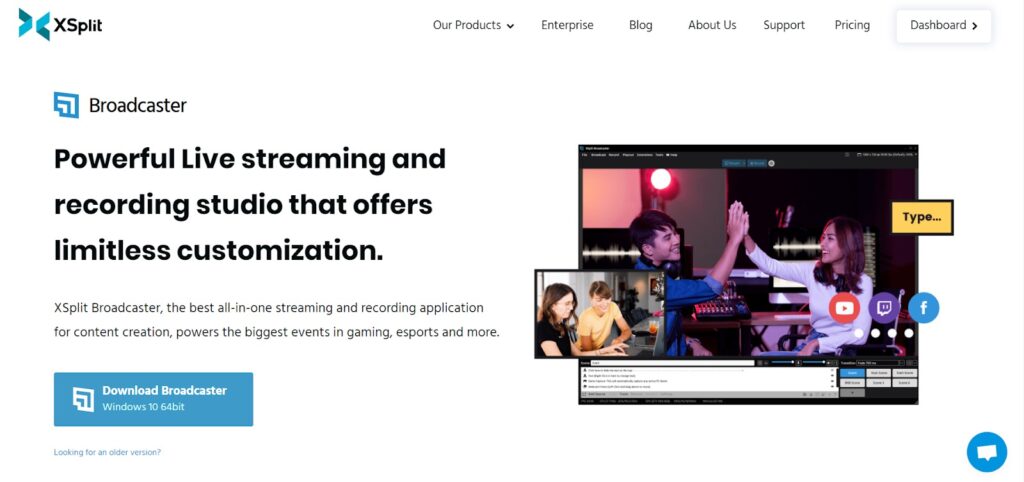 XSplit Broadcaster is a live streaming software for Windows 10, and it offers native support for Twitch, Facebook, and Youtube. However, you can also set up custom RTMPs to stream on any platform. 
Due to its ease of use and gaming-specific features and plugins, XSplit Broadcaster may be a good option for gamers.
Features
In-game HUD
Scene preview editor
Multi-streaming
Noise reduction
Nvidia NVENC
The in-game HUD can be convenient for streaming intense games. With it, you can start or stop the broadcast, interact with the chat, and track statistics without having to tab out of the game.
Also, NVENC encoding allows you to take resources from your GPU to optimize the quality of your streams without overloading your CPU. Lastly, this platform allows you to record and stream in 4K resolution at 60FPS.
Pros
Intuitive user interface
Third-party plugin support
24/7 support
The main strength of XSplit Broadcaster is its customizability. First off, like OBS, you can tweak the UI in any way you like. Moreover, you've got the option to use both native and third-party extensions. That said, you can add unlimited functionality to the software and customize it so it can fit your needs the best.
Some plugins include a gamepad visualizer, an audio mixer, and more.
Pricing
XSplit's streaming-specific platform, Broadcaster Premium, covers three pricing plans: 
Monthly subscription – $15/month
Yearly subscription – $60/year
Lifetime license – $200
There's also a free version available.
VidBlasterX: Best Streaming Software for Versatility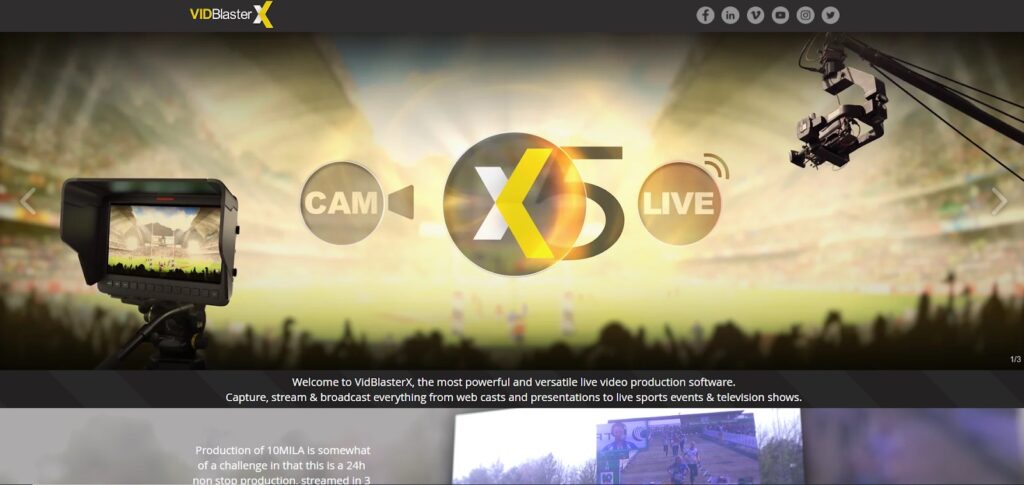 VidBlasterX is a live video production software designed to accommodate amateur streamers and professionals alike. This platform provides you with the tools necessary to create anything from short videos with minimal editing to full-blown TV-like broadcasts. 
If you're looking for a solution that will grow along with you, VidBlasterX might be a good fit.
Features
Multistreaming
Media library
Chroma key
Modular audio mixer
PowerPoint Integration
VidBlasterX offers a built-in chroma keyer so that you can use a blue or green screen for custom virtual backgrounds. The PowerPoint module also allows you to use a presentation as a source and control it directly within VidBlaster's interface.
Moreover, its modular audio mixer lets you merge multiple channel strips and create a custom mixer that suits your needs perfectly, add as many inputs and outputs as you want, and more.
Pros
Highly versatile
Extensive customization options
Easy to use
Customization is the center point here. VidBlasterX is module-based, meaning that you can mix and match up to 100 modules to create a highly-personalized interface for an optimized workflow.
Aside from that, you can also add custom effects, graphics, add overlay text, and more.
Pricing
VidBlasterX comes in three editions:
Home – $9/year
Studio – $99/year
Broadcast – $999/year
The Home edition supports seven modules, the Studio edition supports up to 25, and the Broadcast edition lets you use up to 100 modules.
Twitch Studio: Best Streaming Software for Twitch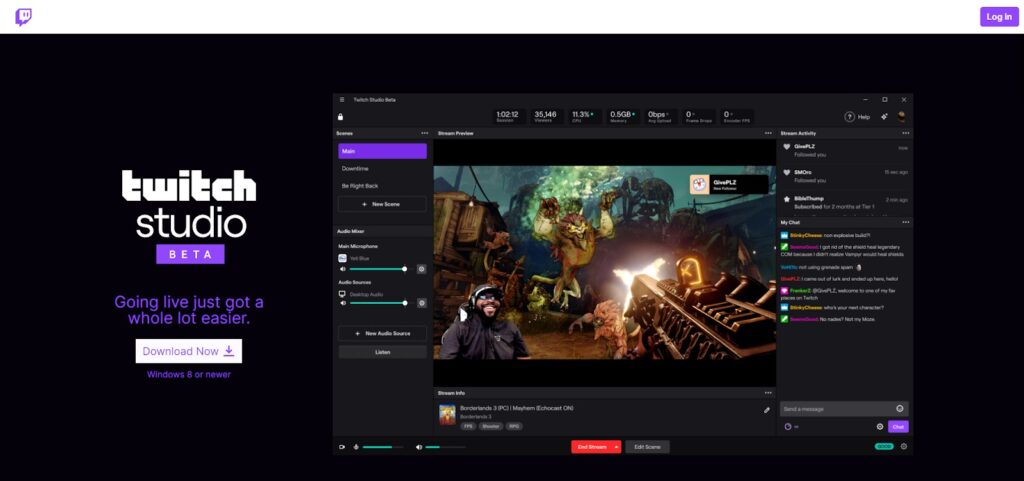 If you're planning to stream exclusively on Twitch, you can't go wrong with Twitch Studio. This software is by Twitch for Twitch, so you'll likely feel right at home with Twitch Studio. It's user interface is intuitive and doesn't require much efferot to get used to.
Features
Customizable templates
Content mixing
Various extensions
Media library
Configurable hotkeys
Twitch Studio offers the essential features to ensure a smooth and personalized live stream. There are plenty of customizable templates that will give your stream a unique look.
You can also find various built-in and third-party extensions to enhance the platform's functionality, like sounds alerts, leaderboards, etc. When picking third-party plugins, read all the details in the description. Some plugins have a revenue-sharing program or other pre-requisites.
Pros
Easy to use
Basic features are pre-installed
Quick installation
Twitch Studio offers a guided installation process to optimize the software for your setup. Given that this software is more straightforward than some of the other ones on this list, Twitch Studio is very easy to use, and you'll get used to it right away.
Pricing
Twitch Studio comes free of charge. Overall, this software might be an excellent option for brand new streamers looking to kickstart their Twitch careers.
LightStream: Best Streaming Software for Podcasts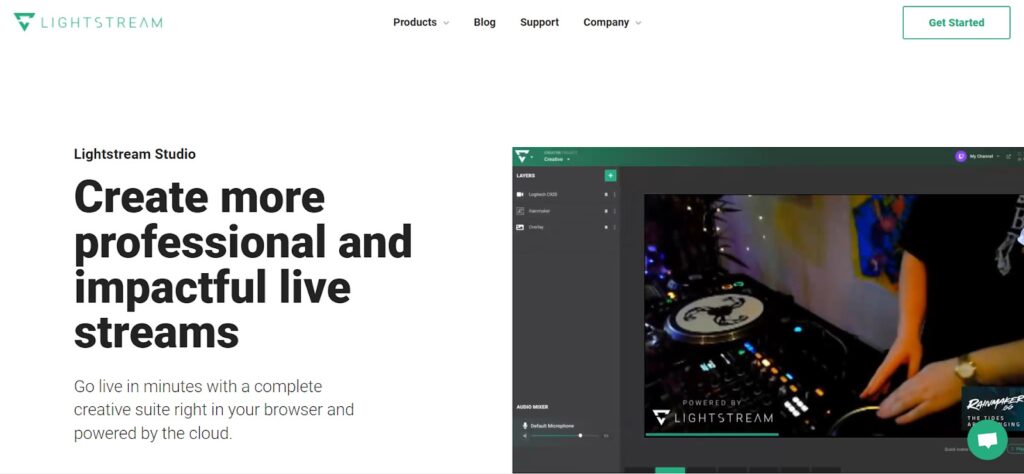 The main thing about LightStream is that you can access the software directly through the browser. It uses cloud-based technology to take care of your stream encoding, which relieves your hardware of quite a bit of stress. 
In other words, as long as you've got internet access, you can head over to the browser and start the stream in minutes. This makes LightStream an excellent option for creators who travel a lot and can't carry expensive hardware.
Features
Remote control
Automatic bitrate adjustment
Green Room
Analytics
Multistreaming
One stand-out feature is Green Room. With it, you can add guests to your stream by simply sending a link. Upon clicking on it, the software will automatically connect to the guest's camera and microphone, and that's it! They're already into your stream – no software installation and configuration required.
Moreover, LightStream will automatically adjust your bitrate based on your internet connection to ensure a smooth broadcast with minimal buffering.
Lastly, its remote control features allow you to start/stop your stream and switch between scenes from your mobile device.
Pros
No downloads required
Easy to use and get into
Easy on your hardware
Overall, LightStream eliminates many of the headaches you may have with other streaming software. You don't have to deal with installing the software. Meanwhile, its automatic configuration capabilities will tweak the settings so your stream will go easy on the hardware and provide the best quality possible.
There's also a knowledge center and live chat support if you encounter any issues.
Pricing
There are two pricing plans: 
Gamer – starts at $8/month
Creator – starts at $25/month
If you choose one of their yearly plans, there's a 12.5% discount for the Gamer plan and a 20% discount for the Creator plan.
Conclusion: What is the best streaming software?
The answer depends on what type of streaming you're into, your level of expertise, and the features you might need.
That said, let's briefly summarize the article:
Further read:
10 Best YouTube to MP3 Converters and Downloaders (Free and Online)
How To Start A YouTube Channel For Beginners (Profitable)
9 YouTube SEO Tools To Get More Views And Subscribers
12 Best Email Marketing Software To Build Your Email List