If you're searching for the best photo editing software on the market, you probably know that this is easier said than done.
After all, different photographers have different needs, so picking the first professional photo editor you set your eyes on and hoping for the best may leave you disappointed.
There are plenty of factors you'll need to consider. If you're a beginner, you'll want to find something easy to use and offers extensive training materials to quickly get familiar with the ins and outs of the software.
On the other hand, if you're a professional, you might want a photo editing software that offers advanced features, like 3D design functionalities or 360 photo editing capabilities.
On the same note, your choice will also depend on the type of photographer you are. Some photo editors are better suited for landscape photographers, while others are explicitly dedicated to portrait photography.
Last but not least, there's the price. There's no reason to blow the budget on advanced software if you'll only use a few of its features.
In other words, there's a lot to look out for. To cut you some slack, we've come up with a list covering some of the best photo editors out there. Here are the ones we are going to cover in more details:
So let's get to it!
Adobe Lightroom: Best Photo Editing Software for Amateurs and Professionals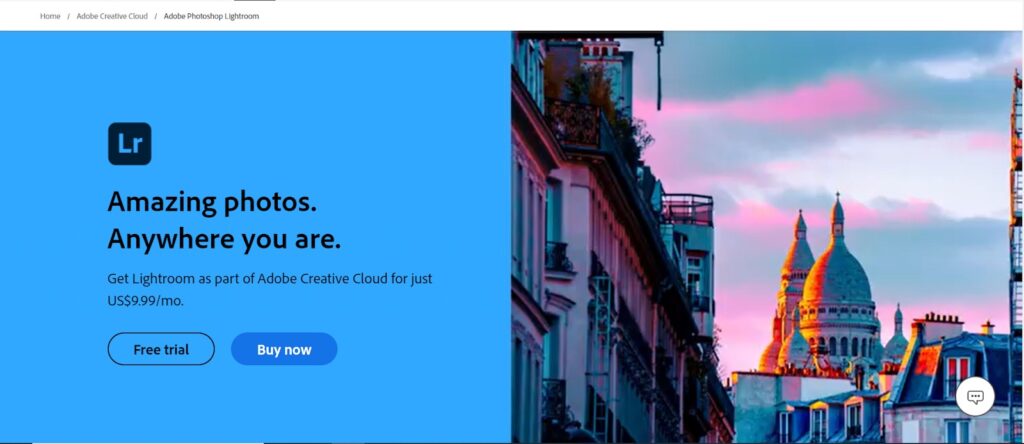 Adobe Lightroom is the benchmark of the photo editing industry. Its intuitive interface, coupled with a wide array of advanced features, makes it an excellent choice for photographers of all levels: from beginners to professionals.
Adobe Lightroom also offers plenty of photo organization features. That said, if you're working with many photos, you won't need to rely on other software to manage your files.
Features
Auto-enhancement
Healing brush
Linear gradient
RAW editing and lens corrections
Face recognition for organizing photos
If you're starting out in photography, you'll likely find Lightroom's auto-enhancement feature a life-saver, as it automatically adjusts your photos' highlights, shadows, contrast, exposure, and more, to bring out the best of your images.
Although you'll still need to do a little more editing, this feature makes it easy to get started and stay on track.
Moreover, Lightroom uses face recognition technology to help you identify and tag the same person when they appear in multiple photos so you can organize photographs more effectively.
Pros
Ability to create presets
Non-destructive editing
Intuitive user interface
Lightroom allows you to save multiple configurations of the adjustment sliders in the Develop module. Consequently, if you want to apply the same effect on various photos, you'll no longer need to go through each specific image and adjust it manually.
Speaking of making adjustments, you can edit photos without altering the original file, as it stores every change in the Catalog file, making it easy to back and forth between your images' history and review your edits.
Pricing
In terms of pricing, Lightroom offers the following plans:
Lightroom Plan (1TB) – $9.99/month
Photography Plan (20GB) – $9.99/month
Photography Plan (1TB) – $19.99/month
The first plan gives you access to Lightroom through Adobe's Creative Cloud platform with 1TB of storage. If you'd like to get Photoshop and Lightroom's desktop-oriented app, you'll need to opt for the other two plans.
Learn more about Lightroom here.
ON1 Photo RAW: Best Photo Editing Software for Professional Photographers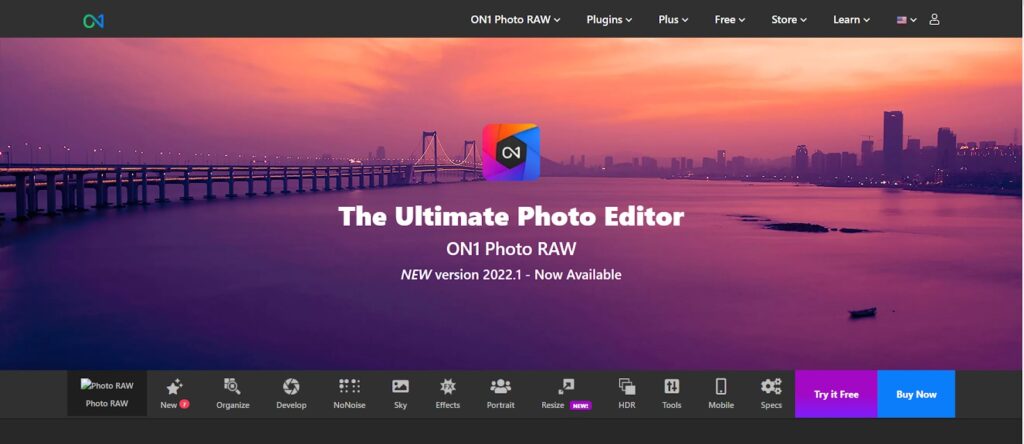 ON1 Photo RAW may be a good all-in-one solution for professional photographers. It's not only a photo-editing platform, but it's also a photo organizer and a special effects suite.
That said, this software offers everything you need to conduct the editing process from beginning to end within a single place.
Features
Excellent file management
AI capabilities
Customizable presets
Live previews and adjustments
Timelapse creation
In terms of file management, ON1 Photo Raw has a browser-based system, meaning that you'll no longer have to import photos. All you need to do is direct the software to where your images are located, and they'll appear directly within the browser, making it easy to organize and search your photos.
This photo editing software also offers powerful AI capabilities, including Sky Swap AI, Portrait AI, and NoNoise AI, which will allow you to quickly eliminate any imperfections and get the maximum effect out of your photos.
Pros
Access to ON1 Photo RAW Mobile
UI similar to Lightroom
Full-blown photo editing suite
The UI is similar to Lightroom, so this platform is also intuitive and easy to use.
Furthermore, ON1 Photo RAW gives you free access to its mobile version, which offers the standard photo editing features, like white balance, contrast, exposure adjustments, a wide variety of presets, and effect filters.
Lastly, you can easily sync multiple mobile devices and computers to edit your photos at any given place during any given time.
Pricing
ON1 Photo RAW offers the following pricing plans:
Photo RAW 2022.1 Upgrade License – $99
Photo RAW 2022.1 Full License – $123
ON1 Everything with 200 GB of storage – $9.81/month
ON1 Everything with 1TB of storage – $19.61/month
The ON1 Everything plan will give you access to the latest version of Photo RAW, all plugins, and Cloud Sync. You can also opt for a yearly subscription to benefit from a discount.
Learn more about ON1 Photo Raw here.
Adobe Photoshop: Best Photo Editing Software for Large Projects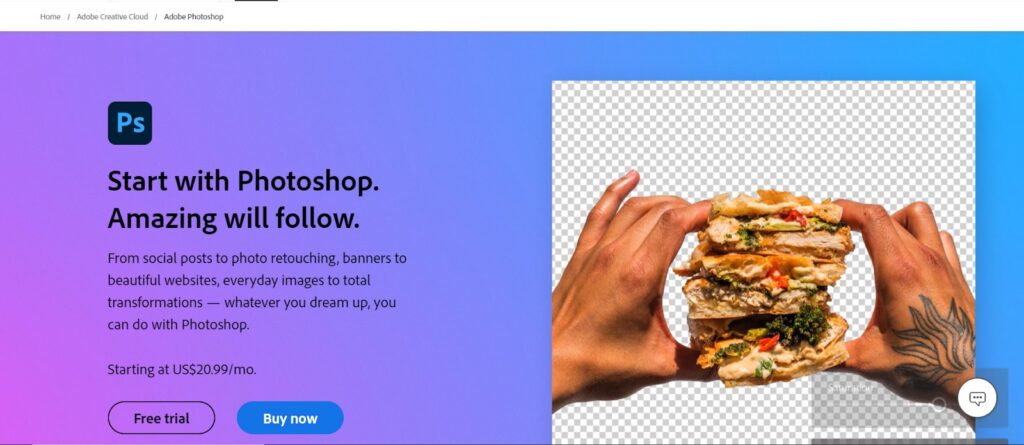 Photoshop has been around for decades, and that is with good reason. Due to its versatility and a wide array of features, Photoshop is still regarded as one of the best platforms for photographers, graphic designers, and 3D designers alike, making it suitable for projects beyond photo editing.
Although Photoshop is mainly used to combine text and graphics in multiple layers, compose and edit raster images, or render and edit vector graphics, the size of this platform essentially creates endless possibilities.
Features
3D design capabilities
Multi-layer editing
Neural Filters
Content-Aware Fill
Sky replacement
Neural Filters are Photoshop's way of using AI and machine learning to speed up the editing process. In short, this feature uses algorithms to create new pixels within your photos, allowing you to perform non-destructive edits, like colorizing or style transfers, while keeping the original image intact.
On the other hand, Content-Aware-Fill makes it easy to remove unwanted objects in the background and identify specific details around the said object to replace the gap without making the image look unnatural.
Pros
Offers many features
Can handle projects beyond photo editing
Plenty of tutorials available online
Because Photoshop is so popular, you're bound to find tutorials and tips on using the platform effectively.
This doesn't mean that Photoshop is perfect for beginners, though. It has a steep learning curve, as there are plenty of tools and features hidden from plain sight, and the sheer size of the platform can be overwhelming for someone who's just getting into photography.
Pricing
Photoshop offers three pricing plans:
Monthly plan – $31.49/month
Annual plan – $20.99/month
Annual plan, prepaid – $239.88/year
As mentioned earlier, you can also pair Photoshop with Lightroom with 200GB or 1TB of storage for $9.99/month and $19.99/month, respectively.
Learn more about Photoshop here.
Adobe Photoshop Elements: Best Photo Editing Software for Beginners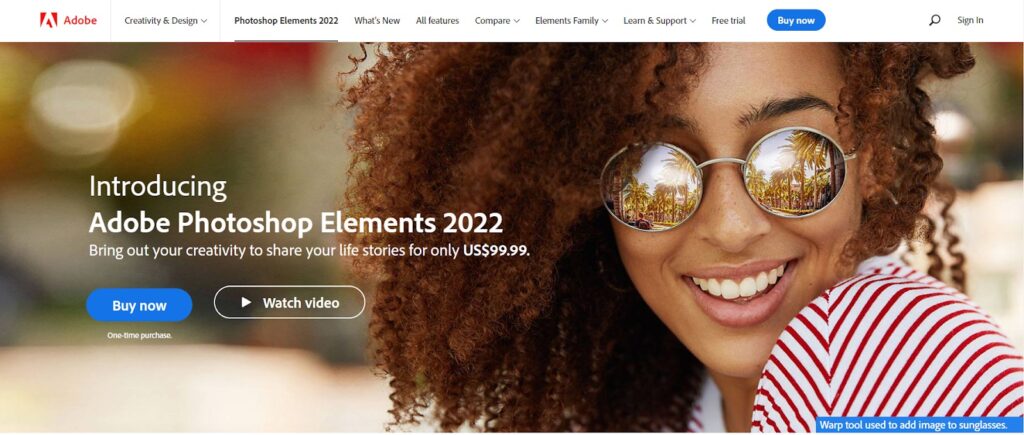 Think of Adobe Photoshop Elements as Photoshop's younger brother. It's not as sophisticated as the latter; it's much more user-friendly and doesn't offer as many advanced features.
In contrast to Photoshop, Elements has a simplified user interface designed for quick navigation and ease of use. This makes Photoshop Elements an excellent option for beginners.
Features
AI capabilities
Photo organizer
Sky replacement
Content-aware scaling
History log
Although Elements doesn't provide as many features as its counterpart, it doesn't mean that they are less robust, as Photoshop Elements offers various features that will save you time and help take your editing to the next level.
For instance, its AI-powered Smooth Skin option will automatically reduce any imperfections within a portrait, like blemishes or wrinkles, and provides you with a Smoothness slider for better tweaking. Another handy feature can automatically colorize black and white photos.
Pros
Easy to use
Great AI tools
Offers guided edits
The primary strength of Photoshop Elements is its ease of use. The editor is divided into the Quick, Guided, and Expert Mode.
The Quick Mode provides essential features, like cropping, filters, and object removal.
The Guided Mode offers step-by-step instructions to guide you through more complex edits, like creating double exposures and replacing backgrounds.
Lastly, the Expert Mode allows photographers to take control over masks, layers, and filters.
Pricing
In terms of pricing, Adobe Photoshop Elements will set you back $99.99. It's a one-time payment, so you won't need to worry about paying for a monthly subscription.
Learn more about Adobe Photoshop Elements here.
Skylum Luminar AI: Best Photo Editing Software for Quick Edits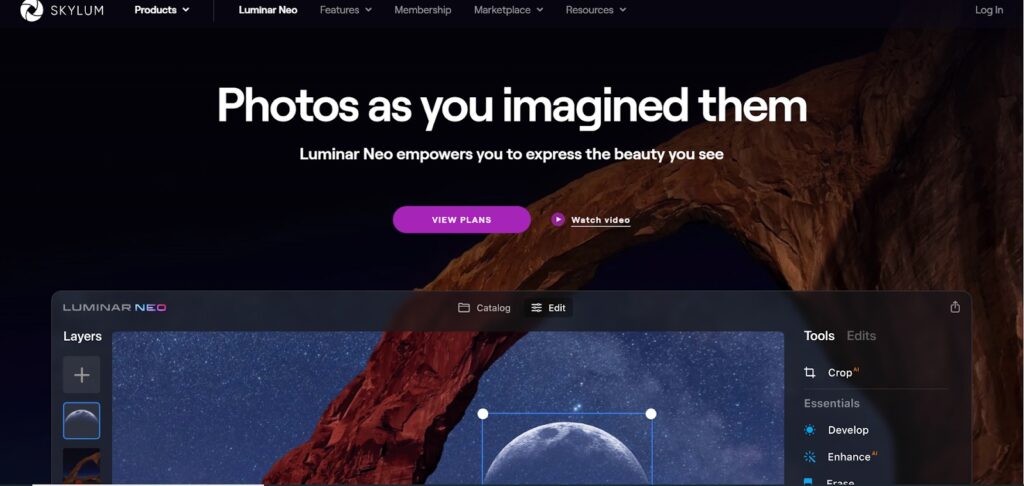 If you'll need to edit photos in a pinch, or you're just getting your feet wet in photo editing, Skylum Luminar AI has got your back. With the help of AI, this platform makes the editing process as fast and easy as it can get.
Features
AI editor
Simplified workspace
Adaptive user interface
Batch processing
Plugin support
What makes this platform stand out from the others is its AI capabilities. Like Lightroom's auto-enhancement feature, Skylum uses artificial intelligence to adjust images and improve their looks quickly.
The difference is that AI is the center point of Skylum, as it can take control of most of the editing process on its own, from modifying shadows and contrast to more complex edits, like changing eye colors, skin tones, and adding fog effects to a landscape.
Pros
Easy to use
Offers good value for money
Various integration capabilities
In other words, Skylum Luminar AI is a must-have. It's a great platform for novices looking to get familiar with the basics of photo editing.
Given that this platform can also be a plugin for Lightroom, Skylum can also be an excellent time-saver for more experienced photographers that want to quickly establish a solid editing foundation for their photos or add the finishing touches.
Pricing
In terms of pricing, you can purchase one computer license for $79 via a one-time-payment. For two computer licenses, you'll have to pay $99. There's also a free trial available.
DxO PhotoLab: Best Photo Editing Software for RAW Conversions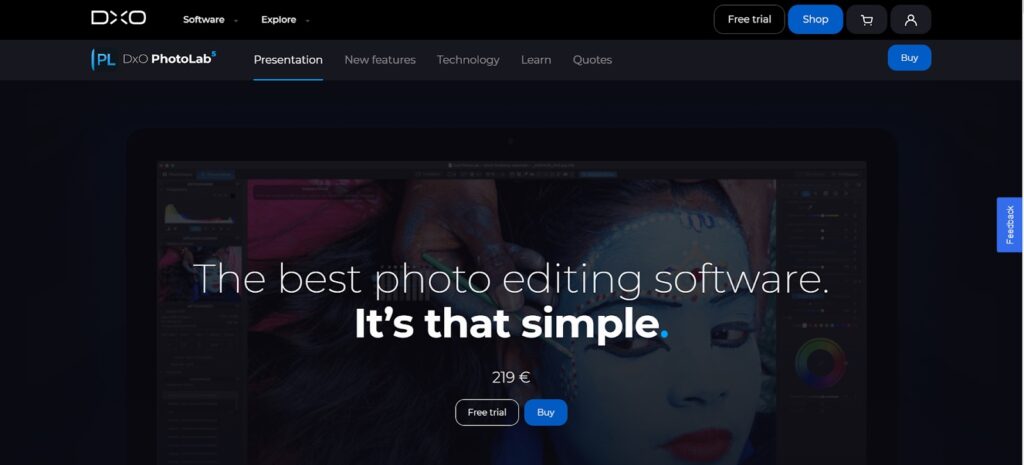 Although DxO PhotoLab is well-known for its RAW conversion tools, keep in mind that you can also use it as a photo editing and organizing platform. Sure its strengths still lie in its conversion capabilities, but it's still a good alternative to other picture editing software solutions, like LightRoom.
Features
File management
Photo editing
Advanced history
Smart workspace
DeepPrime
DxO's stand-out feature is DeepPrime. In essence, the platform uses AI and Deep Learning technology to demosaic and denoise photos without compromising their quality.
It works by having a database of millions of output and input pictures the AI uses to examine the images during the demosaicing process and learn how to provide the best results.
Pros
Intuitive interface
Good performance optimization
Excellent for RAW conversions
Overall, DxO is an excellent alternative to other photo editors. Still, it's excellent for RAW conversions, as you can seamlessly convert your RAW files to JPG.
Moreover, the software will automatically offer lens corrections to make up for chromatic aberrations, vignetting, or distortions specific to digital camera lenses.
Lastly, this platform allows you to customize your interface, presets, and color palettes to help you work more productively.
Pricing
In terms of DxO's PhotoLab platform, there are two one-time purchase options available:
The Essential Edition includes two activations for your license and will give you access to DxO's essential features, like file management, photo editing, RAW conversion, advanced history, etc.
The Elite Edition includes three activations and unlocks the DeepPrime capability and other advanced functionalities.
Photo Director 365: Best Photo Editing Software for Intermediate Photographers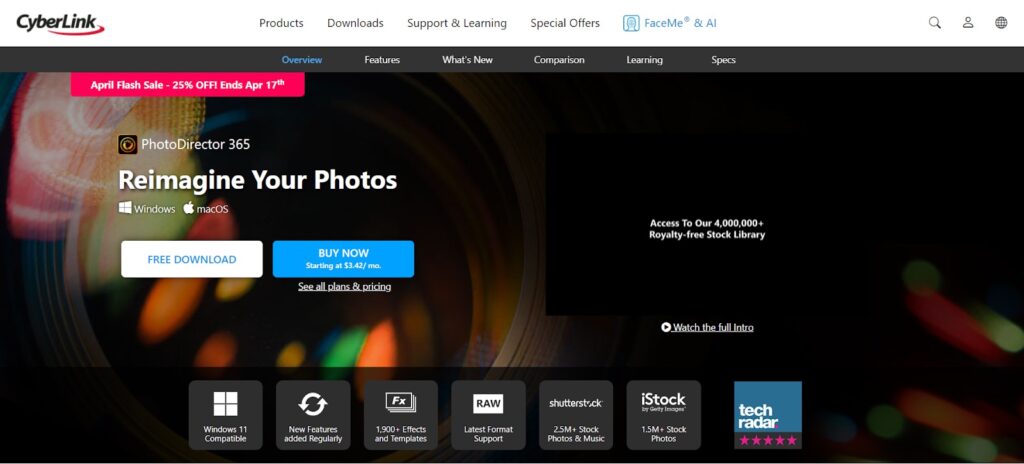 If you're looking to step your game up in photography but still intimidated by Photoshop's complexity, CyberLink Photo Director 365 might be a good alternative.
This platform offers all the necessary features you can expect from photo editing software and then some. What makes it stand out from its competitors is that it offers great value for money.
Features
Animation effects
Express layer templates
AI sky replacement, blur removal, and style transfer
Content-aware capabilities
Face recognition for organizing photos
In other words, Photo Director 365 includes similar features found in more expensive photo editors, like AI sky replacement and the use of facial recognition technology for searching and organizing your photographs more effectively.
Aside from that, this platform offers various unique special effects, sound effects, and more. Photo Director 365 enables you to add animation effects to your photos and transform them into WMV, GIFs, or MPEG-4 files.
Pros
Easy to use
Great value for money
Access to advanced features
Overall, PhotoDirector 365 offers an intuitive interface, AI functions that will save you some time, access to primary and advanced features, and most importantly, great value for money.
That said, this platform is perfect for intermediate or beginner photographers that are looking to improve their abilities without blowing the budget.
It also includes functionalities that you may not find anywhere else, like its video-to-photo feature, which allows you to capture static frames from your videos, turn them into photos, and edit them directly within the platform.
Pricing
In terms of pricing, Photo Director covers two one-time purchases and two yearly subscription models:
Photo Director 13 Ultra (Lifetime) – $69.99
Photo Director 13 Ultra + Photo Director 20 Ultimate (Lifetime) – $134.99
Photo Director 365 (Subscription) – $4.58/month
Director Suite 365 (Subscription) – $10.83/month
Currently, there's a 25% discount for the Photo Director 13 Ultra lifetime license and the two subscription plans that will last until April 17th, 2022.
Affinity Photo: Best Photo Editing Software for Lifetime Licenses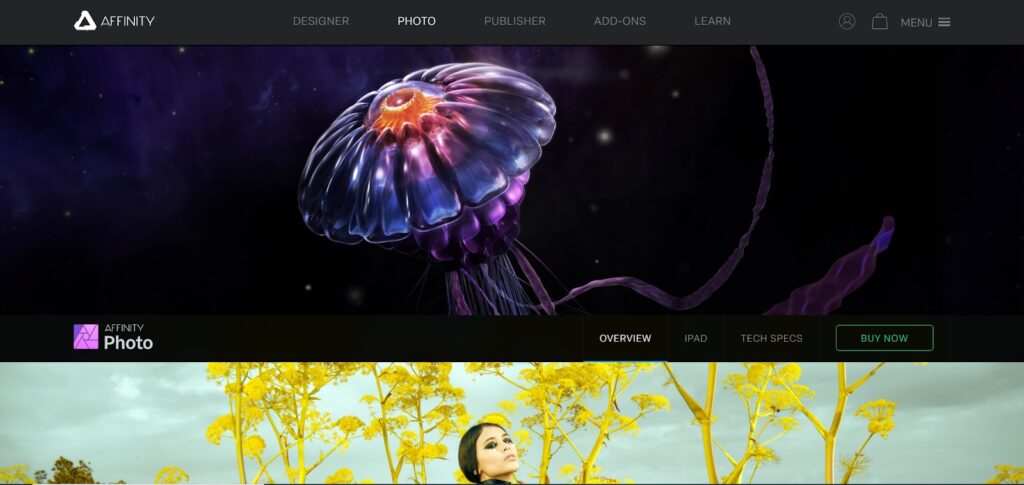 Affinity Photo is a close competitor to Adobe Photoshop. Both platforms share similar interfaces and offer various advanced features designed with professional photographers in mind.
Unlike Photoshop, Affinity Photo doesn't require a monthly or yearly subscription. You can avoid costs that add up over time, making it a more budget-friendly alternative.
Features
360 photo editing
Batch processing
RAW editing
HDR merging
Built-in organizer
In terms of photo editing, Affinity and Photoshop mostly share similar features. However, Photoshop is still more extensive, as it includes some functionalities that Affinity lacks, like 3D editing, a video timeline, and scripting, for instance.
But given its price, Affinity remains a strong contender, as it also includes advanced features like RAW and 360 editing, retouching tools, the ability to create vector shapes, and more.
Pros
Cost-effective
Comprehensive features
Great for professionals
Although Photoshop and Affinity mainly share the same pros, note that they have similar disadvantages. More specifically, Affinity is also not that easy to use, and the interface might be overwhelming for beginners.
Furthermore, there's a lack of well-put-together tutorials and other educational materials, making the platform that much harder to get used to. But if you're already used to Photoshop, familiarizing yourself with Affinity might be easier, as this platform's user interface is akin to Photoshop's.
Pricing
Affinity costs $54.99 for Windows and macOS. There's also an iPad version available at $21.99.
All in all, if you're stuck deciding between Affinity and Adobe Photoshop, Affinity's lifetime license might seal the deal for you.
Conclusion
Having a good camera can only take you so far in terms of making high-quality photos. Another factor that draws the line between a professional photographer and a novice is its editing skills.
That's why picking the right editing software is essential. You'll need to find the one that fits your photography needs and ultimately helps you hone your skills.
That said, let's briefly summarize the article:
Further Read:
10 Best YouTube to MP3 Converters and Downloaders (Free and Online)
How To Start A YouTube Channel For Beginners (Profitable)