Finding reliable dropshipping suppliers that ship to the US and Europe with fast delivery can be a headache. This is why we come up with this list of the 10 best dropshipping suppliers!
But you may wonder, should I still do dropshipping today?
Let's take a look.
Do you know that a dropshipping business can generate 40 – 70% profit margin?  
In addition, dropshipping has minimal requirements on merchandise, storage, and shipping, so starting a dropshipping store is a popular choice among many.
And if you take a look at the global dropshipping market, it has been steadily expanding. It achieved $111.28 billion in 2018 and is expected to maintain a compound annual growth rate of 29% from 2020 to 2025.
The high profit margin, minimal setup costs, and the ever-growing market demand for the dropshipping business mean YES – you can still do dropshipping today and make decent profits from it!
If you're yet to start, here's our ultimate beginner guide to dropshipping.
Keeping the exciting opportunity in mind, here are the top 10 dropshipping suppliers.
AliDropship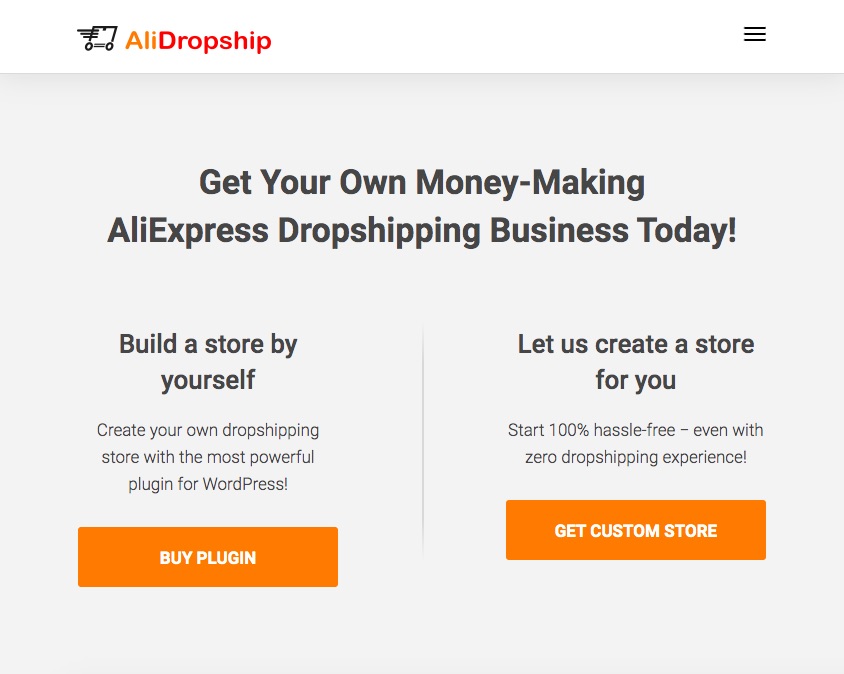 AliDropship is a dropshipping plugin that assists you in obtaining products offered by Alibaba to your eCommerce store.
You can use AliDropship to access information on product inventory from AliExpress suppliers and list the information in your online store with one simple click.
It provides comprehensive solutions, including plugins, add-ons, custom stores, and themes. Its plugin is seamlessly integrated with WordPress, Shopify, and WooCommerce.
There are three options to start a dropshipping business with AliDropship:
Pros of AliDropship
Enormous product catalog: AliDropship allows you to import products of great variety from AliExpress suppliers.
Import of customer reviews: since AliDropship and AliExpress are both Alibaba platforms, you can import customer reviews of your products from AliExpress.
Support of various payment methods: AliDropship supports most payment processors, including most debit/credit cards, PayPal, PayU, Stripe, Wire Transfer, etc.
Email marketing: Alidropship assists in automating email marketing to your customers.
Cashback: you can get up to 12% cashback on all of your AliExpress orders.
Cons of AliDropship
Long shipping duration: the shipping duration of AliExpress ranges between 10 to 60 days.
Pricing Plan of AliDropship
A single license of the plugin costs a lifetime fee of $89.
A full-fledge dropshipping store costs $299.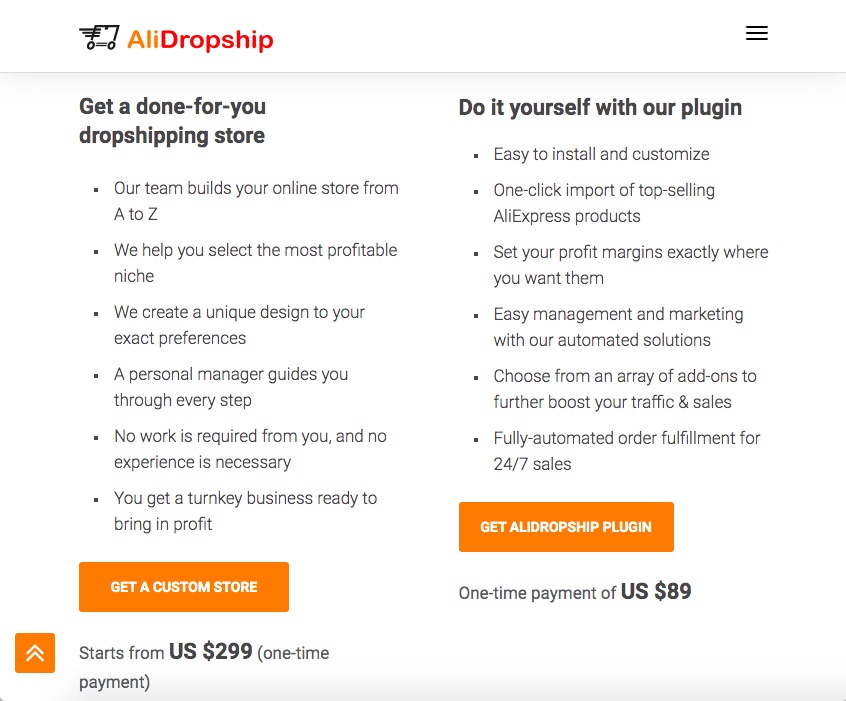 AliDropship: Best for beginners who need help setting up but has a limited budget
AliDropship is most suitable for dropshippers who want to get an online store for one-time payments at a reasonable price. It is also ideal for dropshippers considering using the Alibaba platforms and suppliers.
You can get a fully ready dropshipping store for just $299 with the help from the AliDropship team and even get a dedicated personal manager to guide you through every step.
ShopBase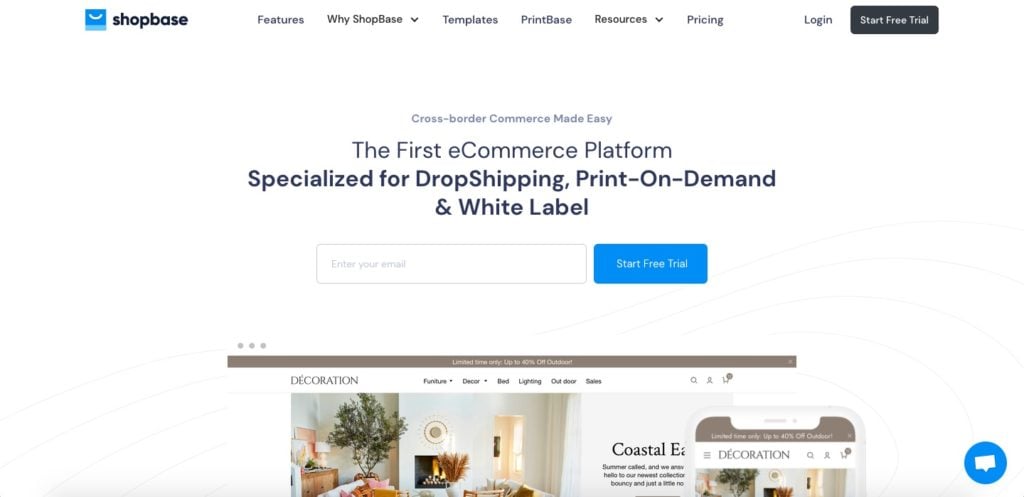 ShopBase is an eCommerce platform that specializes in dropshipping, white-label, and print on demand (POD). It also offers services like website building and conversion optimization.
Pros of ShopBase
Focus on dropshipping services: ShopBase's dedicated service, CrossPanda, focuses explicitly on dropshipping services.
Price advantage: The "Basic Base" fee of ShopBase ($19) is cheaper than that of the basic plan of Shopify ($29).
Integration all-in-one: ShopBase already includes most features in its basic plan, which means you don't have to install various apps to manage your dropshipping store.
Cons of ShopBase
Not many third-party apps are available yet for the ShopBase platform.
Pricing Plan
Trial period: 14 days for free.
Basic Base: $19 per month.
Standard Base fee: $59 per month (paid annually: $53 per month).
Pro Base fee: $249 per month.

Shopbase: Comprehensive eCommerce Platform for Dropshipping, Print-on-Demand, and White Label stores
ShopBase helps you to start a dropshipping store with its all-in-one platform. It is most suitable for dropshipping beginners.
Start for free here.
PrintBase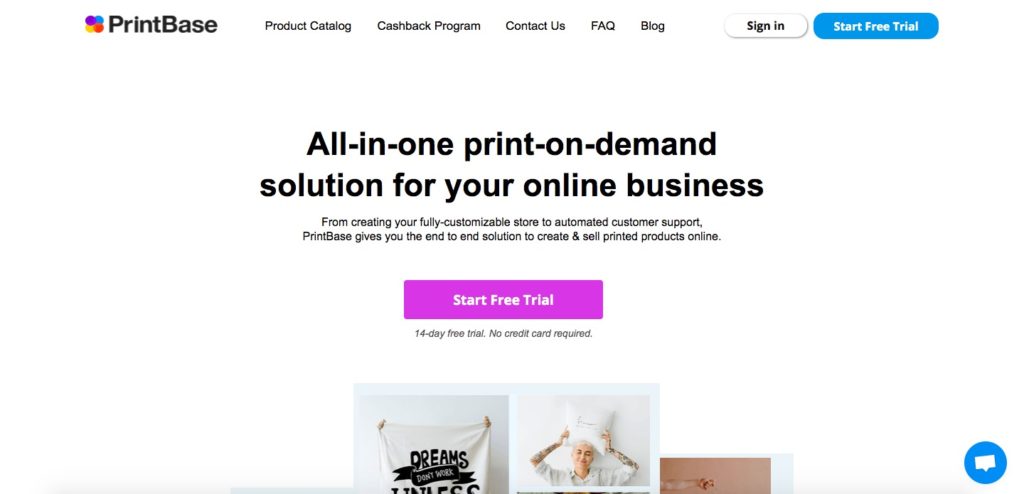 PrintBase is a print on demand (POD) platform specializing in end-to-end business suggestions to sell POD products. Its services include creating a POD online store, processing products, payment support, and customer service. You can publish your product designs to ShopBase seamlessly.
Pros of PrintBase
Competitive product base cost. Compared to other print-on-demand suppliers in the market, PrintBase offers a lower base price for T-shirts, Mugs, and Canvas products.
Shipment specialization: PrintBase partners with fulfillment services such as ScalablePress, CrossPanda, CustomCat, etc., to combine low-cost, high-quality products with fast shipping.
Cashback: you can earn up to $1.00 refund per product when you reach the sold product number of 500+ and 1000+ in Gold Base and Silver Base product groups.
Payment support: PrintBase has built-in payment gateways with Paypal and Stripe, which helps you track your profit data and request payout after three days to accelerate your cash flow.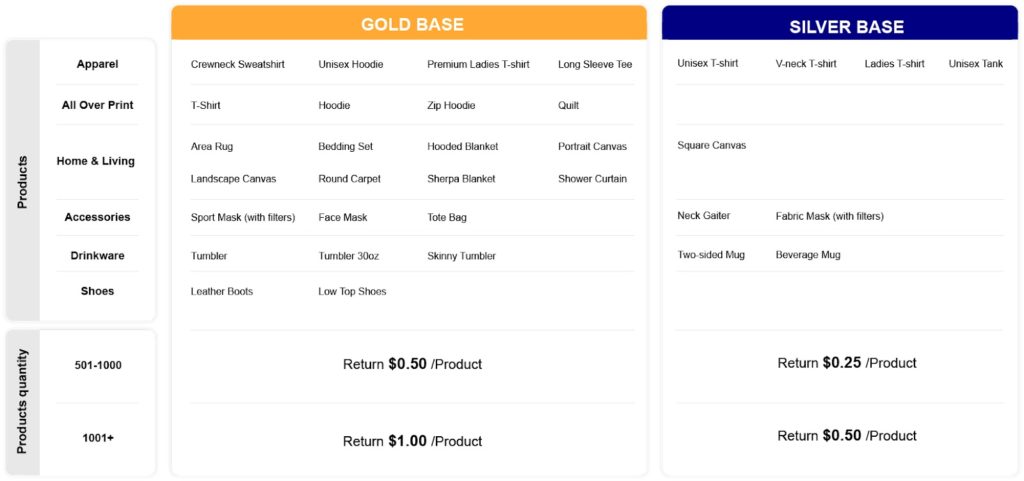 Cons of PrintBase
Primarily concentrates on print-on-demand products only.
Pricing Plan of PrintBase
$39 per month.
Cheaper base cost of various products in the market, compared to other print-on-demand (POD) dropshipping companies.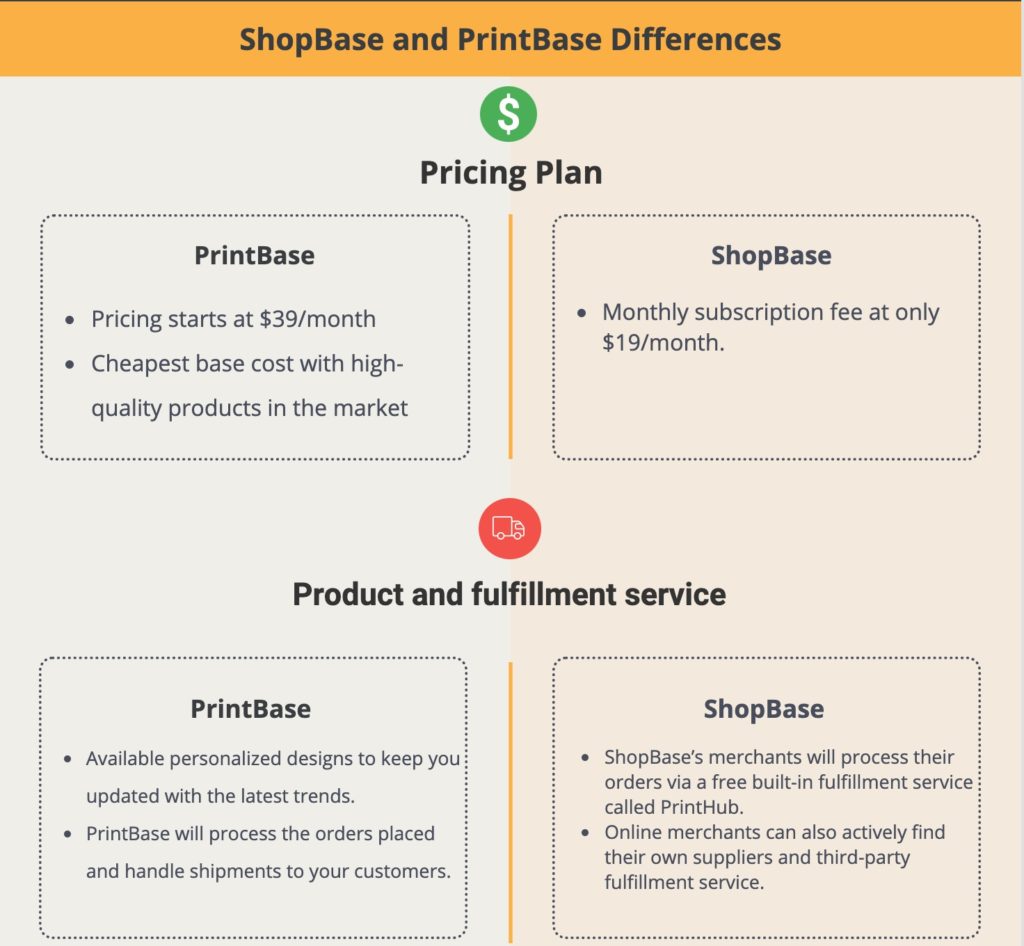 PrintBase: Print-On-Demand with lower product costs
As it specializes in print-on-demand products at a lower price in the market, PrintBase is best suited for dropshippers seeking customizable products.
Printful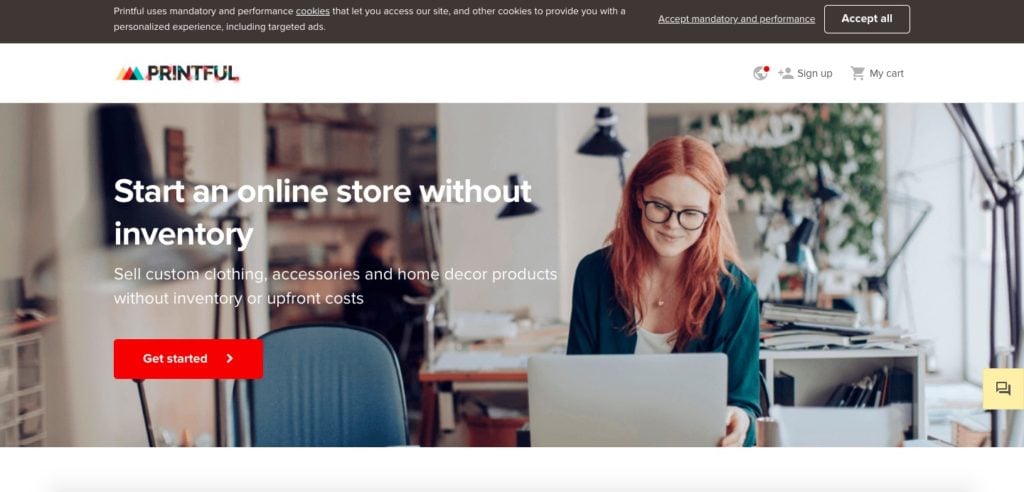 Printful is another top dropshipping supplier that specializes in print-on-demand products. When your customers place an order, the order will be automatically sent to Printful for printing, shipping, and packaging. The custom packaging for your brand would appear as if you shipped the product.
Pros of Printful
Integration with eCommerce platforms: Printful integrates well with eCommerce platforms, such as Shopify, Wix, WooCommerce, and Squarespace, as well as online marketplaces including Amazon, eBay, and Wish.
No monthly fees: The only costs involved are shipping and fulfillment after receiving orders.
Branded invoice and private label: shippings are registered under your own branding.
Vast covering region: Fast international deliveries, in particular North America and Europe.
Cons of Printful
Primarily concentrates on print-on-demand products only.
Pricing Plan of Printful
No fixed fee. Cost includes shipping and fulfillment, which are incurred only after receiving the order. You can see their product cost here.
Printful: Best for Print-on-Demand overall
Printful is best suited for dropshippers looking to sell custom merchandise, such as Mugs, Towels, and T-shirts.
You can get started with Printful for free here.
Spocket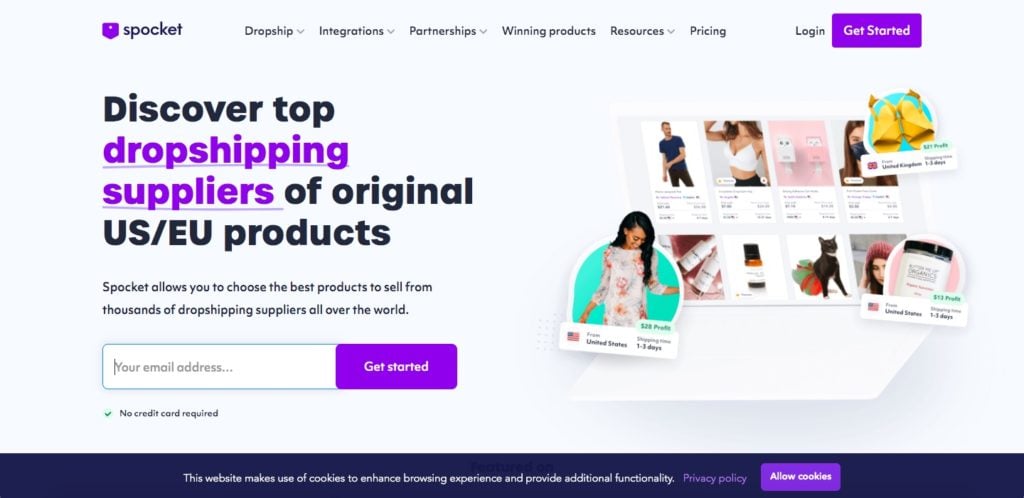 As an emerging dropshipping supplier of US/EU products, Spocket maintains a clear standard for high-quality products. It requires its suppliers to guarantee discounts from the retail prices, timely processing and shipping of orders, and no third-party warehouses.
Pros of Spocket
A high standard for suppliers: Spocket is accredited for detailed screening and reviewing of its suppliers.
Free trial period: Spocket offers a free trial period for 14 days without requiring a credit card subscription.
Branded invoice and private label: sell under your brand name.
Cons of Spocket
Less competitive product prices.
Pricing Plan of Spocket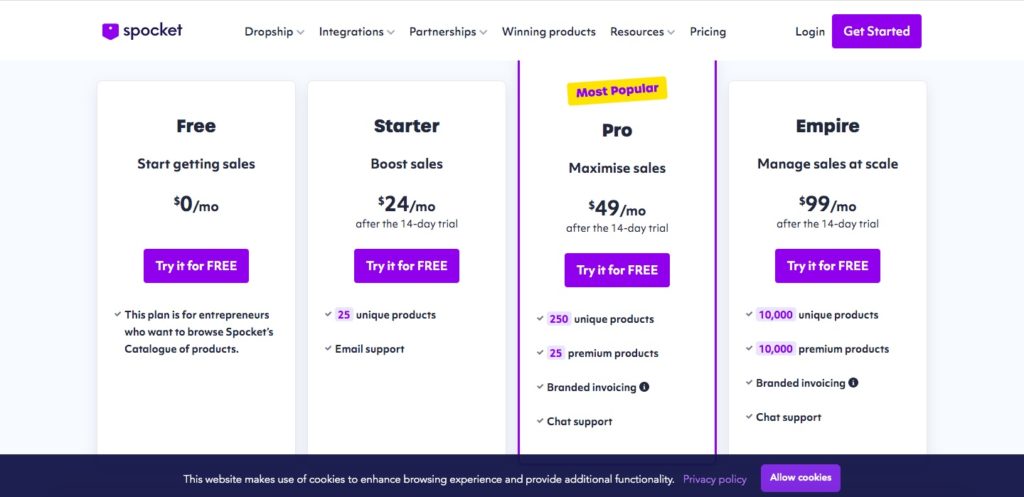 Sprocket: High-quality US/EU dropshipping products
Spocket is best suited for dropshippers seeking to sell high-quality US/EU products and prefer clear and strict supplier selection criteria.
You can get started with Spocket for free here.
Modalyst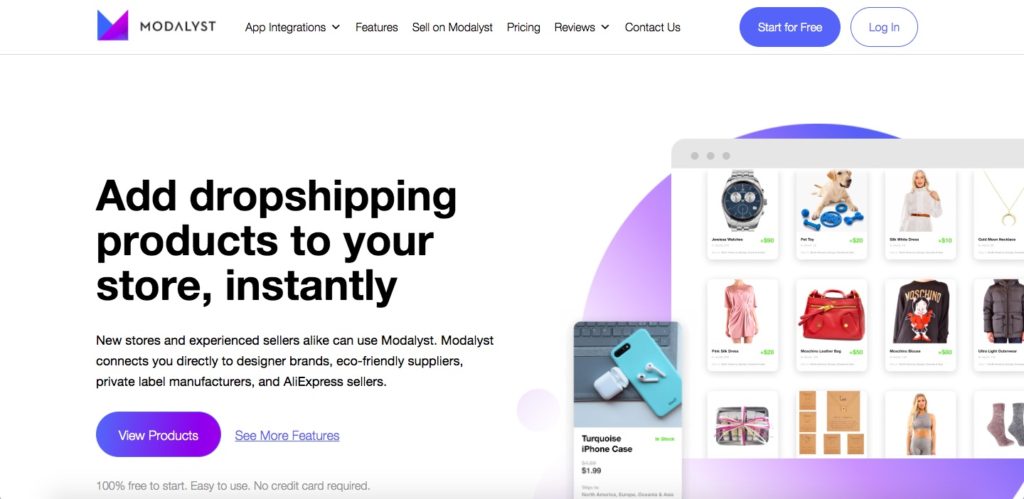 Modalyst offers quick access to the top dropshipping suppliers in Europe and the US. It also provides you with access to plenty of products, particularly fashion products, from the AliExpress Dropshipping partnership.
Pros of Modalyst
Free plan: Modalyst includes a free plan for fashion products (limited to 25 products for your store.)
Luxury brands dropshipping: Modalyst offers an extensive list of luxury brands' suppliers worldwide.
Branded invoice and private label: sell with your own branding.
Location tracking in parcel delivery: customers can easily track shipping.
eCommerce platforms Integration: with Shopify, Wix, and BigCommerce.
Cons of Modalyst
Access to Modalyst's Premium Suppliers costs $90 per month.
Modalyst charges a 5% transaction fee per order.
Pricing Plan of Modalyst
Hobby plan: free of charge.
Startup plan: $35 per month.
Pro plan: $90 per month.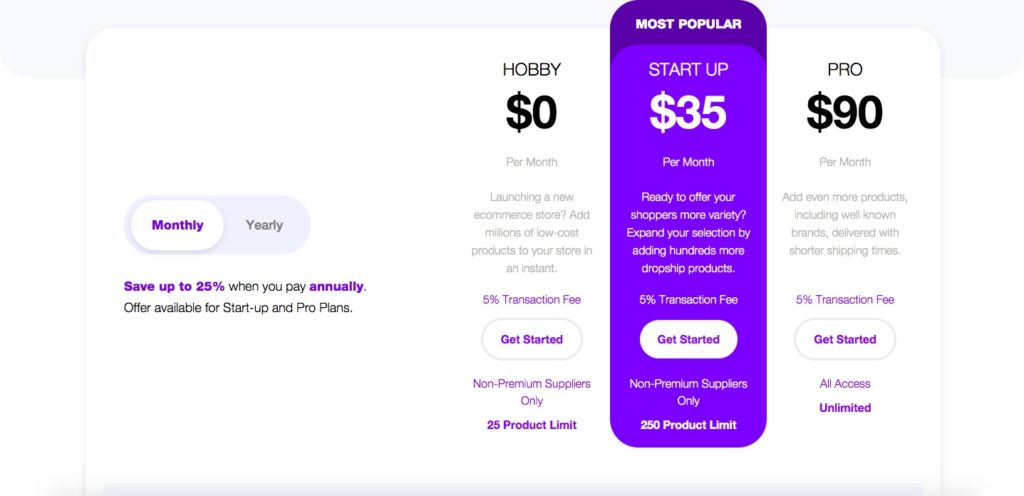 Modalyst: Best for dropshipping fashion products in the US/EU
Modalyst is most suitable for dropshippers interested in fashion products in the US and the European market.
Oberlo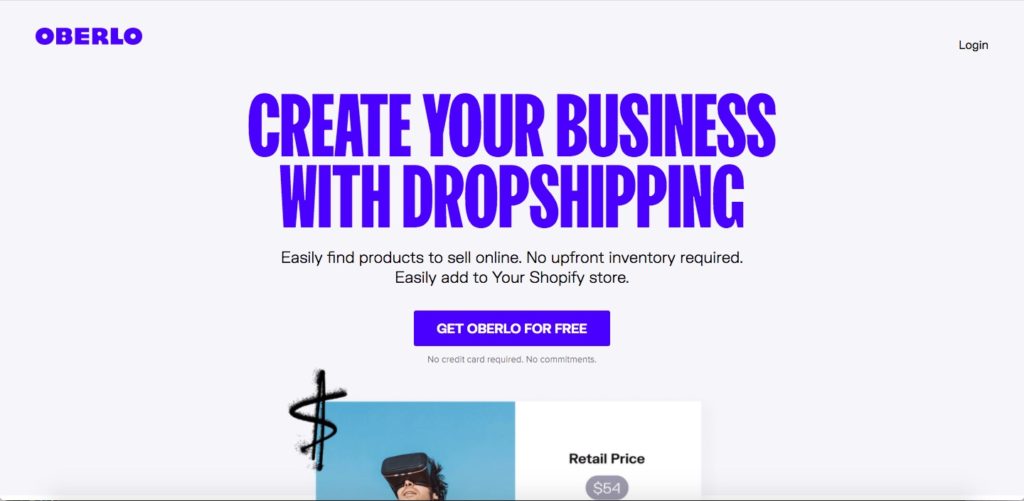 Oberlo is a popular choice among dropshipping beginners. It includes a comprehensive and robust free plan and an informative education pack that includes various free online courses on dropshipping. It is currently the most popular free app in the Shopify app store.
Pros of Oberlo
Robust free plan: the free plan for Oberlo includes access to 500 product suppliers and the Oberlo Chrome extension without any quota limit on monthly orders.
Location tracking: Oberlo allows you and your customers to track shipping.
Cons of Oberlo
It only integrates with Shopify.
A limited selection of suppliers from AliExpress.
Pricing Plan of Oberlo
Starter pack: free of charge.
Basic pack: $29.9 per month.
Pro pack: $79.9 per month.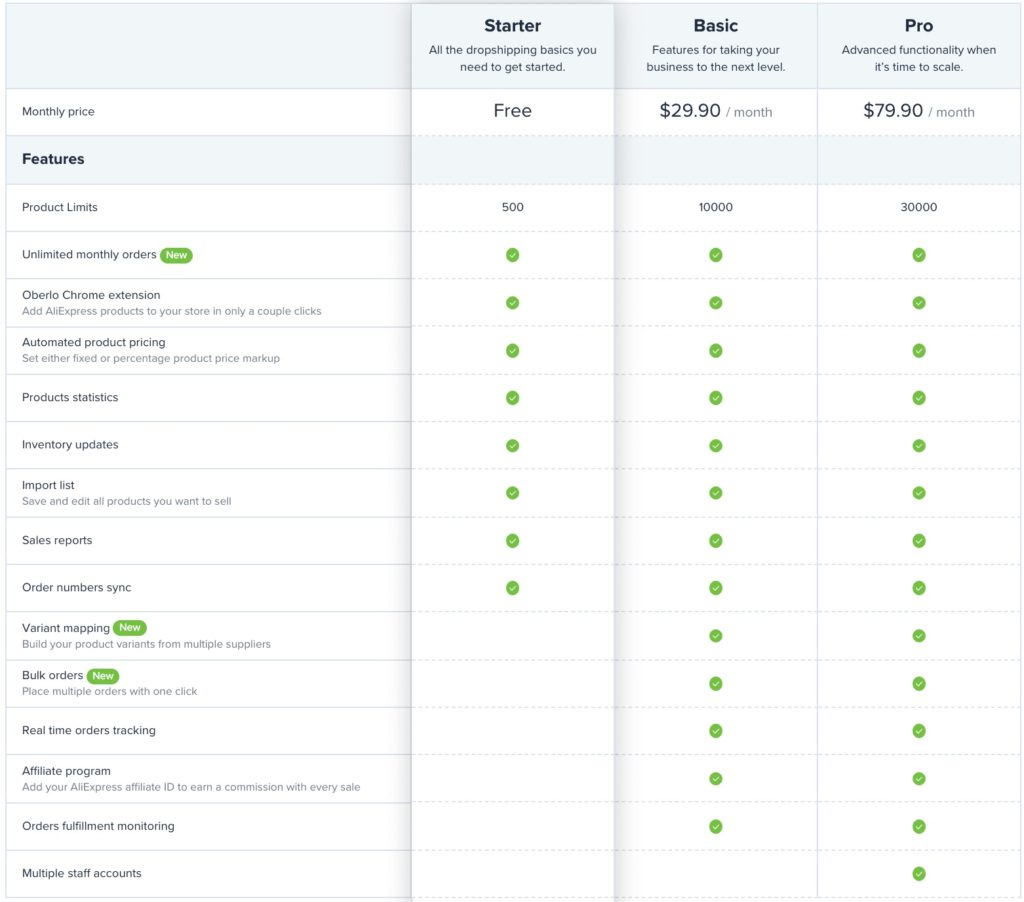 Oberlo: Best for Shopify Dropshippers
Oberlo is most suitable for dropshippers using Shopify.
DSers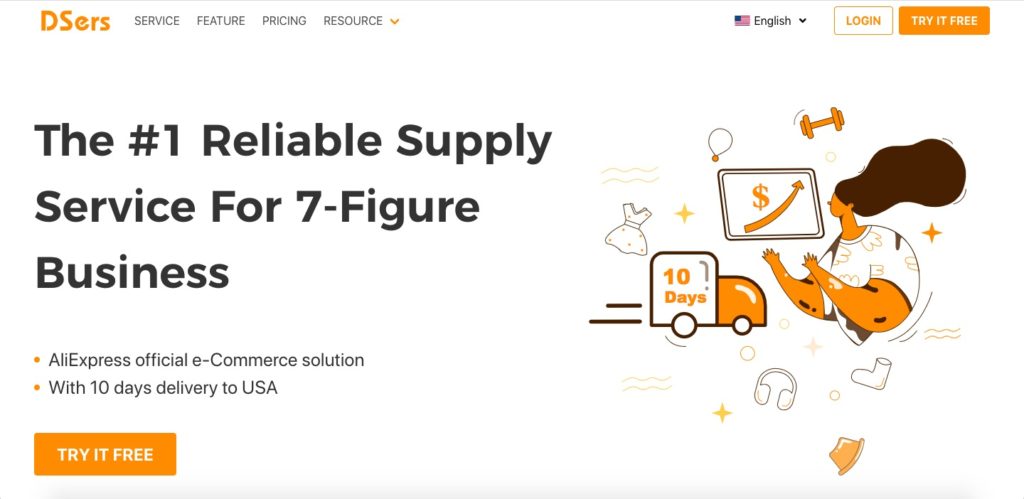 As an official partner of AliExpress, Dsers allows you to process your orders with one single click instead of processing your order one by one.
Pros of DSers
eCommerce platforms Integration: Dsers integrates well with AliExpress and WooCommerce.
Fast delivery: Dsers are limiting the delivery time to 10 days in the US, France, and Brazil.
Cons of DSers
Not compatible with Shopify.
Pricing Plan of DSers
Basic: free of charge.
Standard: $1.99 per month.
Advanced: $19.9 per month.
Pro: $49.9 per month.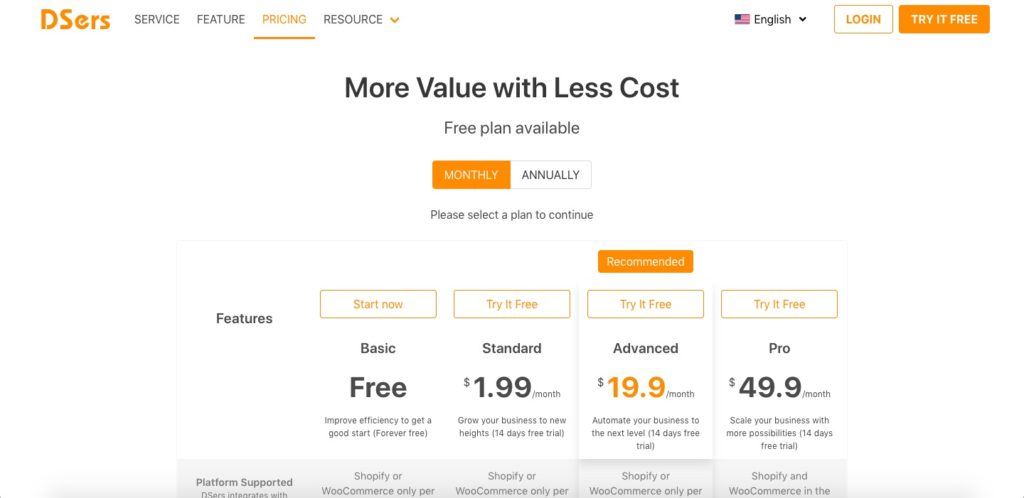 DSers: Best for fast delivery
DSers is most suitable for dropshippers seeking AliExpress products and prioritize fast delivery.
SaleHoo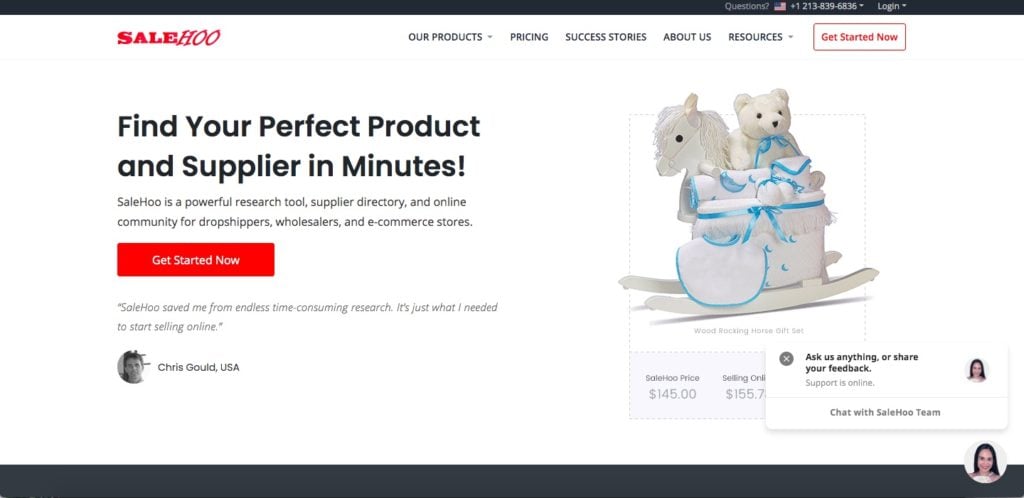 SaleHoo provides a comprehensive directory of suppliers and research tools. It gives you access to dropshipping suppliers and manufacturers, factories, wholesalers, and liquidators in the market.
Pros of SaleHoo
Extensive supplier list: SaleHoo has a comprehensive list of products and verified dropshipping suppliers.
Money-back period: SaleHoo offers an unconditional money-back guarantee for the first 60 days of subscription.
Research tool: SaleHoo provides its users with a robust research tool to find products that are trending as well as specific niches with higher profit margins.
Lifetime access: with only $127, you would have lifetime access to your SaleHoo account.
Cons of SaleHoo
No support with order processing. You would have to check with each of your suppliers to manage the orders.
Pricing Plan of SaleHoo
SaleHoo: Best directories and research tools for experienced dropshippers
SaleHoo is best for experienced dropshippers looking for a comprehensive dropshipping directory and practical research tools.
Inventory Source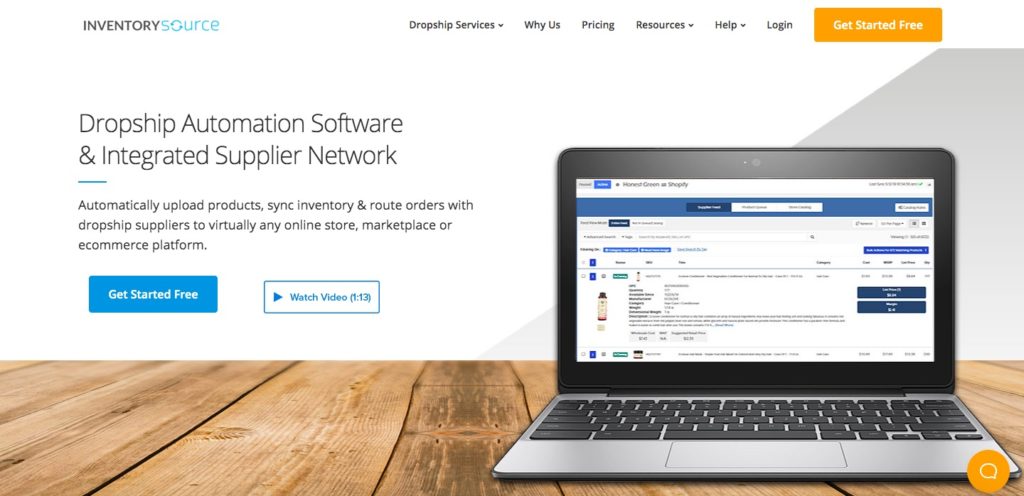 Inventory Source is a handy dropshipping tool that facilitates inventory data syncing. Its automation service is the key comparative advantage of Inventory Source among its competitors.
Pros of Inventory Source
Syncing: you can sync the inventory data of your suppliers to your dropshipping store.
eCommerce platforms Integration: It integrates with most eCommerce platforms like Amazon, eBay, Shopify, BigCommerce, and Walmart.
No price markup: all the products available for dropshipping on Inventory Source are delivered at the supplier's price.
24/7 customer support.
Cons of Inventory Source
Inventory Automation costs $99 per month, which higher than the market average.
Pricing Plan of Inventory Source
Directory Account: free of charge.
Inventory Automation: $99 per month.
Full Automation: $150 per month.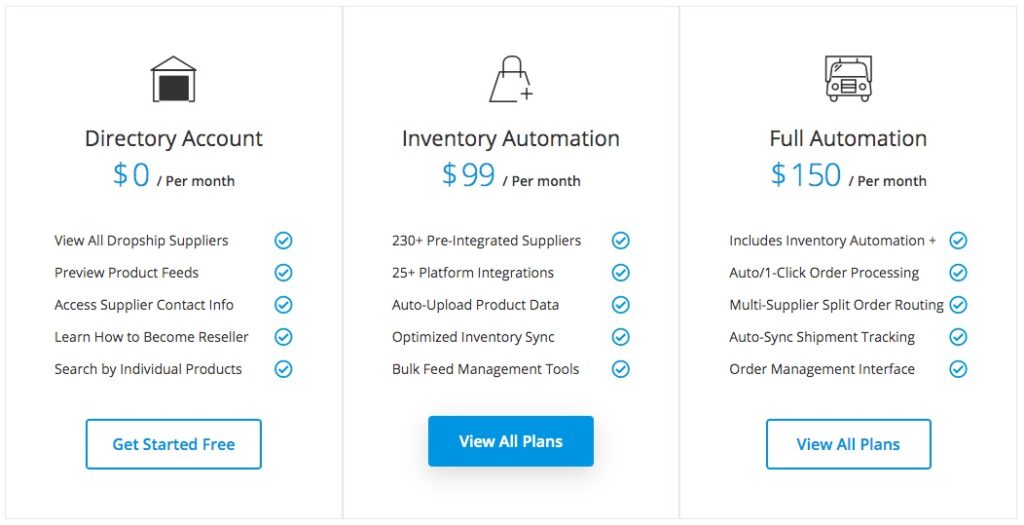 Inventory Source: Best for dropshipping data syncing
Inventory Source is most suitable for syncing the inventory data to your dropshipping shop.
Best Dropshipping Suppliers: Conclusion
Dropshipping is one of the best ways to start an online store with minimal to no upfront investments. The easiest way to start is to create an online store with Shopify and connect it with a dropshipping app like Spocket.
There are more ways you can start a dropshipping business, for example, you can start a dropshipping business on eBay.