Are you a freelancer looking for the best business management tool to optimize productivity and efficiency? Then you've come to the right place!
This bonsai review will provide an in-depth look at Hello Bonsai, one of the most popular freelancer tools on the market. We'll take a closer look at its user experience, pros and cons compared with other similar services, and whether it is right for freelancers.
So if you're ready to find out more about this powerful service, then read on!
Overview of Hello Bonsai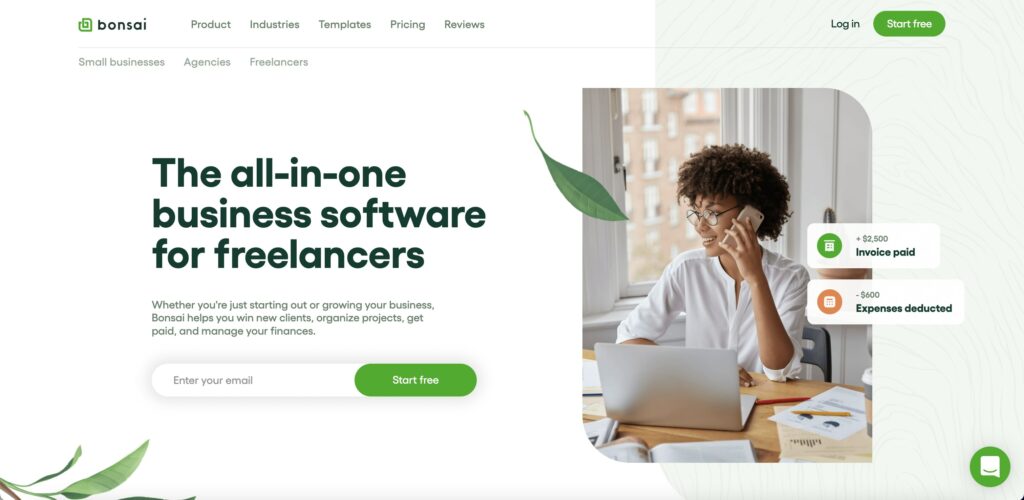 What is Hello Bonsai?
Hello Bonsai is a business management tool designed to help freelancers, entrepreneurs, and small business owners manage their operations more efficiently.
It provides users with the ability to track time, create invoices, manage projects and tasks, store client information in one place, keep track of business expenses, and even accept payments online.
The platform also offers an intuitive dashboard that gives users real-time insights into their finances and performance metrics.
Features and Benefits
Hello Bonsai has several features that make it a great choice for businesses of all sizes. Its time-tracking feature allows users to accurately record how much time they spend on each project or task so they can bill clients accordingly.
With its invoicing system, users can easily generate professional-looking invoices with just a few clicks of the mouse. They can also set up automated payment reminders for overdue invoices and keep track of past payments from clients in one convenient location.
Additionally, Hello Bonsai's project management capabilities enable teams to collaborate on client projects by assigning tasks and tracking progress in real time from any device.
Finally, it also offers excellent client management features such contract templates and CRM tool.
Essential Hello Bonsai Features for Freelance Business
Hello Bonsai is an amazing tool for freelancers and small business owners to help them run their businesses more efficiently. It has a lot of features that make it easy to manage your projects, send proposals, invoice clients, track time and collect payments. Let's take a look at some of the essential Hello Bonsai features.

Proposal templates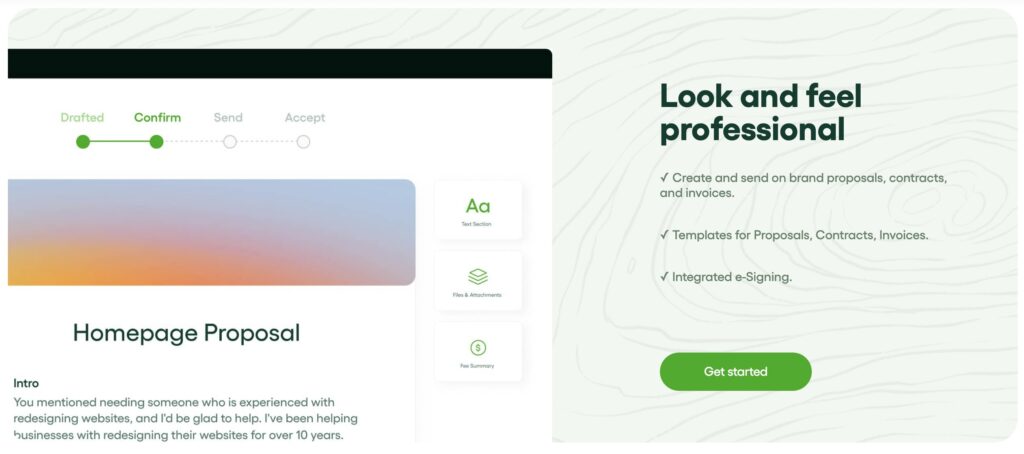 One great feature of Hello Bonsai is its proposal templates, which are essential for running a successful freelance business.
You can easily customize these templates with all the details about your freelance work services and pricing so you don't have to start from scratch every time you want to send out a proposal. This makes it much easier for you to quickly create new client proposals without having to spend too much time on them.
Send Your Proposal to the Client
When it comes to sending your proposal to the client, you have three options. The first is to send a link via email. This is an easy way for potential clients to view and access your proposal without having to download any files or attachments. You can also customize the message that will be sent with this option so that it's tailored specifically for the potential client.
The second option is to email the proposal yourself directly from Bonsai. This allows you more control over how and when the document gets delivered, as well as providing additional security measures such as encryption and password protection if needed.
Finally, you can generate a PDF of your proposal and send it over in an attachment or through another file sharing service like Dropbox or Google Drive. This gives clients a copy of their own that they can save on their computer or print out if necessary. It also ensures that all formatting remains intact no matter what device they use to open it up on later down the line.
No matter which method you choose, make sure you always include clear instructions on how clients should access your documents, so there are no misunderstandings about where they need to go or what steps need to be taken next once they receive them.
Offer Different Pricing Plans in Your Proposals
Bonsai allows you to set up multiple pricing models in your client proposals. You have the freedom to choose from different payment plans that suit your client's needs.
This eliminates any back-and-forth between yourself and the customer, as all invoices are created automatically based on their chosen plan.
The process of setting up these pricing models is simple and straightforward. All you need to do is create a proposal template with pre-defined packages or services listed along with their respective prices.
Then add any additional features that may be required by the customer, such as discounts or customization options at extra cost if necessary.
Once this has been done, it's just a matter of sending out the proposal via email or other means of communication – making sure to include links where customers can pay online securely using credit cards or other payment methods accepted by Bonsai.
Bonsai Invoicing: Invoicing clients automatically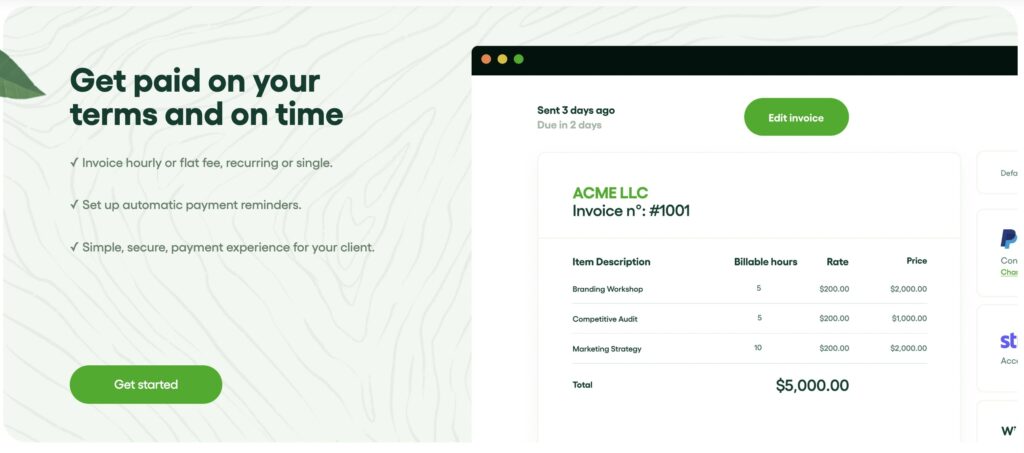 Another useful feature of Hello Bonsai is its automatic invoicing system which allows you to set up recurring invoices if needed or one-time payments depending on what type of payment structure works best for your client project.
This way, all the billing information will be handled automatically by Hello Bonsai, so you don't have to worry about manually sending out invoices each month or dealing with late payments from clients who forget when they need to pay their bills.
Get Paid in 3 Different Ways
Bonsai makes it easy to get money from your client's bank accounts into your freelance business' account. With multiple payment options available – connecting your bank account, Stripe account, or PayPal account – you can choose the one that works best for you.
Connecting your bank account is simple and secure. All you need to do is enter your banking details in Bonsai's secure system and then confirm with two-factor authentication (2FA).
Once connected, all payments will be deposited directly into your designated bank account. Plus, there are no additional fees associated with this method of payment.
Stripe also offers an easy way to receive payments from customers without having them leave their website or app. By creating a Stripe integration on Bonsai's platform, customers can pay via credit card without ever leaving the site they're on. This ensures a smooth checkout experience while providing added security measures like encryption technology and fraud protection tools. Plus, Stripe charges only 2% per transaction, so it's cost effective too.
Finally, if you have an existing PayPal account set up already, then connect it through Bonsai's platform for fast access to funds whenever needed – even when traveling abroad. You'll be able to accept payments in over 200 countries around the world with just one click of a button – making international transactions easier than ever before. Plus, there are low transaction fees associated with using PayPal as well as other great features such as buyer protection services which ensure customer satisfaction every time they purchase from you online.
No matter what type of business or freelancing venture you run; getting paid should never be difficult or complicated – especially when using Bonsai's convenient payment solutions that allow quick access to funds anytime anywhere.
Invoice Reminders
Invoice reminders allow you to set up automated notifications when an invoice has been sent out and when payment is due. This helps ensure that clients don't forget about their invoices and keeps them informed about the status of their accounts with you.
Hello Bonsai offers an easy-to-use reminder feature which can be customized according to your needs. You can choose from pre-written templates or create your own message to send out as a reminder email or text message. The software also allows you to schedule the delivery date so that it arrives at just the right time – not too early and not too late.
The best part? Hello Bonsai's reminder feature makes it easier than ever before for businesses of all sizes to stay organized and keep track of their finances without having to manually send out emails every single time they need payment from a client. Plus, this saves both parties valuable time since there's no need for back-and-forth communication regarding payments anymore.
Overall, using invoice reminders such as those offered by Hello Bonsai can help streamline your financial processes while ensuring timely payments from clients – allowing you more freedom and peace of mind when it comes to managing your business finances.
Built-in Timer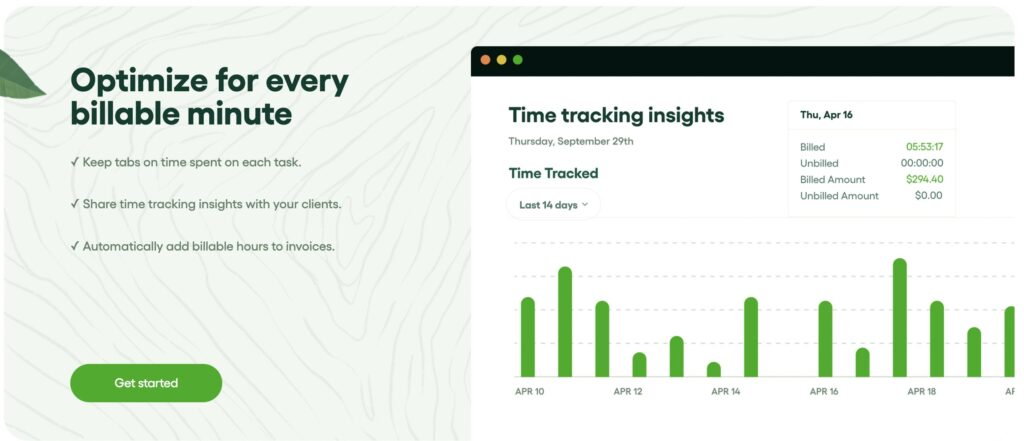 If you decide that hourly billing works better for certain types of projects, then there's also a built-in timer in Hello Bonsai for time tracking. It lets you track how long each task takes so that this data can be included in your final invoice sent out at the end of the project or month (depending on how often you bill).
This helps ensure accuracy when it comes time for collecting payment from clients since they know exactly how many hours were spent working on their project(s).
Task and Project Management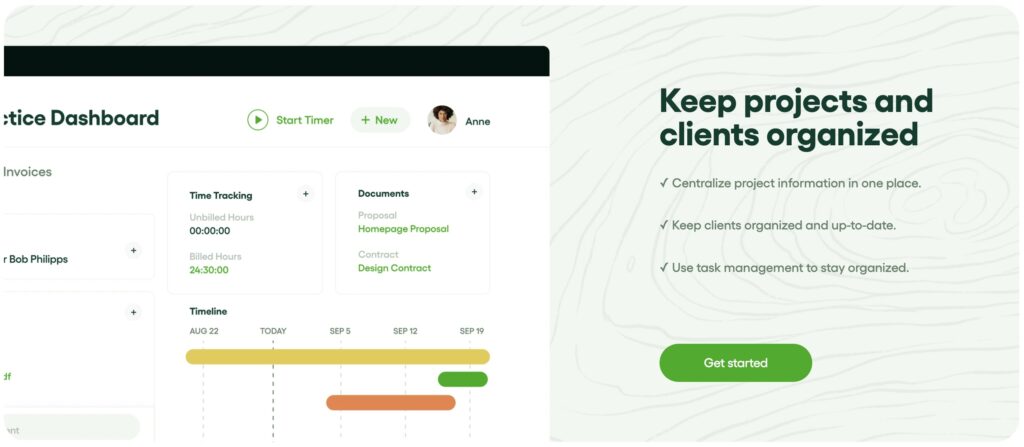 Finally, another great feature offered by Hello Bonsai is its project and task management system, which allows users to keep track of progress made on multiple projects and different tasks within each client project as well as any upcoming deadlines or milestones associated with those tasks.
This makes it easy for both freelancers and clients alike to see where things stand in terms of progress being made towards completion — making sure everyone stays informed throughout the entire process.
Bonsai Integrations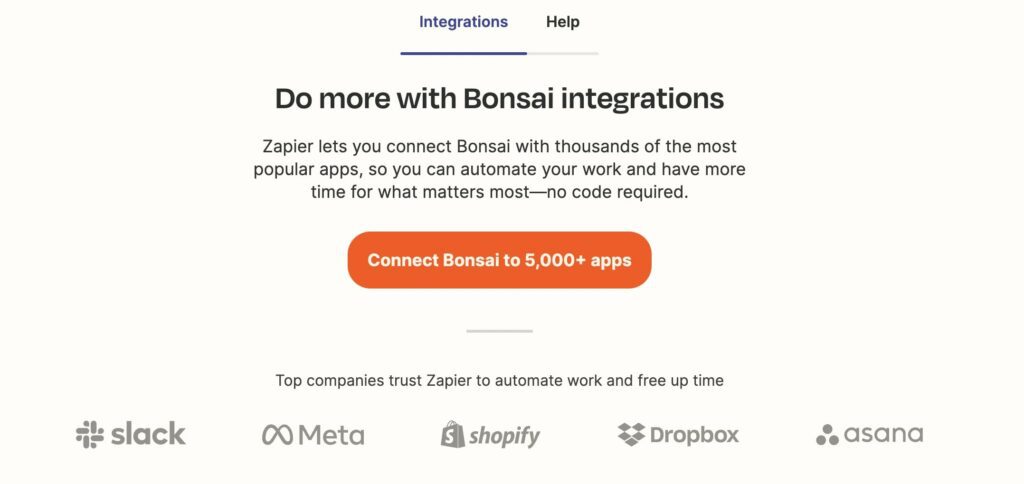 Bonsai is a great software for entrepreneurs, small business owners, and freelancers looking to streamline their workflow. But one of the biggest drawbacks of Bonsai is its lack of integrations.
If you're on the Workflow Plus plan, you can integrate with Slack and Calendly to assign tasks to team members. Unfortunately, that's about it regarding direct integrations with other apps or services.
The good news is that Bonsai does have a Zapier integration which gives users access to thousands of other apps and services they may need to optimize their workflow. With Zapier integration, users can connect Bonsai with popular tools like Gmail, Google Drive, monday.com, ClickUp, and more. This makes it easier for businesses who rely heavily on third-party applications as part of their daily operations.
Bonsai also claims that they will be adding more integrations in the future, so keep an eye out for any updates or new features added by the company. In addition to this feature being useful for current customers who want more options when connecting different applications together; this could also make Bonsai even more attractive for potential customers who are considering using the software but were concerned about limited integration capabilities prior.
Overall having access to these additional integrations through Zapier should help make life much easier for those using Bonsai, as well as open up new possibilities when it comes to creating efficient workflows within your business or organization.
Is Bonsai Secure?
Security is a major concern for businesses when it comes to their data and information. Bonsai understands this, which is why they have taken steps to ensure that all of their users' data remains secure.
Bonsai encrypts all user data in its database and via HTTPS. This means that any data stored on the website cannot be accessed by anyone who isn't authenticated with the correct credentials.
Additionally, Bonsai uses Stripe as a payment processor and the back end of Bonsai Payments, which is PCI-compliant. This ensures that all payments are securely processed, and no sensitive financial information can be compromised or stolen from customers.
In addition to these measures, Bonsai also offers two-factor authentication (2FA) for added security protection against unauthorized access attempts. 2FA requires users to enter an additional code sent via text message or email after entering their username and password before they can log into their account successfully. With 2FA enabled, even if someone could gain access to your account credentials, they would still need the additional code to get into your account—making it much more difficult for hackers or malicious actors to gain access without authorization.
Finally, Bonsai also has strict policies regarding how customer data is handled internally within the company itself—ensuring that only authorized personnel have access at any given time and ensuring that customer privacy remains intact at all times while using the service provided by them. All employees must adhere strictly to these policies to maintain high levels of security throughout every aspect of operations related to user accounts on the platform .
Overall, you can rest assured knowing that your business's sensitive information will remain safe when using Bonsai's services due its stringent security protocols designed specifically with safety in mind.
Pricing: How Much Does Hello Bonsai Cost?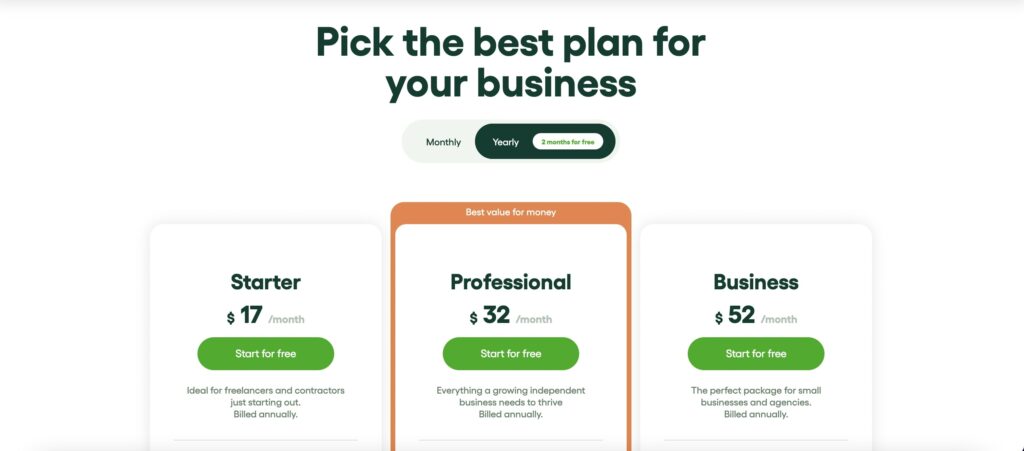 Hello Bonsai offers three plans – Starter, Professional, and Business.
The Starter plan is $17 a month (if paid annually) and includes everything you need to get started. It provides access to features such as client CRM, expense tracking, scheduling, and more.
The Professional plan adds additional features like client portals and workflow automations. This plan costs $32 per month (if paid annually).
Finally, there's the Business plan that costs $52 per month (if paid annually). It comes with even more advanced features, such as subcontractor management, that allows you to keep track of who's working on what projects at any given time.
No matter which plan you choose from Hello Bonsai's selection of pricing options – they offer great value for money when finding the perfect SaaS solution for your business needs. An intuitive interface and comprehensive support system in place make managing multiple clients easier than ever!
User Experience with Hello Bonsai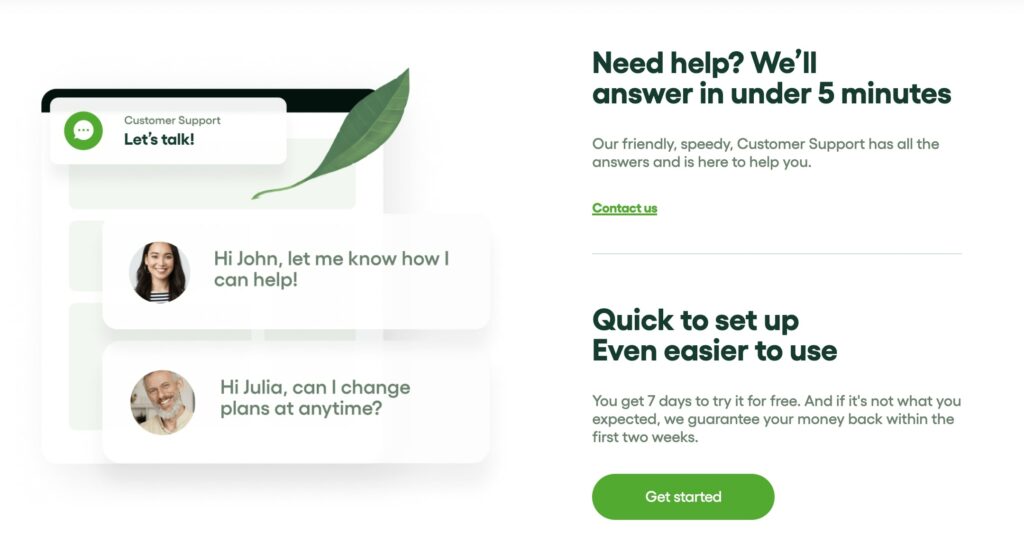 Hello Bonsai is designed to be intuitive and easy to use. It has a simple, clean interface that allows users to quickly find the features they need.
Tutorials and Resources
The platform offers helpful tutorials and guides for getting started with its various tools. Additionally, it provides an extensive library of resources such as webinars, video tutorials, and articles to help users get up to speed quickly.
Interface Design
Hello Bonsai's interface design is modern and attractive. It has a minimalist look that makes it easy on the eyes while still providing all the necessary information at a glance.
Its navigation menu is well organized, so you can easily find what you're looking for without having to search through multiple menus or tabs.
Plus, the Bonsai dashboard gives you an overview of your tasks in one place so you can stay on top of everything without feeling overwhelmed by too much clutter or complexity.
Customer Support
When it comes to customer support, Hello Bonsai excels in this area as well. They offer 24/7 live chat support, which is great if you have any questions or issues that need immediate attention from their team members, who are always friendly and knowledgeable about their product offerings.
Additionally, they provide detailed documentation on how to use each feature along with helpful FAQs so customers can get answers right away without having to wait for someone else's response time frame, which could take days, depending on the issue at hand.
Overall, Hello Bonsai offers a great user experience with an intuitive interface and excellent customer support.
In the following section, we will discuss the pros and cons of using Hello Bonsai to help you decide whether it's right for your business needs.
Pros and Cons of Hello Bonsai

Pros of Using Hello Bonsai
Hello Bonsai is a great tool for freelancers and small business owners looking to streamline their operations.
It provides an easy-to-use interface with intuitive features that make it simple to manage projects, track time, invoice clients, and more.
With its powerful automation capabilities, you can save time by automating mundane tasks like invoicing and project management.
Plus, the software integrates with popular third-party services like Stripe and PayPal, so you can accept payments quickly and easily.
Cons of Using Hello Bonsai
One downside of using Hello Bonsai is that it doesn't offer as many customization options as some other tools on the market.
While this isn't necessarily a deal breaker for most users, those who need more flexibility may find themselves limited in terms of what they can do with the software.
Additionally, while there are several pricing plans available from which to choose depending on your needs, some users may find them too expensive or not cost effective enough for their budget.
Overall, Hello Bonsai is a powerful business management tool that has many advantages for small businesses and entrepreneurs.
However, it's important to understand the pros and cons of using this software before making any decisions.
Now let's take a look at how Hello Bonsai compares to other popular business management tools.
Bonsai Alternatives: How Does Hello Bonsai Compare to Other Business Management Tools?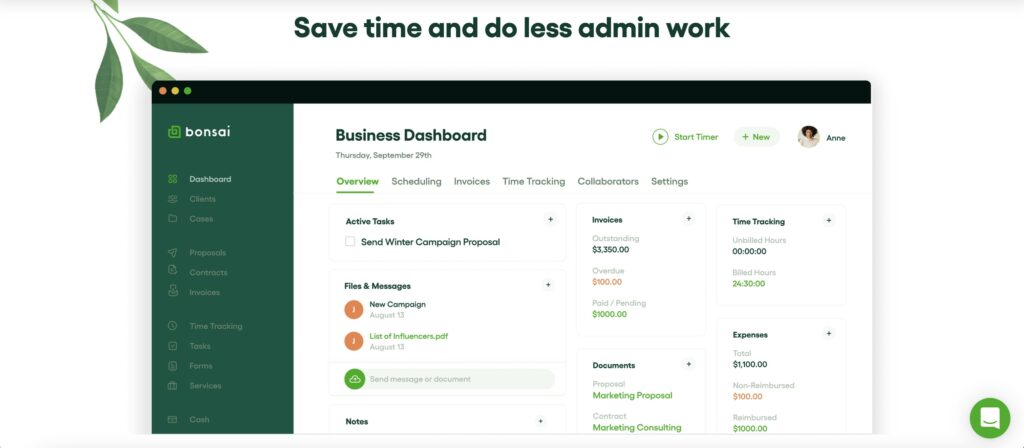 Hello Bonsai is a business management tool that helps small businesses, entrepreneurs, and freelancers to streamline their operations. It offers features such as invoicing, time tracking, project management, and more. But how does it compare to other popular business management tools on the market?
Comparison to Other Popular Business Management Tools
When comparing Hello Bonsai with other popular business management tools like FreshBooks or QuickBooks Online, there are several factors to consider.
Firstly, all three offer basic accounting functions such as invoicing clients and expense tracking. However, Hello Bonsai also includes features for project management and task automation which can be useful for freelancers who need help staying organized.
Advantages Over Competitors
One advantage that Hello Bonsai has over its competitors is its user-friendly interface design, which makes navigating through the various sections easy, even for those who are not tech-savvy.
Additionally, customer support is excellent, with helpful online tutorials if you ever get stuck using the platform or encounter any technical issues. These two factors combined make it easier for users new to business software solutions to find their way around quickly so they can take advantage of all the benefits immediately.
Final Thoughts on the Usefulness of Hello Bonsai for Freelancers
Hello Bonsai is a great business management tool for freelancers. It offers an intuitive user interface, comprehensive features, and competitive pricing plans, making it an attractive option for those looking to streamline their workflow. The software allows users to manage projects, track time, invoice clients, accept payments online, and more.
The ease of use makes Hello Bonsai ideal for freelancers who are just starting or don't have much experience with business management tools. Its simple drag-and-drop interface allows users to quickly set up projects and tasks without any technical knowledge required.
Additionally, the customer support team is always available to answer questions or provide guidance when needed.
Compared to other popular business management tools today, such as ClickUp or Notion, Hello Bonsai stands out in terms of its value proposition.
For example, its "Starter Plan" offers unlimited projects and tasks at a fraction of the cost of similar solutions from competitors. This makes it an attractive choice for budget-conscious freelancers who want access to powerful features without breaking the bank.
Overall, Hello Bonsai provides a great suite of tools for freelancers to manage their businesses. With its comprehensive features and intuitive user interface, it's no wonder why so many freelancers have chosen this platform as their go-to solution.
FAQs: Bonsai Review
Is Bonsai free to use?
No, Bonsai is not free to use. It offers a range of subscription plans tailored to the needs of businesses and content creators. Prices start from $17/month for basic features, with more advanced plans available at higher prices. All plans come with a free trial period so users can test the platform before committing to a plan.
Conclusion
Hello Bonsai offers an intuitive user experience with plenty of features to help streamline and manage your projects. The pros of using Hello Bonsai include its ease-of-use, affordability, and scalability.
Additionally, it compares favorably to other business management tools on the market in terms of cost and functionality.
With all this in mind, we can confidently recommend Hello Bonsai as a reliable choice for freelancers looking to optimize their workflow and productivity.