If you've read other Fiverr reviews online, you would see polarized opinions. Some are skeptical about their sellers' service quality, while some experienced excellent service and keep coming back for more. So, how do you identify the right seller and hire top-quality service on Fiverr?
I have personally used Fiverr for multiple projects. You'll need to outsource tasks when your business expands. There are just so many amazing ways to make money while traveling the world, and ultimately you'll want to hire help to lighten your workload.
When I first started using Fiverr, I made lots of mistakes by hiring the wrong seller. But over time, I learned how to identify the right sellers for my project, and I still keep hiring on Fiverr now because it provides excellent values at an affordable cost.
So in this article, I will do an in-depth Fiverr review that shares my personal experience and, most importantly, share my top tips on how you can hire stellar quality service at an affordable cost on Fiverr.
Wonder if your needed service is available on Fiverr? Simply search below.
Before diving into the top tips, let's take a quick look at what Fiverr is and some basics you should know before your first hire.
What is Fiverr? And Some Basic Tips.
Fiverr is an online marketplace for digital services founded in 2010 in Israel. It has grown globally and established offices in Berlin, New York, London, San Francisco, Ukraine, and more. In June 2019, it became a public trading company listed on NYSE with the stock code FYRR.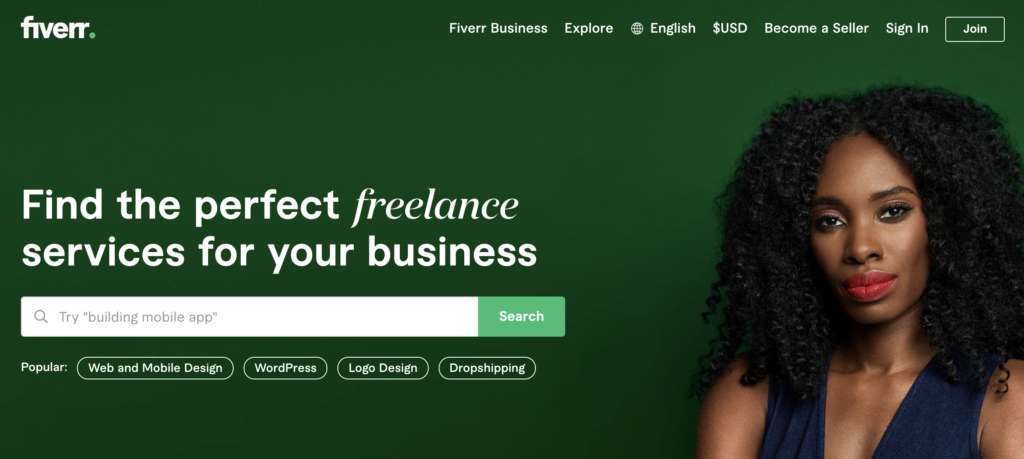 Fiverr's service offer is often called "gig." Prices can range from $5 to several thousand dollars depending on the type of service, seller's experience, and various factors. Sellers set their prices and usually offer three service packages.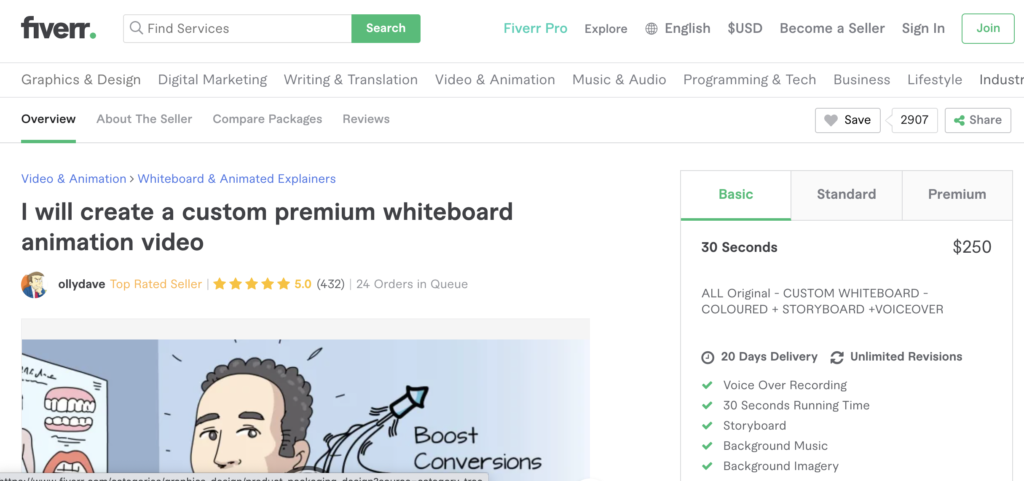 You can also request custom packages after negotiating with sellers.
When ordering a service, pay attention to the number of revisions allowed. Most sellers are willing to include at least one revision in the package, and some even offer unlimited revisions.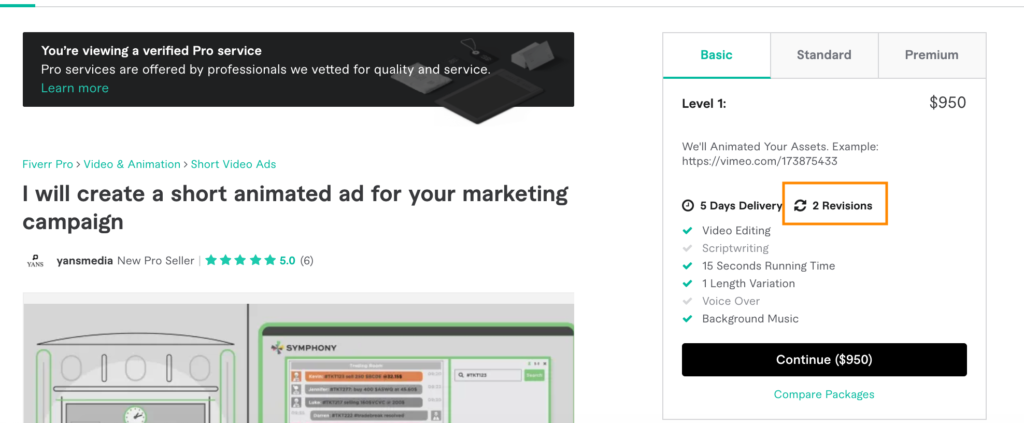 In my opinion, two to three revisions are reasonably enough for competent sellers who understand your goals and can deliver exceptional results. That often doesn't require too many rounds of edits.
Additionally, watch out for the turnaround time. Usually, you would have to pay a premium for fast delivery. So it's always best to schedule in advance to ensure enough time for the best result.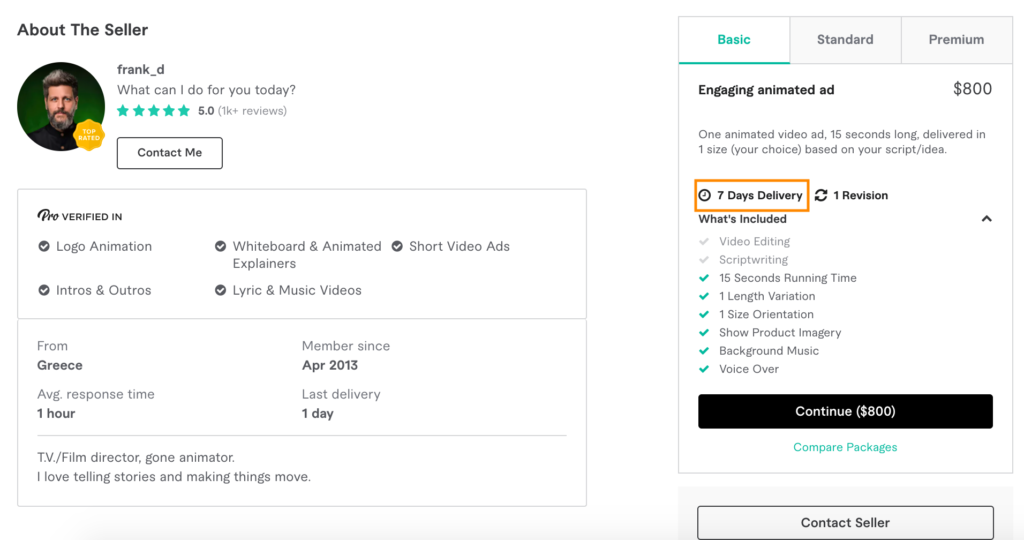 Now you know the basics, let's look at how you can secure top-quality service on Fiverr.
Website Development: Let Fiverr Match the Right Freelancer for You
This is probably the quickest way to find a high-quality freelancer that matches your need in website development and design. All you need to do is answer a few questions, and Fiverr will pair you with a freelancer that can satisfy your requests within your budget. 
Answer a few questions about the website you want to create.
For demo purposes, I choose "online store."
Then, pick a theme for your website.
You can preview each theme before you decide. Do note that online store builders supply the themes. Like the one I choose below is by Shopify. There are also themes by Template Monster.
After picking a theme, choose the pages you need help on.
The default package comes with a homepage, 20 product listings, and payments.
Choose your delivery time.
It's best to schedule in advance and leave more time for development. Urgent gig usually cost more.
Choose your budget, and you'll see your matched developer!
The page shows your order total and cost breakdown, the seller's recent reviews, and the about summary.
The whole process is intuitive and took me less than 3 minutes.
Ian, the seller they recommend me, has an overall five stars review (from 162 reviews) and has been on Fiverr for more than two years.
Additionally, recent reviews provide details that show how Ian works, which give more clues on what to expect.
So, if you need a professionally designed website and online store, let Fiverr match an expert for you.
Fiverr Logo Design Review: Pay Only If You Like it
Whether you're starting a business, a blog, or a portfolio site, you'll need a professional logo that reflects your brand. You can hire a logo designer to create a fully customized logo for you, or you can use the Fiverr Logo Maker to create and customize one at an even more affordable cost.
You can quickly get started by typing your brand name there.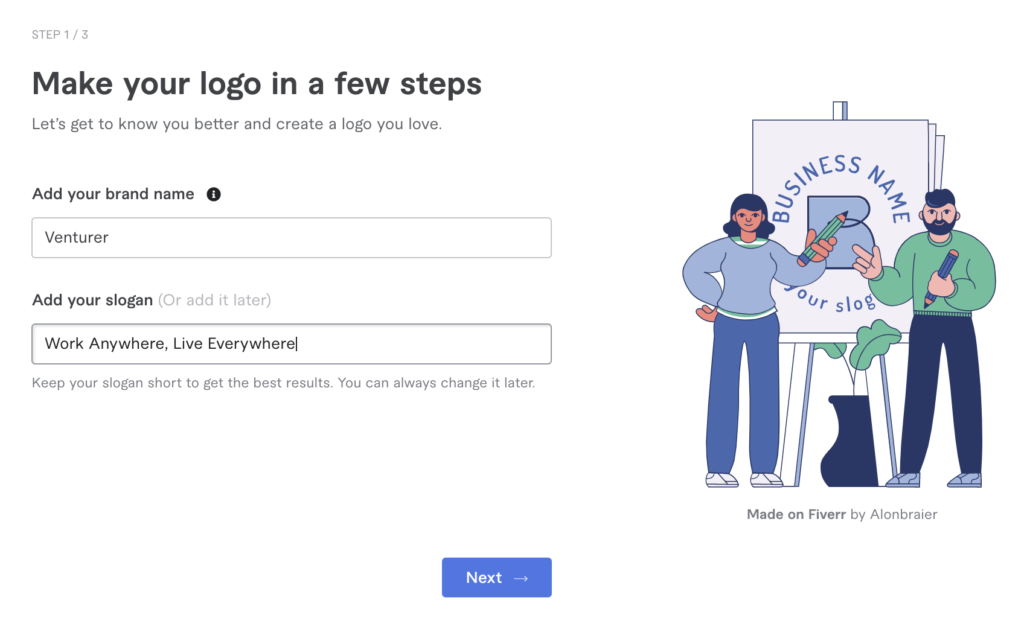 Next, select your industry and elements you'd like to include in your logo. For elements, I've added "earth" there to see if it actually works.
The final step is to define your brand's personality. You can slide to select how strongly these values represent your brand. For me, I'd like Venturer's logo to be more modern, simple, and fun.
After I click "Make My Logo," it outputs a page full of logos for Venturer!
A Fiverr freelancer designs each logo template, and there are different variations you can customize for each.
Remember I added the "earth" element there? Not all results contain this element, but the majority of them do.
After picking a design I like, I can customize it by changing the color, icon, shape, background, etc.
Or I can request the freelancer to customize it for me, which costs $10.
Fiverr Logo Maker: How Much Does it Cost?
Finally, let's see how much it cost if I'm ready to buy and download it.
It costs $60 for the professional package. On top of the essential package, it includes the editable and resizable logo, websites and app logo files, social media kit, brand style guidelines, zoom backgrounds, and it's print-ready.
I would recommend this package because it's essential to edit and resize your logo for use on different platforms. The social media kit also includes all major platforms, including Etsy, Facebook, Instagram, LinkedIn, Pinterest, Twitter, and YouTube.
Fiverr Logo Design Review: Final Thoughts
One of the scariest things about hiring a logo designer is that you receive a logo that you don't like after all the time spent communicating.
In short, you waste time and money on something you won't use.
The Fiverr Logo Maker resolves this issue and allows you to only pay for the logo design you love. This is much more efficient and saves everyone's time and money.
You can play around with the Fiverr Logo Maker here to see if it can make you a logo you like!
Fiverr Review: Top Tips for Hiring Top Quality Services in All Categories
The above are the two best features I have discovered so far to help you quickly set up your website and get a professional logo.
But there are so many more services you can get on Fiverr.
How do you hire top-quality service in other categories? Here are the best practices that apply to all the services you can hire on Fiverr.
Go for Fiverr Pro
Fiverr Pro is verified talents hand-picked by the Fiverr team for stellar quality and service.
Let's say you're interested in Short Video Ads. After going to the chosen category, you can enable "Pro services" in the upper left corner.
Then, you'll see all Pro verified sellers who can help you create professional short video ads.
Apply filters to help you narrow down your list of sellers. For example, what platforms do you want to use the short video ads on? What's your budget? Any delivery time requirement?
When browsing hundreds of sellers, many would look at the review rating and the number of reviews. It's easier for us to trust sellers with a higher number of positive reviews.
But my advice is don't limit yourself. There are lots of new sellers who can offer exceptional quality but haven't had a review yet. Plus, they might work extra hard to earn a positive review from you so they can further establish their profile.
You might be worried about the quality without reviews as references. I would say quality would be less of a concern when you're hiring from Fiverr Pro.
Examine Seller's Profile
There are several points to note when you're examining a seller's profile.
What's included in each service package: the number of revisions, delivery time, and in the case of short video ads – video length, voice over, background music, and more.
Portfolio: does the seller's style fit yours?
About the seller: industry experience, how long on Fiverr, last delivery, average response time (how active), agency, or an independent freelancer?
Reviews: a bit complicated. Let's dive in below.
Fiverr Seller Review: Are There Fake Reviews?
Fake reviews are real.
I'm sure you know there are tons of fake reviews on Amazon, eBay, and other marketplaces. CNBC has reported that thousands of fake reviews flooded Amazon, and 20,000 were removed after investigation.
There may be fake reviews on Fiverr too. But it's hard to tell.
You may have seen reviews like these:
There are two nearly identical reviews from the same "buyer" without much detail.
I can't really say it's fake. It's possible that the same buyer bought from the same seller and was too lazy to leave a detailed review. But reviews like these don't say much anyway.
If you look at reviews for linarysortega,
There is a mix of reviews: some are detailed, some are brief. It is closer to what a genuine profile of an excellent seller would be like – your service quality is so good that it convinces the buyer to leave you a detailed five-star review. While some buyers are too busy to write you a thorough review, but still happy to rate you five stars.
Additionally, she shows a clear headshot, provides her education details and appearances in her profile. It boosts trust.
In her portfolio, she provides a short description of each project she works on, giving more transparency on how she works.
And if you just google her username, you'll find that she's been featured on Fiverr Instagram.
Is this the kind of seller I would trust and hire?
HELL YES.
If you need someone to do your short video ads, check her out. (Just to clarify, I don't personally know Lina. I came across her profile when writing this and found her to be a trustworthy freelancer.)
Many other Fiverr sellers are trustworthy and can deliver stellar quality work. Check them out by inputting the service you need below!
Don't Expect a $352.92 service for $5
Last but not least, manage your expectations.
If the market price for a service is $350, don't expect you can get it for $5. Beware of sellers who *promise* you. You'll likely be disappointed.
Here's an example.
This seller provides "guest post service with a do-follow backlink on DA90+ website" for $5.
In the world of SEO, do-follow backlinks pass link juices to your domain, which can boost your domain authority (DA). The higher the domain authority, the more likely you can rank on the first page of search engine results, giving you organic traffic.
One tactic to build backlinks is to do guest posts on high authority sites. Usually, you reach out to your target websites' content managers to pitch some guest post topics. If they like your topics, you might have a chance to do a guest post for them.
I can do a whole article on guest blogging and SEO to share my experience, but let's get back to this example now.
Essentially, the seller promised the buyer to publish her guest post on Teachable (DA81) or Peatix (DA82) for $5. Her post ended up on a spammy domain. She's not happy and left a one-star review.
So, whose fault here?
It's not right that the seller tricked the buyer into thinking that she can get her post published on these authoritative sites. But the buyer should also realistically assess the possibility of *buying a guest post* on these authoritative sites.
In short, legit guest posts cannot be bought. If you were the content manager of a reputable site, would you let people pay for guest posts on your site?
An absolute no.
Plus, a backlink costs $352.92 on average, according to Ahrefs.
A backlink on a DA90+ website would cost even more ($1000+, I guess) if you hire an agency to do a blogger outreach service for you. Definitely not $5.
There are whitehat link-building tactics – like guest posting. You reach out to content managers to build a relationship and do a guest post for them. In return, you get a link in your author bio. Sometimes you can link to content on your website if it fits into the overall context and can provide extra value to the readers.
After all, you get what you pay for.
If you're looking for SEO services, start with an expert SEO audit, or hire a consultant to do keyword research and devise a content plan for you.
Final Thoughts
There are challenges in hiring the right freelancer on Fiverr. But I'm still a big fan because there are so many excellent sellers that offer stellar quality at an affordable cost.
Here are some top-trending services you can look at: E-Commerce, Short Video Ads, Website Development and Design, SEO Services.
That's it for this Fiverr review. Scale your business today by outsourcing to experts on Fiverr!