Do you want to start an Etsy store but not sure what to sell?
Etsy is an ever-growing shopping platform where you can buy and sell handmade creations, vintage goods, and crafting supplies. Here we recommend the 25 best things to sell on Etsy to make money.
For other commonly asked questions like: how much can you make selling on Etsy, how much does it cost to sell, and how to set up a successful Etsy store, we're including them in our FAQ section below.
If you want to start an Etsy store, you'd probably want to build a brand and create your own online store website as well. Etsy is just one of the marketplaces you could sell on.
Not sure how to build an online store? Check out the below online shop building platforms:
Free Resources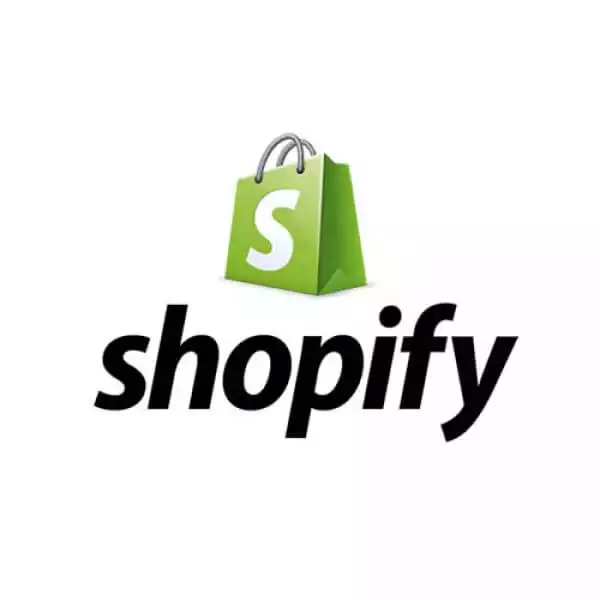 You can easily integrate your online store built with the above platforms with Etsy. That way, your online shop (let's say built with BigCommerce) becomes the centralised place for you to keep track of sales and inventory. All the inventory data will automatically sync with marketplaces like Etsy, Amazon, and more.
This enables you to have more distribution channels, leading to higher sales and making more money.
Either way, keep reading, and here're the best things to sell on Etsy!
Jewelry
Jewelry is one of the best-selling item categories on Etsy. Lots of shoppers browse Etsy for uniquely made jewelry that is perfect for both personal use and gifting.
On Etsy, you can see countless one-of-a-kind accessories like rings, earrings, bracelets, lockets, and necklaces.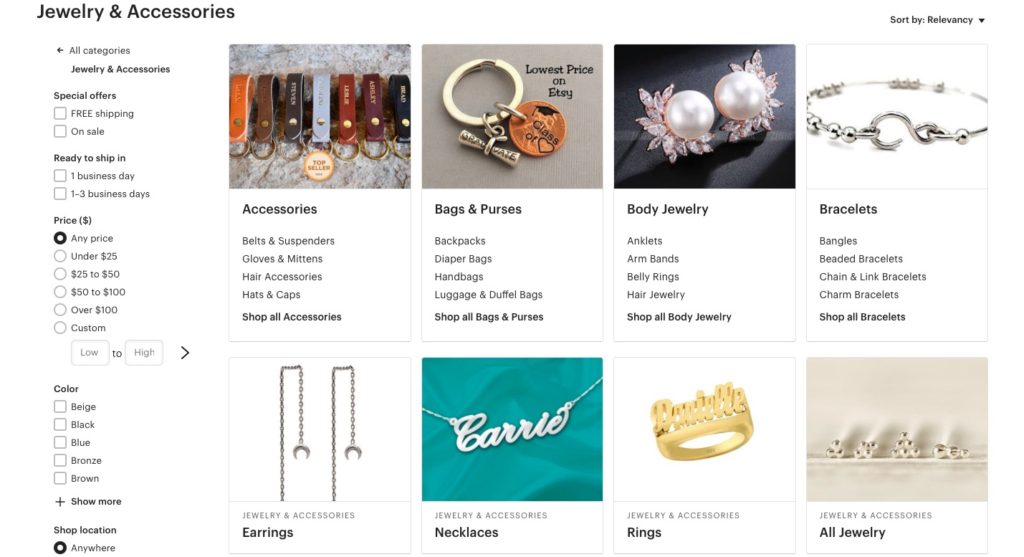 Many top Etsy shops sell tailor-made jewelry, which customers can personalize by including their names, favorite quotes, or special dates in the design.
CaitlynMinimalist, one of the top personalized jewelry stores on Etsy, has achieved over 900k sales. It's famous for the dainty personalized 925 silver jewelry with handwritten names and meaningful quotes.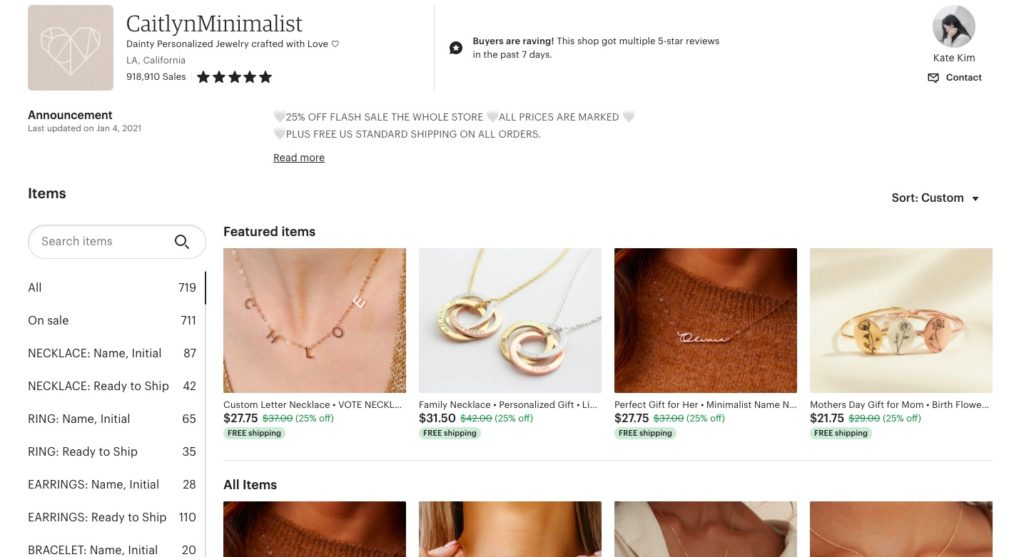 GLDNxLayeredAndLong is another top Etsy shop selling personalized jewelry, custom disk necklaces, and more accessories like dainty rings. It has achieved more than 500k sales with over 200k admirers!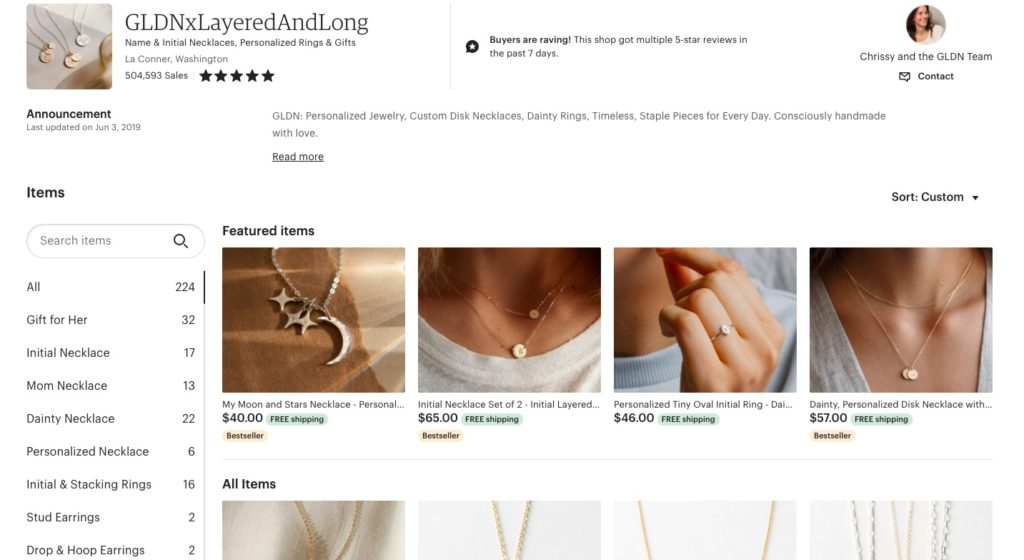 Hair Accessories
Hair accessories, such as hair clips, headbands, and hair ties, are popular on Etsy. You can sell handmade hair clips for ladies and babies for dressing up if you're an artwork enthusiast.
The shop, LoveLinax, sells adorable hair clips and hair claws to attain more than 50k sales.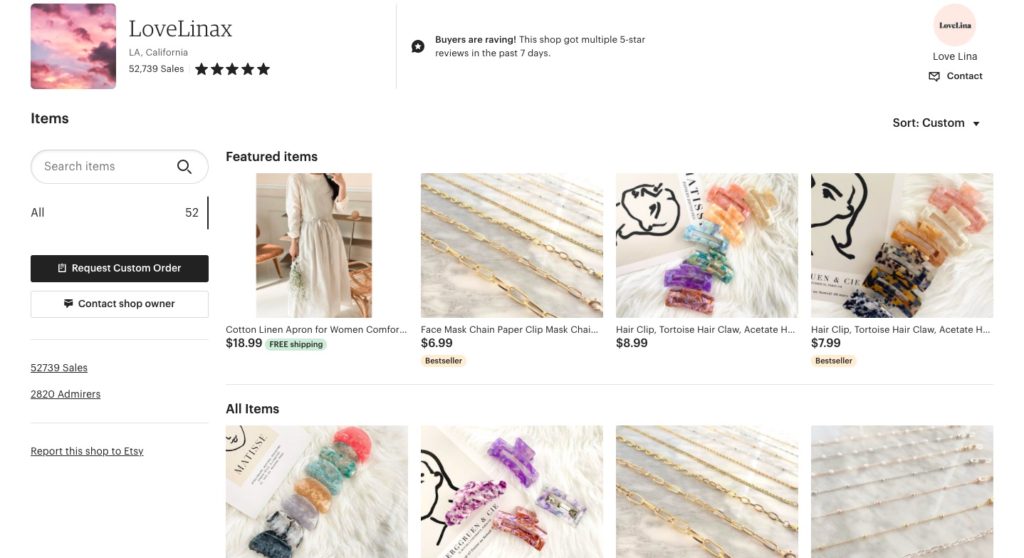 Home Decor
Many of us love embellishing our apartment to make it more warm and cozy. Wall decors, pillows, and framed pictures are popular home decor ornaments that are easy to make and sell! Share your decor ideas with people who love adorning the flats.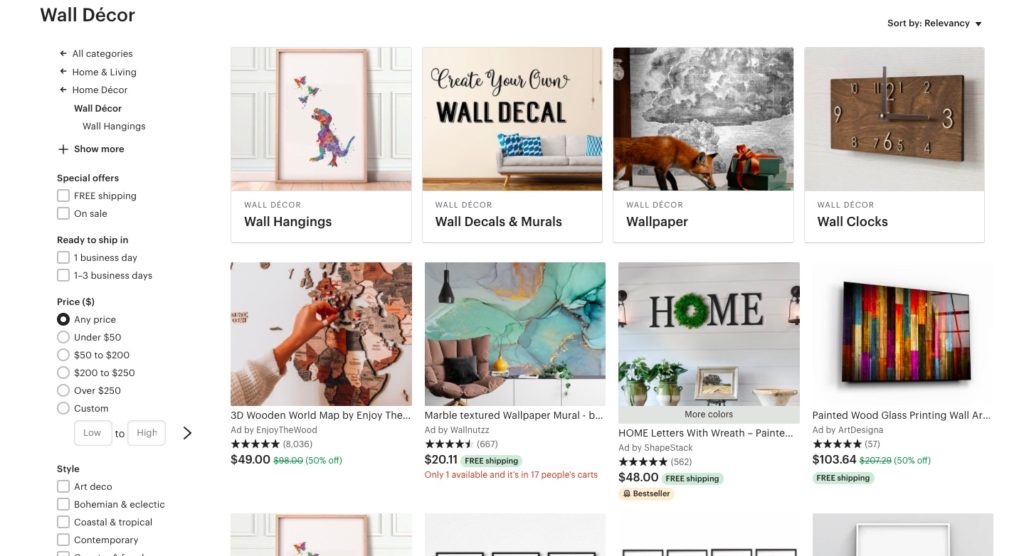 CherieKaySigns ranks among the top 5% shops in Home Decor for sales volume and rating on Etsy. It sells wood-framed signs and quotes for every corner of your home—living room, bathroom, dining room, you name it! It also offers personalized items.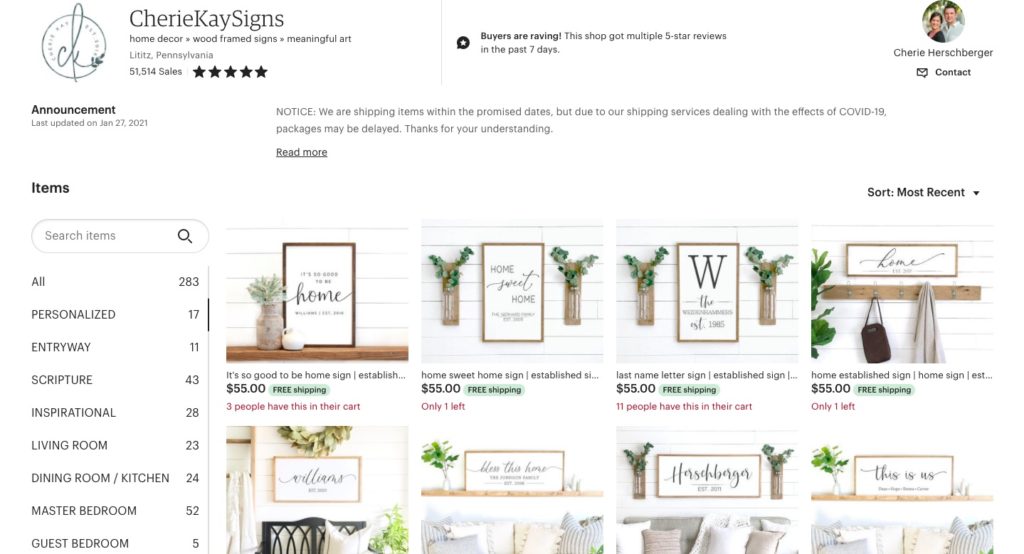 Candles
Candles are excellent items to fill your home with beautiful scents. More Etsy shops tap into this market as candles are consumables that your customers are likely to keep coming back and buy more.
Candles are easy to make, and you can use your creativity to design decorative candles and fill them with a wide variety of scents, like fruity, floral, citrus, sweet, and fresh.
Frostbeard is an Etsy shop having sold over 100k candles. They create the scent with inspiration from characters, stories, and books! For example, there are candles named Oxford Library and Bookstore.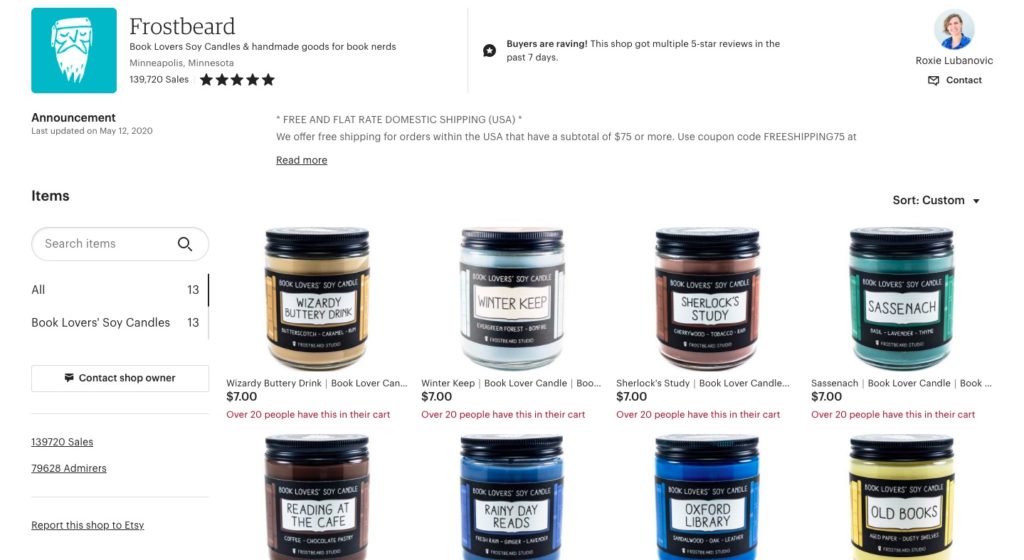 Spa & Relaxation Items
Bath bombs are also one of the hot-selling items on Etsy and are easy to make! Some common ingredients to make bath bombs are baking soda, oils, coloring, salt, and more. You can attract more customers if they have mesmerizing colors and patterns!
See LifeAround2Angels, which sells colorful bath bombs, bubble bars, bath salts, and sugar scrubs. Its items are so beautifully-made that it achieved 40k+ sales and five stars rating!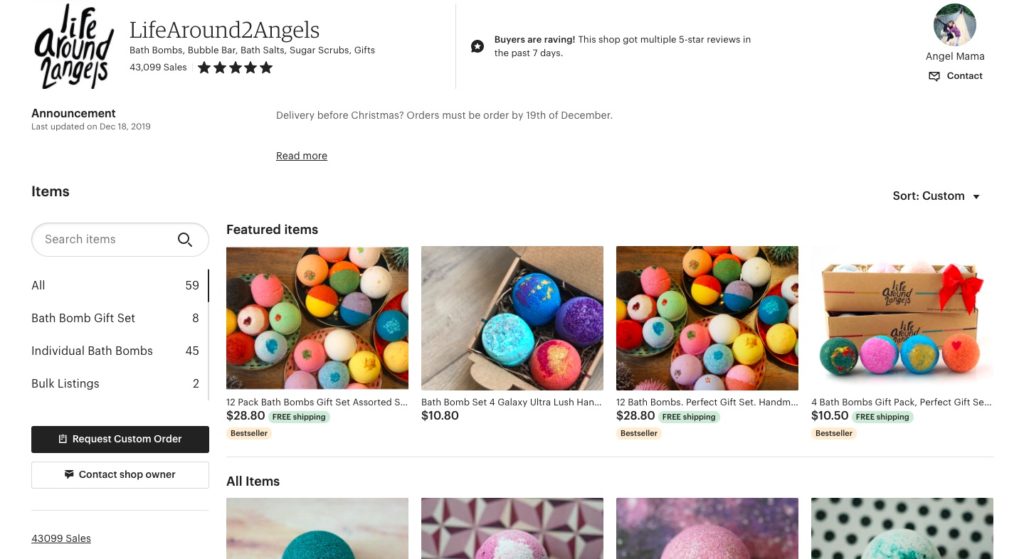 Craft supplies
The Etsy community is fond of creative items. They love shopping for handmade products, and some love taking the initiative to DIY accessories, decorations, and more.
As a platform promoting handcrafted items, Etsy enables you to sell a wide variety of craft supplies. Your customers can purchase all the supplies they need for crafting their own projects. You can even sell your supplies to other Etsy shop owners.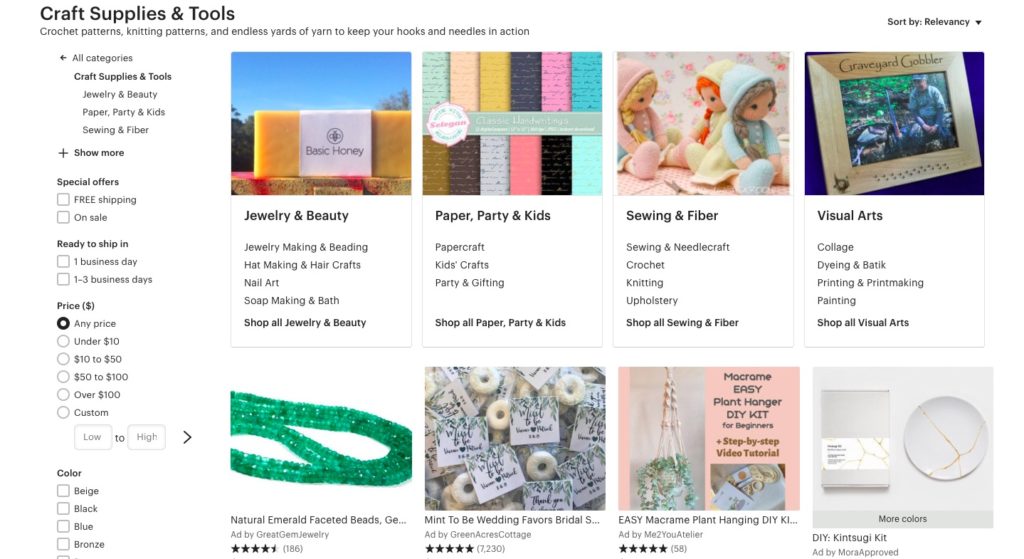 Beatboat1, a crafting store based in Texas, has accumulated over 930k sales by selling jewelry crafting supplies like gemstone beads, gold-filled chains, and earring hoops.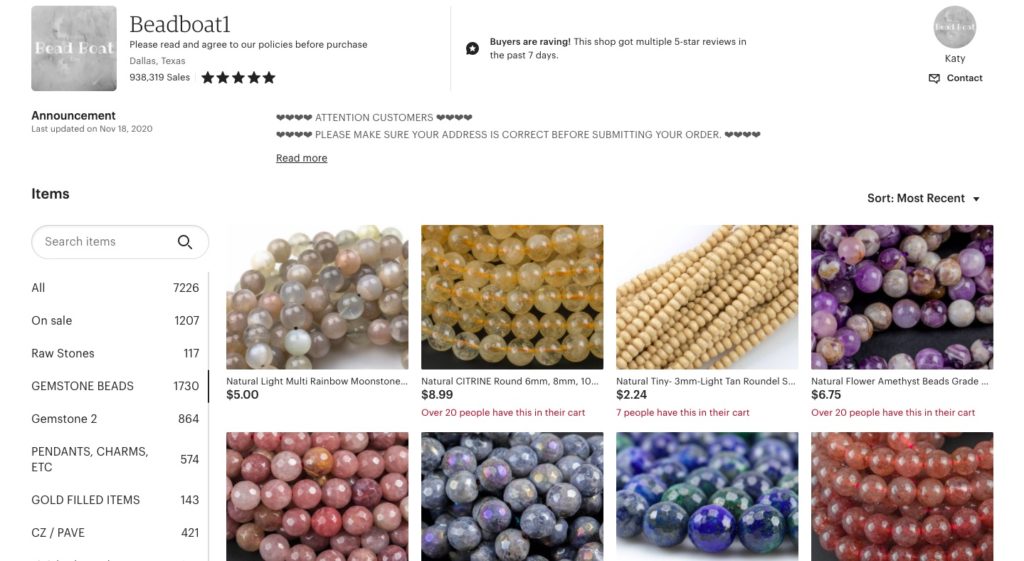 Outdoor Gardening Decorations
Who doesn't love the greenery around us? We all love decorating our homes with plants and flowers. And you can sell gardening decorations, like cute little planters and plant hangers, on Etsy!
Get inspired by HirtsGardens, a shop from Ohio which sells plants and seeds of all kinds! The wide variety of products makes them attain over 190k sales.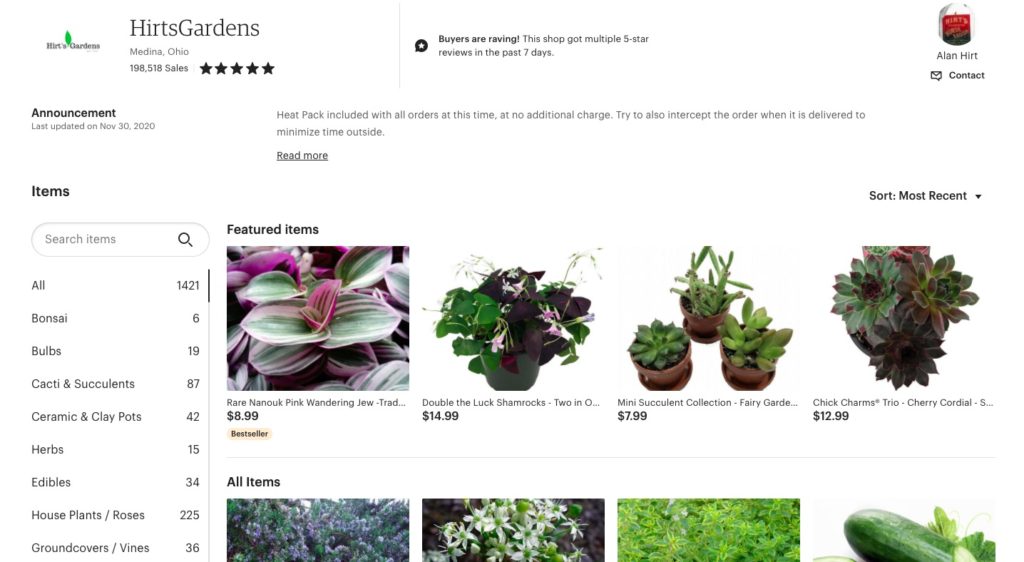 Toys For Kids
Did you know that children and baby items have a huge market on Etsy? You can sell stuffed toys, dolls, games, puzzles, and more!
FromJennifer is a shop selling handmade wooden toys, such as alphabet and number puzzle board, for kids. It has attained 77k+ sales!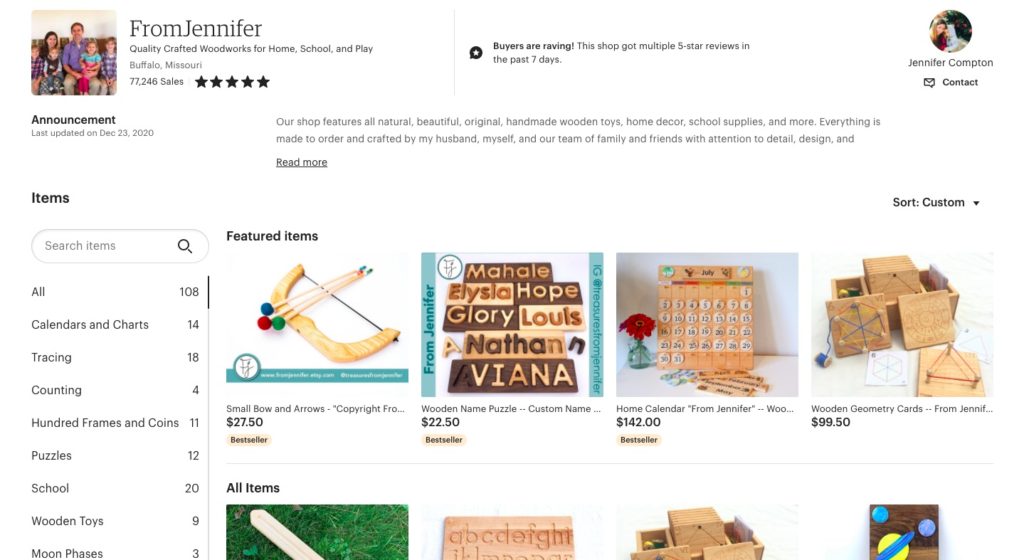 Pet Supplies
If you love pets, consider selling pet supplies on Etsy! From dog bowls, tags to collars, you can personalize the items by including the pet's name, birthdays, or the owner's address on them to create unique supplies for the little cuties.
Check out Susabellas here. While it sells different kinds of gifts, the pet gift collection is fabulous.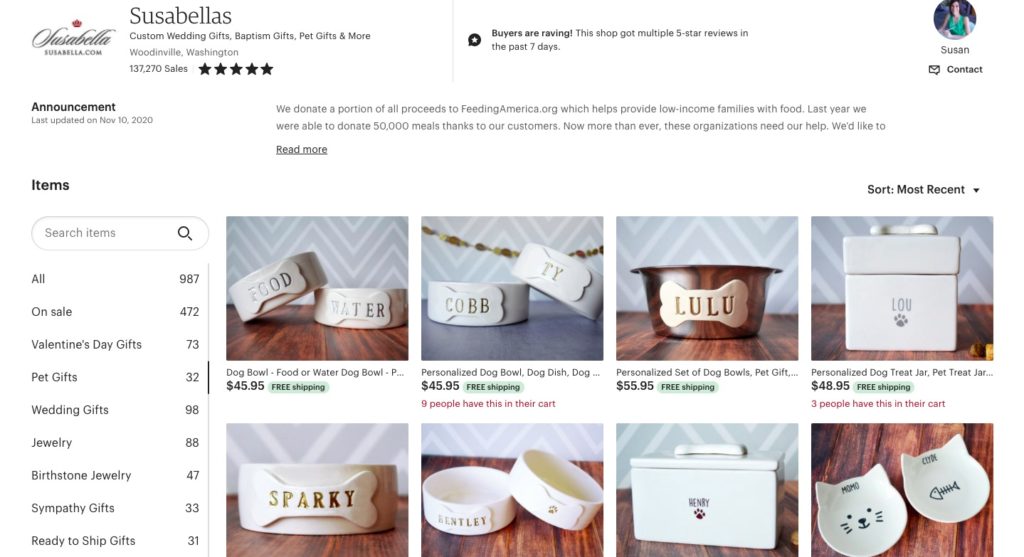 Homemade Bakery and Snacks
Do you love baking cakes, macaroons, and cookies? If you love baking, consider selling homemade bakery and snacks in your Etsy store. You can also sell made-to-order bakery products so customers can request any customization in patterns, flavors, and decorations.
Just4YouTreats, a fully licensed and inspected bakery, has got over 15k sales. It sells homemade cookies for occasions like birthdays, weddings, and festivals.
One amazing strategy to keep customers coming back is to attach bakery business cards along with custom bakery boxes. This can leave customers a better brand impression.
Party Decorations
Party decorations like banners, balloons, and gift wrappings are profitable markets to target as well. Just think about all the festivals and celebrations we have all year round!
SweetEscapesbyDebbie is a thriving Etsy shop having sold over 80k balloon sets. The wide selection of items boosts sales for the shop by making shoppers' parties sparkle!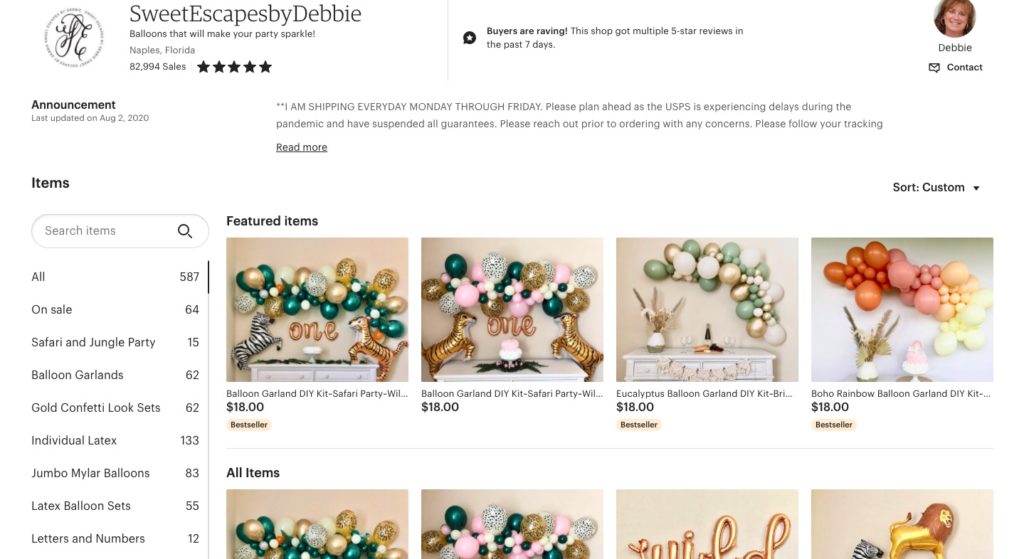 Wedding Supplies
Wedding decorations and supplies are the must-haves for the big day to be as wonderful and mesmerizing as possible!
From wedding guest books, invitation cards to guest souvenirs, you can unleash your creativity to design and sell these wedding supplies on Etsy for couples to create their unique wedding celebration.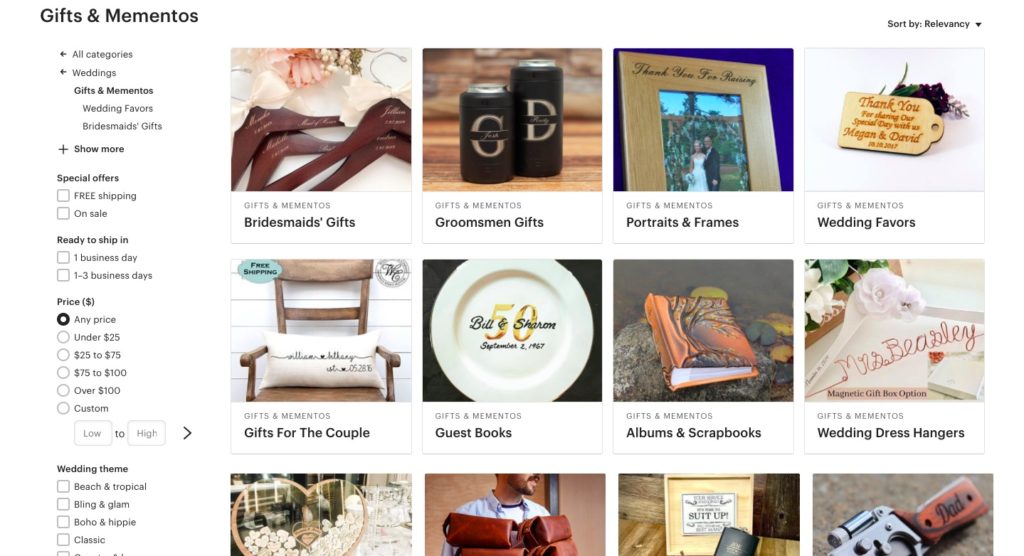 ModParty is a leading wedding supplies shop on Etsy with almost 900k sales. It sells a wide range of wedding supplies and provides personalized wedding guest gifts, such as lip balms, candles, and playing cards.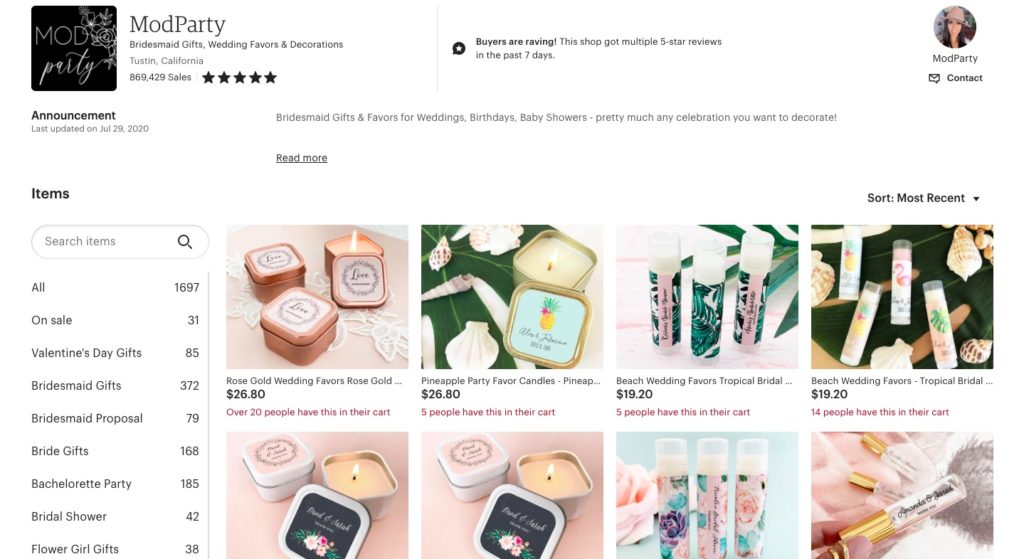 Notebooks and Planners
Notebooks and schedule planners have always been essentials for people as they help us organize to-do items and arrange schedules. If you have a passion for graphic design, consider selling notebooks and planners on Etsy!
Based in India, Phenixprintable is a store selling printable inserts for planners and binders. It includes various types of planners, like financial, fitness, meal planners, and weekly, monthly, and yearly schedule planners. It has attained over 50k sales!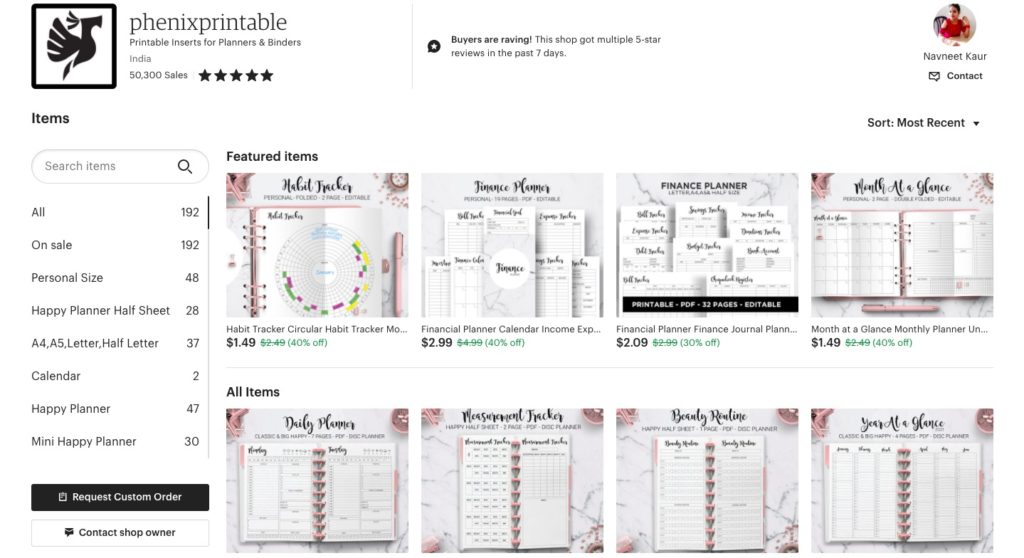 Stickers
How about selling stickers for your customers to decorate their planners? There is no limitation on the sticker design – it can be quotes, checklist boxes, dots, flags, cartoons, and more! They can be easily made and printed at a low production cost.
PlannerKate1 is one of the top sellers on Etsy. The reason behind its one million sales may be the immense variety of items. The colorful add-ons for planners have certainly attracted many customers.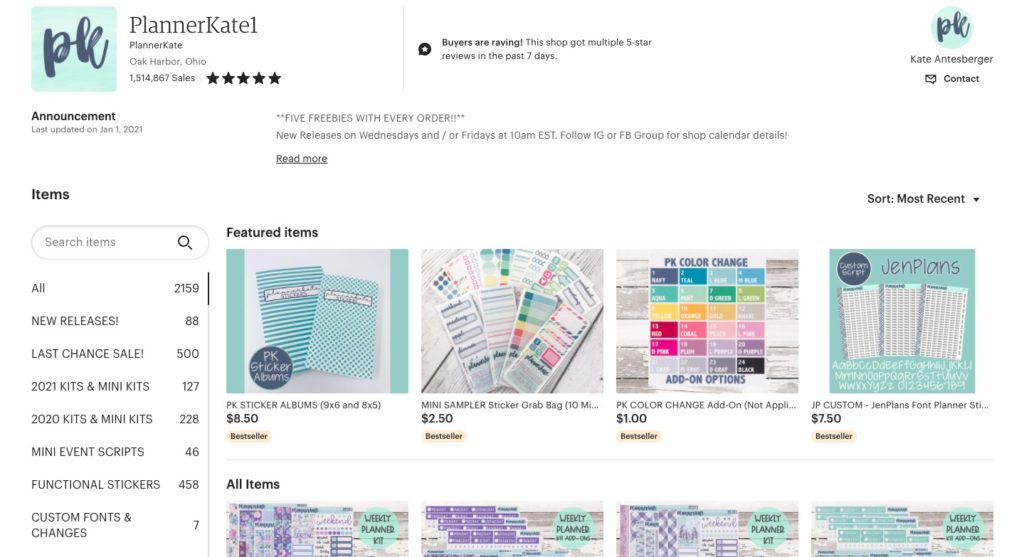 Print-on-demand Shirts
There are many occasions that one might want custom shirts, like for startup teams, student clubs, gifts, or personal use!
PrintAndArrow has sold over 80k unique t-shirts for mums, wife-to-be, grandmas, and more. The humorous text on the colorful t-shirts makes it outstanding from many ordinary boutiques.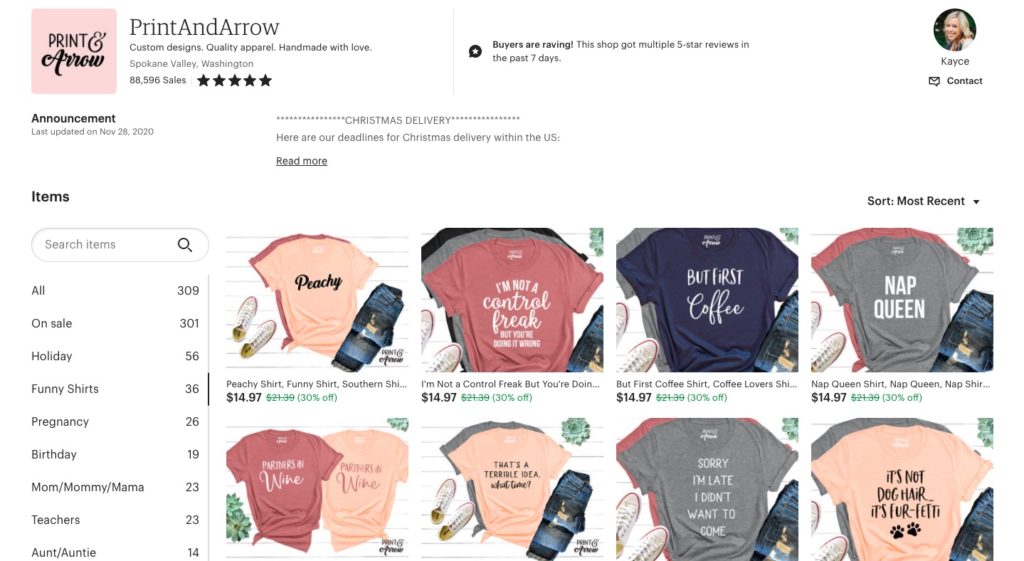 Personalized Wallet and Handbag
Wallets and handbags have always been popular gift choices. If you're good at crafting, you can sell custom leather wallets and handbags with engraved names.
Leftcoastoriginal, a workshop-based store selling leather items from Florida, can be your inspiration.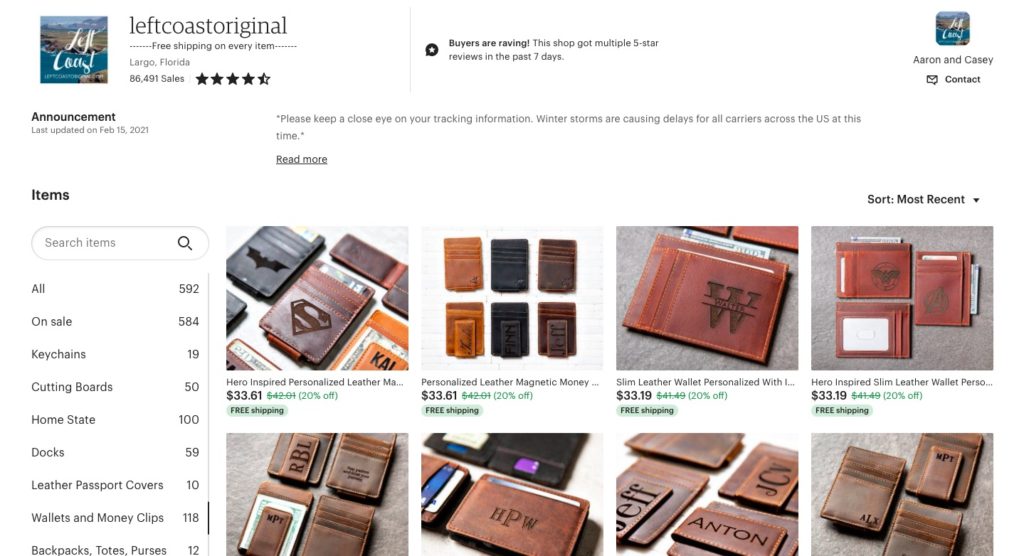 Customized Phone Case
Customized phone cases are a rising trend as gifts and for personal use. More and more people love having their names, photos, or pets on the phone cover.
TiritaCase, a phone case shop with over 100k transactions, sells personalized phone cases with your initials or any custom text printed on them. From cute cartoon to floral design, the wide variety of choices makes it a popular store.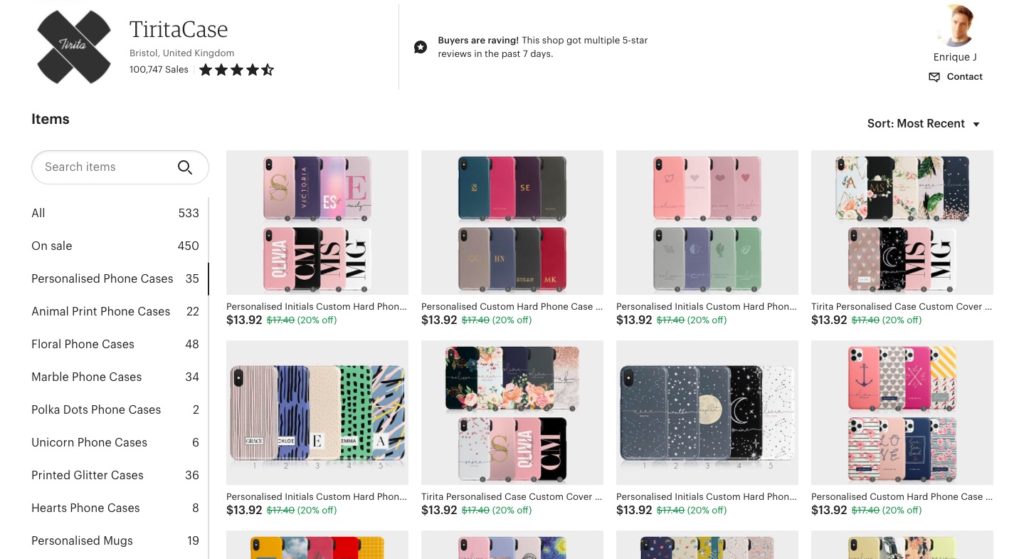 Face Masks
Ordinary masks may be boring to stylish people, so colorful masks can be a trendy item that fits our needs!
Check out how BeWellGroup, a shop having sold over 400k attractive washable face masks, designs their products with plain colors to patterns. Do remember to add nose wires and filters for better protection!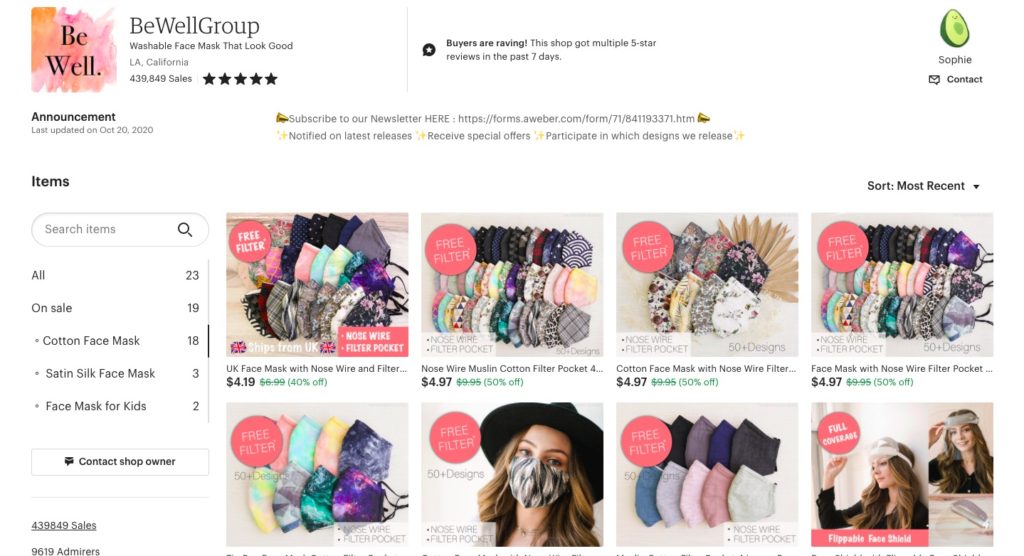 Music Accessories
If you're also music lovers, you know how meaningful the music accessories are to musicians. You can sell customized guitar picks, straps, and more to music lovers so they can have their names, birthdays, or favorite quotes engraved on the accessories.
CMTImpressions is a shop that sells mostly custom engraved items. It lists several types of personalized guitar picks for different occasions, such as Fathers' Day or Valentine's Day. It also sells necklaces and keychains.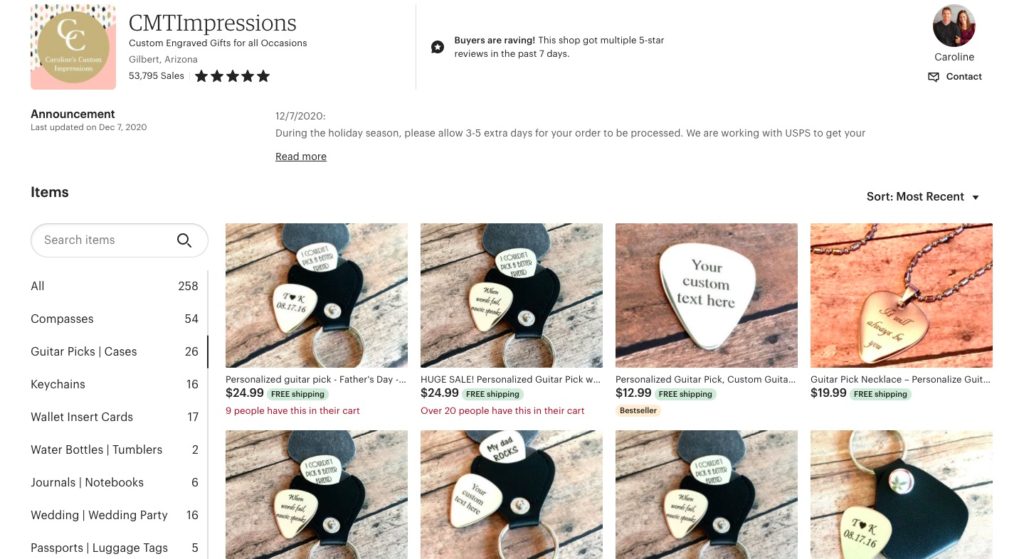 Vintage Items
Are you having kept something old for a long time? Vintage items like rings, watches, and coins can be treasures to vintage item collectors worldwide.
WhoKnowsWhat is a store selling vintage beads, trinkets, and treasures. It has achieved over 200k sales. Their vintage items are usually in excellent condition, making them more attractive to shoppers.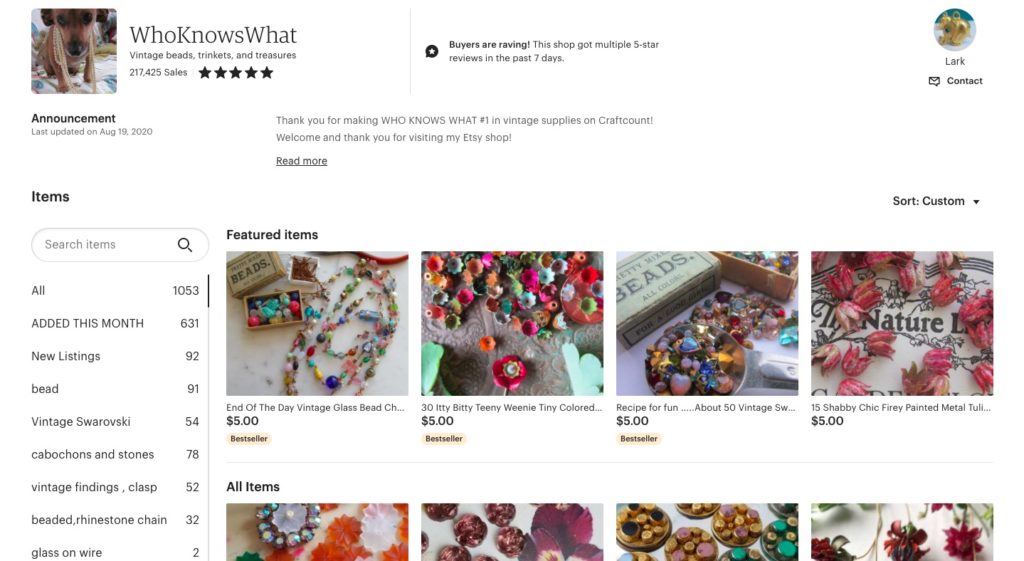 Digital products to sell on Etsy
Printable arts
Printable arts are popular items on Etsy. After designing the arts in your computer software like Adobe, you can upload and sell them on Etsy with almost minimal additional costs involved for every additional sale. There is nearly no production cost which gives a very high profit margin of >90%.
DanHobdayArt is an art store on Etsy with almost 25k sales. It sells printable arts that are instantly downloadable.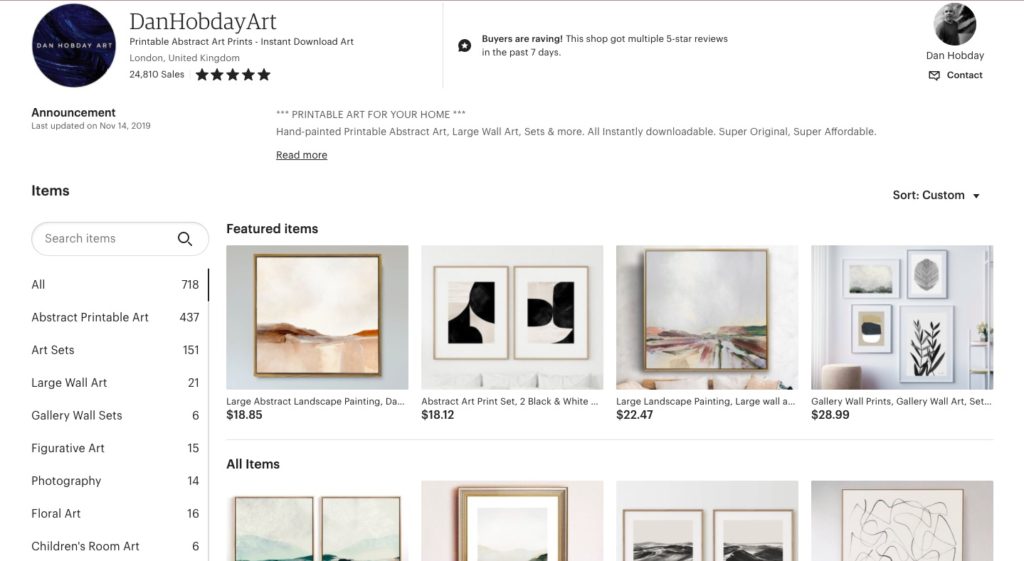 Family Portraits and Pet Portraits
If you're a talented drawer, you may sell digital family and pet portraits for your customers.
Check out byMerakiDesign, a shop that sells mainly personalized portraits for families and pets. The drawings have several purposes, especially for memorials of their pets.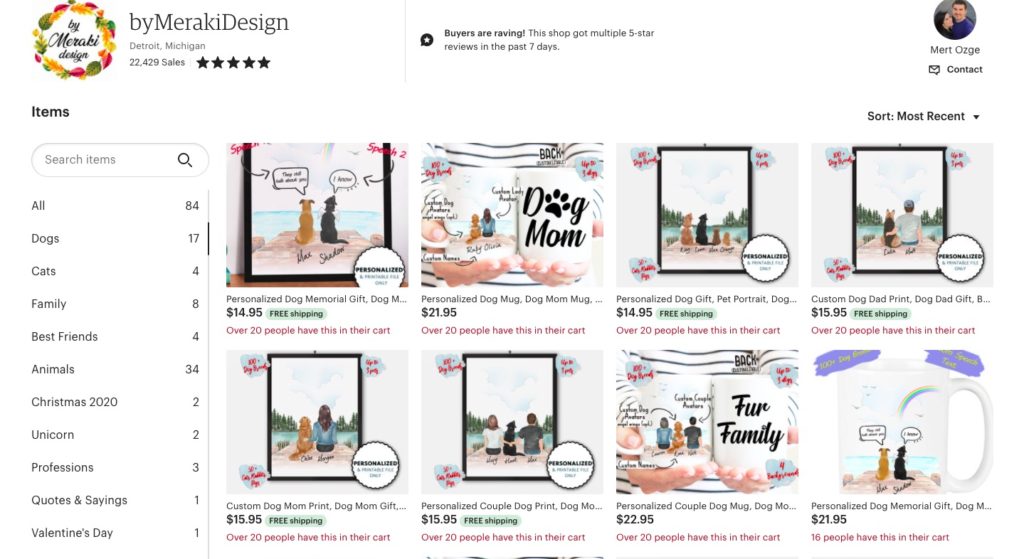 Digital Planner
Digital planners have become a growing choice for people to organize their schedules. You can sell digital planner templates if you're good at designing.
HappyDownloads sells a wide selection of digital planner templates for several apps like Goodnotes and OneNote. They're colorful and user-friendly.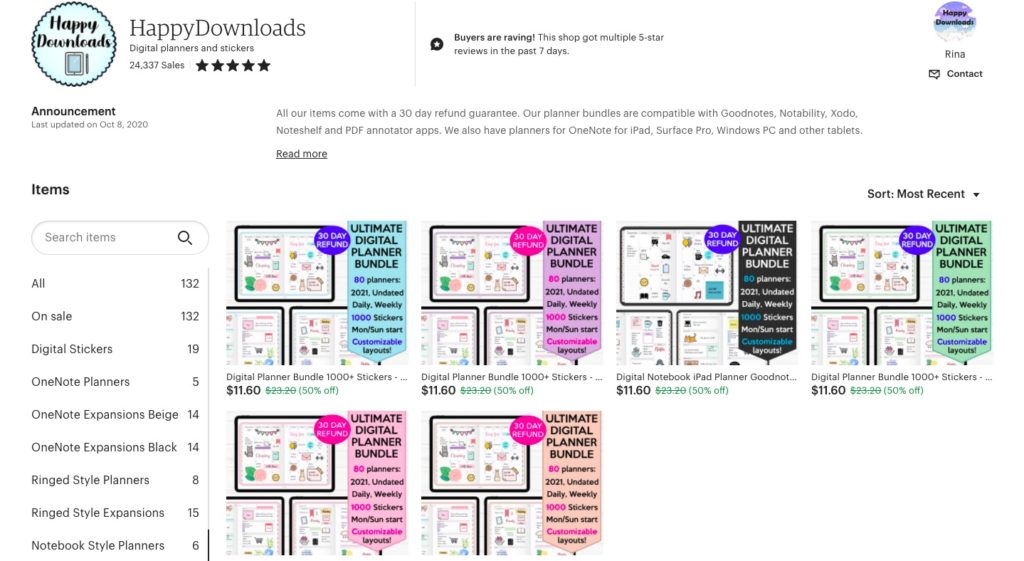 Digital Sticker Pack
Aesthetic digital stickers can decorate your digital planners. Again, if you're good at designing, you can also create digital sticker packs apart from digital planner templates.
Bloomplanners sells an extensive selection of sticker packs. Some are for calendars; some are quotes, while others are cartoon drawing stickers.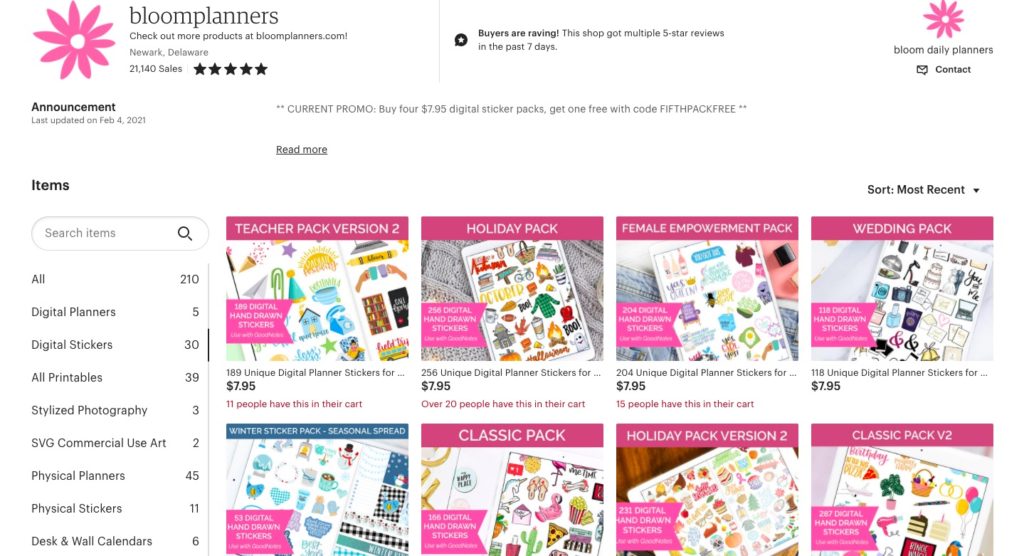 Lightroom Presets
Many love editing their photos with filters before sharing them on social media. If you have experience editing photos with Lightroom, you can sell your Lightroom presets on Etsy!
KatherineDream solely sells mobile Lightroom filter presets. It has accumulated more than 130k sales. They offer filter packages for different occasions, such as for Christmas holidays, beach, and autumn.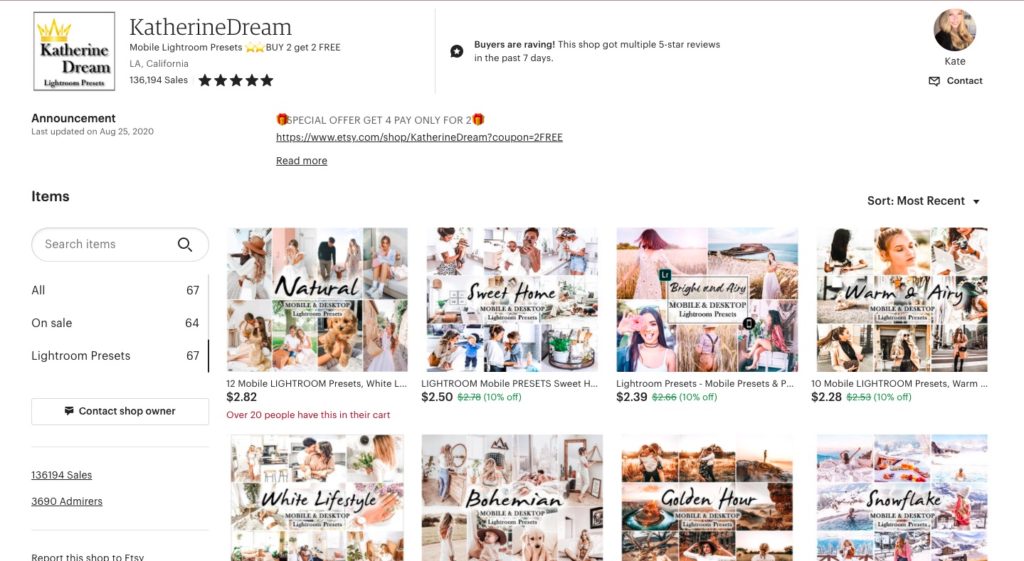 KatherineDream on Etsy
How much can you make selling on Etsy
Let's look at a few case studies on Etsy shops.
Liberty Island Farm, which sells wine and whiskey tumblers, had made US$37,000 profit before taxes in one year. It has about 70% profit margins.
Screenshot of the blog from handmadejourney.com
ShaysBudgetShop sells customized budget planner stickers. The shop owner shared her Etsy income and profit in a Youtube video. She made about US$30,000 from her Etsy shop the first year she started.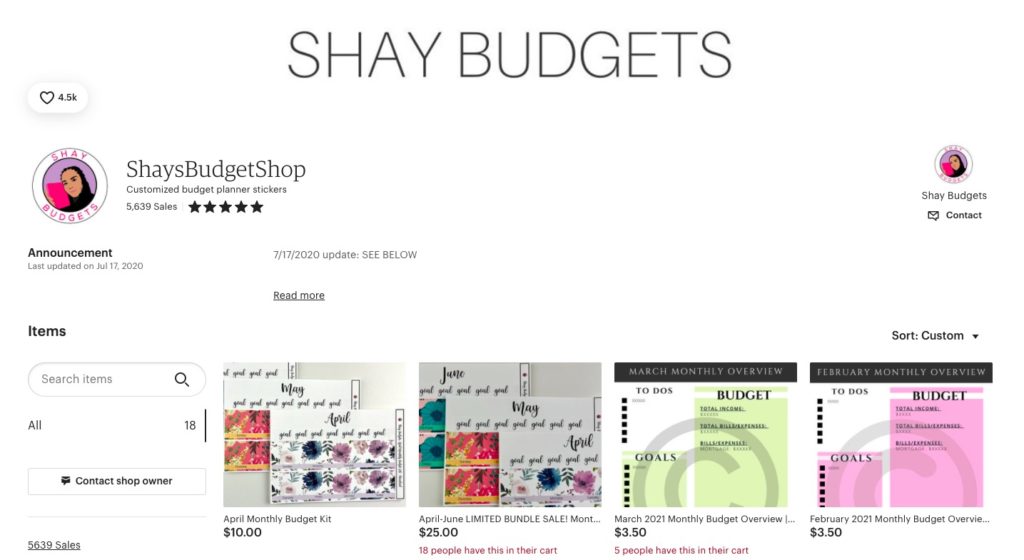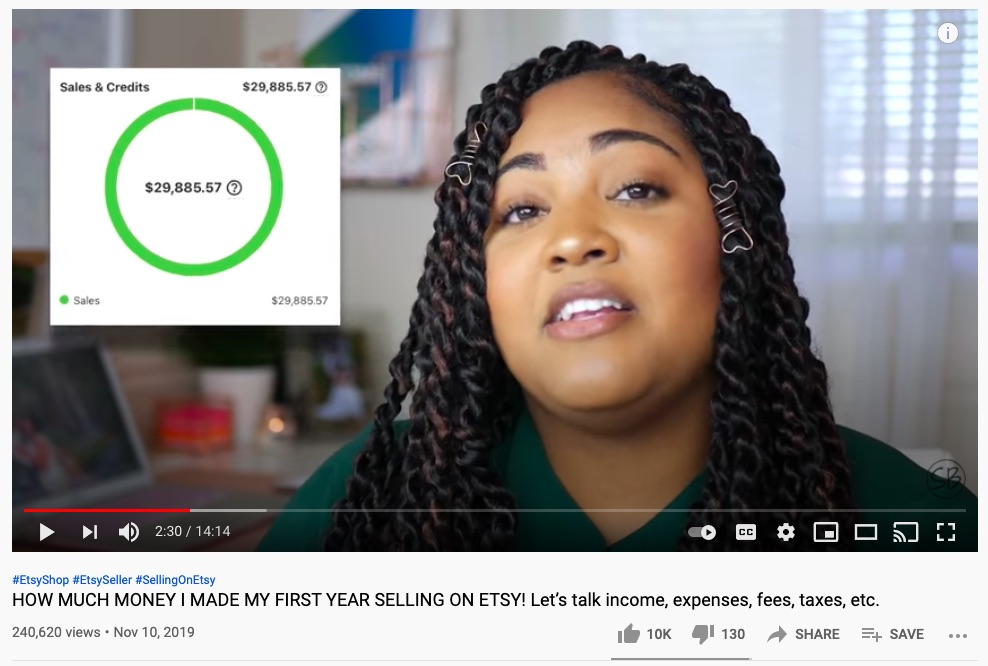 She also talked about different kinds of costs, fees, and taxes for the whole selling process. After deducting the expenses, she earned more than US$12,000 profit in a year!
KidsCustomDesigns is an Etsy store selling custom kids embroidery for birthdays and baby showers.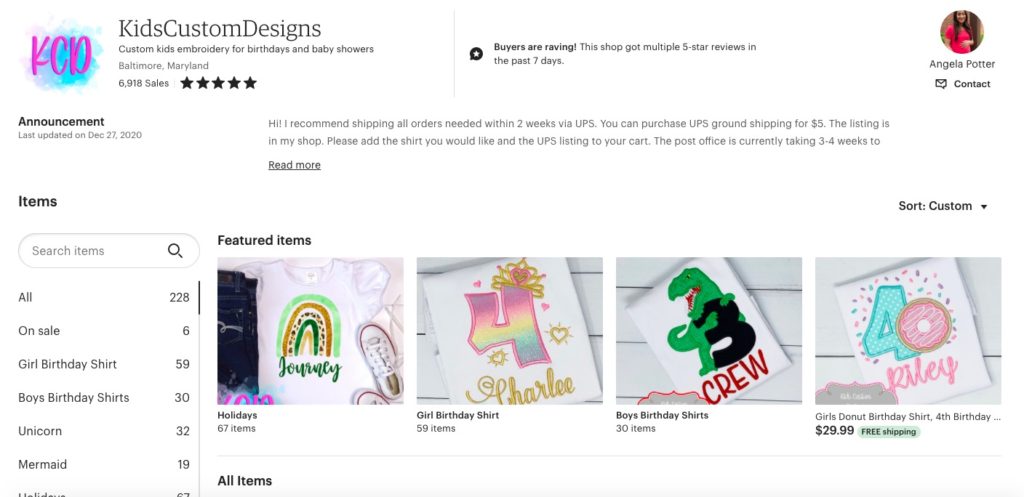 The owner, Angela Potter, also shared her entrepreneurship story on YouTube. In the second year of her shop, the annual revenue has reached US$36,000.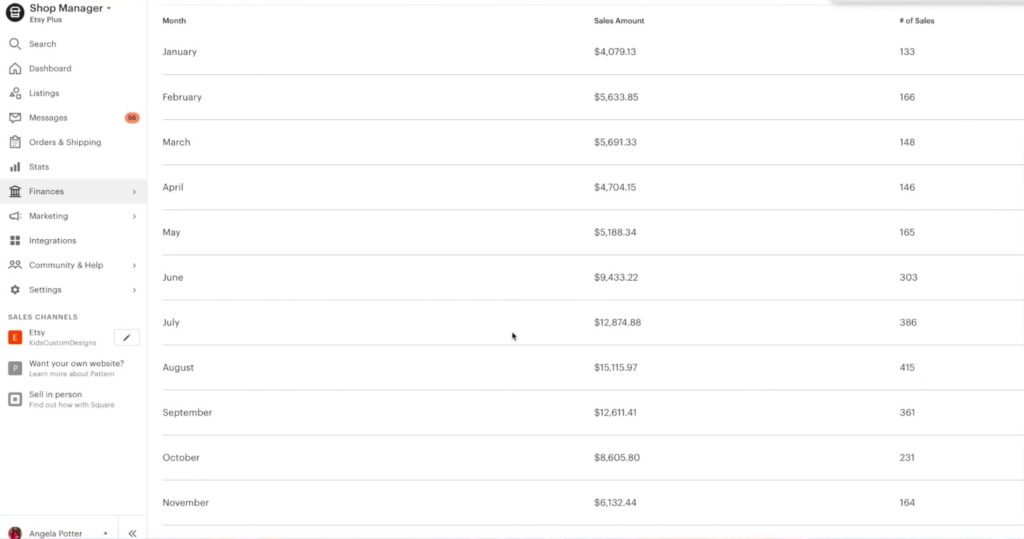 How much does it cost to sell on Etsy
It's free to open an Etsy shop! But there are multiple fees you should be aware of.
Listing Fees
It costs US$0.2 to list each item for four months.
If you sell more than one quantity for each product listing, Etsy will renew the listing automatically after each item sells.
Transaction Fees
Etsy charges a 5% transaction fee of the sum of the item's price, shipping, and gift-wrapping cost.
If you're selling in the US or Canada, the transaction fee will not apply to sales tax, Goods and Services Tax, or Harmonized Sales Tax.
For other locations, the transaction fee will apply to the listing price with any tax included.
Shipping Fees
Sellers can buy Etsy shipping labels, which lets them ship orders with USPS, FedEx, or Canada Post from their Etsy shops. Then they can just print the label out, stick it on the parcel, and deliver it. The shipping label cost depends on the shipping carrier, origin, destination, weight, and package size.
You'll need additional costs for signature confirmation and insurance.
Currency Conversion
Etsy charges a 2.5% currency conversion fee if you list your items in a currency (e.g., USD) other than that of your payment account (e.g., EURO).
How to sell on Etsy
Account setup
To create an Etsy shop, sign in or create an Etsy account. Then,
Click Sell on Etsy on the website
Click Open your Etsy shop.
Set up shop preferences: Shop language, shop country, and shop currency.
Name your shop.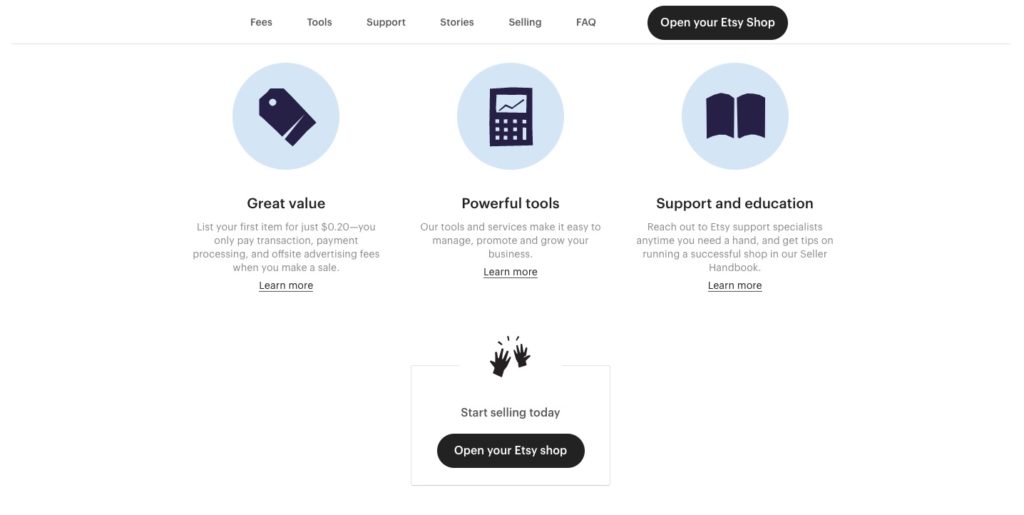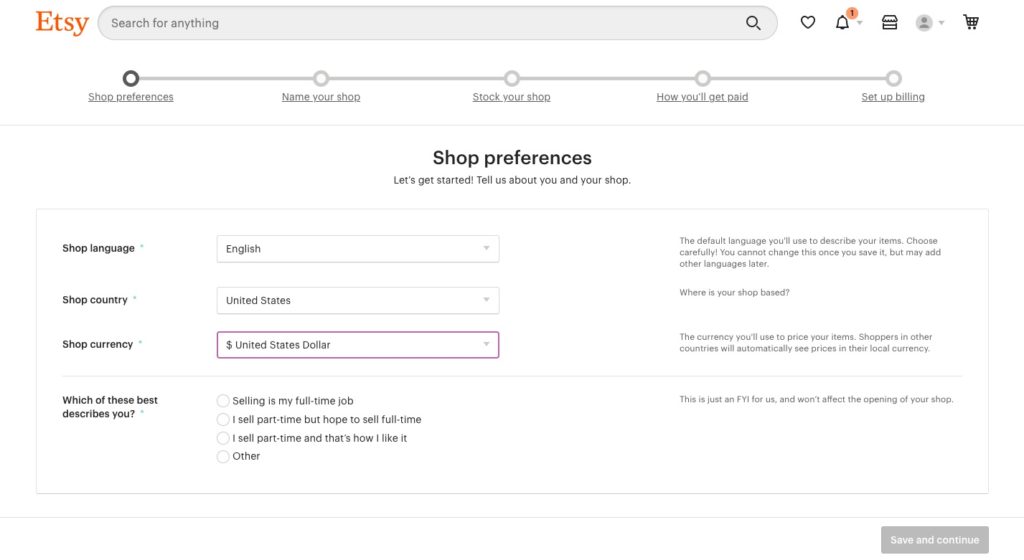 And done!
How to Create a Listing on Etsy
Product photo and video
Before you add a new listing, you should shoot your products with various angles for a more comprehensive product description. You can also put your product next to some objects to show the size.
Apart from product photos, you can also film a 15-second video to engage your potential shoppers!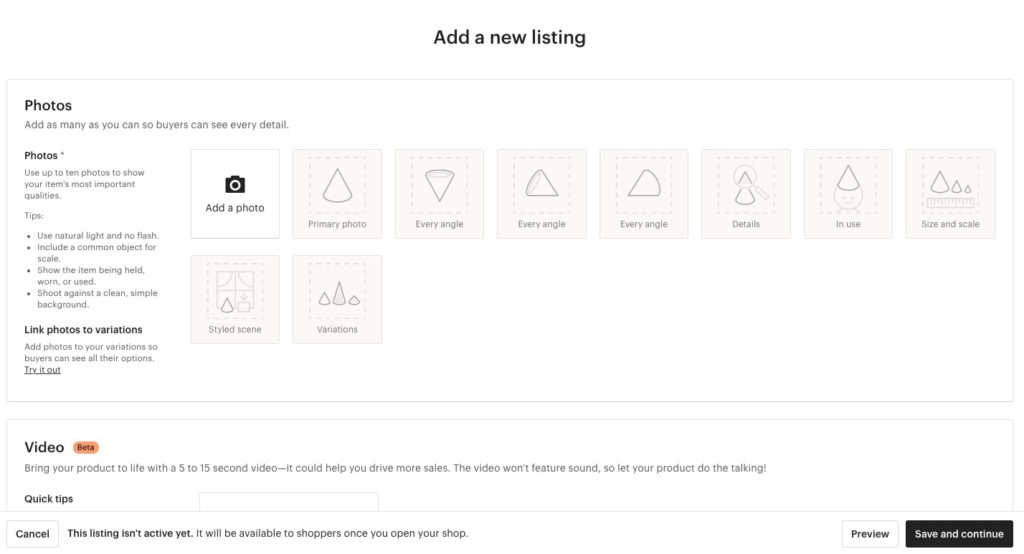 Listing details
The next step is to enter your product details. Tell your customers more about your items!
Title: Include keywords for higher searchability.
Origin: The creator, the nature, and the year of production of the item.
Category: Use two to three words to conclude the variety of your item.
Renewal: The listing expires in four months. You may renew it automatically.
Type: Tell your customers whether it's a tangible or digital product.
Description: Give a brief overview of your items in your own words.
Inventory and pricing
Price and quantity: Set the price and the quantity number of your products.
Variations: Add different product options if applicable, including color, size, patterns, and more.
Personalization: Enable it to collect personalized information from customers if you're offering custom products.
Shipping
Shipping origin and duration: Specify products' origin and their processing time.
Shipping price: Choose either free shipping or a fixed price for shipping.
Set up billing
Before starting your online business, you have to enter a credit or debit card first. It acts as identity verification by charging an authorization fee.
Open your shop
When you complete the steps above, click Open Your Shop to begin your journey as an Etsy store owner! Your shop's address will be "https://www.etsy.com/shop/yourshopname" or "https://yourshopname.etsy.com."
How to sell on Etsy to Make Money
Fill Out the About Section
The first thing customers look at may not be the products but the about section. Customers usually glance at your shop to learn about your background, idea, and vision before browsing your listings.
The about section also increases the market experience score, which is a factor for Etsy search ranking.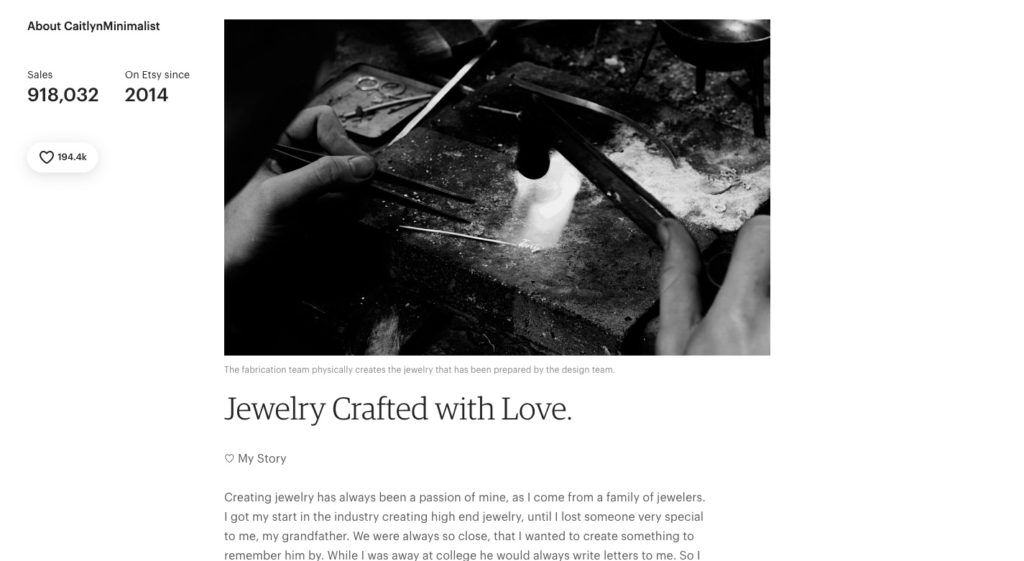 List in Niche Category
If you're selling round, gold earrings, try not only to type "earrings" in the category section but input "gold earrings" or "round earrings". List your products in the most specific subcategory to increase visibility on Etsy.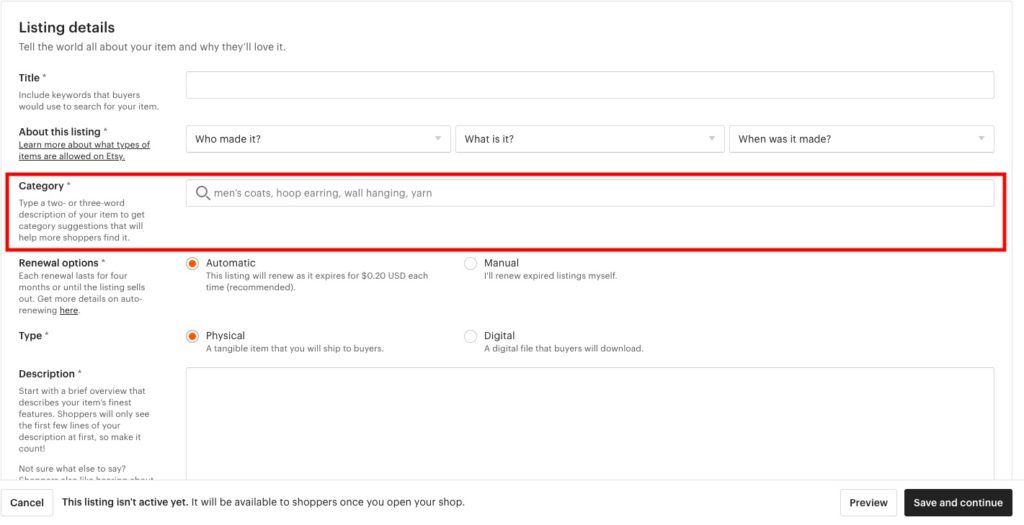 Offer Free Shipping
Free shipping creates incentives for shoppers to buy at your store. You'll see a "free shipping" badge under the items in search results.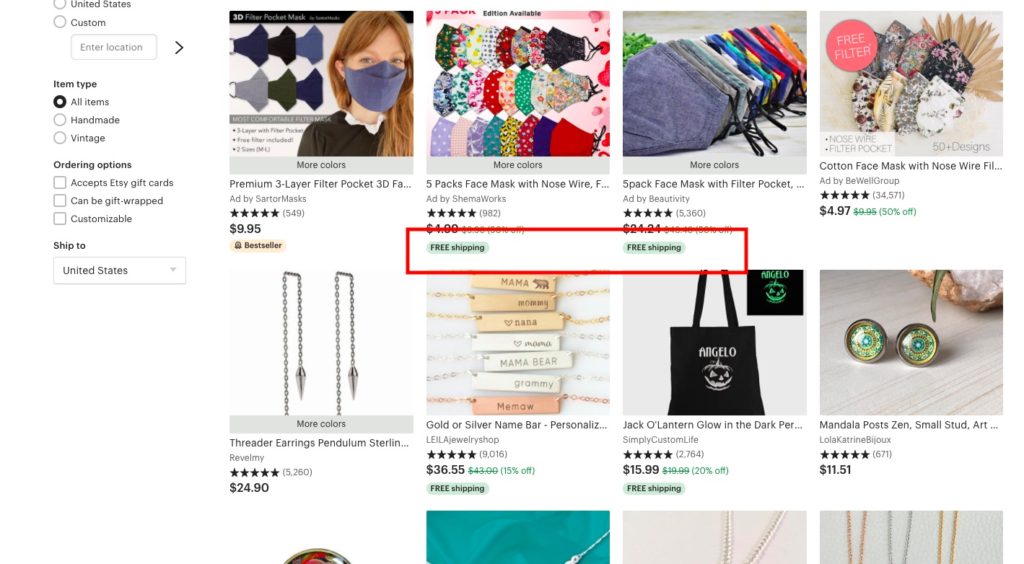 Some say that Etsy prioritizes listings with free shipping to the US in search results. Digital items also get priority search placement in the Etsy app because they don't incur shipping costs. Lowering shipping costs can also improve search ranking.
Add Tags and Keywords
Tags are significant to a product's discoverability in search results. There are 13 types of tags, including shape, color, style, function, and more. The tags should be simple for easier search and preferably include your target keywords.
Write Attractive Product Titles
Don't name your products with long, tedious titles. Think about how to attract buyers when they're scrolling through the search results quickly. A short, easy-to-read title specifying the unique features of your items will capture shoppers' attention immediately. And by having more clicks and sales from search, your items' search ranking will also improve.
Use the Best Product Photo as Thumbnail
The first impression is critical. If you give your products a great photo thumbnail in search results, you can promote clicks on the items and boost sales.
Etsy suggests you shoot your products on a clean white background. Alternatively, you can show how to use the product, such as having a model (or yourself!) use the item in the photo. It would help your shoppers to visualize how they're going to use the product.
Furthermore, you should upload multiple photos to your listings. Take pictures at different angles and distances to give a more comprehensive view of the product.
How to sell on Etsy app
Most features on the Sell on Etsy app are similar to the site's version. But there are several exclusive highlights of the app for you to manage your shop anytime and anywhere.
Social Media Update
Through the app, you can share milestones, promotions, and other updates to your shop's social media. It's a powerful marketing tool for your store.
Here are some of the things you can post about:
Latest 25 listings from your shop
Recent milestones such as the shop's anniversary or achievements
Sales and coupons
5-star reviews
Other shop updates (on the Etsy app only)
You can use the photos provided in the app or upload your image. Then write a short description with relevant hashtags to increase visibility. After that, click Share and select the social media platform.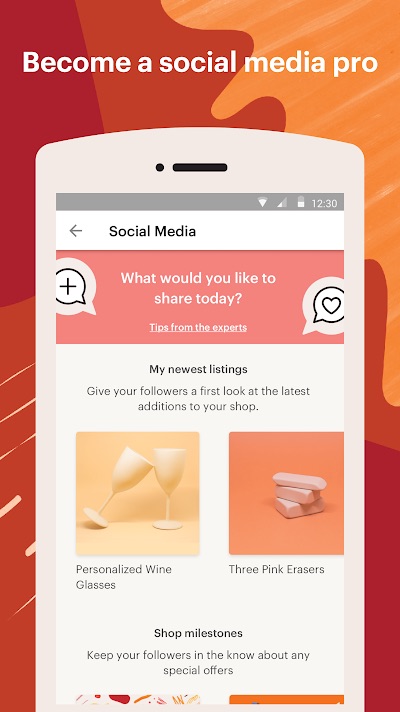 Shop Notifications
You can receive notifications from the Sell on Etsy app when you made a sale. It allows real-time and convenient monitoring of your shop, so you don't have to check emails frequently for sales updates.
Apart from order tracking, you'll also have quick access to your store's statistics.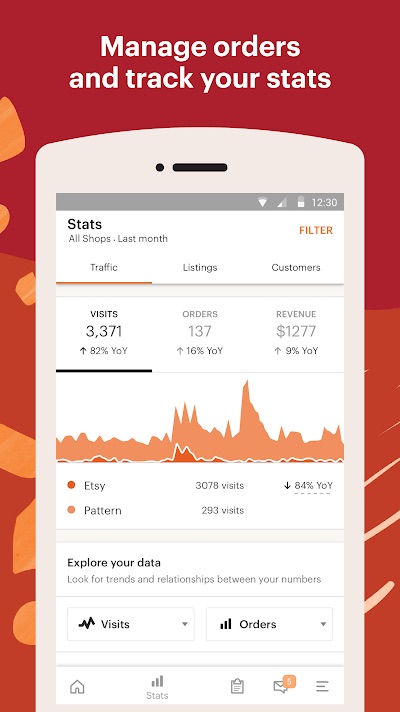 Mobile-Responsive Shop Preview
On the Sell on Etsy app, you can preview your shop as a buyer in Etsy shopping app. So you'll know which part of your shop you need to fix to improve user-friendliness.
Real-Time Communication with Customers
In the app, you can chat with your customers instantly by sending and receiving messages. It's similar to messaging apps like Whatsapp or Messenger, making it's convenient to respond to customers quickly and manage chats in the inbox.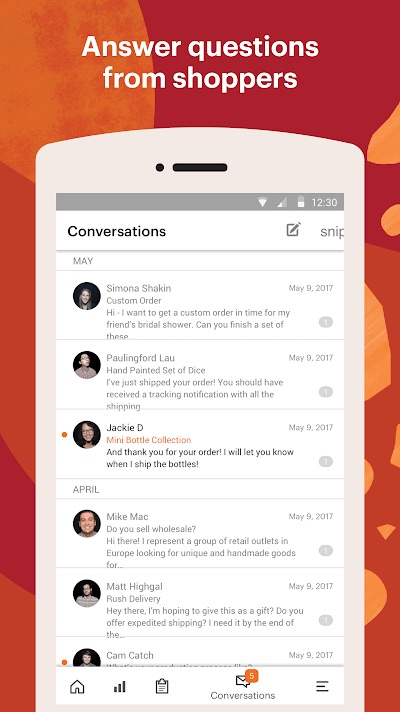 FAQs
What is Etsy
Etsy is a global marketplace where you can sell unique items and turn your imagination into successful businesses. In 2019, the gross merchandise sales of Etsy had reached almost US$5,000,000. With more than 45 million active shoppers, your products will have numerous opportunities to show up and grab buyers' attention.
What are the 25 Best Things to Sell on Etsy?
The 25 Best Things to Sell on Etsy are a curated list of the top-selling items on Etsy. This list includes handmade and vintage items such as jewelry, clothing, home decor, and art.
How was the list of the 25 Best Things to Sell on Etsy compiled?
The list of the 25 Best Things to Sell on Etsy was compiled based on data from Etsy's marketplace. The items on the list are the top-selling items across various categories on Etsy.
Are the 25 Best Things to Sell on Etsy only for experienced sellers?
No, the list is not only for experienced sellers. It can be used by anyone who is interested in selling on Etsy or looking for ideas for products to sell.
Can I sell items that are not on the list of the 25 Best Things to Sell on Etsy?
Yes, you can sell items that are not on the list of the 25 Best Things to Sell on Etsy. The list is intended to provide inspiration and ideas for sellers.
Do I have to make handmade items to sell on Etsy?
No, you do not have to make handmade items to sell on Etsy. You can sell vintage items or supplies, as well as digital products like printables and patterns.
Can I sell copyrighted items on Etsy?
No, you cannot sell copyrighted items on Etsy without permission from the copyright holder. This includes items that feature logos, characters, or other copyrighted material.
How do I price my items on Etsy?
There is no set formula for pricing items on Etsy. It is up to the seller to determine the price based on factors such as materials, time, and competition.
Do I have to offer free shipping on Etsy?
No, you do not have to offer free shipping on Etsy. However, offering free shipping can make your items more attractive to buyers and improve your sales.
Can I customize my shop on Etsy?
Yes, you can customize your shop on Etsy. You can add a shop banner, profile picture, and shop policies to make your shop stand out.
How do I promote my shop on Etsy?
There are a variety of ways to promote your shop on Etsy, including using social media, participating in Etsy teams, and offering promotions or discounts.
How to open an Etsy store in Taiwan?
Currently, Etsy does not support the creation of new shops in Taiwan. In most locations where Etsy Payments is not currently available, new shops are temporarily unable to onboard to Etsy. As Taiwan is one of these locations, new sellers are unable to open shops on Etsy. However, Etsy is constantly reviewing its policies and may make changes in the future. In the meantime, if you are already an Etsy seller and have a shop in another country, you can ship to buyers in Taiwan. If you created your shop prior to April 26, 2021, and did not sign up for Etsy Payments, your shop is not impacted, and you can still receive payments to your personal PayPal account.
How to open an Etsy store in Hong Kong?
To create an Etsy store in Hong Kong, follow these steps:
1. Visit Etsy.com and click the "Sell on Etsy" link.
2. Click "Open your Etsy shop".
3. Choose your shop language, country, and currency. You can choose Hong Kong as your location.
4. Create your shop name, which will be visible to buyers.
5. Choose the payment methods you want to offer your customers. If you select Etsy Payments, you can receive payments through bank transfer, PayPal, and other methods.
6. Set up your billing information and pay any necessary fees.
7. Customize your shop by adding a banner, logo, and other graphics.
8. Add your products and start selling!
How much is the Etsy shipping cost in Hong Kong?
The cost of shipping on Etsy depends on several factors, including the size and weight of the item, the destination, and the shipping carrier. As a seller, you can choose to offer free shipping, set a flat shipping rate, or charge a calculated shipping cost based on the buyer's location and the item's dimensions. You can also choose to use Etsy's shipping labels to purchase and print postage directly from the site, which can offer discounted rates from major carriers like USPS and FedEx. To determine the specific shipping costs for your shop in Hong Kong, you will need to consider these factors and adjust your shipping settings accordingly.
Final Thoughts
Etsy is a paradise for showcasing your creativity. Here we've introduced the 25 best things to sell on Etsy to make money – pick one or a few and start your Etsy shop today!
Read more: