There are plenty of tools for Amazon sellers out there. We know that it makes selling significantly easier when we have these tools at our disposal. The important question is, which of these are the most useful and effective ones?
Today, we will be looking at the tools from AMZScout. They have been around for a long time and have continued to garner positive attention in the Amazon selling world. AMZScout offers a variety of resources and tools. However, this company is best known for market research. 
AMZScout Pro Extension
The first tool we will be discussing here is their most popular one, namely the AMZScout Pro Extension. The way this tool works is you can run the extension on any page of Amazon, and it will provide you with a variety of data that you simply wouldn't have access to on your own.
Even better, the generated data will be organized and filtered for convenience. This is what it looks like: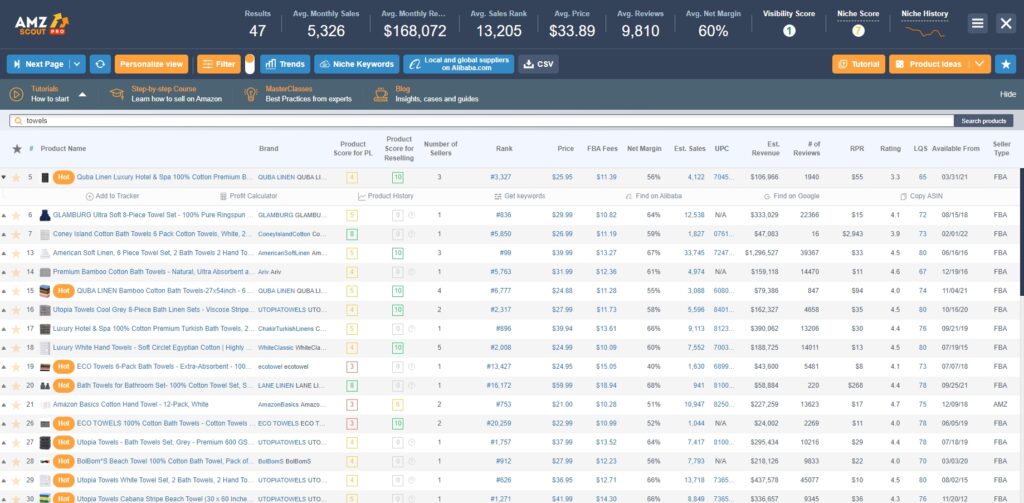 Here, we can see the averages for the results listed on this page, including average sales, margins, revenue, reviews, and selling price. Of course, you can see all of this data for the individual results on the page. But this is only the tip of the iceberg.
The Extension also offers many additional features, such as Niche History, which shows you the history of sales, prices, and best seller ranks. You can also get a Product History for each individual product.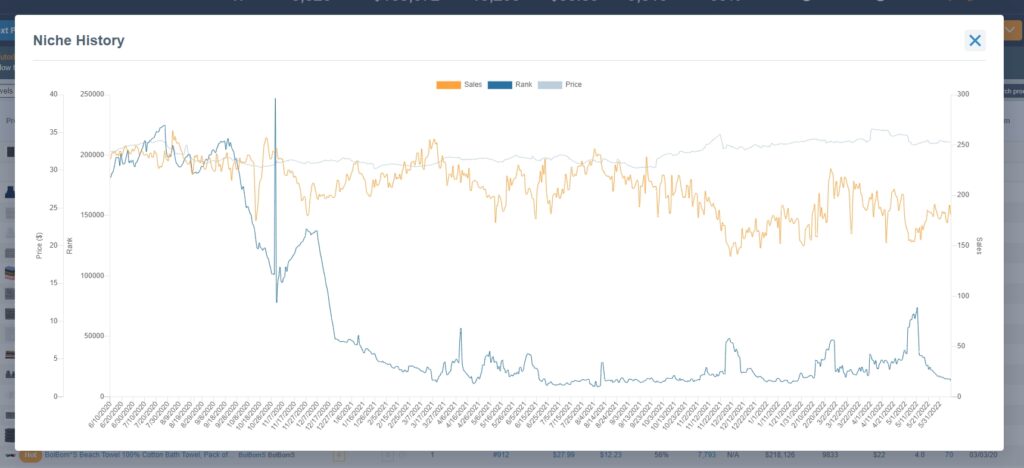 Maybe the most impressive feature of the Extension is the availability of the various scores. They contextualize the information and aggregate it so you can quickly determine whether the niche is worthwhile. The Niche Score does several things: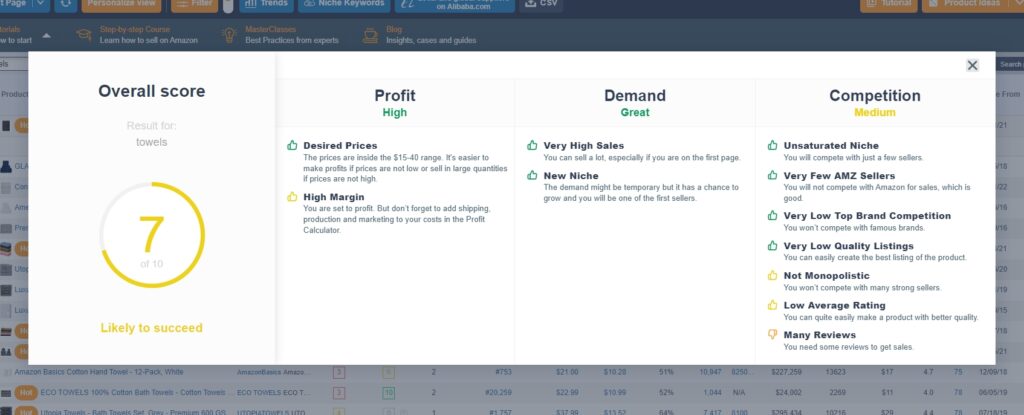 This score gives you an idea of how much of a barrier to entry there is in the niche you are investigating. This is separated into three categories of criteria.
There are also individual Product Scores for products. For example, AMZScout has two different product scores: one for private label and another for reselling.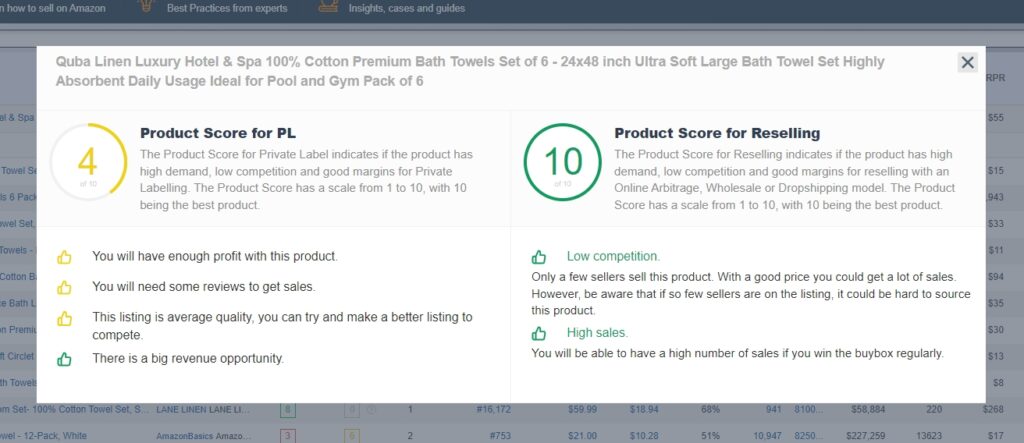 Another feature is the visibility score, which can be found in the top right corner. This score also tells you how many other AMZScout users have found this niche. This is their answer to the question many sellers have been asking themselves: How can I find out if a niche is likely to be flooded with other people just like me?
Plenty of other features also serve to make your product research experience effective, such as filters and customization options.
You can also "favorite" products you find, so you can compile a list of ideas and refer back to them easily. You can find keywords for individual products, and compare the niche trends to Google trends. You can also extract data in the form of CSV files for any data set you choose.
Overall, this tool will give you everything you could possibly want while browsing Amazon for product ideas.
AMZScout Product Database
Next on our list is the Product Database, which is another product research tool. The difference is that it works from a very different perspective. With the Extension, you get a sort-of magnifying glass that lets you get a deeper and insightful look at any given niche.
With the Product Database, you can just circumvent the process's searching step and instead be presented with a product that meets your criteria, allowing you to narrow down your list of ideas.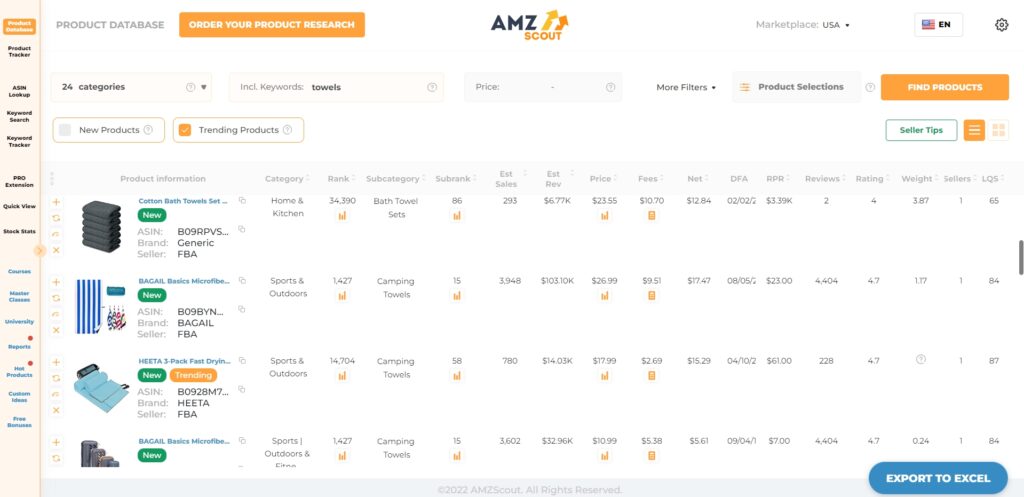 The way this tool works is simple, as it's a constantly updated database of everything on Amazon. The way to use it is by entering your criteria into the filters, and you will be presented with products that meet those criteria. If you don't know which criteria to select, you can try the ready-made ones from Product Selections first.

Also, keep in mind that Amazon is changing, so the database is constantly updated.
It's worth pointing out how well the Product Database works with the Extension. Since the database gives you an assortment of individual products, you can quickly put them into the context of their niche with the extension and see the broader picture.
AMZScout Sales Estimator
Next up is the Sales Estimator, a free feature you can use on the AMZScout website. So it is a tool, just not in the traditional sense. You simply enter the BSR of any product, select a category, and it will give you an estimation of the monthly sales volume of the product.
AMZScout Amazon Dropshipping and Arbitrage tool
Finally, we have the Dropshipping and Arbitrage tool, designed for a specific purpose. It works only on the product page and helps you quickly estimate whether you can make a profit by reselling the item and piggybacking on the listing. It's pretty straightforward: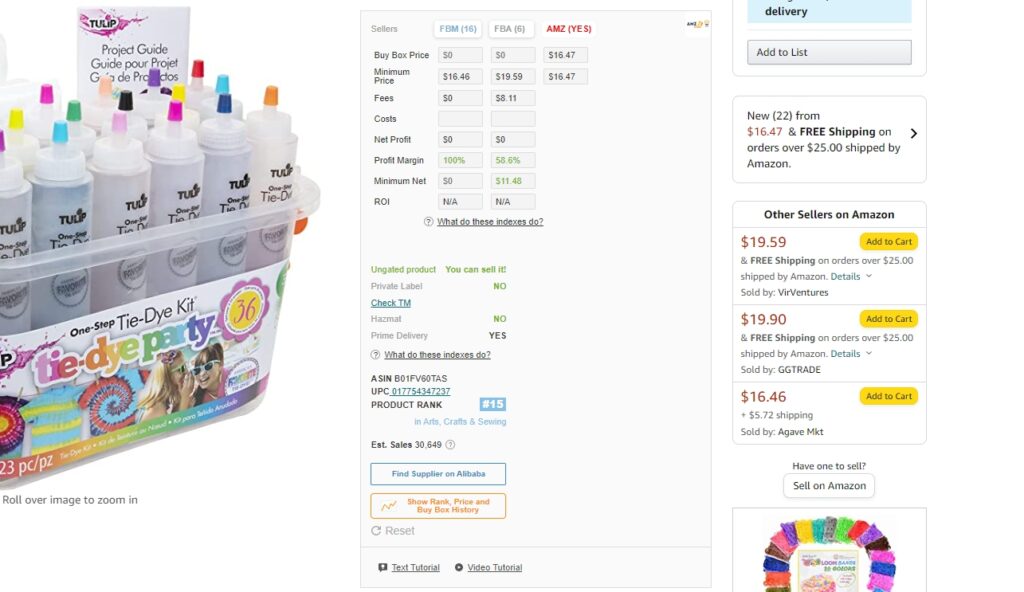 You can quickly see how many sellers are on the listing and what types of sellers they are. You can immediately find out if this is a gated product or not. You can also quickly find the exact product on Alibaba if it's available.
You can also calculate your costs and profits in a matter of minutes. This is specifically made so you can spend the least amount of time assessing the opportunity with all the necessary data and calculations at your fingertips to make a quick decision. This is how resellers operate.
AMZScout Keyword Tools
Next up, we have the keyword tools. We can't stress enough the importance of using the right keywords when selling on Amazon. Utilizing the right keywords and knowing how to use them can make or break your Amazon business. This comes into play with your PPC and SEO, which are the most crucial factors of success. 
AMZScout Keyword Search Tool
First, we have the Amazon Keyword Search Tool. This is a very straightforward tool. You enter a keyword and are provided with a list of results, along with estimated monthly searches containing that keyword.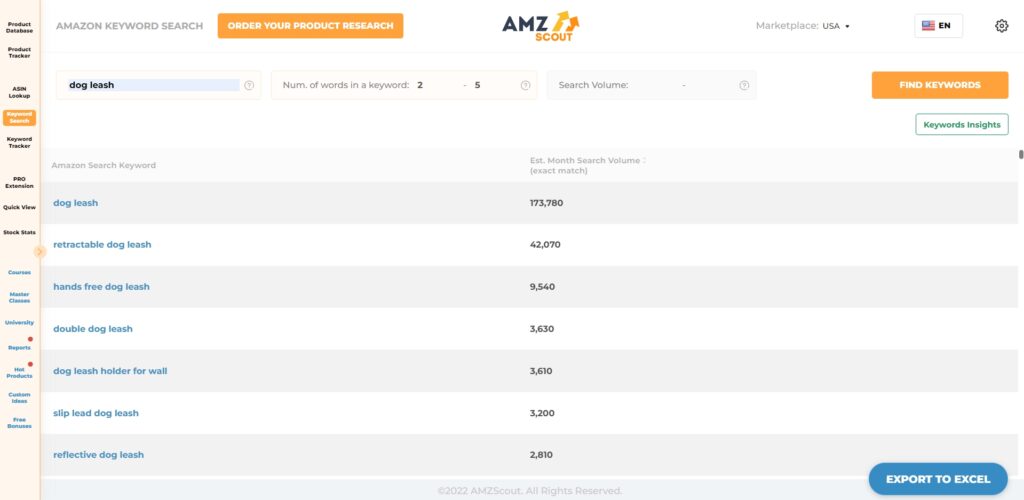 You can adjust for the number of actual words in the list's search terms and then easily extract it. You can use this information for market research to measure exactly how popular a type of item is or use it as a source of keywords for your listing and PPC.
AMZScout Reverse ASIN Lookup
Next, we have the Reverse ASIN Lookup. This tool looks very similar but approaches the data from a different perspective. Here, you enter the ASIN of a product, or a competitor, and you'll get a list of keywords the item is indexed on, along with monthly search volumes.
This is very handy for keyword research and piecing together the reasons for what makes any product successful.
AMZScout Keyword Tracker
Finally, we have the Keyword Tracker. This tool helps you track your organic rankings across time. This can give you valuable insights into how you should organize your PPC and calculate the cost-benefit of pushing for any particular keyword.
You also have charts for each keyword, and you can see how the ranking changes over time. 

Keeping track of the position of your primary keywords is an excellent indicator of your listings' health and a great way to identify growth opportunities.
Conclusion
In conclusion, AMZScout offers some of the most helpful and innovative tools. Moreover, there are free trials for each of them so that you can try them out.
They will surely deliver on each aspect of selling on Amazon for which they are designed. However, if there is any downside to point out, there are other aspects of selling on Amazon that their tools don't cover, such as launching, accounting, and inventory management. 
The tools are all very reasonably priced, especially if you opt for the long-term pricing packages they offer. When it comes to product research, in particular, it's hard to imagine anything else out there that will meet your selling needs.