If you are searching for an online eCommerce store builder that can accommodate your needs, you might wonder which platform to choose: BigCommerce or Shopify.
Both BigCommerce & Shopify platforms are prevalent due to their user-friendly interface and powerful features. They allow eCommerce store owners to create and manage online stores easily.
This article will examine these two platforms' notable differences and similarities and present a comprehensive guide. We will also compare the features, pricing, and more of both platforms to help you make the right purchasing decision.
BigCommerce vs. Shopify: Similarities
Key similarities between BigCommerce & Shopify include:
Shopify and BigCommerce are subscription-based eCommerce platforms for all business sizes.
They offer unlimited products, themes, templates, bandwidth, and file storage capabilities on all their plans.
The platforms are similarly priced and offer tools like online storefronts, points of sale, and gift cards
Both platforms have eCommerce features to sell products over different social media platforms
BigCommerce vs. Shopify: Differences
Here are the differences between BigCommerce and Shopify:
Shopify allows you to add blog post strips, contact forms, or e-newsletter registration forms to your content, while BigCommerce content is limited to the post block.
Shopify's templates for developing professional sites are more customizable, while BigCommerce's free themes only contain a limited selection of web fonts.
BigCommerce is more flexible in exporting your data since it allows you to export to both CSV and XML, while Shopify only lets you export to CSV format.
Shopify has cheaper and more robust abandoned cart email features, while BigCommerce requires advanced features for similar functions, which can be more costly.
What is BigCommerce?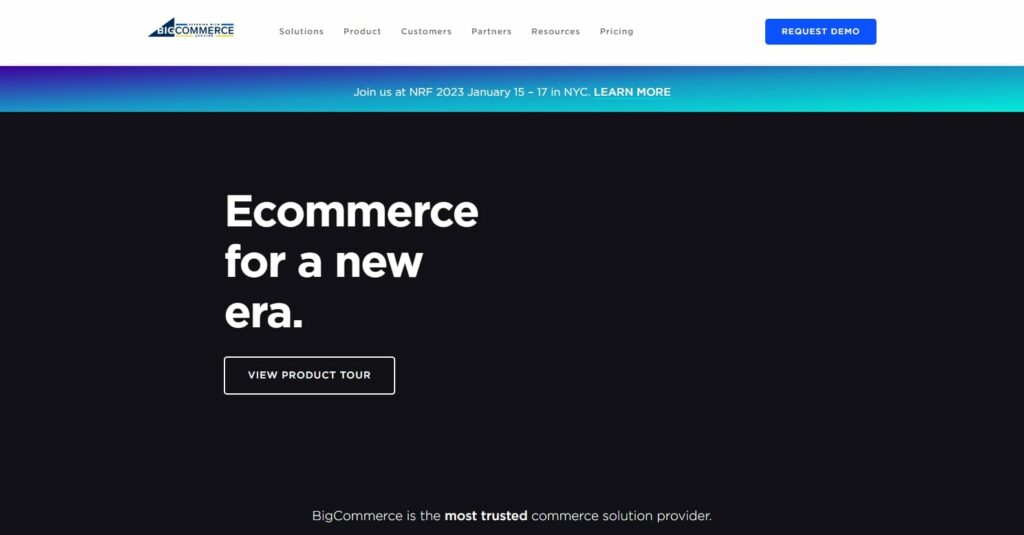 BigCommerce is an eCommerce platform that helps retailers start online stores, tailor them to their liking, and sell unlimited digital, tangible, or service-based products.
It provides a software as a service (SaaS) solution, so you don't need to install anything on your computer or buy extra hosting; you only need to pay a monthly subscription.
BigCommerce started in 2009 with its headquarters in Austin, TX. It's widely spread out, with over 90,000 stores worldwide. The platform has many unique templates to help you design your online BigCommerce store layout.
You can use it to market your store's physical and digital products. Thanks to the various tools on board, you might also find it easier to commercialize and advertise your brand.
BigCommerce Key Features
Here are a few of the features that make BigCommerce so useful;
BigCommers has 12 free templates or themes to provide a starting point. You can also make changes to your store at any time.
An extensive collection of SEO tools to help you optimize your store's visibility and analytic tools to show you exactly where you need to improve.
In-built marketing tools to help you maximize your online store's profit and a CMS (Content Management System) to add new pages and products quickly
A wide selection of integrated payment systems, such as PayPal and others, help you expand your audience base by making payments easier for them.
What is Shopify?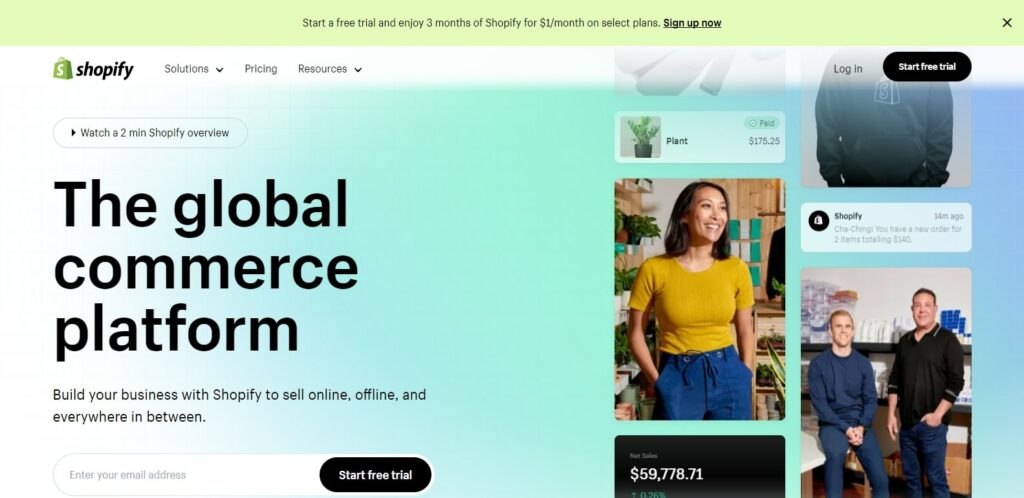 Shopify is a cloud-based eCommerce platform with a POS (Point Of Sale) app for selling goods in person. It enables merchants to create a multi-channel experience that assists in promoting the brand.
Using this subscription-based platform, you can build a website and utilize a shopping cart solution to sell, deliver, and manage your products.
Shopify started in 2004 with its headquarters in Ottawa, Ontario. In July 2022, it was ranked among the top 20 most publicly traded Canadian firms by market capitalization.
Various tools make it easy to examine each aspect of your online store. Using these tools, users can develop customized online experiences for clientele, optimizing Return on Investment (ROI) on marketing expenditures.
Shopify | Create your online store today
Shopify is a popular e-commerce platform that allows businesses to create and run their own online stores. It offers a range of features, including customizable templates, secure payment processing, and inventory management, making it easy for businesses to build and manage their online presence.
Pros:
Customizable templates

Secure payment processing

Inventory management

Analytics capabilities

User-friendly interface

Extensive knowledge base and community of users for support and learning best practices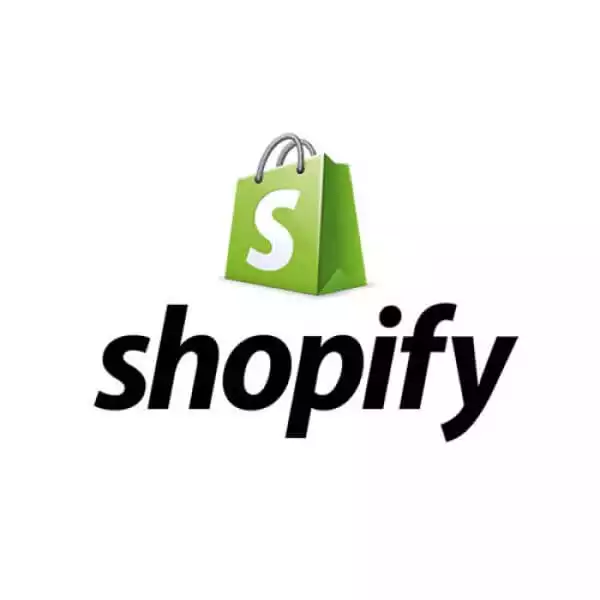 Shopify Key Features
The most outstanding features of Shopify are:
A social media integration feature lets you quickly share your product features on social media
Fantastic themes for beginners and experts alike, enabling you to develop a professional-looking store in minutes
A drop shipper tool that lets you source your products from a third-party supplier and ship them from your online store
An in-built SEO solution that aids in optimizing your store's search engine rankings
Abandoned cart tools that assist you in keeping track of your sales and give you a better understanding of how to increase them
BigCommerce vs. Shopify: Features
Here is how Shopify and BigCommerc compare regarding features:
Landing Page Builder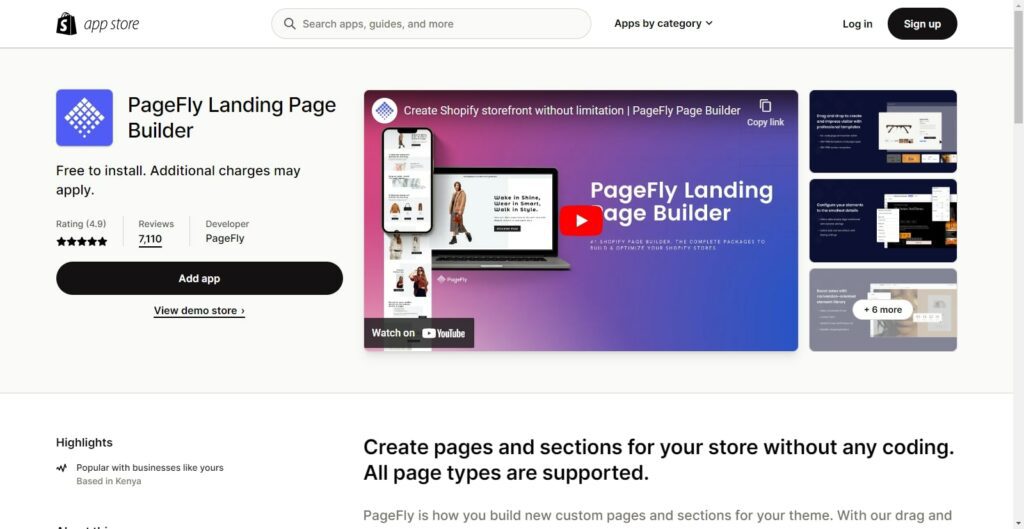 BigComerce and Shopify have built-in landing page builders. These allow you to customize your store to your liking.
Shopify users mostly use PageFly, a free tool with a more straightforward drag-and-drop interface, making it easy to use. There are other page builders like GemPages, LayoutHub, Shogun, and Zipify if you don't want to use the free PageFly tool.
BigCommerce users can try Shogun page builder, which charges a monthly recurring fee of $39. Shogun also contains intuitive features, and you can request a free seven-day trial. Other top page builders on BigCommerce include Unbounce, BigCommerce, Instapage, and LeadPages.
Community Support
Shopify has a strong community of users ready to help you build your online store professionally. Its active forum can help you find answers to problems easier. There are also many subreddits to help where people discuss common problems.
BigCommerce has a robust online platform with searchable answers to user and business owners' questions. However, it doesn't have a sophisticated forum and support system like Shopify.
Sales Features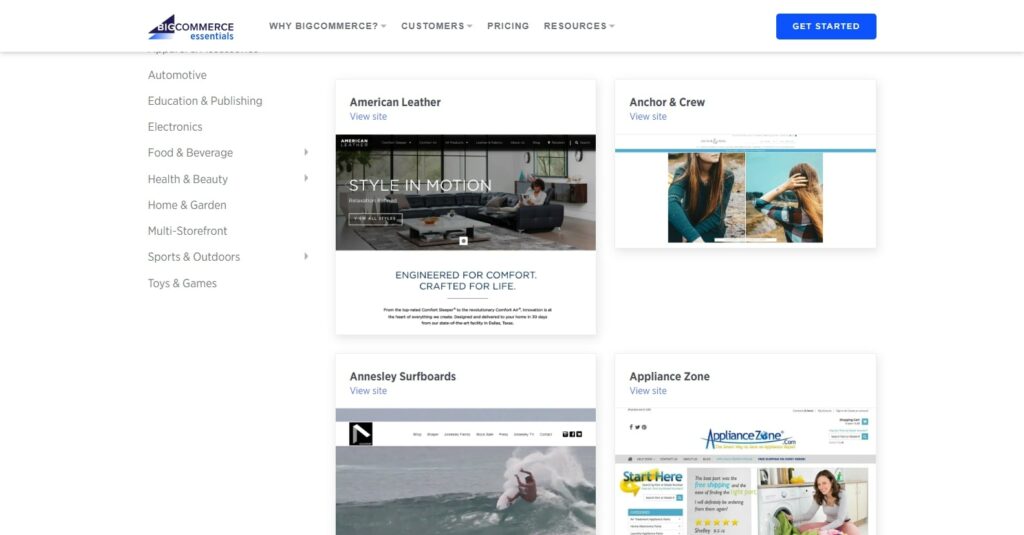 Both BigCommerce & Shopify offer detailed insights into your store's performance. It has features such as SSL certificates and multichannel selling, allowing you to sell across various social channels.
As Shopify grows into an international brand, it's expanding its options and designing Shopify apps to sell in different currencies and on channels like WhatsApp and WeChat.
Bigcommerce leads Shopify in sales features as it has more powerful tools to help you manage your online store from a single location. Merchants can also customize their stores based on shopper behaviors and purchase history.
BigCommerce allows you to test and create promotions to drive revenue through coupons and cart-level discounts. On BigCommerce enterprise, you can try segmented pricing with the native price list functionality.
Ease of Use
The two platforms offer a wide range of tools for non-technical users to launch their websites easily. Shopify's customization options are more intuitive, making them easier to use.
BigCommerce has many advanced features that are more suitable for professionals. If you have some experience in theme customization, you can launch sophisticated websites with BigCommerce easily.
Staff Accounts
BigCommerce allows you to open unlimited accounts for employees in all plans. On the other hand, each plan on Shopify supports a given number of staff accounts. The starter plan only accommodates one employee account, with the advanced plan accommodating 15 users.
Verdict: Shopify wins in Features
Shopify has better and easier-to-use features. It is more suitable for novice web builders who want to launch their online store fast and easily.
BigCommerce can be a good option for experienced web builders looking to build an online store with extended functionality.
BigCommerce vs. Shopify: Ease of Use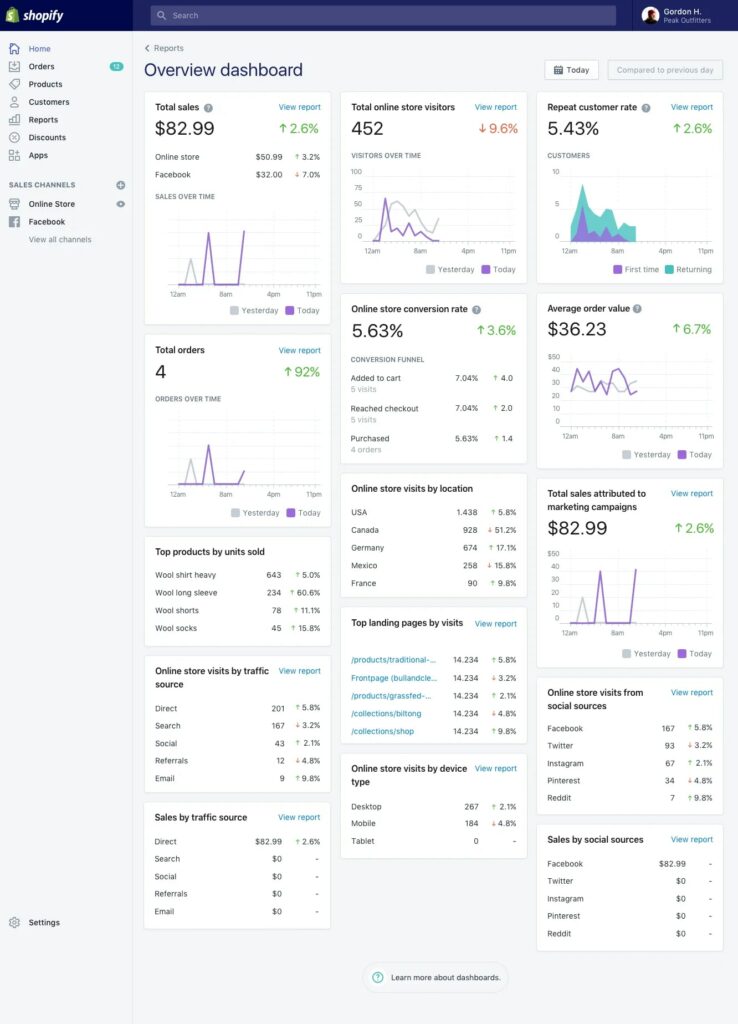 Shopify and BigCommerce pride themselves on having the most user-friendly systems. They utilize an easy-to-use content management system, a user-friendly web editor, and a stylish dashboard.
BigCommerce has more scalable features that may not be suitable for beginners, while Shopify comes with a simple solution that works befittingly for them.
Adding Products
With Shopify, you can add products and variants using a single form without creating new product posts. Shopify lets you add variations similar to the original product but with minor differences such as color, height, weight… etc.
BigCommerce requires you to create new products and edit each product individually. However, you can also add variations while editing or creating products in the control panel.
Learning Curve
Each platform has a learning curve depending on your experience building a website. BigCommerce has a steeper learning curve than Shopify as it contains more sales features. It requires more time to learn and master it.
Shopify requires great internalizing before purchasing to find out what you want your shop to look like. With a good idea of what you want, launching your site can be incredibly fast.
Verdict: Shopify is Easier to Use
Shopify is less complicated, and you might not need tutorials to launch a website. Everything is clearly explained. If you want a simple eCommerce solution, Shopify is an ideal platform.
BigCommerce has a steeper learning curve, and it takes time to set your store up the way you want. However, in the end, you might create a unique product you admire.
BigCommerce vs. Shopify: SEO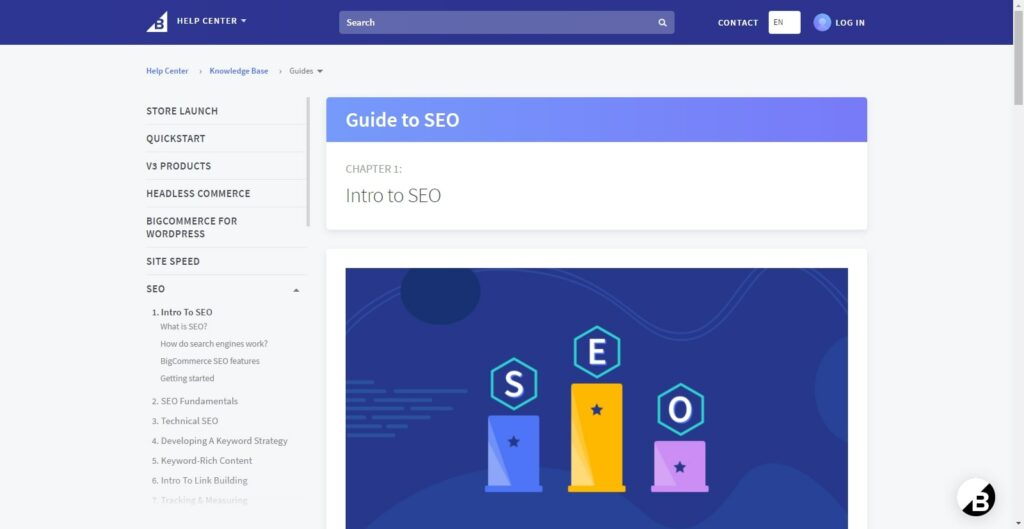 Both platforms give you tools to handle most of the SEO activities of your online store. Their algorithms ensure you employ the right SEO strategies and leverage the power of social media to expand your online presence and drive traffic to your site.
Here is how both BigCommerce and Shopify are similar in terms of SEO:
They allow you to customize page titles, descriptions, and slugs.
You can customize headings, alt text, and 301 redirects.
You can alter the robots.txt.
Both can integrate with Google Analytics and Facebook Pixel ID and allow you to alter search engine guidelines.
However, one significant difference between the two is customizing URLs. In BigCommerce, URLs are customizable. Shopify modifies the URL to include additional terms like "products" or "collections." These are impossible to remove.
Verdict: BigCommerce is better in SEO
BigCommerce gives you more control over your URLs. It has extra features that make it easy to run SEO and ensure your website is search-engine friendly.
While Shopify stores have a reputation for being fast, Shopify is slightly restrictive when customizing URLs but provides you with other features that do not require URLs to be modified.
BigCommerce vs. Shopify: Payment Gateway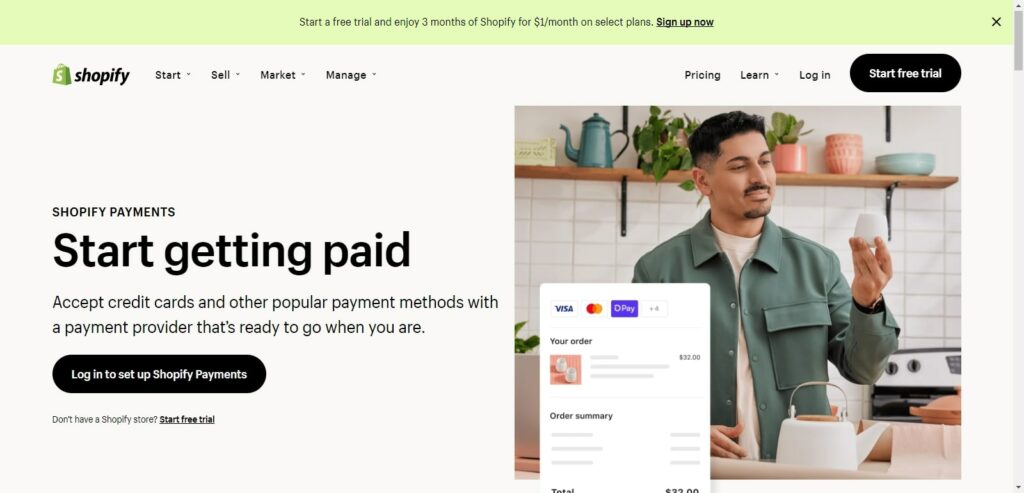 Shopify and BigCommerce offer secure payment gateways to help you receive payments through credit and debit cards. These gateways can vary depending on your country and preferences.
Shopify lets you connect to over 100 payment gateways, while BigCommerce offers slightly over 65 options. Nonetheless, no matter your platform, your clients can pay you by their preferred means.
Shopify has an in-built payment system called Shopify Payments, which is easy to set up, comes with no transaction fees, and is available in 17 countries worldwide. Still, you will pay extra if you choose an external payment gateway other than Shopify Payments.
BigCommerce uses PayPal as the preferred payment method. Like Shopify Payments, it's easy to set up and has very competitive fees. Unlike Shopify, BigCommerce won't charge you extra if you use a different payment gateway.
Verdict: BigCommerce Wins in Payment Gateway
BigCommerce doesn't charge extra fees to use an external payment system. You only pay transaction fees if you use the preferred gateway. The company negotiated lower fees for their merchants, so you can enjoy receiving payments at a lower cost.
Shopify Payments allows you to offer all major payments around the world. However, you will need to pay extra for Shopify payments using a non-preferred gateway.
BigCommerce vs. Shopify: Templates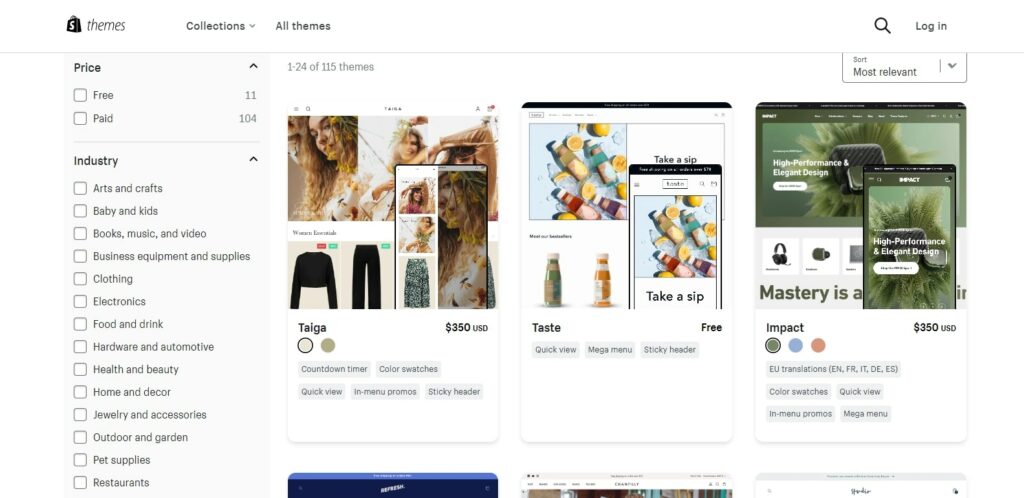 Both Shopify and BigCommerce provide you with excellent themes in a variety of colors and features. Here's how they compare:
Free Templates
Both Shopify and BigCommerce provide free templates for your store. Shopify offers 11 free and unique themes, allowing you more flexibility in customization.
BigCommerce, on the other hand, offers 15 free and simple templates with pleasing designs, making it easy for you to adjust the details of your store.
Paid Templates
Shopify offers 89 paid templates, ranging from $200-$350, which ensures that you get the best design caliber possible in your store. However, Shopify themes often miss key features you might need to improve conversion.
BigCommerce offers 226 paid themes, ranging from $150 to $399. Sometimes, you might get a discount for highly uniform BigCommerce themes. These paid-for-themes come with a variety of features making them more flexible.
Let's go on to see how they differ in aspects:
Drag-and-Drop Editors: Both platforms offer drag-and-drop editors. Shopify lets you access more content blocks like newsletter signup and contact forms, while BigCommerce doesn't have additional content blocks.
Customization: BigCommerce requires you to edit each page separately and key in content directly in the builder. Shopify allows you to customize the entire template and populate page changes ad hoc.
Choosing Free Stock Photographs and Fonts: Shopify's photograph and fonts selection is substantially more comprehensive. The options with BigCommerce are limited, so you might have to look elsewhere for images and fonts.
Shopify Wins in Templates
Shopify themes have a reputation for being ahead in terms of design. With Shopify, you will have a variety of templates to choose from with a custom look and feel that match your brand and industry.
On the contrary, BigCommerce's templates fall slightly behind in design, although they are increasing their options and developing new templates on a small scale. The free themes are also identical, forcing you to go for premium themes at an extra cost.
BigCommerce vs. Shopify: Integrations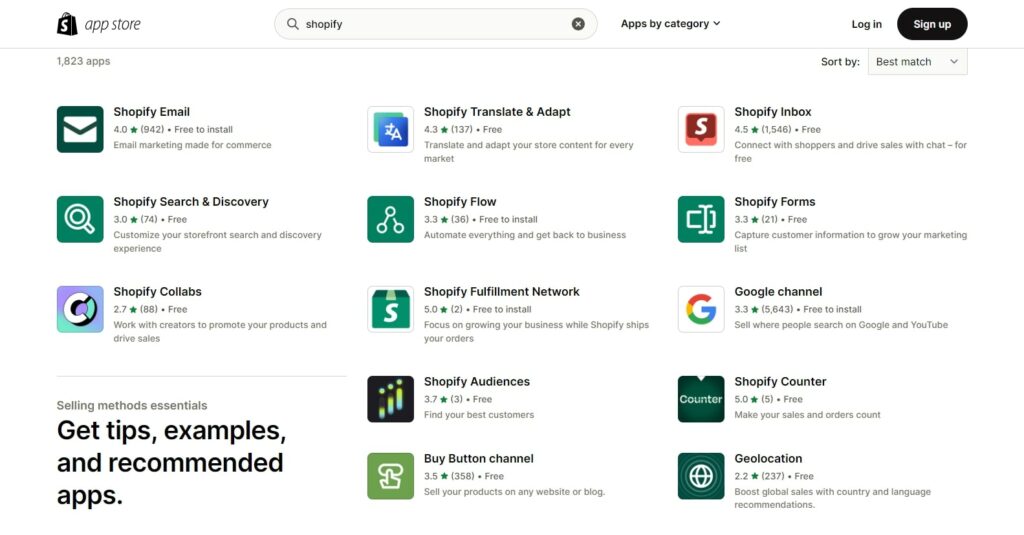 Both Shopify and BigCommerce offer app stores where you can find additional apps to integrate into your account and increase the platform's functionality.
Shopify app store has more than 7,000 apps useful for various things like adding checkout options, sales and marketing tools, and discount codes. BigCommerce has over 1,000 apps and tools for different functions.
Shopify and BigCommerce allow you to conduct point-of-sale transactions via mobile devices, including smartphones and iPads. Point-of-sale transactions on Shopify are out of the box, with POS plans and hardware kits directly accessible from your dashboard.
BigCommerce app store allows you to integrate with Shopify, WooCommerce, Magento, and other eCommerce platforms, but it does not provide the alternatives like POS hardware kits.
Shopify wins in Integrations
You can integrate many apps seamlessly from your Shopify app store. These offer a broader range of configurations than you can find on the market.
Shopify store also supports integration with top social media channels like Facebook, Instagram, Tumblr, and Pinterest.
BigCommerce has fewer integration tools. However, the platform integrates well with Square POS, which Shopify doesn't support. Its integration tools are most suitable for large retailers rather than small business owners.
BigCommerce vs. Shopify: Mobile Apps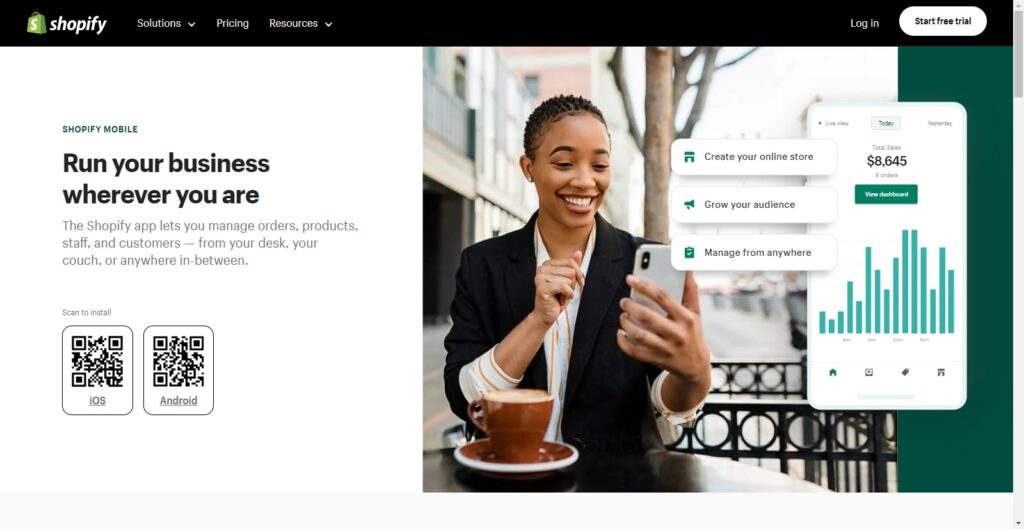 BigCommerce and Shopify offer mobile apps to help you oversee your online store conveniently. Shopify offers better mobile apps available on iOS and Android, including the Shopify and Shopify POS apps.
Both apps let you handle the majority of the operations of your eCommerce store from your phone, including order fulfillment, adding products, viewing reports, and accepting credit card payments.
With Shopify, you can also access extra apps, such as a client chat app, a logo maker, and order tracking tools to help you set up and run your mobile store.
BigCommerce offers a mobile app that allows you to manage orders, examine summary data, and get in touch with clients. They developed the app, and it's freely available on Google Play Store and Apple App Store.
By default, BigCommerce supports accelerated mobile pages, while Shopify relies on third-party apps. However, both platforms let you use any templates to display your product pages in AMP format.
Shopify wins in Mobile Apps
Shopify has put a lot more effort into designing mobile apps. The Shopify and Shopify POS apps are amazing. With BigCommerce, you must add third-party apps to get the existing features you can access on the website.
BigCommerce vs. Shopify: Pricing
BigCommerce and Shopify offer free and paid plans. You can test their features as you get started, and it is up to you to determine the best option for your eCommerce business.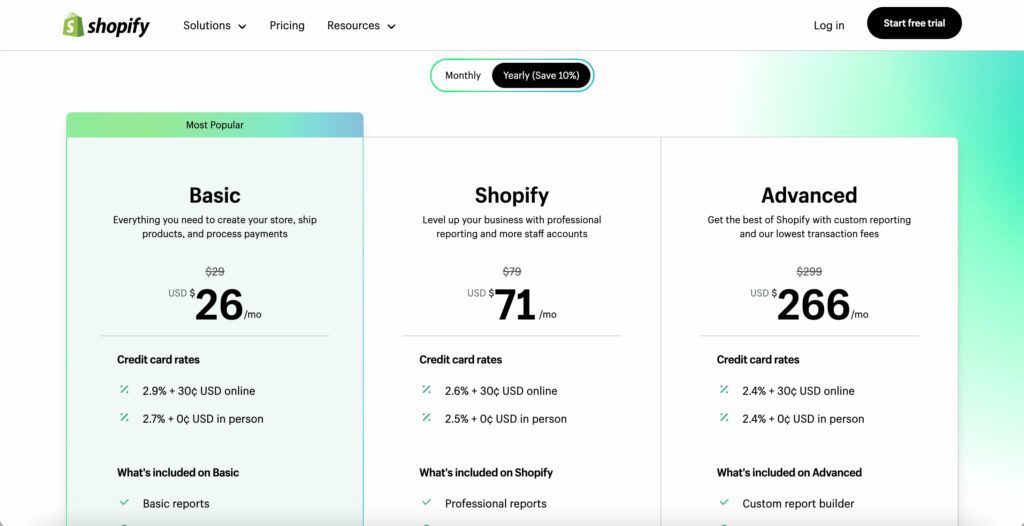 Shopify Pricing
Basic: costs $26 per month and includes basic reports and all you require to establish your store, ship products, and process payments. It also includes up to 4 inventory locations and accommodates two staff accounts.
Shopify: costs $71 monthly and includes professional reports, up to 5 inventory locations, and 5 staff accounts, allowing you to level up your business.
Advanced: costs $266 monthly, comes with a custom report builder and up to 8 inventory locations, and accommodates 15 staff accounts.
BigCommerce Pricing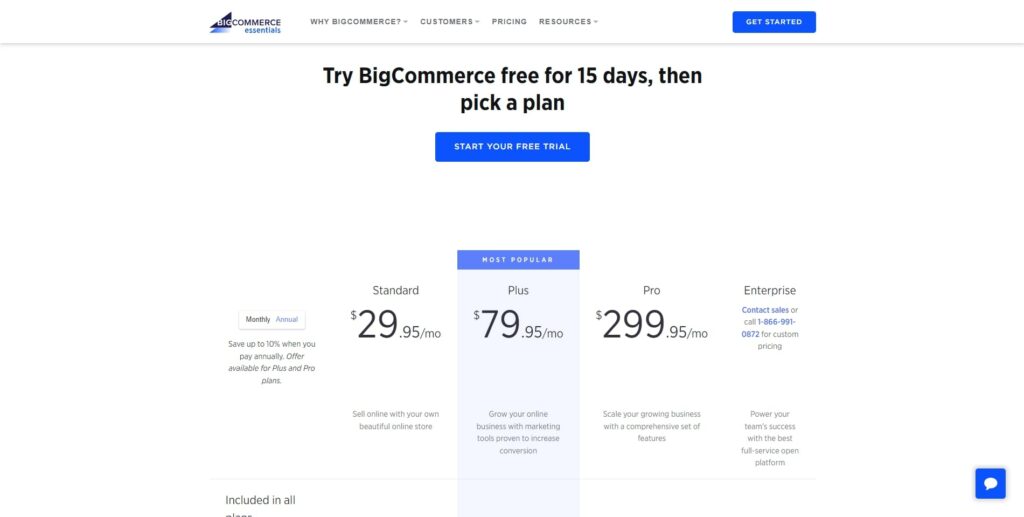 Standard: costs $29.95 monthly and allows you to begin selling in your eCommerce shop with professional reporting tools, multi-currency, unlimited products, and the choice of hundreds of professional store templates.
Plus: costs $79.95 monthly and allows you to grow your business with tested marketing tools to grow your brand, and take advantage of eCommerce automation with tools to drive improved sales and conversion rates.
Pro; costs $299.95 monthly and allows you to scale your business with eCommerce options and manage big data to create a complete business overview.
Enterprise– You must contact support for a custom quote to access the BigCommerce Enterprise plan.
Shopify Wins in Pricing
To calculate the most cost-effective platform, you must consider the expenses of any apps and features you buy to get the functionality you need for your store.
The basic Shopify plan gives you a free discount for the first month, where you pay $1, similar to getting an extra free trial. You can use this to try out your store.
Depending on your desired features, you might find one more expensive. However, Shopify's pricing is lower by a few cents.
BigCommerce vs. Shopify: Customer Support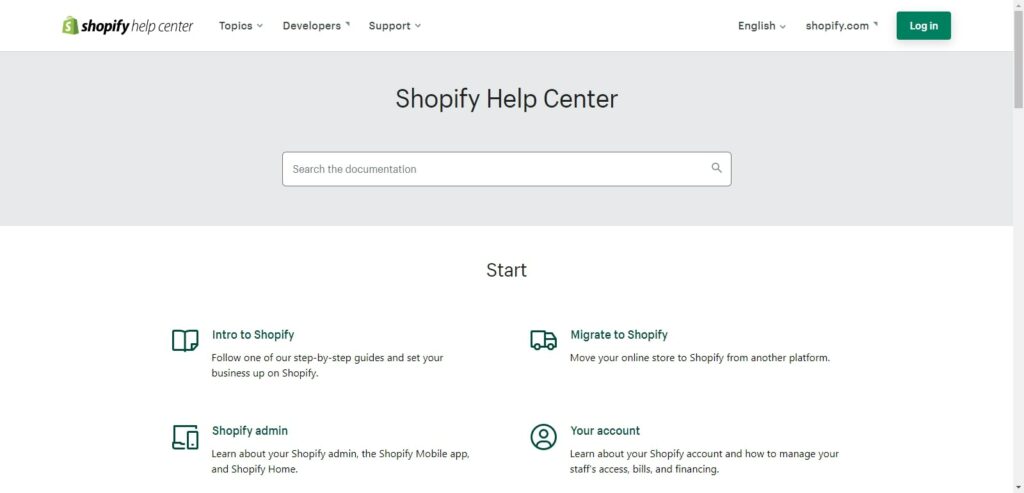 BigCommerce and Shopify offer similar customer support features such as 24/7 phone, live chat, and email support. They also offer help centers, community forums, and video tutorials. The highest plans on both platforms also facilitate priority support when you upgrade.
The best thing about Shopify is that its website dashboard is filled with valuable prompts that help you find tools faster. You can also use the Shopify knowledge center for documentation and video tutorials on using the system.
BigCommerce Knowledge Base comes with documentation, reference materials, getting-started guides, and video tutorials to help you navigate the platform. Its Enterprise subscription includes an onboarding expert, and you'll get priority phone support requests.
Shopify wins in Customer Support
Shopify has superior customer support tools that are easier to navigate. With the Shopify knowledge center, you can access a full-fledged user guide for all the features Shopify provides.
In BigCommerce, there is no access to this information in the dashboard, and getting in contact with your support company takes time.
BigCommerce vs. Shopify: Customer Logins and Checkout Features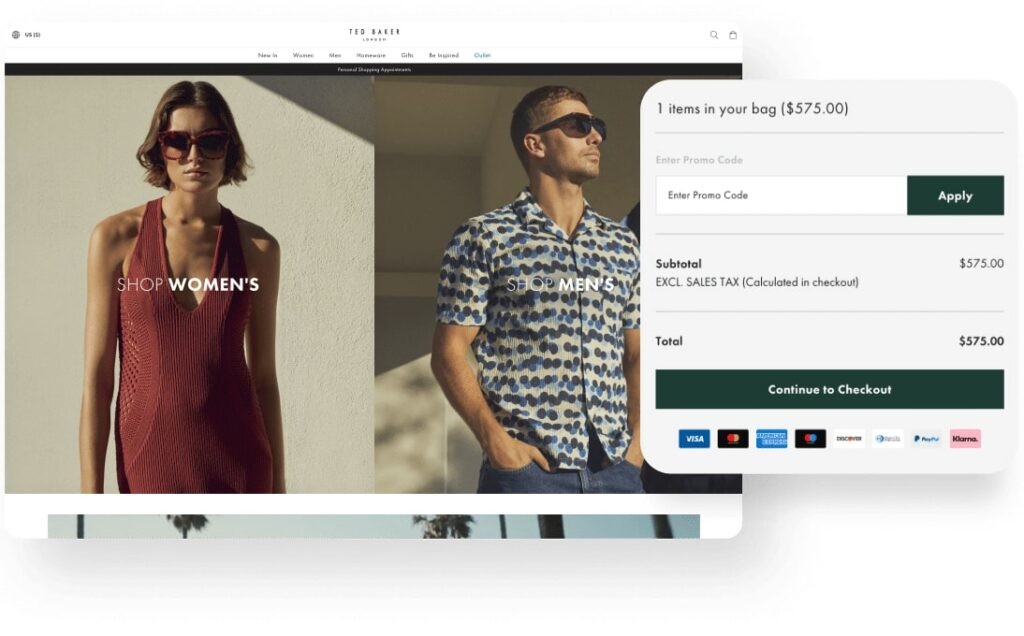 Shopify and BigCommerce offer an option for customers to purchase their products as guests rather than creating a username and password to checkout. This depends on what you may require from customers to ship the products.
The two platforms are similar regarding checkout options, but there are notable considerations to make before deciding which products you want to use for checkout.
These include:
Security: Shopify has a fraud analysis tool that protects store owners from fraudulent chargebacks and orders.
Upsells: You require paid apps to maximize upsell opportunities on both platforms. However, Shopify has Zipify, an app that allows quick one-click upsells using rich pull-down menus to convert more visitors into customers.
Abandoned Cart Emails: These emails allow you to email customers after they click the checkout button but have not completed the payment. Shopify and BigCommerce have a similar feature to do this, but Shopify is more advanced with templates to send and automated features.
Shopify wins in Customer Logins and Checkout Features
Shopify and BigCommerce may seem to draw in terms of checkout features, but the Zipify app will give you a kickstart when you want to get more sales.
Alternatively, if you upgrade to BigCommerce tiers, you will gain access to a more powerful abandoned shopping cart functionality.
BigCommerce vs. Shopify: Shipping Options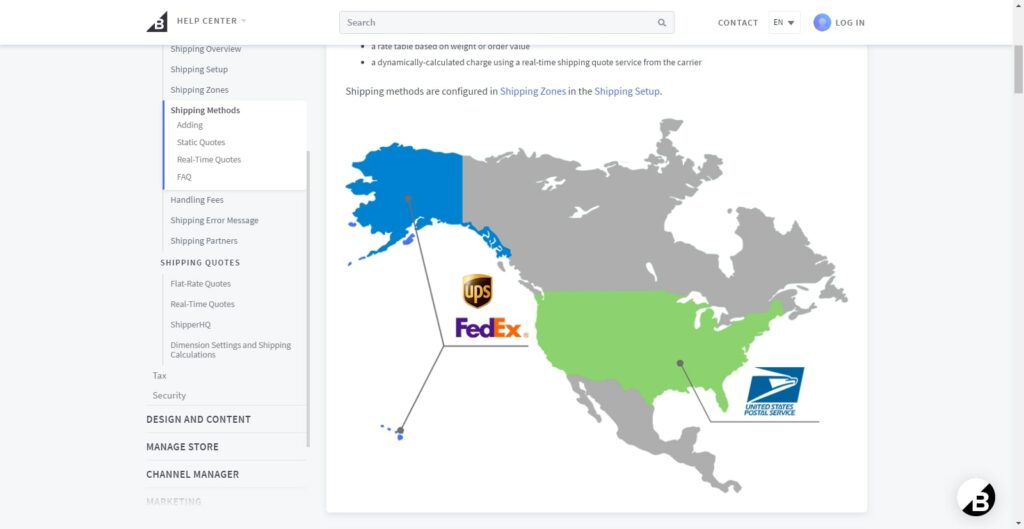 Both Shopify and BigCommerce provide simple and flexible shipping options that allow you to build a unified shopping cart, shipping calculations, and checkout process.
Here are some different shipping options they offer:
Shipping Rate Options
Shipping quotes allow you and your clients to determine the precise shipping price based on weight, size, and location before purchasing. It ensures transparency between the merchant and the clients.
BigCommerce offers real-time shipping quotes on all their plans. It can show quotes and cost estimations from domestic carriers such as USPS, UPS, and FedEx.
Shopify allows you to set a specific shipping amount for each purchase and get shipping quotes from domestic carriers. This can allow you to save money on shipping by getting discounts from top shipping companies.
Shipping Label Options
After your consumers have made their purchases, you must package them, attach shipping labels, and send them on their way. But it's not a good idea to hand-write the labels.
Using Shopify Shipping, you can purchase and print shipping labels for various carriers without using an external app.
Likewise, if you're using BigCommerce in the US, you can purchase and print shipping labels for USPS without requiring an external app.
Fulfillment Options
Order fulfillment covers each order's short-term storage, picking, packaging, and delivery. You can use third-party services if you don't want to complete your orders. You must deliver your stock to their warehouses, and they'll handle the rest.
Shopify and BigCommerce offer integrations with third-party fulfillment services through various apps.
The Shopify Fulfillment Network is the only company's in-house fulfillment service. Before your Shopify store is approved, you must apply to join the Shopify Fulfillment Network and satisfy some requirements.
Dropshipping Options
Dropshipping is a business concept that involves selling products without owning or keeping them in stock. So, you market the products and take the orders, while another entity owns the stock and delivers those orders.
Both Shopify and BigCommerce allow you to run a dropshipping business. However, Shopify excels at it due to solid tools like the DSers AliExpress dropshipping software. In contrast, BigCommerce offers fewer dropshipping apps.
Shopify wins in Shipping Options
Shopify is better in shipping for users who are qualified for Shopify shipping rates. You can access numerous carriers' huge discounts and real-time shipping prices with Shopify Shipping. You don't need an app to purchase and print shipping labels from those carriers.
With BigCommerce, the delivery discounts are less substantial, and unless you only use USPS in the US, you will be required to pay for a separate program to purchase and print your mailing labels.
Shopify has a more significant advantage in this contest thanks to the additional drop shipping choices and Shopify Fulfillment Network.
BigCommerce vs. Shopify: Multilingual Abilities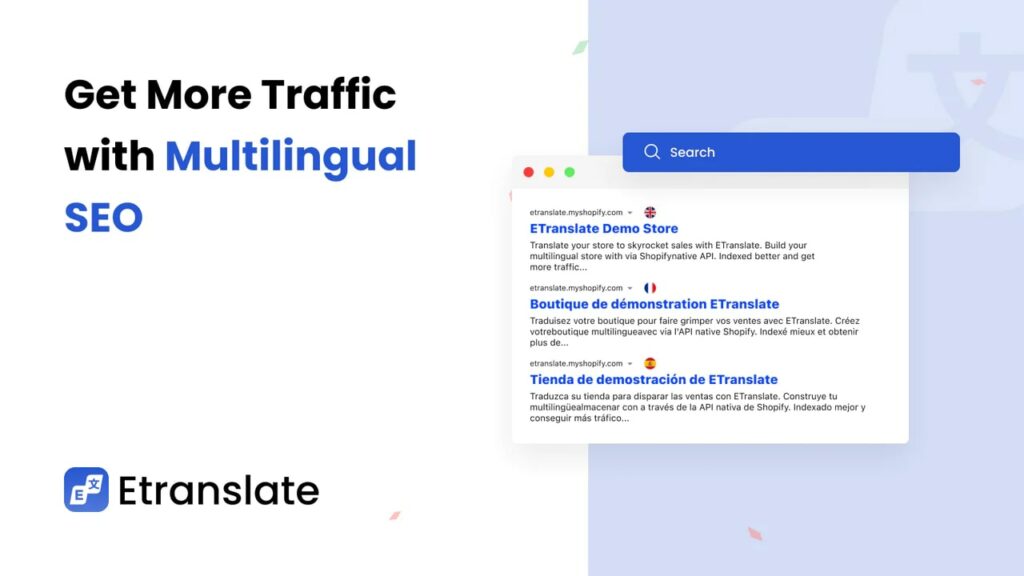 Creating web content in several languages is beneficial if you plan to sell your goods internationally. However, running a multilingual website can be quite complicated.
BigCommerce and Shopify haven't always done well in this area, especially when compared to WordPress and WooCommerce.
BigCommerce's default configuration doesn't include many multilingual features. You can choose whether the language shown to the consumer should be determined by their browser settings and the default language for your store.
Shopify's main feature was upgraded in 2022 to incorporate Shopify Markets for international merchants. You can sell to anyone worldwide from a single store with Shopify Markets.
The most effective method for making a website bilingual is to place each language in its subdirectory.
Shopify wins in Multilingual Abilities
In the contest for the most outstanding multilingual eCommerce store builder, Shopify is the winner due to the Shopify Markets tool. This tool simplifies adding and managing various languages in your store.
BigCommerce vs. Shopify: Product Categories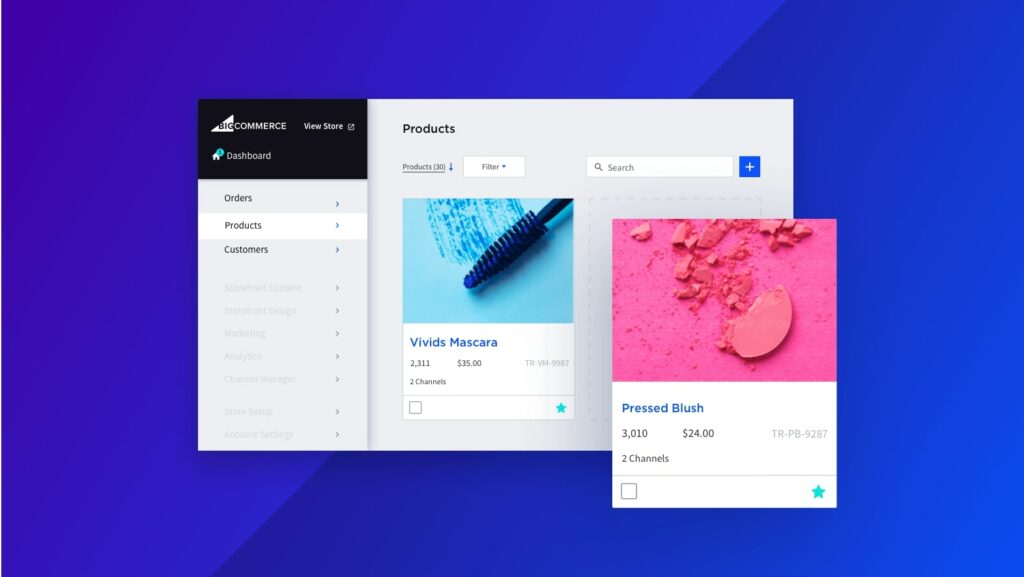 Most businesses have product category features to help customers find their desired products easier. It also allows them to create a practical and efficient structure for their shop.
Creating classes in Shopify and BigCommerce is straightforward, but Shopify is the clear winner. Shopify will enable you to manually add products to collections and establish "smart" collections that are automatically filled with products according to the specified conditions.
These are called automatic collections. The setup procedure entails using multiple criteria, such as product title, tags, price, weight, and more, to build a collection. If your store has thousands of products, you must follow consistent naming rules for your product titles to make this strategy work.
BigCommerce offers a bulk edit option to accelerate category assignment. However, it lacks smart collection functionality.
Shopify Wins in Product Categories
Shopify has smart collection tools, which are quicker and more efficient. It will only help you save time if your shop has thousands of products.
This is a crucial issue because the less time you spend building your shop, the faster you can start selling and making money.
BigCommerce vs. Shopify: Product Options and Variants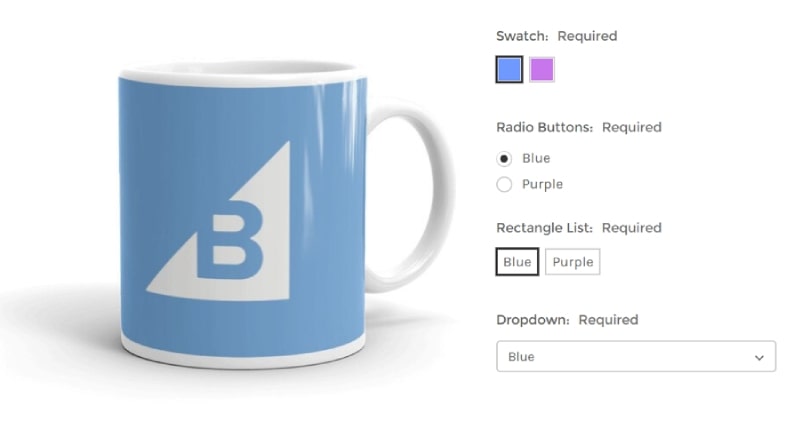 Variants are the number of possible product choice combinations you can provide. For instance, a medium red t-shirt can have a small green t-shirt variant.
BigCommerce may not shine in product categorization, but it does in product options and variants. It enables you to create up to 250 extensive lists of product selections.
Shopify allows its clients to choose three options for each product: color, size, or material. Setting up these variants is simple, but it cannot be enjoyable if you want to offer products with more than three variations.
BigCommerce also offers up to 600 product variant limits, while Shopify only shows 100.
BigCommerce Wins in Product Options and Variants
BigCommerce wins in this category. It increased the number of product options to 600, which is excellent for online merchants. So if you have many product options and variants at your store, it will be better to choose BigCommerce over Shopify.
BigCommerce vs. Shopify: Blogging Features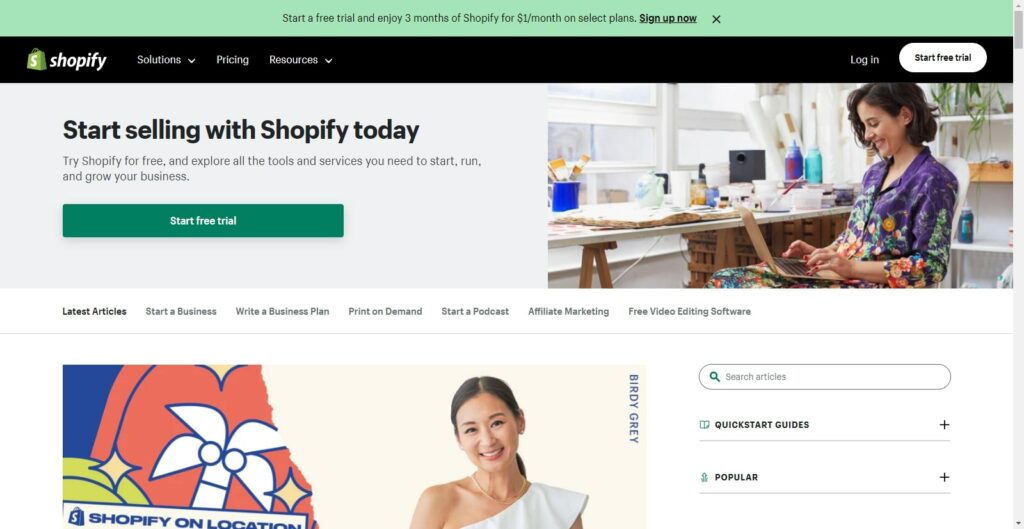 Blogs are powerful marketing tools that can help you to increase your conversion rate. Whether you use a blog to share tricks, drive traffic to your store, or build credibility with potential customers, choosing a platform that provides all the functionality needed for a successful and engaging blog is crucial.
BigCommerce and Shopify offer simple and basic blogging tools, but they're limited to blog categories and tags. These can be difficult for businesses to adjust, but you can make it work as you get more creative.
However, if you feel that your blogging needs are more complex, you can integrate your blog with WordPress, which provides the most advanced blogging tools, including:
Multiple blog pages
Blog post archives
Built-in search functionality
Category and tag management
Easy installation and customization of themes and plugins
Both Win in Blogging Features
BigCommerce and Shopify draw regarding the best blogging features. They offer similar tools to manage your blog and post new content on your website.
If you need advanced blogging features, it's better to choose WordPress, which has more advanced tools than BigCommerce and Shopify.
BigCommerce vs. Shopify: Pros and Cons
Shopify and BigCommerce have their strengths and weaknesses, but you should consider your business needs to see what makes them distinctive.
Let's discuss the pros and cons of each:
BigCommerce Pros
The following are some of the advantages of using BigCommerce:
It does not include any transaction or other fees on top of the cost.
It is a simpler and cheaper solution for owners with only moderate eCommerce needs.
It has robust SEO features that help drive traffic to your website.
It has a simple user interface that makes it easy to edit and update the website with new products and content.
The reporting tools in each of the packages are robust, with detailed stats on traffic sources and conversion rates.
BigCommerce Cons
Here are some of the cons of using BigCommerce:
You will have to pay high fees to access the abandoned cart functionality.
The available free themes appear similar in so many ways that it is impossible to edit the templates.
Unfortunately, there are no shipping discounts offered by BigCommerce, but some competitors offer discounts.
The built-in blog does not support RSS feeds, and accessing advanced reporting tools is expensive.
Shopify Pros
The following are some of the advantages of using Shopify:
It is simple, inexpensive, and has a user-friendly interface and responsive design, making it easy to manage the website.
It has built-in product sourcing that saves time and improves the efficiency of the business.
It has automated email marketing rules for onboarding customers and tracking success with sales and conversion rates.
It is a secure platform that guarantees your data will be safe, and you will enjoy security features like multi-factor authentication.
Shopify Cons
Here are some of the cons of using Shopify:
You will incur high transaction fees when you fail to use Shopify payments.
There are theme limitations, and some CSS stylings can be hard to implement.
The blogging features are limited in comparison to other competitors.
The cost of Shopify payments is high, and there are other ways to process sales that will be cheaper.
BigCommerce vs. Shopify: Conclusion
Shopify and BigCommerce are powerful platforms that allow you to build exciting and powerful eCommerce storefronts with many tools and features to help you get started on your online business journey.
Both platforms are user-friendly, and anyone using the tools can scale as their business grows. They ensure the security of your customer data, and the simple and intuitive interface makes it easy to keep your store running smoothly.
Shopify is the right choice to create an E-shop with high professionalism and credibility. If you want to grow an already-established brand or change the existing business to eCommerce, it is better to go with BigCommerce.
BigCommerce also provides a better and more advanced eCommerce experience for those who want to capitalize on a large customer base.
It is essential to consider your goals when comparing BigCommerce and Shopify. The right platform will help you succeed, but only if you know how to use it and make the most of it.
Shopify vs. BigCommerce: FAQs
Here are some of the most frequent questions from users:
What is the Biggest Difference Between BigCommerce and Shopify?
BigCommerce is a more professionally-designed eCommerce platform that has been created to handle both large and small businesses. Shopify is a more basic eCommerce platform that works well for small businesses and startups.
BigCommerce is more advanced in design and user interface, while Shopify is more straightforward and does the job.
Is BigCommerce suitable for small businesses?
BigCommerce is not a good option for small businesses since it has more scalable features that may not be suitable for them.
However, if you want to grow your business and need more extensive features, then BigCommerce will be your best choice. But Shopify is built specifically for small businesses and startups.
Should I Switch from BigCommerce to Shopify?
If you feel using BigCommerce is stressful, especially in customizing and integrating it with other eCommerce platforms, you should consider switching to Shopify. It is not as complicated to work with Shopify as BigCommerce, and it will save you a lot of time.
Does Shopify have good SEO?
Yes. Shopify has many in-built SEO and marketing features, such as SEO-friendly URLs, automatic content updates, social media integration, etc. These features work together to help increase the visibility of your website and make it easier for customers to find.