When you use Shopify to create and maintain your online store, you have access to sales channels, design flexibility, and various website features – but how much is Shopify? What are Shopify pricing and fees?
Shopify has three different pricing plans, ranging from the lite ($9 per month) to the most advanced ($299 per month). To assist you in making the right decision for your online store, we've developed a complete summary of each plan, including all of the features it includes.
Use Shopify for 3 months for just $1 here.
How much is Shopify?
When it comes to Shopify pricing, there are three primary tiers in the subscription plans: Basic Shopify ($29/mo), Shopify ($79/mo), and Advanced Shopify ($299/mo).
In addition, there are transactions fees and credit card processing costs.
There are no transaction processing costs when you utilize Shopify Payments, Shopify's payment processor. You will be charged additional costs based on your subscription plan using external payment gateways such as PayPal or Stripe.
Basic Shopify Plan: 2% per transaction
Shopify Plan: 1% per transaction
Advanced Shopify Plan: 0.5% per transaction
If your consumer decides to pay with a credit card, you will be charged credit card processing fees, regardless of your payment gateway. Your subscription plan determines the exact rate:
Basic Shopify Plan – 2.9% + 30 cents per transaction
Shopify Plan – 2.6% + 30 cents per transaction
Advanced Shopify Plan – 2.4% + 30 cents per transaction
Is Shopify Free?
No, however, you may sign up for a 3-day free trial here.
Then, you can create your store and make it public during the trial period.
However, after your trial period has ended, you must choose one of the following subscription packages to make sales:
Basic Shopify: $29 per month,
Shopify: $79 per month,
Advanced Shopify: $299 per month.
At this time, Shopify does not provide a free plan.
What is Shopify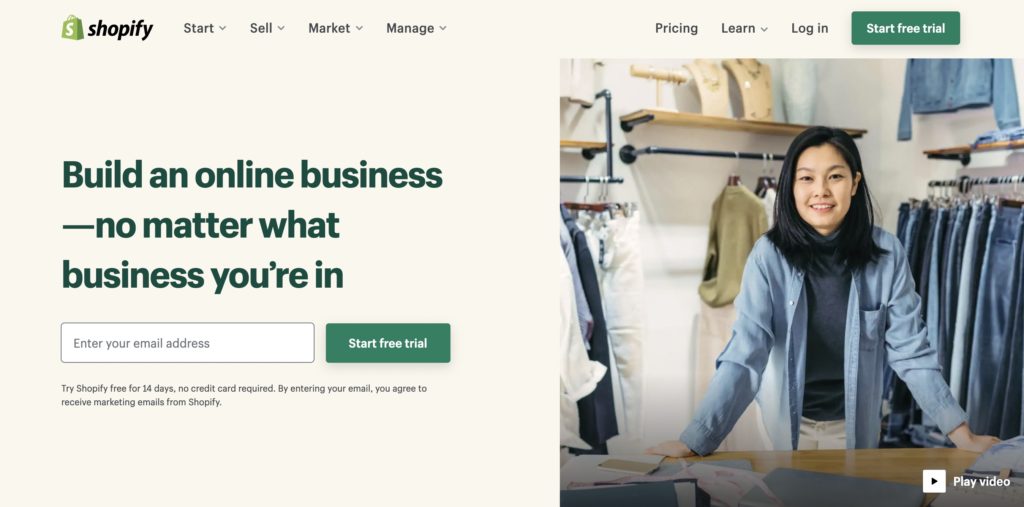 Shopify is an eCommerce software that allows you to create an online and offline store. In addition, it enables you to sell online with your online store and in-person using Shopify POS. This eCommerce store builder has something for everyone from novices to eCommerce pros.
To try Shopify for yourself, you may sign up for a free 14-day trial. You can create your online store during your trial, try out free Shopify apps, and even make your first sale if you market hard enough.
Shopify pricing starts at $9 per month if you use the Lite plan. Most first-time store owners, though, begin with Shopify's Basic plan, which costs $29 a month. Depending on your business needs, you may prefer Shopify, Advanced Shopify, or Shopify Plus if you've been in business for a while.
Further read:
What Is Shopify And How Does It Work? How to Sell And Make Money On Shopify
Shopify Pricing and Plans
Shopify has three different pricing options:
Shopify Basic: $29 per month, with a 2.9% + 30 cents commission on each online transaction.
Standard Shopify: costs $79 per month, with a 2.6% + 30 cents transaction fee.
Advanced Shopify: costs $299 per month, with a transaction fee of 2.4% + 30 cents.
Shopify Plus, which is fully hosted, starts from $2,000 per month, and the exact pricing is quote-based. It is an enterprise-grade solution for merchants with high transaction volume.
Shopify Lite is $9 per month. It allows you to add products to your existing website or blog and accept credit card payments. 
Use Shopify for 3 months for just $1 here.
Shopify Lite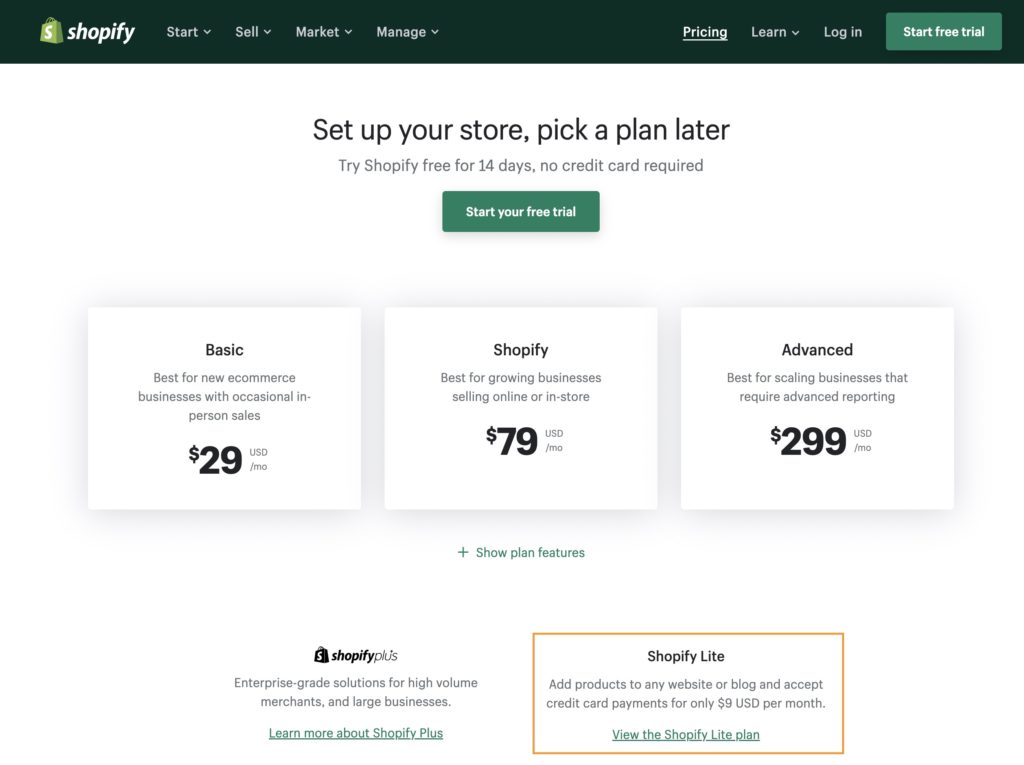 Shopify Lite is a wonderful choice for businesses that are just getting started selling online or for those who don't have a full-fledged e-commerce store but want to sell a small selection online.
The Shopify Lite subscription is $9 per month and contains the essential Shopify features. This means integrating buy buttons on WordPress, Wix, and other major website builders. In addition, it includes tools for selling on Facebook, accepting credit card payments, and using Buy buttons.
It's not quite a full-fledged online store with a shopping cart, but it'll be enough for small businesses. It's also great if you're looking to add a few basic Buy buttons to an existing website, such as a blog or podcast website.
Shopify Basic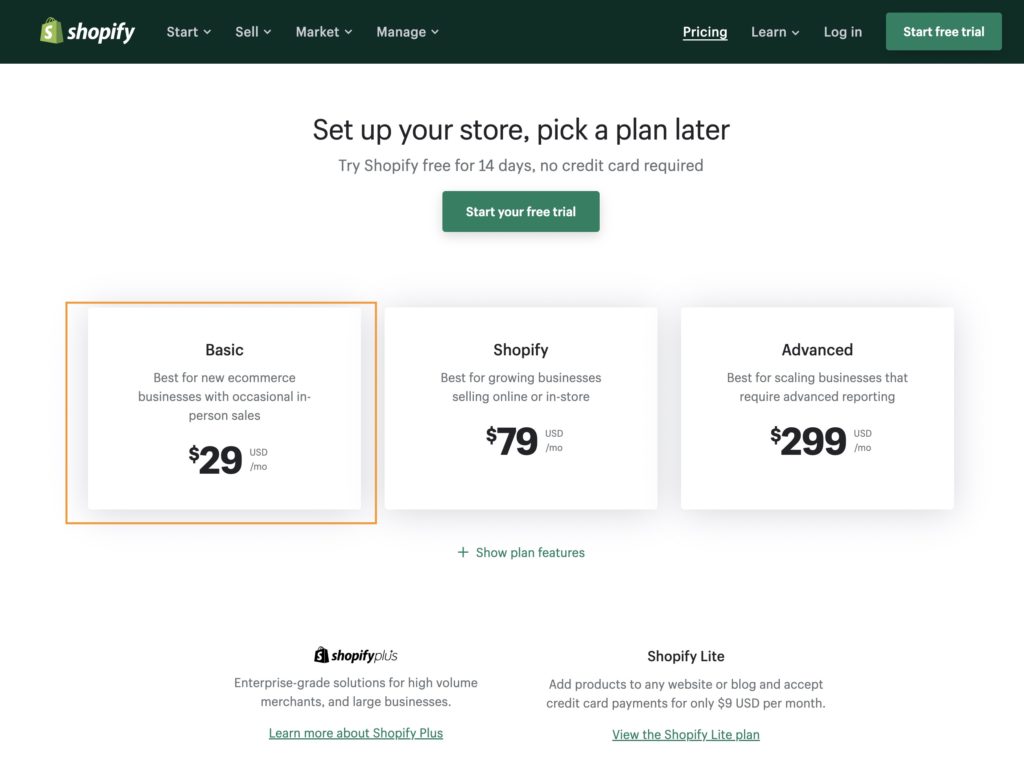 You get a discount code engine, fraud investigation tools, and the option to add an unlimited amount of products to your Shopify store with the Basic Shopify Plan. The main difference is that Shopify provides you with a fully functional website and blog. As a result, Shopify manages all of your products and orders, and you won't need a separate website to get started.
A free SSL certificate, manual order generation, shipping labels, unrestricted file storage, and 24/7 support are additional benefits.
The Basic plan costs $29 per month + 2.9 percent and 30 cents per transaction, which is a little more than the Lite Plan, but it allows you more flexibility.
Standard Shopify Plan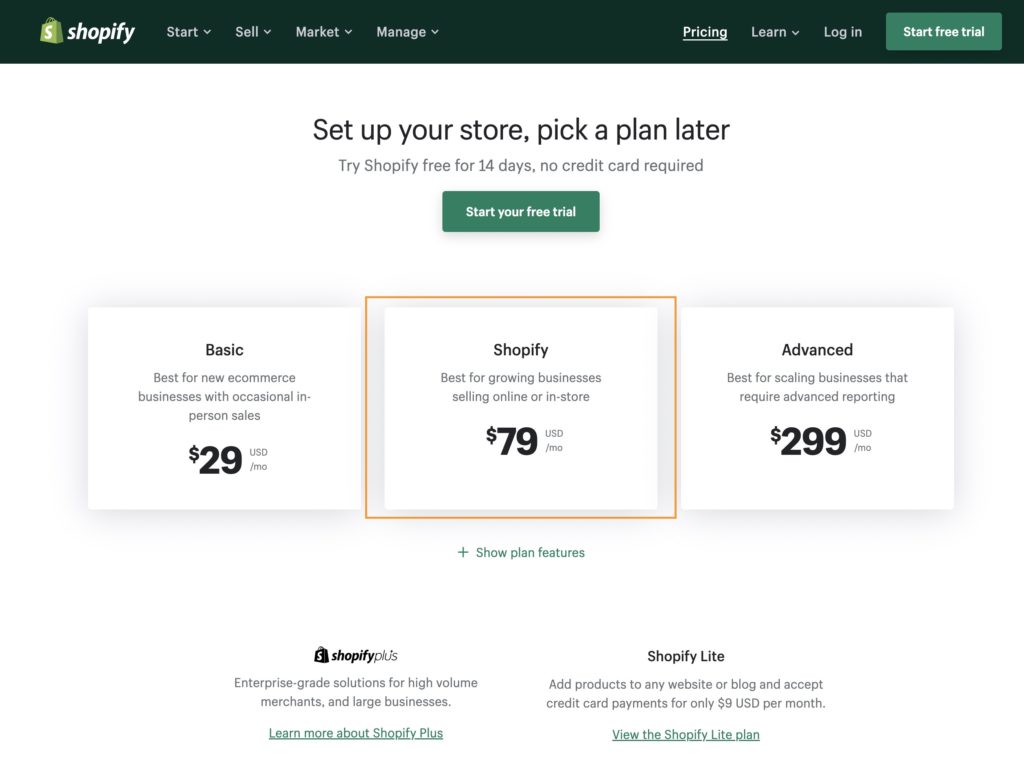 As the most popular Shopify solution, the Shopify Plan costs $79 per month + 2.6 percent and 30 cents per transaction, which is a significant increase over the Basic Shopify Plan. Still, you get almost all of Shopify's features.
Create an unlimited number of goods and take full advantage of everything that the Basic Shopify Plan offers. You'll also have access to Shopify POS, gift cards, professional reports, and cart recovery. One of the main reasons customers choose the Shopify Plan is because its abandoned cart recovery feature is one of the easiest ways to get contact information from people who don't complete their orders.
These features may not be necessary for a small business, but the larger it grows, the more revenue it generates. This is the plan for you if your site presently generates roughly $5000 in monthly revenue.
Advanced Shopify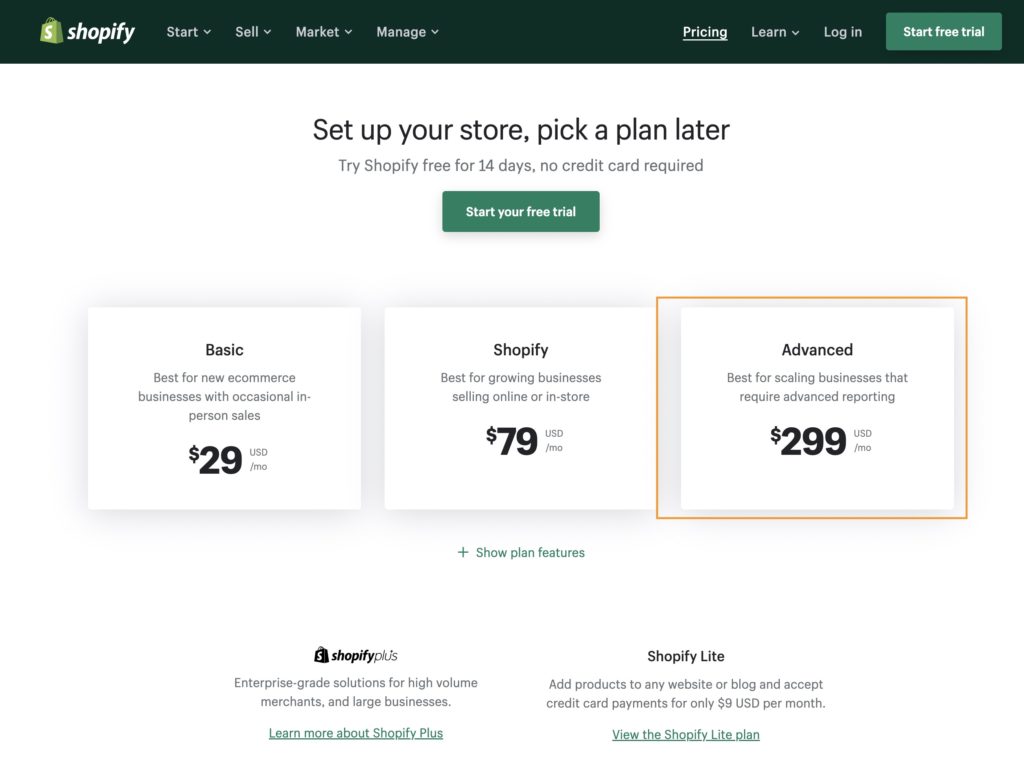 The Advanced Shopify Plan costs $299 per month + 2.4 percent and 30 cents per transaction and includes all previous plans' capabilities. In addition, it comes with 15 staff logins, advanced sales and performance reports, and real-time third-party shipping calculations that show customers how much they'll pay in real-time.
There are no limits to how many products you can post, and using external payment gateways reduces your transaction percentage fees.
Shopify Plus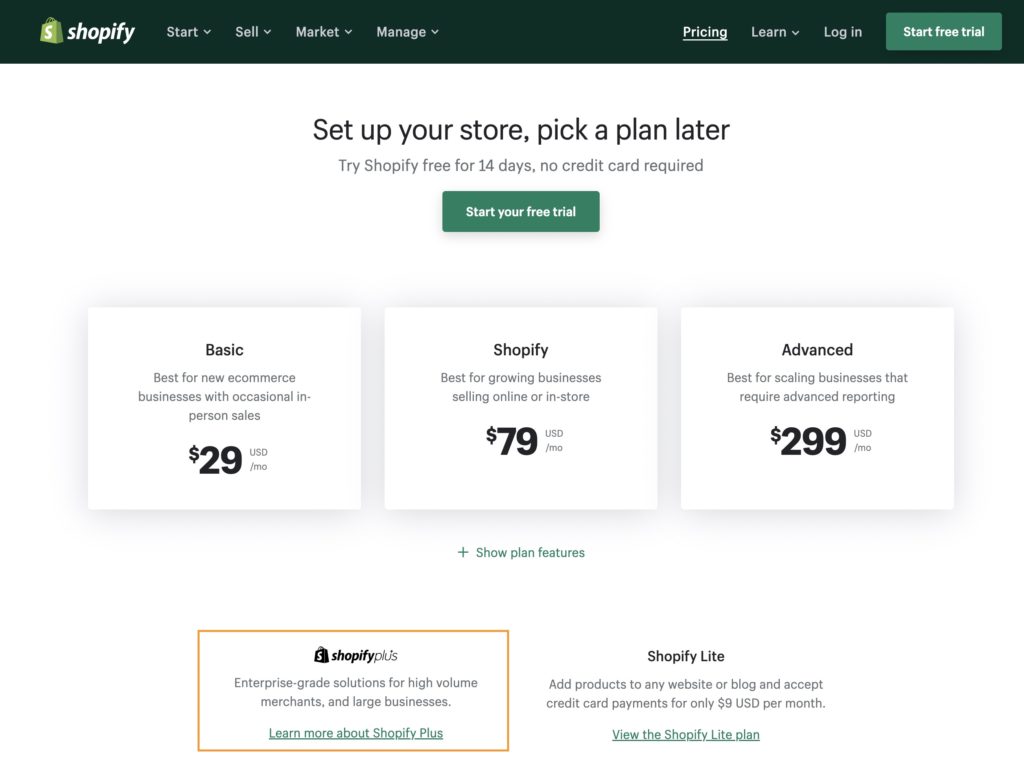 Shopify Plus is a high-end eCommerce solution aimed towards large companies: You'll pay more for more sophisticated features and website hosting, guaranteeing that your site doesn't go down in the event of a traffic spike.
The plan is for businesses with yearly revenue of $1 million or more, and it costs $2,000 or more each month. You can contact Shopify directly for a custom quote for Shopify Plus.
Sign up for Shopify free trial today to explore it further. No credit cards are required.
Shopify Fees: Transaction Costs and Other Fees Explained
Shopify Transaction costs and credit card fees
You won't have to worry about processing fees using the Shopify Payments processor.
Shopify Payments is the platform's in-house payment solution that makes accepting credit card payments online a breeze.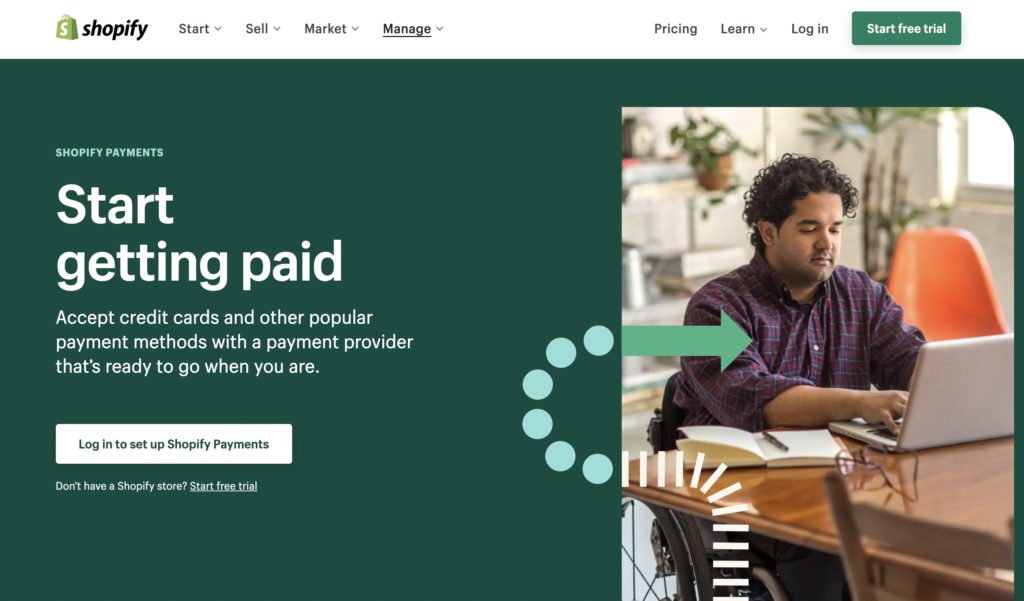 You have two options for processing credit card payments with Shopify: a third-party operator like PayPal or Authorize.net or Shopify Payments. You'll be charged an additional transaction fee if you don't use Shopify Payments. The following are the transaction fees:
Basic Shopify – 2%
Shopify (regular) – 1%
Shopify Advanced – 0.5%
As a result, using Shopify Payments makes financial sense.
Furthermore, Shopify assesses a fee according to your turnover, ranging from 0.5 percent to 2 percent.
Shopify Apps
More than 6,000 apps are available in the Shopify App Store to help you extend and modify the functionality of your website.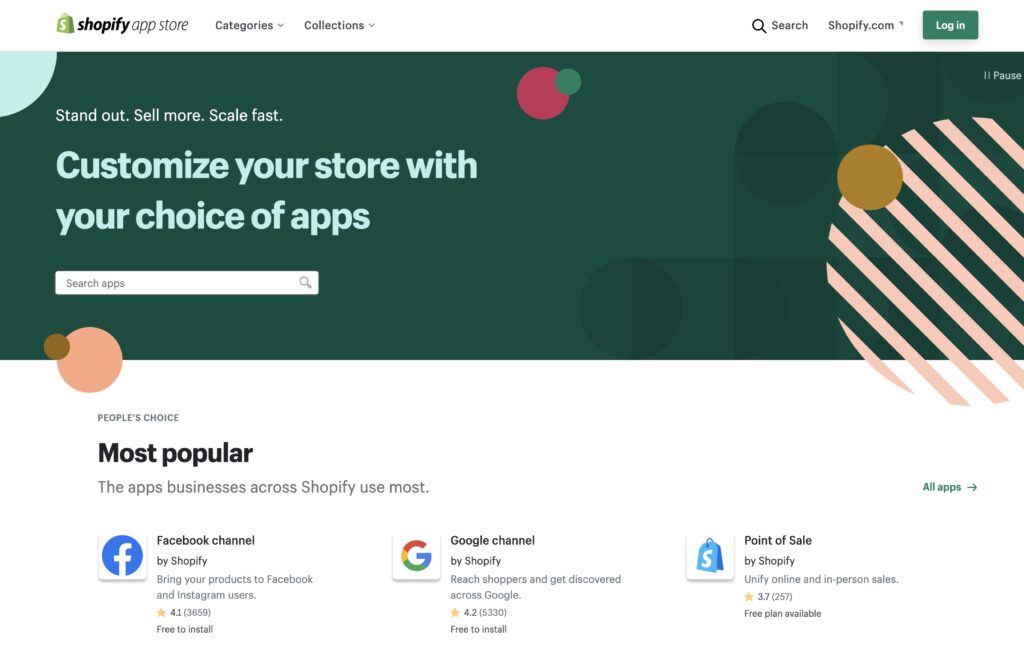 It's essential to keep in mind that Shopify's subscription plans don't include the fees of these third-party apps, and you'll probably want to utilize a few of them.
So, what are the prices of Shopify apps? Although it varies with each app, most demand a monthly subscription cost.
It's not unusual for shops to spend hundreds of dollars on apps each month. As a result, when calculating the cost of Shopify, these costs should be factored in.
Domain Name
When you sign up with Shopify, you'll get a free "www.storename.myshopify.com" domain. You'll most likely want to upgrade to a custom domain name, though.
You can do this by purchasing a domain from a third-party domain name provider such as NameCheap or obtaining a domain through Shopify Domains, starting at $11 per year. The cost is based on the top-level domain (TLD) extension you pick. The availability of TLDs can change at any time.
Further read:
Namecheap Tutorial: How To Buy Domain From Namecheap
Shopify Point of Sale (POS)
Shopify POS is a point-of-sale application that allows you to sell your products in person. You can sell practically anywhere with Shopify POS, including brick-and-mortar stores, markets, and pop-up shops.
Shopify POS integrates with Shopify to track orders and inventory across your active sales channels, including your retail locations, online store, and other active sales channels. You can also use the app to manage and view your store's orders.
To have access to further POS functions, you may want to consider purchasing Shopify's POS add-on for $89 per month.
It would help if you also considered any Shopify POS Hardware that you'll need to buy.
Shopify Pricing: FAQs
Is Shopify worth it?
Yes. Shopify offers a variety of pricing plans with unique features for all types of businesses. Even though Shopify costs more than competing self-hosted alternatives, store owners get a full suite of superior functions to help them grow their businesses.
Shopify Pricing: Conclusion
When it comes to setting up an online store, Shopify fees are many things that some business owners may find difficult or complex. After all, it can be puzzling to learn that in addition to a monthly fee, you must also pay transaction fees and credit card fees.
Even though the pricing can be tough to understand at first, Shopify remains one of the most reliable and preferred hosted eCommerce website development tools available today. Shopify is a fantastic choice for any business owner, with a vast range of eCommerce tools to pick from, a huge app store, and an extensive community of theme designers and experts to tap into.
The next question would be, which Shopify plan should you choose?
Begin by comparing the features offered by each Shopify subscription plan. Based on the features you require, the optimal plan for you may be evident.
Also, take into account the transaction costs charged by Shopify. If you have a high transaction volume, consider the Advanced Shopify plan, which offers you lower transaction fees.