If you want to start selling online, chances are you've run into Shopify.
And you might find yourself asking, "What is Shopify?" In short, it's a subscription-based software that allows you to create an online store and sell. However, this is just the surface. Shopify is way more powerful than you think. We'll go into deeper details in the article and learn about how does Shopify work.
In addition, we cover the pros and cons of Shopify, some success stories, how much does it cost, and how to start selling and make money on Shopify.
Keep reading to find out!
Sign up for a Shopify 14-day free trial here! No credit cards are required.
What is Shopify?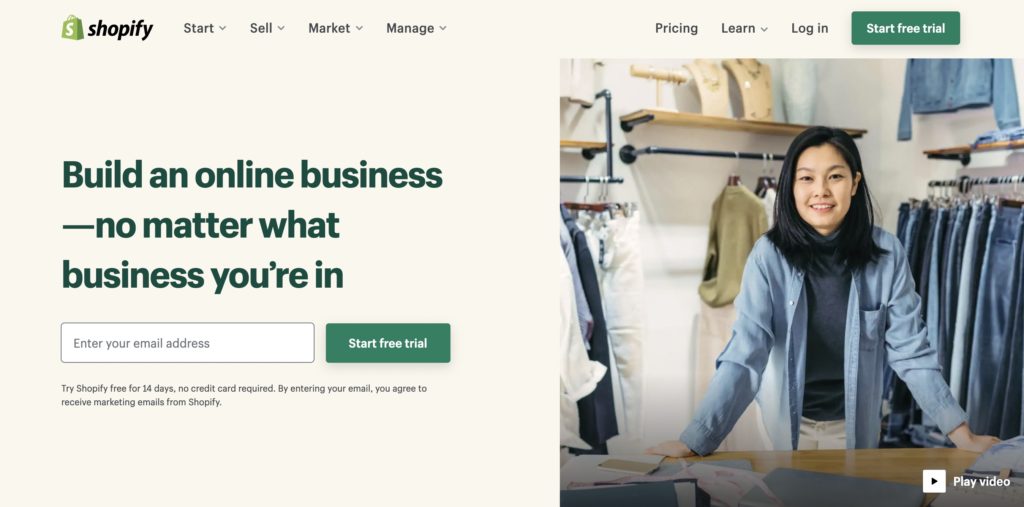 Shopify is an all-in-one eCommerce software that allows anyone to start an online store and sell products. It's popular due to its low startup cost, extremely user-friendly, and versatile.
It's helpful to understand that Shopify is not just an online store builder to sell your products. Over the years, it has developed into an eCommerce platform that helps you customize your store by connecting to APIs and over 6,000 apps on the Shopify App Store. 
In the Shopify App Store, you can find apps for sourcing products, store design, marketing, fulfillment, shipping, customer service, store management, and more. The powerful apps make Shopify a truly all-inclusive online store platform that you can run your entire business on it.
Shopify is best for those who want to sell products online, whether you already have a product or want to source a product. You can sell anything on Shopify – clothes, makeup products, electronics, furniture, or even digital products like eBooks. Shopify provides the ultimate solution for setting up an online store, sourcing products, and processing payments.
The best thing is, you don't need any web design or programming knowledge at all. Anyone can start an online store with Shopify.
Sign up for a Shopify 14-day free trial here! No credit cards are required.
If Shopify isn't your cup of tea, here are some alternatives:
How does Shopify work?
Shopify works as a Software as a service (SaaS) tool that allows users to build their online stores through a monthly subscription. It is cloud-based, meaning you don't need to worry about upgrading or maintaining the software. In addition, you can access and run your online store from anywhere with an internet connection.
Shopify Success Stories
Numerous Shopify stores have successfully made 6-, 7-, or even 8-figures or more in sales.
These are all cataloged under Shopify's Success Stories page, in which you can read through dozens of merchants' stories, including how they got started and how they succeeded.
We've chosen some of them to highlight and hopefully motivate you to try Shopify.
Learn more about Shopify here.
Shopify Pricing
Shopify offers three subscription plans:
Basic: $29 per month, best for new eCommerce businesses
Shopify: $79 per month, best for growing businesses
Advanced: $299 per month, best for businesses that need advanced reporting
All plans include an online store and blog, unlimited products, 24/7 support, multi-channel sales (e.g., Facebook marketplace and Amazon), free SSL certificate, abandoned cart recovery, and more.
The main differences are the number of staff accounts, inventory locations, reports, payment processing fees, and global selling support.
Remember that no matter which plans you subscribe to, all orders are always subject to payment processing fees like credit card rates. The rates vary by location.
Further read:
Shopify Pricing, Plans and Fees Explained
Sign up for a Shopify 14-day free trial here! No credit cards are required.
Pros of Shopify
Low setup cost: it costs only $29 per month to start. The setup cost is very affordable.
Easy to use: Shopify is straightforward to start and user-friendly. You can set up a store in a few minutes.
All-in-one: It provides an all-in-one eCommerce solution that takes care of every aspect of running an online business for you, from sourcing products, marketing, processing payments to shipping and delivery.
Excellent for dropshipping: Shopify directly connects to hundreds of dropshipping suppliers who stock, pack, and deliver products for you with little to no upfront cost.
Sell on multiple channels: with Shopify, you can connect your store to sell on other channels like Facebook, Amazon, and Etsy.
Cons of Shopify
Some add-ons are expensive: If you want to extend the functionalities of your Shopify store, chances are you need to pay for add-ons. However, some add-ons can be expensive. For example, Shopify POS Pro costs $89 per month per location.
Transaction costs are expensive: Depending on location, there's around 3% + fixed fees (about $0.3) per transaction. The fees are for accepting major credit cards like Visa and Mastercard as payment in your store.
How does Shopify work? Sell and make money on Shopify
Now, let's get to the key: how do you start selling and making money on Shopify?
Sign up on Shopify
Sign up for a Shopify 14-day free trial here! No credit cards are required.
Click the above link to go to the Shopify website and fill in your email address, password, and the store name to start a 14-day free trial immediately. There's no credit card required, so there's no cost and risk at all to try what Shopify can offer.
Add Products to your Shopify Store
Next, you will be redirected to the admin panel of your new online store. Here you can start customizing your store and upload products to sell and make money! If you have not yet decided what products to sell, consider dropshipping.
Here's our Dropshipping 101 guide.
Connect to a Domain
Once you're ready to test launch your site, go to the dashboard and navigate to 'Add a Domain'.
Here you can either transfer a domain or register a new domain with Shopify. We recommend buying a domain with NameCheap as it has a huge collection of domain names available and is often cheaper to buy one from there.
Get a domain name from NameCheap here!
Here's our NameCheap tutorial to help you buy a domain name.
After you buy the domain, you can transfer it to Shopify and connect it to your store.
Add Payment Gateways
Finally, go to the "Payments" tab on the dashboard and select your desired payment processors. This allows you to accept payments from your customers.
What is Shopify and How Does it Work: Conclusion
Is Shopify the online store builder for you? Well, you'll never know until you test it out.
Sign up for a Shopify 14-day free trial here! No credit cards are required.
Shopify offers almost all tools you need to sell and make money online. From one single platform, you have access to sourcing products, packaging, marketing, payment processing, and setting up your online store with absolutely no coding knowledge required.
We like Shopify for its ease of use, being able to connect to social media and online marketplaces, and being an excellent online store builder for dropshipping. It is suitable for all kinds of businesses, no matter big or small.
We hope we've answered your question of "What is Shopify and how does it work?"
If you have any thoughts or questions about Shopify, feel free to let us know in the comment section below.