In this Shopify review, we'll evaluate this leading online store builder and provide a comprehensive overview of the advantages and disadvantages of selling with it.
There are many platform choices for running an online store, and the eCommerce platform you choose can have just as much of an impact on your business as deciding on a location for a physical store. The online store builder you use can extend your possibility or severely hobble your business.
With this in-depth Shopify review, we'll see if it's a good match for your business or if you should consider Wix or BigCommerce instead.
What is Shopify?
Shopify is one of the most powerful eCommerce store builders available today for online retailers of all sizes. It aims to help users create their expandable online store with dozens of built-in features and many apps. In addition, you can sell products directly on your online store and different marketplaces and social media platforms.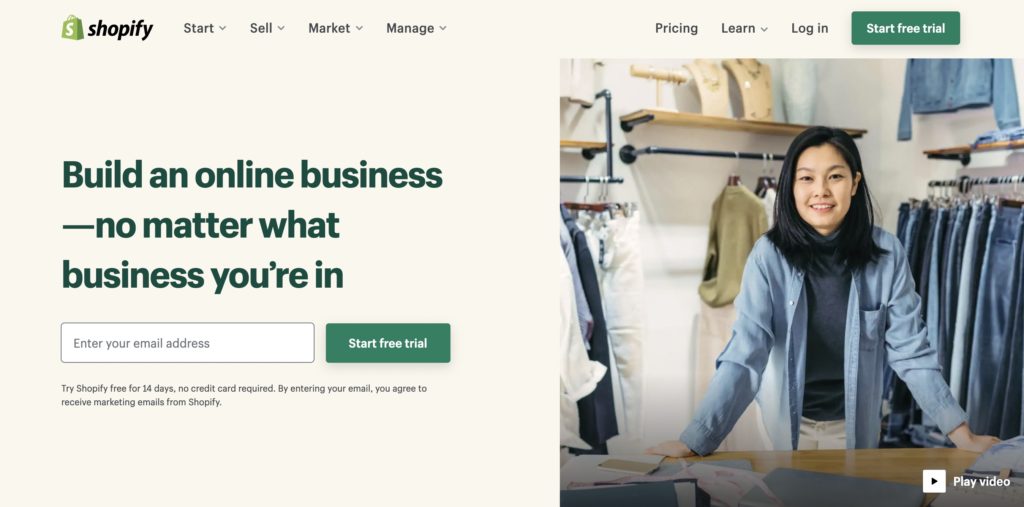 Shopify's primary goal is to make it easy for beginners to create an online store without knowing how to code.
On the other hand, developers will like the platform's full access to CSS, HTML, and Liquid (Shopify's templating language).
Shopify | Create your online store today
Shopify is a popular e-commerce platform that allows businesses to create and run their own online stores. It offers a range of features, including customizable templates, secure payment processing, and inventory management, making it easy for businesses to build and manage their online presence.
Pros:
Customizable templates

Secure payment processing

Inventory management

Analytics capabilities

User-friendly interface

Extensive knowledge base and community of users for support and learning best practices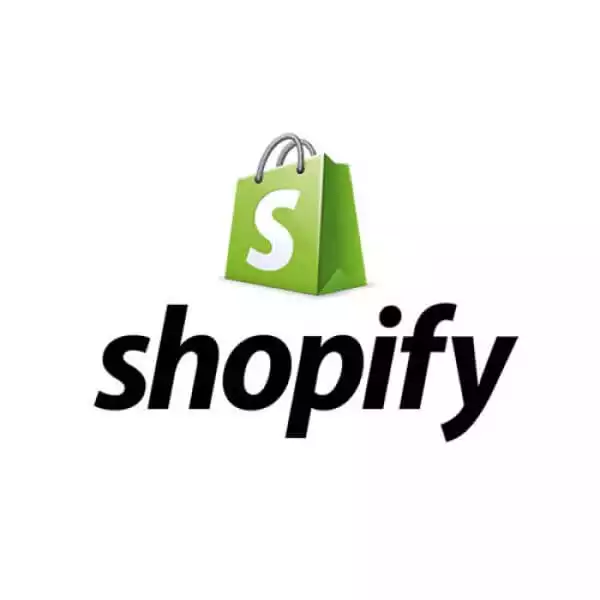 How Shopify works
Shopify is an eCommerce platform that comes with everything you need to start selling online. You don't have to worry about finding a host or dealing with technical issues because all you have to do is go to the official site and register an account.
Shopify provides a 14-day free trial, allowing you to test the platform without entering payment card information. When you choose a subscription plan, Shopify will charge you a monthly fee, which varies based on the plan you choose.
Shopify is simple to use, which is one of its main selling points. The way Shopify works is as follows:
Pick a theme for your store. You can use their drag-and-drop site builder tool to edit a free one, get a premium one, or hire a designer.
Point the domain you purchased from a domain registrar like Namecheap to your Shopify store. You can also purchase a domain name through Shopify.
Add pages, products, and payment options to your website.
Publish your Shopify store – done!
Further read:
What Is Shopify And How Does It Work? Sell And Make Money On Shopify
Namecheap Tutorial: How To Buy Domain From Namecheap
Shopify Pricing and Fees
You can choose from three subscription plans:
Basic Plan: US$29 per month + 2% transaction fee, best for new online stores.
Shopify Plan: costs US$79 per month + 1% transaction fee. Best for small to mid-sized businesses.
Advanced Plan: US$299 per month + 0.5% transaction fee, excellent for companies that require detailed reporting and automatic shipping rates calculation.
Note that the above is a reduced transaction fee for using "Shopify Payments," Shopify's payment processor.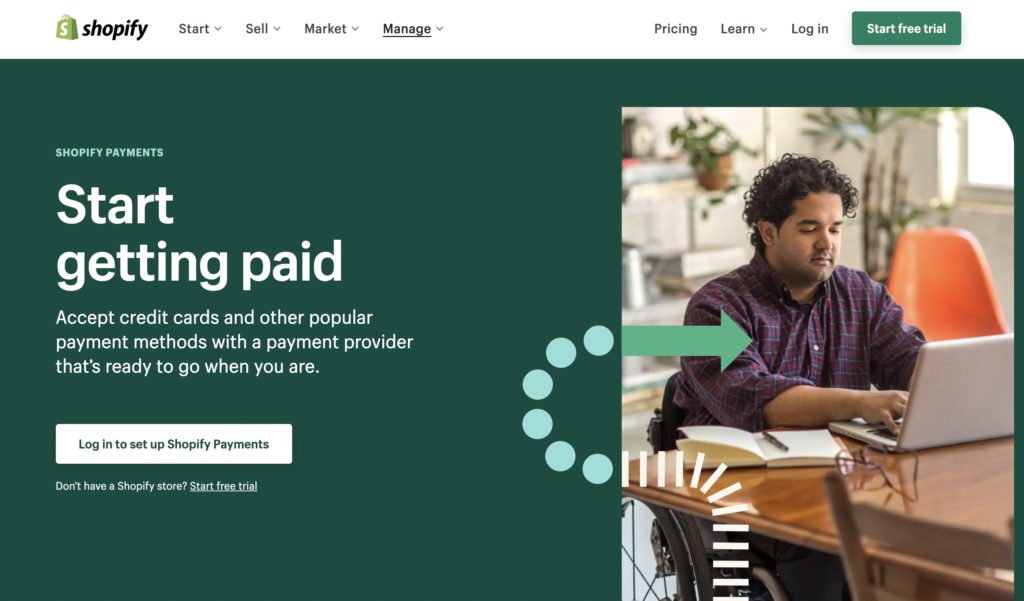 If you use other payment gateways, the transaction fees would be higher. Here's an overview:
| Fees/ Plan | Basic Plan | Shopify Plan | Advanced Plan |
| --- | --- | --- | --- |
| Monthly Subscription Fee | US$29 | US$79 | US$299 |
| Transaction fees (using Shopify Payments) | 2% | 1% | 0.5% |
| Transaction fees (using other payment gateways) | 2.9% + 30 cents | 2.6% + 30 cents | 2.4% + 30 cents |
Shopify Pricing Plans
There are two additional plans, Shopify Lite, and Shopify Plus.
The monthly fee for Shopify Lite is US$9. It allows you to accept credit card payments and add products to your existing website or blog.
Shopify Plus is an enterprise-level solution for businesses that deal with many transactions. It costs US$2,000 per month, with pricing based on a quote.
Learn more about Shopify Pricing here.
Shopify Pros
Ease of use
Shopify is a very powerful tool, despite how simple it is to use. You can, for example, set up and launch your online store in a single night.
However, if you need a more complicated store design, you may spend days, if not weeks, designing a custom store to meet your requirements. The key here is – Shopify is easy to use yet powerful enough to satisfy any store requirements.
Shopify, in my opinion, allows you to accomplish more with less effort than competitors such as Volusion or BigCommerce. In terms of ease of use, content management systems like WordPress or Magento don't even come close.
There are numerous reasons behind Shopify's success. Consider the following scenario:
You don't need to pay for a name or web hosting to get your store up and running. Shopify handles all of the essential features of an online store without you realizing it.
You don't have to start from zero while creating your website or consider what a page should look like. Shopify provides powerful website templates, making it one of the most user-friendly online store builders available.
It's pointless to be concerned about optimizing your website's code, theme, or features. Because they're all built from the ground up to be optimized for website speed and SEO. On top of this, you can use Shopify speed optimization apps to deliver a better user experience.
It is not necessary to use a third-party payment processor. Shopify has a payment gateway in place that accepts credit card payments.
Sell on multiple platforms
Shopify offers eight sales channels to merchants, including Facebook, Instagram, Amazon, and others. You can quickly track all of your products, orders, and customers in one place by integrating each sales channel to Shopify.
If you require something not on the list, you can always check for third-party integration in the Shopify App Store.
Beautiful store design
Shopify is one of the online store builders that offer high-quality designs that are also mobile-friendly. You can use the platform's free or paid themes, but you can also use the Liquid template engine to design your own.
There are no concerns with these themes being compatible with smartphones and tablets. The themes are further divided into niche categories, such as electronics, cuisine, fashion, etc.
The drag-and-drop feature allows you to customize the design and add brilliant colors to take advantage of the free themes. You can accomplish all of these without the assistance of a web designer or developer.
All-in-one platform with thousands of plugins available
Shopify includes an app store to add new features to your online store by connecting to apps. You can almost find anything in the Shopify app store, from email marketing software to dropshipping app integrations.
Compared to custom-developed solutions, these can surely save you a lot of money and effort.
There are over a thousand free apps, but there are a lot of premium apps as well. And as for app quality, that relies entirely on the app. You can always read reviews before installing them.
Strong Security
You don't have to worry about maintaining your website, platforms, and applications up to date or establishing highly technical security measures when you use Shopify because Shopify takes care of everything, such as credit card numbers, fraud, and privacy settings.
Shopify also offers two-factor authentication (2FA), which is highly recommended for securing your account against unauthorized logins.
Try Shopify for free here! No credit cards required.
Weakness of Shopify
Expensive transaction fees
Shopify transaction fees can be expensive if you do not use Shopify's payment processor. However, most of the fees are actually charged by credit card companies. Therefore, no matter what online store builders you use, you'll always incur a transaction fee for taking credit card payments.
Difficult to customize
Shopify users, especially those without coding knowledge, have long struggled with high-level customization with Shopify Liquid setup.
The Shopify Liquid setup is used for theme customization on the platform. However, because the Liquid configuration is too sophisticated for the average Shopify user, it is likely to cause problems for inexperienced developers.
Despite the difficulty, developers can acquaint themselves with Shopify Liquid setup and other customization tools by using the accessible resources, including a broad array of in-built support tools.
Moreover, you can always look for plugins in the Shopify App Store to add features to your store without writing code.
Difficult to migrate
Like many other online store builders, Shopify makes it difficult for you to migrate. When you decide to close your Shopify store, the only thing you're likely to get is a CSV report with all of your product information. This makes switching to another platform like WooCommerce or Volusion very challenging.
Shopify Review: FAQs
Is Shopify safe and legit?
Yes, Shopify is legit and safe. Shopify is a publicly-traded company with industry-leading security and audited software. It offers a secure and legitimate solution to streamline the online selling process.
What is so good about Shopify?
Shopify is the world's most popular all-in-one e-commerce platform, allowing you to create, grow, and manage your online store all in one place. It comes with all of the tools you'll need to establish a website in minutes, and you won't have to bother about self-hosting or purchasing a domain name from a third party. In that sense, it's the ideal out-of-the-box solution, with price levels that cater to small start-up retailers and stores that generate millions of dollars in revenue.
Which is better, Amazon or Shopify?
Both Shopify and Amazon are excellent places to sell online, and they are not mutually exclusive. However, Shopify is not a marketplace like Amazon; it is a software solution. 
The critical distinction to keep in mind is that Shopify is an online store builder, whereas Amazon is an online marketplace. Shopify gives you the tools to create your online store, and Amazon lets you sell alongside other online retailers on its marketplace. 
Selling on Amazon is akin to owning a stall at a well-known boot fair. Thousands of people pour in to explore and buy – most of them aren't seeking your business, but you still earn some revenue because everyone passing by notices your stand.
Selling using Shopify is more akin to renting space to start your business. You have your own place, and once buyers learn about your brand, they come looking for it. There's more freedom to create a distinct image, but you need to drive customers from other channels, like Facebook Ads. 
How much does Shopify make per sale?
Shopify takes transaction fees from 0.5% to 2.9%, depending on your subscription plan and whether you use Shopify Payments (Shopify's payment processor). 
Can you use Shopify for free?
Conclusion: Is Shopify Worth It?
Shopify is an excellent choice for small and medium-sized businesses looking to develop shops that work across major online selling channels. It interacts with a variety of payment choices. In addition, it includes capabilities such as email marketing integration, social media marketing, and analytics, all of which are critical for small businesses to succeed.
What's impressive about Shopify is how simple it is to get started. Your store will be up and running in a matter of minutes after you sign up and go through some configuration panels.
The rest of the process is also quite user-friendly. For example, you may personalize your store theme, add products, configure payment information, and even add new features by integrating applications from the Shopify app store.
We would recommend Shopify to almost anyone interested in selling online.
Shopify | Create your online store today
Shopify is a popular e-commerce platform that allows businesses to create and run their own online stores. It offers a range of features, including customizable templates, secure payment processing, and inventory management, making it easy for businesses to build and manage their online presence.
Pros:
Customizable templates

Secure payment processing

Inventory management

Analytics capabilities

User-friendly interface

Extensive knowledge base and community of users for support and learning best practices