If you're thinking about dropshipping, the Shopify e-commerce platform is a great place to start. Shopify links you directly to hundreds of suppliers that stock, pack, and ship your products for you at minimal cost to you.
Create a product collection on your Shopify store, market your brand, and let dropship providers handle the rest.
Here's everything you need to get started.
Start your Shopify 14-day free trial here! No credit cards required.
What is Dropshipping
It is a business model in which online merchants sell products without having any inventory on hand. When a store owner gets a customer's order, they contact the supplier, who will send the merchandise directly to the customer's home.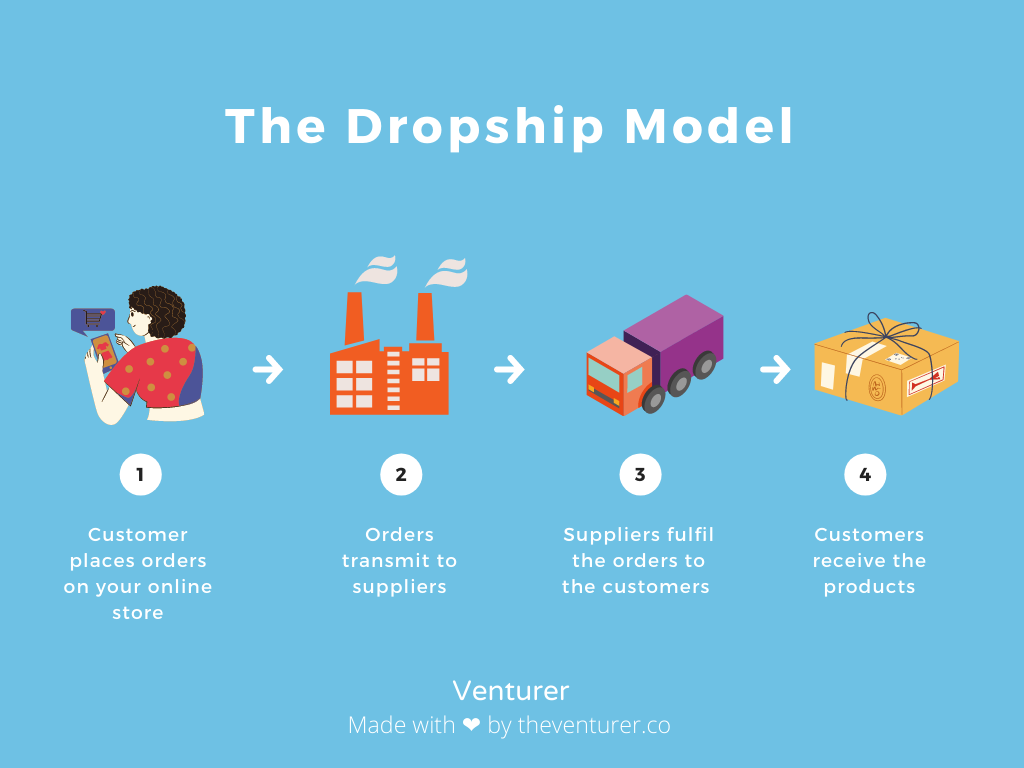 Launching a Shopify dropshipping store is an excellent option for many entrepreneurs to start eCommerce. Investing time and money in inventory management is a deal-breaker. That's why starting an eCommerce store with a dropshipping business model is such a wise option because you'll never have to stock anything. Instead, you'll have more time and resources to focus on building your online store and increasing sales.
Further read:
Best Dropshipping Suppliers in US and Europe
What is Shopify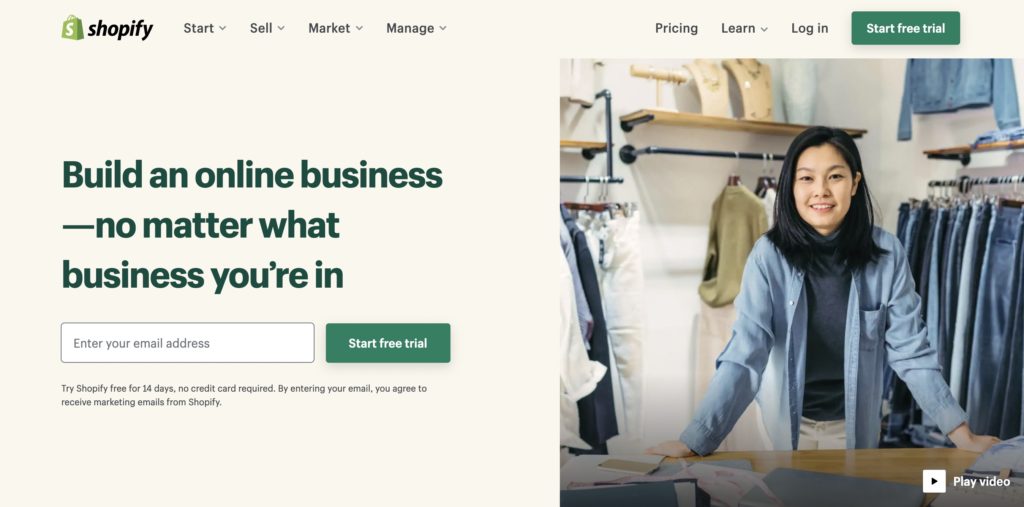 Shopify is the most popular eCommerce platform for businesses to build their online stores. Shopify is easy to use, especially for a Shopify dropshipping store. It's an affordable option for startups and small businesses, with subscriptions starting at just $29 per month. In addition, Shopify offers a 14-day free trial, making it a risk-free way to start a new business or test a brand concept.
Even if you don't have any technical knowledge, you'll be able to create your store. It's ideal for business owners who wish to establish their eCommerce store quickly and easily.
Additionally, you will have access to the vast array of Shopify themes and apps accessible on their platform by using Shopify.
Start your Shopify 14-day free trial here! No credit cards required.
Further read:
What Is Shopify And How Does It Work? Sell And Make Money On Shopify
Shopify Pricing, Plans And Fees Explained
Why use Shopify for Dropshipping
In a nutshell, your dropshipping store must be hosted on an online store platform. Shopify is the best eCommerce platform available.
We like Shopify as an eCommerce platform because of its low cost and "all-in-one" user experience. You get access to attractive design tools, thousands of apps, and payment processing options that help you safeguard your transactions.
More crucially for dropshippers, Shopify's user-friendly platform connects directly to over 100 dropship services, which you can find in the Shopify App Store.
These dropship vendor applications connect your Shopify dashboard to their product listings and inventory stock handling. This makes it exceptionally simple to set up a Shopify store with dropship products that match your brand and efficiently manage client orders, shipping, and stock updates.
Start your Shopify 14-day free trial here! No credit cards required.
How to Dropship on Shopify
The beautiful thing about Shopify dropshipping is that you may browse product options while building your Shopify dropshipping store.
You connect one or more dropship vendor apps after you've set up your Shopify free trial account.
After that, you can browse products, find ones that fit your brand, and put them in your Shopify online store with a single click so you can start selling.
Here's how to dropship on Shopify in five easy steps from start to finish.
Sign up on Shopify
Creating a free trial account on Shopify is the simplest method to learn dropship. As you explore dropship suppliers and research dropship items, you may create your Shopify store's product collection.
If you currently have a Shopify store and wish to add drop ship products to your inventory, skip to step two.
Go to Shopify's website here to get your 14-day free trial, and input your email address to create an account.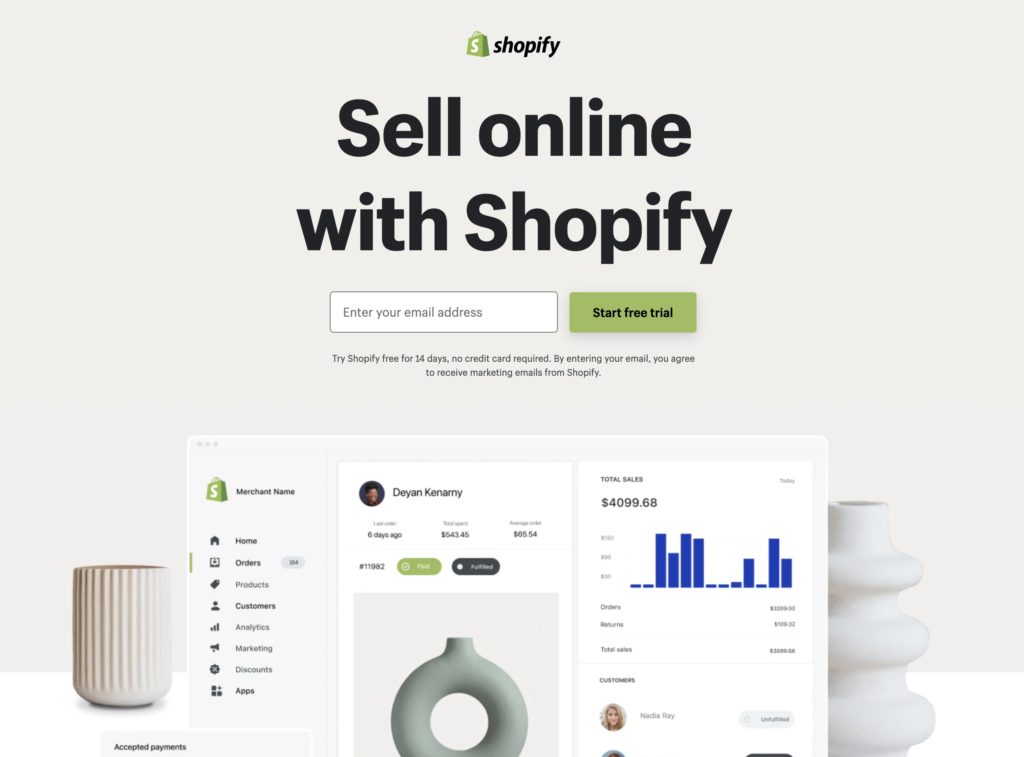 After you've created your account, Shopify will lead you through the store quick-start wizard, which will help you set your account's requirements.
Shopify automatically populate your new store's Apps tab with Shopify's Oberlo dropshipping app by selecting the "help me find a product to sell".
The built-in Oberlo software connects Shopify stores to AliExpress, a dropship mega-marketplace. However, this is only one of many Shopify vendor apps for dropshipping that you may use alone or in combination to create a branded drop-ship product collection.
Explore the Best Shopify Dropshipping Apps
You can use the Oberlo app to start developing your dropshipping Shopify store, or you can look into alternative possibilities.
There are two types of dropshipping apps: niche-specific and marketplace dropshipping apps.
For example, Printful for custom-printed goods, Dripshipper for private label coffee, and Blingy for jewelry are niche-specific apps.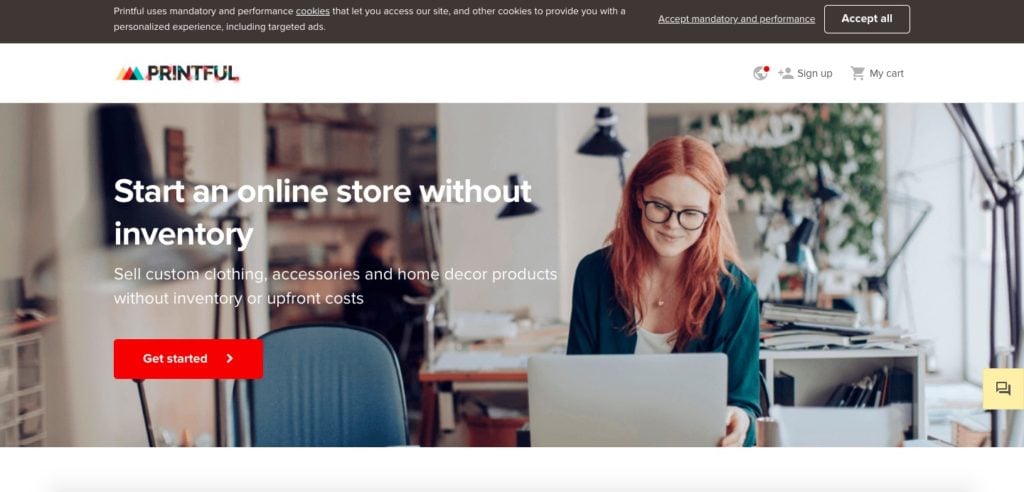 Get started with Printful here for free!
Oberlo, Spocket, and Modalyst, for example, connect your Shopify store to big dropship marketplaces with hundreds of sellers and millions of products.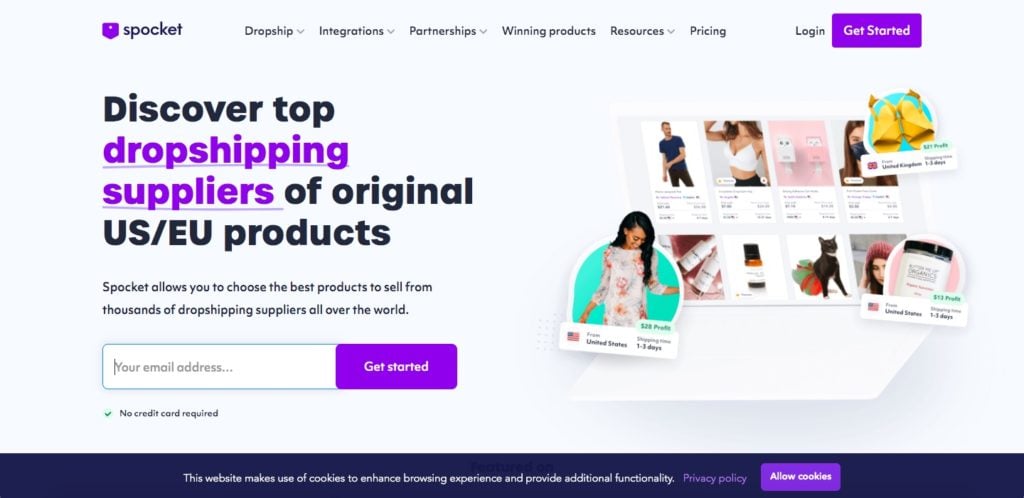 Get started with Spocket here for free!
How to Pick Shopify Dropshipping Apps
Dropshipping apps aren't all created equal. In reality, there are numerous drawbacks to dropshipping, particularly if you partner with the wrong provider or application.
Here are some things to keep an eye out for:
Quality suppliers: Look for apps that curate reputable vendors. This will need some investigation, but you should locate ratings and reviews on the suppliers.
Maintain profit margin: Another challenge with dropshipping is keeping prices low while maintaining profit margins that allow you to make money. Dropshippers charge you more than wholesale prices because you don't handle shipment or storage. The idea is to look into each app's suppliers to see if you can make a profit without overcharging your buyers.
Fast delivery: Longer shipping durations are a significant drawback of dropshipping. Look for dropshipping applications that offer delivery services in all major cities or at least close to where your customers are. China is home to a large number of dropshippers. Expect your goods to arrive by sea in a month if your customer base is in the United States and you choose dropshippers from China, for example.
Customer service: Is the customer service for the dropshipping app good? A solid dropshipping app offers help via email, live online chat, and phone. If a shopper is upset with you or customers start returning items, you'll surely need it.
Product samples: Do you have access to product samples? With dropshipping, having product samples is one of the only ways to maintain products quality.
Sync with Shopify: The best Shopify dropshipping apps allow you to choose products directly from Shopify or sync your chosen products with your shop in real-time.
Product packaging: Can you customize the packaging with your logo? You don't want your products to arrive without your branding on the packaging.
Start your Shopify 14-day free trial here! No credit cards required.
Best Shopify Dropshipping Apps
Here are a few popular dropshipping Shopify apps to consider using in addition to or instead of Oberlo.
Spocket

Spocket is a highly rated, great alternative to Oberlo. In fact, in terms of supplier quality, we would say that it is a step ahead of Oberlo. With a large selection of products from suppliers in the United States and Europe, product quality is superior, and shipment is always quick.
Get started with Spocket here for free!
Printful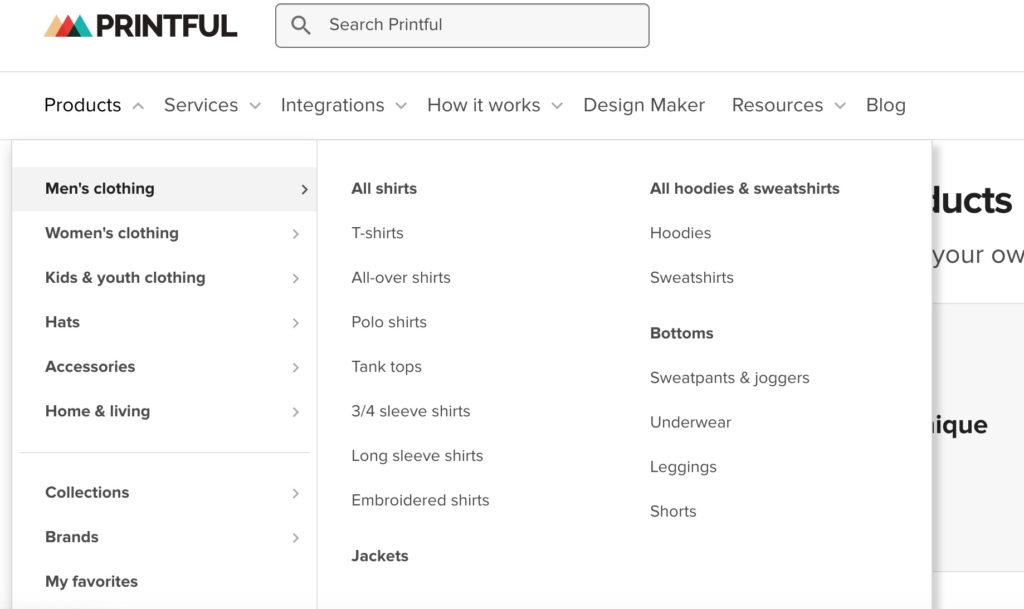 Printful is one of the best print-on-demand dropshipping apps on Shopify. You can create beautiful designs with Printful, then add them to any of their high-quality items and sell them on your Shopify store. Then, under your brand, they'll print, pack, and ship your orders on demand.
Get started with Printful here for free!
Printify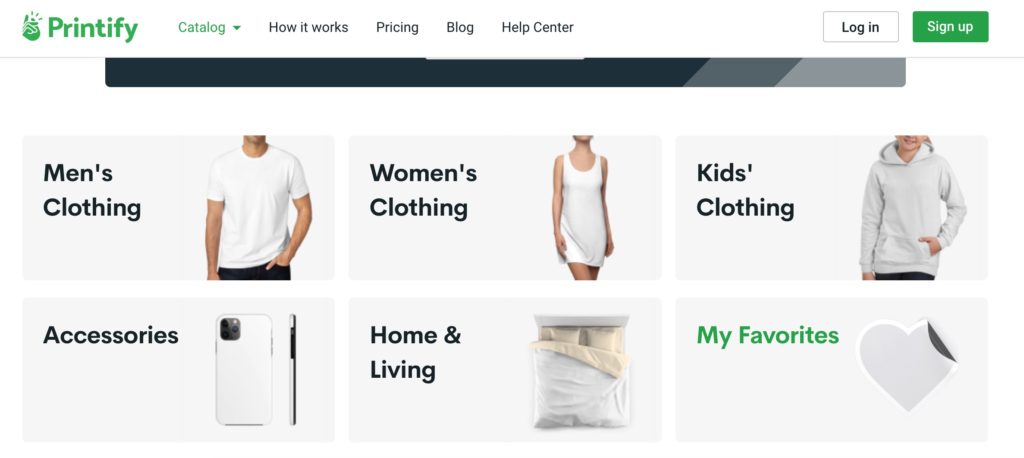 Printify is an alternative to Printful. It provides an all-in-one print-on-demand drop shipping service. In addition, Printify provides you with a catalog of over 250 products, a mockup generator that is easy to use, over 90 locations of Print Providers to pick from, and automatically syncs with your Shopify store.
Get started with Printify here for free!
Add Products to Your Store
After selecting your dropshipping apps, it's now time to add products to your Shopify store!
Most Shopify dropshipping apps have user-friendly interfaces that make it simple to browse, research, and compare products by main categories or filtered searches.
You can easily find dropship products to sell by searching by keyword or category, then narrowing your results with parameters like "Seller Ratings and "Order Count."
The "Order Count" filter is a terrific tool for new dropshippers to see what's selling well in their desired area and which vendors are doing well for other merchants.
However, overthinking slows you down in the early stages of product discovery. Instead, focus on creating a selection of high-quality items throughout your Shopify free trial period to get the most out of it. You may immediately launch your website and test-market your product in this way.
Set Up Your Online Store Website
It's time to finish your shop design and launch your Shopify website after you've stocked your Shopify store with a variety of dropship products.
To accomplish this, you have to:
Connect your domain name, which is the URL address of your website.
Set up your Shopify store theme
Add pages for Customer Service and Shipping.
Configure your payment, shipping, and tax information.
The Shopify quick-start wizard walks you through these critical setup steps, and it's a simple process.
Start your Shopify 14-day free trial here! No credit cards required.
Publish and Market Your Shopify Store
It's time to market your new Shopify dropshipping website once it's up and running. Unfortunately, it takes a long time for new websites to show in Google and other search engine results. Therefore, you'll need to rely on more quick marketing campaigns like social media and paid ads. For example, many dropshipping owners have found success in Facebook and Instagram Ads campaigns.
Shopify Dropshipping: Conclusion
You now have a Shopify dropshipping store of your own. Congratulations!
If you haven't signed up, get started with a Shopify 14-day free trial now. No credit cards are required.
Start your Shopify 14-day free trial here! No credit cards required.
We've covered a lot of the basics in this Shopify dropshipping article, but you'll learn much more as you start running your own dropshipping business with Shopify.
It's easy to see why Shopify is a popular platform for dropshipping, given its ease of use and the number of apps available to add products to your business.