If you're searching for the best SEO audit tools, you've stopped at the right page.
Google uses several algorithms and ranking factors to retrieve data for a particular search query and rank the most relevant pages on the SERPs. Things get even more complicated when Google Algorithms changes 500 to 600 times per year — meaning that most of these tweaks are so minor that the users may overlook them.
When Google makes thousands of algorithm changes and uses more than 200 ranking factors, SEO tools become essential to keep up with these updates and maintain top keyword rankings.
Meanwhile, SEO auditing plays a significant role as it crawls your websites and pinpoints technical SEO issues such as broken links and slow page load — everything that harms SEO health.
After all, SEO audits give you actionable insights into improving the search rankings and save you from battling the intricate SEO mechanisms.
Some of the best SEO audit tools you should not miss are Semrush, Serpstat, and Seobility.
In this article, we'll walk you through 10 of the best SEO audit tools.
Semrush: Best SEO Audit Tool for auditing on-page SEO performance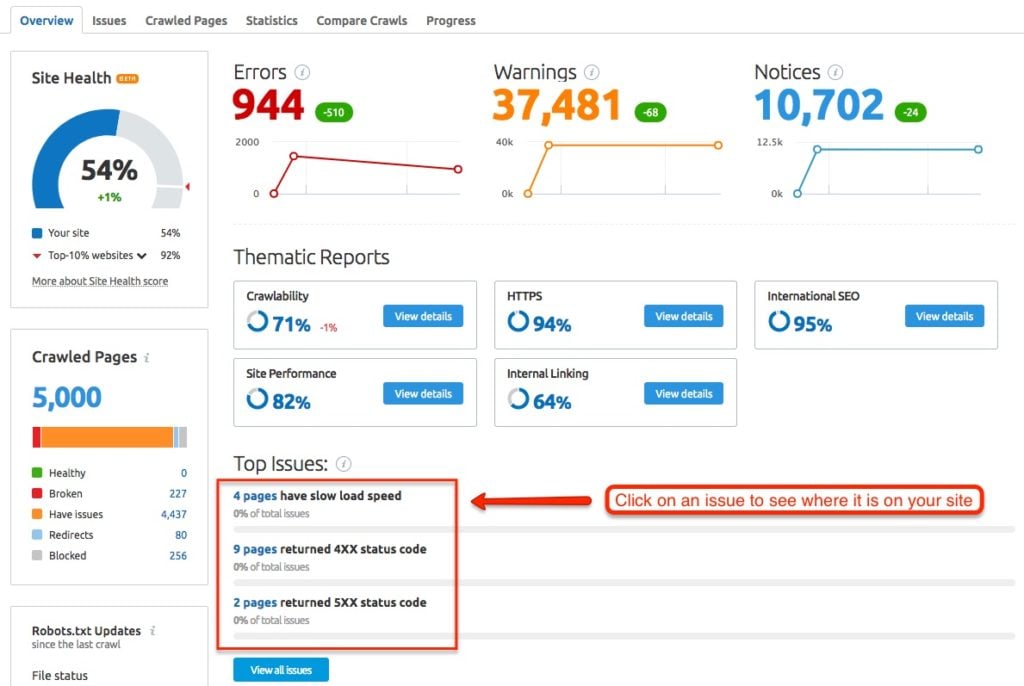 Semrush is a full-suite SEO tool specializing in keyword research, traffic overview, link building, rank tracking, and competitive analysis.
This SEO auditing tool does an exceptional job of crawling web pages and performing technical SEO audits, making it one of the most popular choices among SEO experts and businesses.
Its automated SEO audit reports give you a complete picture of what issues need to be fixed. It covers SEO performance like:
Page load speed,
AMP implementation,
Meta descriptions,
Internal linking,
Keyword ranking,
JavaScript and CSS,
Site crawlability,
and HTTPS security protocols.
Its comprehensive SEO audits help you track SEO progress and monitor improvements over time. In addition, it offers insights into algorithm changes that impede your online visibility.
Top features of Semrush
Scan web pages for over 130 technical and SEO mistakes
Categorize pages and audits by advanced filters
Run thematic reports on the site structure
Monitor progress and compare crawls
Present audit results in intuitive charts
Sync with Google Analytics to generate robust analysis
Pricing of Semrush
You can enjoy a free audit for 100 pages!
Not enough? Join its monthly plan, which starts at $99.95 for a 100,000-page crawl and other amazing features like keyword, domain, and backlink analysis.
Serpstat Site Audit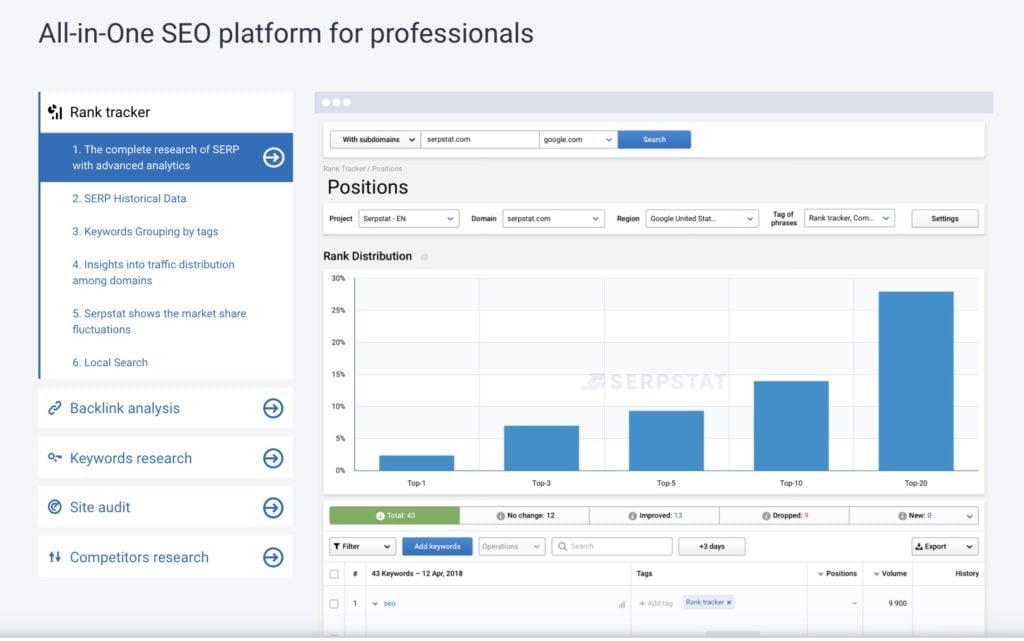 Whether you're a beginner or an SEO specialist, Serpstat Site Audit can be a fabulous starter.
It's an all-in-one SEO tool providing exciting functionalities, including keyword research, backlink analysis, rank tracking, competitive analysis — and site audit.
Nobody isn't impressed by its ability to conduct advanced website analysis. It pinpoints the internal issues of your website and categorizes them into three levels according to their severity: low, medium, and high.
Serpstat specializes in identifying various optimization errors, such as page load speed, broken links, redirects, redirects, and more.
Apart from performing comprehensive SEO audits, Serpstat offers a unique feature: page audit. You can receive an express, in-depth page SEO audit that evaluates your site effectiveness against several vital metrics and ranking factors with page audit.
In case you don't know, it provides insightful recommendations for fixing the technical errors.
Even if you're too lazy to perform SEO audits online, you can schedule a weekly SEO audit in advance. Serpstat will automate the site audit process.
What's better than a site audit tool like Serpstat that saves you hassles and time from conducting tedious SEO performance analysis? You know it!
Top features of Serpstat Site Audit
Advanced, one-click SEO analysis on SEO errors
Display audit results in straightforward and handy charts
Instant, detailed SEO audits provided by the Page Audit feature
Provide recommendations on fixing issues in optimization to accelerate site pages on computers and mobile devices
Customizable reports with excellent filter
Pricing of Serpstat Site Audit
Serpstat pricing starts at $55/month (when billed annually).
Serpstat Site Audit offers four paid plans:
Lite plan — $55/month;
Standard plan — $119/month;
Advanced plan — $239/month;
Enterprise plan — $399/month.
Seobility Website Crawling and Site Auditor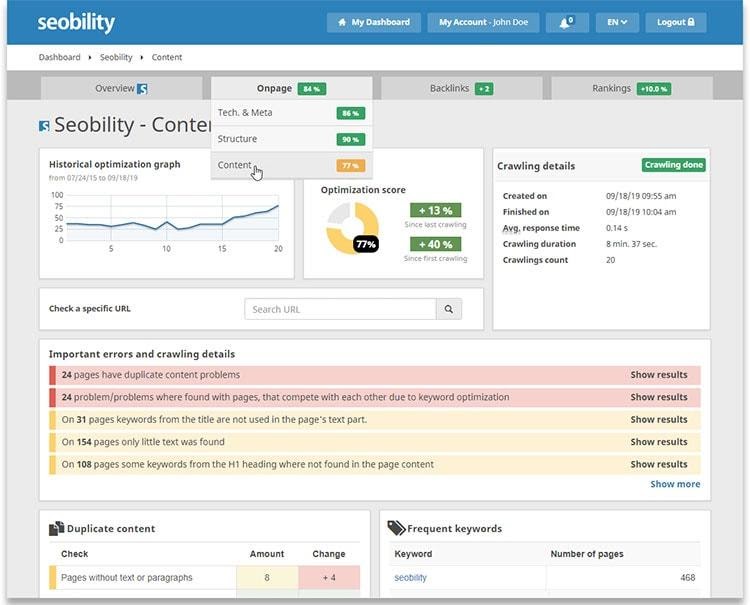 Next on the list is a free SEO audit tool — Seobility.
It's renowned for its free page SEO checker, which does a great job in crawling the designated URL and measure your website's performance against 200+ SEO criteria, including page quality, page structure, meta-information, server configuration, ranking factors, and many more!
In the end, you'll get a free SEO score as well as sub-scores of each SEO criteria to help you identify weaknesses that hold your page back from top search engine results.
Powerful SEO audit tools like Seobility have no difficulty diagnosing common technical issues such as blacklists and poorly built backlinks.
Also, according to the audit results, this SEO audit tool prioritizes the areas of improvement on a task list to keep you an eye on essential metrics for search engine optimization. You can easily export these SEO audits in PDF format.
If you aim at achieving long-term SEO success, Seobility is your choice for sure!
Top features of Seobility
Comprehensive SEO audit for the entire web page
Free page SEO checker for your page against 200+ SEO metrics
Free SEO score and individual sub-scores of each SEO metrics measured
Prioritize recommendations on fixing technical issues for long-term site growth
Pricing of Seobility
Sign up for a free Seobility account for its basic plan to enjoy a free audit for 1000 subpages.
To enjoy a more advanced audit, join Seobility paid plans: a Premium plan costing $50/ month and an Agency plan that costs $200/ month.
Mangools Site Profiler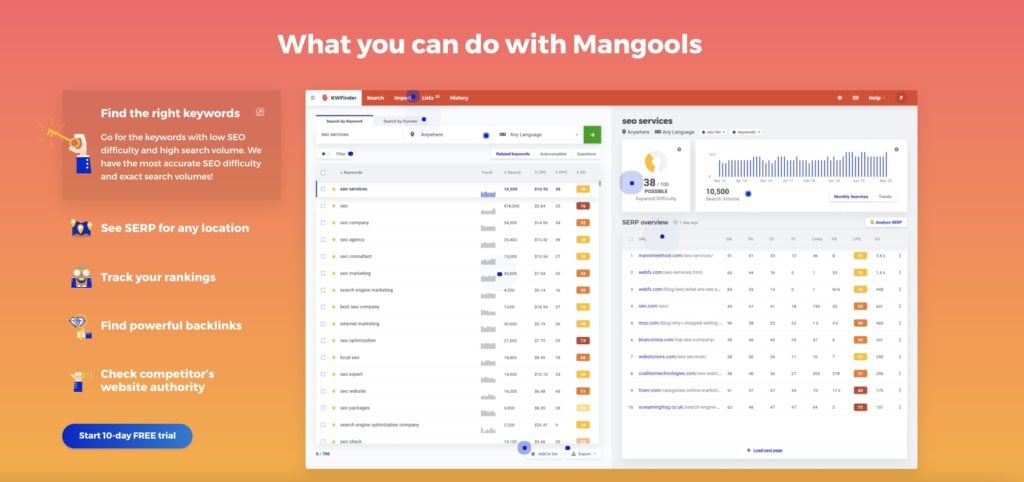 To get started with technical SEO audit tools, Mangools Site Profiler is an affordable option.
Mangools is a productive SEO tool that packs five signature functionalities: KWFindewr, SERPChecker, SRPWatcher, LinkMiner, and — SiteProfiler.
Mangools Site Profiler is an end-to-end SEO audit tool that digs into your page domain authority, backlink profiles, SEO content, and competitors' data.
It benchmarks your website against the SEO criteria frequently used by Majestic and Moz to pinpoint any technical vulnerabilities of your page and accelerate site growth.
What's better is Mangools incorporates Facebook and Alexa Rank shares to measure your website popularity. No doubt, this keeps you on track with the popular content and inspires you with new blog post ideas.
If you're bloggers, marketers, SEO companies, and SMEs, you will love Mangools!
Top features of Mangools Site Profiler
Run page SEO audits based on SEO metrics and insights from Moz and Majestic.
Incorporate Facebook and Alexa Rank shares to review website popularity
Assess the health of backlinks and anchors
Identify opportunities for growing organic traffic.
Provide competitor insights
Pricing of Mangools
Mangools provides monthly and annual plans — Basic plan $29.9/ month, Premium plan $39.9/ month, and Agency plan $79.9/ month.
You can enjoy a 40% discount by subscribing to the annual plan.
Start a free trial for ten days!
Ahrefs Site Audit: Best SEO Audit tool for visualizing audits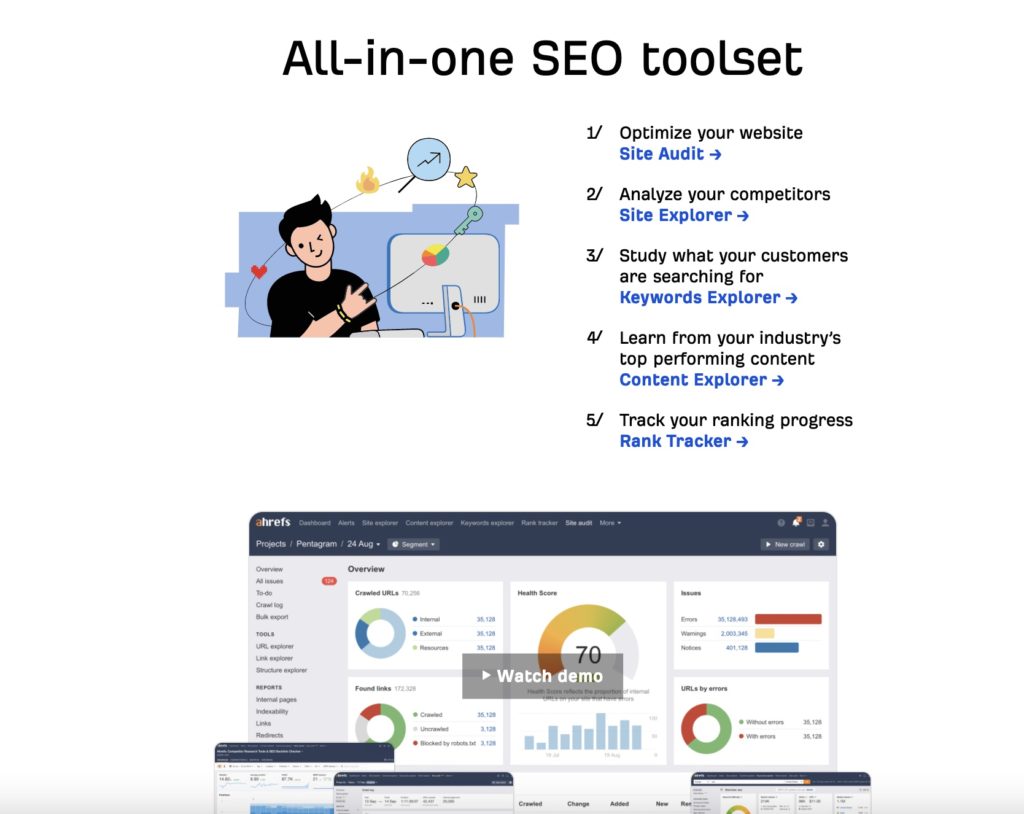 No matter you're a newbie or a specialist in digital marketing, you must've heard of Ahrefs Site Audit — a well-known, cloud-based SEO audit tool that evaluates the page SEO performance of your website.
Ahrefs won't let go of any opportunities to crawl through your web page and give it a score to reveal the SEO health in each inclusive SEO audit.
It does a great job in visualizing the data in interactive charts to flag 100 more technical issues, including, but not limited to, page load speed, orphan pages, redirects, HTML tags, social tags, content quality, resources, and external pages.
Any proficient technical SEO will want to delve into the audits. That's when the Data Explorer comes into the picture.
With Data Explorer, you can custom various parameters to capture the data from different angles and get a complete picture of the page technical issues in your site structure.
Ahrefs monitors your website performance at ease — schedule day-to-day, weekly, or monthly crawls. Ahrefs Site Audit does everything for you.
Top features of Ahrefs Site Audit
Comprehensive website analysis and SEO health score
Identify 100 more technical SEO issues
Display data in colored charts and graphics
Cloud-based toolset with no installation needed
Automate website crawls upon scheduling
Pricing of Ahrefs
Ahrefs provides four paid plans: Lite plan — $99/ month, Standard plan — $179/ month, Advanced plan — $399/ month, and Agency plan — $999/ month.
You can start a trial plan for $7 only!
Google Search Console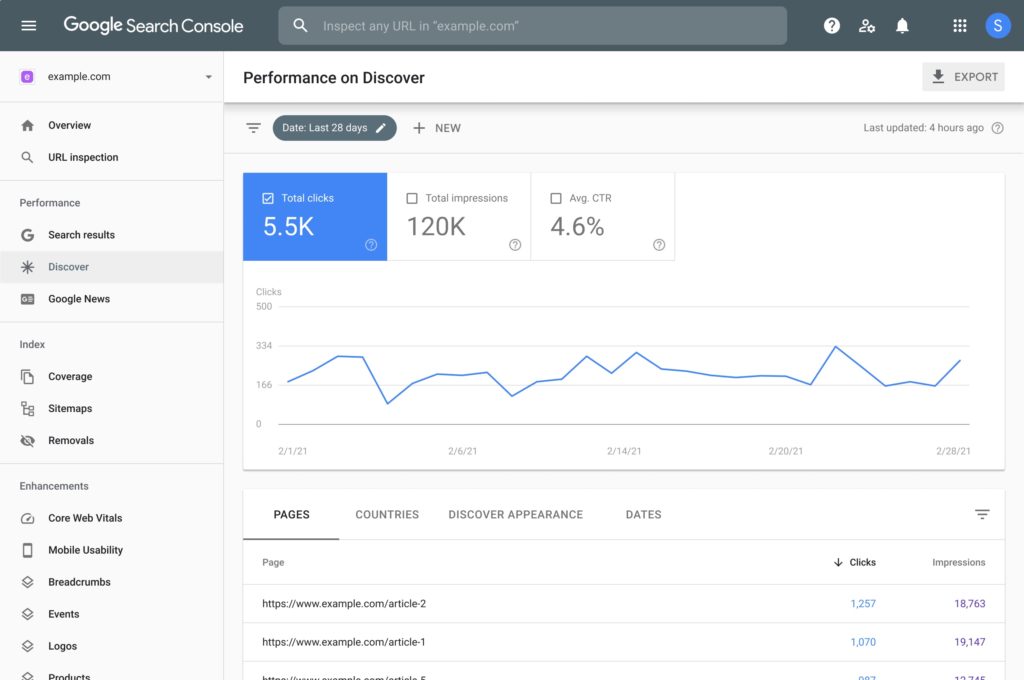 If you want your page to shine on Google search results, why don't you deploy its webmaster tool — Google Search Console?
It is a top pick for site crawling, blocked URLs identification, web indexing monitoring.
Each website audit run by Google Search Console reveals your website's performance about these metrics: impression, clicks, and click-through rate. These factors are crucial to the long-term success of page optimization.
Last but not least, Google Search Console is one of the budget-free auditing tools that identify accessibility, indexation, and sitemap issues.
With its SEO report, you gain actionable insights into fixing HTML, broken links, structured data, mobile pages, and page load speed.
Push your ranks on search engines by using Google Search Console!
Top features of Google Search Console
Analyze website's performance against organic metrics
Customize SEO audit reports
Pinpoint the site's accessibility and indexation issues
Provide a keyword research tool to obtain keyword rankings
Display all web pages indexed by Google
Pricing of Google Search Console
It's free of charge as long as you have a Google account.
Start using it to rock your competitors in the digital marketing field!
Google Pagespeed Insights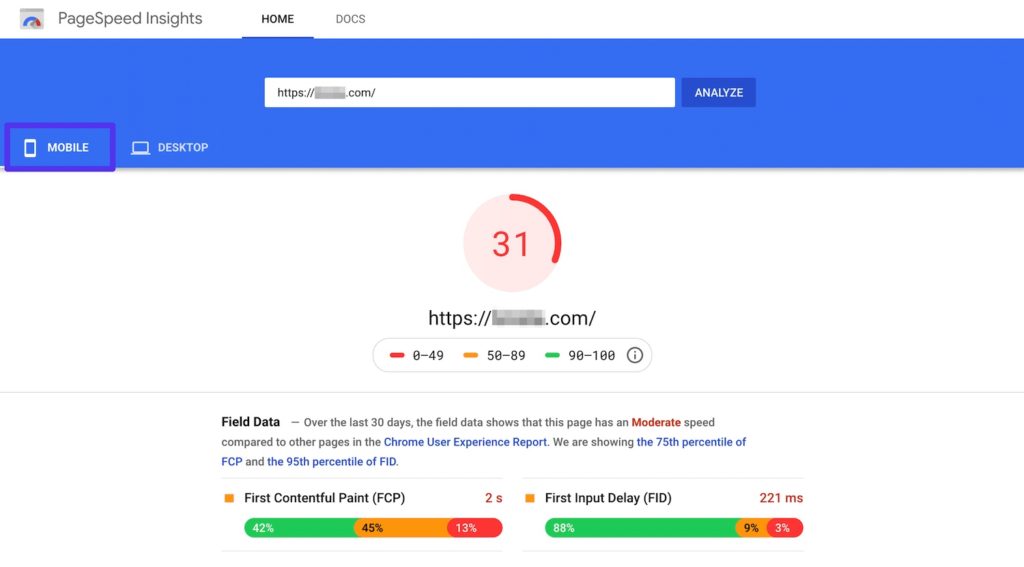 Google Pagespeed Insights is another free SEO audit tool that helps you scrutinize every bit of content on your website and make it run faster.
Do you know that page speed correlates with user experience? Excellent user experience increases bounce rate and click-through rate.
So, by joining this auditing tool, you get a Pagespeed score which reflects the key factors that slow down your page load speed.
Follow its suggestions to speed up your page.
Top features of Google Pagespeed Insights
Analyze page load speed for desktop and mobile devices
Provide a score and metric values that conclude the website's SEO performance
Benchmark your site based on real-world field data
Prioritize improvements according to page quality in terms of good, needs improvement, and poor
Offer suggestions on how to fix the page SEO errors
Pricing of Google Pagespeed Insights
It's a free site audit tool offered by Google.
Moz Pro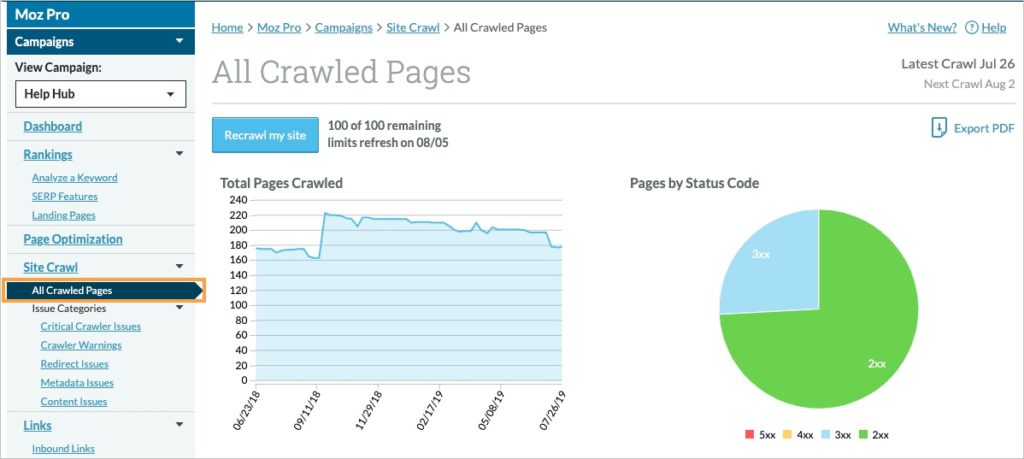 Are you having recurring SEO issues that obstruct the organic traffic of your website? If so, you'll need Moz Pro, one of the best SEO audit tools on our list.
Its crawlability is impressive in such a way that no single SEO specialist will refuse to run an audit. It crawls pages promptly to reveal technical issues in colored charts.
Moz Pro diagnoses sites' broken links and lost title tags at ease. In addition, it pulls data on an SEO report to provide insights into trends, opportunities, and the website's SEO performance.
The site audit tool suggests fixing the SEO bugs and recrawling your site to manage its SEO health.
To eliminate the factors that impede your search engine results, you mustn't miss out on such a powerful site audit tool!
Moz Pro is an excellent pick for digital marketing specialists like you!
Top features of Moz Pro
High crawling speed on large sites
Visualize an SEO audit in colored charts
Classify technical SEO issues into categories
Prioritize issues and monitor improvements on the website's performance
Provide actional insights into key metrics that improve search rankings
Pricing of Moz Pro
You can start a free trial to run an SEO audit on your website.
Screaming Frog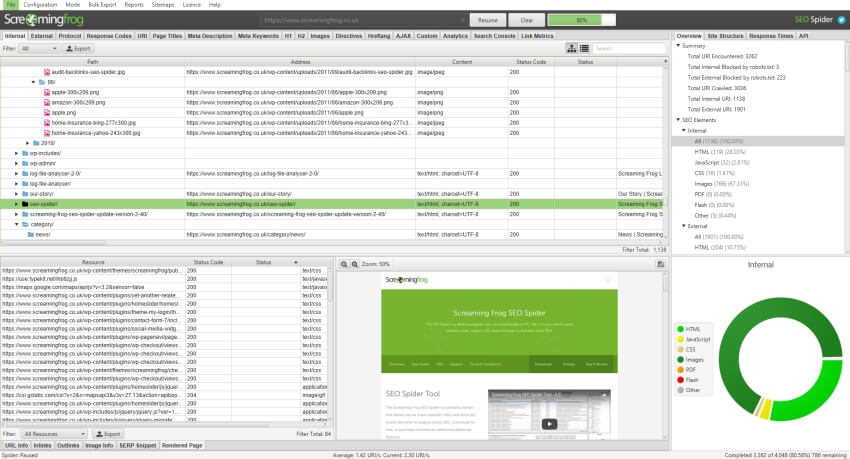 Screaming Frog develops an advanced SEO audit tool called SEO Spider — a fast site crawler.
SEO Spider is an installable report-based auditing tool that crawls across 500 websites, extracts page SEO data, and detect on-page technical errors.
It scans meta descriptions, broken links, redirects, HTML tags, and many more to maximize search engine optimization.
If you haven't yet used Screaming Frog, you should give it a go!
Top features of Screaming Frog
Crawl a site structure fast and flexibly
Detect broken links, blocked URLs, and audit redirects
Examine page titles, meta descriptions, and duplicated content
Schedule audits to automate regular crawls
Integrate with Google Analytics, Pagespeed Insights, and Search Console
Pricing of Screaming Frog
Enjoy a free version for 500 site crawls.
If you want to have unlimited crawls, purchase a paid version which costs $149/ year.
GTMetrix
GTMetrix is one of the popularly picked SEO audit tools that analyze page load speed and overview your page performance.
It grades your site according to specific metrics and breakdowns performance on a summarized SEO report.
Also, GTMetrix customizes actionable practices to increase page speed and alerts you when the page fails in optimization.
Top features of GTMetrix
Run SEO audits on a schedule to keep track of SEO performance
Send notifications when the website underperforms
Evaluate online performance on multiple devices
Analyze page speed in 22 worldwide test locations
Pricing of GTMetrix
Use the free version to access limited features.
Starting at $10/month, GTMetrix offers paid plans with a suite of advanced features.
Best SEO audit tools: Conclusion
With more digital marketers and enterprises deploying SEO audit tools, SEO auditing becomes a productive practice to achieve long-term SEO success.
Stop guessing and look under the hood to leverage the best SEO techniques and improve your site rankings.
To sum up, here are some of our top picks:
Which of these is your favorite SEO audit tool? Did we miss anything? Comment to let us know!
Further read:
10 Best SEO Tools To Improve Search Engine Ranking
8 Best SEO Automation Tools to Boost Efficiency
Spyfu vs Semrush: Which is a better SEO tool?
Top 8 SEO Reporting Tools in 2022
Serpstat Vs Semrush: Which Is A Better SEO Tool? Review And Comparison
Semrush Alternative: 12 Best Semrush Competitors Tools