In this Semrush review, we'll evaluate one of the best SEO tools and dive deep into its features, pricing, pros, and cons.
You can use Semrush in many different ways, from conducting website audits and keyword research to writing content with the help of its Content Marketing Toolkit or optimizing paid ads utilizing the Advertising tools.
We'll cover everything from competitive research, keyword research, link building, tech SEO to local SEO.
After reading this review, you'll find out whether it's worth it to invest in the Semrush tools.
Before we start, I highly recommend you sign up for their free trial to test the tool out yourself. Semrush typically offers a 7-day free trial, but we have an exclusive partnership with them so that you can enjoy a 14-day free trial with our link here.
What is Semrush?
Semrush is a popular search engine optimization tool for keyword analysis, competitor research, and PPC optimization. The suite of utilities can offer insights to help you build brand-name awareness, reach new customers and generate more sales.
Semrush helps you optimize your website for search engines. It provides you with a lot of information to help create new web content, identify link-building opportunities, or tweak technical aspects of site content to achieve higher rankings on the internet.
Oleg Shchegolev and Dmitry Melnikov created it in 2008 now with over 7 million users worldwide. It is one of the most popular tools available right now!
Semrush Review: Overview
Whether you're an SEO expert or a newbie, Semrush is the perfect tool for your needs.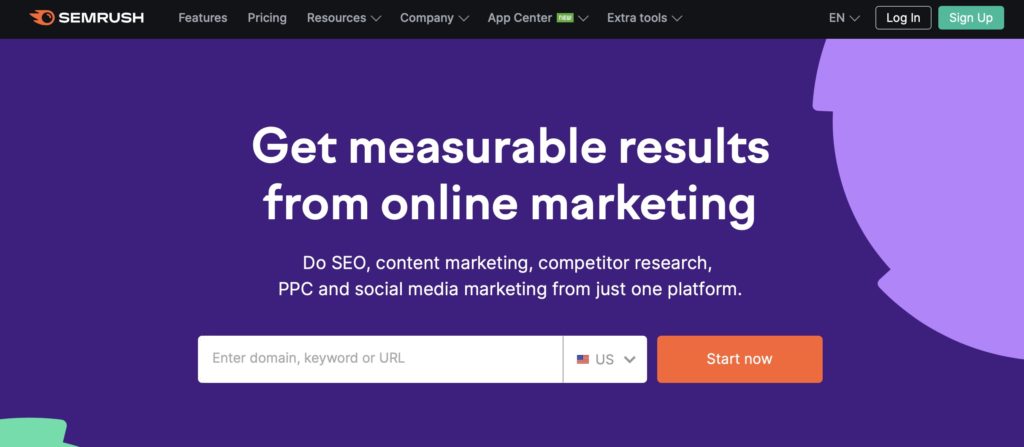 With all of its features and tools, it helps you boost rankings, generate traffic to websites, and increase social engagement rates. As a result, this software has quickly become one of the most popular in recent years.
Here's just some of what it can do:
Keyword research with extensive information about local and global search volume trends, so you know which keywords have a high demand; 
On-page insights: SEO ideas and content templates
Site audit
Content audit and analytics 
Advertising management, including tracking ads
Social media content optimization
Content ideas 
Topic research
Competitive analysis for directly comparing sites against each other (including their backlinks) 
Learn more about Semrush here.
Who can use Semrush?
Semrush helps businesses grow through better ranking, higher engagement rates, more website traffic with Semrush's organic SEO tools.
Marketing agencies use Semrush as a way of keeping clients ahead in this ever-changing world of digital advertising tactics.
Bloggers and influencers can also use Semrush to grow their online presence.
Semrush Pricing and Plans Review
Semrush offers three paid plans and custom plans:
Pro: $119.95 per month ($99.95 per month when paid annually)
Guru: $229.95 per month ($191.62 per month when paid annually)
Business: $449.95 per month ($374.95 per month when paid annually)
Custom: suitable for large corporations when you need more than these plans can offer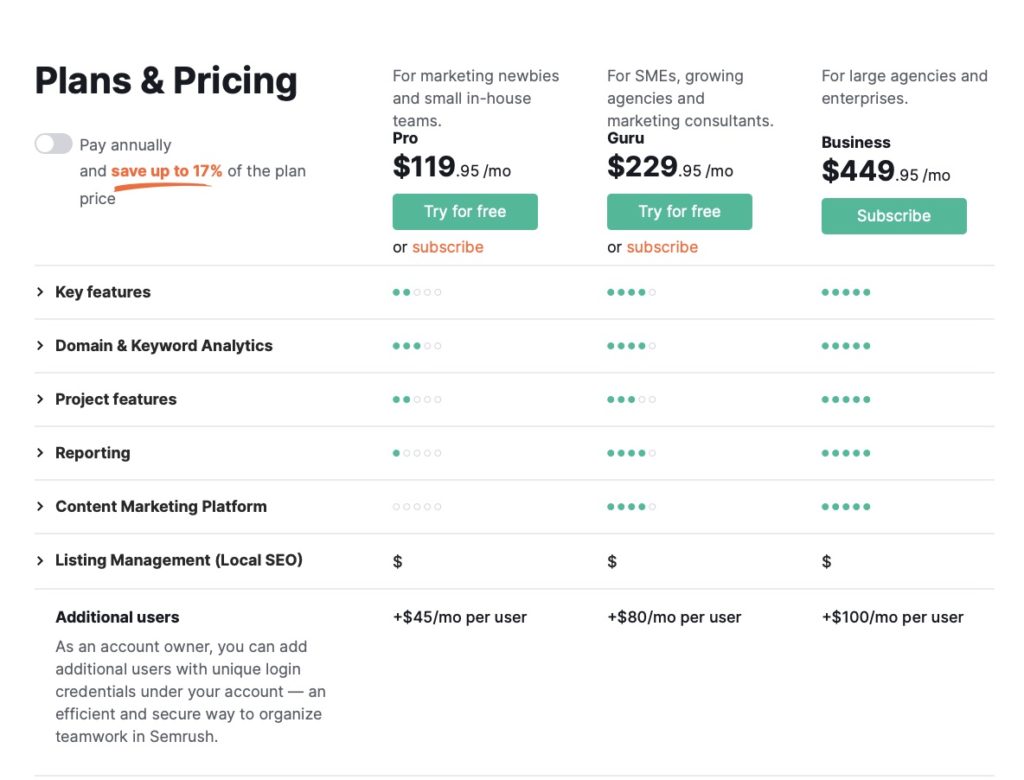 You can check out their pricing page here.
These plans differ in many ways, such as features, number of keywords you can track, reports per day, number of projects, number of pages to crawl each month, and many more.
It's important to note that the above price is per seat. It means that if you have more than one user in your team, you'll need to pay for additional users. For example, it costs $45 per additional user for the Pro plan.
Semrush typically offers a 7-day free trial. But we have an exclusive partnership with them so if you sign up with our link, you can enjoy a 14-day free trial!
Learn more about Semrush here.
Pros of Semrush
Enormous Keyword Database
Did you know that Semrush has the largest keyword database out there? Their Keyword Magic Tool includes 20 billion keywords, making it the largest keyword database! This allows them to provide accurate and valuable information for your PPC and SEO campaigns!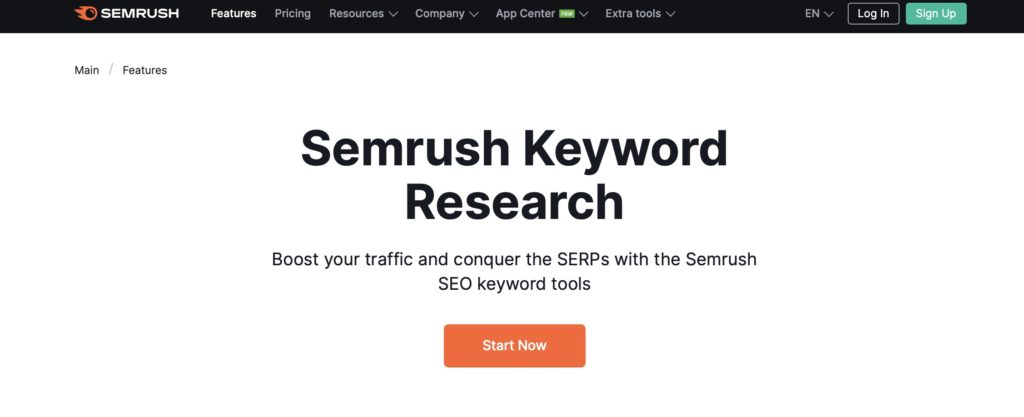 Accurate and Updated Data
Semrush's data is up-to-date and accurate because they update it regularly, making sure the numbers you see on their platform are fresh.
Fastest Backlink Crawler
Semrush backlink crawler is the fastest on the market, blazing through 25 billion links a day and with 43 trillion in their database! Plus, they're accurate, too – removing duplicates so you can see just how competitive your backlink profile is.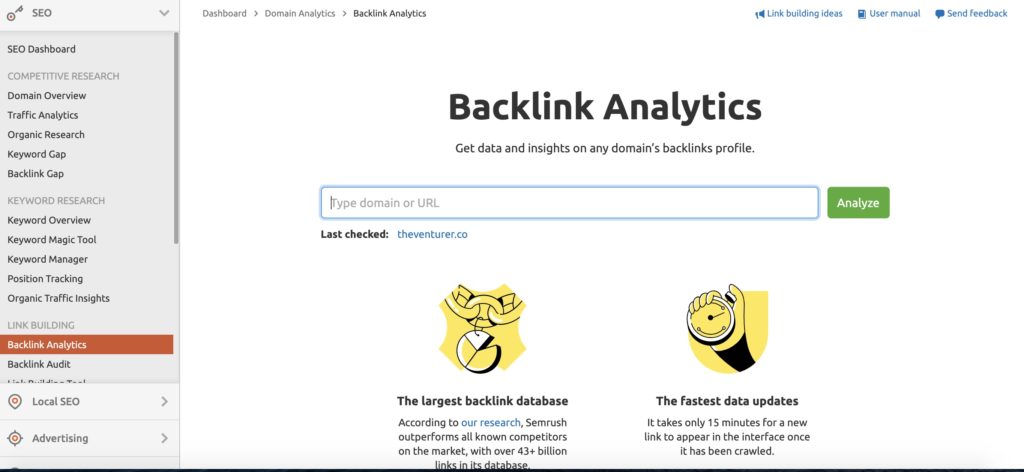 Not sure what's working? Check out their Authority score based on data from real traffic: it'll give you clear indications of where exactly there might be room for improvement.
Comprehensive Domain Analytics
Semrush Domain Analytics reports allow you to gain information about domains, subdomains, and URLs. It gives business owners a true competitive edge.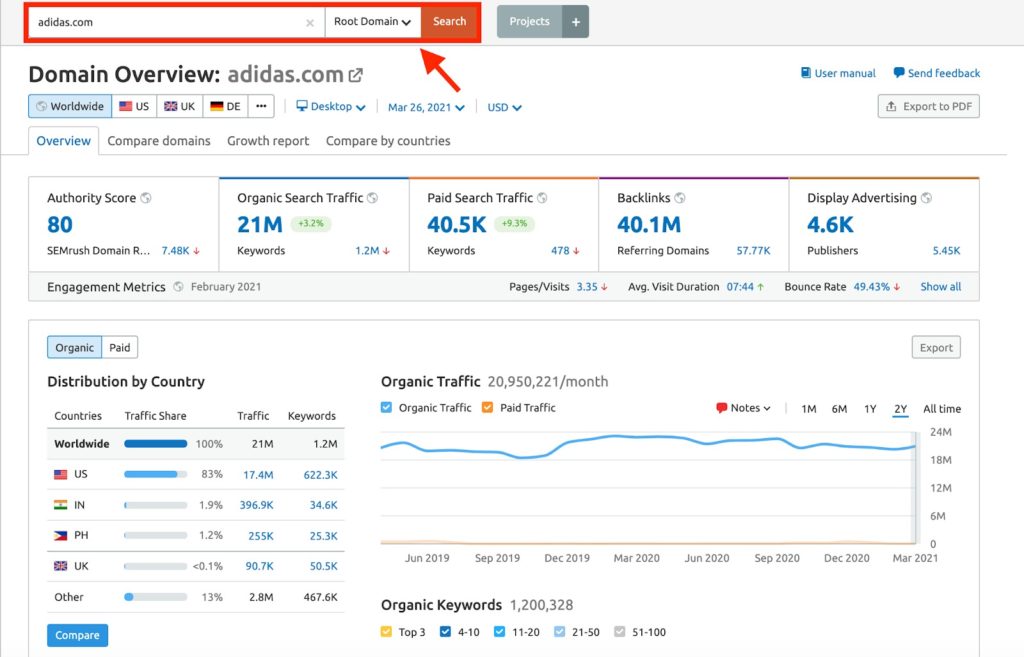 Their extensive data and range of reports can help you gain the most comprehensive insight into your competition, complete SEO tasks with ease, and provide PPC insights to make every dollar count!
Custom SEO Reports
There are several ways to create custom SEO reports with Semrush. For example, you can tailor PDFs with while label and branded options, schedule your report for future release or publish it in real-time – all within this one platform.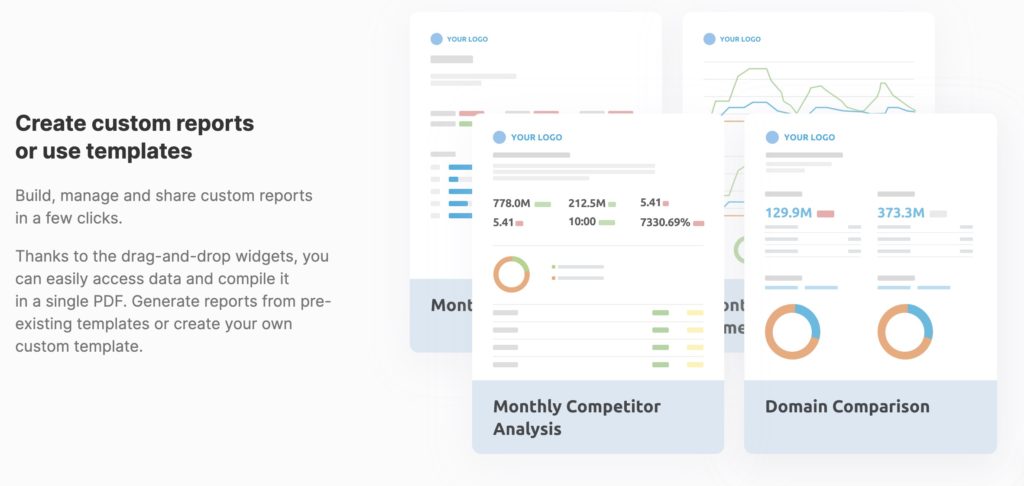 Plus, you'll get even more value by integrating Semrush with Google Search Console, Google Analytics, Google My Business, etc.
Cons of Semrush
Only Provide Data for Google
Semrush only provides data on Google. They don't have anything for Bing, Yahoo!, or any other search engines. But Google dominates more than 90% of the search engine market, so most marketers often only focus on Google data.
More Expensive
Semrush plan starts at $119.95 per month, which is more expensive than most of its competitors. But if you're serious about improving your online presence, the full suite of tools offered by Semrush justifies the pricing. You'll be surprised by how comprehensive their software packages are by continuing to read below.
The above is just the overview.
We have a lot more to cover about Semrush.
This is why we write this Semrush review to give you more in-depth insights into the tool.
While you read this comprehensive review, we highly recommend you to try Semrush for free, so you get a first-hand view of how the tool works.
Semrush provides a 7-day free trial, but they have given us an exclusive 14-day trial link, so you have more time to try their paid plans for free!
Detailed Review: The Best Features of Semrush
Semrush is a powerful online marketing tool that marketers and SEO experts have used to help them with their work.
After logging in to Semrush, you'll see seven main categories of tools. They are:
SEO
Local SEO
Advertising
Social Media
Content Marketing
Competitive Research
Agency Solutions
And within each of them, there are more subcategories of tools. The number of sub tools ranges from 4 to 10 and more!
Semrush offers so many tools and features that it would not be possible to cover them all.
But, we'll try our best to cover most features in the SEO tool kits that include everything from keyword research and domain analysis to content marketing tools – each neatly categorized within one of its dashboard panels.
Let's get started.
Reviewing Semrush SEO Toolkits
The SEO toolkit is the first and one of the essential tools in Semrush's arsenal. It covers on-page optimization; off-site optimizations such as backlinks and site authority rankings; technical tweaks to your website that will increase its search ranking potential.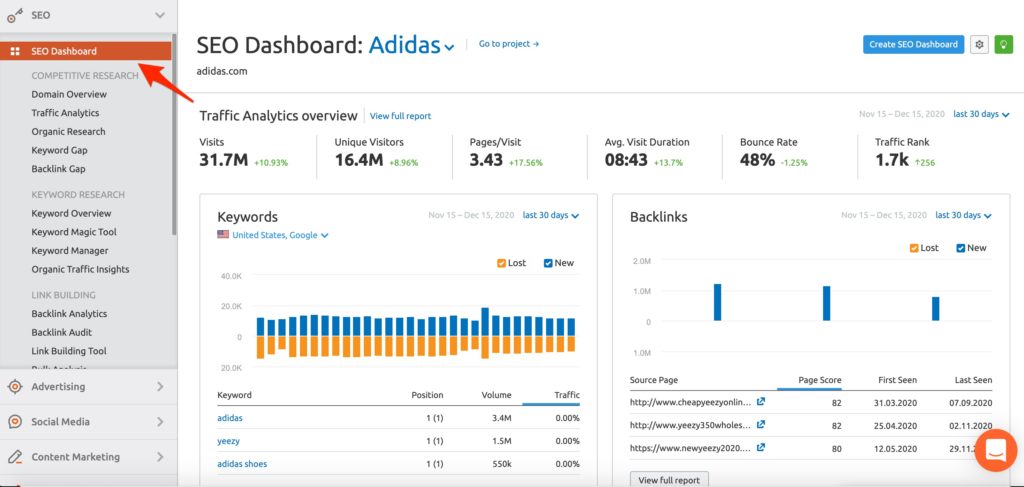 Semrush Review: Competitive Research
Visualize your competitor's every marketing move with the Competitive Research Toolkit on Semrush. You can find solutions to oversee their performance from all angles, including Organic Search, SEO, Advertising Content and PR, as well as Social Media!
The Competitive Research Toolkit includes:
Domain Overview
Traffic Analytics
Organic Research
Keyword Gap
Backlink Gap
Now, let's take a look at them one by one.
Domain Overview
Domain Overview is a great place to start when you are looking for information on Semrush.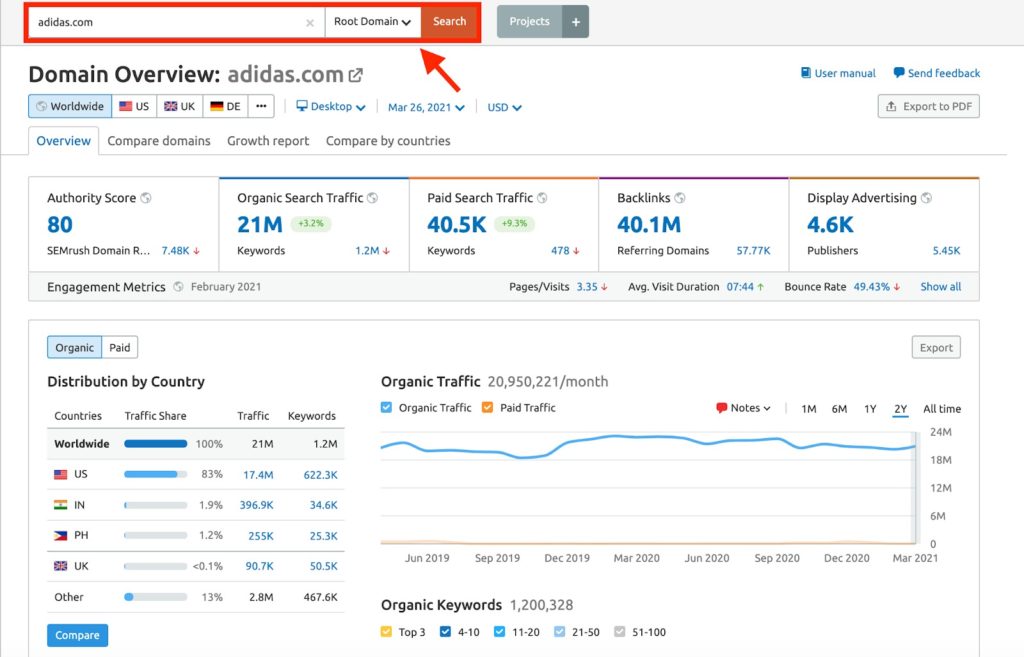 The report displays how many organic and paid keywords, backlinks, or display ads the domain has at your fingertips.
It will also explain what their strengths and weaknesses may look like in search before diving into any details.
The best part about domain overview is that you can compare up to five domains side-by-side. This allows you to perform a comprehensive competitor analysis.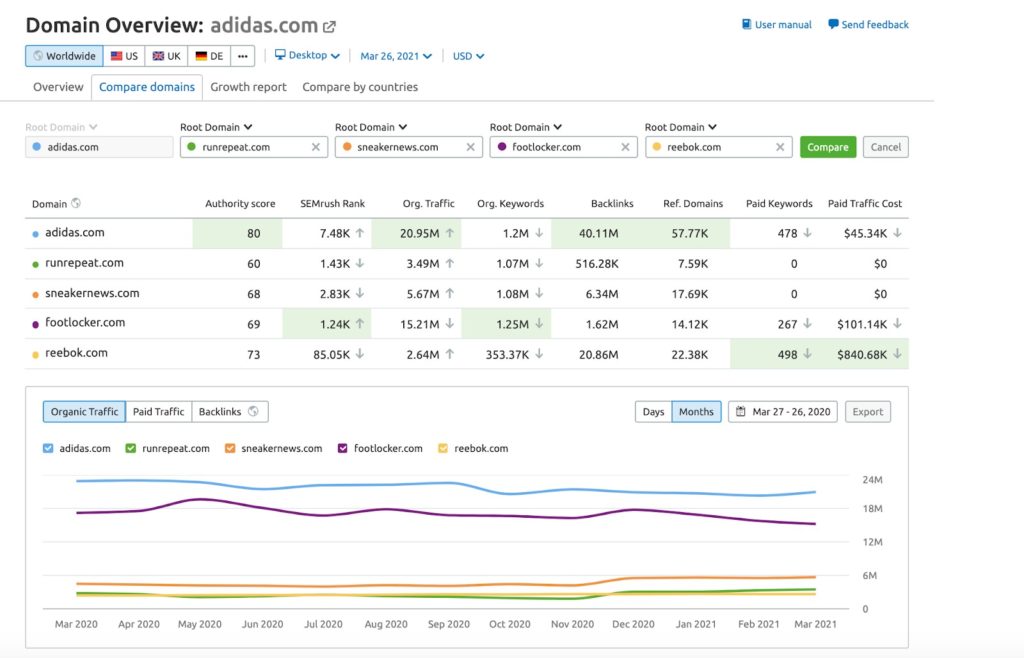 Traffic Analytics
With Traffic Analytics, you can see where a website's traffic comes from, how much visitors engage with the site, devices their visitors use, and more!

This tool allows for evaluation of potential partners, pre-sales preparation, and data collection to enter new markets.
Here are some metrics this tool will help you see:
Traffic Overview
Audience Insights
Traffic Journey
Top Pages
Subfolders
Subdomains
Geo Distribution
Bulk Analysis
What's great about this tool is that it provides historical data back to Jan 2017 and allows you to compare up to five domains!
Organic Research
We all know that landing on the first page of Google results is a huge accomplishment, considering it's more competitive than ever. Therefore, competitive analysis is critical to your SEO campaign and should be undertaken frequently.
Semrush offers Organic Research reports to help you get there with your SEO strategy by providing critical information about top organic search competitors like their keywords and SERP Features ranking position. You can research for any domain in their database.

You can analyze a complete list of your competitor's organic keyword rankings and pages.
In addition, you will then be able to see the up-and-down history in their search ranking for each page on that domain.
Keyword Gap
Semrush Keyword Gap will slash hours of painstaking research and provide you with a comprehensive understanding of your competitors' keyword strategy. With this knowledge, planning an SEO campaign is as easy as finding the best opportunities in your niche on Semrush's side-by-side comparison between up to five competitor's profiles!
All you have to do is enter a domain and analyze your competitors for organic, paid, or PLA keywords; Semrush will then show you all of the top opportunities for that site and total keyword overlap with any other sites entered into these results.
This information can be super beneficial when planning a campaign by seeing where each website has its strongest areas in terms of rankings. They know what types of strategies are most effective in those specific niches.
Backlink Gap
If you've ever wondered how to compare your competitors' backlink profiles, Semrush has got you covered.
In just a few clicks with their Backlink Gap tool, enter up to five competitor domains and see which sites are linking out to your competitors but not yours.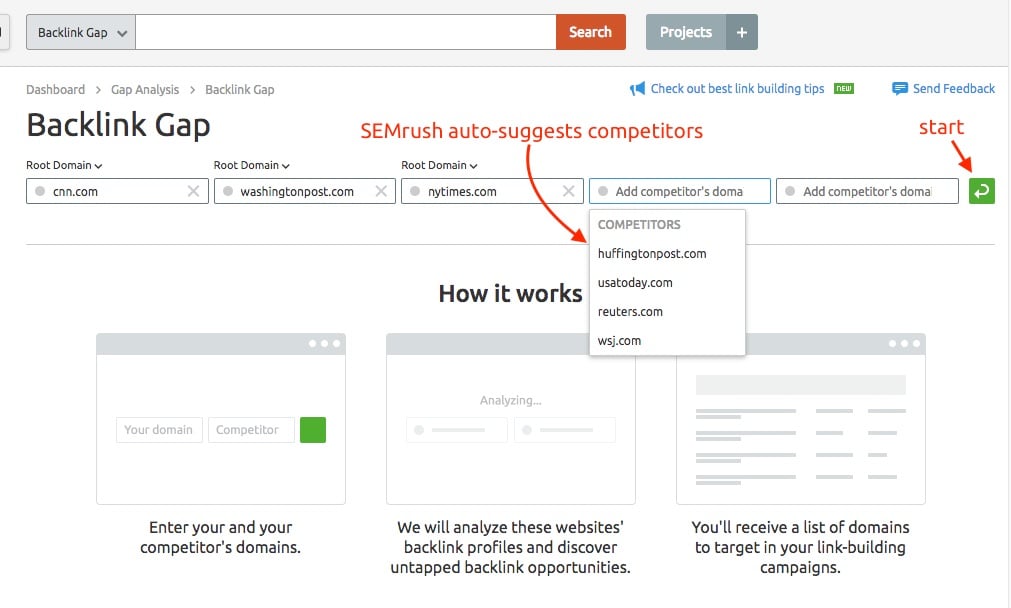 This is especially helpful for SEOs who want an idea of gaps they might be able to fill in between competing link-building strategies!
Semrush Review: Keyword Research
Semrush Keyword research tools are a category of keyword tools. They include:
Keyword Overview
Keyword Magic Tool
Keyword Manager
Position Tracking
Organic Traffic Insights
These powerful, all-inclusive, and affordable software packages offer many benefits for your SEO campaign–from knowing what search performance is like to look up which websites rank well in Google and identifying similar keywords that you can use for secondary purposes.
Keyword Overview
The Keyword Overview tool is the perfect way to see if a keyword has enough traffic for your business. Simply enter a few words, and you'll know how many searches it receives per month, as well as which websites rank for this term.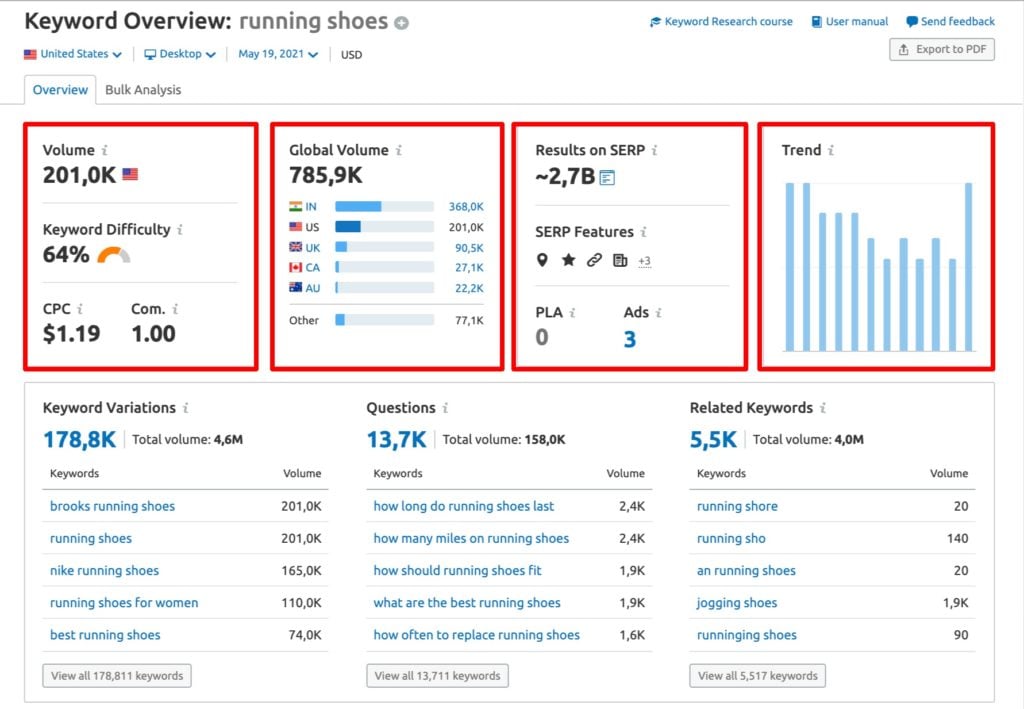 You can also select from different countries to find what keywords are popular internationally!
A detailed report of any given keyword is available here, including volume, SERP results and features, and the global search volumes across all countries.
Global Volume metric helps you decide whether to compete for a particular keyword or not by showing your potential reach in different markets worldwide alongside its level of difficulty.
It may be helpful at this point to look up some competition-related data points about keywords you've been considering targeting!
You can also find related keywords and variations to help narrow down which one would be most suitable for targeting.
Keyword Magic Tool
Keyword research is no easy task, but it's crucial to your content strategy. The Keyword Magic Tool by Semrush makes the job more straightforward and more effective than ever before, so you can find keywords that are relevant for both search engines AND people alike!
This SEO tool will allow you to quickly type in a word or phrase related to your niche and topic of interest, then enter – and the Keyword Magic Tool willl show you an extensive list of every keyword matching those criteria!
Keyword Manager
Keyword Manager is where you can create a custom keyword list, so all information comes together with one click to make it easy for you and your team!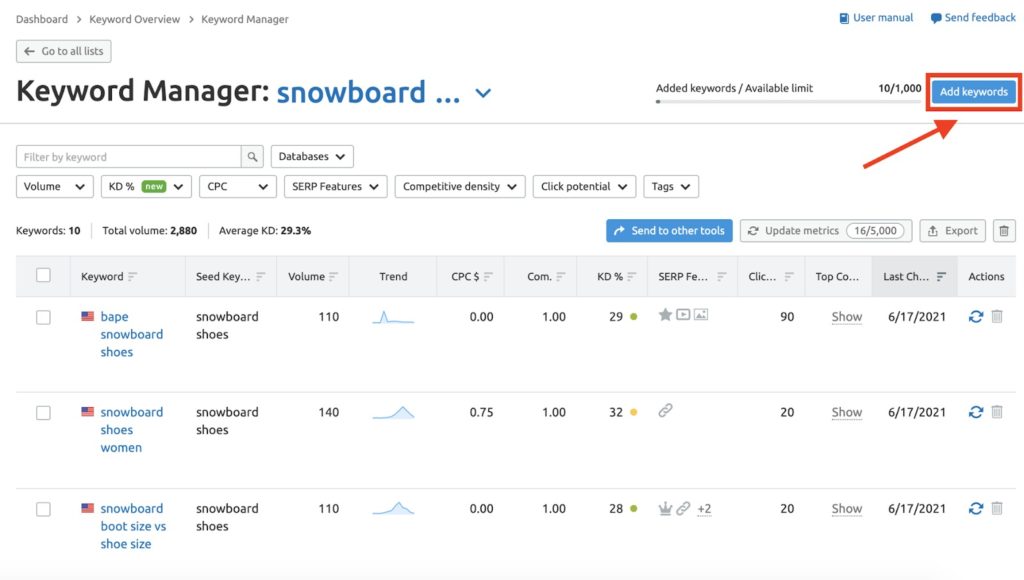 Click on "Create new list" at the bottom and then enter an appropriate name for the list as prompted by Semrush's intuitive interface. Click create, and voila! Your keyword list is created!
Position Tracking
And for keyword research, you can't miss tracking your ranking position.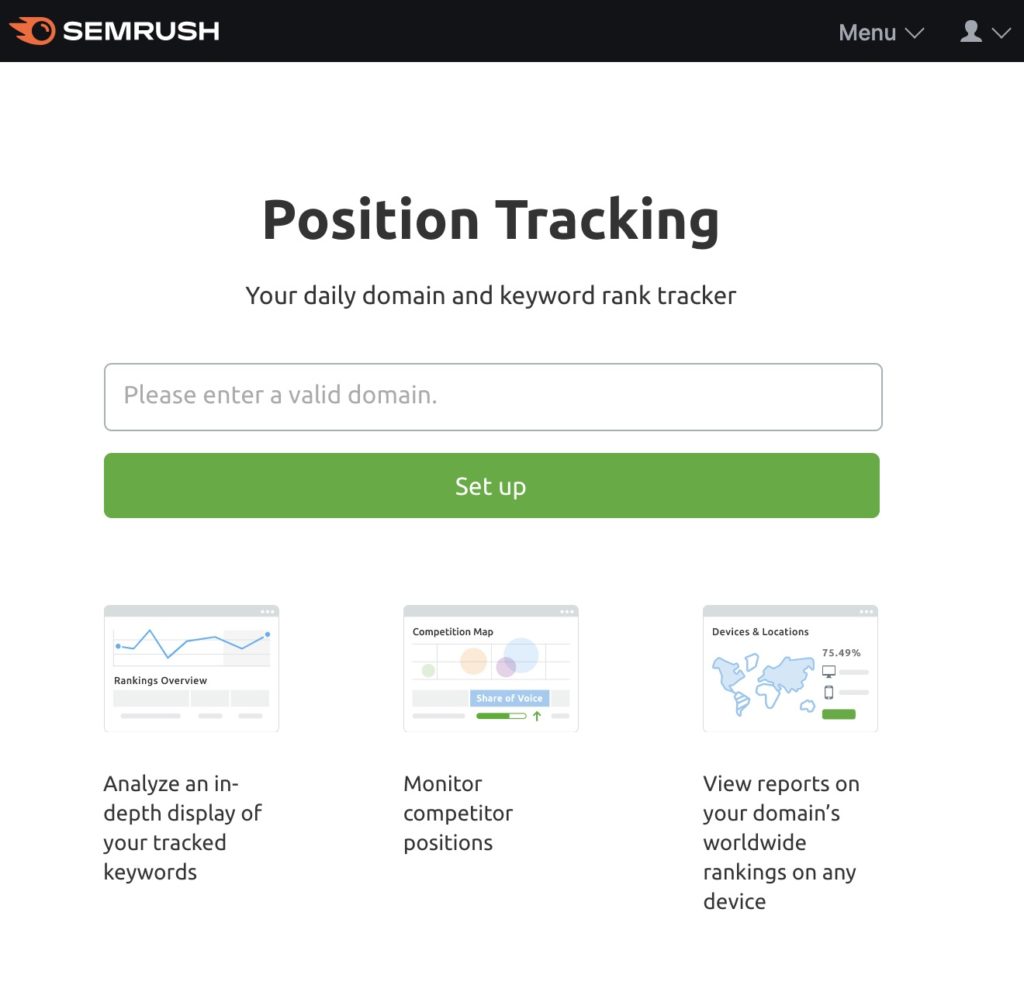 If you want to know where your website ranks with a particular set of keywords, Position Tracking is the tool for you. You can track daily rankings in any geographic location and on mobile phones, tablets, or desktops.
The data provided by this service allows marketers to find precisely what they are looking for in their SEO or PPC performance, and it comes with tons of features like tagging, sorting, filtering, and exporting reports that make it easy to pinpoint trends in the numbers.
Organic Traffic Insights
Organic Traffic Insights is probably the only tool that you need to analyze your website's organic traffic.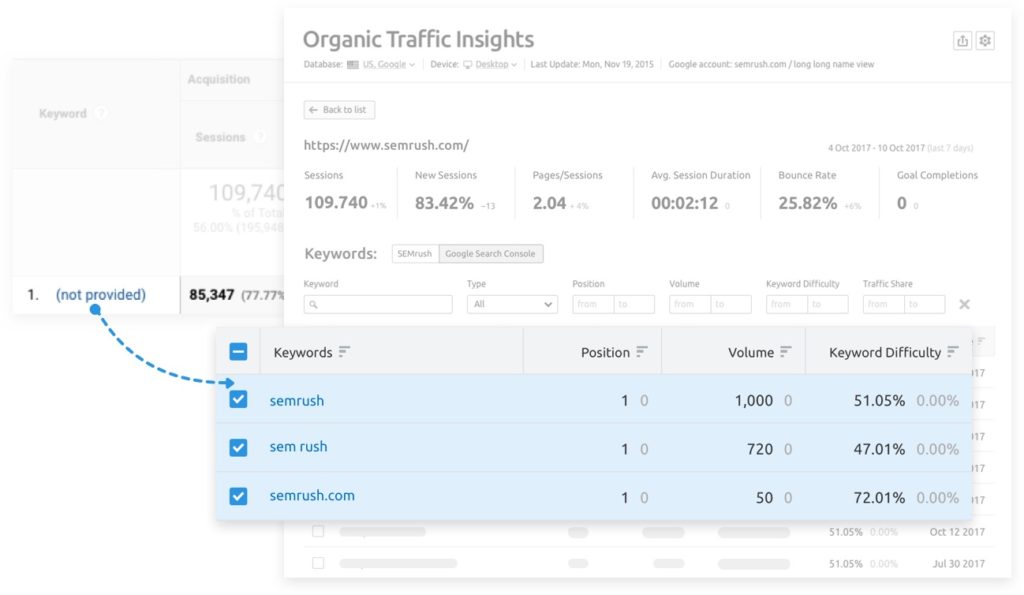 This all-inclusive dashboard includes data from Google Analytics, Google Search Console, and Semrush so you can quickly uncover those "not provided" keywords in GA and get accurate rankings for every keyword found by Semrush or GMC.
With Organic Traffic Insights, there's no reason not to have a complete look at everything happening with your site!
Link Building
Link building is an integral part of creating a successful SEO campaign.
There are so many different factors that go into Google rankings, but search engines tend to reward websites with more inbound and high-quality links. So link building is one of the best ways to rank higher on SERPs (search engine result pages).
The Semrush Link Building Tool Kits include the below:
Backlink analytics
Backlink audit
Link building tool
Bulk analysis
We'll look at them one by one.
Backlink Analytics
Backlink Analytics on Semrush provides you with a way to see your company's and competitors' backlinks side by side so that you can determine who is gaining the most ground.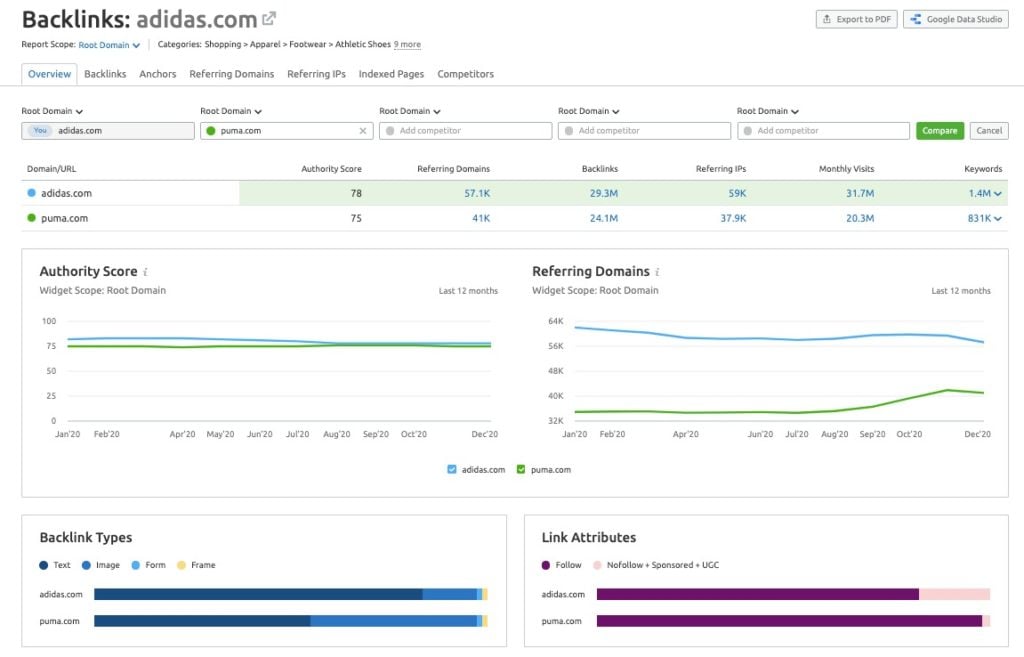 All new links are gathered daily and added to their database, which updates publicly every two weeks — so it will be no more than two weeks until they show up in this tool!
It can help you keep track of your competitors' backlinks and give you insight into the keywords they are targeting and what other sites link to them.
The Backlink Analyzer will also highlight who links to that competitor based on their referring domains, IPs, or anchor text analysis.
Link Building Tool
The Semrush Link Building Tool is a powerful and easy-to-use outreach tool that quickly generates lists of outreach prospects for you to contact.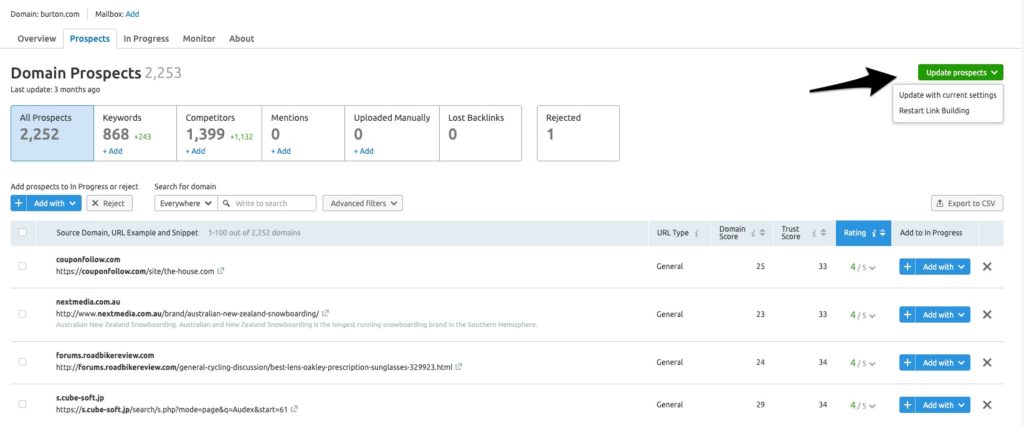 The tool includes built-in workflows, making it possible for the user to generate multiple campaigns simultaneously with different target websites or domains.
It also has integration options such as Gmail and Google Search Console, making it convenient to build an effective link-building outreach campaign!
Bulk Analysis
If you're looking for link-building opportunities, check out the Semrush Bulk Backlink Analysis report!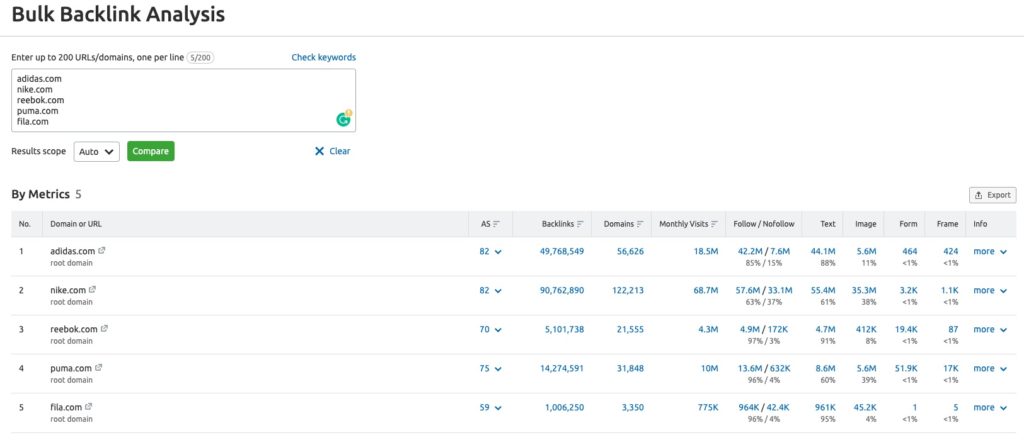 Simply enter up to 200 URLs, and it'll provide data about how many backlinks and referring domains pointing to each URL.
On-Page & Tech SEO
Did I mention technical SEO is a critical part of any successful search engine optimization campaign? The on-page and tech SEO toolkit by Semrush helps you succeed in tech SEO by offering the below tools:
Site Audit
SEO Content Template
On-Page SEO Checker
Log File Analyzer
Listing Management
We'll go through them quickly below.
Site Audit
Semrush's Site Audit is a powerful website crawler that will crawl your website just like a search engine does.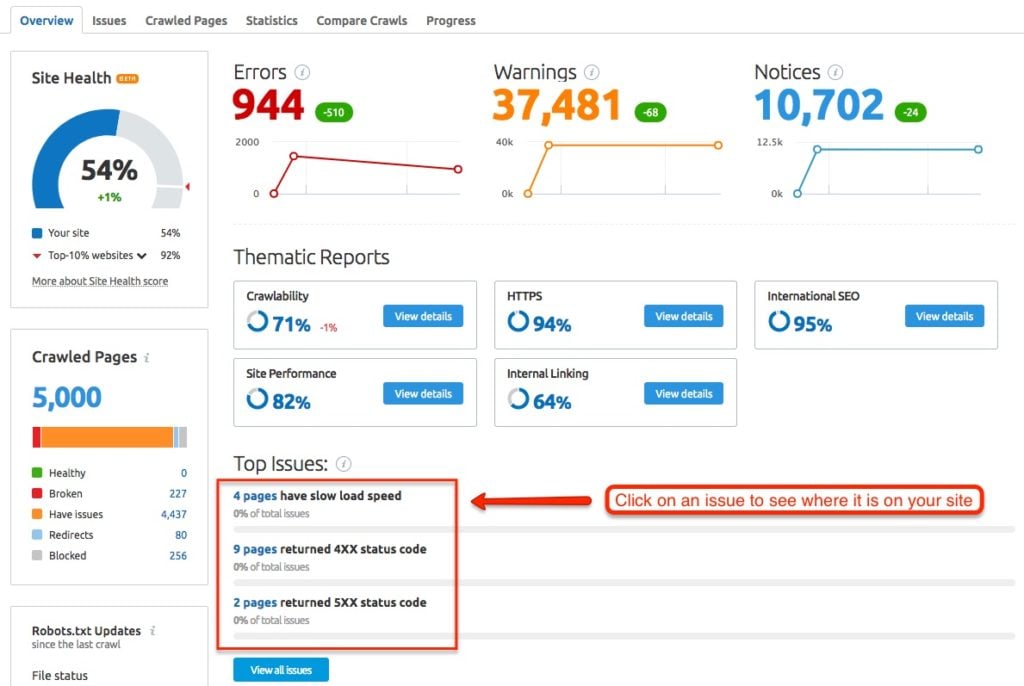 It will analyze the health of your site, provide you with a list of issues and where exactly your website may be struggling.
And fixing these issues would help boost SEO.
The 140 SEO checks it offers will help you find any issues (like broken links, duplicate content, and HTTPS implementation) with your site so you can make improvements and show up higher in search engine rankings!
It has an excellent UI and provides a thorough audit report that helps you understand and fix the issues. In addition, it's easy to understand even for beginners, making it the perfect tool for every type of website owner, from a blog owner to an enterprise business SEO manager.
SEO Content Template
With the SEMrush SEO Content Template, you can create semantically rich content and optimize search engines. This provides you with a greater chance of getting to the top 10 in Google's results pages!
SEO Content Template is a great way to generate content that will rank for high-traffic search terms.
All you have to do is enter the keyword or set of keywords, and the tool will analyze the top 10 domains ranking for these keywords.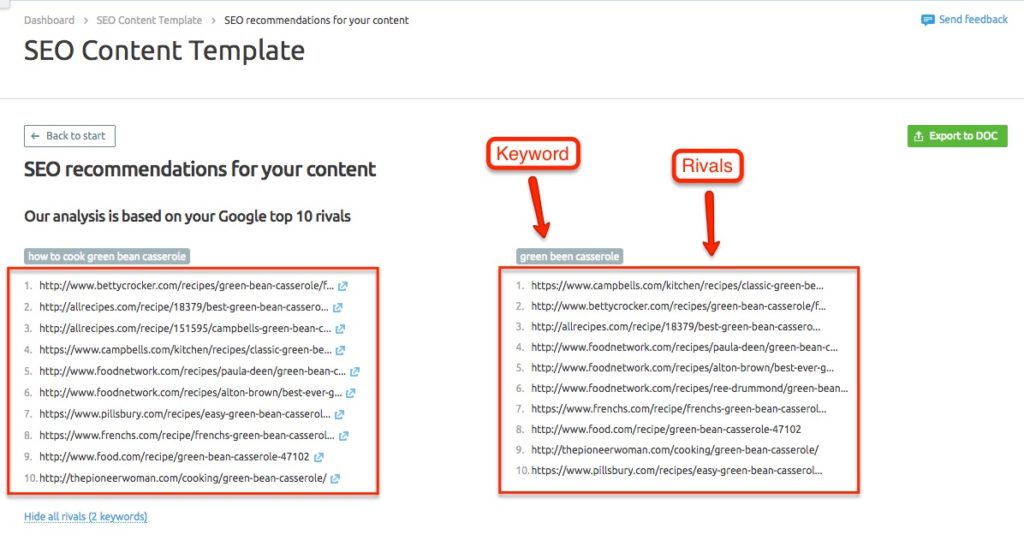 Recommendations are given based on both topics related to your input and topics closely linked with it.
Here's an example.

On-Page SEO Checker
Semrush's On-Page SEO Checker is a fantastic tool for analyzing your website's on-page SEO.
It provides you with various ideas to improve each page's readability and content length and backlink prospecting information.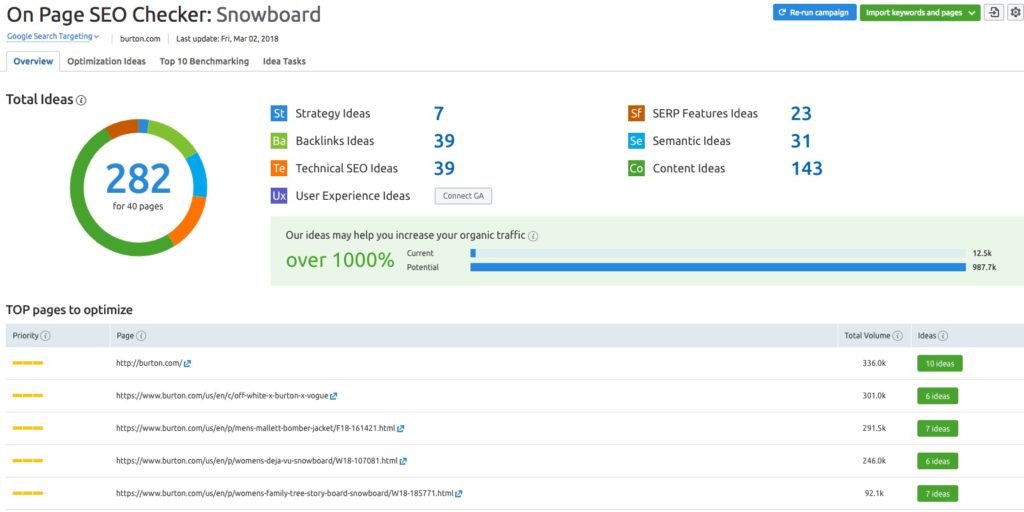 You can also use this program to analyze how competitive your site is compared with other top ten sites in search results for specific keywords!
Semrush On-Page SEO Checker is easy to use. It provides a list of ideas on improving the performance based on your competitors and Semrush data in your niche.
Log File Analyzer
The Log File Analyzer in Semrush's SEO toolkit is a handy way to understand how search engines see your site. Simply by entering the URL, you can get tons of information like:
Time elapsed from the initial crawl start date
Errors found during the crawl
Pages that were not crawled
and more!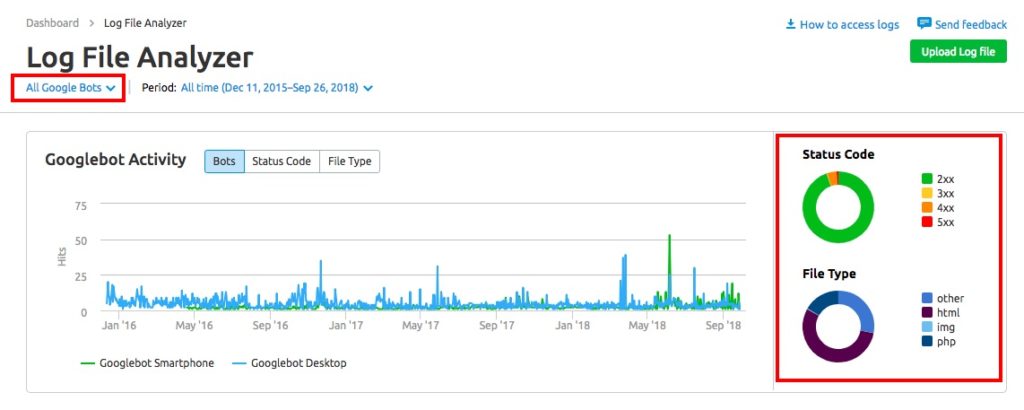 There is also the Listing Management tool which we'll discuss more in the Local SEO toolkits section.
Semrush Review: Rank Tracking
Semrush Sensor
Semrush Sensor is a nifty tool to monitor Google Search Engine Results Pages. You can be alerted on the go of possible Algorithm changes with the click of one button!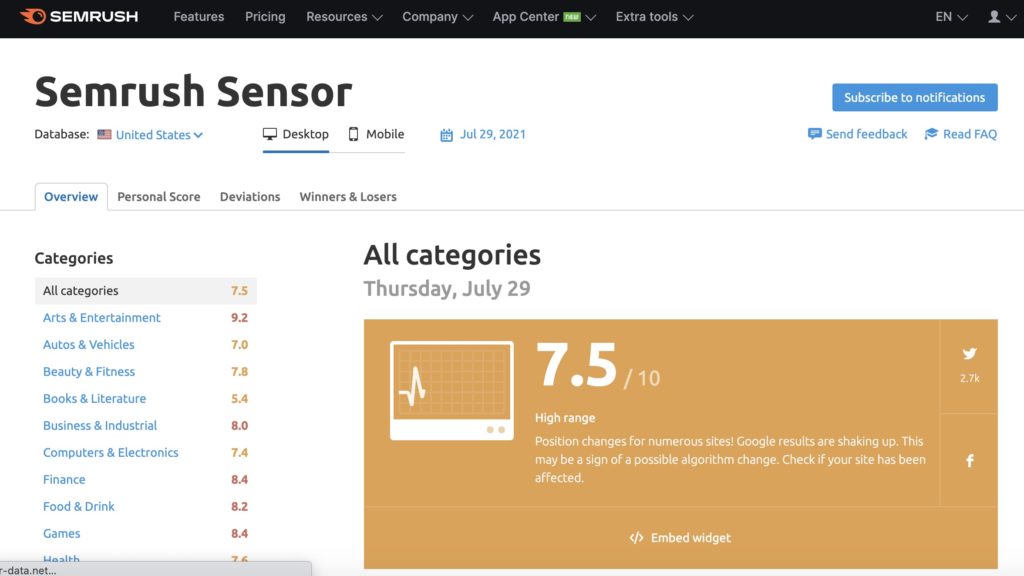 The Semrush Sensor will help you to improve your site's SERP rankings by providing insight on Google search results for six databases: United States, United Kingdom, Germany, Spain, France, and Australia. For each of them, a separate score is available in desktop and mobile searches.
Ranks
Semrush Rank is Semrush's proprietary ranking of the domains on the Internet with high organic visibility.
A domain's rank can be found by pulling data from any regional database and returning to January 2012.
The lower a site's rank, meaning it has a more significant online presence. For example, sites like Google, Wikipedia, and Amazon have a ranking of less than 10.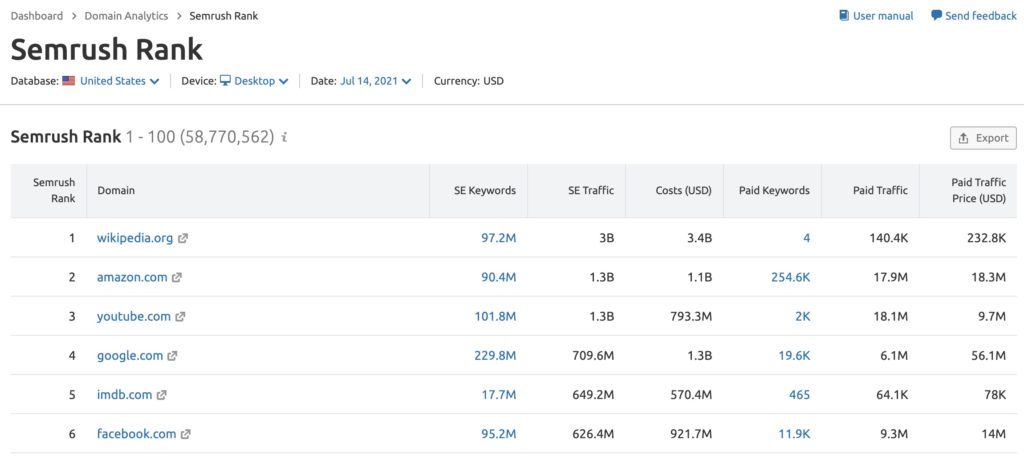 This report will help you compare your competitor's online presence to yours. The closer the Semrush Rank is to 1, the bigger their website is online.
Semrush Review: Local SEO Toolkits
There are four tools under the Semrush Local SEO toolkits. They are:
Listing Management
Position Tracking
Site Audit
On-Page SEO Checker
All of them are included in the Semrush SEO tool kits we've just reviewed above. So they are the same tools.
We're reviewing Listing Management in this section because we find this feature serves the purpose of Local SEO more than that of general SEO.
Listing Management
Listing Management is the top feature for Local SEO. With Semrush Listing Management, you can edit all of your business information from a single dashboard.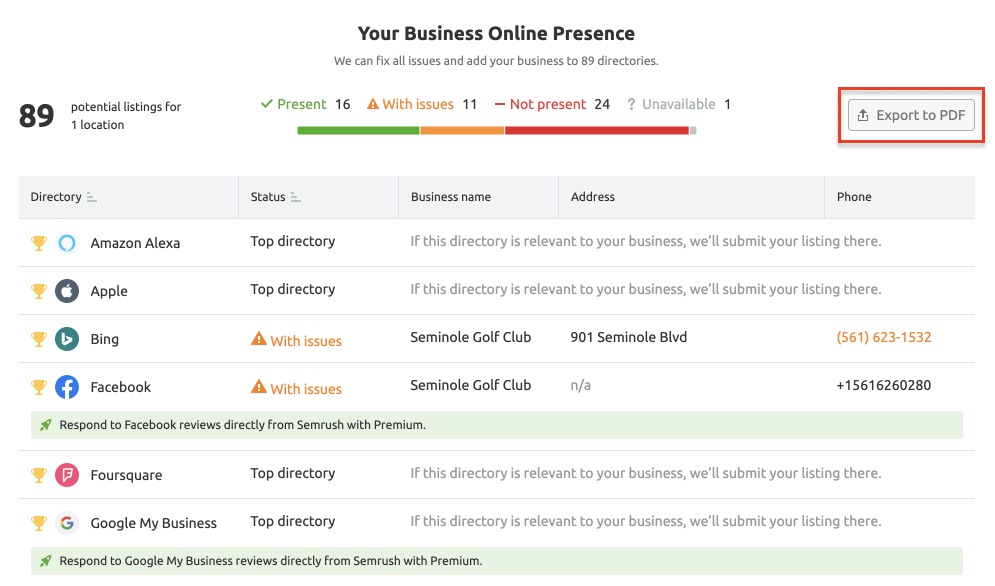 This easy-to-use tool allows for editing across the most authoritative directories in your region and makes it simple to ensure that you have correct listings everywhere!
You'll get a Local Rankings report that will show you your ranking in Google's local search. You can also have it presented to you on a map, which helps analyze the best options.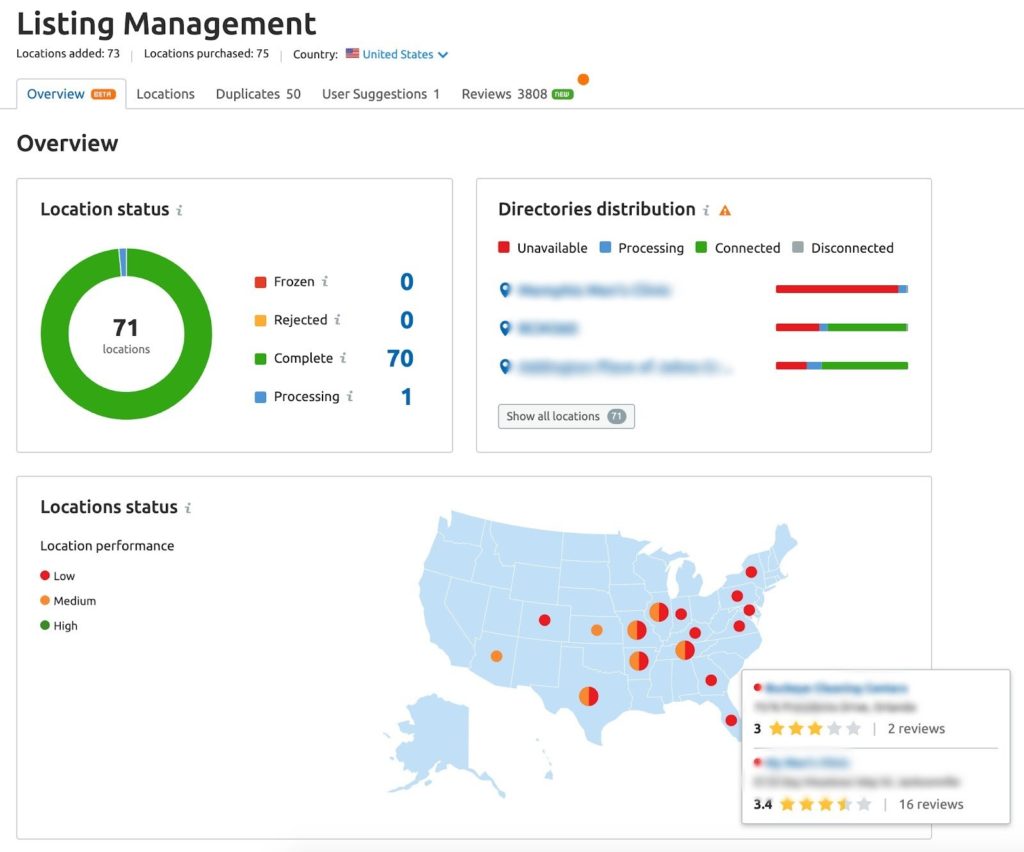 Semrush Review: Other Tools and Features
Semrush has a suite of powerful SEO tools that you can use to search keywords and analyze competitors. But it also offers other helpful tools for advertising and social media.
Semrush Advertising Toolkits include excellent tools like:
Market analysis
Keyword research: PPC Keyword Tool, Ad History, and more.
Ad tracking
Social media ads

In addition, Semrush Social Media Toolkits offer tools like:
Social media dashboard
Social media poster
Social media tracker
Social media ads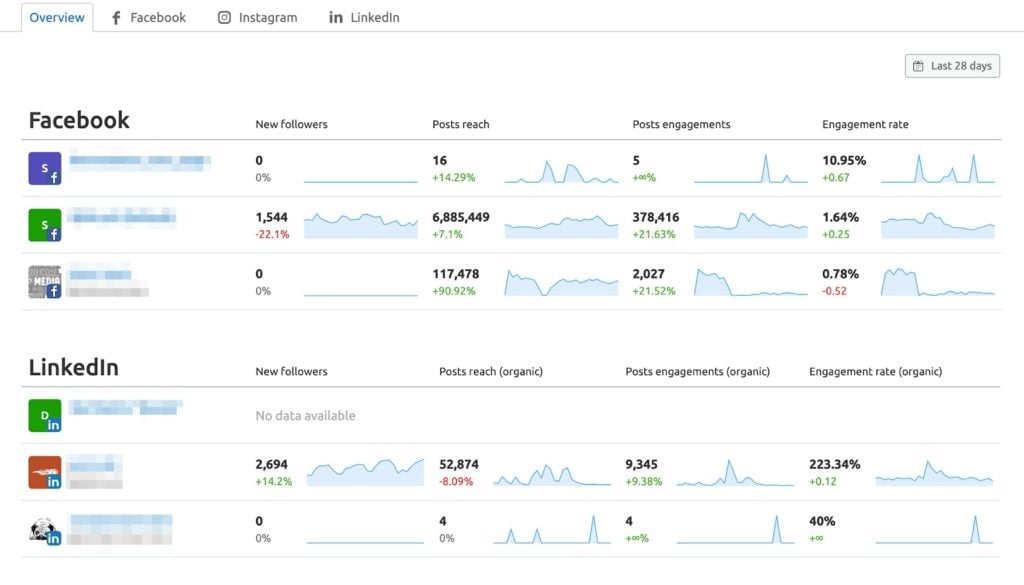 And if that's not enough, there are two more toolkits you should check out: the Content Marketing Toolkits and the Competitive Research Toolkits.
The Semrush Content Marketing Toolkits include the below:
Content marketing dashboard
Topic research
SEO content template
SEO writing assistant
Brand monitoring
Post tracking
Content audit
And the Semrush Competitive Research Toolkits offer the below tools:
Competitive research dashboard
Trends
SEO
Advertising
Content and PR
Social media
The same tools are being included repeatedly in different toolkits, such as SEO content templates and social media ads. That's because Semrush categorizes these tools according to their purposes, and the same tool can serve different purposes.
Semrush Review: Conclusion
In this Semrush review, I've tried to cover all SEO features that Semrush offers.
If you're looking to take your company's SEO game up a notch, then the Semrush tool may be just what you need.
It is an industry leader and offers some of the best features to boost your online presence and visibility.
Since it offers so many tools that we cannot cover them all in this review, I highly recommend you sign up for a free trial to explore what they can do for you.
Semrush usually offers a 7-day trial, but we've secured an exclusive partnership, so you can get a 14-day trial if you sign up through our link below!
Further read:
10 Best SEO Tools To Improve Search Engine Ranking
Best SEO Audit Tools For Website Optimization
8 Best SEO Automation Tools to Boost Efficiency
Spyfu vs Semrush: Which is a better SEO tool?
Top 8 SEO Reporting Tools in 2022
Serpstat Vs Semrush: Which Is A Better SEO Tool? Review And Comparison
Semrush Alternative: 12 Best Semrush Competitors Tools