Zoom's popularity skyrocketed in the last few years, and it's become the go-to video conferencing platform for personal and business use. But did you know that there's much more to it than that?
That's where Zoom Phone comes in. In short, this is Zoom's answer to business phone systems. So what is it, and what are its benefits?
Let's take a look!
What is Zoom Phone?
Zoom Phone is a cloud-based phone system solution for businesses. It's a unified communications platform, meaning companies can hold conversations via video, phone, and chat.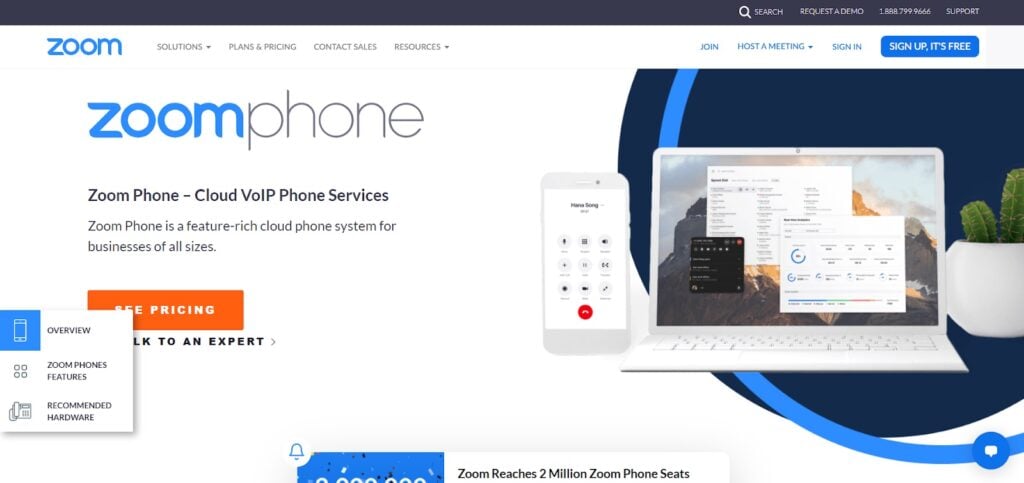 Check out our other related guides:
Other Business Phone/ VoIP Phone Services
Description:

RingCentral is one of the best cloud-based communication and collaboration platforms that provides businesses with a range of tools to manage their communication needs. It offers features such as voice and video conferencing, messaging, team collaboration, and online meetings. With RingCentral, businesses can easily connect with their customers, partners, and employees from anywhere, at any time, using any device.

Description:

Nextiva is a cloud-based communication platform that provides businesses with a range of tools to manage their communication needs. It offers features such as voice and video calling, messaging, and collaboration tools, all accessible through a single platform.

Description:

Ooma is one of the best telecommunications companies that provide internet-based phone services for residential and business customers. The company offers a range of products, including home phone service, business phone service, and internet security services. Ooma's home phone service allows customers to make unlimited calls within the United States and Canada, while its business phone service offers advanced features such as virtual receptionists, call routing, and conference calling. Ooma's internet security services include antivirus and firewall protection, as well as identity theft protection. Overall, Ooma provides reliable and affordable communication solutions for individuals and businesses alike.

Description:

Dialpad is an AI-powered cloud phone company that provides a modern business communication platform for teams of all sizes. With Dialpad, users can make and receive calls, send and receive messages, and hold video conferences from anywhere, on any device. The platform is built on a cloud-based infrastructure, which means that users can access their phone system from anywhere with an internet connection. Dialpad also offers advanced features such as AI-powered transcription and analytics, integrations with popular business tools, and customizable call routing and voicemail settings. With Dialpad, businesses can streamline their communication processes and improve productivity, all while reducing costs and increasing flexibility.
What is the difference between Zoom Phone and Zoom Meeting?
Zoom Meeting is a dedicated video-conferencing platform designed to improve team collaboration.
It allows users to join video meetings with their teams and offers various tools to streamline team communication, like screen sharing, team chat with integrated file sharing and searchable history, etc.
The platform also integrates with Gmail, Outlook, and iCal to easily schedule meetings within these platforms.
In contrast, Zoom Phone focuses on enhancing customer communication through phone calls. Its features include Barge, Whisper, Take over, or Listen.
These features allow admins to listen in on phone calls to give service agents real-time feedback or intervene whenever possible.
Other functionalities include call and queue monitoring, call reports, call forwarding, music-on-hold, etc.
You can also integrate Zoom Meeting with Zoom Phone to access team collaboration tools.
What are the benefits of Zoom Phone?
Firstly, Zoom Phone offers Bring Your Own Carrier (BYOC) support. In other words, you can use your existing provider when you sign-up for Zoom Phone.
You won't need to install any new hardware or deal with downtimes. The setup is quick, and you can maintain contact with your customers as you transition to this platform.
Secondly, Zoom Phone's feature set allows you to streamline workflows and improve customer and team communication.
On the one hand, Zoom Phone includes unlimited internal calls, team chat, and integrations with Slack, Google, or Microsoft tools. Furthermore, the platform is accessible through macOS, iOS, Android, Windows, and Linux.
To put it differently, Zoom Phone has no limitations in maintaining contact and managing teams.
On the other hand, the platform provides auto-attendants, reports, call monitoring tools, and automatic call distribution. It also integrates with Salesforce and contact centers, like Twilio, Five9, etc.
That said, Zoom Phone offers all the necessary features to increase your team's effectiveness and improve customer service.
Lastly, the platform is scalable. Zoom Phone has various optional add-ons, like international calling and additional phone numbers. This gives you room to grow and adapt as you expand your business.
Not to mention that the platform seamlessly integrates with other Zoom products. For instance, Zoom Whiteboard can take team collaboration to another level. It allows you to visualize ideas, leave notes, and work with multiple team members on the same whiteboard in real-time. This makes it an excellent tool for brainstorming sessions.
Is Zoom on phone free?
You can use Zoom for free, also available for mobile devices. However, Zoom's dedicated phone system does not have a free version.
Zoom Phone covers two pricing plans:
Pro – from $96/year/user
Pro Global Select – from $240/year/user
Moreover, the optional add-ons start at $120/year.
How reliable is Zoom Phone?
Users report that Zoom Phone is highly reliable. They didn't encounter connection issues, while the platform is easy on your devices' resources. That said, you can expect that Zoom Phone will perform well both on desktops and mobile devices.
However, note that Zoom requires a stable internet connection. Otherwise, the platform might be sluggish and provide lower call quality.
What do you need for Zoom phone?
Since Zoom Phone uses VoIP technology, you only need a good internet connection. You don't have to deal with maintenance or finding space to store bulky equipment, like trunk lines, power sources, etc.
In terms of hardware, you can use your existing devices.
Conclusion
Zoom Phone is a solid phone system. It's convenient, scalable, and affordable. The platform offers a broad set of advanced features, helping you improve communication on both fronts, be it with your team or customers.
Moreover, the platform's integration capabilities and optional add-ons make it a great option for businesses looking for a solution that grows along with them.