What is the most popular type of content today? Obviously, it is video content. People watch tons of videos online and offline daily. Thus, tools for working with videos are an indispensable part of the routine for many users.
People need programs that suit these needs, whether it is necessary to create a clip or just to adapt an existing one for a new device. And the market offers dozens of such programs today! But, unfortunately, choosing a tool to make a video or change the video format becomes a complicated task. And in this review, we will introduce to you one of such tools which can be a good solution for video converting and even video editing tasks.
What Is Video Converter by Movavi?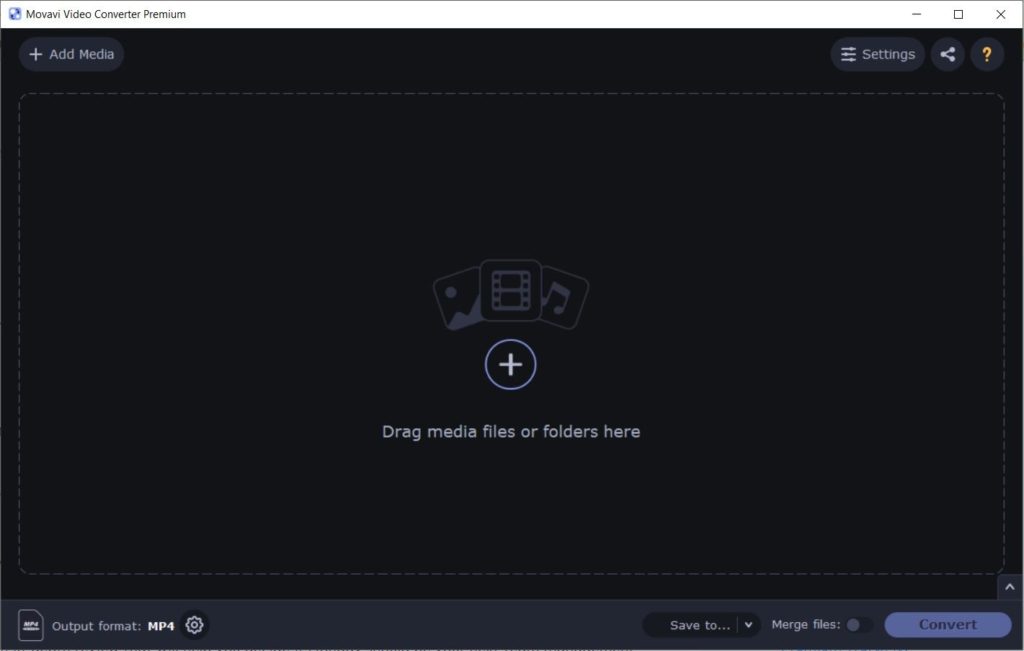 Movavi Video Converter is a simple yet functional program for converting media files to various formats, compressing them, and even improving the resolution of images and videos. Initially designed for working with videos, this software can now be used for changing formats of audio files and pictures.
Created for users of all levels, this Video Converter has a highly intuitive drag-and-drop interface. At the same time, the program can help you complete some editing tasks, so you will not need an additional program to cut or crop a video or enhance a photo. Moreover, with the help of AI, you can even upscale your images and videos and double their resolution without the quality loss.
Overview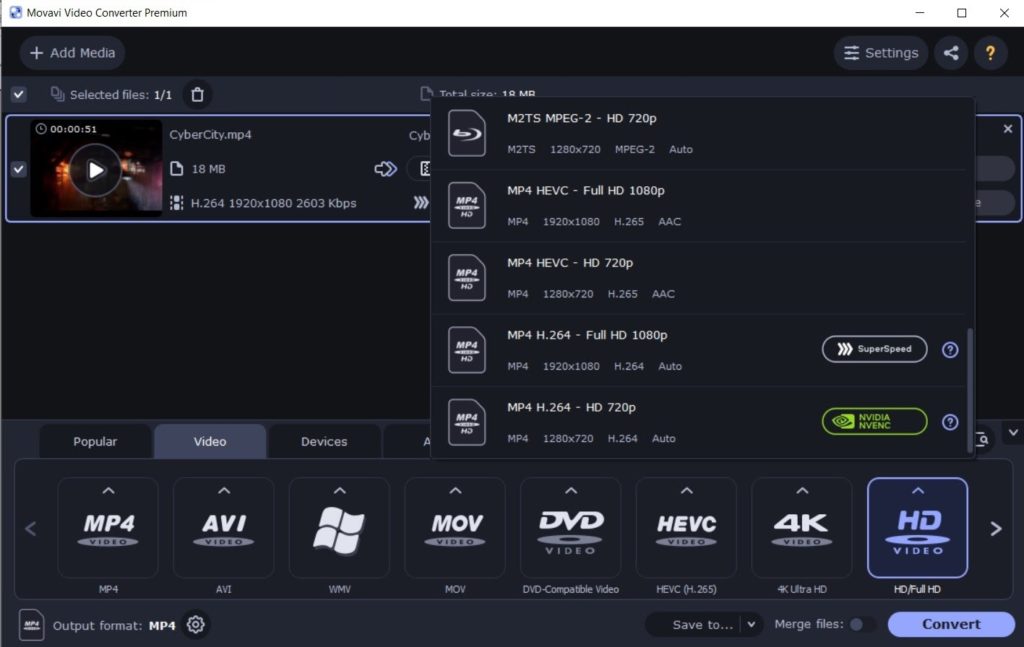 Video Converter by Movavi is a multifunctional program. Working with it starts with uploading your files into the program, and then you can immediately begin converting them or apply some changes: edit or upscale media files.
To start converting, you need to choose the format you need. All the formats are displayed at the bottom of the window. All of them are sorted into several categories: by the file types (video, audio, or images), by devices that support different formats, or by the popularity of particular formats. Thus, you can quickly and conveniently select the one you need and apply it to your files.
The choice of formats is impressive; it includes more than 20 variants for a video converter (MP4, AVI, MKV, WMV, video compatible with DVD, and others), more than 10 variants for an audio converter (MP3, WAV, FLAC, AAC, and others), and 6 variants for images (including GIF). In addition, various formats can use different codecs, and these codecs are specified in the settings of each particular format so that you can choose the best variant for you.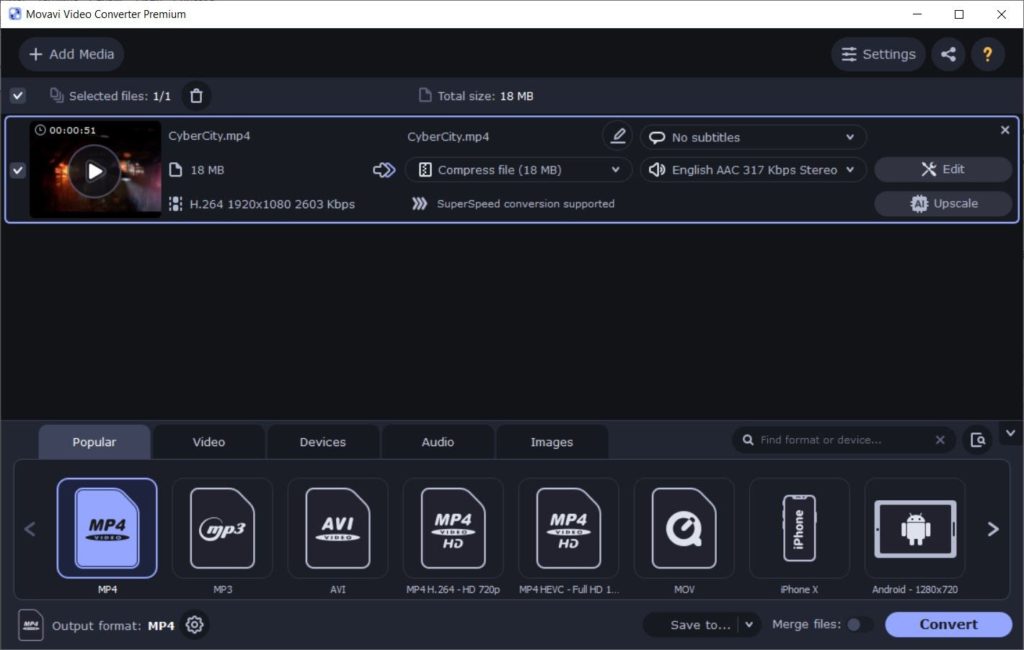 What is also worth mentioning, Movavi Video Converter uses hardware accelerations of your computer. This makes the conversion process much faster, and even batch conversions can take several minutes.
Pricing
Movavi Video Converter has two pricing variants: a subscription and a lifetime license. Of course, there is a free trial version of the program. However, you can use it only within seven days from the moment of installation; after that, if you like the program, you need to purchase it to use it further. So, let's take a closer look at pricing variants.
Subscription
The subscription is yearly, and it costs $44.95. For this price, you can use all the opportunities of the program. Moreover, if the developer comes with a new version of the program while your subscription is active, you can get it with no additional fees. Meaning, if you subscribe for Video Converter 2022, and in eight months, Video Converter 2023 is released, you can choose whether to continue with version 2022 or switch to version 2023. Both variants will be available for you.
Lifetime License
A lifetime license costs $54.95. For this price, you get a program you can use at any time, without limitations. However, only minor updates will be available for you for free. For example, if you purchase a lifetime license for Video Converter 2022, and in several months the next version is released, you cannot switch to the newer version for free. Though your version still will be supported, to get version 2023, you will need to purchase an additional license for it.
Features
As we have already taken a quick glance at the main functionality of Video Converter by Movavi, let's now take a closer look at all its opportunities. So, what else can we do with the help of this movie converter?
Compress a Video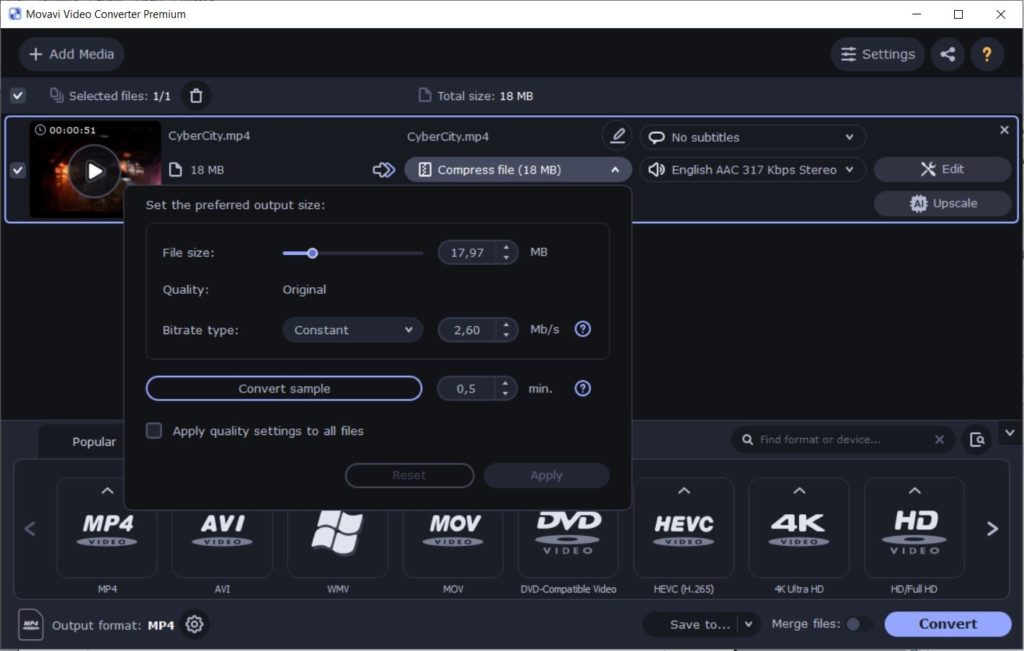 Apart from changing a video's format, you can reduce its size and adjust the bitrate. You can set the size you need manually, and the program will change the file settings automatically so that the resulting size matches your requirements.
You can also use this function to increase the bitrate as it significantly influences the quality of the resulting video. You can also set the bitrate manually; however, note that if you increase it, the size of the resulting file can become much bigger, and the conversion itself might take more time.
After adjusting all the settings you need, you can convert a short fragment of your video to make sure all adjustments are correct. This is an excellent opportunity to save time, especially if you are going to convert many files.
Upscale a Video
This option will come in handy if you need to adapt a video of a smaller resolution to a bigger screen. With the help of AI, you can double the resolution without quality losses. AI can identify fragments of the image and upscale this image, keeping the quality of the original video. However, note that upscaling is a complicated process; thus, it can significantly increase conversion time.
Add Subtitles to a Video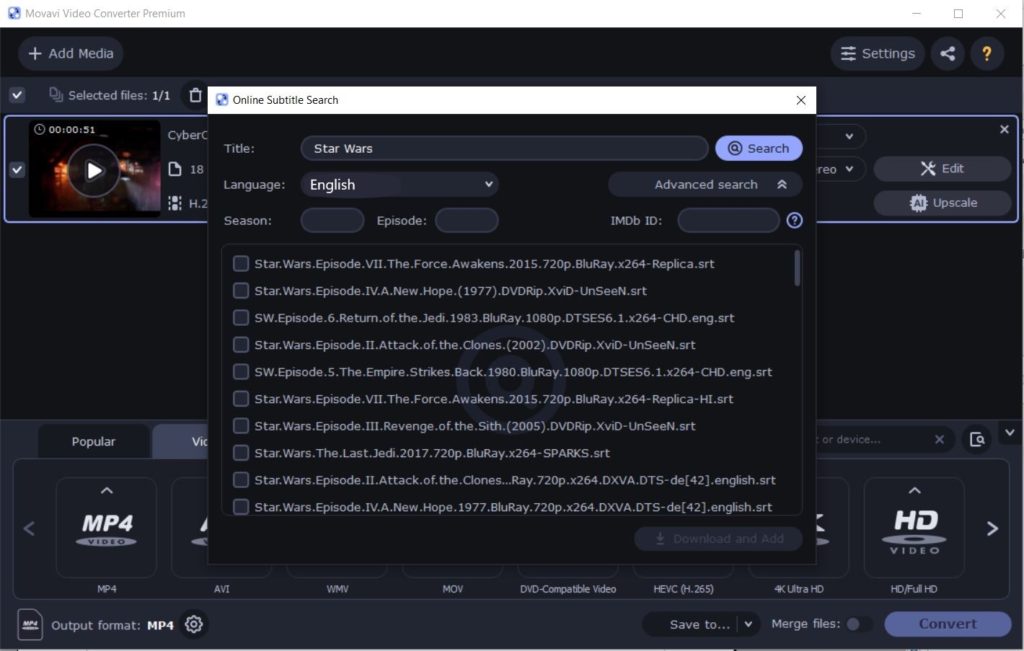 If you want to add a subtitles track to your video, Video Converter can help you with that. The program allows you to upload an SRT file from your computer or search for subtitles online. After uploading or downloading subtitles, you can edit them and adjust the font, style, size, and color of the text. You can also change the encoding and position and synchronize your subtitles. After that, you can start conversion, and the subtitles track will be joined with the video.
Edit a Video
Movavi Video Converter has a built-in video editor so that you can quickly and easily make some changes in your clips. There are the following editing possibilities:
Audio adjustments. You can change the audio volume and the level of noises manually or normalize the volume and remove noises automatically.
Color adjustments. Here, you can change the brightness, contrast, hue, and saturation manually or use auto contrast, auto white balance, magic enhance, and automatic noise removal options.
Effects. This option offers you to apply various filters and visual effects to your video to make it look unusual.
Watermark. Here, you can add your own watermark to your video. It can be text which you can entirely customize, or you can choose an image from your computer and use it as a watermark.
Cropping and rotating. This option can help you crop your video, keeping or changing the original aspect ratio. Also, you can change the angle of the image.
Trimming. With the help of this function, you can cut out and remove some fragments from your video to make sure there will not be anything unnecessary.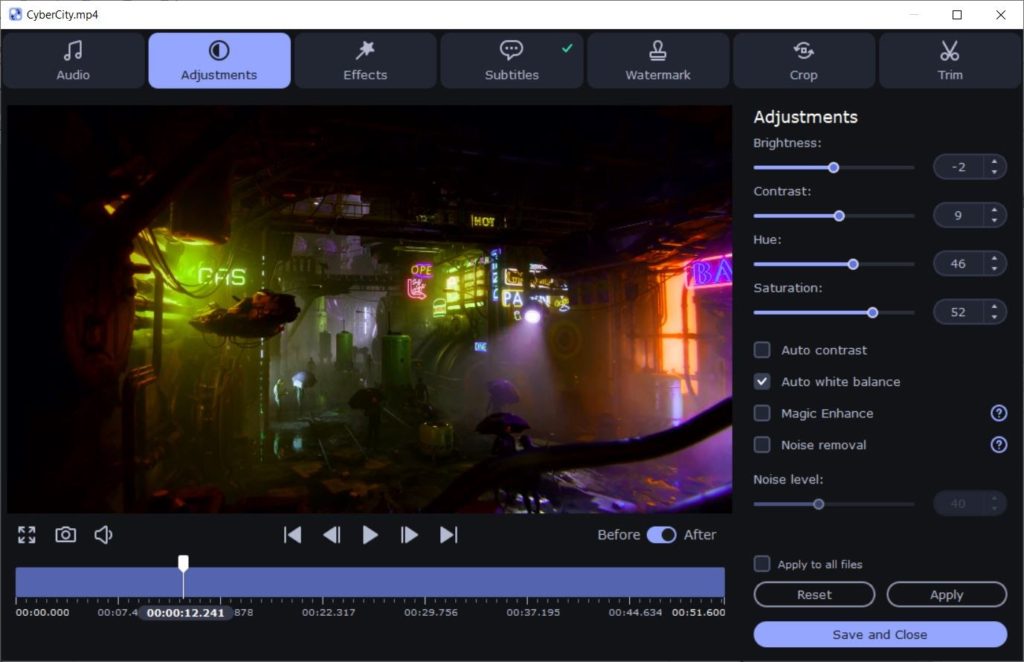 For all of these editing options, there is an opportunity to use a "Before/After" button. So, after making edits, you can switch to "Before" and compare the result with the original image.
Pros and Cons
We have overviewed all the critical points of Movavi Video Converter, so what are the main advantages and disadvantages of this software solution?
Pros
The program is very easy to use. Its intuitive and user-friendly interface is suitable for all people regardless of their experience.
There is a wide choice of formats for conversion. You can benefit from a number of various formats and codecs for video, audio, and images.
You can edit your media files right in the converter. There is no need to buy one more program if you want to make several edits.
The program uses hardware accelerations and AI. Thanks to these options, the conversion takes less time, and relatively quick and high-quality upscaling is available.
It is possible to control all the settings and adjust all the parameters of the resulting file.
The developer provides 24/7 multi-language technical support.
Cons
The variety of editing tools might seem not so wide. It is definitely more a converter than an editor.
The usage of the trial version is limited to seven days. Moreover, if you use a free trial version, all your resulting videos will have a Movavi watermark.
Conclusion
Looking for a straightforward and functional program for working with media files can be a headache. However, here it is – a program that does not require professional skills and a super-powerful computer.
Movavi Video Converter can be a perfect solution if you are not really into detailed video editing. This program provides many opportunities to convert not only video files but also audio and images. Moreover, you can make some simple video and photo edits right in the converter.
Though such a short trial period can be inconvenient, the price of the program is not so high as the prices of some professional software. All of these points make Movavi Video Converter worth trying.