The rise of the OTT platform has been one of the most exciting developments in recent years. As more and more people turn to video streaming services for their entertainment, it's vital that you're on top of what's out there!
With so many over-the-top (OTT) platforms available, it can be hard to figure out which one is the right one for you for your video hosting and video content management. This article will help answer this question and provide you with 12 of the best ott platforms!
Here are the quick answers if you want to skip the reading: we find Uscreen and Muvi to be the best OTT platforms overall. 
You can try Uscreen for free here!
You can try Muvi for free here!
Keep reading to find out more about them and the other best OTT platforms!
What is an OTT Platform?
If you're not familiar with this acronym, it stands for "over-the-top." An over-the-top (OTT) platform is the perfect tool for content creators who want to monetize their videos directly. The OTT platform enables you to deliver video, and live stream feeds directly to any internet-enabled device. This allows you to monetize your video content without needing a third party. This type of platform provides a range of services from video on demand (VoD), video hosting, live streaming, messaging service, audio streaming, and more!
Now that you know what an OTT platform is, let's dive into the best OTT platforms we have for you!
Uscreen: best overall for video streaming and live streaming
Uscreen is one of the best OTT platforms for video monetization. It offers a video management system for businesses and content creators to upload and organize their content.
It can be used with themes so that teams can create episodes and trailers. Creators can adjust the speed of videos and overlay animated GIFs on top of them – making it easy to have captions and subtitles when necessary too!
The Uscreen platform also detects malicious bots from time to time which is very beneficial for users who need protection against such threats at all times. And finally, this service allows you to make payments in multiple currencies through its centralized dashboard — allowing you to monetize videos globally!
You can try Uscreen for free here!
Uscreen Pricing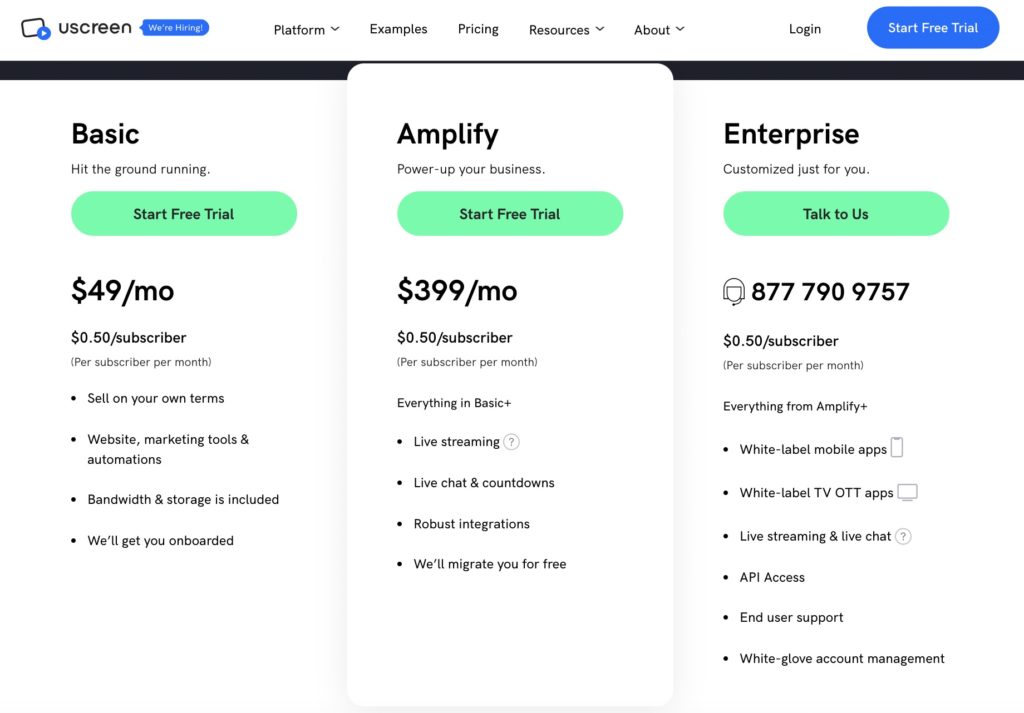 As you may see in the above screenshot, Uscreen offers three plans:
Basic: $49 per month + $0.5 per subscriber
Amplify: $399 per month + $0.5 per subscriber
Enterprise: Custom pricing + $0.5 per subscriber 
The main difference between Basic and Amplify is the ability to live stream. You'll only be able to do live streaming with the Amplify plan, which also offers robust integrations.
You can try Uscreen for free here!
Muvi
Muvi is a unique SaaS-based OTT platform that allows video and audio content creators and owners to launch their own branded, customized video streaming and live streaming platforms with one single integrated solution. Muvi takes care of everything end-to-end, from IT infrastructure and custom online players for web browsers and mobile devices, all the way down to apps for TVs out of the box!
You can try Muvi for free here!
Muvi Pricing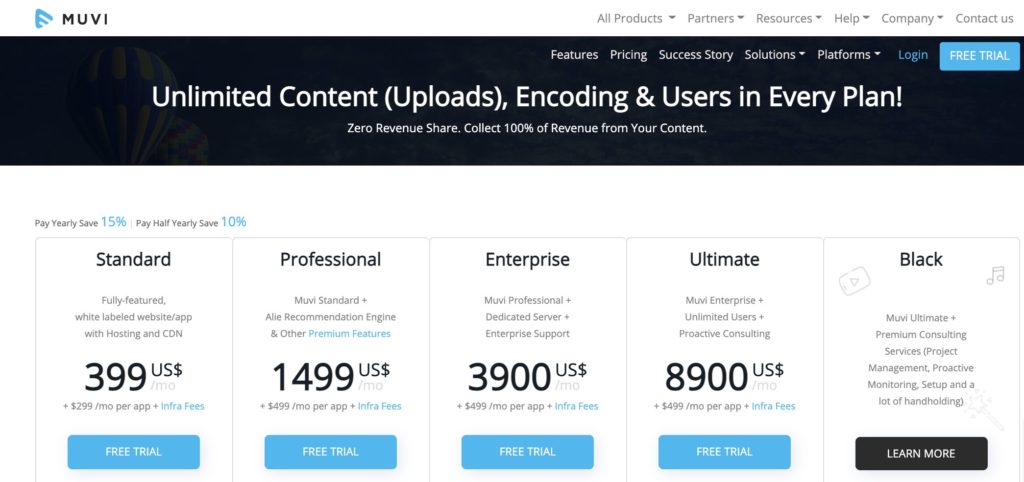 As you can see, Muvi offers five plans:
Standard: $399 per month
Professional: $1499 per month
Enterprise: $3900 per month
Ultimate: $8900 per month 
Black: Custom pricing, which includes premium consulting and more for Enterprises
One major highlight of Muvi's pricing is that it doesn't take a cut from your revenue. You only need to pay a fixed fee, and you'll collect 100% of revenue from your content.
All plans offer a free trial.
You can try Muvi for free here!
Wowza Media Systems
Wowza Media Systems is the leading OTT platform for live streaming, video on demand, and video streaming. It offers an OTT platform for broadcasts. You can find their service to be one of the best when it comes to massive operations, as they provide not only hardware but also software solutions so you won't have any trouble with your servers or connections.
If you want to build your infrastructure or configure your server, you can do so with their standalone Software as a Service (SaaS) products featuring cloud encoding services, CDN network for distribution over the Internet's backbone to any device anywhere, anytime at scale without delay; while also providing Stream Server software. Wowza could make it easy on those looking for massive scalability!
Wowza Media Systems Pricing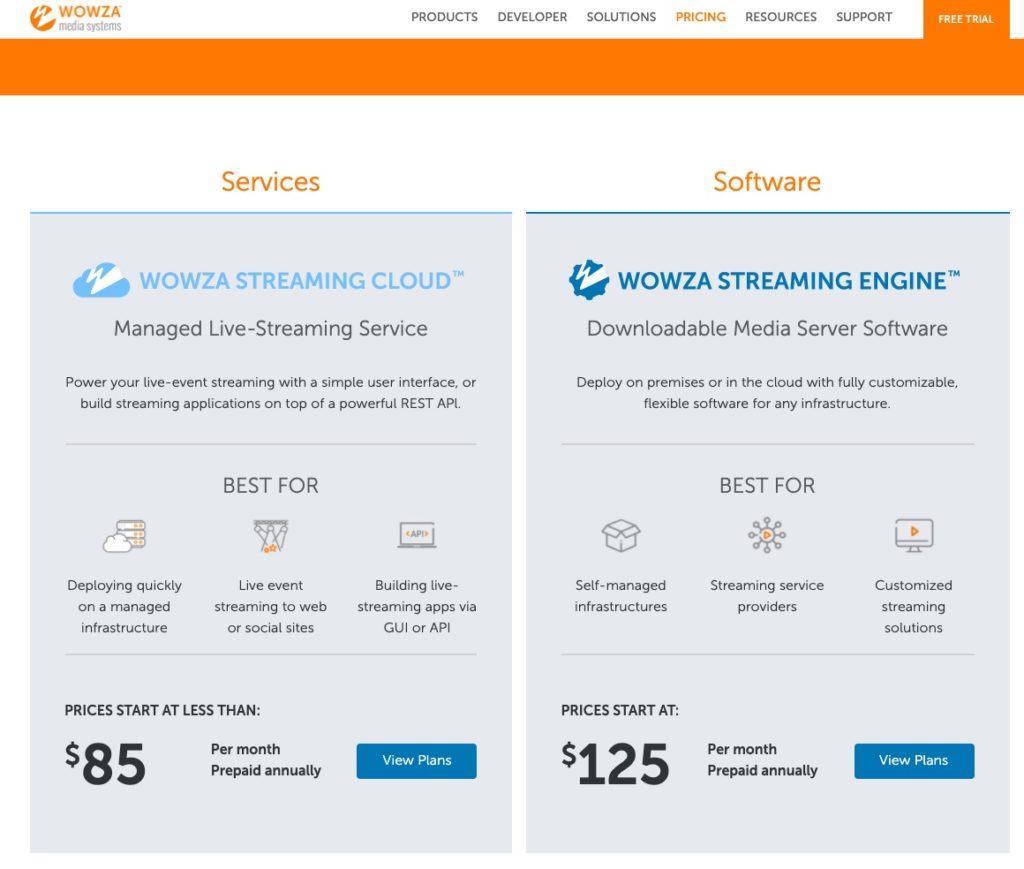 For Wowza Streaming Cloud, a managed live-streaming service, it starts at $85 per month; For Wowza Streaming Engine, a downloadable media server software, it starts at $125 per month.
You can get started with their free trial, or you can contact their sales team for custom pricing.
Brightcove Beacon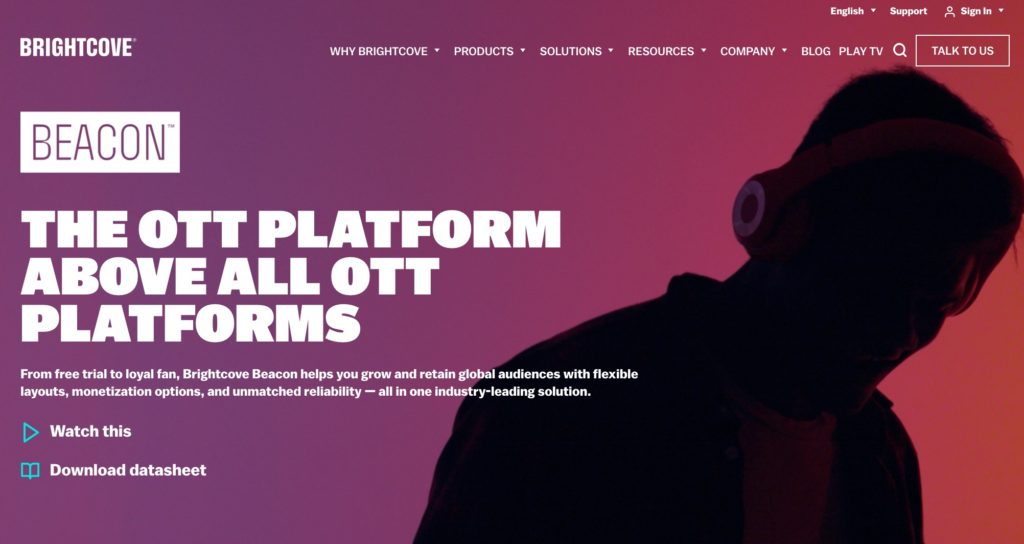 Brightcove helps you to launch and deliver videos without any hassle. In one platform, they offer a complete toolset for all of your needs: monetization options, analytics capabilities, live streaming playback, among others.
Brightcove Beacon is the OTT platform that offers a complete video toolset with features designed to optimize your live streaming and video streaming. You can monetize live videos through various options such as OTT advertising, subscriptions, or one-time purchases. It also allows viewers to record and playback live streams.
Brightcove Beacon Pricing
Brightcove Beacon pricing is not available on their website, but you can get in touch with their sales team.
Vimeo OTT
Vimeo OTT is the ultimate way for creators to take their business online. It has all of the tools and tech you need to grow a sustainable subscription service with everything from adding videos in seconds, customizing your site or apps, tracking subscriber growth and churn rates, as well as offering audiences an easy-to-use app that fits perfectly with your brand's look and feels.
Vimeo OTT Pricing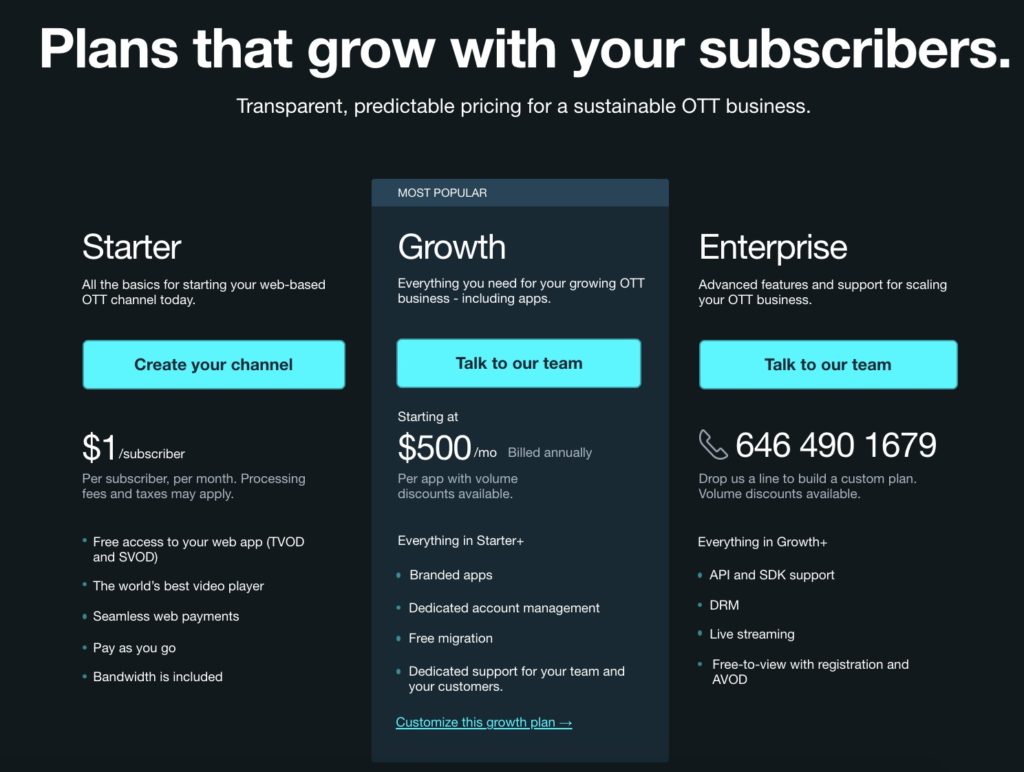 As you can see, Vimeo OTT offers three plan:
Starter: $1 per subscriber per month
Growth: $500 per month
Enterprise: Custom pricing
It is ideal for anyone just starting as it offers a "pay as you go" pricing model in the starter plan. For enterprise, you can talk to the team for a more customized solution.
IBM Watson Media OTT platform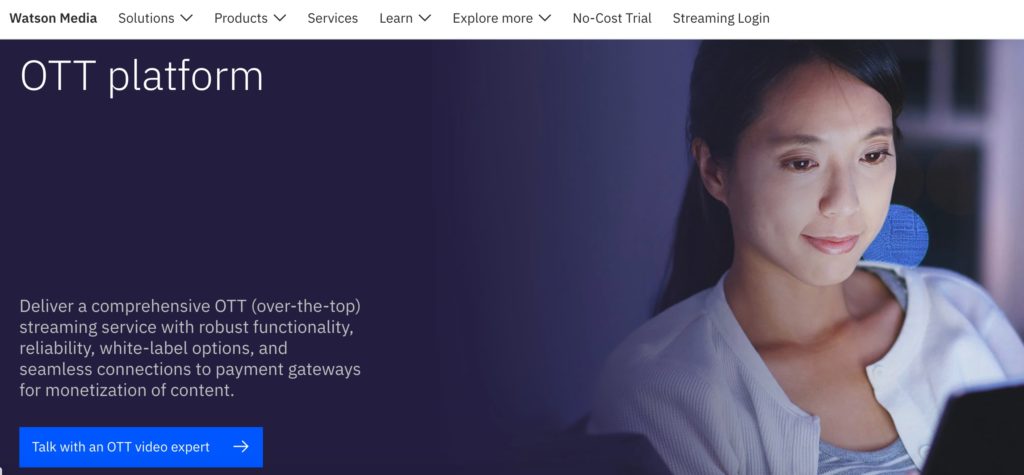 IBM Watson Media is a video streaming medium and video hosting company with tons of features designed for enterprises. It's packed with functionality, features, API access to create new streams of revenue-generating content and advanced customization capabilities that will help you take your business into the future!
It offers a scalable cloud-based OTT platform that is a comprehensive solution for live streams or video-on-demand to help develop white-labeled experiences for the subscribers' experience and viewers'. With their SDKs APIs and managed services, you can create your customized interface. At the same time, Playback is handled by software-defined QoS – optimizing end-user performance based on demand but also mitigating any potential outages.
IBM Watson Media OTT platform Pricing
IBM Watson Media OTT platform pricing is not available on their website. If you're interested, you can talk with an OTT video expert at IBM via their website.
Pivotshare
Pivotshare is a video-on-demand platform that allows publishers to build profitable subscription channels and grow their revenue through collaborations.
The end-to-end service handles everything from hosting videos, live streaming, video streaming, making payments, finding audiences for your content – all at no cost upfront or on an ongoing basis! Ideal if you're starting as it's free and easy to get started.
Pivotshare Pricing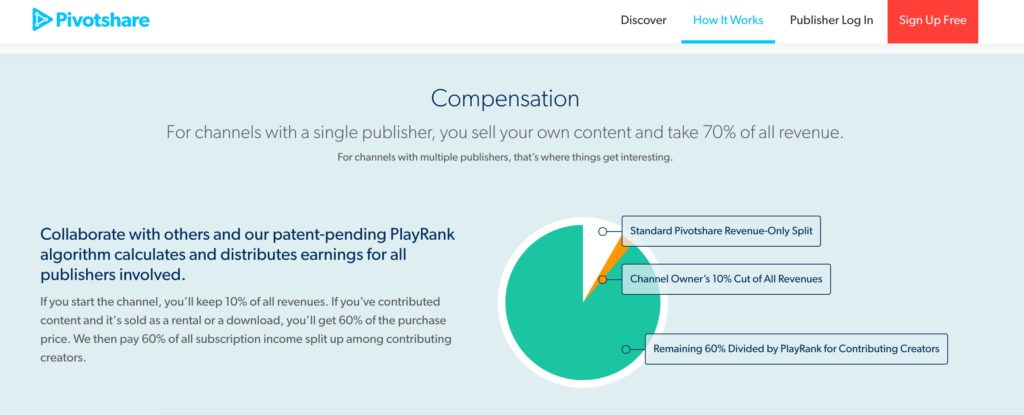 It's free to start, and Pivotshare takes a cut of your revenue. Creators keep 10% of the revenue when you start the channel. If your contributed content is sold as a rental or download, you'll retain 60% of the revenue.
60% of subscription income is split among all contributing creators.
Kaltura
Kaltura is an OTT platform and video experience cloud company that operates in four major markets: Cloud TV (OTT) for operators and media companies, online video platform(OVP), Education Video Platform (EdVP), and Enterprise Video Platform. All of these are offered to varying groups looking to distribute content or monetize it.
Kaltura's products are used by thousands of people worldwide, from global enterprises, educational institutions to media companies. You can see why they have hundreds of millions of viewers!
We think it's one of the best solutions for enterprises and bigger institutions.
Kaltura Pricing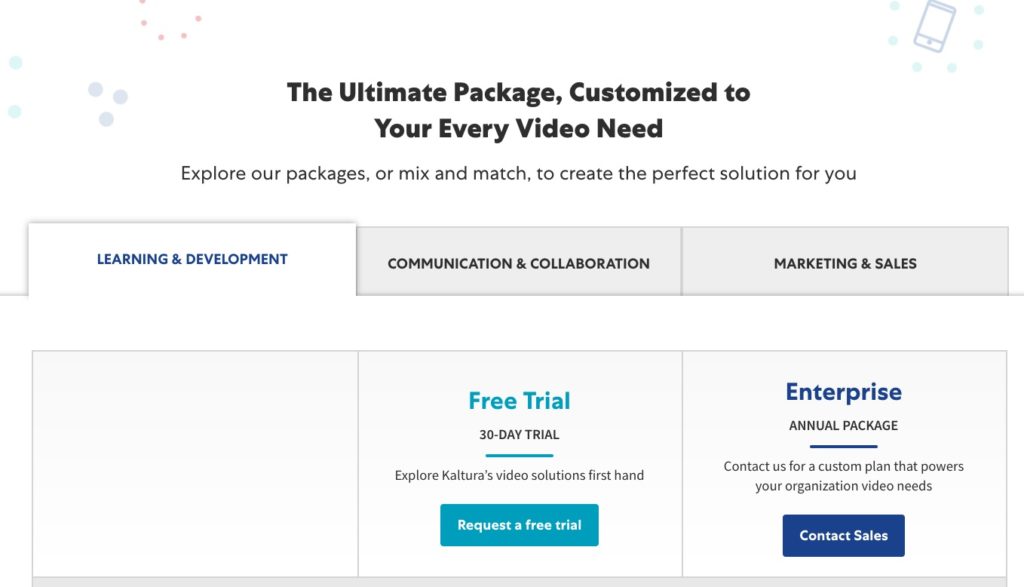 Kaltura pricing is not publicly available on their website. A free 30-day trial is available, and you can request one on their website.
Accedo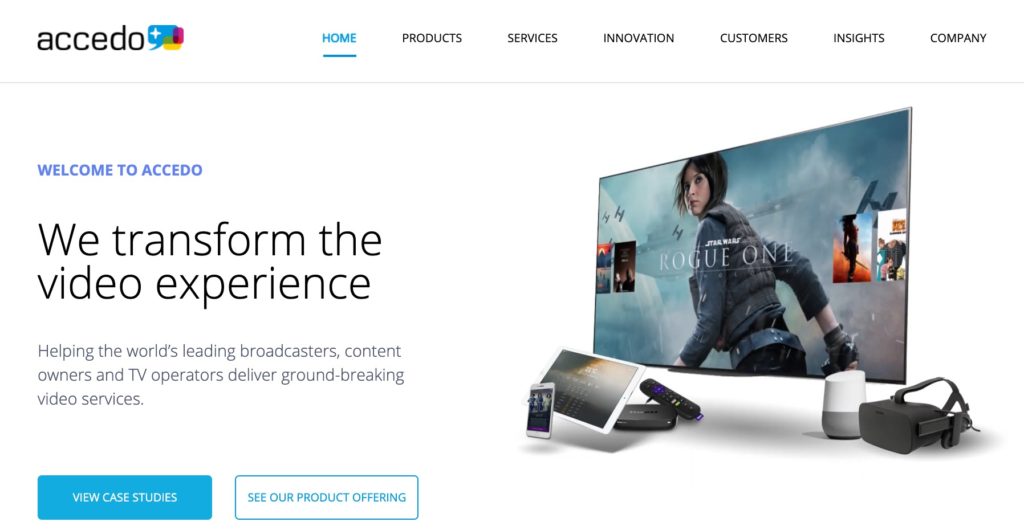 Accedo is a unified cloud platform that helps the world's leading video service providers such as broadcasters and TV operators to rapidly build, launch and grow their live streaming and video streaming business.
As a leading white-label solution in the OTT industry, its teams have over 15 years of experience in helping companies of all shapes and sizes to design, manage, and deliver the best video experiences across devices, platforms, and regions.
It is an ideal solution for medium and large brands.
Accedo Pricing
Accedo pricing is not available on their website. You can contact their sales team for more information.
JW Player
Did you know that JW Player has been powering the way we watch videos for over 10 years? It's one of the earliest digital video platforms, and it continues to evolve with new features as well. With billions of signals across their vast network, this platform is a good fit for both startups looking to grow their business and large media companies who want more advertising flexibility.
Its live streaming service allows you to deliver high-quality video to your audience on any device. JW Player processes and delivers it at a smaller size for the best viewing experience!
JW Player Pricing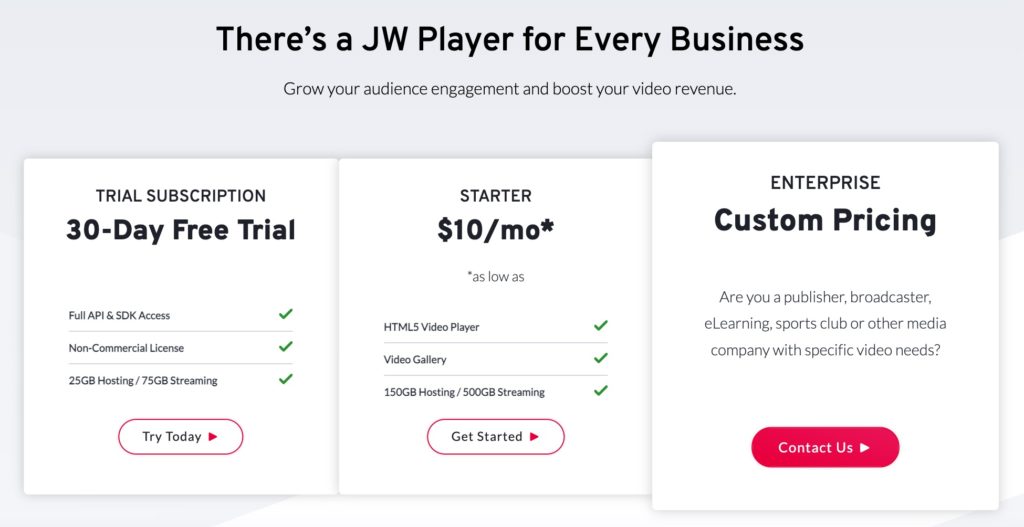 JW Player offers a 30-day free trial. Starter plan starts at $10 per month which includes HTML5 video player, video gallery, 150GB hosting/ 500GB streaming.
You can check out their detailed pricing here.
Yondo
Yondo is an all-in-one solution that allows anyone to easily sell live online sessions, live online group classes, and VoD on their website. It has a specialized focus on fitness, consulting, teaching, medical, and more.
Yondo Pricing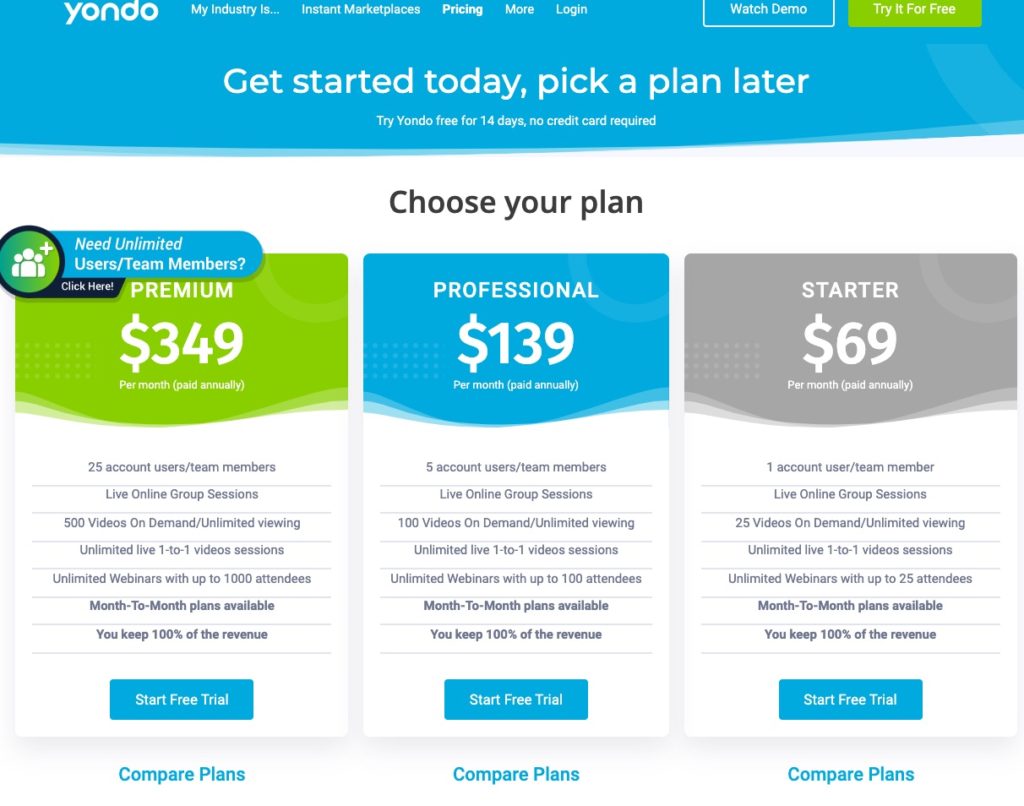 As you can see, Yondo offers three plans:
Starter: $69 per month
Professional: $139 per month
Premium: $349 per month
There is no revenue splitting, so you'll be able to keep 100% of your revenue.
BridTV
BridTV offers an immense number of services to help web publishers with all their video needs. Upload, manage and monetize your videos on BridTV's platform for a wide variety of audiences.
It offers numerous features, including but not limited to HTML5 video player, HLS adaptive streaming, HD encoding, live streaming, player customization, Android & IOS SDKs, and more!
Bird TV Pricing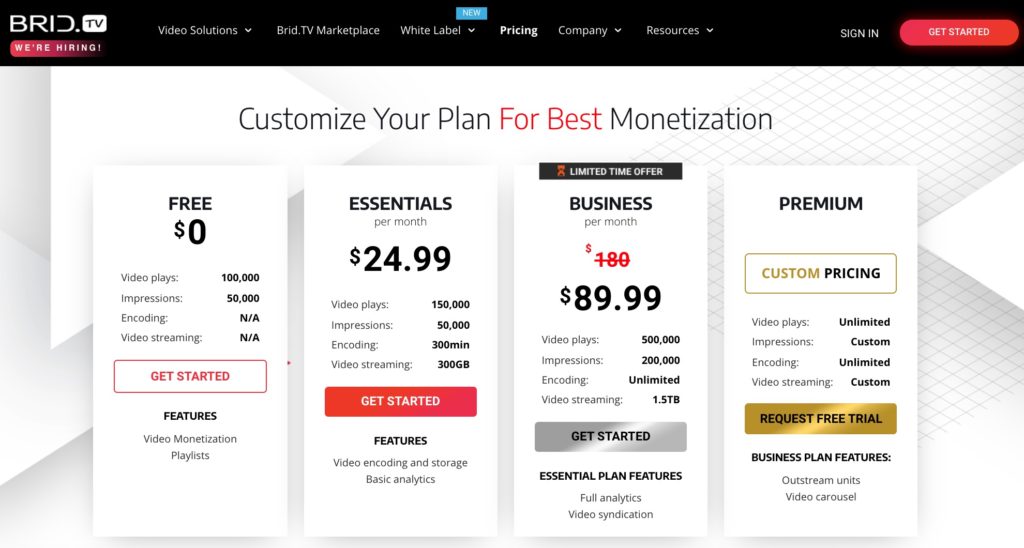 Bird TV offers four pricing plans:
Free: You can get started for free with this plan, though it doesn't offer video streaming and encoding.
Essentials: $24.99 per month
Business: $89.99 per month
Premium: Custom pricing
You can request a free trial for the premium plan.
Conclusion
Overall, we find Uscreen and Muvi to be the best OTT platforms.
Uscreen is suitable for content creators and businesses of all sizes for their video content management. They can easily upload, organize, and monetize their video content.
Muvi is another top one suitable for content creators and medium to more prominent brands who need a white-label ott streaming solution and premium services.
If you are interested in monetizing your video content, you might want to read how to make money on YouTube without making videos or find out the best YouTube SEO tools.
You can try Uscreen for free here!