Zoho Books and QuickBooks Online are today's most popular bookkeeping software applications. Both tools handle various accounting and bookkeeping needs, from tracking expenses to managing finances. With accounting software, you can streamline business processes, create automated workflows, and organize your financial records.
This review will examine the key similarities and differences between Zoho Books and QuickBooks Online and provide an overview of their capabilities to help you determine which tool is right for you.
Zoho Books vs QuickBooks Online: Similarities
QuickBooks Online and Zoho Books share some major similarities. The major ones include the following:
Ample Integrations – Both Zoho Books and QuickBooks Online seamlessly connect with powerful APIs and add-ons in different niches of specializations, including accounting, finance, and marketing. Zoho Books integrate with PayPal, Zoho Apps like Zoho Workplace and Zoho People Plus, Zapier, Dropbox, and other platforms. On the other hand, QuickBooks Online connects with Xero, Reckon Desktop, Excel, and other accounting software.
Mobile Apps Accessibility – QuickBooks Online and Zoho Books are available on Android and iOS mobile devices to enhance user experience anytime, anywhere. Zoho Books mobile application has additional support for Kindles Fire and Windows Tablets other than Android and iOS.
Automated Workflows – The two accounting software allow you to automate workflows to streamline operations. You can automate repetitive tasks, such as time tracking, recurring invoices, reminders, and follow-ups.
A Suite of Accounting and Bookkeeping Tools and Templates – Both Zoho Books and QuickBooks accounting software offers free accounting templates to help simplify and speed up your accounting and bookkeeping workflows. It also offers tools, such as tax support, project management, email support, payroll processing, and client portal, among other advanced features.
Zoho Books vs QuickBooks Online: Key Differences
The two accounting software also differ in certain aspects that set them apart. The Zoho Books vs QuickBooks key differences include the following:
Zoho Books is an online accounting software that helps small businesses work collectively across departments while effectively automating business workflows and managing finances. On the other hand, QuickBooks Online is a cloud-based accounting solution that helps small and medium-sized businesses manage their accounting, expenses, income, payroll, accounts receivable, accounts payable, and more.
Unlike QuickBooks Online, which only offers mobile applications for Android and Apple devices, Zoho Books has mobile applications for Windows Tablets and Kindle Fire devices apart from Apple and Android products.
Although both QuickBooks and Zoho Books offer adequate training to customers through video tutorials and text materials to enable them to make informed purchase orders, Zoho Books provides in-person customer training, something unavailable with QuickBooks.
QuickBooks Online features built-in lending, allowing users to access working capital to better manage cash flow within the platform. Zoho Books doesn't have built-in lending.
What is Zoho Books?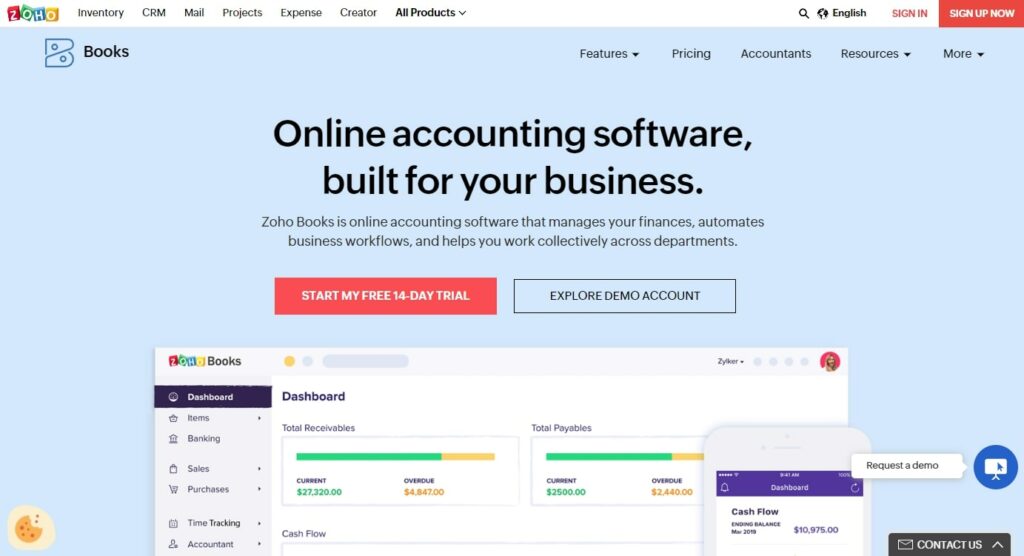 Since its launching in 2011 with an ambitious idea of helping solve businesses' accounting challenges, Zoho Books has become one of the leading players in the accounting market.
This online accounting platform will help you monitor transactions and manage all your accounting tasks while staying current with industry trends.
You can rely on it to track your invoices and inventory, reconcile bank statements and expense tracking, manage Zoho payroll, accounts payable, accounts receivable, and more, all under a secure location.
Zoho Books | Online Accounting Software
Zoho Books is a cloud-based accounting software that helps businesses manage their finances efficiently. It offers a range of features such as invoicing, expense tracking, inventory management, and financial reporting. With Zoho Books, users can easily create and send professional invoices, track payments, and manage their cash flow. The software also allows users to automate recurring transactions, reconcile bank accounts, and generate financial statements. Zoho Books is designed to be user-friendly and accessible, even for those without accounting experience. It is an ideal solution for small and medium-sized businesses looking to streamline their financial operations and improve their bottom line.
Pros:
User-friendly interface: Zoho Books has a simple and intuitive interface that makes it easy for users to navigate and use the software.

Comprehensive features: Zoho Books offers a wide range of features that cover all aspects of accounting, including invoicing, expense tracking, inventory management, and financial reporting.

Customizable templates: The software provides customizable templates for invoices, estimates, and other documents, allowing users to create professional-looking documents that reflect their brand.

Integration with other Zoho apps: Zoho Books integrates seamlessly with other Zoho apps, such as Zoho CRM and Zoho Inventory, providing users with a complete business management solution.

Multi-currency support: Zoho Books supports multiple currencies, making it easy for businesses to manage transactions with customers and vendors in different countries.

Mobile app: Zoho Books has a mobile app that allows users to manage their accounting tasks on the go.

Zoho Books Key Features
Zoho Books has a vast range of features. The platform's key features are:
An intuitive banking dashboard for easy retrieval and categorization of bank transactions, cash flow predictions, and account reconciliations.
Easy-to-use financial reporting tools to help transform your data into valuable information.
Seamless automation of business workflows, such as tracking payments, sending payment reminders, recurring invoices, and other repetitive tasks to save time.
Fully customizable invoice templates for quickly creating estimates and invoices to reflect your brand.
Advanced inventory management tools like FIFO methodology to value, track, and set reorder alerts for your stock.
Who is Zoho Books for?
Zoho Books is the best accounting software for small businesses and individuals because of its affordable pricing and user-friendly bookkeeping features.
This accounting software is also ideal for digital strategists, managers, and CEOs, as it is fully customizable and integrates with other Zoho apps. This enables them to map costs for their customers and track Zoho Books in Zoho CRM.
What is QuickBooks Online?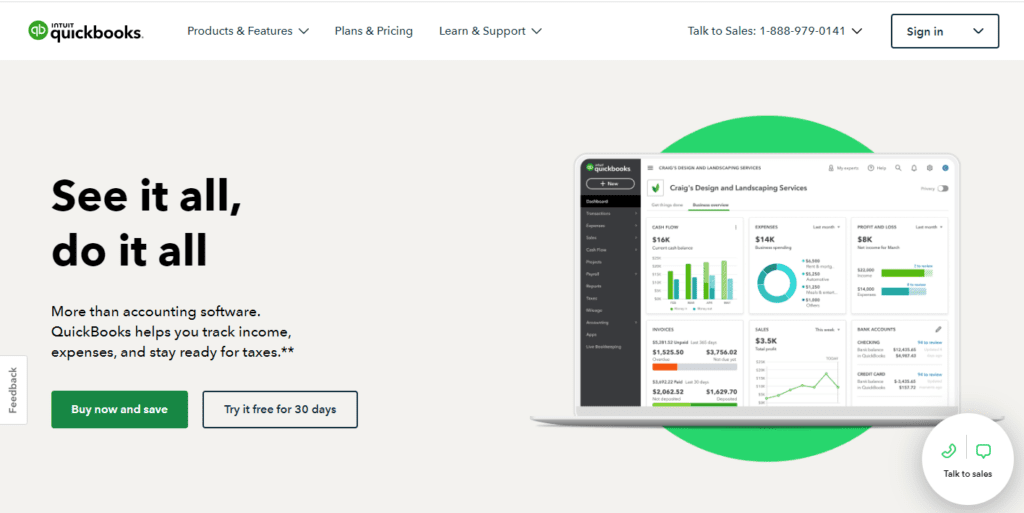 QuickBooks Online is a cloud-based accounting software offered by Intuit. The platform boasts many advanced features and tools to help monitor your finances and keep everything under control.
It also offers a smartphone application compatible with iOS and Android devices to help you manage your accounting tasks and finances from anywhere in the world.
QuickBooks | Best Accounting Software
QuickBooks is a popular accounting software designed for small and medium-sized businesses that allows users to track income and expenses, create invoices, manage bills and payments, and generate financial reports. It also offers features such as inventory management, payroll processing, and tax preparation. It is widely used by businesses across various industries and is known for its reliability, accuracy, and ease of use.
Pros:
User-friendly interface

Time-saving features such as automatic data entry, automatic bank feeds, and automatic invoicing

Customizable reports

Integration with other software

Cloud-based access

Multi-user access

Automatic backups

QuickBooks Online Key Features
Muilt-currency support for adjusting reports, recording transactions, ad sending invoices in different currencies.
Real-time inventory tracking with low stock alerts and inventory auto-updates.
Automated invoicing for generating accurate invoices, setting up automatic payment schedules, and automating invoice reminders and recurring invoices.
Instant financial reporting software for easy access to up-to-date financial statements, accurate business reports, and smart insights.
Easy-to-use dashboard for quicker sales tax and expense tracking.
Who is QuickBooks Online for?
QuickBooks Online has a Simple Start plan that is best for small businesses, solo entrepreneurs, freelancers, and gig workers, as it enables them to manage all their expenses and income in one simple tool.
It is also the right software for product sellers, nonprofits, professionals like architects, and small and medium-sized businesses.
Zoho Books vs QuickBooks Online: Features
Zoho Books vs Quickbooks relate and differ in many ways based on their features and main capabilities. Below we share how they compare and contrast in terms of key features.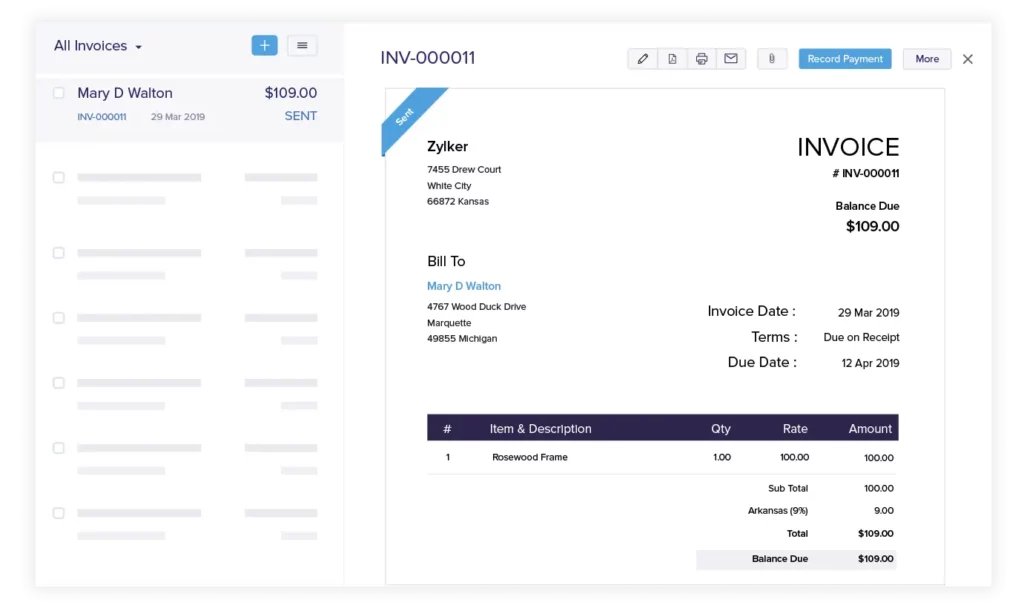 Invoicing
Zoho Books and QuickBooks both feature advanced invoicing software that enables you to create custom, professional invoices in minutes. Besides, they allow you to automate repetitive invoicing tasks, such as follow-ups and reminders, saving time. Another aspect similar to the two is multi-currency pricing, as both allow you to send invoices in different currencies to suit every account type.
Zoho Books allows you to share VAT-compliant invoices with a click of a button while securing your invoices with a digital signature to hinder tampering and forgery. The software further encrypts all PDF invoices for added security. Its highest level of invoice security complies with ESIGN and elDAS e-signature laws. You can also verify your transactions before sharing them with the customers to reduce the risk of processing incorrect information.
Another thing that gives Zoho Books an edge over QuickBooks is invoice templates. This accounting software offers 16 fully customizable invoice templates, while QuickBooks provides six.
Quickbooks allows you to send invoices to customers in their preferred languages, including French, English, Spanish, Portuguese, Italian, and Chinese. Once an invoice is paid, QuickBooks quickly matches it to the payment, saving you a lot of time.
Inventory Management
Nearly all product-based small businesses will find both Quickbooks and Zoho books reliable for effective inventory management as they have the same features. Both use online inventory management software to track every unit of your stock, generate an inventory item, view available inventory, and make adjustments to increase sales.
Your choice of the best inventory management software may have to narrow down to pricing. For instance, if you need inventory software that can accommodate up to five users, you may choose the Zoho Books Professional plan or the QuickBooks Online'Advanced plan, which is pricier.
Payroll
QuickBooks Online takes the lead in payroll, offering you three different payroll plans to select from. However, it is worth noting that QuickBooks does not include payroll in your subscription and charges an additional fee.
Although Zoho Books' major drawback was the lack of integrated payroll initially, its recent Zoho payroll and SurePayroll integrations aim to fix all your business payroll needs. Nevertheless, you will incur additional fees if you decide to use SurePayroll.
Reporting
Zoho Books and QuickBooks Online bring many reports compared to other accounting and bookkeeping software. However, QuickBooks Online gives you access to more reports than Zoho Books. It offers more than 80 reports, while Zoho Books provides 50+ reports.
Client Portal
Zoho Books and Quickbooks both offer secure client portals. With Zoho Books, the client portal allows customers to do more, which includes viewing documents like estimates, invoices, and project details. You can also make full or partial payments right from the portal.
QuickBooks Online has a limited customer portal that allows you to view, pay, print, or send questions about invoices only.
Project Management
Zoho Books and QuickBooks Online do a better job of helping users manage their projects and get organized. Both platforms offer features such as project creation, expense tracking, and the addition of billable and unbillable hours, among others. Zoho Books has a slight advantage as it allows you to add tasks, something unavailable in QuickBooks Online.
Verdict: Zoho Books Wins in Features
Zoho Books takes a narrow win in terms of features. As discussed above, this accounting software offers more features than QuickBooks. It has emerged as the best in invoicing, customer portals, and project management. QuickBooks is following it closely as it shines in payroll and reporting. The two have come out similar in inventory management, and pricing may help you settle for an ideal option for your needs.
Zoho Books vs QuickBooks Online: Integrations
Regarding integration, QuickBooks supports a wide array of third-party and self-developed applications you can install from its app store. This accounting software allows you to integrate more than 650 applications to enhance the platform's capabilities.
On the contrary, Zoho Books offers limited integrations. But if you are already using Zoho products, Zoho Books might be a perfect choice as it seamlessly connects with Zoho platforms, such as Zoho CRM Plus, Zoho Workplace, and Zoho People Plus, among others.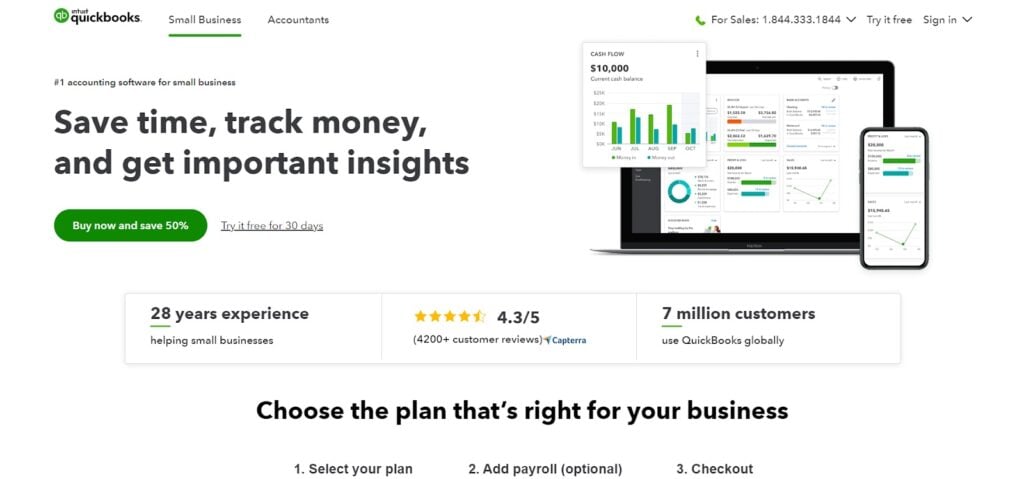 Verdict: QuickBooks Wins in Integrations
QuickBooks has the upper hand regarding integrations as it supports more integration applications than Zoho Books.
QuickBooks vs Zoho Books: Customer Support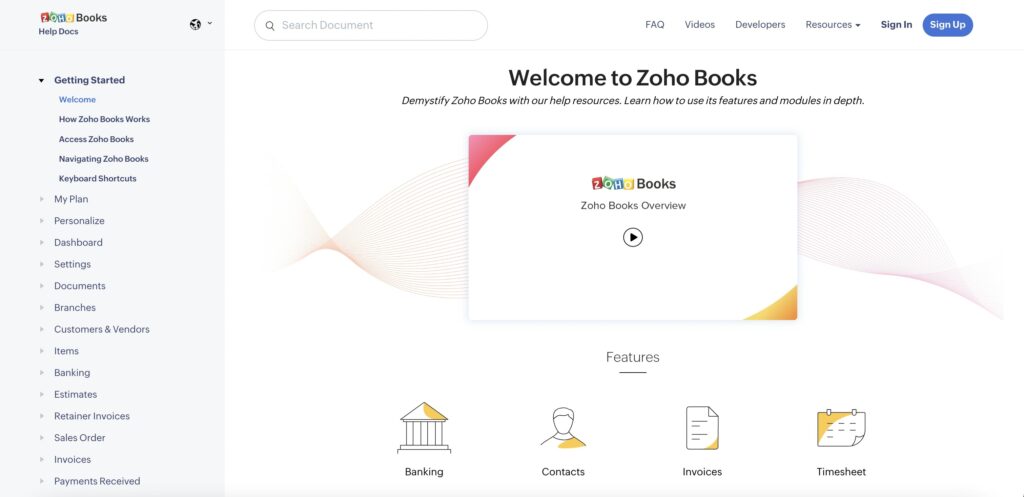 Effective and prompt customer support enhances the reliability of any application. The two accounting software provide premium customer support services to users and maintain up-to-date FAQ pages to enable customers to resolve some of their queries.
Zoho Books has support options and resources that give it an edge over QuickBooks Online. These include voice, chat, email support, client portals, fast responses, low wait times, and more.
Verdict: Zoho Books Wins in Customer Support
Although Zoho Books and Quickbooks provide top-notch customer support, Zoho Books takes the day with its intensive support features.
Zoho Books vs QuickBooks: Mobile Apps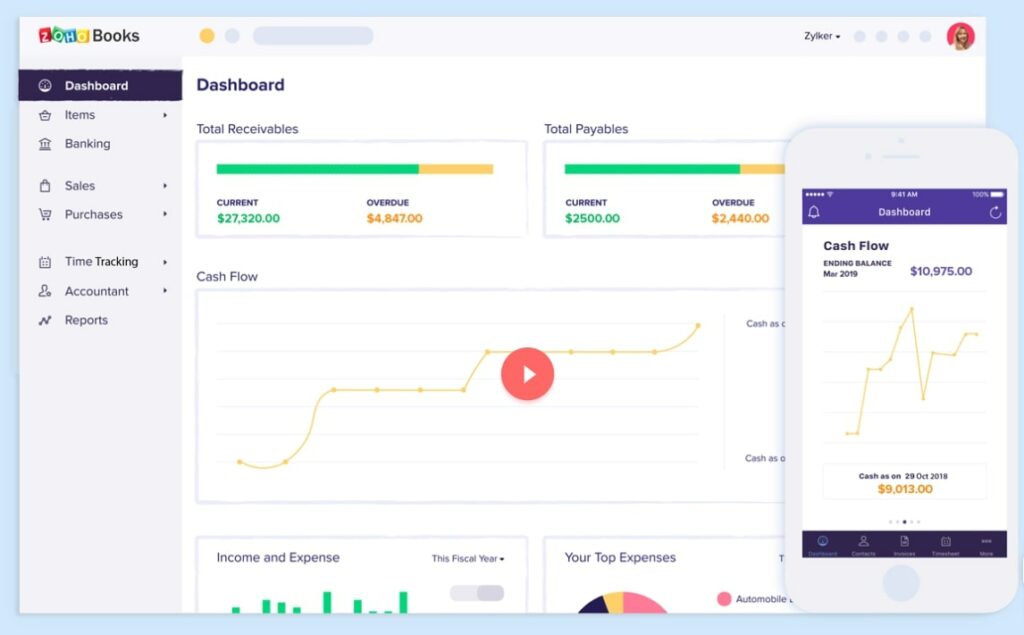 Both QuickBooks Online and Zoho Books have solid mobile apps compared to other accounting software.
Nonetheless, Zoho Books has the upper hand, offering mobile apps for Apple, Android, and Windows tablets and Kindle Fire devices. QuickBooks offers mobile applications for only Android and Apple devices.
Verdict: Zoho Books Wins in Mobile Applications
Zoho Books wins in mobile applications because it provides applications for Windows Tablets and Kindle Fire devices other than Android and Apple products.
Zoho Books vs Quickbooks: Ease of Use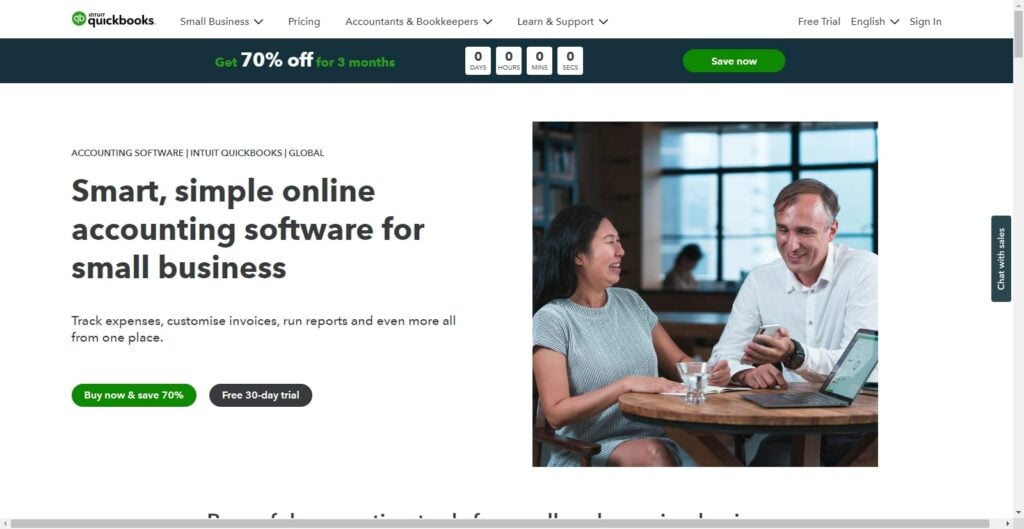 Both accounting platforms are at par with a simple user interface, making them easy to use. The platforms feature intuitive dashboards with critical data, such as profit loss, cash flow, expenses, and more. Additionally, you can easily use the left menu on their interface to access various modules.
Nonetheless, the placement of data and simplicity of QuickBooks Dashboard gives it a slight upper hand over Zoho Books as it is easier to interpret. Zoho Books, on the other hand, is a bit easier to set up, unlike Quickbooks Online, which requires several steps to create your company profile
Verdict: QuickBooks Online Wins in Ease of Use
QuickBooks Online gets a narrow win because of how easy it is to interpret its data.
Zoho Books vs QuickBooks: Assisted Bookkeeping
Regarding assisted bookkeeping, QuickBooks Online takes the lead with its extensive network of local bookkeepers over Zoho Books, which provides only about 500 advisors in the United States. With that, it is easy to find a QuickBooks ProAdvisor compared to a Zoho Books Advisor.
If you are looking for a live bookkeeping service, consider using QuickBooks Online software to activate its add-on. Even though the feature comes at an added fee, it allows you to access a dedicated bookkeeper who can own and manage your books for you.
Zoho Books users who want assisted bookkeeping services can contact an independent Zoho Books Advisor. The advisors comprise bookkeepers, tax professionals, and accountants who successfully completed the software's certification requirements.
Verdict: QuickBooks Wins in Assisted Bookkeeping
I choose QuickBooks for assisted bookkeeping service because of its extensive network of local bookkeepers.
Zoho Books vs QuickBooks Online: Pricing
Here is how the pricing structures differ between Zoho Books vs QuickBooks.
Zoho Books Pricing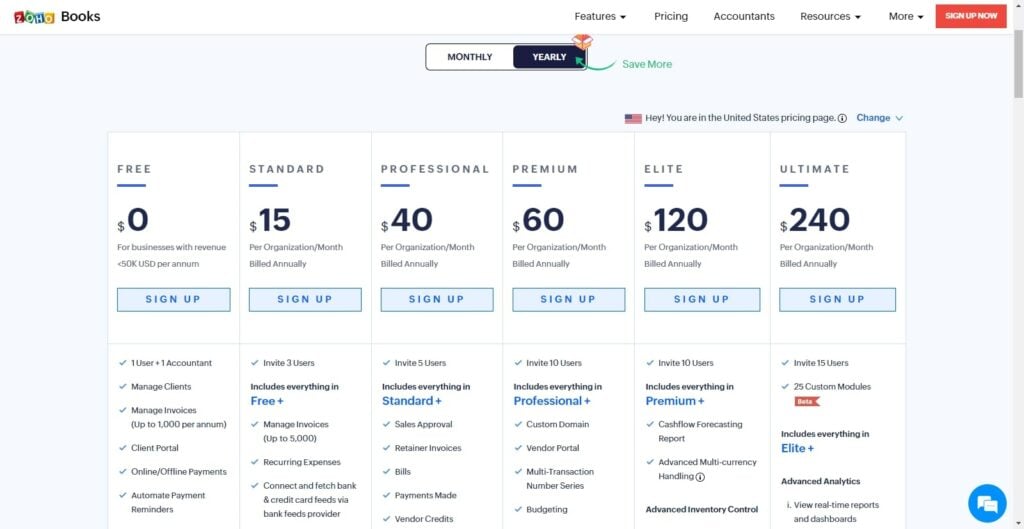 Zoho Books offers both monthly subscription and annual subscription plans. Its pricing plans are as follows:
Zoho has a Free plan for its users that offers limited basic features
Zoho Books Standard Plan is $15 per organization/month, billed yearly
The Professional Plan is $40 per organization/month, billed yearly
The Premium Plan is $60 per organization/month, billed yearly
The Elite Plan is $120 per organization/month, billed annually
Its Ultimate Plan is $240 per organiztion/month, billed yearly
QuickBooks Online Pricing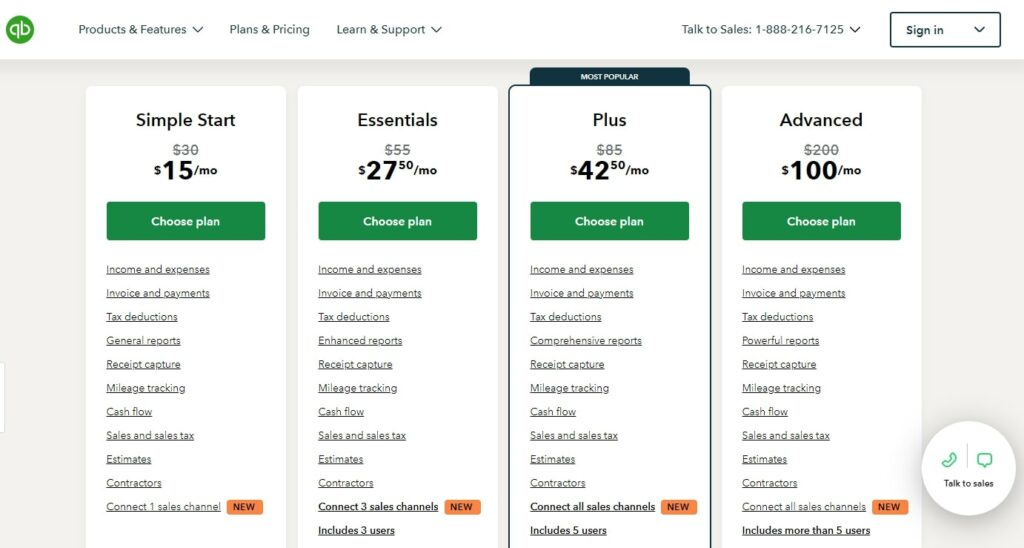 Quickbooks Online pricing is broken down as follows:
The Simple Start Plan is $15/month
The Essentials Plan is $27/month
The Plus Plan is $42/month
The Advanced Plan is $100/month
Zoho Books Wins in Pricing
Unlike Quickbooks, Zoho Books offers more subscription plans for both monthly and yearly subscriptions. Many features, such as automated payment reminders, client portal, and Email support, remain standard across all the Zoho Books subscription plans.
Another thing that gives Zoho Books a slight edge is that it offers a Free plan, something not available with QuickBooks.
QuickBooks Online vs Zoho Books: Pros and Cons
Here are the pros and cons of each accounting software.
Zoho Books Pros
Competitive Pricing
Ease of use
Robust mobile apps
Excellent customer support
Zoho Books Cons
Not ideal for large businesses
QuickBooks Online Pros
More features for bookkeeping
Numerous integrations
Strong mobile apps
Ideal for small and medium-sized businesses
QuickBooks Online Cons
Expensive
Unsuitable for large businesses
Zoho Books vs QuickBooks Online: Conclusion
Whether you choose QuickBooks Online or Zoho Books, you will still get the best solutions for your business needs. Zoho Books brings to the table numerous of the same features offered by QuickBooks with more pocket-friendly pricing plans and unmatchable mobile apps for small businesses.
But suppose you don't mind about price and need a platform that can allow you to access a local bookkeeper easily to offer accounting support for your small or medium-sized business. In that case, QuickBooks Online might be a better choice. The best thing to do is to critically examine the key features of each software to identify the most suitable option.