Accounting software is integral to any business, and its uses can vary greatly depending on a company's needs. At its simplest, the right accounting software help businesses track finances and manage transactions.
However, this primary function can be difficult for small business owners to manage, especially if a company does not have the necessary resources or experience to handle the accounting process manually.
For this reason, many businesses opt for custom software solutions designed to meet their specific needs. These tools provide required services based on the company's needs, and small business owners can upgrade their features ad hoc.
Today, there are many companies to choose from that provide effective accounting software at an affordable price. Two of the most popular solutions are FreshBooks and QuickBooks Online. Both programs offer benefits that make them attractive options for many businesses.
While each program has its advantages and disadvantages, there are differences when comparing FreshBooks vs. QuickBooks Online.
In this comparison, we'll take a closer look at the two programs and highlight the significant differences between them to help you decide which is the better option for your company.
Let's pe right in!
FreshBooks vs. QuickBooks: Similarities
Here are notable similarities between FreshBooks and QuickBooks Online:
Both QuickBooks and FreshBooks have a simple and responsive user interface that is great for novice users and small business owners with few needs.
Both solutions offer a wide range of features to help you manage accounting, customer relationships, invoicing, time, and projects.
Both are cloud-based, and small business can access their services from anywhere using a mobile or computer device.
Both programs offer friendly customer support options for questions, problems with the software, or setting up a new account in your business.
FreshBooks vs. QuickBooks: Differences
Apparent differences that appear when comparing FreshBooks and QuickBooks include:
FreshBooks is most suitable for small and service-based businesses, while QuickBooks Online is geared more toward larger businesses and enterprise solutions.
FreshBooks focuses on cheaper pricing and easy integrations, while QuickBooks Online provides more advanced features and a higher cost.
FreshBooks and QuickBooks have in-house customer support, but FreshBooks also offers a freelancer chat room to outsource projects and accounting questions.
QuickBooks offers mobile ERP with the ability to upload time sheets from your smartphone and track expenses directly from the cloud, while FreshBooks does not.
What is FreshBooks?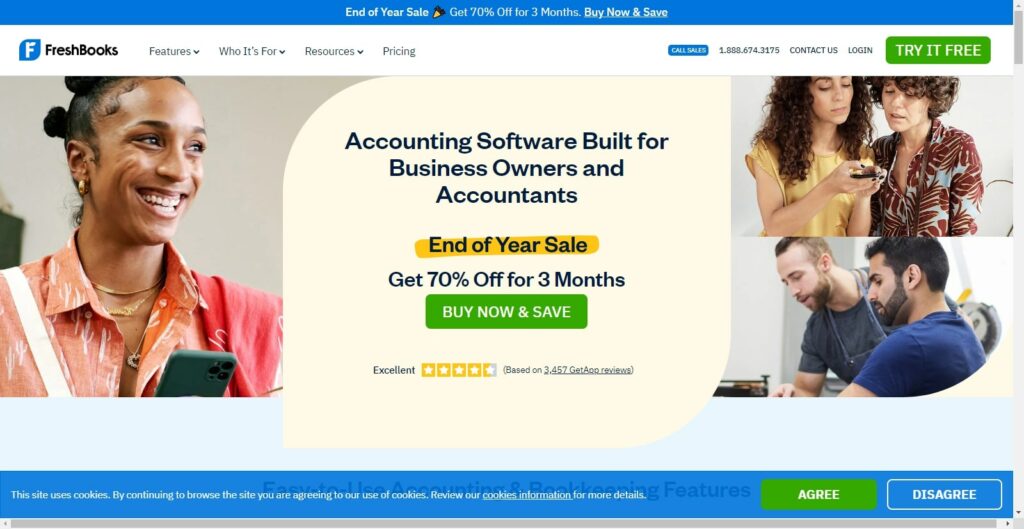 FreshBooks is a small business accounting software geared towards helping small businesses and freelancers to manage their finances and bookkeeping.
It offers a flexible, affordable, easy-to-use solution for expense tracking, creating and sending unlimited invoices, accepting payments online, and managing clients and projects.
FreshBooks also provides a free API that aids clients and 3rd party software sellers in integrating external apps on the platform. All financial information is stored in the cloud on a unified ledger letting users access the same books anywhere.
Top companies that use FreshBooks include Upwork Global inc, Pro Football Hall of Fame, Webonise, and more. Each company has between 100 – 1000 employees. Many people prefer FreshBooks as it helps them track their finances and invoices.
FreshBooks Key Features
The top features you'll find on FreshBooks include:
An unlimited customized invoices tool to send clients quotes, proposals, and invoices and iOs and android apps to help you access your business analytics from anywhere.
A time-tracking tool to automatically record the time spent on each assignment and project.
Checkout links to process online sales for multiple clients.
An expense tracker to track and categorize expenses for different clients and track how much is spent on each item.
A Chart of Accounts (COA) feature that provides an in-depth overview of your business accounts.
Who is FreshBooks for?
FreshBooks is ideal for freelancers, small business owners, and companies requiring minimal financial management. It is designed to simplify the accounting process for sole proprietors, designers, and architects.
Many people who prefer FreshBooks over other applications typically don't need a lot of features but want help tracking their finances and invoices.
Related article: 10 Best Alternatives To Freshbooks For Businesses Of 2023
What is QuickBooks Online?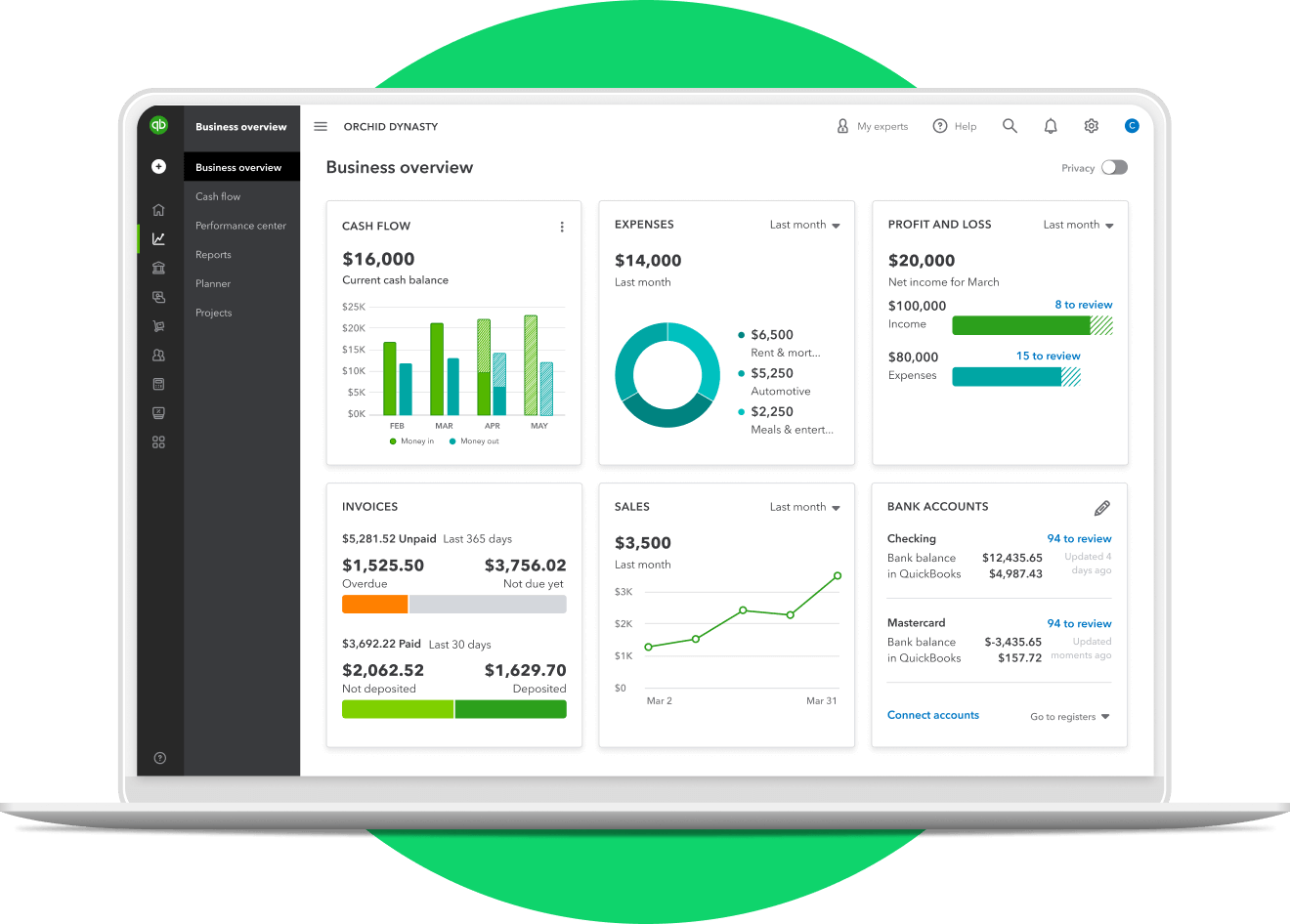 QuickBooks Online is a fully-fledged accounting software and bookkeeping solution that lets small businesses and large enterprises manage their accounting and financial records online.
It is designed to handle most small business operations, and its more advanced features allow experienced users to manage their finances further.
QuickBooks offers more features than most competitors and is best for people looking for myriad services, including expense tracking, inventory management, double-entry bookkeeping, and inventory management.
Users must pay a monthly subscription to access Quickbooks Online and log in through a website browser. The software is usually updated regularly and has pop-up ads for those extra paid services.
QuickBooks Online Key Features
The top features of QuickBooks include:
Track VAT feature to stay compliant with international financial regulations
Multi-currency accounting feature to collect, manage and organize different currencies from a single client
Streamline business bookkeeping with a virtual accounting assistant that helps you keep your businesses organized and on track and perform most accounting functions.
The payroll feature can help you hire new employees, collect salaries and submit payroll.
The inventory tracking feature allows you to keep track of in-stock inventory, pricing, and other business attributes.
Who is QuickBooks Online for?
QuickBooks Online is an excellent option for small- to medium-sized businesses requiring a more advanced accounting system. It is ideal for companies that need to manage more than one client and need to track expenses, inventory, and more.
FreshBooks vs. QuickBooks Online: Features
Here is how FreshBooks and QuickBooks differ in terms of features:
Invoicing capabilities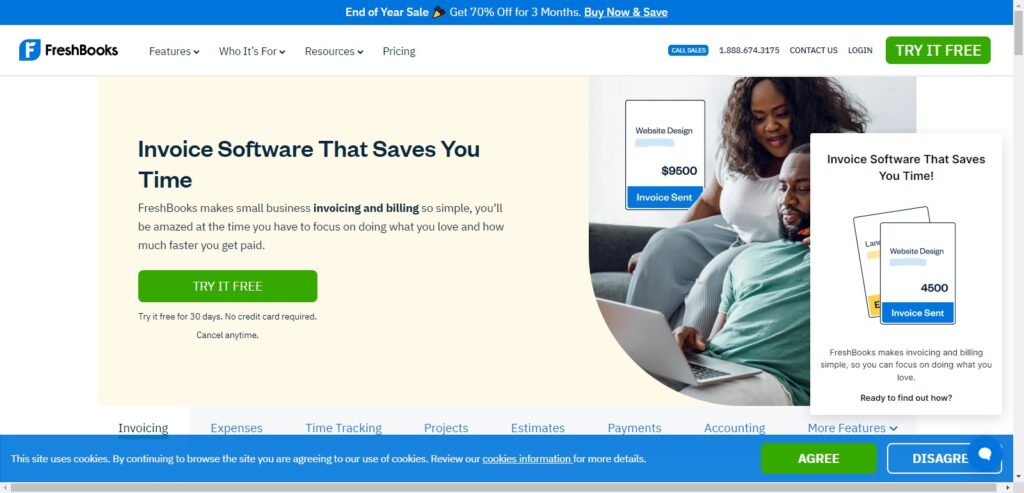 FreshBooks and QuickBooks are both invoicing software businesses can use to create and send invoices to their clients. They have similar features, such as tracking payments, creating reports, and managing expenses.
FreshBooks tracks invoices for small businesses, while QuickBooks offers extensive accounting software. QuickBooks is the clear winner. It offers a wider range of features that can help businesses track their finances, income, and expenses, create invoices, and pay bills.
FreshBooks is best for people who're looking for just invoicing software. It has simple features and supports several third-party integrations, making it ideal for small businesses that want to track their finances and invoices.
Inventory Management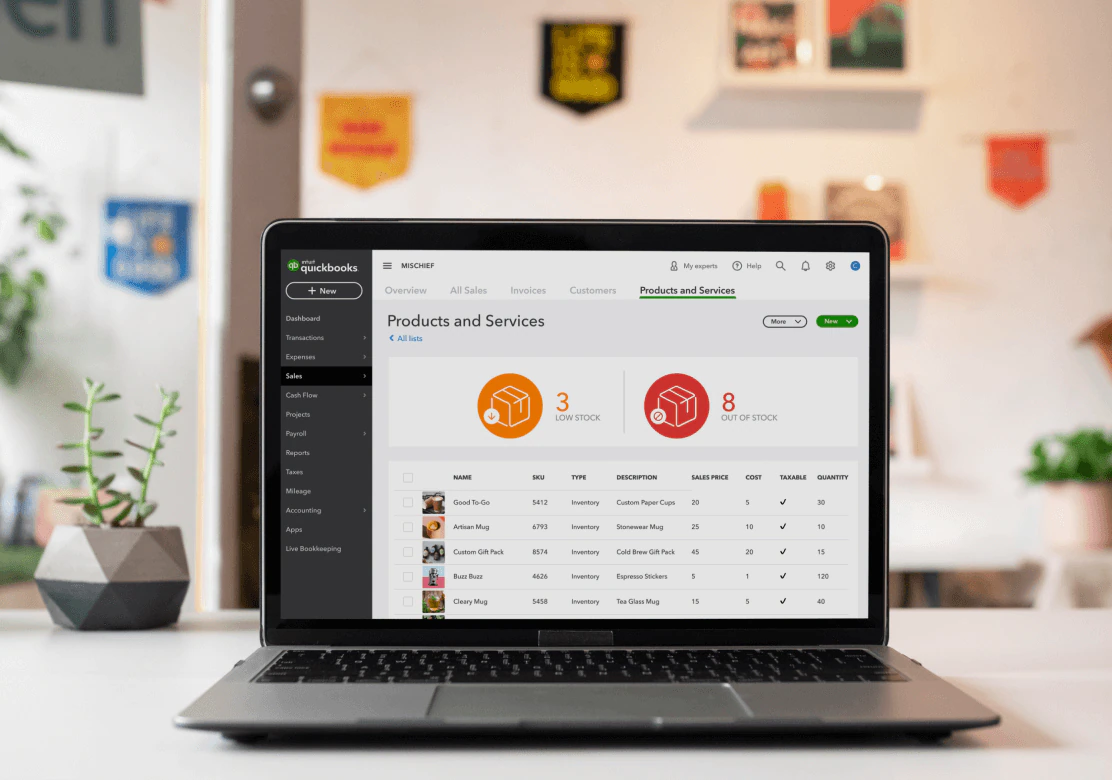 FreshBooks allows you to track your inventory as a service. You can track the quantity of each item in stock, how much it costs, and the quantity sold. It also allows you to set up re-order points always to ensure enough of the items you need.
QuickBooks, on the other hand, offers more comprehensive inventory management tools. You can send unlimited invoices and track your current inventory, historical purchases, and sales. It also lets you set up inventory alerts regarding when to re-order items.
Proposals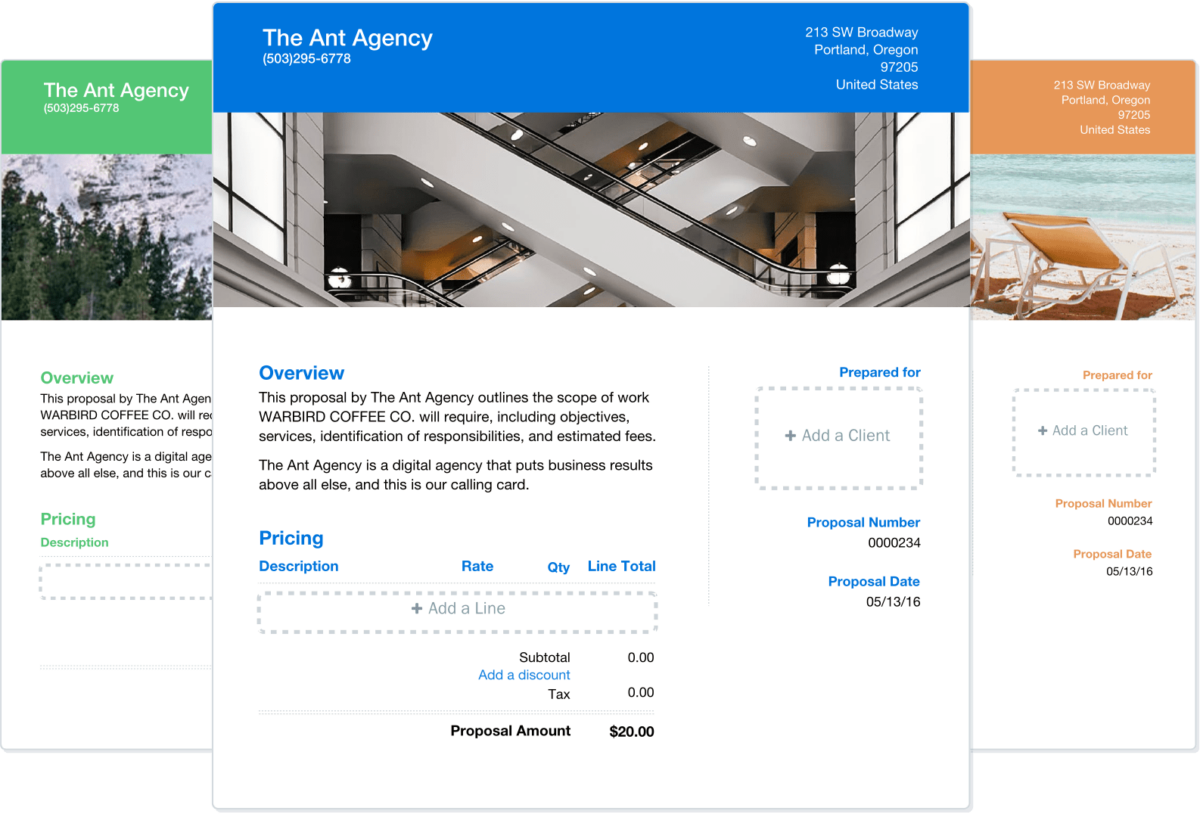 Using FreshBooks, you can create custom proposals with available templates and track and manage the progress of proposals and their acceptance.
QuickBooks allows you to create custom proposals but does not accommodate proposals with images and texts. The proposals collect relevant information from prospective customers to help them make purchasing decisions.
Payroll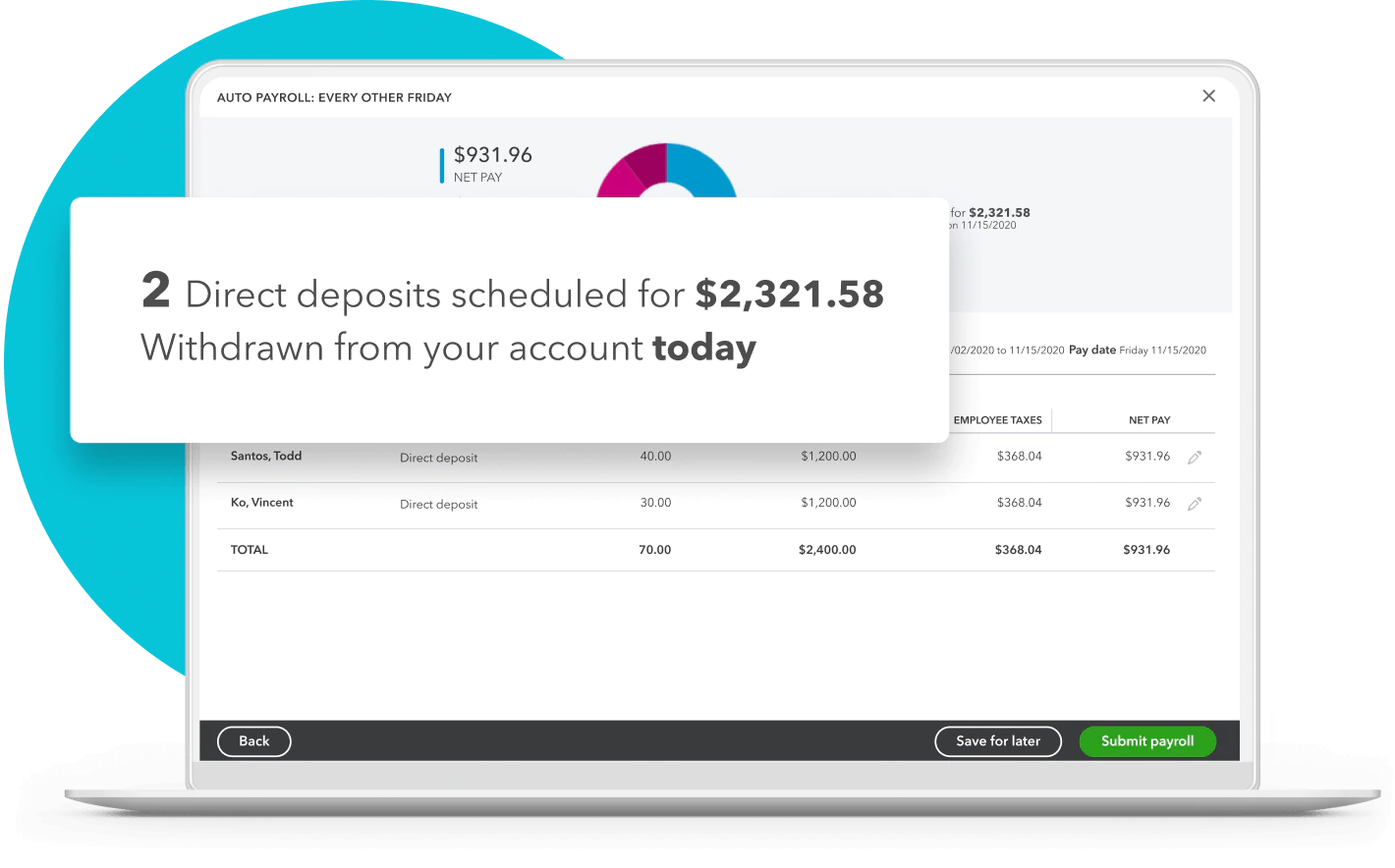 QuickBooks payroll is a full service that allows you to set up employees, paychecks, and deductions, track payroll taxes, sick and vacation time, and more. It also offers direct deposit, credit card payments, and full-service payroll.
On the other hand, FreshBooks payroll offers essential services such as direct deposit and federal, state, and local taxes. It does not offer full-service payroll. You must integrate it with Gusto for payroll services to work with payroll.
User-Friendly Interface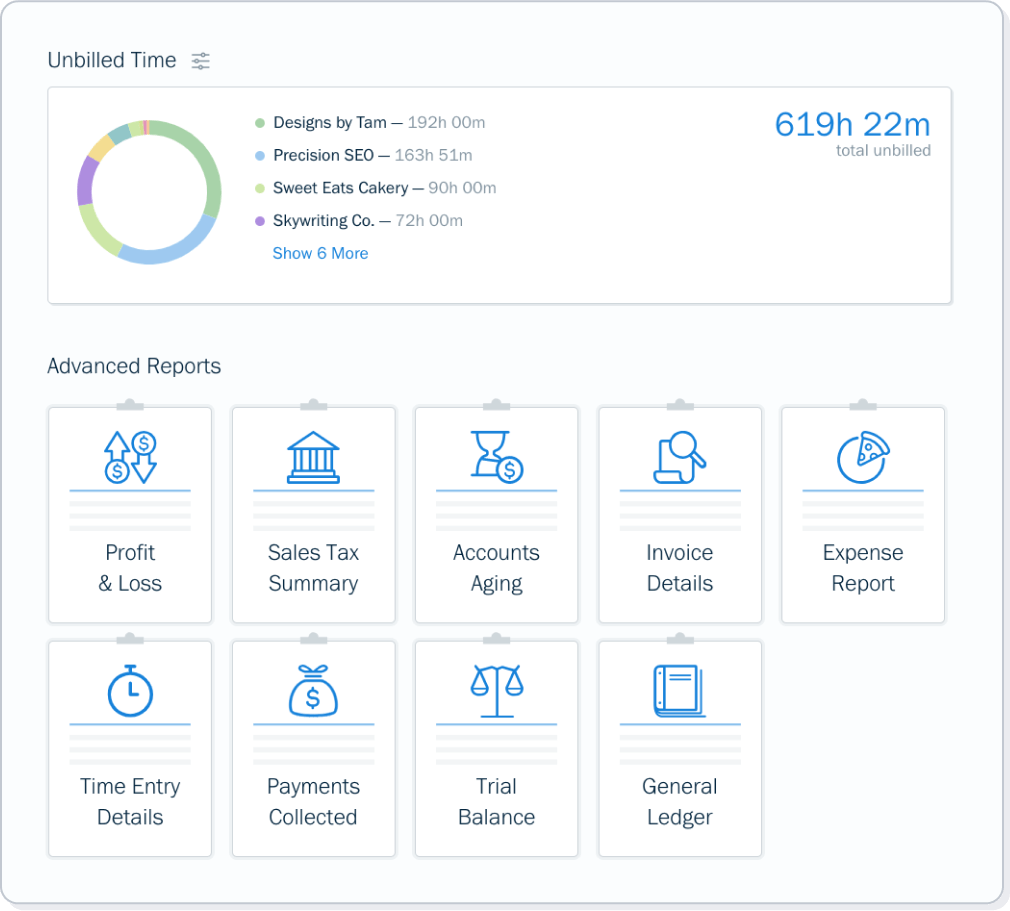 FreshBooks and QuickBooks feature user-friendly interfaces but differ in how they organize and present information. They make it easy to track financials.
FreshBooks has a more modern, visually appealing design, focusing on making data entry simpler and faster. QuickBooks has a more traditional design, focusing on standard accounting features and reports.
FreshBooks is more intuitive for those new to accounting software, while QuickBooks offers more complex features for experienced users.
QuickBooks wins in Features
QuickBooks online beats FreshBooks in inventory management and payroll features but lags in proposal and invoice-sending capabilities. FreshBooks is easier to use than QuickBooks Online, which makes it more suitable for businesses that require a simple solution to manage their finances.
QuickBooks vs. FreshBooks: Integrations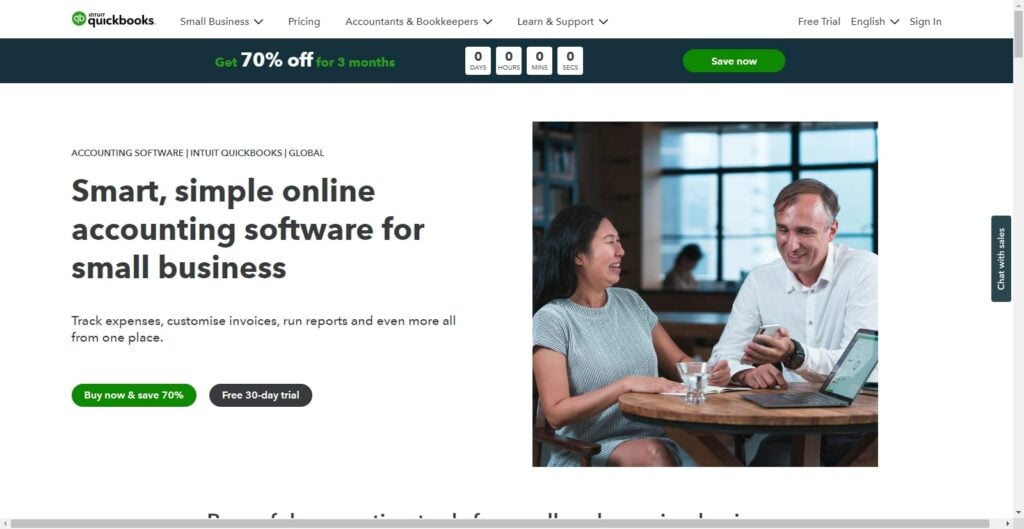 Both platforms offer users an easy way to integrate with third-party services and applications. FreshBooks is compatible with over 20 integrations from applications like Gusto Payroll and Stripe.
On the other hand, QuickBooks offers more than 650 integrations for external systems to manage inventory, track inventory and sales transactions, manage payments, and more.
QuickBooks Wins in Integrations
QuickBooks has more integrations and is more intuitive for the end user. Its extensive integrations connect well with other accounting software and applications, which helps businesses improve their productivity.
QuickBooks vs. FreshBooks: Customer Support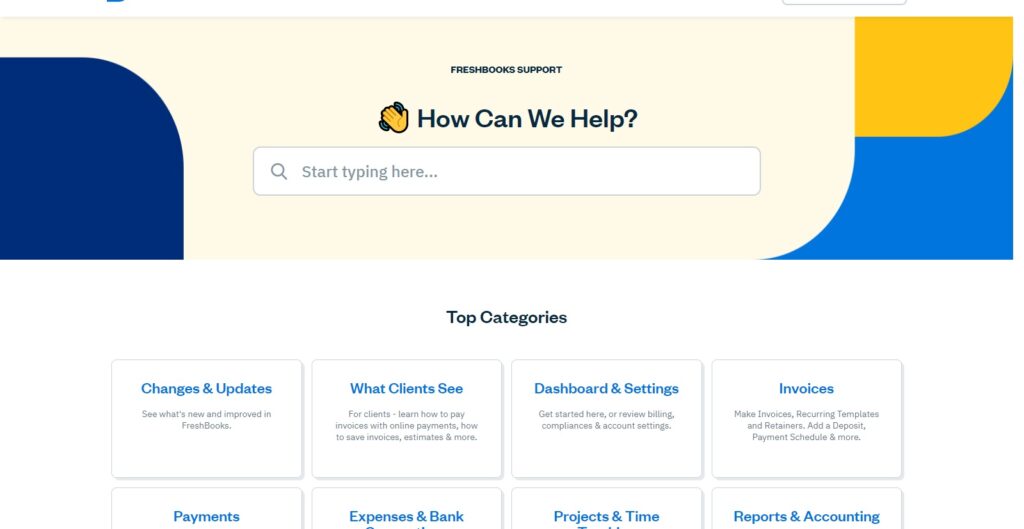 Both platforms offer help through mobile phones, webinars, and a virtual center, allowing users to get answers to questions and resolve issues. FreshBooks software offers numerous online resources such as tutorials, FAQs, and user forums.
However, QuickBooks offers live chat support for customers and screen sharing. Additionally, QuickBooks has more practical support hours in comparison to FreshBooks.
QuickBooks Wins in Customer Support
QuickBooks has live support, whereas FreshBooks provides support through email. In an emergency, FreshBooks may not be so much of a help because responding to emails may take much time.
FreshBooks vs. QuickBooks: Pricing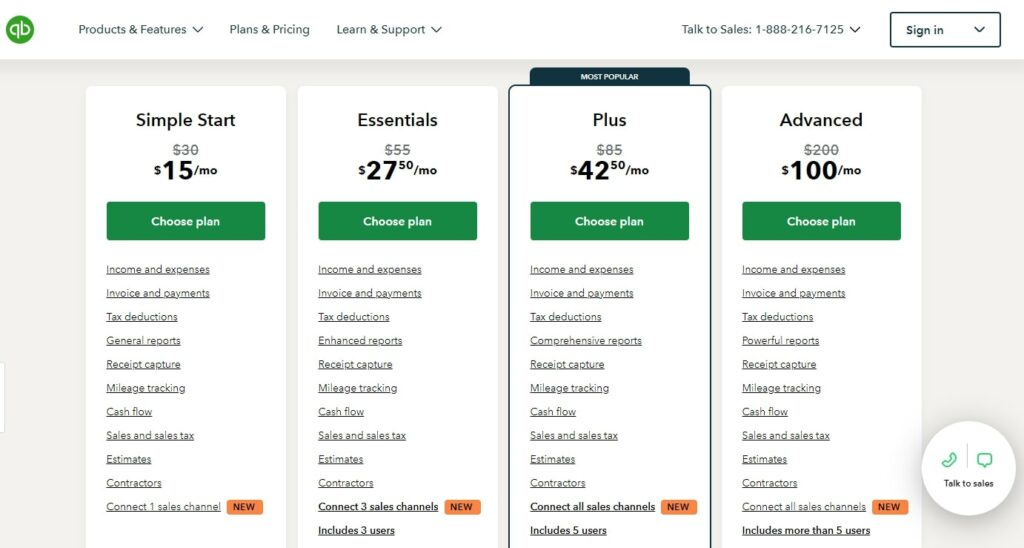 Both FreshBooks and QuickBooks require monthly subscription plans to access the features. The more users upgrade to higher plans, the more they gain access to comprehensive accounting tools and ensure smooth operations.
FreshBooks Pricing
Here is how FreshBooks compares in terms of pricing: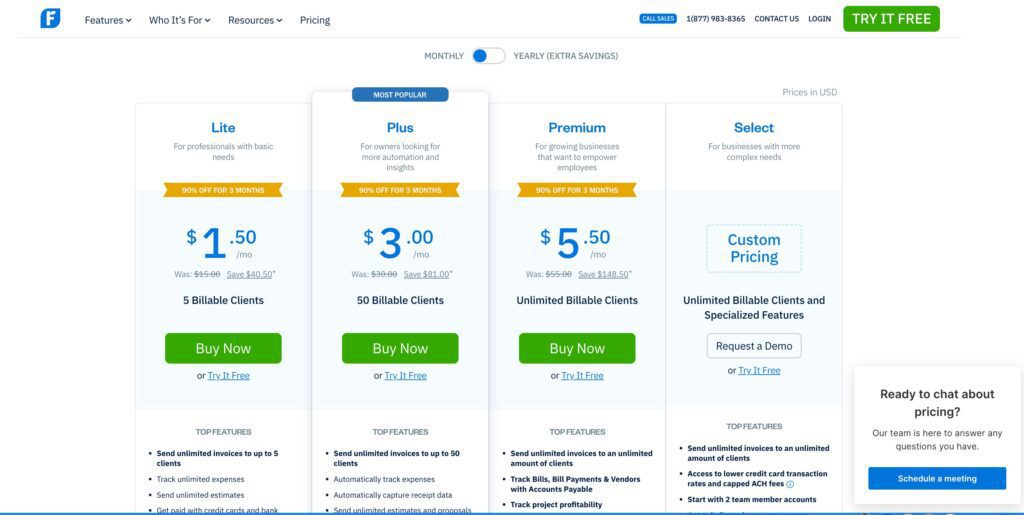 Lite: costs $1.50 monthly and is most suitable for small businesses with up to 5 billable clients while offering unlimited invoices and tracking time and expenses.
Plus: it costs $3.00 monthly and is good for businesses handling 50+ billable clients, offering accounting reports, and automatically sending payments.
Premium: costs $5.50 monthly and is best for businesses accommodating 500+ billable clients, including scheduling recurring invoices and automatically importing expenses from the bank account.
QuickBooks Online Pricing
Here is how QuickBooks compares in terms of pricing:
Start: costs $30 monthly and supports one user with basic accounting features.
QuickBooks Essentials Plan: costs $55 per month, accommodates up to three users, and offers time tracking and bill management.
Plus: it costs $85 monthly and supports up to five users, providing inventory tracking and visual reporting tools.
Advanced: costs $200 monthly and supports 25 users, providing batch invoicing, a devoted account team, and workflow automation.
FreshBooks wins in Pricing
FreshBooks is cheaper than QuickBooks Online. Even though it lacks some advanced features, it provides a cost-effective solution for small businesses. Plus, QuickBooks offers more plans than FreshBooks with added features in the higher plans.
FreshBooks vs. QuickBooks: Pros and Cons
Here are a few pros and cons of using FreshBooks and QuickBooks Online.
FreshBooks Pros
It is effortless to manage and doesn't require much technical knowledge.
It is a cloud-based system that can be accessed from any device.
It is cost-effective, giving great value for money.
It integrates with popular applications like Stripe and Gusto to increase convenience.
FreshBooks Cons
It lacks advanced features that other accounting software have, such as payroll.
It doesn't have live chat support or a shared screen.
It doesn't offer a lot of integrations, making it hard to connect other applications.
It provides limited reports.
QuickBooks Pros
It is simple and offers a more flexible solution than FreshBooks.
It is more suitable for businesses with advanced accounting needs.
It has more extensive integrations, which helps in improving business efficiency and productivity.
It has customizable reporting to give more insights.
QuickBooks Cons
You cannot revert to the previous version of your books.
Purchasing and maintaining its features is quite expensive.
It limits some features, such as batch invoicing; you have to pay extra dollars.
It has a large learning curve, requiring users to know at least some accounting rules to use this application efficiently.
FreshBooks vs. QuickBooks: Conclusion
FreshBooks and QuickBooks are two accounting software that helps businesses manage their finances effectively. Both platforms offer a variety of features that allow users to keep track of business activities.
However, QuickBooks Online is more suitable for large businesses requiring advanced features like inventory management, payroll, and invoicing.
FreshBooks is more suited for the small business owner looking for an affordable, easy-to-use accounting solution that provides excellent value for money.
To determine which accounting software best suits your business, analyze your business to find out your needs. Each software offers great features. However, choosing one that fits your company's budget and needs can help you save money and time.
If you want a more in-depth comparison of QuickBooks, read our blog on QuickBooks Online Review: Still Best for Accounting in 2023? to see if one fits your current company's needs.