QuickBooks sits amongst the best small business accounting software in the market. In this QuickBooks Online review, we'll discuss the platform's pricing, features, pros, and cons and stack it up against other accounting software for small businesses to see whether the platform is worth it.
Before we dive in, let's briefly examine what factors you should consider when choosing accounting software.
Firstly, the platform of your choice should provide an intuitive interface and facilitate mobile and role-based access. In terms of features, tax readiness, reporting, time tracking, and bank reconciliation should be at the top of your list.
Does QuickBooks Online check the list? Let's have a look.
What is QuickBooks Online?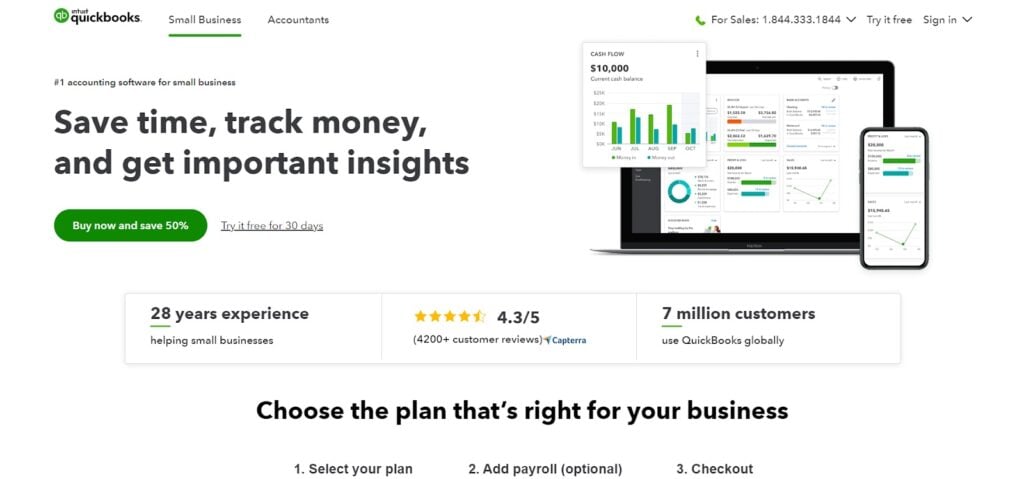 QuickBooks Online is a cloud-based accounting software solution. It is designed with small businesses in mind, offering plenty of advanced features at a relatively accessible price.
QuickBooks' stand-out features include inventory management, custom invoices, in-depth reporting, and hundreds of integrations, including PayPal, Shopify, Housecall Pro, etc.
In addition, it allows you to create, send and store invoices regardless of your device, be it mobile or desktop.
Given that the platform is cloud-based, you won't need to deal with installing the software on your computer. The data and settings are stored and ready to use within the browser.
QuickBooks | Best Accounting Software
QuickBooks is a popular accounting software designed for small and medium-sized businesses that allows users to track income and expenses, create invoices, manage bills and payments, and generate financial reports. It also offers features such as inventory management, payroll processing, and tax preparation. It is widely used by businesses across various industries and is known for its reliability, accuracy, and ease of use.
Pros:
User-friendly interface

Time-saving features such as automatic data entry, automatic bank feeds, and automatic invoicing

Customizable reports

Integration with other software

Cloud-based access

Multi-user access

Automatic backups

QuickBooks Online Pricing and Plans
QuickBooks Online covers four pricing plans, starting from $12.5/month: Simple Start, Plus, Advanced, and Desktop Pro Plus.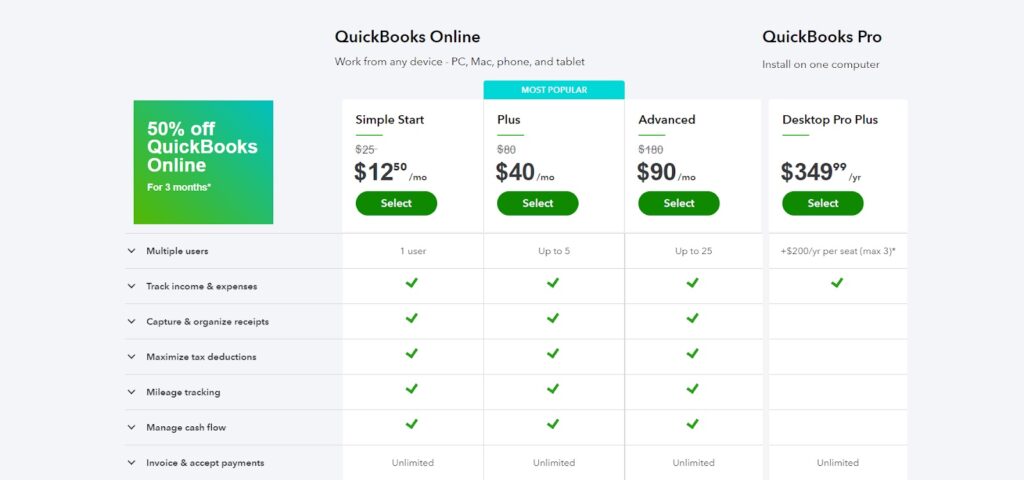 Simple Start
Available for one user, Simple Start is QuickBooks' Online most basic pricing plan. Valued at $12.5/month, this package allows you to send unlimited invoices, run general reports, track incomes, expenses, sales, and sales tax, manage 1099 contractors, and more.
It also covers mileage tracking using your phone's GPS. You'll get to categorize personal and business trips easily and create milage reports.
Plus
Priced at $40/month, the Plus plan is available for up to five users. Besides the features found in the Simple Start plan, the Plus package also offers inventory and project profitability tracking, employee timesheets, and bill management.
Moreover, unlike the Simple Start plan, this offer provides more in-depth reports.
Advanced
The Advanced plan costs $90/month and is available for up to 25 users. It offers the broadest feature set among all plans, covering task automation, on-demand training, more comprehensive reports using custom fields, employee expense management, and more.
This plan also offers a dedicated accountant ready to handle any potential issues you may have 24/7.
Lastly, the Advanced plan provides the most comprehensive reports out of all the other pricing plans, allowing you to track revenue, cash flow, and more.
QuickBooks Pro Plus
Valued at $349.99/year + $200/seat for up to three users, this plan gives you access to the platform's dedicated desktop version. It offers sales orders, optional industry-specific features, reports, etc.
At the time of writing, a 50% discount is available for all pricing plans for the first three months.
QuickBooks Online Features
QuickBooks Online gained recognition among business owners due to its comprehensive set of features. Let's discuss this in further detail.
Inventory Tracking
QuickBooks offers inventory tracking in its Plus, Advanced, and desktop plans. This feature allows you to monitor your inventory and cost of goods quickly and set up alerts for whenever you run low on stock.
QuickBooks' inventory tracking will also give you an insight into what products are selling the most to help you manage your stock more effectively. Additionally, you can manage vendors and create purchase orders.
Lastly, this feature can save you plenty of time, as you can easily import inventory from Excel, or sync data with other platforms, like Shopify, Amazon, Etsy, etc.
Payables and Receivables
QuickBooks makes it easy for you to handle both payable and receivable accounts.
In terms of payables, you can keep track of unpaid bills, add new vendors, record expenses and partial transactions, create recurring transactions, and automatically print checks—all of which you can do within an easy-to-use dashboard.
The same thing goes with receivables. QuickBooks allows you to customize invoices by offering various templates and letting you add personalized messages, tweak colors, logos, etc.
However, a stand-out functionality is that the platform automatically calculates your sales tax based on whom you sell to, where you sell, and what you sell.
This can spare you the trouble of making mistakes when calculating your sales tax, such as not accounting for differences in sales tax percentages across various states.
Aside from that, QuickBooks also allows you to track collected and remitted sales tax, monitor sales tax liability, and pay it with a check.
Cash and Banking Management
QuickBooks enables you to import banking information by connecting the software to your bank debit or credit card or manually adding transactions.
Unlike competitors, QuickBooks allows you to reconcile bank accounts even if you record bank transactions manually over importing them automatically.
It syncs with all of your bank accounts. Therefore, your balance is updated in real-time, so you won't need to adjust it manually.
It also allows you to easily see cleared and uncleared transactions via its reconciliation reports.
Lastly, QuickBooks provides a Cash Flow Center where you can gain information on managing your cash flow effectively. You'll receive cash inflow and outflow projections 30 or 90 days in advance.
Learn more about QuickBooks Online here.
Record-keeping
QuickBooks doesn't leave anything to be desired in creating and maintaining in-depth records. For instance, it allows you to divide your expenses into various categories for easier tracking.
Moreover, once you add an expense, you can leave memos, attachments, and permit or reference numbers. This option can come in handy when generating reports, as you'll better understand where you spend and make your money.
Thus, this feature makes it possible to manage your finances efficiently, identify sales trends you can profit from, and spot cost-cutting opportunities.
Income and Sales Tax
In terms of taxes, a stand-out feature of QuickBooks is that it enables you to file taxes electronically via email or through your website. You can also add taxes to your invoices and estimates.
Meanwhile, QuickBooks will automatically calculate your taxes and track payment due dates to minimize the risk of penalties. Also, you can automatically generate and file 1099 tax forms for working with contractors.
Mobile App
The mobile app is one of QuickBooks' stand-out features. It offers all the features you need to oversee and manage your business's accounting while on the go.
More specifically, the app allows you to:
Track cash flow in real-time
Send estimates and invoices
Edit transactions
Receive payments
Categorize expenses
Receive real-time reports
Furthermore, the app is highly secure, including 128-bit SSL encryption. You don't need to worry about leaving your estimates and transactions unprotected.
Besides, the application is easy to use. Coupled with its robust set of features and convenience, there's no reason not to use the platform's mobile app.
Learn more about QuickBooks Online here.
QuickBooks Online Pros
Extensive Integrations
The platform offers an app marketplace with over 600 apps, including QuickBooks add-ons and third-party integrations. Some popular integrations include Paypal, Shopify, Gusto, and more.
The options are endless, as you can find apps designed to fulfill any specific need, from time tracking and payroll to project, customer and human resources management, and more.
Moreover, QuickBooks Online integrates seamlessly with other QuickBooks products, like QuickBooks E-commerce and Payroll.
In other words, you've got plenty of room to extend the platform's functionality, making QuickBooks a good option for scaling businesses.
Learn more about QuickBooks Online here.
Seamless Collaboration
Since QuickBooks is cloud-based, multiple employees can use the software from various devices. That's not all, though. QuickBooks allows you to invite up to two other users, like your accountants and bookkeepers, to verify or revise your accounting and work with them concurrently.
For instance, accountants can write off invoices, undo reconciliations, and reclassify transactions. This ensures seamless collaboration between businesses and accountants and eliminates the hassle of needing to make any changes by yourself.
Plenty of Documentation
Given that QuickBooks Online is the industry standard in accounting software, you can easily find documentation to help you make the most out of the platform and fix any issues.
For instance, the QuickBooks website puts various articles, user guides, video tutorials, and webinars at your disposal. They also offer a Community section where you can get in touch with other users and QuickBooks experts, share ideas, and find answers to any questions.
Aside from that, you can find a vast selection of articles showing advice on running and managing a small business.
Lastly, if you ever experience issues with accounting, QuickBooks gives your bookkeeper access to your account so he can review, plan, and edit your bookkeeping.
Learn more about QuickBooks Online here.
QuickBooks Online Cons
Lacking Customer Service
With QuickBooks, customer service is more of a hit-or-miss situation. Some users report that support is responsive and helpful, while others say it's sluggish and didn't resolve their issues.
Still, there's no 24/7 or email support available. You contact support by submitting a form, waiting for them to call you, or initiating a live chat.
However, the abundance of available documentation should compensate for lackluster customer service.
Learning Curve
QuickBooks may be a little difficult to get used to, especially if you have no experience with accounting software.
Users generally report issues navigating the platform while splitting invoices, grouping expenses, and marking transactions are unnecessarily cumbersome.
The overall clunky navigation coupled with the mediocre customer support may be a deal-breaker for people new to accounting software.
Again, the documentation you can find online may make this less of an issue. On the other hand, searching for fixes and resolving the problems alone might take some time.
QuickBooks Online Alternatives: How QuickBooks Online Compares
QuickBooks Online vs. Freshbooks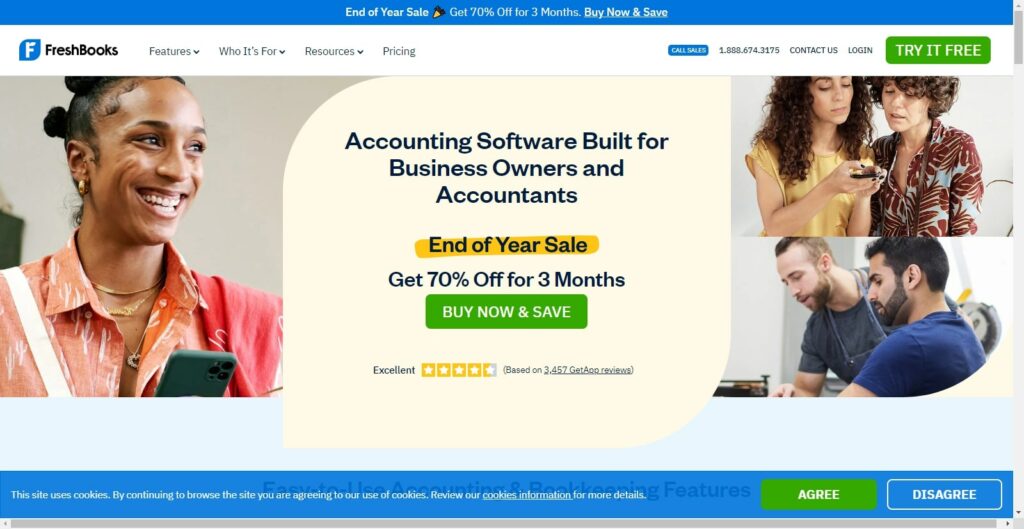 If QuickBooks lacks user experience and customer support, Freshbooks makes up for it. The platform is well-known for its simplicity and intuitive dashboard.
In terms of support, you can contact service representatives via email, phone, or live chat. Not to mention that you also have access to plenty of online documentation.
Freshbooks is a better option for freelancers and beginners. Its intuitive interface, good customer support, and excellent user experience make it perfect for those new to accounting software.
In contrast, QuickBooks is more scalable and offers a broader set of advanced features.
Best for Small Business
FreshBooks
Freshbooks is a one of the best accounting software designed for small businesses and freelancers. It provides a range of features including invoicing, time tracking, expense management, project management, and financial reporting. The software also integrates with popular payment gateways, making it easy for users to receive payments from clients. Freshbooks is user-friendly and offers a mobile app for on-the-go access. It is a reliable and efficient tool for managing finances and streamlining business operations.
Pros:
Create and send professional-looking invoices

Track time spent on projects

Manage expenses

Generate financial reports

QuickBooks vs. Zoho Books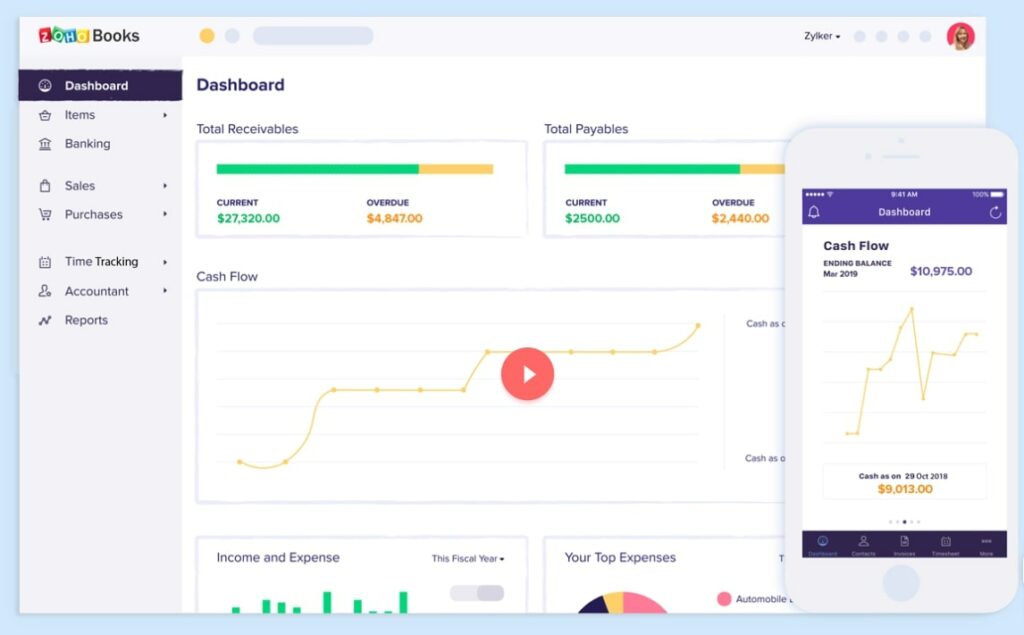 Zoho Books is a more affordable option, with pricing starting at $12/month. It also provides a solid mobile app that allows you to record bill payments and bills. There's a free version available.
Moreover, the platform offers a client portal letting clients monitor and manage transactions, which QuickBooks lacks.
Besides, if you use other Zoho products, it's best to stick to Zoho Books, as its software solutions integrate seamlessly.
However, QuickBooks has more third-party integration capabilities, making it a more suitable option for scaling businesses.
Zoho Books | Online Accounting Software
Zoho Books is a cloud-based accounting software that helps businesses manage their finances efficiently. It offers a range of features such as invoicing, expense tracking, inventory management, and financial reporting. With Zoho Books, users can easily create and send professional invoices, track payments, and manage their cash flow. The software also allows users to automate recurring transactions, reconcile bank accounts, and generate financial statements. Zoho Books is designed to be user-friendly and accessible, even for those without accounting experience. It is an ideal solution for small and medium-sized businesses looking to streamline their financial operations and improve their bottom line.
Pros:
User-friendly interface: Zoho Books has a simple and intuitive interface that makes it easy for users to navigate and use the software.

Comprehensive features: Zoho Books offers a wide range of features that cover all aspects of accounting, including invoicing, expense tracking, inventory management, and financial reporting.

Customizable templates: The software provides customizable templates for invoices, estimates, and other documents, allowing users to create professional-looking documents that reflect their brand.

Integration with other Zoho apps: Zoho Books integrates seamlessly with other Zoho apps, such as Zoho CRM and Zoho Inventory, providing users with a complete business management solution.

Multi-currency support: Zoho Books supports multiple currencies, making it easy for businesses to manage transactions with customers and vendors in different countries.

Mobile app: Zoho Books has a mobile app that allows users to manage their accounting tasks on the go.

QuickBooks vs. Xero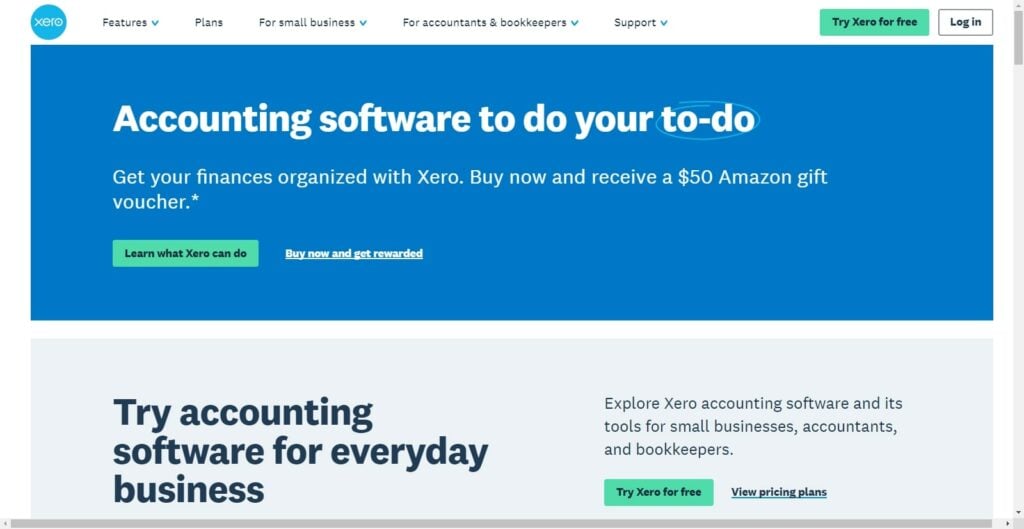 Xero capitalizes on QuickBooks' shortcomings. The platform provides an excellent user experience and 24/7 customer support.
Pricing from $22/month, Xero's Starter plan is similar to QuickBooks' Simple Start Subscription. However, note that Xero's cheapest plan only allows you to send up to 20 invoices and quotes, unlike QuickBooks.
Other than that, Xero's upper-tier pricing plans are more affordable and support unlimited users. For instance, Xero's Standard and Premium plans cost $35/month and $47/month, respectively.
QuickBooks Online Review: Conclusion
Overall, QuickBooks Online is a solid option. Due to its broad set of features, mobile app, and integration capabilities, this platform is an excellent choice for small businesses looking for an all-in-one solution that grows along with them.
Although this platform may not be a great option for people without any prior experience in accounting software, the resources you can find on QuickBooks should be enough to get you up to speed on how to use the platform.