It's no secret that running a business takes an immense amount of time and energy. In order to succeed, it is crucial to allocate your resources in the best possible way. Virtual Assistant Services (VA) can help you accomplish this by taking on some of the tasks that keep you from growing and succeeding as fast as you want.
That being said, there are many different VA services out there with differing levels of quality, scope, and price point – so how do you know which one will work for your specific needs?
We've compiled all the information you need to find the perfect VA for your small business!
In this article, we'll go over: what VAs do, how they help businesses, the best virtual assistant services, their rates, and more!
What is a virtual assistant?
A virtual assistant (VA) is a person that provides administrative, technical, and creative services to clients remotely. Some of the most popular services provided by VAs are data entry, real estate, social media management, marketing, and legal.
Most small businesses don't have the time or resources to handle everything on their own. But hiring an in-house staff can be expensive, so many entrepreneurs hire a VA as an affordable alternative.
The best virtual assistant services are out there, and we have compiled a list of the top ones to help you find them. From payroll processing to social media management, these VA's will assist you with your business needs that have been taking up too much time. Take a look at our list and see if one is perfect for your company!
Best virtual assistant services company
Best U.S. based virtual assistants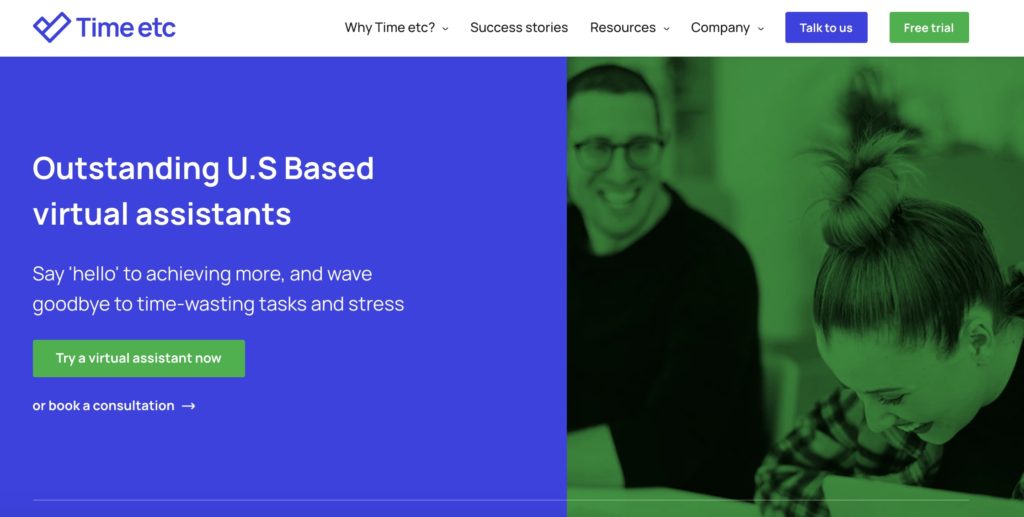 Time etc was founded by Barnaby Lashbrooke after he met Penni Pike, who had been Sir Richard Branson's closest assistant for many years. Penni has inspired Barnaby by explaining how Richard had achieved so many incredible things because he delegated so much of his work to Penni.
So Barnaby created Time etc, to pair busy entrepreneurs with brilliant assistants for an affordable monthly fee.
Time etc is the place for your business needs when it comes to all things administrative. With vetted U.S.-based VAs with at least 12 years of experience, you can be sure that Time etc will cover every need from administration and organization to writing and marketing.
We think it's the best US-based virtual assistance company because there's a money-back guarantee, you can share the assistant with your team, it's free to add extra assistants, and you can rollover any unused hours.
Time etc Pricing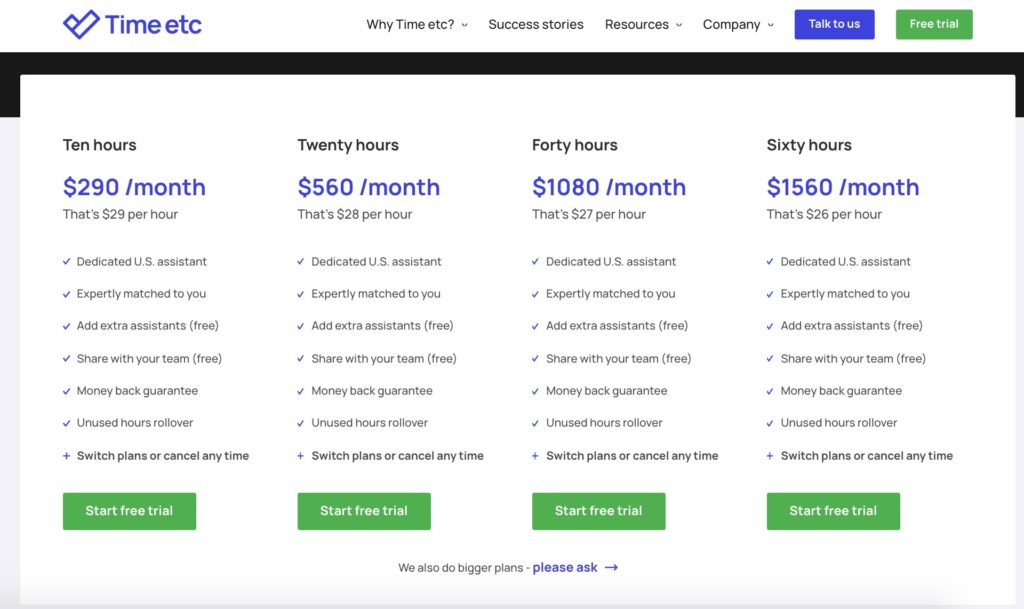 As you can see, Time etc offers four standard plans:
Ten hours: $290/ month ($29 per hour)
Twenty hours: $560/ month ($28 per hour)
Forty hours: $1080/ month ($27 per hour)
Sixty hours: $1560/ month ($26 per hour)
You can start a free trial with no credit card required, which offers up to $25 in value.
Fiverr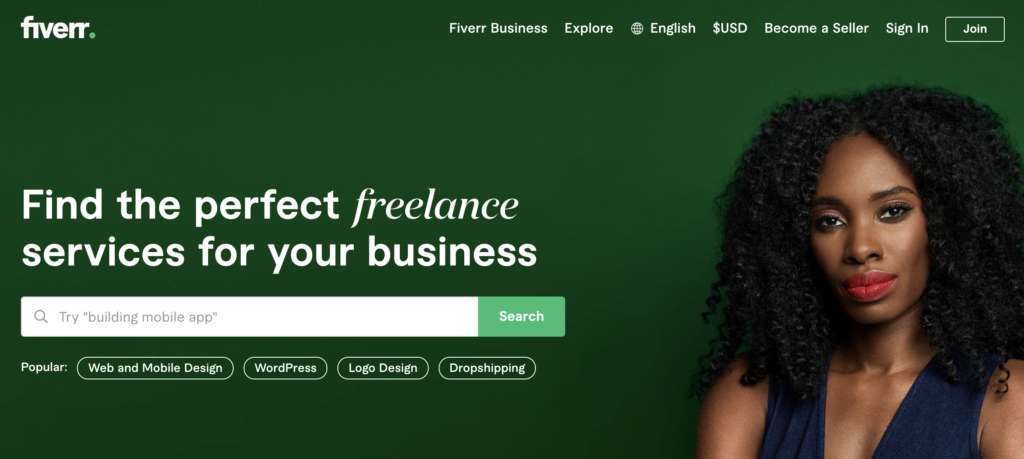 Fiverr isn't a virtual assistant company, but it's a global freelancer marketplace that features many excellent virtual assistants and freelancers. It offers a wide range of services, from administrative tasks, content writing, video editing, web development to legal consulting. You can get your tasks done for as low as $5.
Check out our detailed Fiverr reviews to see why we recommend hiring on Fiverr.
You can start using Fiverr here!
Virtual assistant services rates
Some people think that hiring a VA (virtual assistant) will be too expensive, but the truth is that there are more affordable rates than people realize. The average rate ranges from $5 – $30 per hour, depending on how specific the task is.
For Time etc, the hourly rate ranges from $26 to $29, depending on the package you purchase. On Fiverr, you can hire a virtual assistant starting from $5 per hour or task.
Virtual assistant services list
Below is the list of some popular virtual assistant services.
Content creation
Writing articles and blog posts for your businesses
Drafting newsletters and email sequence
Creating social media posts for Facebook, Instagram, LinkedIn, Twitter, and more.
Copywriting for website and sales pages
Writing product descriptions for online stores
Re-purposing content, e.g., turn a blog post into a video
Writing job listings
Translation of website, blog posts, and other types of content
Admin
Data entry
Customer support
Email management: responding to emails and organizing email inboxes
Calendar maintenance and appointment scheduling
Ordering office supplies
Arranging interviews
Answering phone calls
Booking flights, hotels, restaurants, etc.
Product and gift packaging and shipping
Most in-demand virtual assistant services
Real estate assistant
Cold calling
Research: finding property ownership, deed type, properties with reasonable pricing and upside potential
Data entry: leads' and prospects' contact details, property information, etc.
Bookkeeping: keeping track of your income and expenses
Organizing contracts and agreements
Booking appointments and schedule management
Online marketing tasks, like managing social media and website
Email marketing and management
Helping with prospecting
Pinterest virtual assistant services
Designing Pinterest graphics
Pinterest SEO: keyword research for Pins titles and descriptions
Updating and managing boards
Creating and scheduling pins for publishing
Promoted Pins: creating and monitoring paid ads
Social media virtual assistant services
Creating social media posts: writing caption and creating images
Editing and uploading YouTube videos
YouTube SEO research
Managing and replying to social media comments
Replying to inboxes
Researching and picking the right hashtags
Conclusion
The best virtual assistant services offer a range of services to suit any customer's needs. From administrative tasks like scheduling meetings and managing email inboxes to content creation and social media management – there is something for just about everyone!
Start a free trial with Time etc, or hire a virtual assistant on Fiverr from $5!
If you're thinking of outsourcing to save time, you might be interested in this article: the best platforms to hire a freelancer.