If you are looking for Printful Alternatives, then this article is just for you.
Starting a business can be challenging, but that's where the Print-on-Demand (POD) model comes in. The benefits of Print on Demand for entrepreneurs are endless. Printing and creating products yourself is no longer necessary, which saves time, energy, and cost!
This low cost and easy to set up option is perfect for beginners looking to start an eCommerce store with immense potential without worrying about overhead costs or high startup fees.
Printful is an excellent Print-on-Demand company because they offer extensive features, such as a highly comprehensive mock-up generator that lets you test out your designs before investing in full production runs – which saves time and money!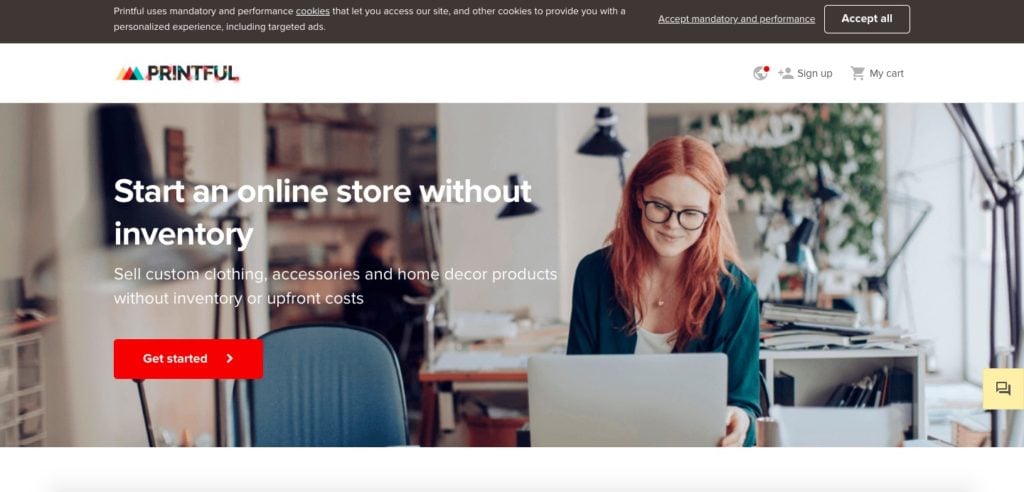 There are many benefits to using Printful, but it may not be the right solution for everyone. Here's what you need to know if you're thinking of using an alternative to Printful.
Top Printful Alternatives: Printify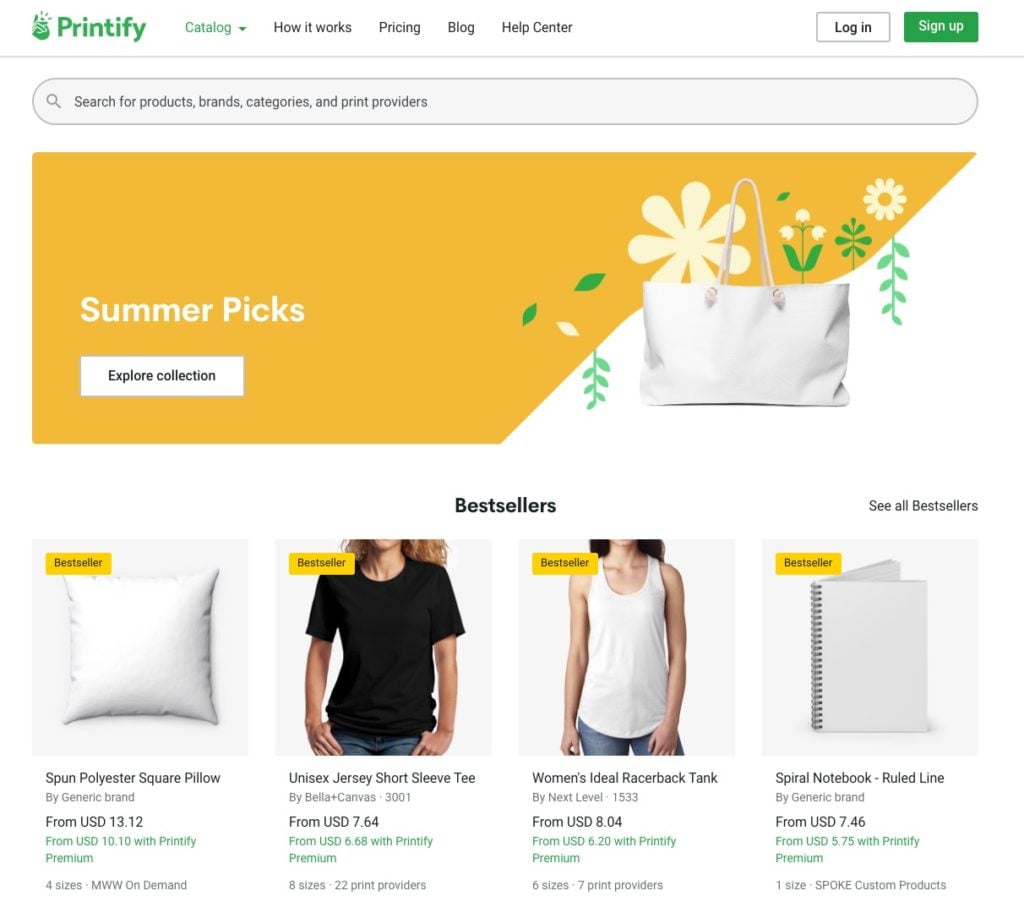 Printify is one of the top Printful alternatives.
Printify is a one-stop shop for all your custom printed needs. With their web app, you can design anything from posters and greeting cards to mugs with just the click of a button!
They have networked printers worldwide, which means that they will take care of everything: production, fulfillment, and shipping.
You may read our detailed Printful vs. Printify comparison.
Printify is a company that specializes in printing, packaging, and delivery. They work with your favorite carriers to deliver products from all corners of the world! But rates can be slightly higher when we use these localized solutions for transport instead of standard shipping options like UPS or FedEx.
In addition, it integrates with a variety of popular eCommerce platforms, such as Shopify, Wix, WooCommerce, Etsy, eBay, and more! You can also use the Printify API to automate your POD business so that it runs seamlessly from start to finish.
Printify offers a free plan and a premium plan ($29).
With the premium option, you can manage up to 10 stores per account with discounts on all products of 20%!
If you have an overwhelming number of orders each day (10k+, for instance), then their enterprise plans are perfect. The Printify enterprise plan also includes more advanced features and support.
Pros of Printify
Lower product costs
Access to vendors globally
Wide selection of products and options
2-7 business days fulfillment
Cons of Printify
Print quality may not be very stable
Limited branding options
Who is Printify best for
Printify is a cost-effective and flexible way to print, ship, and sell your designs around the world. We'd recommend you try Printify if you want a close Printful alternative and prefer a more affordable supplier.
Best Printful Alternatives: Spocket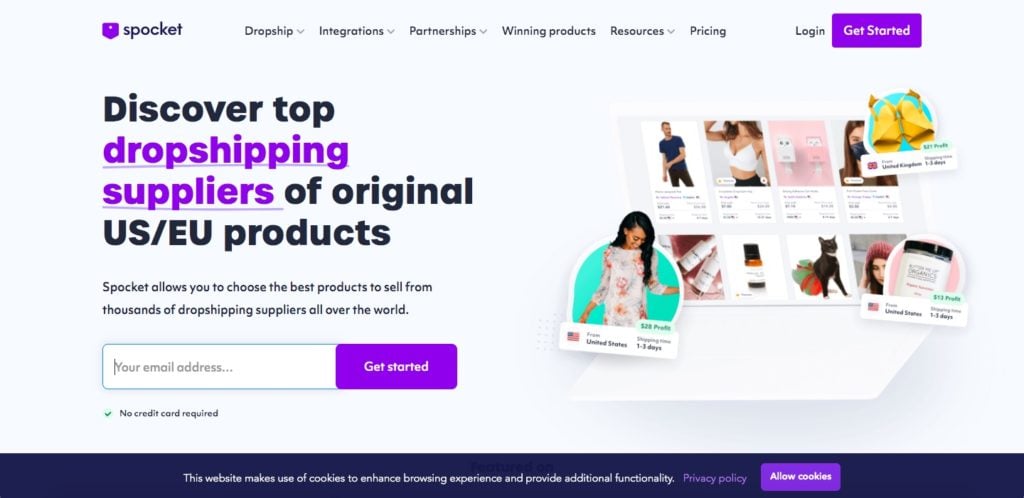 Spocket is a treasure trove of the best products to sell. And therefore, one of the best Printful alternatives.
Featuring thousands of dropshipping suppliers from all over the world, Spocket can help you find everything that your customers want!
Spocket is a dropshipping app that integrates with both Shopify and WooCommerce stores. With one quick click of the button, you can launch your Print-on-Demand business selling products from suppliers located mainly in the US, UK, and EU.
What makes Spocket stand out is that other dropshipping solutions focus on Aliexpress-sourced goods. However, Spocket offers more product variety and focuses on high-quality products.
In addition, you can order samples from a wide range of suppliers on Spocket. This is amazing if quality control matters to you (and it should!) You'll also be able to test the speed of delivery and take your product photos using these sample products.
Pros of Spocket
High-quality products
Product suppliers in the US, EU, and the UK – so if you're selling to these places, your customers can get more speedy delivery.
Automation features available
More unique products that you aren't able to find elsewhere
Auto-update inventory
Cons of Spocket
It doesn't work with all online store builders (e.g., Wix or BigCommerce)
Limited suppliers location 
Who is Spocket best for
Spocket may be the answer you've been looking for if you want to explore a range of items without changing your existing site. Spocket works well with dropshipping and print-on-demand models, so it can easily fit in alongside what works best for your business today.
Printful Alternatives: AliDropship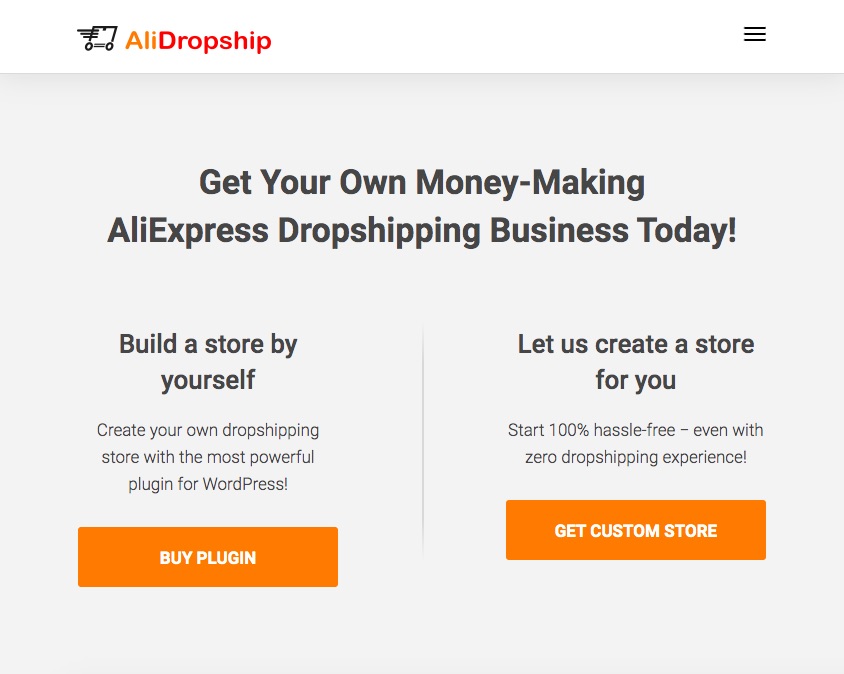 AliDropship is a plugin that makes it quick and easy for you to start dropshipping with minimal setup time. It imports products from AliExpress into your online store so that no matter what niche or category of product they are in, you can get started quickly!
AliDropship is an all-inclusive eCommerce solution for entrepreneurs who are looking to get into the dropshipping industry.
With AliDropship, you have three options:
set up a new store and host your website with them;
use their plugin on WordPress, Shopify, or WooCommerce sites;
buy one of their prebuilt off-the-shelf stores from within the platform.
The best part is that they provide comprehensive solutions, including plugins, addons, custom stores, and themes seamlessly integrated with your print-on-demand and dropshipping online stores.
Pros of Alidropship
An enormous product catalog (100 million products from 100k+ suppliers)
Easy to set up and import products
Works seamlessly with WordPress (If you're yet to set up a WordPress site, start with Bluehost)
Cons of Alidropship
Customer support may not be very helpful
Product quality may vary, depending on your suppliers
Who is Alidropship best for
If you're looking for a way to add dropshipping functionality to your WordPress store, AliDropship is the place. With their vast range of products and easy installation process, adding this service will be simple!
Printful Alternatives: Shopbase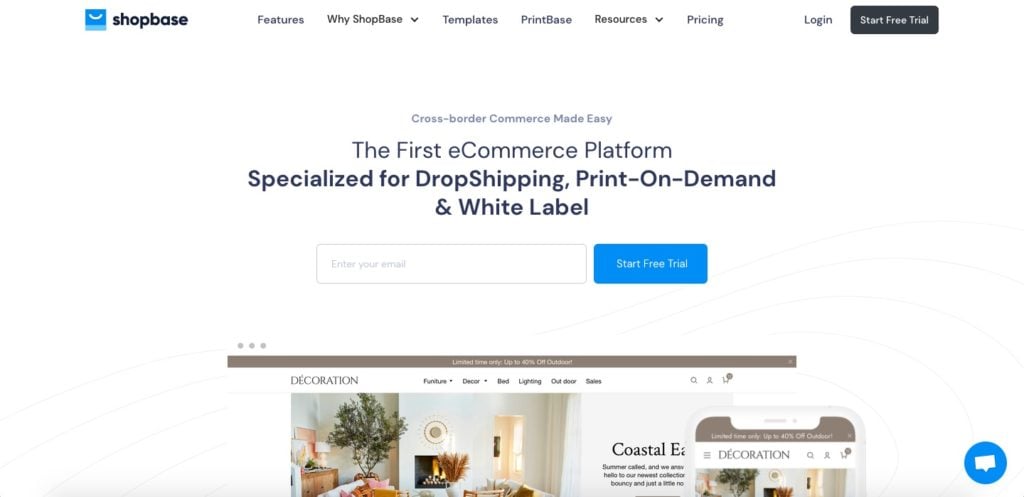 ShopBase is an innovative eCommerce platform that offers a variety of services, including their specialty: dropshipping. ShopBase also provides white-label and print-on-demand (POD) solutions for companies who want to start up without any serious investment in inventory or infrastructure.
With ShopBase Template, you can customize the design of your e-commerce website to look like one of the best on the Internet. With over ten free templates available in this collection with all kinds of designs and features for any type of business.
In addition, ShopBase Fulfillment (previously known as CrossPanda), the powerhouse of dropshipping agents, supplies and fulfills millions of products in 40+ niche categories for 50k+ sellers on ShopBase.
ShopBase provides a friendly, affordable platform that is beginner-friendly. With more than 100,000 users from over 100 countries worldwide and growing numbers every day, ShopBase is one of the best companies to help you start your dropshipping store!
Pros of Shopbase
Free trial and no credit card required
Easy to use
Set up an online store directly without the need to integrate with another online store builder like Shopify or WooCommerce
Cons of Shopbase
A limited number of themes
A transaction fee of 0.5% to 2%
Who is Shopbase best for
If you're a beginner who just wants to set up a print-on-demand and dropshipping store quickly, then Shopbase is for you. It's easy to use and can let you set up an online store in a few minutes without the need to integrate another online store builder as other print-on-demand suppliers require.
Printful Alternatives: Gooten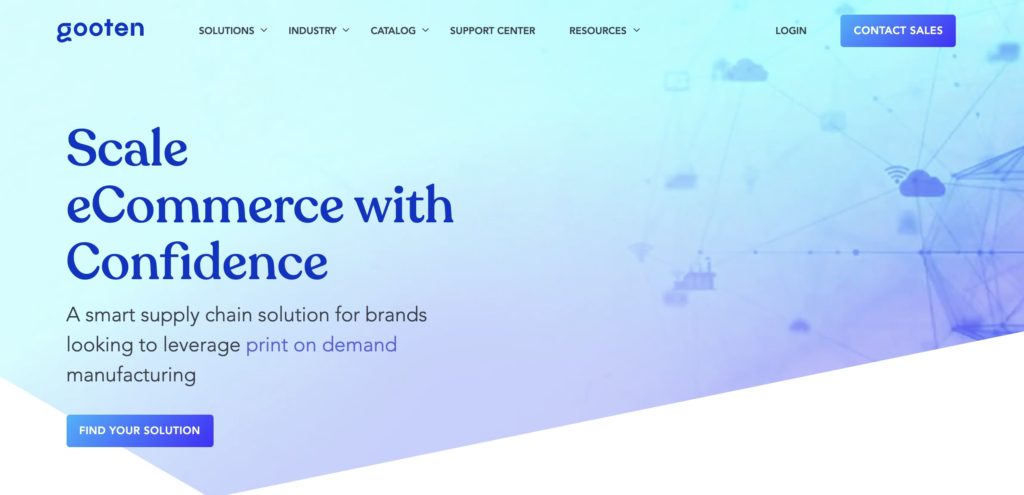 Among Printful alternatives, Gooten is a market-leading company that offers easy-to-use print-on-demand services. You can get your designs up as quickly as possible and start selling them yourself or by purchasing another artist's work instead.
Gooten makes creating customized items simple – just select from any number of templates or upload your artwork onto their platform so they can be printed on anything in minutes.
In addition, Gooten integrates with leading eCommerce platforms like Etsy, Shopify, BigCommerce, and WooCommerce. It also provides an open, well-documented API to support any type of integration.
Pros of Gooten
Competitive product prices
Unique products
Easy to use
Seamless integrations with leading eCommerce platforms
Auto order tracking
Cons of Gooten
You cannot choose your printing suppliers
If you use other eCommerce solutions like Webflow or Wix, you cannot integrate with Gooten.
Who is Gooten best for
Gooten is an all-in-one solution for print on demand. With their services, you can turn your existing web store into a POD machine and offer something new to customers. There are tons of products available that will fit any budget, as well as easy pricing calculators.
Printful Alternatives: Oberlo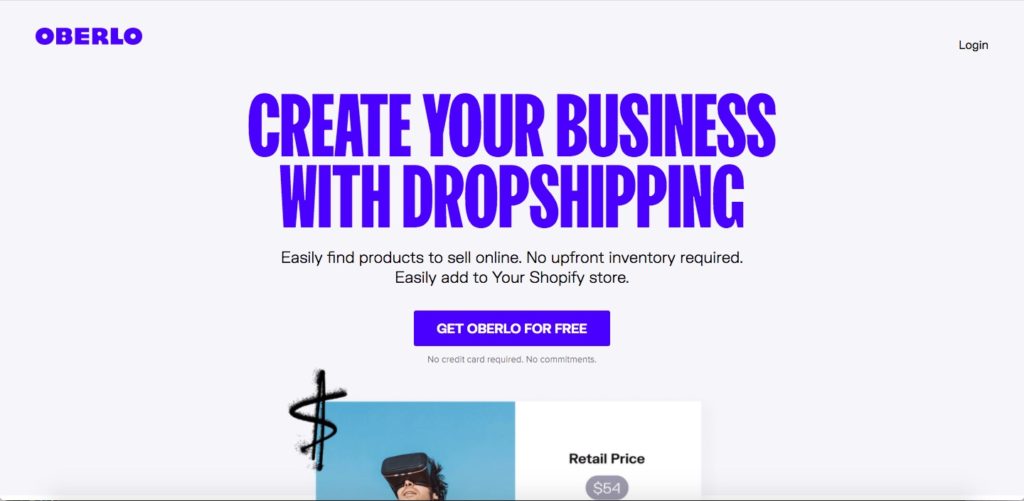 Oberlo is a popular Printful alternative among drop shipping beginners. It includes robust and free education courses on how to start your print-on-demand business and its user-friendly app, which helps you find products that are right for your niche market quickly.
With Oberlo, you'll be able to create your own Shopify store and have access to millions of products from all over the globe. In addition, it's 100% free to start.
Shopify's Oberlo app is easy to use! With just a few clicks, you can add products. You also can edit product listing information like title, description prices, and images. If you want your personalized logo on items, it needs to be asked of an individual supplier.
Pros of Oberlo
Source products from Aliexpress – the largest eCommerce marketplace in the world
Robust free plan
Easy to use
Auto order tracking
Cons of Oberlo
Only works with Shopify
Not specific for print-on-demand products
Who is Oberlo best for
If you're eager to experiment with dropshipping, Oberlo's got your back. However, keep in mind that this is limited support, and it only works with Shopify.
Printful Alternatives: Teespring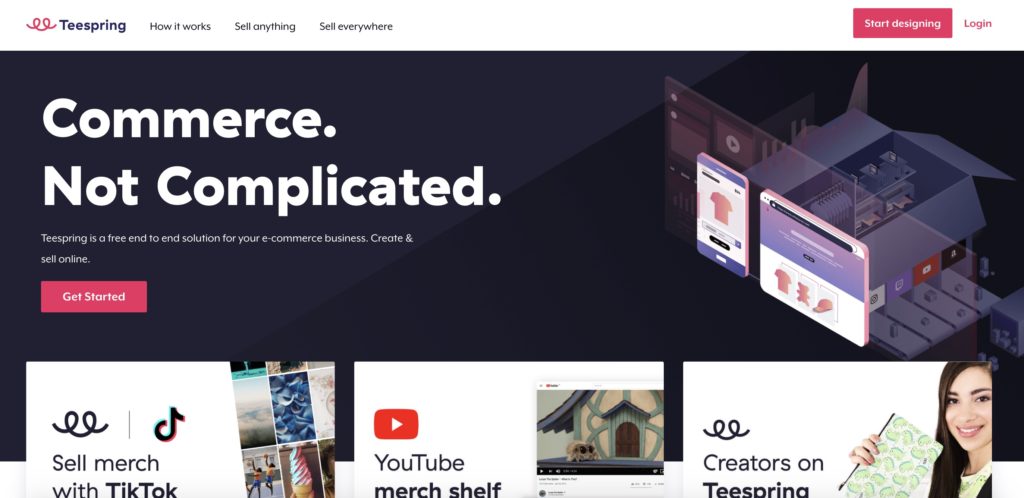 TeeSpring is the perfect Printful alternative for creators who want to sell their creations online. You can make your merchandise, such as t-shirts, mugs, stickers, etc., and have them printed on-demand without investing in inventory upfront!
It's free to use, and you can create and sell over 50+ print-on-demand products instantly.
The trusted platform has generated over $100 billion in product sales with 300,000 YouTube creators plus millions of users worldwide using the software who have all made a profit!
Teespring offers integrations with platforms like YouTube, Twitch, or Streamlabs and marketplaces like eBay, Amazon, or Wish.
Pros of Teespring
Intuitive mockup generator
Simple ordering and fulfillment process
No monthly fee
Huge visitor base to market your products
Cons of Teespring
Limited product customization
Minimum sales of each product within a timeframe; otherwise, Teespring will take down your product.
Who is Teespring best for
TeeSpring is the digital marketplace for custom t-shirts that also offers a wide selection of products, services, and designs. With their guidance on setting base pricing and what percentages you need to make some extra cash online, TeeSpring walks you through all your options with ease! Teespring is particularly suitable for creators who already have a fans base.
Printful Alternatives: Modalyst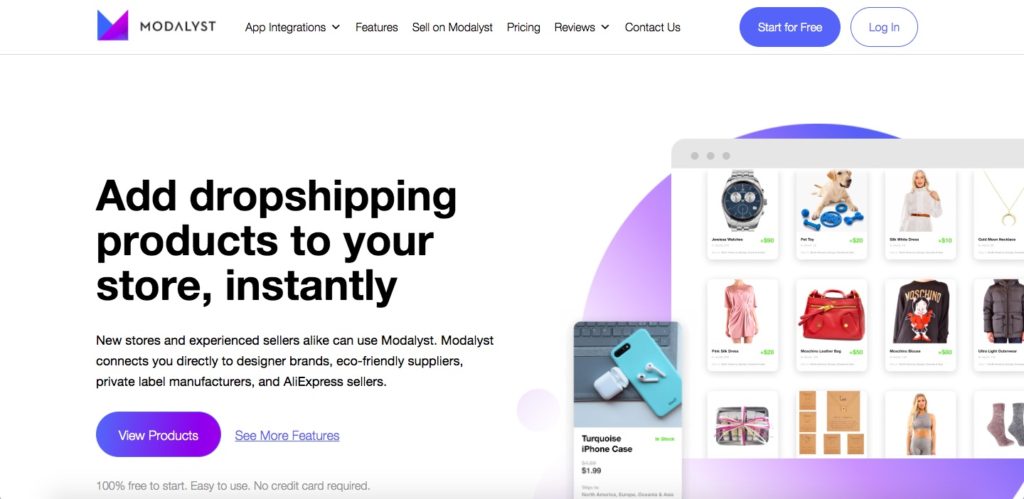 With Modalyst, you can now offer your customers various products that include all the premium suppliers and product options. If you haven't been able to find high-quality items in the past, this might be just what your business has needed!
The Modalyst website has tons of different product options to choose from! They source from US and European suppliers, and you can easily find a range of high-quality products that go beyond basic totes and t-shirts.
The best thing about this company is its commitment to connecting its customers with reputable suppliers who produce an incredible variety of merchandise.
In addition, starting a business with Modalyst is free and easy. You can select from niche products that suit you and pay only for the fulfillment costs associated with them using the Free plan. The monthly packages will give you access to more items starting at $35 to $90 per month.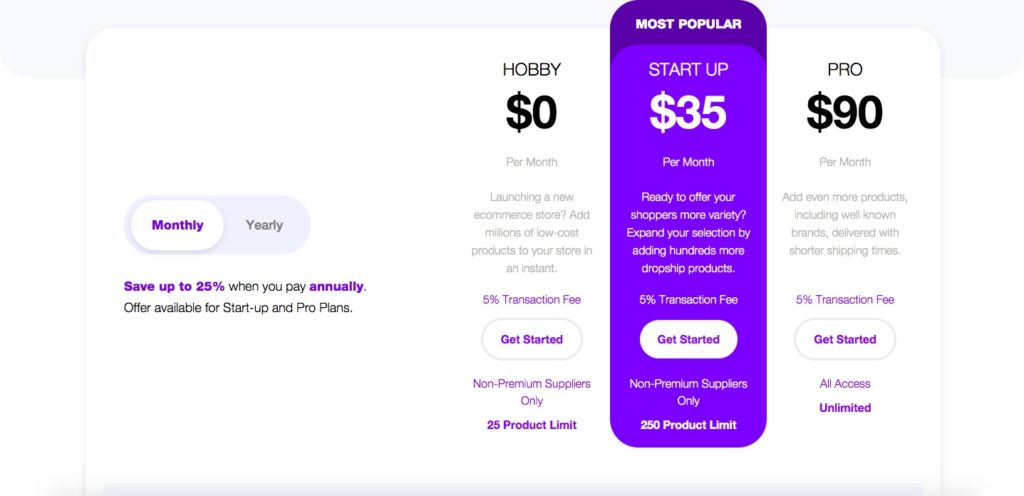 Pros of Modalyst
High-quality products and print quality
Extensive suppliers network
Fast and reasonable shipping time
A free plan is available
Cons of Modalyst
You'll only have access to premium suppliers under the $90/ month plan
5% transaction fee per order
Who is Modalyst best for
Modalyst is the perfect solution for entrepreneurs who want to sell luxurious and high-quality products. Modalyst connects companies with some of the best suppliers in Europe and America, ensuring they're delivering only the finest products possible.
Printful Alternatives: Salehoo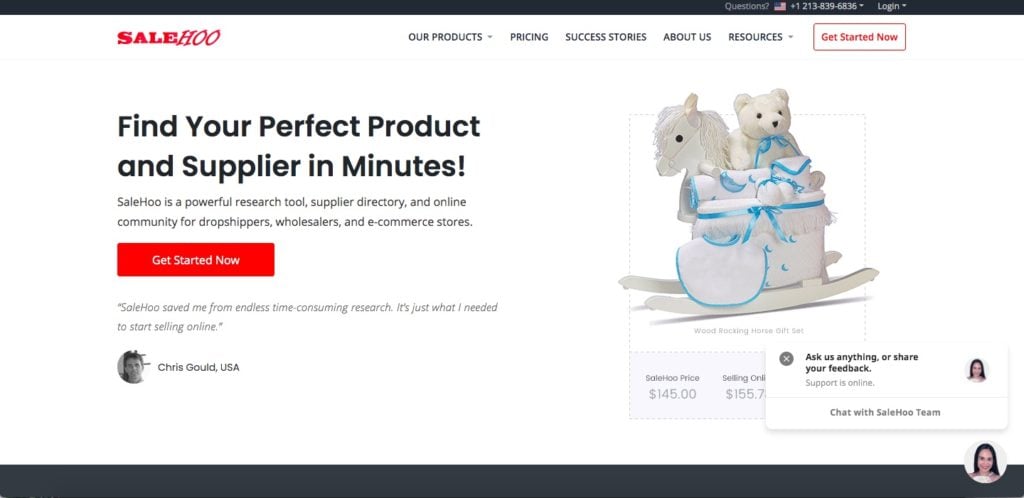 With SaleHoo, you can easily find suppliers and manufacturers in the market. You'll also get access to dropshipping products at a fraction of their retail cost!
Founded in 2005, Salehoo has become a leading wholesale and dropship directory for retailers across the planet. They became an international powerhouse because they were one of the first companies to provide buyers with many contacts from all over the world.
Salehoo now offers over 8,000 trusted wholesale and dropship suppliers. These companies offer 1.6 million recognizable branded products that you can sell to your customers, with SaleHoo's 137,000 paying members already taking advantage of these opportunities!
You can have lifetime access to the Salehoo Directory for $127. Alternatively, you can join the annual access plan for $67.
Pros of Salehoo
Exceptional customer services: 24/7 support and a massive community of sellers to help each other
Vetted suppliers
Excellent training and support
No hidden fee
60-day money-back guarantee
Cons of Salehoo
Not as straightforward to set up a print-on-demand store as Printful or other alternatives
Limited product options
Who is Salehoo best for
You've got to be looking for a way to run an eCommerce business that promises excellent quality from some of the top-selling brands in the world, then Salehoo is for you. It provides friendly customer support and a wide variety of product items.
Printful Alternatives: WooDropship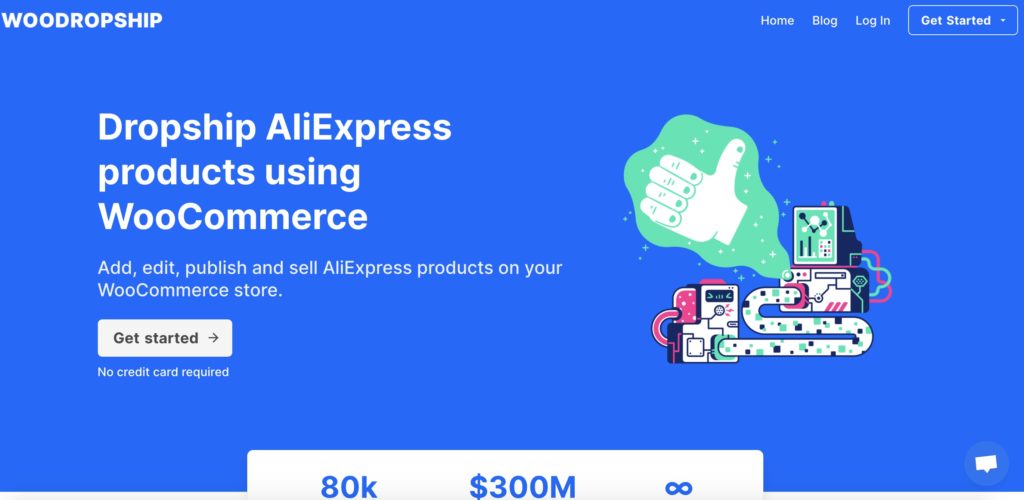 WooDropship is a new WooCommerce extension, streamlining the process of adding an AliExpress store to your existing site.
The company's goal is to make it easier for anyone with even minimal e-commerce knowledge and skillset to jump into dropshipping without having to go through all the trouble that comes from using other, more complicated systems.
This AliExpress plugin solution makes it easy to stay on top of inventory, shipping, and fulfillment while tracking customer orders. In addition, the Chrome extension allows for faster browsing and product adding.
Pros of WooDropship
Seamless integration with WooCommerce and WordPress
Fast and auto fulfillment
Easy to import products from AliExpress
Chrome extension
Auto order tracking
Cons of WooDropship
Not ideal for non-WordPress users
Limited print-on-demand product options
Who is WooDropship best for
WooDropship is a good Printful alternative if you have an existing WordPress site and don't want to start selling on any new marketplace. With WooDropshop, you can access all kinds of competitive prices from different places like AliExpress. However, print-on-demand product options would be pretty limited.
Printful Alternatives: Conclusion
One of the best print-on-demand services on offer is Printful, but it might not be a good fit for all types of business. If you're looking to work with suppliers or fulfillment centers worldwide, plenty of Printful alternatives are available!
Our top recommendations are Printify and Spocket. You can get started for free with them.