Printful vs Printify … which is better for starting your print-on-demand business?
It's not uncommon to get lost in the sea of print-on-demand services. When two giants like Printful and Printify are battling it out, it can be challenging to know which is best for your business. This article will help you understand what each one offers to make an informed decision about which company to go with.
The print-on-demand business model is on the rise. With data to back up this niche, it's expected that $10 billion will come from custom T-shirt printing by 2025!
The print-on-demand model is ideal for beginners looking to start an e-commerce business with low overheads, huge markup potential, and a low entry barrier.
With Printify and Printful, you can create your eCommerce store in minutes. However, these companies are not the same thing – running an eCommerce business is much more than just selling products.
"Build a brand with eCommerce," as they say, "and you build it forever." Running an online business also means building a solid brand, promoting your products, and managing customer expectations.
That's why we're here to help you understand the difference between Printful and Printify services so that you can make better decisions for your eCommerce business.
You can get started with Printful for free here!
You can get started with Printify for free here!
What is Printful
As an on-demand printing and fulfillment company, Printful provides a way to turn your ideas into brands or products. Whether you're looking for custom apparel or are in need of gifts, Printful has the resources necessary for each stage of production.
Printful also provides warehousing services, which means you can send your products to their warehouses, and they'll automatically take care of the packaging and shipping for you.
The app is easy to use, with step-by-step instructions that guide people through various tasks like designing their product from scratch (or selecting one they've already created), adding it to your site, to creating your online brand. When someone makes a purchase, Printful will automatically receive it and fulfill their order to ship.
You can get started with Printful for free here!
What is Printify
Printify is an innovative print-on-demand network that allows you to create and sell custom products from anywhere in the world. With Printify's web app, designing your items has never been easier! From posters, greeting cards, mugs…whatever your heart desires!
They've got a network of different print providers worldwide so that they can handle production, fulfillment, and shipping with ease for you.
You can get started with Printify for free here!
Printful vs Printify
Both Printful and Printify seem to be very similar. But there are also some critical differences that you should know before deciding on one over the other.
We'll compare their product choices and variety, prices and costs, integrations with eCommerce platforms, and shipping policy and rates in the coming sections.
You can get started with Printful for free here!
Printful vs Printify: Products
Printful Products
Printful has over 200 different POD items, from clothing to jewelry, and more. You'll be able to print any of these products with just a few clicks in the easy-to-use platform, so they're delivered straight to your customers without you having to lift a finger at all.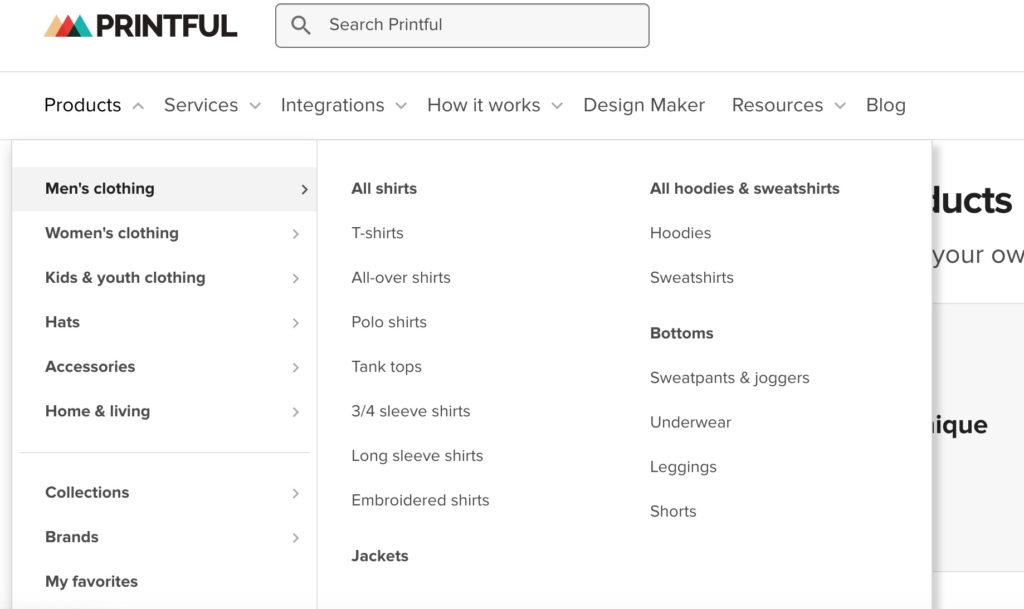 Here are some popular Printful products from its catalog:
Clothing: t-shirts, all-over shirts, polo shirts, tank tops, long-sleeve shirts, hoodies, jackets, sweatshirts, sweatpants, underwear, leggings, and more
Accessories: tote bags, laptop cases, backpacks, fanny packs, iPhone cases, Samsung cases, bracelets, earrings, necklaces, socks, facemasks, keychains, etc.
Home & Living: drinkware, coffee mugs, pillowcases, blankets, wall arts, canvas prints, framed posters, towels, bean bags, etc.
Brands: Champion, Flexfit, American Apparel, Econscious, Bayside Apparel, etc.
There's a whole library of products to choose from! Printful is a great way to build your own dropshipping business. You can design the products yourself and then import them into Printful, which will do all of the printing and fulfillment for you!
After putting together mockups from images in Photoshop or Illustrator, upload those designs right onto their website – there's an online wizard that takes care of everything else on behalf of you.
This means it's easy to set up multiple stores with different product lines without investing heavily in physical inventory management; just pay when orders are fulfilled.
Printify Products
Similarly, Printify offers a vast product directory. Its catalog is very similar to Printful, including clothing, accessories, home & living, and brands.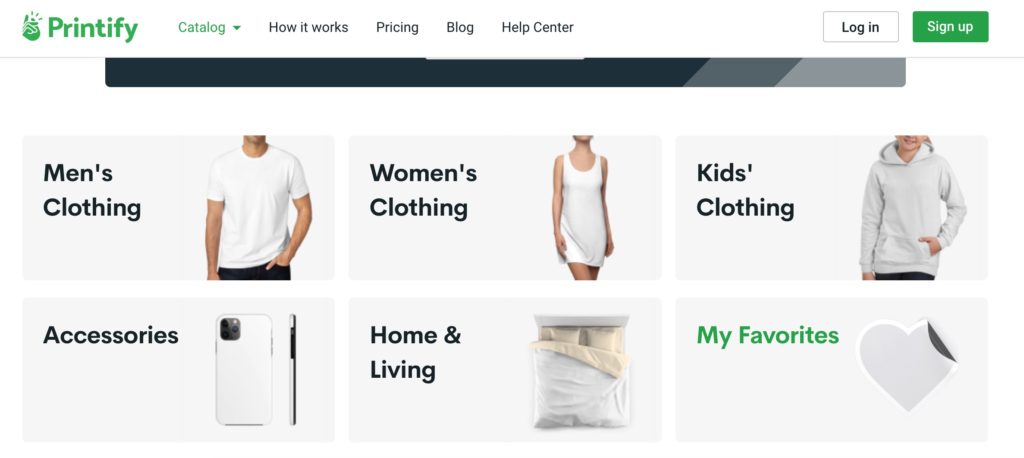 You are empowered to handpick your suppliers, ensuring the quality of products to preserve your brand's authority. When you order a sample from one supplier and find out it does not meet expectations, simply switch over to another who will be more suited as per requirements!
Printify also makes it easy for you to create quality print designs with its mockup generator, similar to Printful. They have a color tool that lets you choose from all sorts of options, making your design process enjoyable and straightforward, even if this is your first time using their software!
And as expected, Printify takes care of the fulfillment process. So when a customer orders a product from your store, Printify automatically fulfills the order for you.
Printful vs Printify: Products Summary
Both of them offer very similar products and fulfillment processes. Both of them include over 200 products in their catalog. So it's a tie. One significant difference is that Printful offers a sample order discount.
You can get started with Printful for free here!
You can get started with Printify for free here!
Printful vs Printify: Pricing
As a middleman, you must ask yourself if POD is the right solution for your company. Besides product offerings, you need to compare their pricing to ensure you can get the maximum profit margin without sacrificing product quality or delivery time.
Printful Prices and Costs
Let's first start by looking at how payment works at Printful.
When you get an order, your customer pays you at the retail price and shipping cost you set. Then, Printful charges you for the fulfillment, shipping, and any taxes that might be applicable.
You then make a profit from the differences between your retail price and the costs Printful charge you.
In this way, you know in advance how much you'll make from each sale.
Here're some tips from Printful about how to price your products.
Essentially, when pricing your products, you should take into account design costs, shipping, eCommerce platform fees, and other fees you might incur when running your business (like advertising and internet bills).
To calculate how much profit you can make with Printful, you can use its profit calculator here.
Now, let's look at Printful prices and costs.
Printful doesn't charge any subscription fee or monthly fee. There are no order minimums. The only cost you'll incur selling with Printful is the fulfillment costs when customers place orders.
Here are some product prices for your reference. You can always go to the Printful product catalog to check all the product prices.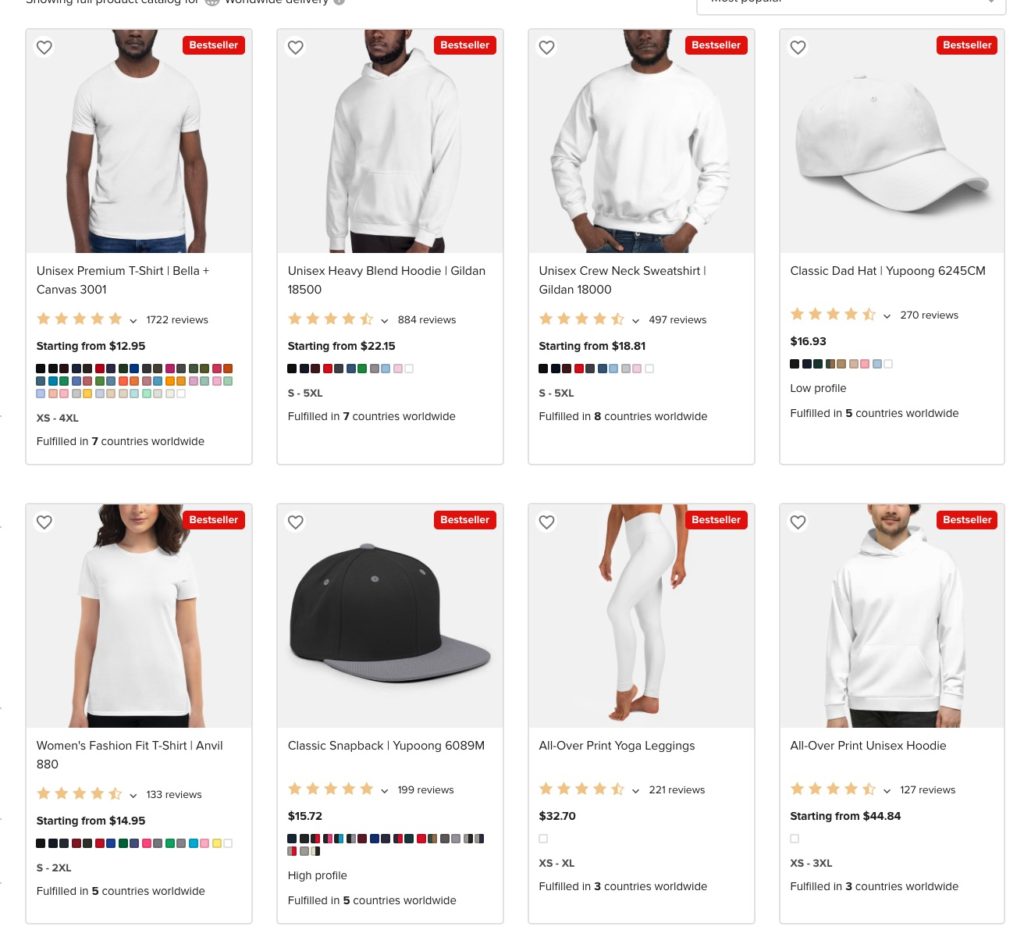 There are monthly discounts based on your previous month's sales volumes. You can save up to 9% on fulfillment costs! Bulk discounts are also available if you order more than 25 units of the same product.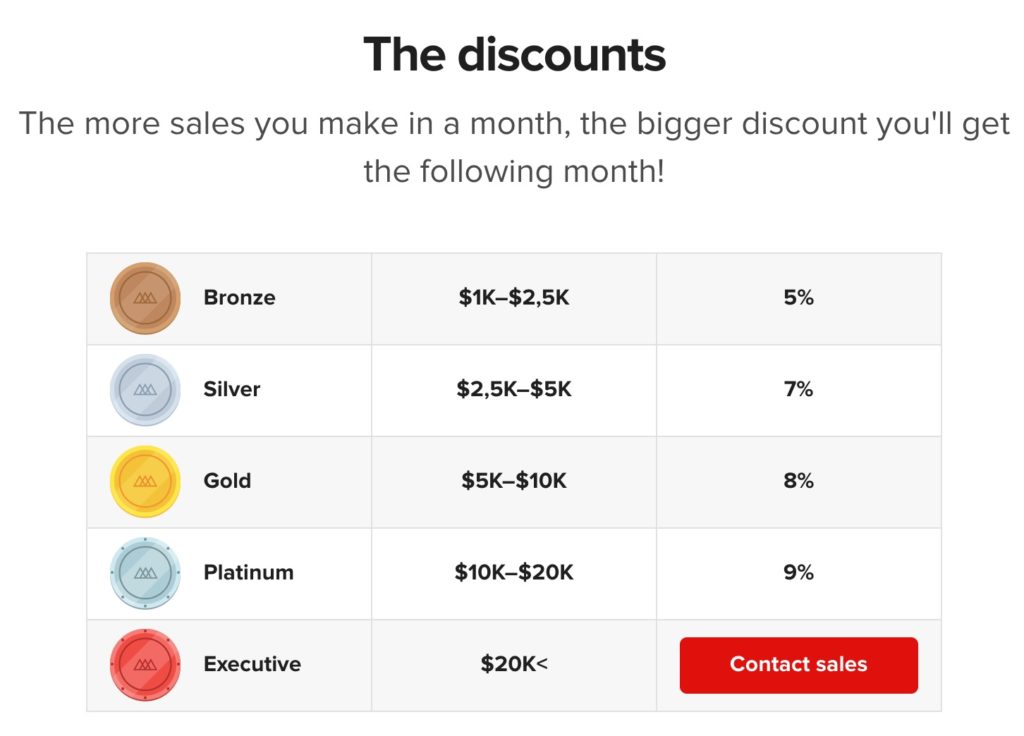 Printify Pricing
Printify offers a free plan and a premium plan which costs $29 per month. With the premium plan, you can manage up to 10 stores per account, enjoy up to 20% discounts on all products, and get custom order import.
If you have 10,000+ orders a day, you'll be eligible to join their enterprise plan to enjoy more advanced features and support.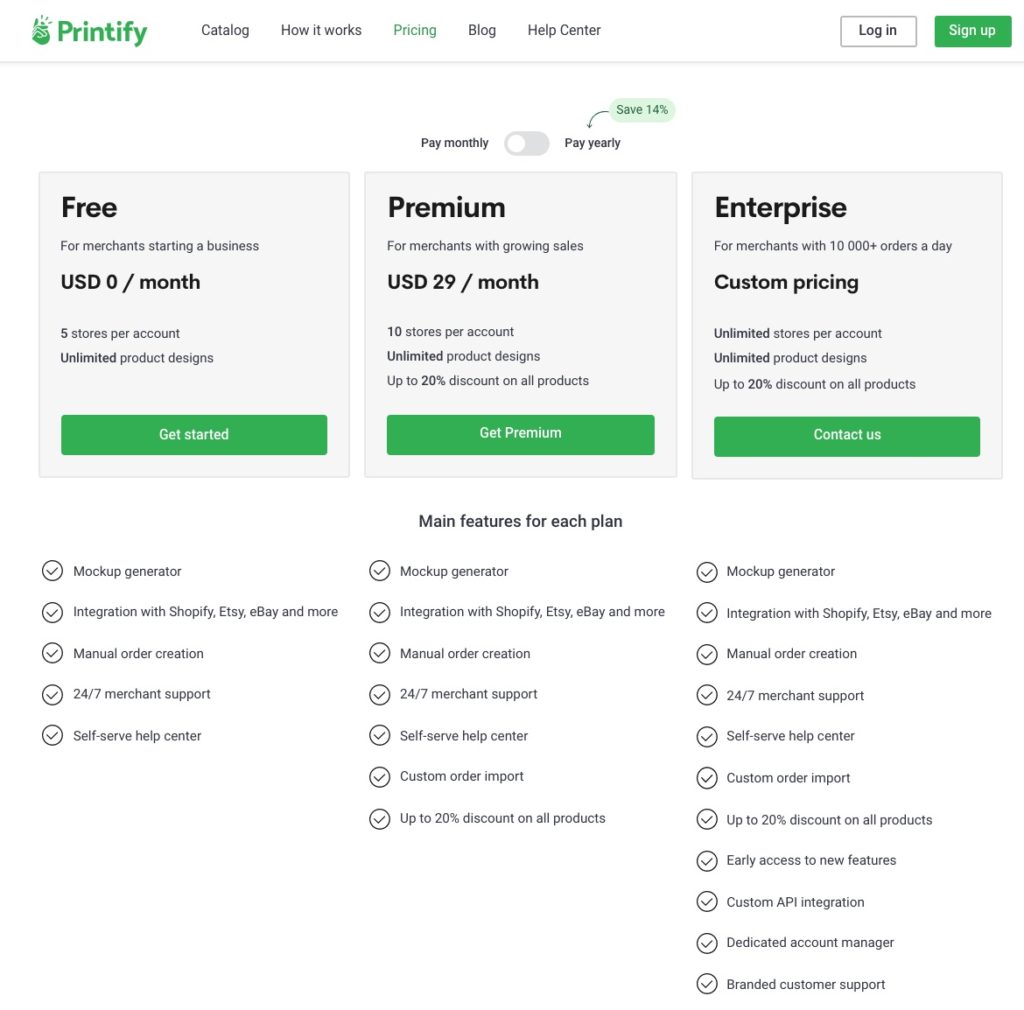 If you join Printify's free plan, the only cost you'll incur is fulfillment costs. Here are the product prices of their bestsellers.
Spun Polyester Square Pillow: $13.12+
Unisex Jersey Short Sleeve Tee: $7.64+
Women's Ideal Racerback Tank: $8.04+
Spiral Notebook – Ruled Line: $7.46+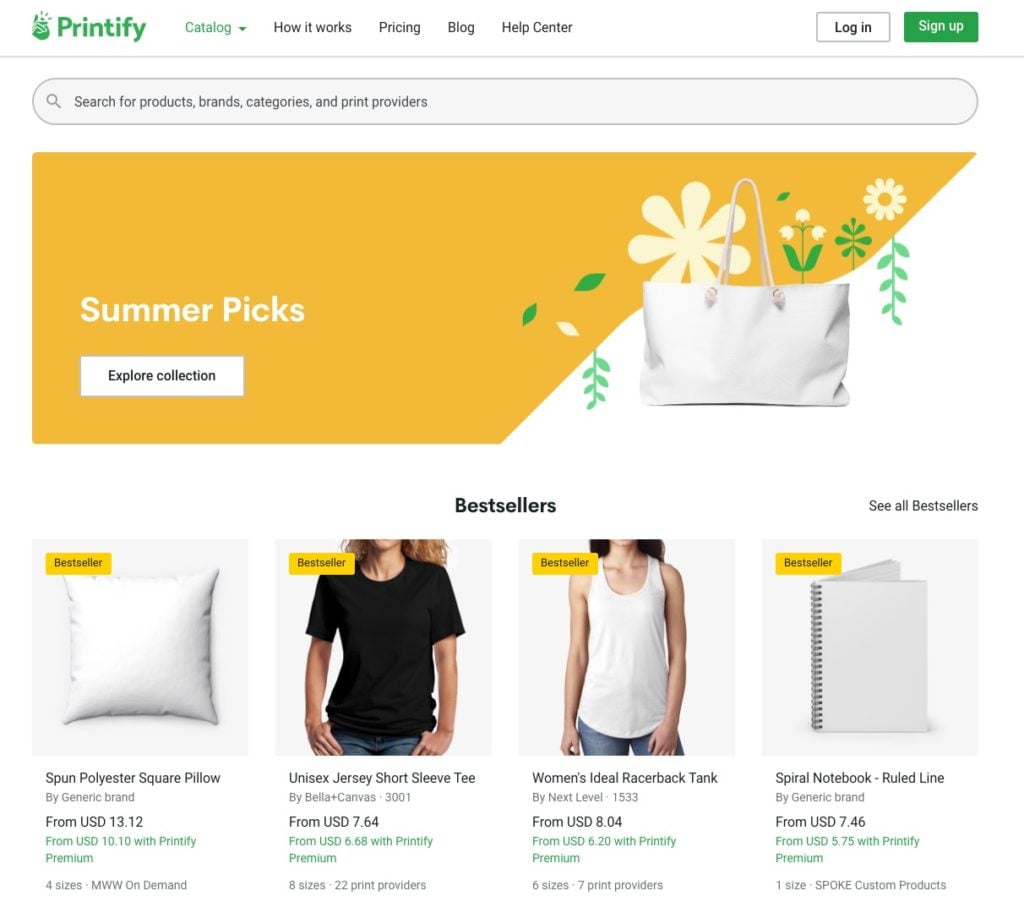 You can always check out the Printify product catalog to see product prices.
Printful vs Printify: Pricing Summary
Printify's product prices are way lower. For example, the spiral notebook above costs $7.46+ on Printify vs $11.95 on Printful.
Other factors would affect the final price, such as print placement, taxes, shipping, production technique, and product color and sizes. So the final costs depend on your design and shipping location.
You can get started with Printful for free here!
You can get started with Printify for free here!
Printful vs Printify: Integrations
Both Printful and Printify can help the merchant integrate with large eCommerce platforms like Shopify, WooCommerce, and Wix. These integrations make it easier for merchants by having a simple, efficient means of printing their products on demand when needed without hassle or stress upfront.
Printful Integrations
Printful offers a long list of integrations. Here are some of the popular ones:
Printify Integrations
Printify currently integrates with the following sales channels:
WooCommerce
Etsy
eBay
PrestaShop
You can also use Printify API to automate your POD business.
Further read:
Shopify Dropshipping: How to Dropship on Shopify and Best Dropshipping Apps
Printful vs Printify: Integrations Summary
Printful is the winner as it offers much more integrations than Printify.
You can get started with Printful for free here!
You can get started with Printify for free here!
Printful vs Printify: Shipping
Shipping can be the downfall of any business, especially if it takes much longer than expected. To avoid this risk, Printful offers a detailed explanation of how their fulfillment process works and what you can expect.
Printful Shipping and Shipping Rates
After an order is received, Printful's fulfillment process takes about 2 to 7 business days for production. Then, it will take an average of 11 business days for shipping, depending on the delivery destination.
Here's a video tutorial on how to set up shipping with Printful.
Printful offers international shipping, and shipping rates depend on the delivery destination. For example, a t-shirt costs $3.99 to be shipped in the USA, and each additional product costs $1.25. Here's the shipping cost of a t-shirt in different regions.
First product
USA: $3.99
Europe: $4.39
Canada: $6.49
Australia/ New Zealand: $6.99
Japan: $4.39
Brazil: $4.50
Worldwide: $5.99
Additional product
USA: $1.25
Europe: $1.09
Canada: $1.25
Australia/ New Zealand: $1.25
Japan: $1.09
Brazil: $2.50
Worldwide: $1.25
You can always check out the Printful shipping rates here.
You can choose to let the customer calculate their shipping fee at checkout or include it in your prices. Customs fees may also apply depending on where they are located geographically.
Printify Shipping and Shipping Rates
Printify works with a network of top carriers and local fulfillment companies to transport products from all corners of the world. But rates can be slightly higher on these localized solutions than through other standard shipping options, like UPS or FedEx.
You can see shipping rates for each of Printify Print Providers here.
Shipping solutions on Printify take longer to deliver international orders. Here's a breakdown of the shipping times.
USA: 7-15 business days
Canada: 10- 15 business days
International: 10 -30 business day
Printful vs Printify: Shipping Summary
Printful is more transparent and gives more details about the fulfillment and shipping processes. It also has a more standardized practice to avoid any unwanted surprises.
As for Printify, since it works with a list of print providers and local carriers, the fulfillment and shipping time could vary on different providers and carriers.
You can get started with Printful for free here!
You can get started with Printify for free here!
Printful FAQ
Printify FAQ
Printify Shopify Integration: Does Printify work with Shopify?
Yes, you can connect your Shopify store with Printify! It's free to sign up with Printify, but you'll need to pay for the Shopify monthly subscription fee and the % transaction fee.

You can check out Printify integration with Shopify here. 
Printify Etsy Integration: How to Use Printify with Etsy?
You can connect your Etsy account with Printify, and Printify will manage the fulfillment for you. There's no extra charge for such integration. You'll only need to pay for the $0.20 product listing fee on Etsy and the 5% transaction fee. 

You can see the full Etsy and Printfy integration details here.
Printify WooCommerce Integration: How to Use Printify with WooCommerce?
To start a WooCommerce online store, you'll need first to create a WordPress site. HostGator is our top recommended WordPress web hosting provider, and you can get 65% OFF when you use our discount code "VENTURER".

You can connect Printify with WooCommerce. 
Printify location: Where is Printify available?
Printify's headquarter is in San Francisco. It has over 90 print providers in the US, Canada, Europe, UK, Australia, and China. 
What is Printify's return policy? 
Print on demand products are unique and produced once ordered. Therefore, Printify does not accept exchanges and returns if your customer ordered the wrong size, color or simply no longer likes the product.

However, if there is a problem with the product, you can contact Printify merchant support within 30 days of product delivery. In cases of damaged products or a manufacturing error, Printify offers a free replacement or a refund. 
Printful vs Printify: Which is Better?
Printful is a more popular choice due to its wider variety of integrations, transparent shipping policy and fast shipping, and better print quality.
Printify, on the other hand, offers lower product costs and more product choices.
Each platform has its pros and cons. Since both are free to use, you can integrate Printful and Printify into your store and test their services to see which works better for your online store.
The truth is, both Printful and Printify are great print on demand services. We feel that deciding which one to use depends mainly on the desired product quality, where they will be shipping them to, how fast you want the shipping to be, and the product costs.
We hope to help make this decision a little easier for you by providing more information comparing these two popular print-on-demand companies!
You can get started with Printful for free here!
You can get started with Printify for free here!
Further read:
Printful Alternatives: Guide To Print-On-Demand Companies
Shopify Dropshipping: How To Dropship On Shopify And Best Apps
10 Best Dropshipping Suppliers (USA + Fast Shipping)