Remote work and remote team collaboration tools have become synonymous in the last few years.
Remote work has become a new normal, and 77% of remote workers say they're more productive when working from home.
That says a lot about how many people have productively embraced remote work.
But wait. Do you know other remote workers struggle to collaborate better with their team members and deliver the desired output?
So, how come some remote workers are productive and others are struggling to hit the mark?
It would not be an exaggeration to say that efficient people use the best remote team collaboration tools to ensure nothing work-related falls through the cracks.
56% of employers use online collaboration tools and social media to communicate with employees.
If you are not among this 56%, you need to know some of the best collaboration tools for your remote teams.
Why Are Collaboration Tools Necessary For Remote Teams?
It brings all team members to the same page
Collaboration tools make it easy for widely dispersed team members, clients, and project stakeholders to share a common platform for improved coordination on work.
Every team member and other users can access an online collaboration tool on their devices (mobile, laptop, PC, tablet, etc.) and stay updated on all recent developments within the project.
This prevents any miscommunication among team members and ensures timely completion of tasks.
Encourages seamless collaboration on tasks
Collaboration tools offer several features that help users to collaborate on work with others without resorting to the back-and-forth, time-consuming email threads.
For example, features like online proofing and file sharing allow users to collaborate on designs, documents, and other files by simply sharing a file link with others.
Anyone with a link can access the shared document, give suggestions, feedback, and make changes using markup tools.
It can be used from any location, from any device
One of the main advantages of using online collaboration tools is that you can access them from anywhere. As most collaboration tools offer mobile apps for iOS and Android devices, users can easily manage work and collaborate with others on the go.
This feature also ensures that project managers or other team members can convey crucial/urgent work-related information immediately, without any delays, which helps others to take timely action.
Offer a suite of features to manage various aspects of work from a single place
Collaboration tools facilitate quick communication across teams and offer a suite of work management tools to help users be more efficient and productive in their daily work. You can manage tasks, prioritize them, track time, monitor project progress, and more.
For example, a team collaboration tool like ProofHub and Asana offer advanced features such as task management, time tracking, reporting, scheduling calendar, file management, etc.
These features allow users to use a single tool to organize and collaborate on their work, saving precious time and effort.
Real-time updates with accurate time tracking
Do you or your team members know how much time your tasks take? Are some of your tasks taking longer than others?
Having complete time data in one place can help you improve your time management skills, and a good collaboration tool offers this crucial feature. You can record time manually or using timers, set time estimates for tasks, and set the start and due dates to ensure the work does not take long (unnecessarily) and deadlines are successfully met.
Real-time updates help users to stay updated on all recent activities and the latest developments within the project and team.
Help with better work organization
Are you frustrated with unorganized work, scattered projects, or missing deadlines?
That's when collaboration tools can help you organize, plan, and execute your work in a centralized location. You can create your to-dos, prioritize tasks, label them, set deadlines, and work on them as per their priority.
Provide valuable insights on employee performance
Managers need to track employees' performance, and it can be challenging with remote teams, owing to the lack of direct supervision. 
Managers also need to learn how to treat their employees well and honor them by employee service awards.
Collaboration tools allow you to see an individual's activities, assignments, and projects all in one place. You can see an individual's profile clearly and monitor progress easily.
Five Remote Team Collaboration Tools That Deserve Your Second Look
It's clear how online collaboration tools are quintessential to remote teams' efficiency.
Now, the thing is how to choose the best tools out of numerous collaboration solutions available today?
We've made this overwhelming task easy for you. We have chosen five of the most popular collaboration tools that are widely used by remote teams of every size across the world.
Let's explore them!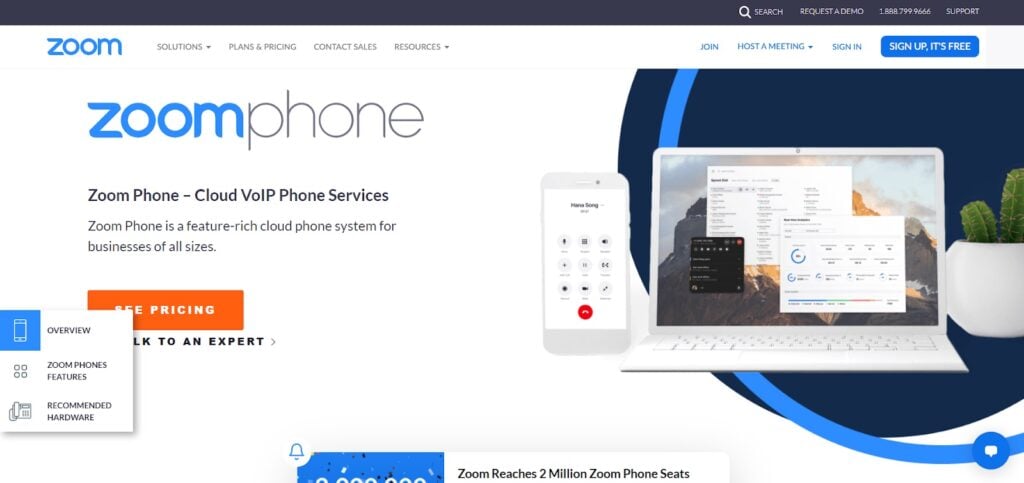 Zoom is a cloud-based video conferencing platform that enables users to schedule and organize live video meetings, either by video or audio-only or both. You can record your virtual meeting sessions and view them later.
Zoom has become an automatic choice for remote teams to meet virtually, and you don't have to be a registered user to participate in a Zoom meeting. All you need is a meeting link, and you can join the meeting within seconds. Its free plan allows you to hold unlimited meetings with each participant capped at 40 minutes in length.
Many remote teams can use Zoom for free, provided they are fine with basic video and audio meets! Does it get better than this? We don't think so.
Main features of Zoom include:
One-on-one and group HD audio and video meets
Enterprise cloud phone system
Screen sharing
Recording
Contact center
Chat
Conversation analytics
Pricing: The paid plan starts from $89.90 per year, per user.
Remote work is not confined to quick communication through different mediums. It also includes efficient planning, organization, collaboration, and execution of tasks to ensure quality work is delivered within set deadlines.
If you are looking for a powerful work management and team collaboration solution for remote teams, then ProofHub can be an ideal solution. This SaaS-based tool offers features that facilitate seamless collaboration among remote team members.
Easy-to-use, simple to learn, and intuitive, ProofHub helps you have all the information in one place so you can plan your work accordingly. ProofHub offers you the ultimate control over projects and teams from anywhere, from time tracking to task allocation, file management to scheduling.
A multilingual interface (choice of 11 languages) helps users from different nationalities set the language of their choice to remove communication barriers.
Main features of ProofHub include:
Online proofing
File sharing
Time tracking
Discussions
Real-time updates
Scheduling calendar
Kanban boards
Gantt charts
Table view
Pricing: ProofHub offers flat-rate pricing plans that start from $45 per month, when billed annually, allowing unlimited number of users.

Timely is an automatic time tracking tool that can automatically track time in every web and desktop app for remote teams. This intuitive tool can get an accurate daily record of your dispersed team members' time in meetings, emails, browsing websites, video calls, and documents.
Eye-catchy designs, intuitive controls, and uncompromising protection of individual privacy allow remote teams to manage their productivity, track their performance, and stay on top of their schedule.
From billing to project management, team management to resource planning, Timely keeps companies connected with their remote teams.
Main features of Timely include:
Automate time tracking
Users can control what information to share
Provides granular details of tasks, activity, and performance
Create and send visually appealing reports in just a few clicks
Bird's eye view of activities across your organization
Drag-and-drop resource planning
Pricing: The paid plan starts from $8 per user, per month when billed annually.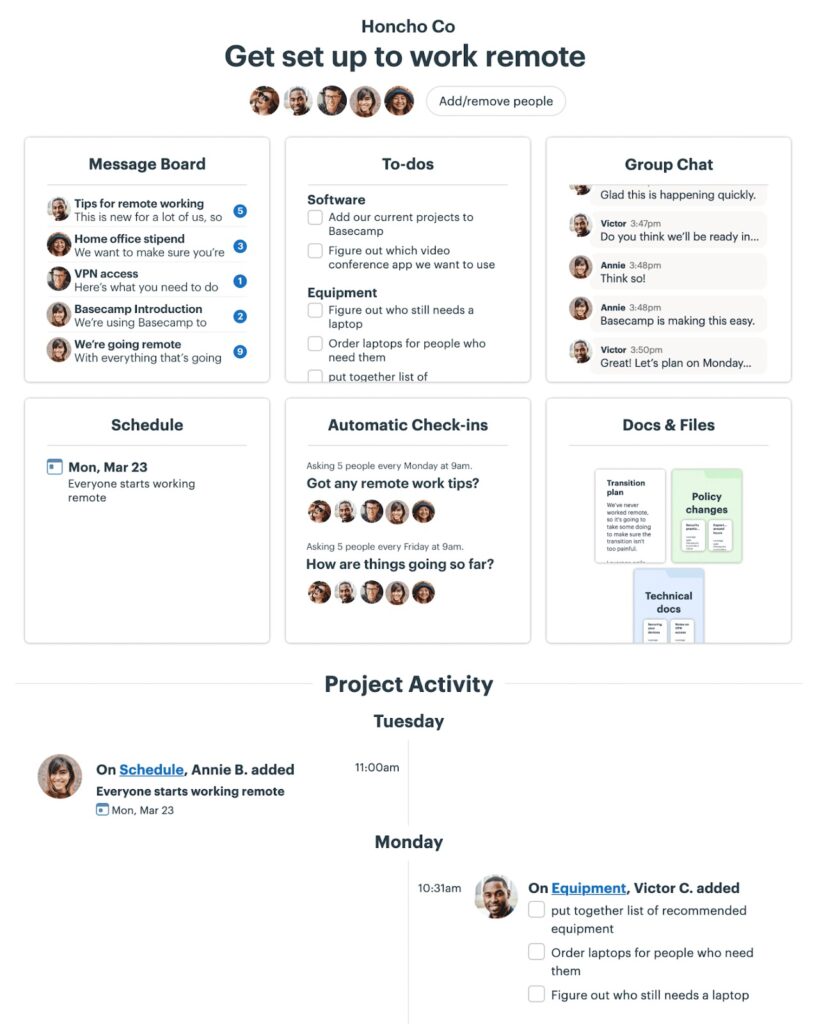 Basecamp projects itself as the all-in-one toolkit for working remotely. This real-time collaboration tool helps teams stay connected, allowing users to organize all their work in one place. You can use Basecamp to manage projects, collaborate with teams, and manage tasks.
Every project includes all the tools your remote teams require to work effectively. Basecamp centralizes your notifications to minimize interruptions, and its activity view lets you see what's happening across projects in one place.
Main features of Timely include:
Message boards
To-dos
Shared schedule
Shareable docs and files
Group chat
Automatic check-ins
Hill charts
Pricing: A single, flat-rate pricing plan at $99 per month.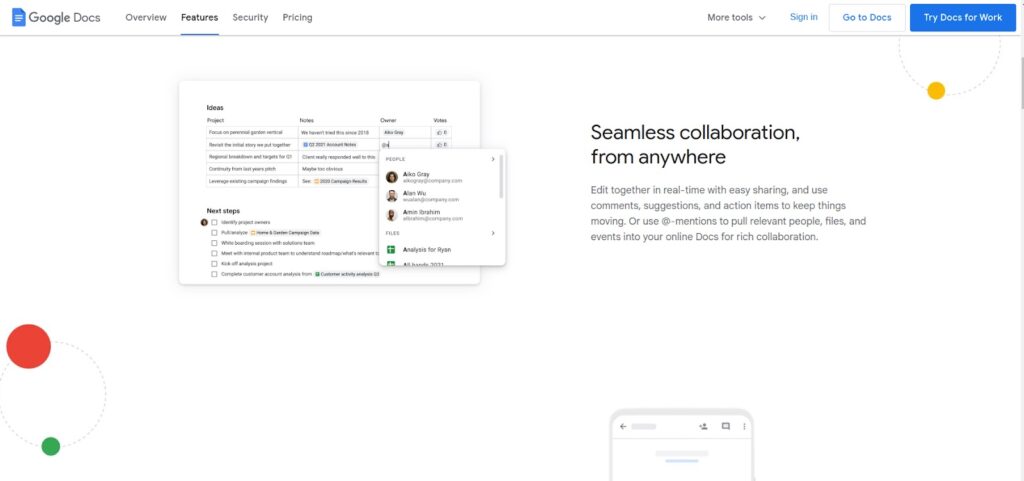 Google Docs is an online document editor that lets users create and collaborate on online documents irrespective of the location they are working from. Remote teams need not spend longer on attaching word files, saving them, and attaching them in emails for collaboration with others.
Google Docs allow you to create, organize all your documents in one place and collaborating in real-time is as easy as sharing a file link or granting access permission to chosen users. You need to have a Google account to use Google Docs.
Collaborators can suggest edits, add comments, and use @mentions to draw attention of relevant people.
Main features of Google Docs include:
Spelling and grammar suggestions
Docs is connected to other Google apps
Easily edit Microsoft Word files online without converting them
Users can combine text with formulas, lists, tables, and images
Offline mode for writing anywhere
Drop-down menu
Pageless format
Emoji reaction
Pricing: Free Personal plan. The Business Standard plan is priced at $12 per user, per month.
Conclusion
You cannot have an efficient remote team unless you use a good collaboration tool that is easy to use, intuitive, offers a broad range of features, and priced competitively.
That's a lot to ask from a single remote team collaboration tool!
But the good news for all your business owners and remote team managers is that five tools mentioned above offer you what you need to deliver quality work on time without overburdening your employees.
Go ahead and make your choice. Good luck!
Guest Author: Vartika Kashyap
Vartika is the Chief Marketing Officer at ProofHub, a project management software.