Business phone systems are necessary to keep businesses running smoothly and efficiently. Both small and large companies can benefit from a reliable phone system. While many business phone service providers are on the market, not all are created equally. All have different VoIP phone features. If you're looking for a more affordable option for your business, you may consider Grasshopper as a solution.
However, as with every business phone system, there are pros and cons. Let's look at the top 10 alternatives and compare them to Grasshopper so that you can make an informed decision when choosing the best option for your company.
Why Grasshopper?
Grasshopper is among the top VoIP phone systems in the market. It offers what the company calls a virtual phone system for small businesses. Budget-wise, it's on the cheaper side of the scale. Since it's designed and advertised as a VoIP system for small businesses, startups are attracted to Grasshopper over another phone system.
With Grasshopper, you get to use the system on your mobile and desktop apps
Call forwarding, call transfers, and voicemail features are available
Use a single system with separate business and private numbers to avoid the hassle of carrying multiple phones
Grasshopper offers professional features such as Ruby Receptionist, customized greetings, and voicemail transcription
Despite the long list of features Grasshopper offers, they're mediocre in terms of quality. Businesses that demand video conferencing, better audio quality, and more advanced features prefer Grasshopper competitors.
10 Best Grasshopper Alternatives
The following are the best Grasshopper alternatives available as of now. Each one suits a different kind of business.
RingCentral: Better phone system for team communications
Nextiva: More suitable for scalable small businesses
Vonage: Affordable option for businesses with a low budget
Zoom: Best Grasshopper alternative for video conferencing
Ooma: The right communications provider for a mid-sized business
Dialpad: Designed for businesses that have small teams but require advanced phone features
Trengo: It's perfect for social media communication
8×8: A cloud-hosted PBX system for globally scalable businesses
OpenPhone: Professional service provider for startups and small businesses
GoTo Connect: It's designed to help businesses of all sizes stay productive and connected
Let's take a detailed look at each to help you decide which business phone system is for you.
Business Phone Systems – Featured Providers
Description:

RingCentral is one of the best cloud-based communication and collaboration platforms that provides businesses with a range of tools to manage their communication needs. It offers features such as voice and video conferencing, messaging, team collaboration, and online meetings. With RingCentral, businesses can easily connect with their customers, partners, and employees from anywhere, at any time, using any device.

Description:

Nextiva is a cloud-based communication platform that provides businesses with a range of tools to manage their communication needs. It offers features such as voice and video calling, messaging, and collaboration tools, all accessible through a single platform.

Description:

Ooma is one of the best telecommunications companies that provide internet-based phone services for residential and business customers. The company offers a range of products, including home phone service, business phone service, and internet security services. Ooma's home phone service allows customers to make unlimited calls within the United States and Canada, while its business phone service offers advanced features such as virtual receptionists, call routing, and conference calling. Ooma's internet security services include antivirus and firewall protection, as well as identity theft protection. Overall, Ooma provides reliable and affordable communication solutions for individuals and businesses alike.

Description:

Dialpad is an AI-powered cloud phone company that provides a modern business communication platform for teams of all sizes. With Dialpad, users can make and receive calls, send and receive messages, and hold video conferences from anywhere, on any device. The platform is built on a cloud-based infrastructure, which means that users can access their phone system from anywhere with an internet connection. Dialpad also offers advanced features such as AI-powered transcription and analytics, integrations with popular business tools, and customizable call routing and voicemail settings. With Dialpad, businesses can streamline their communication processes and improve productivity, all while reducing costs and increasing flexibility.
RingCentral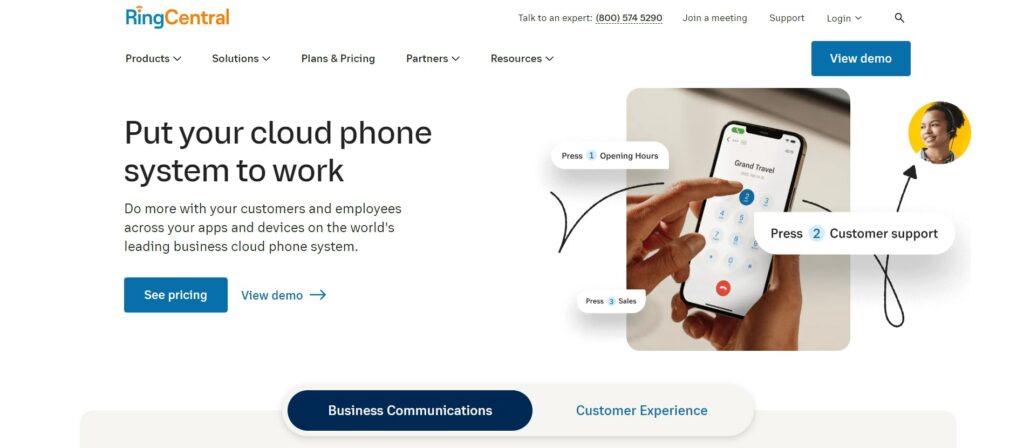 RingCentral is a cloud-based phone system. It connects employees and business clients through phone, SMS, video, fax, and messaging features. They aim to provide seamless and simple communications on a unified platform. By downloading just one app, users of RingCentral will be able to connect with their team from around the world.
RingCentral Features
Enjoy individual business phone numbers for each user
Team messaging, file sharing, video meetings, and other team communication features are available
Multi-level auto attendant answers and redirects call to the right department, automatically
All features work from a single app that's available on both desktop and mobile
RingCentral Pricing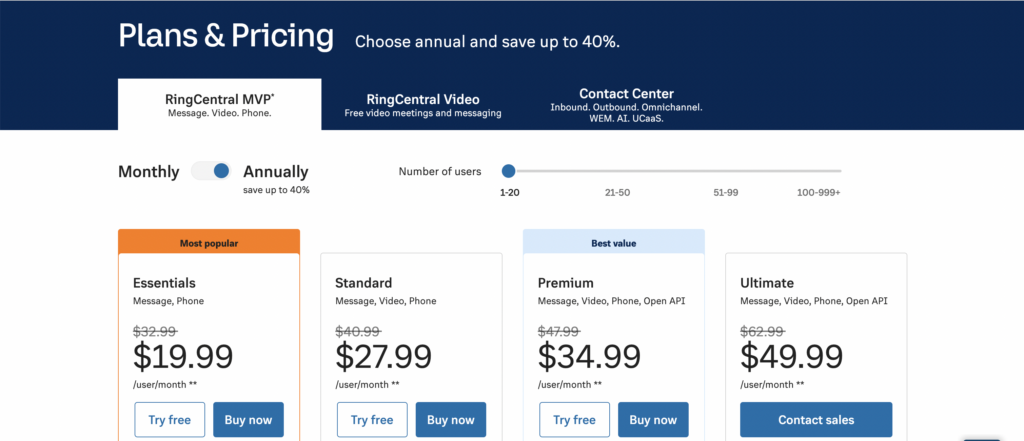 Essentials: $19.99 per user/month. This pricing plan includes messaging and phone options, with unlimited calls within the U.S. and Canada
Standard: $27.99 per user/month. Allows message, phone, and video features for an unlimited number of users along with up to 24-hour meeting duration
Premium: $34.99 per user/month. Enjoy message, phone, video, and Open API features with hot desking, automatic call recording, and numerous integration options
Ultimate: $49.99 per user/month. Includes everything in Premium Plan alongside device status reports, device status alerts, and unlimited storage
RingCentral vs Grasshopper: Why is RingCentral better?
RingCentral offers remarkable team communication.
With RingCentral, business owners can host video conferences with up to 200 participants. Similarly, over 200 integration options are available. Grasshopper doesn't offer any team communication whatsoever, except team messaging. Therefore, for a business that requires employees to communicate with one another, RingCentral is a clear winner.
Who is RingCentral for?
Businesses that demand all forms of communication (including messaging, calls, and video conferencing) will find RingCentral the preferred choice. Moreover, whether the business is small, big, or expanding, RingCentral ensures that teams stay connected. RingCentral is best for businesses that don't mind paying slightly higher prices in return for better features.
Nextiva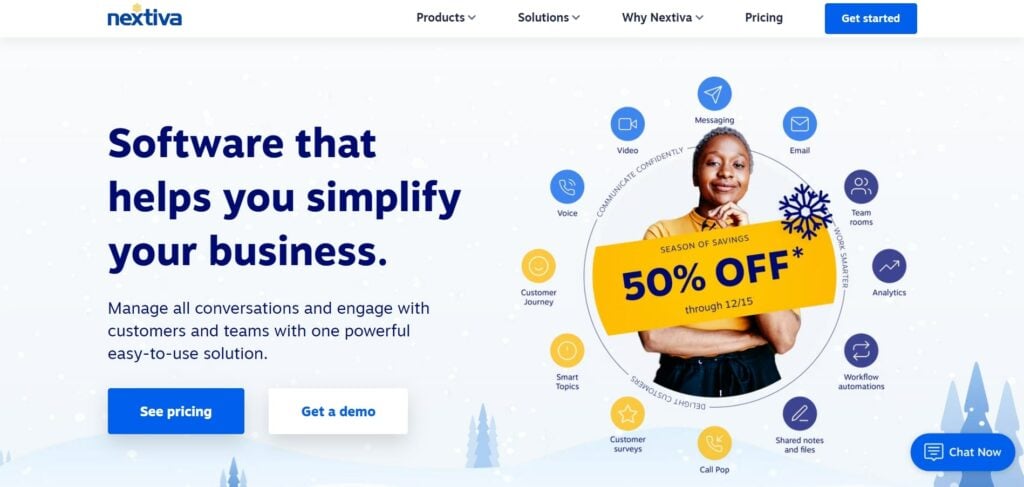 Nextiva is another top grasshopper alternative that provides smart VoIP services. This user-friendly phone system offers plenty of simplified, single-platform features. It aims to empower businesses and their teams to understand their customers' needs better. This way, it enhances customer experience with the best AI, automation, analytics, and service tools.
Nextiva Features
Call Pop displays caller details on the screen, so you know whom you're talking to
Smart, automated replies solve customer queries instantly
Use Nextiva Analytics to identify trends that will help you devise more successful communication plans and sales calls
Easily integrate useful apps from Google Workspace to top CRMs
Nextiva Pricing
Essential: $21.95 per user/month for unlimited calling, video conferencing, and fax with Google Workspace and Outlook integrations
Professional: $26.95 per user/month for unlimited audio conferencing, video conferencing, screen sharing, and auto attendant
Enterprise: $36.95 per user/month for video and audio calling with unlimited participants, voicemail transcription, call recording, single sign-on, and much more
Nextiva vs Grasshopper: Why is Nextiva better?
Nextiva wins in integrations
The cheapest plan offers some basic integrations, but with premium plans, you can avail of more options. HubSpot, Salesforce, Zendesk, and more apps are available in higher-paid plans. Despite having to pay extra, at least the integration option is open with Nextiva, unlike Grasshopper.
Nextiva has a better customer support team
The support center at Nextiva is more readily available with viable solutions, especially for new customers. The detailed FAQs on the website of Nextiva offer instant solutions, whereas designated Account Managers will help you resolve your problem more efficiently. Grasshopper users mostly complain of bad customer service. So, Nextiva is a clear winner.
Who is Nextiva for?
This Grasshopper alternative is recommended for scalable businesses. A small business owner starting with a small team can still afford Nextiva while being able to continue using the same VoIP provider by upgrading to premium plans when the business expands.
Vonage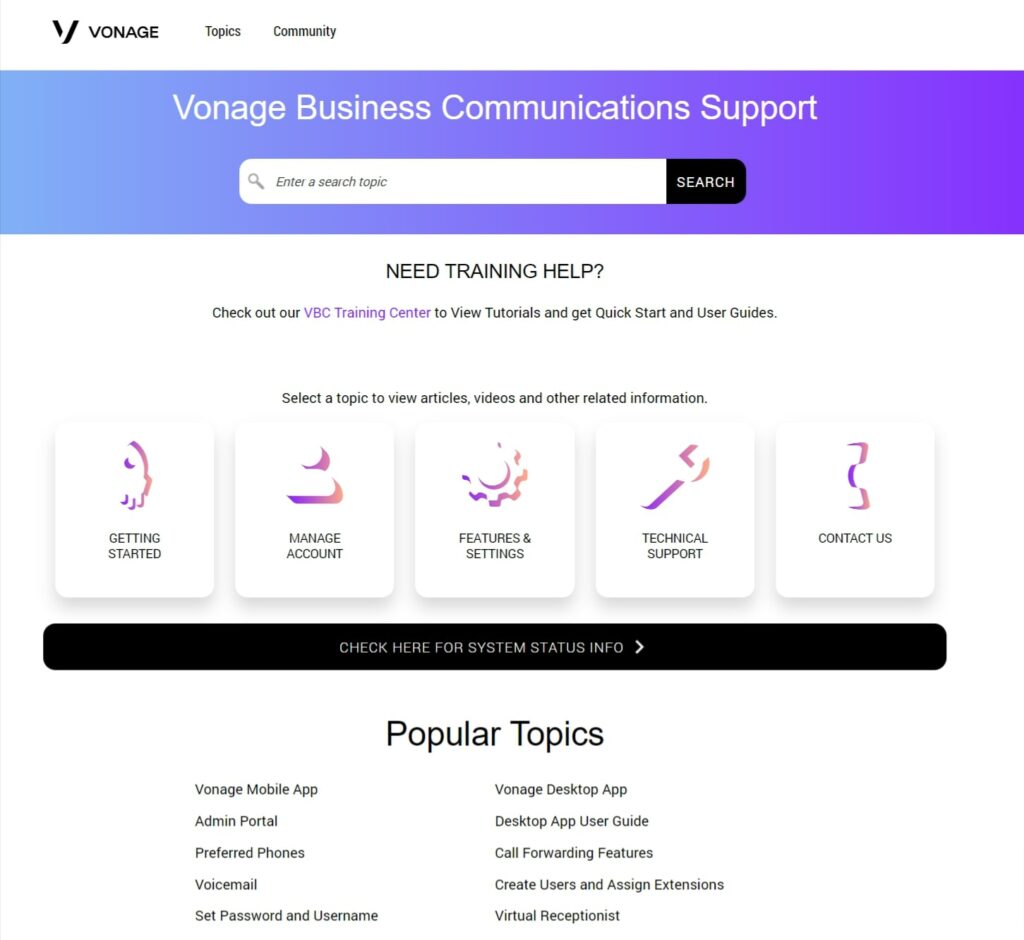 Vonage is a unified communications platform with a contact center and communication APIs. Vonage provides services to both businesses and their consumers, helping them connect on any kind of device. It uses tools like cloud-hosted services, video, and short message services or SMS.
Vonage Features
Vonage offers a free trial plan to let you try some basic features before you commit
Video meetings include chat, screen sharing, whiteboard, and the option to record the meeting
Virtual receptionist and auto attendant features entertain your callers during off-times too
With Business Inbox, your customer queries from SMS, MMS, and Facebook Messenger are all in one place
Vonage Pricing
Mobile: $19.99/user per month includes mobile and desktop apps, unlimited calls, SMS, and team messaging, along with access to the Vonage App Center features
Premium: $29.99/user per month for additional IP desk phone capability, unlimited meetings, CRM integration, and multi-level auto attendant
Advanced: $39.99/user per month includes premium features such as visual voicemail, on-demand call recording for up to 15 hours, and Call Group
Vonage vs Grasshopper: Why is Vonage better?
Vonage offers cheaper plans
Vonage offers competitive prices. The plans range from $19.99 to $39.99. Grasshopper, on the other hand, starts at $26 and goes up to $80. But with Vonage, even the cheapest plan is enough to accommodate the needs of small businesses.
Who is Vonage for?
If you're a small business owner moving towards expanding their team and work, Vonage will prove way more suitable than Grasshopper. Vonage offers essential features, such as call recording, that are lacking in Grasshopper. Despite the additional features, Vonage is still quite affordable for small businesses.
Zoom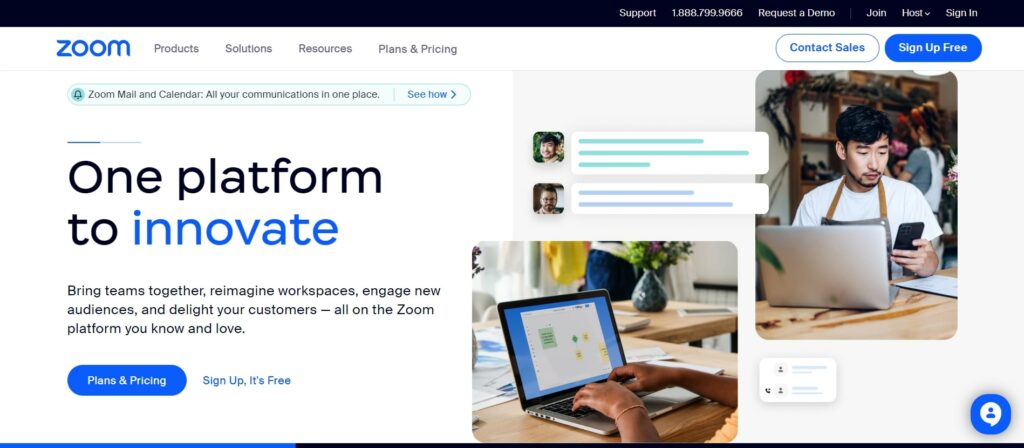 Zoom is mainly a video communication platform but offers a basic VoIP service. It's a contact center solution platform with chat, video, and voice communication. With this service, teams and businesses can connect in a secure system. This allows sharing even encrypted files without worrying about unauthorized persons accessing sensitive data.
Zoom Features
Video meetings with Zoom are accessible from anywhere, on any device
Online meetings include a whiteboard feature. So, ideas are communicated effectively
With Conversation Intelligence, AI analyzes the meetings and presents automated insights
Zoom offers 6 types of phone system plans, each one with a further variety of pricing plans
Zoom Pricing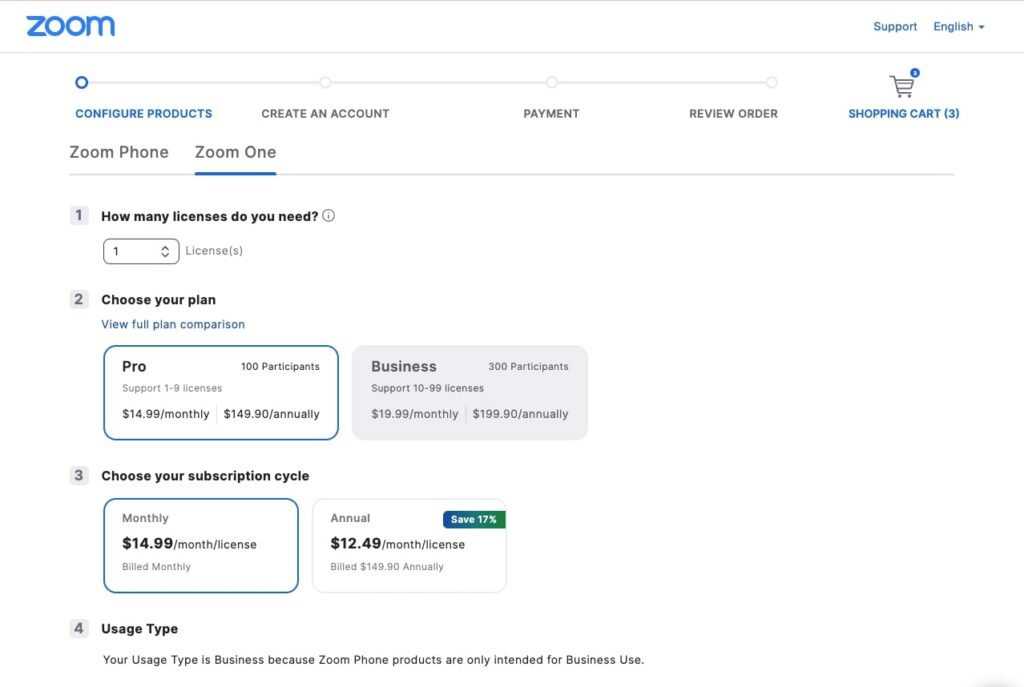 The following plans are for Zoom One, ideal for small businesses.
Basic: Free plan includes up to 40 minutes of meetings with 100 participants.
Pro: $149.90 annually/user with everything from the Basic Plan along with 5GB cloud storage and 30-hour time per meeting.
Business: $199.90 annually/user for everything in the Pro Plan on top of up to 300 participants per meeting.
Enterprise: Contact the Sales team to get a quote for this plan.
Zoom vs Grasshopper: Why is Zoom better?
Zoom offers a wider variety of plans
Every business has different demands. Therefore, generalized phone systems are not a top choice. Zoom has six categories with various price plans offering different business features, making it a clear winner in the VoIP market. You can test the call quality with the free trial before finalizing what other features you want to sign up for.
Zoom wins in features
Grasshopper offers basic phone features such as phone calls, separate local and business numbers, and call recording. Zoom provides all the features of Grasshopper, video meetings, better call quality, and other advanced features required for business communications.
Who is Zoom for?
A small business owner getting a phone system for the first time will find Zoom user-friendly. Compared to Zoom alternatives, the higher prices make it best for a scalable business with a generous budget and will require advanced features in the future.
Ooma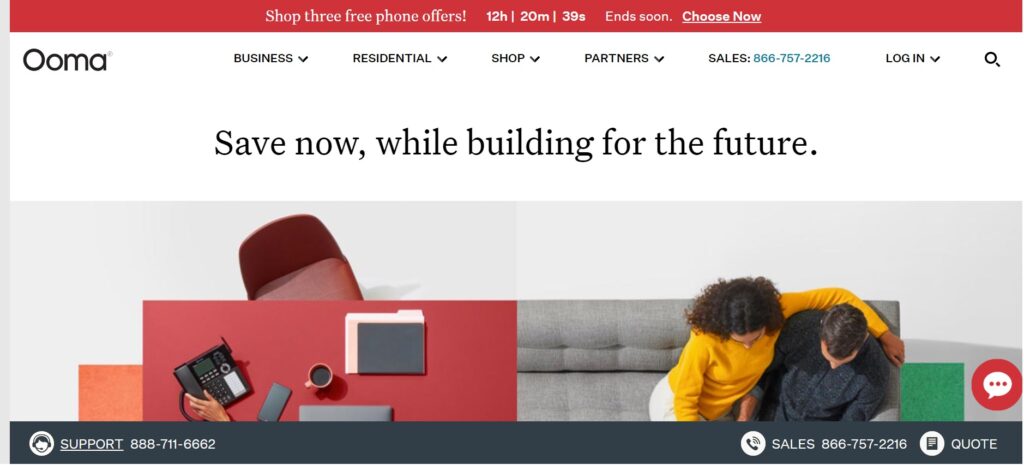 Ooma is more than just a business communications platform. It also offers phone lines for homes along with a smart security system. As for its VoIP services, it offers customized plans for small businesses. This cutting-edge phone service provider is for business, home, and smart security systems. Besides low rates, it also provides HD audio for high-quality calls.
Ooma Features
With the virtual receptionist feature, answer calls even after business hours
Avail free toll-free and local phone numbers
Make international calls at extremely low rates
Always receive calls without missing any with the help of Ring Groups
Ooma Pricing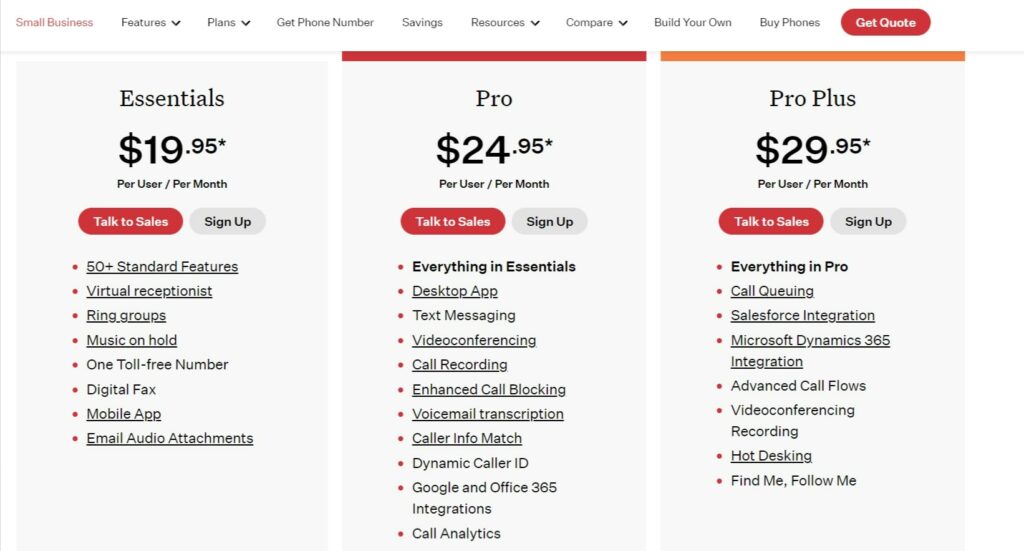 Essentials: $19.95/user per month. The plan includes call forwarding, call routing, and unlimited voice calls to the U.S., Canada, Mexico, and Puerto Rico
Pro: $24.95/user per month for all features in Essentials, along with video conferencing, call blocking, call analytics, and Google voice and Office 365 integrations
Pro Plus: $29.95/user per month for additional features such as call queueing, Salesforce integration, hot desking, and recording of video meetings
Ooma vs Grasshopper: Why is Ooma better?
Ooma provides more value for money
If you compare the prices versus the features for both VoIP providers, Ooma is a definite winner, providing quality business phone features at very reasonable rates.
With more on the table, such as unlimited minutes and auto attendant, Ooma is among Grasshopper alternatives suitable for a wider audience. While Grasshopper provides the bare minimum for startups and solopreneurs, Ooma is more suitable for different businesses.
Who is Ooma for?
If you cannot classify your business as a startup but also can't say it's a large setup, Ooma should be your top choice among Grasshopper alternatives. Even the most basic plan accommodates a heavy flow of phone calls and regular meetings.
Dialpad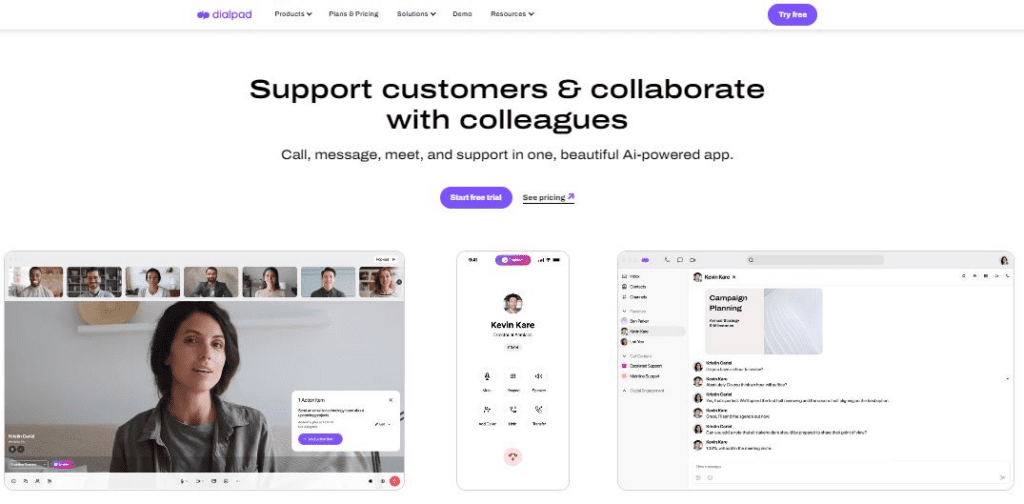 Dialpad is an AI-based contact center platform. It provides call, message, and video communication from one platform. The platform guarantees 100 percent uptime, meaning that business calls will never be dropped. This platform aims to provide unified products for groundbreaking communication between teams.
Dialpad Features
Unlimited minutes, inbound calls, outbound calls, multiple phone numbers, video conferencing, and many other communication features are offered by Dialpad
Automatic AI call summaries and analytics are generated after every meeting
Teams can connect to Dialpad from a desktop as well as mobile devices
Test out Dialpad features with its free trial
Dialpad Pricing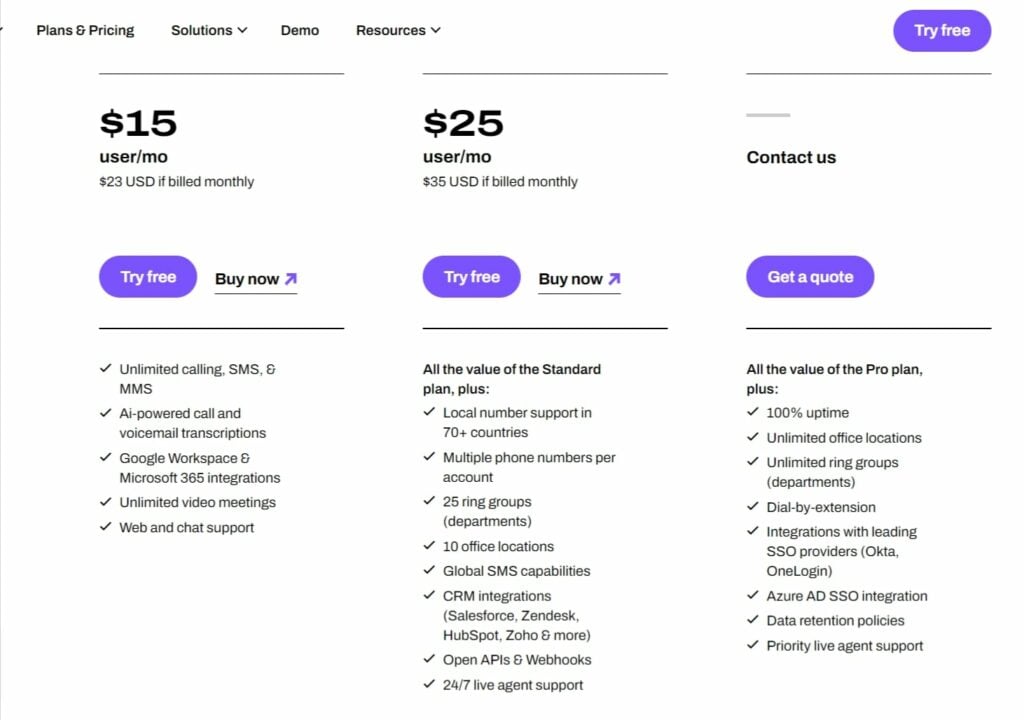 Standard: $15/user/month for unlimited calls, SMS, MMS, AI transcriptions, unlimited video conferencing, and basic integrations, including Google voice
Pro: $25/user/month for additional features such as multiple phone numbers, 25 ring groups, CRM integrations, open APIs, and Webhooks
Enterprise: contact the Sales team to get a quote. Add more integration options, unlimited extensions, unlimited office locations, and more
Dialpad vs Grasshopper: Why is Dialpad better?
Dialpad wins in prices
In comparison to Grasshopper, Dialpad offers way more features, that too, at a remarkably lower price. While Grasshopper plans range from $26 to $80, Dialpad offers more, from $15 to $25.
Dialpad is more user-friendly
The modern interface is easy to set up for first-time users too. Dialpad is accessible through any device. Topped with its AI features, it's way easier to get maximum efficiency than Grasshopper.
Who is Dialpad for?
Any sized business will find Dialpad to be more than a good phone system. However, it's especially ideal for businesses with small teams. The array of features makes it easier for fewer employees to manage more work. So, if you don't require plans meant for unlimited users because paying per user is more feasible for your small team, Dialpad should work well for your setup. Compared to RingCentral, it's also a better alternative in terms of integrations.
Trengo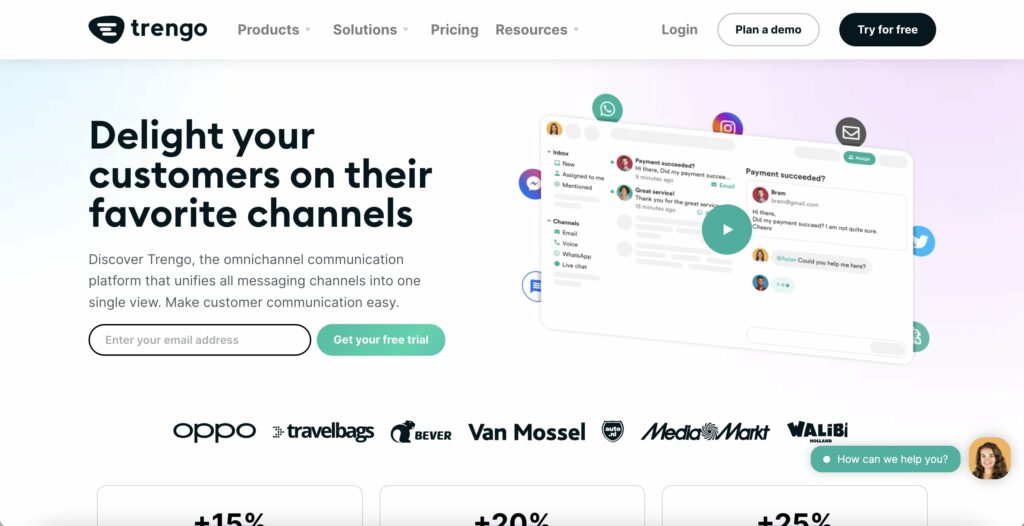 Trengo is one of the few Grasshopper alternatives offering communication through social media platforms and traditional channels. It's designed for remote workers but can also be adopted by office-based businesses. Trengo software is available for download through both mobile and desktop apps. Overall, this option enables a team to provide seamless customer communications and experiences across all channels.
Trengo Features
Your team can communicate with clients through voice calls, SMS, email, WhatsApp, WeChat, and even Instagram DMs – all on a single platform
Chatbots serve the purpose of virtual assistants, keeping your clients entertained every hour of every day
Customer Satisfaction Survey (CSAT) communicates client needs so that you can alter your services for maximum client satisfaction
Create customer profiles, so you're always aware of the client's background when talking to them
Trengo Pricing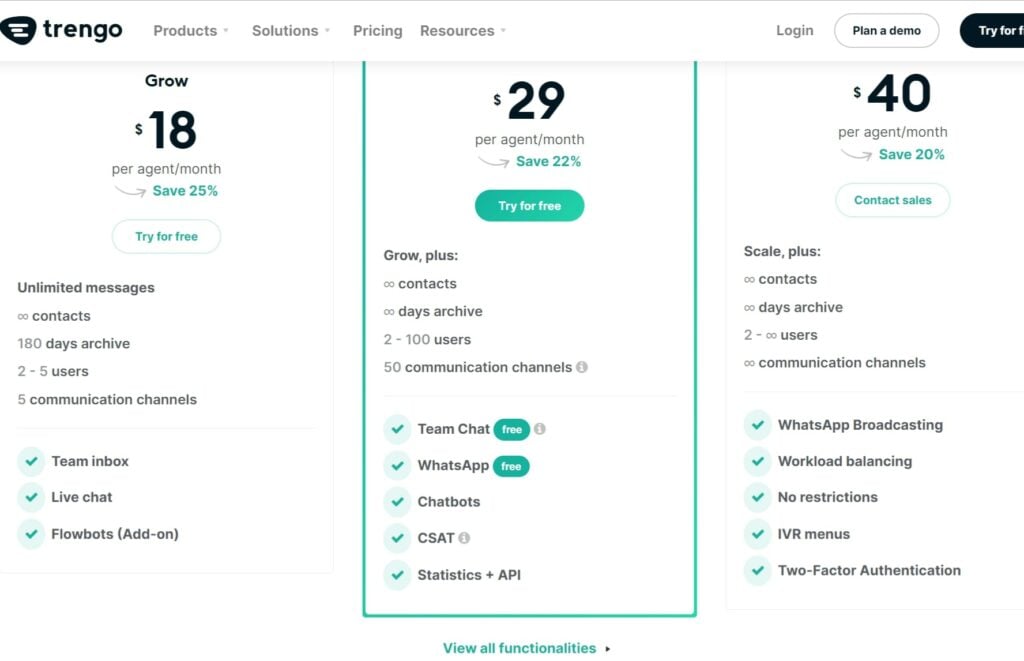 Grow: $18/user per month offering unlimited messages, 5 users, 5 communication channels, and flow bots available as an add-on
Scale: $29/user per month includes Grow along with up to 100 users, 50 communication channels, chatbots, APIs, CSAT, and statistics
Enterprise: $41/user per month includes Scale with unlimited users, unlimited communication channels, workload balancing, two-factor authentication, and much more
Trengo vs Grasshopper: Why is Trengo better?
Trengo offers better integrations
Grasshopper integrates directly only with basic communication applications. If you require CRM integrations, Trengo is an undisputed frontrunner. Other than the most commonly used social media platforms, you can directly use Trengo with CRM, Zapier, and Salesforce.
Who is Trengo for?
Trengo is a straightforward, user-friendly phone system that will accommodate any sized business. Its fair pricing makes it suitable for startups, especially ones that depend mostly on social media platforms for client communication.
8×8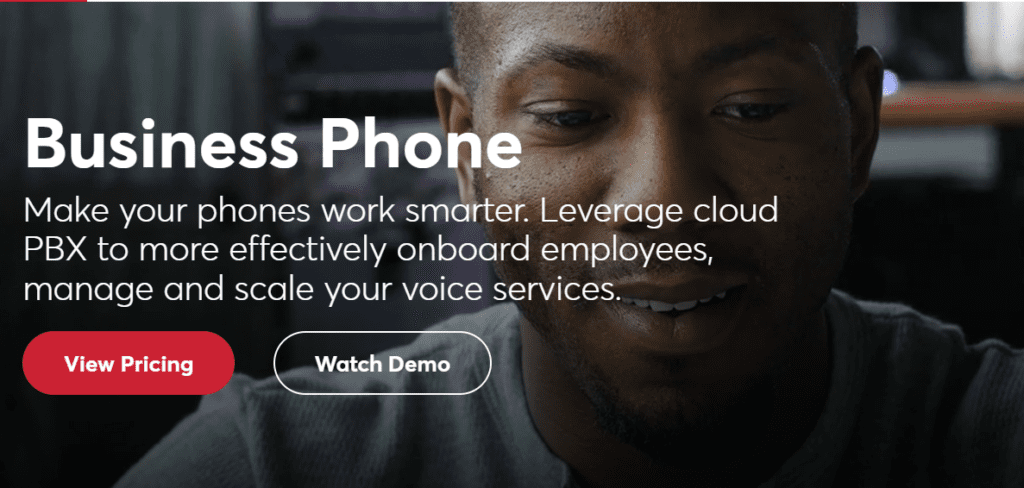 8×8 is a VoIP provider. Its unified communications keep businesses connected to customers and employees. Voice, video, and chat are all offered in the 8×8 phone system. With this provider, a single business can have several local numbers and extensions for various regions worldwide. No matter how large or small the business is, 8×8 helps to empower employees to provide the best possible customer experience.
8×8 Features
Call handling features such as call forwarding, call queues, and call routing are available
HD video meetings can be hosted and joined from mobile and desktop
Directly integrate CRM apps for smooth communication
AI generates automated analytics and ensures a seamless workflow
8×8 Pricing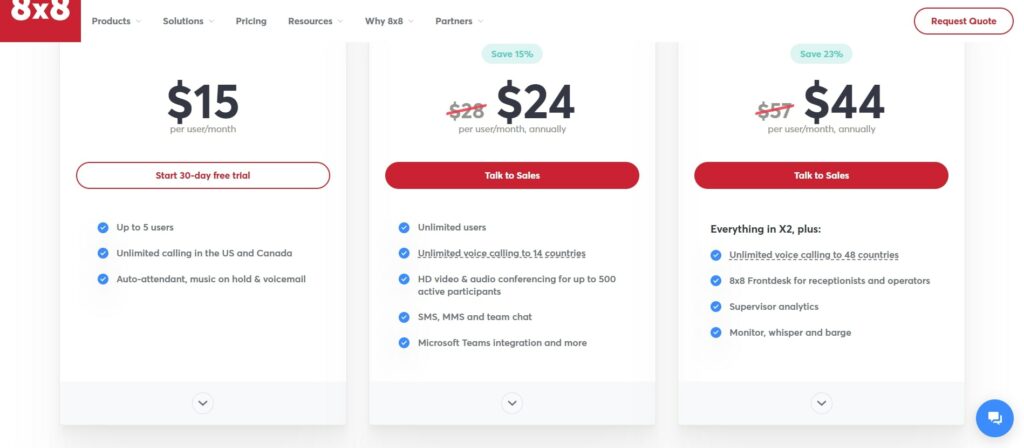 Express: $15 per user/month for unlimited business calls in the U.S. and Canada, auto-attendant, voicemail, HD voice, video call, and mobile, desktop, and browser apps.
X2: $24 per user/month for additional features, including hot desking, CRM integrations, unlimited users, and more
X4: $44 per user/month for everything in X2 plus Frontdesk features, UC media storage, and advanced analytics
8×8 vs Grasshopper: Why is 8×8 better?
8×8 wins in mobility
The platform is accessible from any device. Employees from any part of the world can entertain customers on the go. Moreover, with access to local international numbers, 8×8 lets you communicate with customers worldwide.
8×8 has better customer service
Grasshopper offers limited customer support, with most of the help coming from pre-answered queries on their website. 8×8, on the other hand, will help you through chatbots, live chat, and phone support.
Who is 8×8 for?
For businesses that aim to expand to other countries in the future, 8×8 is a good starting phone system. It offers all the features you need to operate locally, but by paying slightly more for top-tier plans, 8×8 gives you access to advanced features for international connectivity. It also provides mobility for hybrid businesses operating from more than one location.
OpenPhone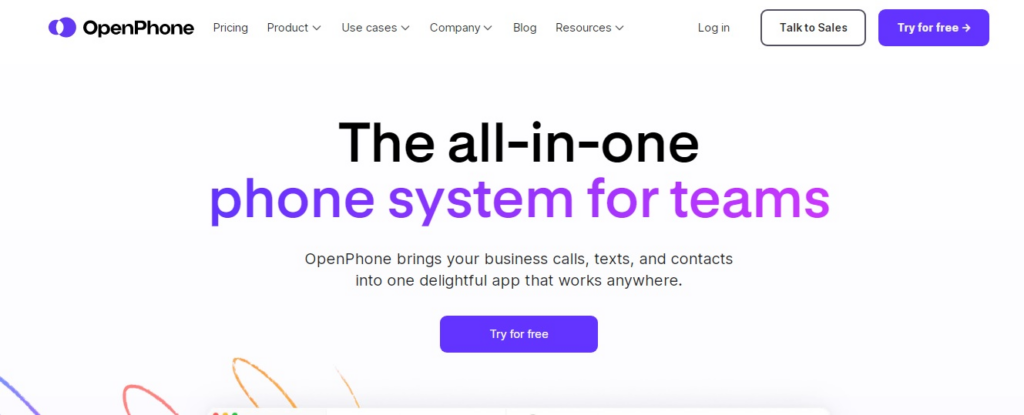 Operate business calls and messages, all from the single platform of OpenPhone. It's a VoIP system that helps manage contacts, international communications, and much more from all desktop and mobile devices. A business can also get new numbers for their operations or import old ones without paying extra. Users based in the U.S. or Canada also get the option of free texts and calls.
OpenPhone Features
Lightweight CRM allows you to manage contacts and customer relations
Easily share files through SMS
Manage personal and private calls from a single device
Shared inbox and phone number with your team helps everyone stay on board
OpenPhone Pricing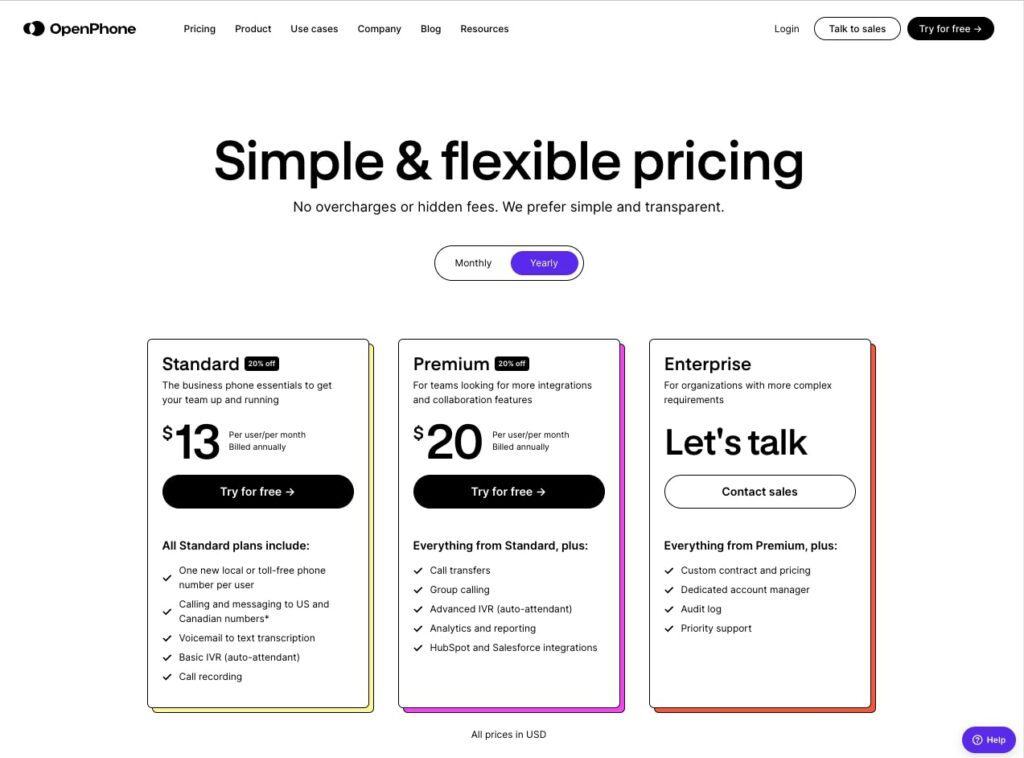 Standard: $13 per user/month for one local or toll-free number, calls to the U.S. and Canada, auto attendant, call recording, and voicemail transcription
Premium: $20 per user/month includes everything from the Standard plan with additional features of call transfers, group calling, analytics, and Hubspot integration
Enterprise: Contact the Sales team to get a quote for this plan that offers everything in the previous two, along with an audit log, dedicated account manager, and priority support
OpenPhone vs Grasshopper: Why is OpenPhone better?
OpenPhone wins in prices
It's among Grasshopper alternatives that let you devise a customized plan with features you require, so you only pay for what you get. Other than the customizable plan, the other two are reasonable too. Grasshopper plans are priced higher despite offering fewer or the same features.
Who is OpenPhone for?
For business setups that are just starting but have a team with up to 50 members, OpenPhone is a great system to keep all employees interconnected. Every team member is on the same page regarding customer communications with shared inbox and team messaging features.
GoTo Connect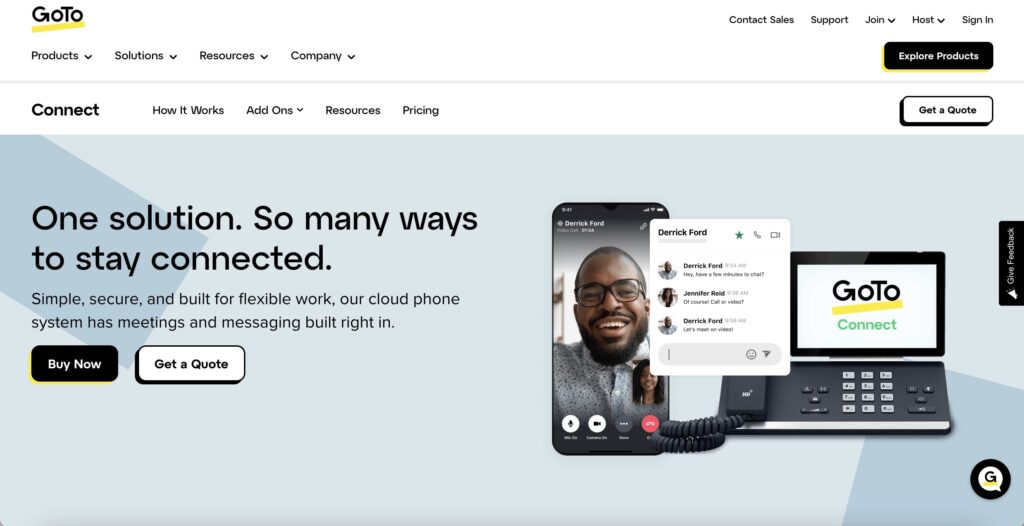 GoTo Connect is a single platform where users can communicate through chat, calls, and video meetings. Avail of the contact center features to stay in touch with employees and customers. With services such as virtual voicemail and auto-attendant, businesses won't lose callers even when no staff is available. This system is scalable and customizable, ready to adapt to any business.
GoTo Connect Features
The system works with the existing hardware, so you can enjoy the benefits of a cloud phone system without the hassle of learning to operate a new system
Enjoy call forwarding, call routing, call hold, and other features to manage a heavy flow of incoming calls
One-click video conferencing allows you to join meetings on the go
Receive daily analytics on customer-employee communications
GoTo Connect Pricing

Basic: $27 per user/month for unlimited extensions, one customized greeting, one call queue, one ring group, and one customizable dial plan
Standard: $32 per user/month for all the basics, along with unlimited ring groups, call queues, customized greetings, and customizable dial plans
Premium: $43 per user/month for additional features such as up to 5000 free toll-free minutes, up to 250 meeting participants, and more customizable contact center features
GoTo Connect vs Grasshopper: Why is GoTo Connect better?
GoTo Connect wins in features
GoTo Connect offers more, from basics like file sharing to advanced features like third-party integrations. Grasshopper fails to provide these features even in its highest-paid plans. With more features at the same price, GoTo Connect is a more versatile phone system.
Who is GoTo Connect for?
All kinds of businesses can set up GoTo Connect for their communication purposes. Depending on your plan, the system supports more than 1000 users. It's suitable for local as well as international communication. Therefore, it's suitable for small and large businesses alike.
Alternatives to Grasshopper: Conclusion
All the reviewed Grasshopper alternatives are great options. But only you can decide what best suits your small business based on your needs.
Make the most of the free trials to test the different communication channels. Also, ensure that the service provider guarantees good customer relationship management, so your business phone is always running smoothly. Thoroughly examine all features and weigh them against the price you must pay to finalize the best business phone service provider for your business!