The business phone system is one of the most important tools for businesses to stay organized and keep in touch with customers and clients from all over the world. Despite the wide variety of business phone systems available on the market, many businesses prefer using cloud-based VoIP services because it is reliable, easy to use, and cost-effective.
Ooma is a leading provider of cloud-based communication services for small and medium-sized businesses. They have a large customer base around the world, and their communication solutions have received excellent reviews from customers. However, there are many other great alternatives out there offering the same benefits at a lower cost.
Today, we are going to look at the 8 best Ooma alternatives and competitors on the market and compare their prices and business phone features to help you decide which service is best for you.
Why Ooma?
As we mentioned at the start, businesses must adopt effective communication systems if their operations are going to run smoothly. Ooma is one of the most popular VoIP phone systems on the market that offers much-needed communication solutions for your business. It provides services such as outgoing calls, messaging, conferencing, and much more. Below, we've listed key features that you will benefit from while using Ooma.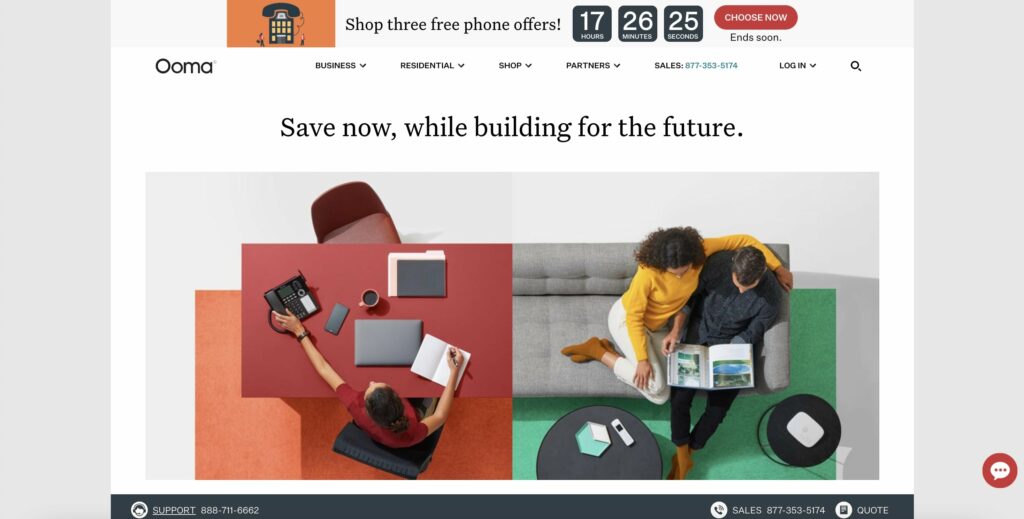 Unlimited domestic calling and messaging
Virtual fax
Ring groups
Voicemail transcriptions
Flexible numbering plan
While Ooma is undoubtedly a great choice for your communications solutions, we must admit that when it comes to business, there isn't such a thing as one-size-fits-all. This is because different kinds of businesses have different communications needs. As such, Ooma might not be able to cover all your needs, in which case, you might want to diversify your options.
In our post, we're going to highlight and describe the 8 best Ooma alternatives and competitors in 2023. This way, you can make a well-informed decision.
Top Ooma Alternatives
Listed below are popular Ooma competitors you might want to consider. We've also highlighted their key benefits.
Now that you have a list of great alternatives, we'll go ahead and meticulously examine each one of them.
Vonage
Vonage has been around for a long time, offering excellent VoIP communication solutions to varied businesses. It's a pretty popular option for businesses not only in the United States but also across the globe. It provides flexibility on top of brilliant features as listed below.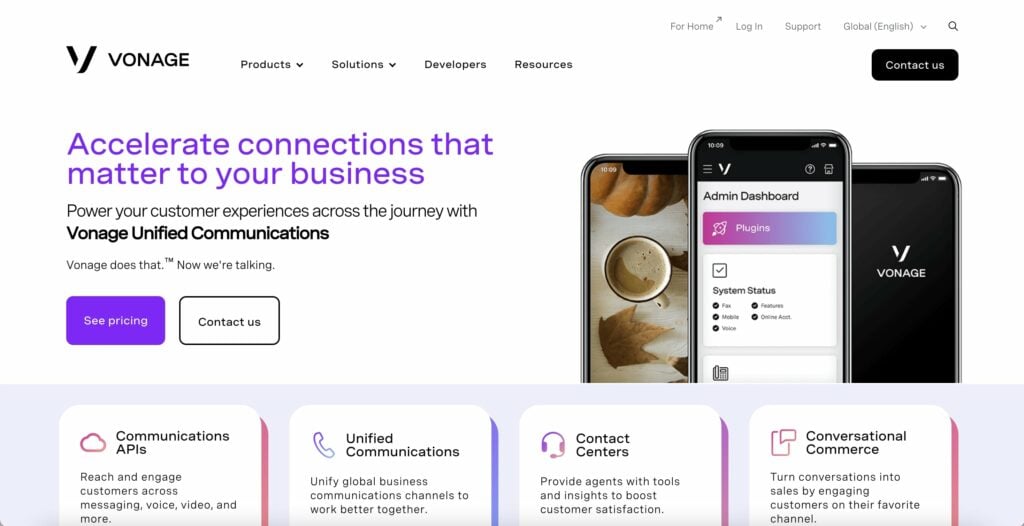 Vonage Features
Business call recording
Cross-channel texting
Call announce
Business SMS and MMS
Unlimited calling to Canada, the U.S, and Mexico
Vonage Pricing: Billed Monthly
Mobile: $19.99 per month per line for desktop and mobile apps, unlimited calls and messaging, and unlimited team messaging
Premium: $29.99 per month per line to enjoy unlimited meetings for up to 100 participants, CRM integrations, and multi-level auto attendant
Advanced: $39.99 per month per line that offers call group, visual voicemail, and call recording
Vonage Vs Ooma: Why Vonage is Better?
Comparatively, these two business phone system providers offer wide-ranging and unified communications solutions for your small, medium and large business ventures. Even so, their services diverge in various ways, which we will compare.
Vonage Offers Better Call Analytics Compared to Ooma
Vonage beats Ooma when it comes to calling analytics as it provides call summary reports, where you're able to learn the specifics of each call in queues and groups. You can use filters to view information for call durations, voicemails, extensions, and so on. With Vonage, you could also download and print reports as well as schedule automatic emails.
Ooma offers an overview of your call records, such as call volumes, and distribution. However, it doesn't give you the option for scheduling the mailing of these reports. As such, Vonage has got greater analytics and report automation, which is useful for blossoming businesses.
Vonage Beats Ooma in Team Collaboration
Vonage also comes out on top of Ooma in this battle. Team texting is standard in all Vonage VoIP plans, while Ooma offers the service only on its enterprise plan. Vonage essentially beats Ooma with more robust collaboration tools in higher-level plans with features such as call grouping to help organize your outreach better.
Furthermore, Vonage enables you to share files with your team members, making it the better option over Ooma, as far as remote team collaboration goes.
Who is Vonage For?
Considering that this phone system has got solid analytical and team collaboration capabilities, Vonage would be better suited for growing business enterprises. It covers the needs of hybrid or remote teams needing to keep track of their communication trends.
You can know more about Vonage alternatives here!
RingCentral
RingCentral is not only a top Ooma competitor but also one of the best business phone service providers for organizations that are looking to scale up. Businesses essentially benefit from a large number of communications solutions with RingCentral. These include calls across the US and Canada, team SMS, robust integrations, file sharing, and feature-rich plans among others.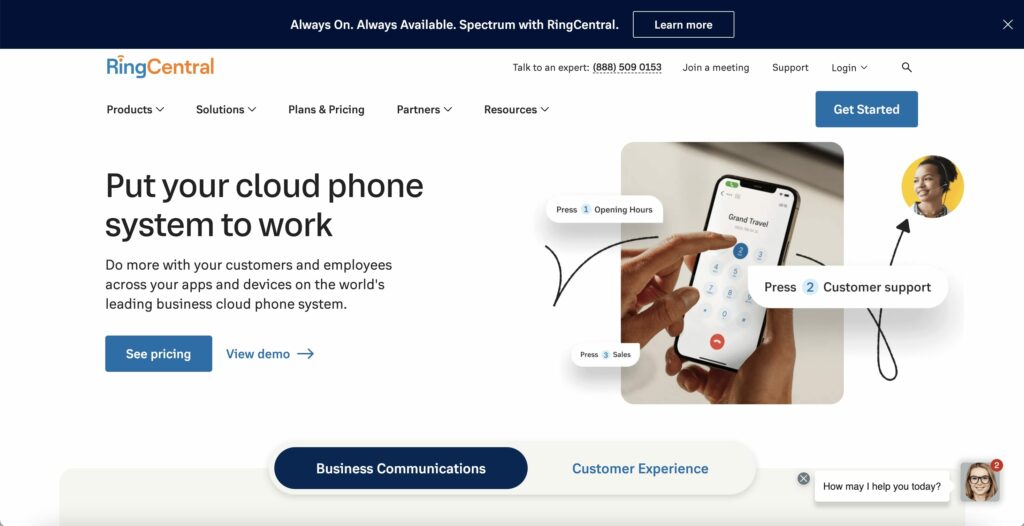 RingCentral Features
Toll-free and local numbers
Virtual receptionist
Multi-level IVR
Unlimited business SMS
Call Forwarding
RingCentral Pricing: Billed Monthly
Essentials: $19.99 per user per month, offering business phone or two-free numbers, team texting, and unlimited calls across Canada and USA
Standard: $27.99 per user per month, giving you business numbers across over 100 countries, unlimited internet fax, and 27/4 support
Premium: $34.99 per user per month, offering multi-site admin and management as well as popular CRM third-party integrations
Ultimate: $49.99 per user per month will offer device status reports/alerts and unlimited storage
RingCentral Vs Ooma: Why RingCentral is Better?
RingCentral and Ooma are akin competitors in many ways. For example, they both give their customers local toll-free phone numbers. But they have a few differences in one area or another, which we're going to describe below for you to get a more vivid picture of their services.
RingCentral Wins in Video Conferencing Compared to Ooma
RingCentral provides a robust VoIP platform with advanced video meeting features. For instance, it offers HD video meetings, but you may have to subscribe to higher-level plans to enjoy video meetings. Ooma does provide video meeting capabilities, though it's not streamed in High Definition.
Better Than Ooma in Third-Party App Integrations deployment
These two competitors allow for third-party integrations like Google Workspace and CRM. Most of Ooma's integrations, however, are only made available on enterprise subscription plans, meaning SMEs may not find it very effective for their communications needs. RingCentral comes with a vast and extensive app library starting from its lowest to higher-tier plans.
Who is RingCentral for?
If your organization is seeing rapid growth that calls for up-scaling, you'll find this Ooma alternative quite helpful – given its scalability aspects. RingCentral is also a good choice for teams looking for phone systems with advanced video conferencing features such as High Definition.
You can know more about RingCentral alternatives here!
Nextiva
Nextiva is a popular Ooma alternative that stands out as a business phone call management service. It harbors numerous call flexibility features that allow your teams to make and receive calls from anywhere. Nextiva basically enables you to manage calls on any device using one phone number, one dial plan, one voicemail, and a set of standard features.
This VoIP system also has a few extras, such as internet faxes and peer-to-peer video meetings, which are helpful to the sustainability of your small business.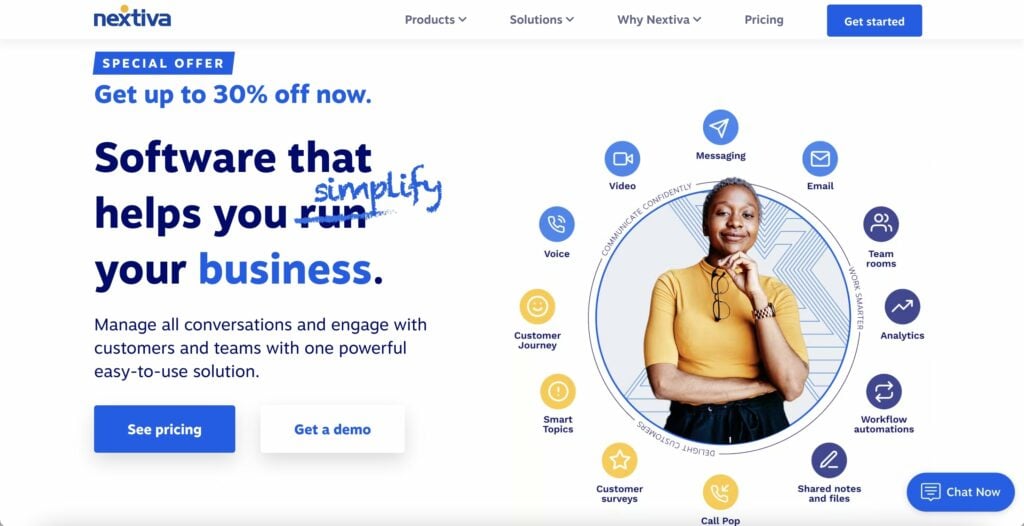 Nextiva Features
99.999% uptime Service Legal Agreement (SLA)
Unlimited online faxing
Team chat
Three-way calling
Advanced call routing
Nextiva Pricing: Billed Monthly
Essential: $14.95 per user per month that offers unlimited voice calls, team chat messaging, and toll-free numbers
Professional: $20.95 per user per month, giving you multi-level auto attendants, and unlimited conferences of up to 40 participants
Enterprise: $26.95 per user per month that offers call recording, unlimited conference calls, and 3 professionally recorded greetings
Nextiva Vs Ooma: Why Nextiva is Better?
These two providers have got excellent business phone call services, video conferencing, team SMS, app integrations, voicemail transcription, phone calls, and customer support services. All the same, these services aren't created equal, which is why we're going to compare them for you to make a sound decision.
Nextiva Beats Ooma in Performance
Reliability is key, especially when it comes to phone systems. Nextiva provides 99.999% uptime, which simply means that you shouldn't lose service for more than a few moments each year. This is because Nextiva's data centers make use of uninterruptible power sources, giving it an edge over its competitor.
While Ooma takes pride in offering quality call services, it doesn't guarantee an uptime SLA like Nextiva or other popular VoIP providers on the market.
Who is Nextiva For?
This Ooma alternative is ideal for businesses that need to integrate their sales and CRM platforms with their phone service. Nextiva is available with customer service features such as automated emails, and post-call surveys.
This cloud-based service provider is also a good option for teams spread across the United States and Canada, as it offers unlimited VoIP calling within the regions.
Zoom
Zoom is among the most popular VoIP communication solutions on the market today; simply because it's easy to use, comes with a wide range of features, and offers robust integrations.
Using its interactive tools such as whiteboard as well as screen sharing, you're able to hold video meetings with your teams or even participate in webinars. Zoom gives you an all-inclusive call service platform.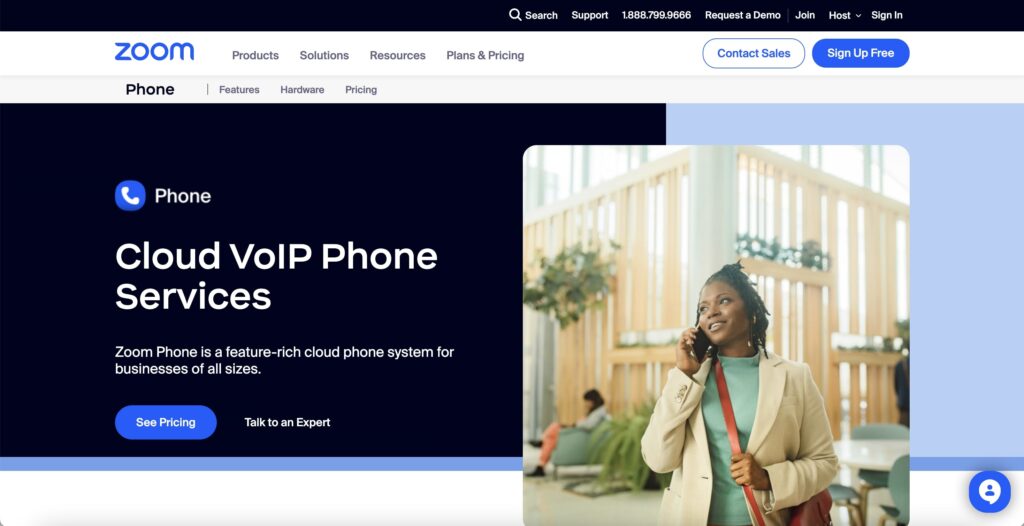 Zoom Features
HD video and audio calls
Cross-platform messaging
Personal meeting rooms
Meeting recording
Toll-free dial-in
Zoom Phone Pricing: Billed Annually
Basic: Free, and you get meetings with up to 100 participants, whiteboard, and team chat
Pro: $14.99 per user per month that offers 3 whiteboards, 5 GB storage, group chat, and file sharing
Business: $19.99 per host per month, providing meetings with up to 300 attendees, team chat, and unlimited whiteboards
Business Plus: $25.00 per host per month offering meetings with up to 300 participants, and unlimited calling for business use only
Enterprise: Contact their sales team. The plan offers full-featured PBX, zoom rooms, and meetings with up to 1000 participants
Zoom Vs Ooma: Why Zoom is Better?
This business phone system is highly rated by its users, just like its competitor Ooma. The two provide businesses with brilliant VoIP communication solutions such as video conferencing, team messaging, and other robust features, not to mention low-cost subscription plans. Now, let's compare their services to determine why Zoom is the better choice.
Zoom is Easier to Set Up and Use Than Ooma
While Ooma doesn't need you to be particularly tech-savvy to install, Zoom is even easier to set up, which is essentially one of the many reasons it's become popular across the globe. Ooma installation is a bit complex compared to Zoom's set process.
For example, Ooma's setup entails hardware installation, service activation, and an update download, which may take up to 30 minutes to complete and for the VoIP to be up and running.
Zoom's UI is easy to use, with an intuitive design, where you just need to create a new account or join an existing account. Then create a profile and customize it to suit your requirements – and you can schedule your first meeting or join an ongoing meeting almost instantly.
Who is Zoom For?
Zoom is a good option for both hybrid and remote teams looking for a VoIP communication solution that is easy to use as its user interface is intuitive. It's also an ideal choice for companies that are looking for business phone service providers, with advanced video conferencing features such as noise suppression and whiteboards.
magicJack
With its headquarters in Florida, magicJack is a very popular voice-over-internet-protocol service in the USA, offering comprehensive cloud-based communication solutions for both residential and commercial use. As such, you can use magicJack to call your loved ones abroad, or even manage your small team efficiently and cost-effectively.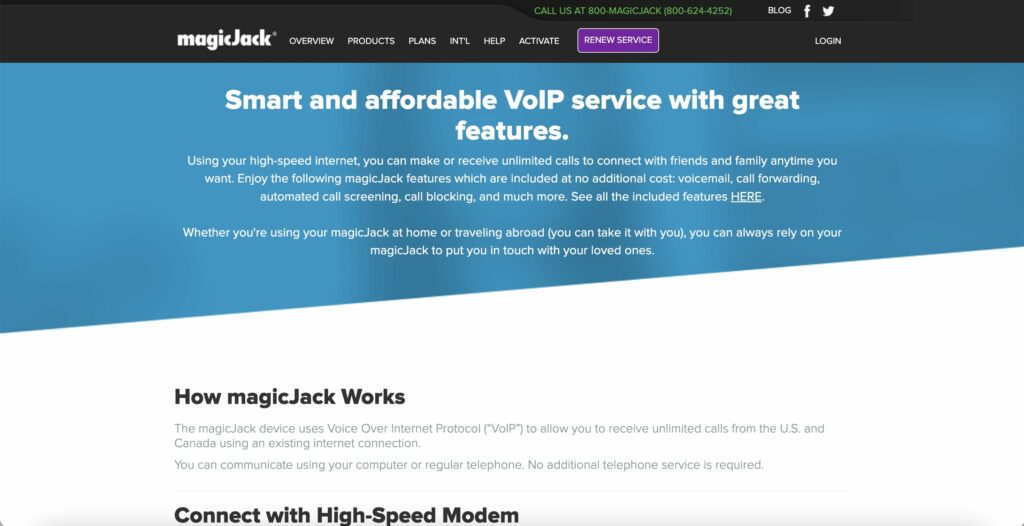 magicJack Features
Three-way calling
Auto attendant
International calling
Conference bridge
Enhanced call forwarding
magicjack Pricing: Billed Annually
Free mobile app: It offers a 30-day free trial
magicJack for business: $9.99 per line per month, offering three-way calling, extension dialing, and caller ID
magicJack for business with all add-ons: $29.99 per line per month that offers virtual fax, toll-free numbers, and auto-attendant
magicJack Vs Ooma: Why magicJack is Better?
Both communication service providers are well-known in the industry. While they are apparently similar, they do have some key divergences. Both offer useful VoIP communication solutions for SMEs and residential customers.
Note, however, picking the right fit for your communication needs comes down to your desired features as well as preferences. Below, we're going to compare Ooma Vs. magicJack for you to pick the most suitable option for your needs.
magicJack Comes Out on Top in Terms of Cost
magicJack wins in the battle of pricing. This Ooma alternative comes with plans starting as low as $15.99 per line per month; in comparison to Ooma's lowest level plan, which costs you $19.95 per user per month. With magicJack, you only have to pay for an extra add-on if the need arises, unlike Ooma, which offers different packages at a flat rate fee.
Additionally, both VoIP phone system providers offer unlimited calling across US and Canada, with magicJack providing free calls worldwide at no extra charge.
Who is magicJack For?
magicJack would make sense to folks who have got relatives and family living overseas as calls from one user to another are free of charge. It also applies to MagicApp, which means you don't have to purchase specialized hardware to talk to your loved ones abroad. You can do so using your smartphone.
Dialpad
This is another one of Ooma's competitors that won over the patronage of many small and medium-sized businesses. Its lower-tier plans are basically designed for SMEs, while larger companies will find its higher-level plans quite solid for their VoIP communication needs.
Dialpad comes equipped with various communication solutions, including messaging, unlimited calling, live speech coaching, real-time analytics/reporting, and AI-powered call and voicemail transcription as well as CRM integrations (HubSpot, Salesforce, and Zoho among others).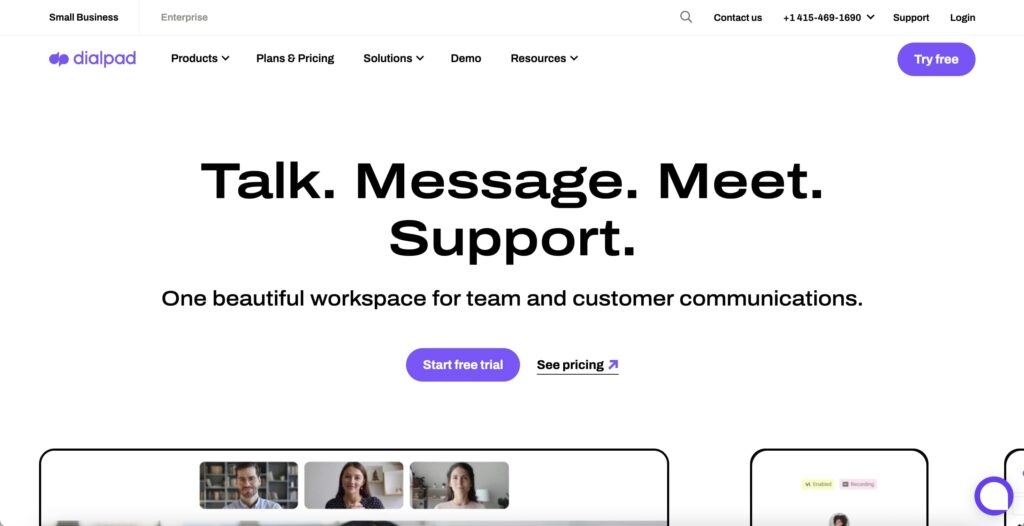 Dialpad Features
Call transfer
International calls
Unlimited calls
AI-powered call/voice transcription
Desk phone integration
Dialpad Pricing: Billed Monthly
Standard: $15 per month per user, offering unlimited calling across Canada and the US, multi-level auto attendant, and automatic spam detection
Pro: $25 per user per month that will give you mobile/desktop softphone and app, custom routing, and number porting
Enterprise: Get in touch with their sales team for the price. This plan allows you to switch calls between devices, and three-way calling
Dialpad Vs Ooma: Why Dialpad is Better?
Dialpad and Ooma are both popular among SMBs as they provide all-encompassing VoIP communication solutions. Still, their service packages differ in a couple of ways, which is why we'll compare the two VoIP options so that you're able to pick the right easily.
Dialpad Wins in the Battle of Advanced AI Tools
A vast majority of Voice-over-internet-protocol service providers lock AI-powered tools/features behind their higher-level subscription plans. In contrast, Dialpad is among the finest Ooma alternatives that provide a decent list of Al advanced features within the base package.
For instance, you'll find AI-powered voicemail transcription, advanced call routing, and calls real-time analytics in all its plans.
Ooma's lowest-tier plan not only costs more but also doesn't include call analytics, voicemail transcriptions, and call recording.
Who is Dialpad For?
Dialpad is ideal for small to medium-sized businesses as it covers all the phone services you would require. These include unlimited calling, messaging, third-party integrations, and international SMS among other essential phone system features.
Google Voice
Google Voice is a well-known VoIP phone system that offers feature-rich packages, unlimited calling, texting, and great call management features for many businesses. This VoIP phone service is popular for offering quality. With Google, you're able to set up a personal or even a business phone number that works seamlessly on your landline, smartphone, or the web over an internet connection.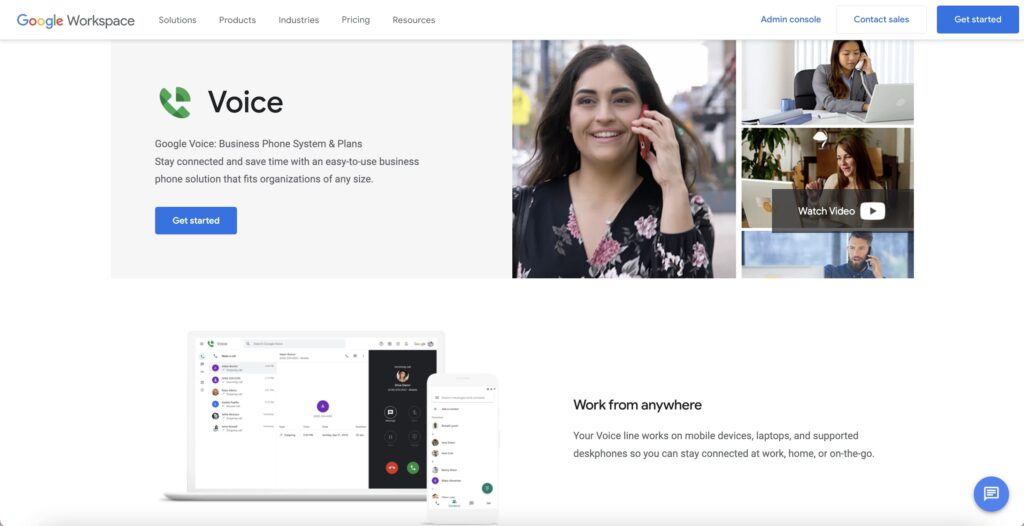 Google Voice Features
Ring groups
Multi-level auto attendant
Call forwarding
Conference calls
Free calling to Canada from the US
Google Voice Pricing: Billed Monthly
Starter: $10 per user per month that offers calls within USA and Canada as well as Android/iOS app integrations
Standard: $20 per user per month, offering web app, Google Meet/Calendar integration, and ring groups
Premier: $30 per user per month, providing 24/7 support, call recording, and ATA support
Google Voice Vs Ooma: Why Google Voice is Better?
Both of these phone system services allow you to make calls and send SMS within the US. Still, they differ in some areas. For example, Google offers limitless calls abroad for its patrons on paid plans, while Ooma limits its service to unlimited calling within Canada, Puerto Rico, Mexico, and the United States.
Let's look at the other ways these two communication service providers differ regarding their communication solutions.
Google Voice Beats Ooma in VoIP Service Customization
You want a phone service that can serve your business efficiently while keeping the cost on the lower side. Google Voice lets you pick and choose the users in your Google Workspace, who can use the VoIP solution.
So, instead of having to get subscription plans for all your team members, you just pay for the selected members. Ooma doesn't offer such customization tools within its VoIP service, which is why Google wins in this category.
Who is Google Voice For?
Google Voice is going to be a practical solution for you if you're within the Google network seeing as it functions well with components such as Google Calendar, Gmail, and more Google tools. Additionally, Google may favor people operating global hubs making calls into the U.S. as that's its major market.
Grasshopper
Grasshopper is a reasonably low-cost Ooma alternative VoIP provider that offers virtual phone service to sole entrepreneurs and SMEs. This phone system lets you send SMS, make limitless calls, manage call queues, record custom greetings, and more. Below is a list of the key features you get with Grasshopper.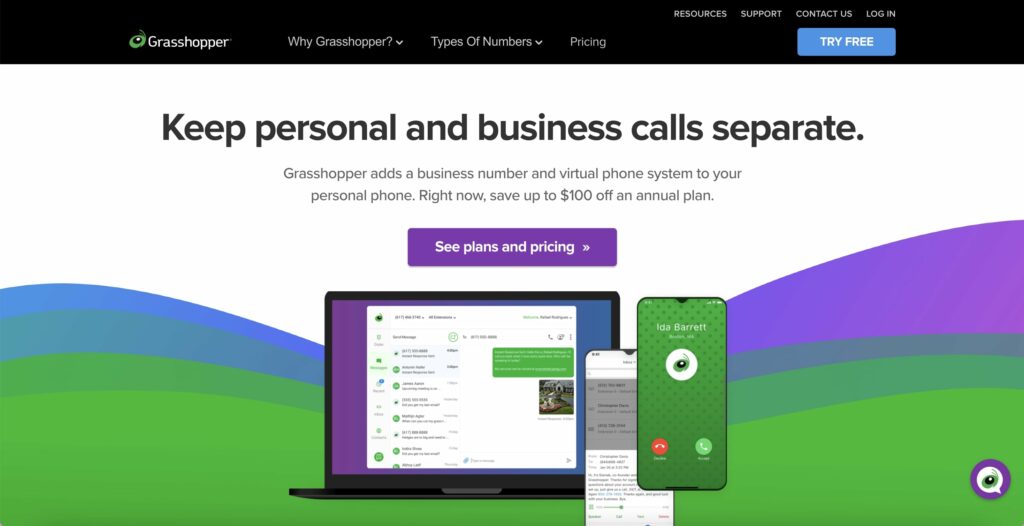 Grasshopper Features
Simultaneous call handling
International calls
Instant response
Professional greeting recording
Virtual receptionists
Grasshopper Pricing: Billed Monthly
Solo: $26 per account per month, offering one local toll-free number with up to three extensions, and domestic voice minutes
Partner: $44 per account per month that offers three local or toll-free vanity numbers with up to six extensions, and unlimited messaging
Small Business: $80 per account per month, giving you five local free numbers with unlimited extensions, and voicemail transcriptions
Grasshopper Vs Ooma: Why Grasshopper is Better?
These two competitors come with an array of phone number options offering conference calling, messaging, virtual receptionist, and more. When compared, these services do vary at a certain point. As such, we'll compare their VoIP systems to determine which one is best for your communication needs.
Grasshopper Takes the Lead in Best Virtual Phone Number Providers
Grasshopper provides its customers with a wide range of different vanity numbers with essential telephony features across all its plans.
Virtual numbers are only given to Ooma higher-level subscribers, and they're only one – if you want more, you'll have to incur an additional cost of $9.95 per number.
Who is Grasshopper For?
Grasshopper will make sense to small business owners looking to get virtual numbers. Basically, it offers a range of numbers within all its plans.
It's also a good option if you're looking to manage business calls on a single device. This VoIP has a softphone with innovative tools – so, you can manage calls on a desktop or mobile device.
Alternatives to Ooma: Conclusion
The VoIP industry has seen an influx of new business phone service providers in the past couple of years. This makes it a bit daunting when it comes to finding the right phone system for your communications needs.
However, we do all the heavy lifting for you by comparing and contrasting the different VoIP business phone services on the market. This way, making a decision on which communication service fits your needs best becomes bliss.