It is much more convenient for businesses to have a VoIP phone system that integrates with their existing business systems.
With business phone systems, you can save money on long-distance calls and improve employee productivity since it eliminates the need for them to call in sick or leave work early to make calls.
Google Voice is a VoIP service from Google that allows you to make free phone calls from your web browser or mobile app. You can use Google Voice to create additional phone numbers that you can use on your mobile phone or for call forwarding to your landline number.
However, many better alternatives to Google Voice offer many more business phone features for the same or even a lower price.
Today, we would like to share a list of some of the best Google Voice alternatives and competitors you should consider using instead of Google Voice for your business.
Below you'll find a list of our top 10 Google Voice alternatives and competitors that you should look at if you want to replace your old VoIP solution with Google Voice.
Why Google Voice?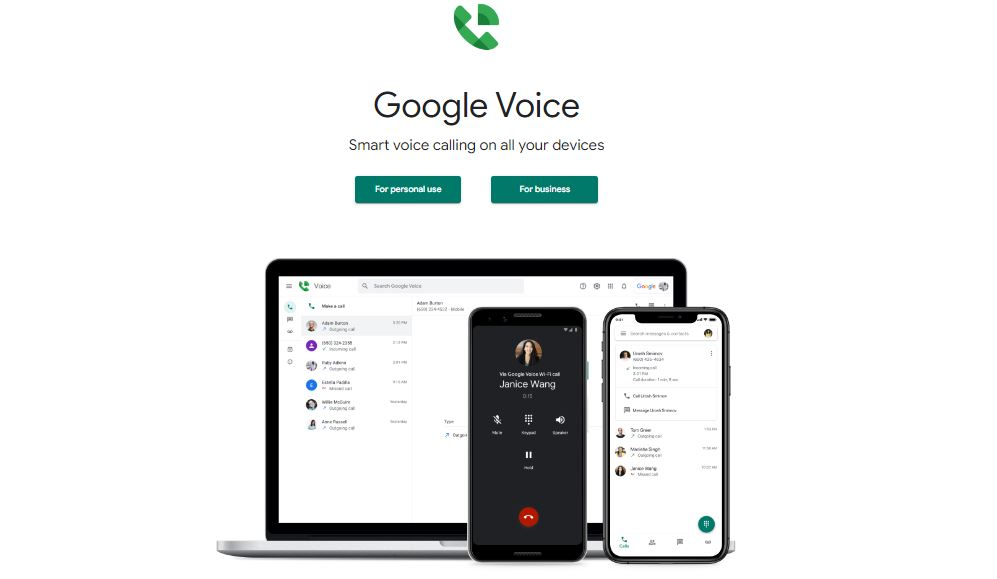 Google Voice is an excellent virtual phone service with key features that makes it favorable for most businesses.
First, it's a free tool with call forwarding, voice, text messaging, and voicemail. Plus, it is a versatile virtual phone that works on smartphones and the web, meaning you can conveniently receive calls from anywhere with an internet connection.
Google Voice Features
Conference calling
Call recording
Spam call blocking
Voice messaging
Customizable welcome voices
From the foregoing, you realize that Google Voice is a great service. But it has its limitations which include; no toll-free numbers, only support for Google apps, limited availability, and a few more. For that reason, you might want to explore Google's best alternatives to keep up your business communication flow.
Top Google Voice Alternatives
Here is a list of the 10 best Google Voice alternatives you can use for your business.
We will dive deeper into more details on the above Google Voice alternative business phone systems.
RingCentral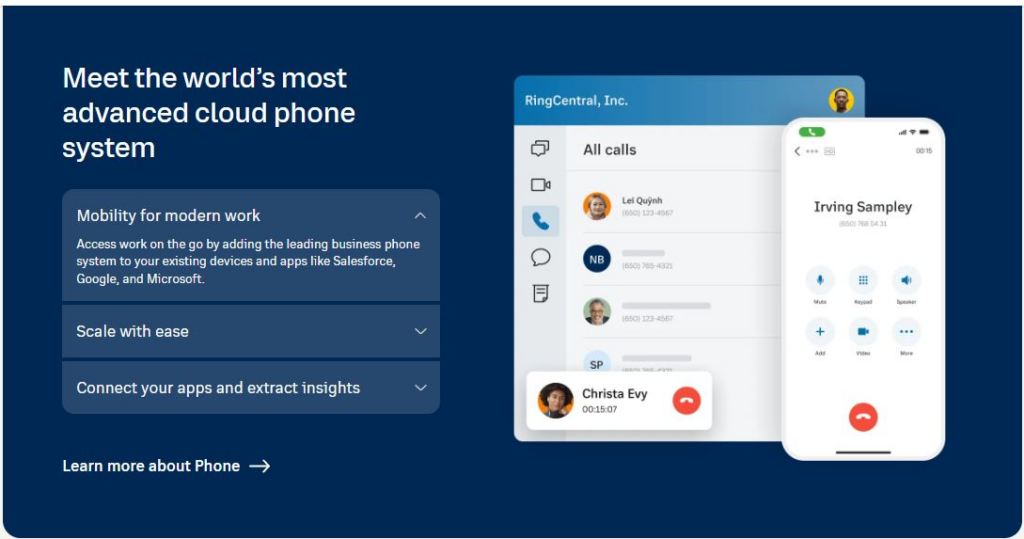 RingCentral is a robust virtual phone system that incorporates all major business communication features making it the best Google Voice alternative. It offers video conferencing, cloud business phone, fax, team messaging, toll-free numbers, call recording, and more.
RingCentral Features
Supports call forwarding
Easy collaboration and sharing of meeting details via reports, team messaging, and other video meetings content
Offers call recording and transfer calls
Worldwide presence in over 100 countries, with local plans as well as international calling virtual numbers.
Supports free trial for both local and international calls
RingCentral Pricing
RingCentral is a frontline business phone system with fairly attractive pricing plans. All the pricing plans come with critical features for both small and large businesses' communication needs.
Essential Plan: $19.99 per user/month, offering a free trial, phone calls, and team messaging
Standard Plan: $27.99 per user/month with all the benefits of Essentials Plan, plus fax, call menu, video call, and call analytics suite
Premium Plan: $34.99 per user/month offering all other benefits in Essentials Plan and, and auto recording, multisite administration, and customizable app integrations
Ultimate Plan: $49.99 per user/month. All the benefits in the other plans and advanced reporting, device status alerts, and unlimited storage
RingCentral vs Google Voice: Why RingCentral Is Better
Both business phone services are great for business call management. Nonetheless, they have marked differences in features and benefits. For instance, Google Voice only supports integration with other Google apps, such as Meet or Calendar.
Unlike Google Voice, RingCentral offers integration with third-party apps from the Standard plan or higher. Additionally, the RingCentral phone has an easier-to-use platform.
RingCentral Wins in Terms of Customizability
RingCentral supports integration with over 200 third-party business software. From Slack, Zendesk, Salesforce, and more. Unlike RingCentral, Google Voice only works with Google-affiliated apps.
The ability to integrate with other apps centralizes information access increasing productivity. This aspect makes RingCentral a clear winner.
Ringcentral Is More User-Friendly
The RingCentral platform is easier to set up and personalize features than it is the case with Google Voice. Not only that, it is easy to navigate, which makes it a great alternative to Google Voice for small business owners. On the other hand, the Google Voice interface is a little bit complex for new VoIP users.
RingCentral Wins in Analytics and Reporting
Regarding analytics and reporting, Google is limited in this consideration. It is only available for the users of the Premier plan users through Google Big Query.
In comparison, RingCentral provides real-time analytics that includes device status reports, alerts, and calls logs for the Ultimate plan users.
Although both virtual phone providers include reporting in their premium plans, RingCentral's is more detailed. It includes more data on the date, time, and duration of calls making it the winner.
Who's RingCentral For?
As you can see from the analysis above, RingCentral has a wide range of winning features compared to Google Voice. This makes the best Google Voice alternative for businesses leveraging VoIP communication to boost business growth.
Nextiva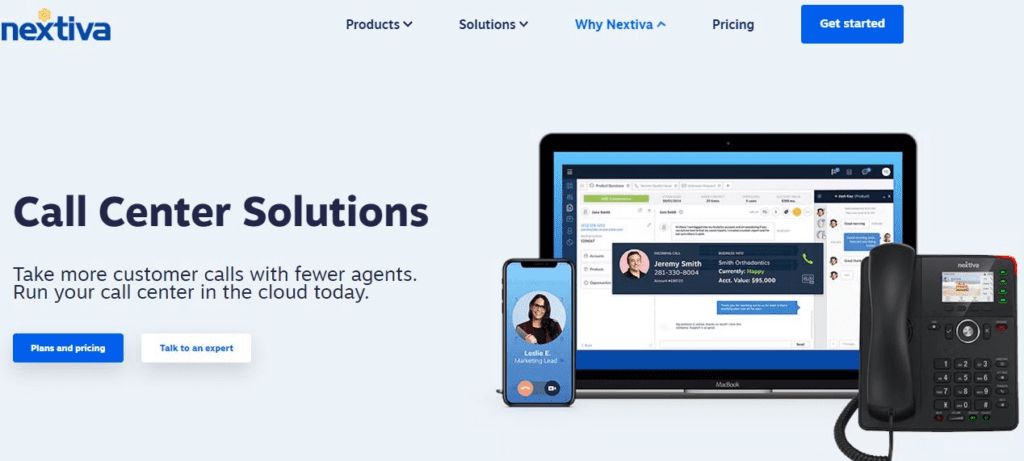 Nextiva is an innovative small business phone system with advanced features in a one-stop package. It offers many benefits, including call center solutions to enhance successful communication between teams, clients, and suppliers.
Nextiva Features
Easy-to-use dashboard with the ability to monitor every interaction. From emails, text messaging, live chats, and more
Call queuing and intelligent call routing. Calls are shared based on their type, value, and IVR feedback
Robust video conferencing for the premium plans, including webinars, staff collaboration for up to 250 participants
Intuitive features to enable quick communication between teams, such as call forwarding, call recording, text, and voice messaging.
Toll-free numbers for local and international calling, with the Essential plan getting you unlimited calls, of up to 1500 toll-free minutes.
Nextiva Pricing
Nextiva offer offers customer-friendly pricing plans. All plans come with competitive perks for businesses leveraging virtual phone systems to improve their call management.
Essential: $10.98 per user/month that gets you unlimited, free trial, voice calls, video conferencing, team collaboration and chat, contact and calendar integration, unlimited internet fax, toll-free numbers
Professional: $13.48 per user/month offering Everything in Essential plus, unlimited conference calls, multi-level auto-attendant, text messaging, voicemail transcription, Salesforce and Hubspot integration, and more
Enterprise: $18.48 per user/month offering all features in Professional plus, unlimited participants in conference calls, call recording, and single sign-on
Nextiva vs Google Voice: Why Is Nextiva Better?
Nextiva is a better alternative to Google Voice courtesy of its numerous and advanced call management features. In addition, the Nextiva platform has better flexibility and compatibility with other business software.
Nextiva Wins on features and Integrations
Google Voice is quite limited in terms of the number of features, and integrations compared to Nextiva. For instance, Google Voice doesn't support integration with third-party apps. Nextiva has over 20 features and supports upwards of 35 integrations. Clearly, Nextiva is the winner here.
Nextiva Wins Is Better in Customer Satisfaction
Most Google Voice users have reported lackluster customer support. Lack of call labeling and call alerts includes complaints against the virtual phone service.
Nextiva users have reported an uptime on the service, and most would recommend the service to others. Nextiva wins on this factor.
Nextiva Wins on User-Friendliness
Google Voice platform is a bit complex requiring a longer learning curve. Nextiva's interface is an intuitive one making it the winner in this aspect.
Who is Nextiva For?
Nextiva's variety of features is an attractive factor that makes it the best option for most business types. Especially with its huge integration options, Nextiva is a one-stop-shop communication hub meaning it's the best fit for both small and large enterprises.
Zoom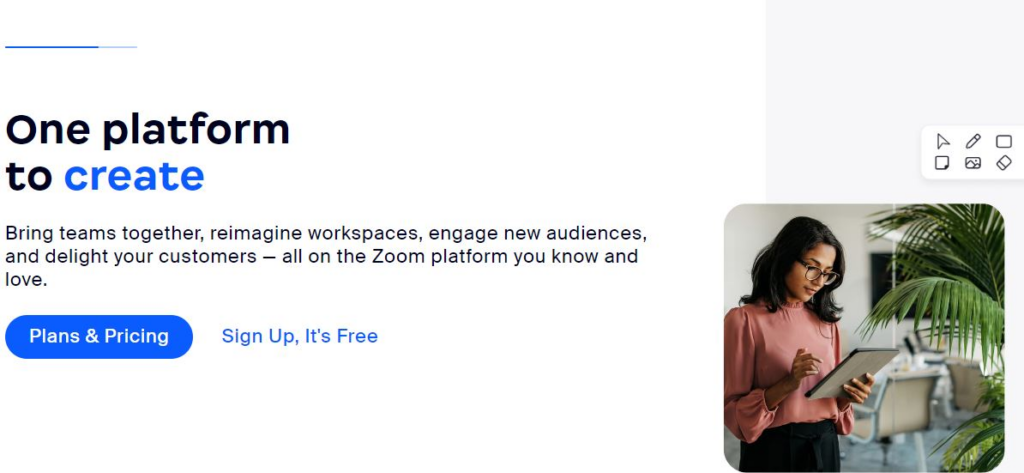 Zoom is an excellent communication tool and a worthy Google Voice alternative, especially for video calling. It is the best choice for virtual communication solutions courtesy of its load of other features. Its catalog of features makes it a high-performing call conferencing management tool.
Zoom Features
Offers a unified mobile app that supports video calls, phone calls, conferencing, and SMS messaging for android or IOS.
An integrated PC app that works on both windows and IOS for communication across multiple devices.
Call forwarding to different users, both within and outside the business teams.
Create unlimited multilevel auto attendants for call routing, call queuing, and voice mails.
An easy-to-learn and use dashboard for seamlessly conducting calls and diagnosing call glitches.
Zoom is a free Google Voice alternative with competitive pricing plans. Depending on the subscription plan, Zoom offers a wide range of features to its users. For instance, Zoom Basic plan is free, in addition to other benefits.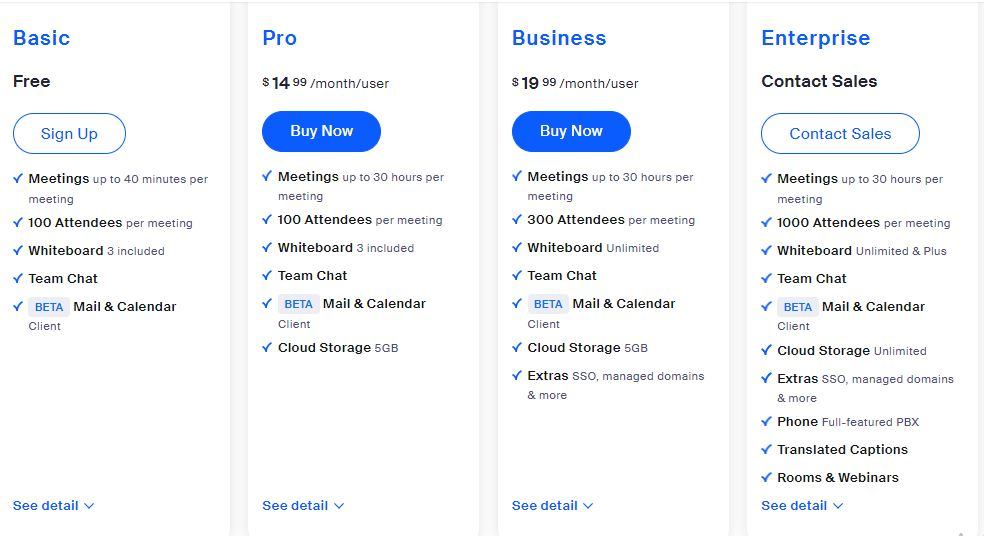 Basic: Free for 40 minutes with a maximum of 100 attendees, with other basic features such as team chats and whiteboards
Pro: $14.99/user/month, which includes up to 30 hours per meeting, for a maximum of 100 attendees, plus unlimited whiteboard, team chat, and 5Gb cloud storage
Business: $19.99/user/month with 30 hours per meeting, up to 300 attendees, unlimited whiteboards, chats, and managed domains
Enterprise: undisclosed cost, up to 1000 attendees per meeting, unlimited whiteboard, team chat, unlimited cloud storage, translated captions, rooms, and webinars.
Zoom vs Google Voice: Why Zoom Is Better
Zoom has a high level of competitiveness in several aspects, other than video calls. Zoom incorporates a wider range of features, in voice and video meetings. This business phone system also supports integration with a wider range of apps and is great in call quality.
Zoom Is Better at Integration
One of the greatest downsides of Google Voice is its limited integration capacity. Switching between apps to make calls inconveniences users and reduces productivity.
Unlike Google Voice, Zoom phone integrates widely with tools such as HubSpot, Microsoft, Slack, and more.
Zoom Wins on video Phone Calls Quality
Google Voice users have reported poor-quality voice, including call dropping, and not hearing ringing for incoming calls. On the contrary, Zoom users have reported great audio and video conferencing qualities. Zoom is a winner in calls, SMS, and video quality.
Zoom Wins on Availability in More Locations
Google Voice phone number is only available to Google Account customers in the US. Others with access to the virtual phone are the Google Workspace customers, in Canada, the Netherlands, Sweden, Spain, and a few others. In contrast, the Zoom phone is supported in over 47 countries worldwide.
Who is Zoom best for?
Zoom phones advanced features and versatility incorporate communication tools that can work for personal use, small businesses, and teams in large corporations. These could include financial corporations, public organizations, or private IT firms.
Ooma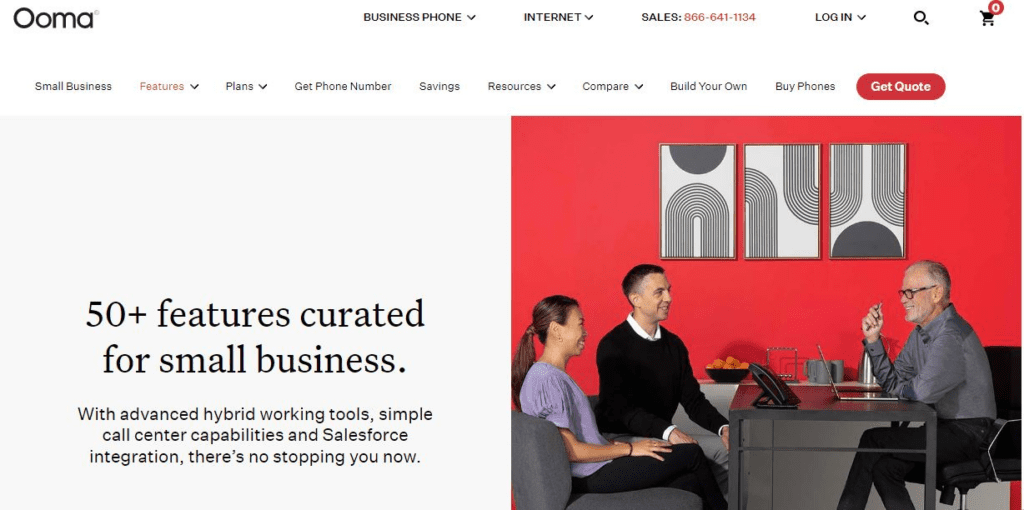 Ooma is one of the best and cheapest Google Voice alternatives. It has morphed from only providing VoIP services to more complex one-stop shop communication tools. The suite features include online faxes, HD audio, and video conferencing, among other key features.
Ooma Features
Offers mobile apps for enabling remote teams collaborations on their smartphones
Includes virtual receptionist to enable routing incoming calls, call forwarding, and setting up multiple menus, to optimize communication opportunities
Includes multi-ringing to facilitate business phone-to-office number call forwarding
Create call logs for phone data analysis and usage tracking
Integration with other business apps such as Salesforce or Microsoft dynamics 365
Ooma Pricing
Ooma pricing comprises three pricing plans for users to choose what best suits their interests.
Essentials: $19.95 per/user/month offering over 50 standard features, one tool free number, digital fax, virtual receptionist, ring groups, and mobile app.
Pro: $24.95 per/user/month includes all the features in the Essentials Plan, desktop app, call recording, dynamic caller ID, and call analytics.
Pro Plus: $29.95/user/month, offering all the business phone features in the Pro plan, plus call queuing, video conferencing, advanced call flows, Hot Desking, and more.
Ooma vs Google Voice: Why Ooma Is Better
Ooma is one of the great Google Voice competitors, showcasing top-of-range features in the VoIP market. This Google Voice alternative has the upper hand over Google Voice in a number of features, including, integration, high-quality calls, virtual numbers, and customer support.
Ooma Wins At Call Quality
Google Voice has sound issues. Users have experienced call dropping, muffled or distorted calls, poor quality international calls, and a few others. In comparison, Ooma has HD voice calls and fewer call glitches. Ooma wins on call quality.
Ooma Is the Best on Virtual Numbers
Google has provided local phone numbers for each user, which is a great feature. But they do not offer toll-free numbers, which is a major downside. With Ooma, you get both local numbers and toll-free numbers too. Ooma wins on this one.
Ooma Is the Winner of BEST Customer Support
Both of the phone systems offer customer support on close scrutiny, you find marked differences. Google, for the most part, offers a 24/7 live chat and Google help community. In addition, Ooma offers Express Setup Assistant, call support, online support, and forums.
Who Is Ooma Best For?
Ooma's easy setup platform makes it the VoIP phone of choice for small enterprises without full-fledged IT departments. Ooma setup is a breeze, and you can have the system up and running quickly.
Vonage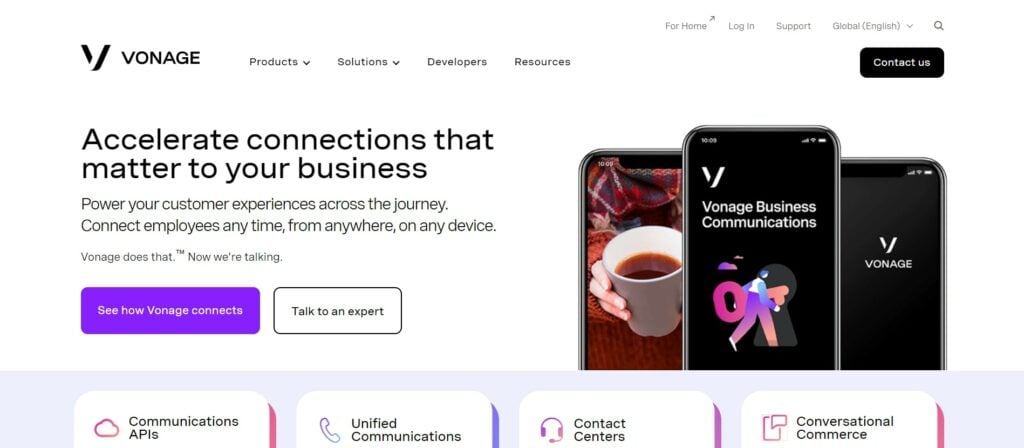 The VoIP provider has been in the VoIP market for a while. It is a great Google Voice competitor with excellent features and an easy setup process. Additionally, Vonage is quite affordable for most businesses that are looking to scale their operations.
Vonage Features
Simultaneous ringing to support multiple phone number ringing of up to five numbers
Flipping of calls between multiple devices, for instance, alternating call transfers between mobile phone to PC, and automatic call distribution.
Phone monitoring via an intuitive dashboard to monitor phone communication, in real-time and make changes if need be
Text messages transcription, for monitoring your calls right into a visual inbox
Visual voicemail recording, with the voicemail listing to make it easy to retrieve and view via an app or the admin portal
Vonage Pricing

Vonage is an affordable virtual phone, with an array of pricing plans, that make it one of the best Google Voice alternatives.
Mobile: $19.99 /user/month offering support for mobile and desktop apps, unlimited calling, internal and external messaging, and access to the Vonage app center
Premium: $29.99/user/month with all the benefits in the mobile plans, plus unlimited meetings of up to 100 attendees, multi-level auto attendant, CRM integration, and IP desk phones
Advanced: $39.99/user/month, providing all the features in the Premium Plan and call recording, call group, and visual voicemail
Vonage vs Google Voice: Why Google Voice Is Better
Vonage is a robust business phone provider with advanced features, making it a perfect choice for a Google Voice alternative. Its retinue of features is far better than what we've seen in Google Voice.
From the wide range of integration, customer support, and intuitive dashboard, Vonage's advanced features are ahead of Google Voice.
Vonage Wins on Integration
Google integration limitation is a major deal breaker for businesses looking to scale their communication into a unified operation. Vonage works great with most business tools like Zendesk, Google Workspace, SugarCRM, and more. Vonage beats Google Voice on this consideration.
Vonage Is Best for Customer Support
Google Voice offers 24/7 phone support and a community forum for its users, which is great for business. But it is still limited in comparison with Vonage, which offers live chat and email support as well. Clearly, Vonage takes the trophy.
Best for Scalability
Google Voice is short on most of the important features required by a professional virtual phone operations management. These include features available on Vonage, such as call queuing, user limits, dedicated customer support, and toll-free numbers, among others. Vonage emerges the winner on this one.
Who Is Vonage Best For?
Vonage is designed for small and mid-size businesses, requiring an affordable, simple phone business platform. Vonage offers an excellent user experience, easy setup, and powerful features, which greatly benefit these businesses.
Dialpad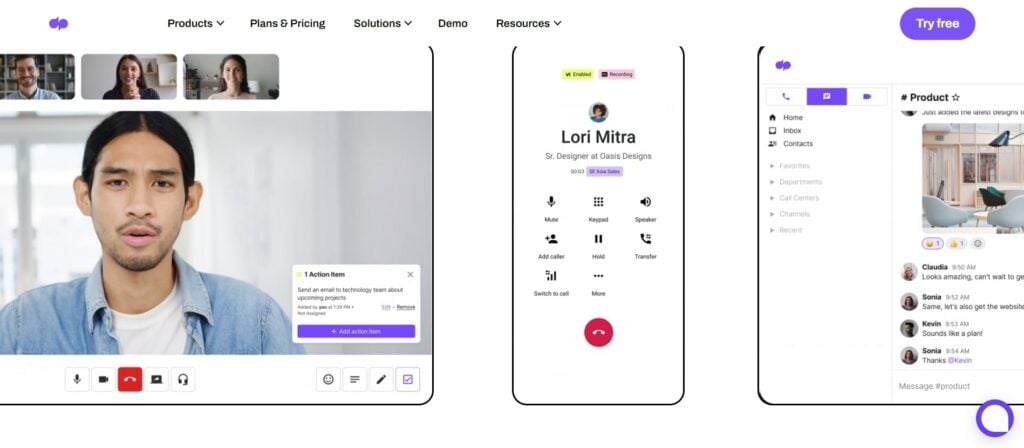 Dialpad is a decent phone business provider with an easy-to-set-up platform, requiring much tech knowledge to operate. It packs many terrific features for any business that takes the role of a virtual phone in business growth seriously.
Dialpad Features
Offers Voice Intelligent(VI) for calls analysis and transcription, for future meeting references
Offers Real-Time Assistance cards(RTA) to users to enable smoother customer service communication handling
Business to personal phone call forwarding to keep in the loop even when out of the office.
Supports a mobile app on multiple personal devices for monitoring different calls to avoid missing calls.
Excellent integration with commonly used business software tools
Dialpad Pricing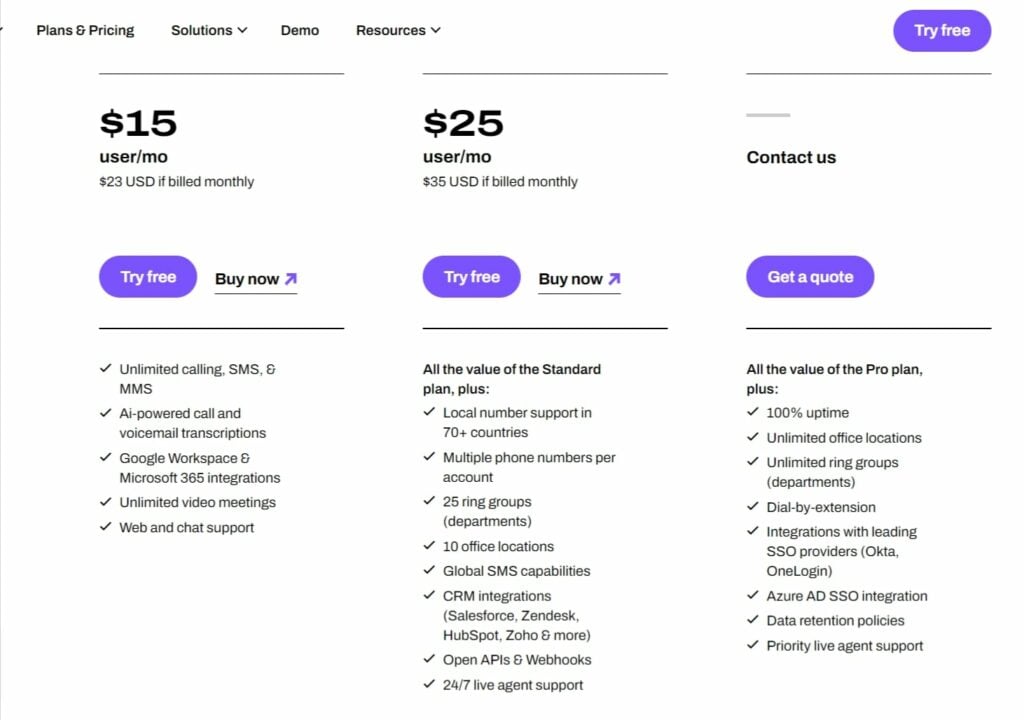 Dialpad offers fantastic plans that include a free trial and many other benefits.
Standard: $23/user/month, which includes unlimited calling, SMS and MMS, unlimited video conferencing, AI call, and voicemail transcription, Google workspace and Microsoft integration
Pro: $35/user/ month offering all the same features in the Standard plan, plus multiple phone numbers per account, local phone number support in 70+ countries, open API and webhooks, and 24/7 live support.
Enterprise: Price undisclosed but offers unlimited office locations, Azure AD SSO integration, priority live agent support, and more.
Dialpad vs Google Voice: Why Dialpad Is Better
Dialpad and Google Voice are powerful platforms, but they differ in terms of their value. With a number of advanced features, Dialpad offers more value on its number of quality features, easy-to-use interface, and call quality.
Dialpad Is Best on Features
Both providers are equipped with fantastic features that are essential for successful call management. But overall, Dialpad offers more features than Google Voice. On this consideration, Dialpad offers more value and is the winner.
Dialpad Wins on Ease of Use
The Google Voice platform appears to have a steep learning curve for most users regarding setting and optimizing. This is largely thanks to poor customer support in resolving issues. On its part, the Dialpad setup is hassle-free, and the interface is neat and easy to navigate. Dialpad takes the trophy on this.
Dialpad Wins on Calls Quality
Google Voice's low sound quality is an Achilles heel compared to other virtual phone providers. Common issues include call dropping, buffering, and other sound clarity problems. However, Dialapad has better call quality courtesy of a more improved HD audio feature.
Who Is Dialpad Best For?
Dialpad is a great virtual phone that offers a wide variety of features to small and mid-size businesses. This platform is versatile and can be used in businesses in most industries.
8×8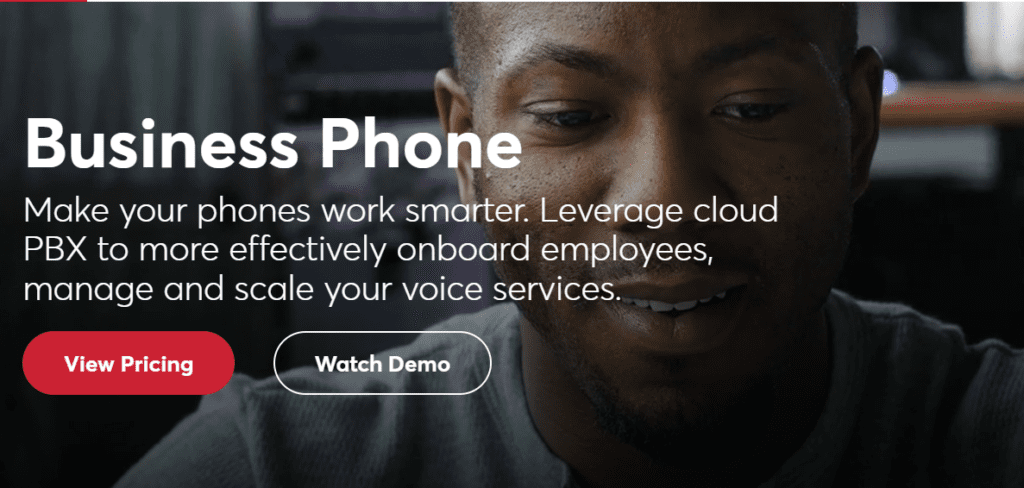 8×8 is another great Google Voice alternative with fantastic features and collaboration options. As one of the Google Voice alternatives, 8×8 stands toe to toe with most features found in other VoIP platforms. It is flexible and easy for communication between customers, workers, and suppliers alike.
8×8 Features
30-day free trial
Integrates with business software, including CRM, Microsoft teams, and Helpdesk software
Supports video conferencing for up 500 meeting attendees, with interactive features such as hand raising, emojis, and virtual background
HD video and audio conferencing
Worldwide data center storage to streamline data flow and security
8×8 Pricing
8×8 is a cost-effective virtual phone with excellent customer service. Plus, their affordable pricing plans are great value for money for small and mid-sized businesses.
Express: $15 per user per month, with a 30-day free trial, for up to 5 users, unlimited calling in the US and Canada, Auto-attendant, music hold, and voice mail
x2: $28 per user/month, with unlimited users, unlimited international calling in 14 selected countries, HD audio and video conferencing for up 500 attendees, and Microsoft teams integration
x6: $85/user per month with call recording CRM, IVR and skill-based call routing, reporting and analytics, and Cx journey mapping
x7: $110/user/month offering all features in x6 plus multi-channel support for social media, chat, and email
8×8 vs Google Voice: Why Is 8×8 Is Better
8×8 is an old brand in the VoIP market holding its ground as a worthy Google Voice alternative. 8×8 offers a wide range of top-notch features that outshines Google Voice.
8×8 Wins on Customer Service
Clearly, Google customer support is not its strongest point. Google Voice has a 24/7 toll-free customer service line, but users report calls that are not going through or are too busy.
In most cases, users have to learn from their community. On its part, 8×8 has proved to be steadfast in its customer support, making it the winner in this factor.
8×8 Is the Best Call for Quality
Again Google call quality is not so great, especially on international calls. In comparison, 8×8 offers better-quality audio and video calls.
8×8 Wins on Features
Google Voice's suite of features is way less than the features of the 8×8 phone. 8×8 users can benefit from unlimited calls to over 48 countries globally. 8×8 trounces Google Voice on this factor.
Who Is 8×8 Best For?
The virtual telephone service is best for both small and large businesses. This is reflected in their pricing plans starting at $15 per user/month, with the aim of roping in small-size businesses. At the same time, they've considered the larger enterprises with the more value-packed premium plans.
Trengo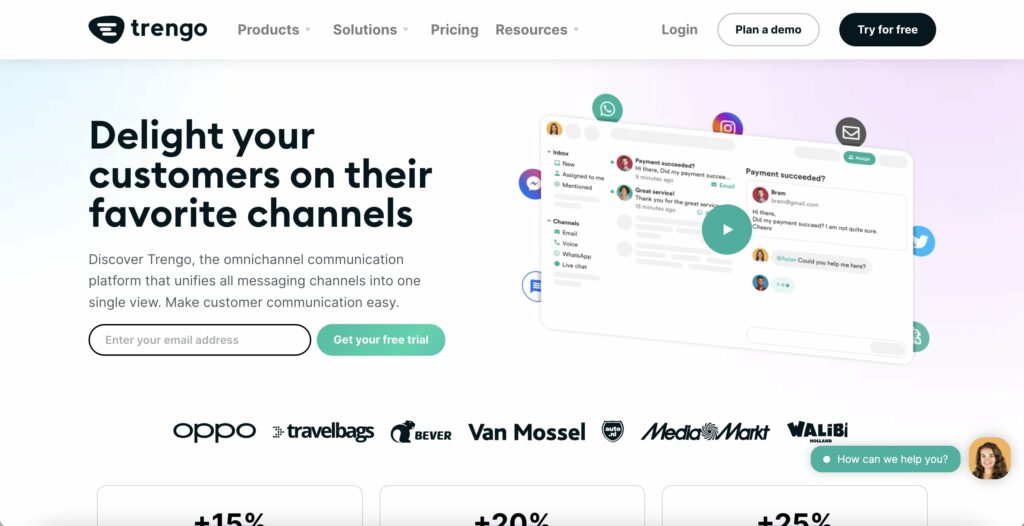 Trengo is a versatile, all-in-one communication channel with many features to ease communication between teams, customers, and suppliers. It is one of the best Google Voice alternatives specializing in omnichannel business phone systems.
Trengo Features
An omnichannel virtual phone that streamlines other communication channels such as Whatsapp, email, social media, text, and more
Comprehensive data collection and analysis
Supports integration with other business software regularly used in business processes, such as Pipedrive and Zapier
Facilitates multiple live chats for diverse kinds of customer service needs
It can incorporate the creation of chatbots, auto attendant features, automatic call distribution, and help centers to increase customer service automation.
Trengo Pricing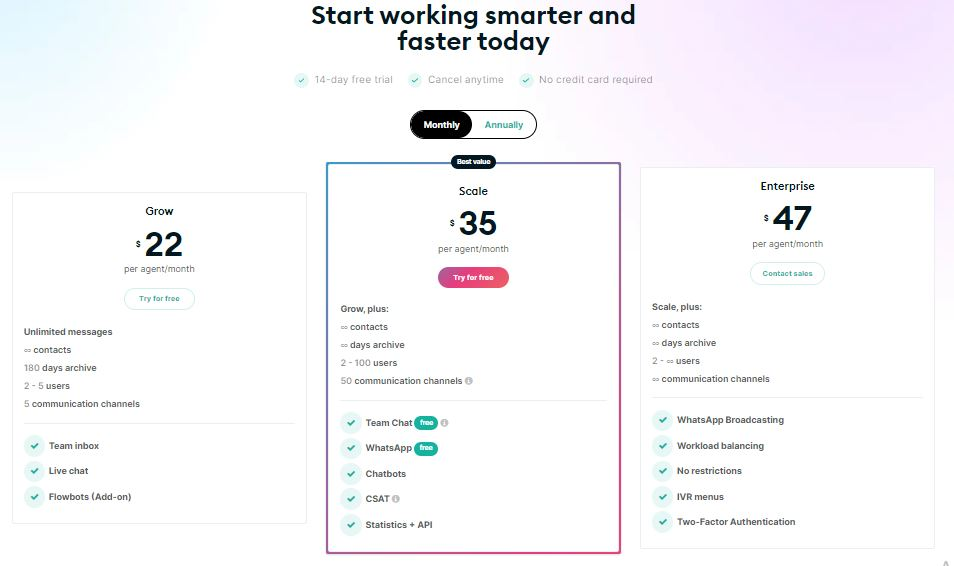 Trengo pricing has an innovative pricing mechanism that offers premium quality plans affordably.
Grow: $22 per user/month, offering a free trial, unlimited messages, 180 days archive, and five communication channels.
Scale: $35 per user/month provides, all the benefits in Grow plan, unlimited contacts, unlimited archives, and 50 communication channels.
Enterprise: $47 per user/month offering all features Scale Plan, Plus Plan, unlimited contacts, unlimited days archive, and unlimited communication channels.
Trengo vs Google Voice: Why Trengo Is Better
Trengo is a tool that incorporates all business communications in one shared inbox. It features a more unified and versatile communication channel.
Trengo Wins on Features
As an omnichannel, Trengo incorporates lots more in the features catalog than Google Voice calls. For the feature-rich offering, Trengo beat Google hands down.
Trengo Wins on versatility
Google Voice integration is limited to a few Google-approved apps. This is in stark contrast with Trengo, which has a wide range of apps it can integrate with; Whatsapp, Messenger, Instagram, and more, making it a more versatile tool. Trengo is the winner.
Customer Support
Google Voice has some level of support, for instance, 24/7 live chat, and a thriving community. But Trengo offers a comprehensive all-inclusive, seamless, and timely customer experience. This includes phone support, email, helpdesk, chat, FAQ, and knowledge base. Trengo Beats Google Voice on this factor.
Who Is Trengo Best For?
Trengo is a tool for both small and large enterprises, that are looking into incorporating their communication into a one-stop shop inbox. This not only improves the speed of communication but productivity as well.
OpenPhone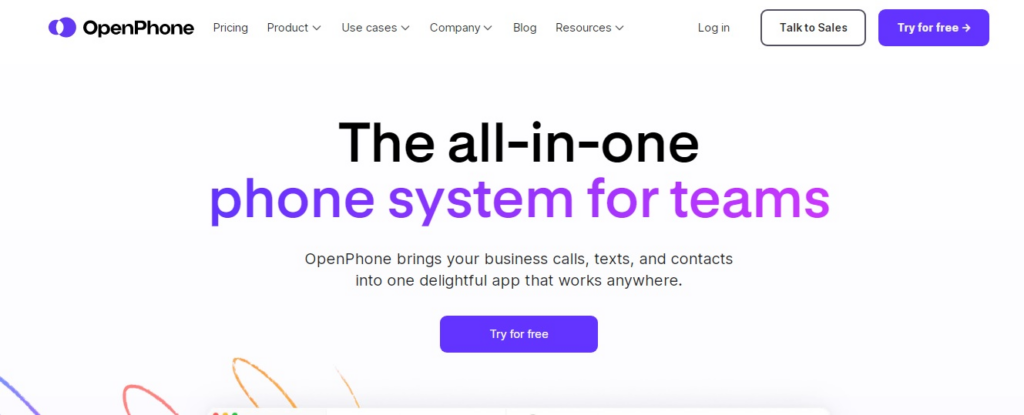 OpenPhone is a virtual phone system, that packs powerful features such as messaging, and phone, and supports CRM and more. It is a powerful tool for professional connections between teams and customers.
OpenPhone Features
Easy creation of phone numbers, including free number porting
Call recording for any number within US and Canada
Call identification by naming distinguishes simultaneous calls from different customers and team members.
Supports texts and MMS on all platforms
Supports lightweight CRM
OpenPhone Pricing
Standard: $13 per user/month, for a free trial, one new local or toll phone number per user, voicemail transcription, auto attendant, and call recording
Premium: $25 per user/month providing all the same features in the Standard Plan, call transfers, group calling, auto attendants, analytics and reporting, and Hubspot integration.
Enterprise: Undisclosed, providing all features in Premium plus, pricing discounts, dedicated account manager, audit log, and priority support.
OpenPhone vs Google Voice: Why OpenPhone is Better
OpenPhone and Google have some stark differences in their features. This Google Voice alternative is designed with more professional features, customer support, and ease of use.
OpenPhone Wins on Customer Support
Google Voice has lackluster customer support, which is not great for business. For instance, on their website, they promise to resolve their virtual phone issues within 10 days.
Obviously, that is too long a period for the business. OpenPhone has shown quicker responses via phone, text, and email, making it the winner.
OpenPhone Wins on professional communication features
Google's features are not as robust as the advanced calling features in OpenPhone. OpenPhone packs various features, including a dedicated address book, open voicemail greetings, and set business hours when to receive calls. This makes it the winner in this aspect.
OpenPhone Is the Best for Ease of Use
Although it has limitations, Google Voice is an excellent phone service for small businesses. One of its downsides is its user interface which is more complex than that of OpenPhone.
OpenPhone is easy to set up and has a fluid neat easy-to-learn user interface. You can set up and start using it immediately, even if you are not a technically oriented person, making it the champion in this comparison.
Who Is OpenPhone Best For?
OpenPhone is a fantastic option for small and medium businesses looking for a hustle-free business phone service to manage calls, texts, and video conferencing. It is affordable and easy to set up.
Grasshopper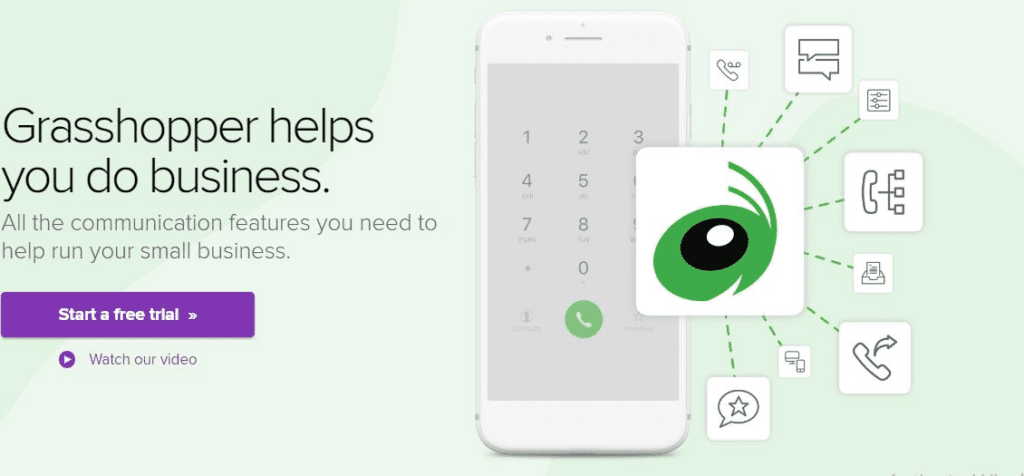 Grasshopper is a Google Voice alternative designed to help businesses optimize their communication solutions. Grasshopper has powerful features to suit small businesses' day-to-day communication within teams and with customers.
Grasshopper Features
Incoming call control for screening calls, blocking spam calls, and call scheduling to match business hours
Supports desktop app and mobile app to keep in the loop on multiple devices
Tailor-made professional greetings to engage your customers on inbound calls
Call routing to personal phones or other colleagues to remotely keep up with the communication
An array of phone services numbers from a local number, tool-free, to own number porting
Grasshopper pricing
Grasshopper pricing plans are modestly designed to keep small business communication costs minimal while providing optimum value for productivity.
Solo: $26 per user/ month, providing one local number, three extensions, unlimited calls, mobile, and desktop apps, voicemail transcription, virtual fax, reporting, and more
Partner: $44 per user/month offering all the features in Solo Plan, plus three phone numbers, six extensions, and unlimited calls
Small businesses: $80 per user/month inclusive of Solo Plan features, five phone numbers, unlimited extensions, and unlimited calls
Grasshopper vs Google Voice: Why Grasshopper Is Better
Grasshopper and Google Voice provide value to their users. But depending on the package, you will likely get more benefits from the Grasshopper phone system
Grasshopper Phone Is Best in Multiple Business Phone Number Options
With Google, you get only one Google Voice number in all its plans. Grasshopper phone offers multiple numbers, with the option of toll-free, local number, and vanity phone numbers.
Grasshopper Is the Best for Small Businesses
Both Google Voice and Grasshopper are designed for the small business market segment, but their services best fit different sections of the same market.
Google Voice's limited services are best for freelancers and solopreneurs looking for a simple phone with just enough features to make and receive calls, and no complex call management features.
With features such as an auto attendant, business texting, business phone numbers, robust reporting, and call routing, Grasshopper makes it the winner on the number of professional features.
Grasshopper Phone Is Best for Phone Usage Reporting
Both phone systems support reporting. Grasshopper offers more detailed reporting, including call duration, call IDs, calls by time period, and more.
Who Is Grasshopper Best For?
Grasshopper phone is an excellent option for small businesses looking for an efficient yet simple phone service. With its generous catalog of professional features, at affordable pricing, it is more than enough for most small businesses communication needs.
Google Voice Alternative: Conclusion
Google Voice is a great choice for personal use and businesses that do not require many call management functionalities. Especially if you're on a tight budget, Google Voice is sufficient to start you off with its modest free features.
However, as you take off and look to scale your operations, you will require a virtual phone with more features such as video conferencing, call forwarding, a desktop app, a virtual receptionist, analytics, and more. You might want to consider any of the above Google Voice alternatives, for all the above functionalities.